9 Best Email Marketing Services Reviewed [Update 2022]
Looking for the best email marketing services out there can be challenging. Apart from the established names in the field, there are a lot more up-and-coming players in the industry.
To find the golden ratio, i.e. the service that works best for you- we need to go beyond a simple exploration of their features and establish which ones can maximize the impact of your campaigns without any compromises in usability and affordability.
Today, we've handpicked the best email marketing platforms to get your marketing efforts to the next level.
Disclaimer: The information below is accurate as of January 17th, 2022.
Best Email Marketing Services: Comparison Table
With ROI being $42 for every $1 you spend on email marketing, you need to get your hands on it as soon as possible. But how can you select the best email marketing software for your business?
Well, as you can see below, it all comes down to the features, price, and performance of your email software:
If you are still considering Gmail, Outlook, and Yahoo! Mail for your business, then consider the following:
These services aren't suitable for sending bulk emails.
ISPs may mark your campaigns as spam and harm your deliverability rates.
Getting flagged as spam will lead to more unsubscribes.
Being unable to deliver your emails to your audience is reason enough to consider getting a professional email marketing tool.
So, without further ado, let's take a look at the best services to help you scale your business in a breeze.
1. Moosend – Best Email Marketing Software For Small Businesses
Pricing: Paid plans start at $16/month, 30-day Free Trial (Sign up here)
Best for: eCommerce, SaaS, Publishers, Bloggers, Agencies
Unique feature: Advanced audience segmentation
Moosend is the best email marketing service for small businesses due to the variety of features that it provides at a very low cost. It has a minimal learning curve so it's ideal for both pros and beginners alike.
To create your email campaigns, the tool has a sophisticated drag-and-drop builder and a variety of responsive email templates you can fully customize. Not only that, but Moosend also lets you preview your campaigns on different devices to always look pristine.
Now, when you send your email marketing campaigns, you can run spam and delivery tests to ensure that your contact list gets your messages. This way, you won't have to worry about the spam folder and your email deliverability – Moosend has a sender reputation of 98%!
With Moosend as an email service provider, you also get advanced email automation tools to automate your marketing campaigns, segment your email list, and deliver hyper-personalized content to convert your audience. The real-time analytics and reports will also help you measure your email performance to optimize your marketing strategy.
Overall, Moosend will give you access to powerful features and a clean user interface to scale your email marketing strategy.
Moosend Best Email Marketing Software Features
Moosend Pricing
Pricing starts at $16/month for 1,000 subscribers, giving you access to the whole range of features. You can also create a free account (no credit card required) to test the email builder, forms, landing pages, and more.
2. HubSpot – Best Software For Email List Management

Pricing: Free plan, paid plans start at $50/month
Best for: Marketers, Startups, Tech, Bloggers
Unique feature: Powerful CRM
HubSpot is one of the most popular marketing platforms that gives you all the tools you need to grow your business. Their email marketing service is one of the features that are part of the free CRM plan, alongside a landing page builder, forms builder, meeting scheduler, and live chat tool.
The true power of the HubSpot email marketing tool comes from the CRM, which allows you to automatically log all of your contacts' information as well as their interactions with your business. You can then use this data to deeply personalize your emails.
HubSpot's email marketing platform also offers a few extra tools to help you grow your email list. You can easily set up a landing page with a signup form to capture new email addresses that will automatically be added to your CRM. Other free tools include live chat and bots, ad management, and ticketing software.
The more advanced features include powerful automation workflows that allow you to create custom autoresponders and automate your marketing funnel from beginning to end with a wide variety of triggers.
Hubspot Best Email Marketing Tool Features
Personalization tokens to tailor your emails
A/B testing feature to detect the winning variations
CRM that logs all of your subscribers' interactions with your business
Pre-built templates that are customizable with the drag-and-drop builder
Lead capture tools: forms, popups, live chat, and landing pages
Integration with popular tools, including a WordPress plugin
HubSpot Pricing
HubSpot's free plan lets you send up to 2,000 emails per month. To send more emails and unlock advanced automation features, paid plans start at $50/month and upgrade your access to all of HubSpot's marketing features.
3. Constant Contact – Best Email Marketing System For Beginners

Pricing: Paid plans start at $20/month, 60-day free trial
Best for: Governments, Educational entities, Event Organizers
Unique feature: Event invitations management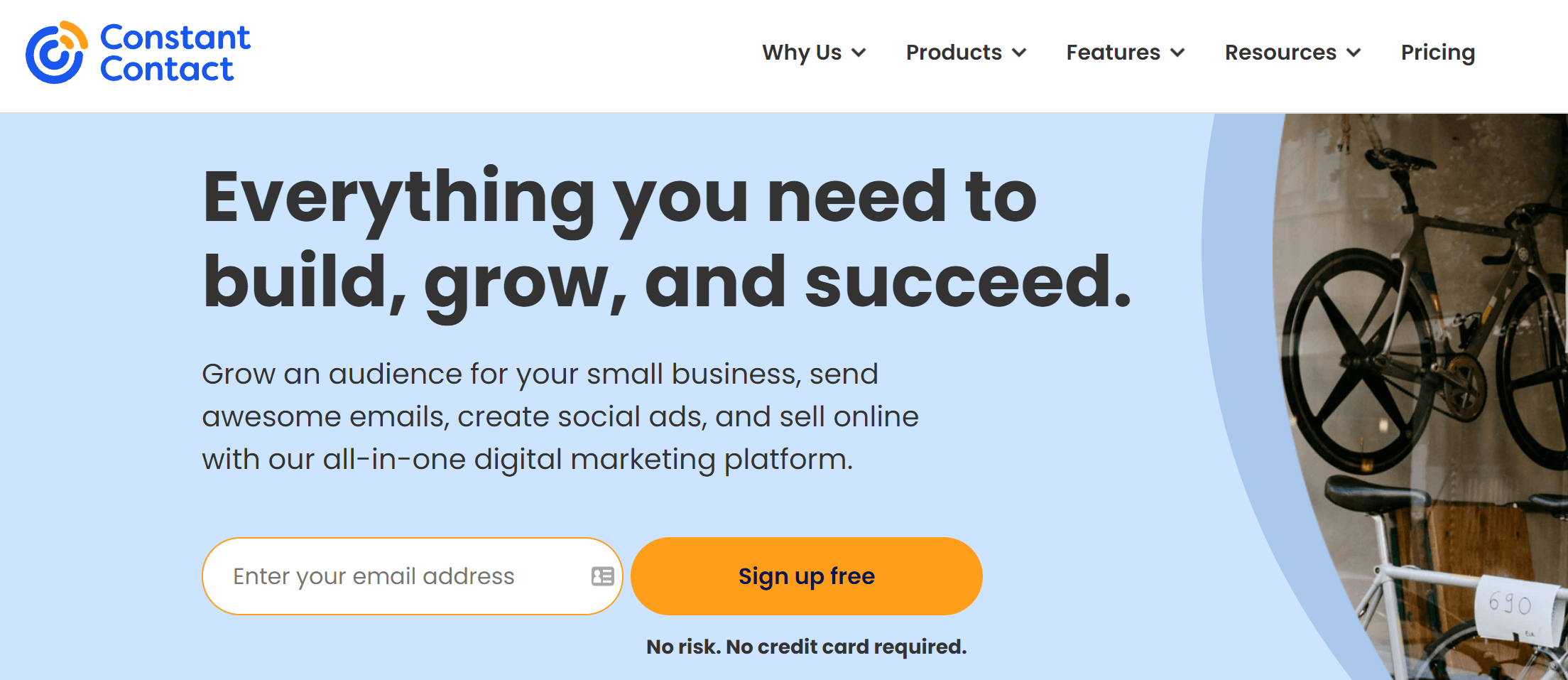 Constant Contact is the oldest email marketing service in this post and a popular Mailchimp alternative. While the email editor doesn't have a variety of styles, it is easy to use. Personalization features are also pretty basic, whereas the tool doesn't offer "if/then/else" logic, making this email marketing solution a good tool for beginners.
Apart from its email marketing capabilities, the email platform gives you access to basic automation features, autoresponders, and subject line split testing. Despite its simple newsletter creation character, Constant Contact's event invitation management options are what make it unique.
The RSVP tool helps greatly in promoting events like webinars, online courses, and more. Moreover, Constant Contact allows marketers to get RSVP responses straight from the email they've sent out to their audience. This is a useful functionality that not many email service providers offer.
Overall, Constant Contact is a great email marketing software to help event organizers, educators, and others get the most out of their online events.
Constant Contact Email Marketing Service Features
Powerful event invitations, coupons, surveys, and polls
Online form builder to create and capture your leads
Automated "Resend to Non-Openers" options
Instagram and Facebook ads and insights
A/B Testing tool to find the winning variation
Social media integrations and more
Constant Contact Pricing
While Constant Contact doesn't offer a free plan, it has a 60-day trial you can use. Nevertheless, the platform offers two paid options starting at $20/month for 500 subscribers.
4. Mailchimp – Best Email Marketing Solution For Newsletter Design

Pricing: Paid plans start at $59/month, limited free plan
Best for: eCommerce, Publishers
Unique feature: Multi-step custom workflows
Mailchimp is a popular email marketing service that allows you to create emails with its drag-and-drop content blocks. While it might be a little difficult to understand at first, Mailchimp's knowledge base is there to help you out.
When it comes to increasing the success of your campaigns, Mailchimp's email platform also offers cross-device email testing to find out which elements work best for your audience. It's worth mentioning that this email marketing tool also has a landing page builder to boost your lead generation.
Moreover, Mailchimp comes with a series of automation features like its multi-step workflows that allow you to create complex onboarding series and drip campaigns for your subscribers.  For eCommerce, you can also use this feature to create a welcome email or a cart abandonment automated email to engage potential customers.
All in all, Mailchimp offers a plethora of great email marketing and marketing automation features. Nevertheless, it might not be ideal for new business owners who want to move their customers down their marketing and sales funnel fast.
Mailchimp Email Marketing Solution Features
Advanced segmentation and behavioral targeting
Cross-device email testing to make sure that nothing will go amiss
Landing pages to increase your lead generation efforts
Reporting and Google Analytics integration to track important metrics
A plethora of integrations with popular applications
Mailchimp Pricing
Mailchimp has a quite limited free plan for 500 contacts per month. If you go over the sending limit, though, additional charges apply. Mailchimp's pricing starts at $59/month for 2,500 subscribers.
5. Sendinblue – Best Mass Email Service with SMS Marketing

Pricing: Paid plans start at $25/month, free plan
Best for: eCommerce, Publishers, Agencies
Unique feature: SMS marketing options
Sendinblue is one of those email marketing solutions that combine email and SMS marketing, allowing you to send transactional emails through email and SMS. Moreover, the platform lets you create your HTML templates through the drag-and-drop email builder. You can also benefit from Sendinblue's display conditions to design email templates that will show specific content.
Like the rest of our tools, this email marketing software gives you access to email automation, allowing you to configure your automated workflows. Also, you can easily segment your customers based on demographics or lead scores, and manage your email list by importing, exporting, or editing your contacts.
Apart from email marketing, Sendinblue will also equip you with SMS and landing page features to engage with your audience and boost your lead generation, respectively.
Overall, Sendinblue is part of our best email marketing software list due to its email and SMS marketing capabilities that enable businesses to target their audience more effectively.
Sendinblue Email Newsletter Service Features
Drag and drop email editor to create your campaigns
SMS marketing options to deliver SMS and autoresponder messages
Landing pages to power up your lead generation
A/B testing to discover which campaign elements convert better
SMTP service to deliver transactional messages via email and SMS
Sendinblue Pricing
Sendinblue's free plan allows you to send only 300 emails/day to unlimited contacts. Paid plans start with the Lite for $25/month, increasing the number of emails you can send.
6. ActiveCampaign – Top Email Automation Platform for Advanced Users
Pricing: Paid plans start at $15/month, 14-day free trial
Best for: eCommerce, SaaS, Publishers, Agencies, Influencers
Unique feature: Event tracking options

ActiveCampaign is another email marketing software famous for its marketing automation. The email builder is easy to use, allowing you to create a newsletter faster than ever. Furthermore, the email marketing software provides you with various templates to make the email creation process easier.
Not only that, but the platform lets you utilize your contacts in the best way possible while using ActiveCampaign's CRM functionality. This way, you can set up appointments, DM contacts, and use labels and notes.
The event tracking option is also great to monitor specific actions taken by your contacts. When those actions send data to your email marketing platform, you can use it to personalize your content and make your marketing messages more effective.
Overall, Active Campaign offers complex automation features that are perfect for seasoned email marketers. However, if you want to create simple sequences, the tool might prove difficult to handle, unlike other ActiveCampaign competitors.
ActiveCampaign Email Marketing Service Features
Drag-and-drop automation builder
Event tracking options that enable hyper-personalization
A user interface that guides you through the process
In-built CRM that makes the sales process easier
Variety of integrations to increase your efficiency
ActiveCampaign Pricing
Despite being among the best tools for email marketing, ActiveCampaign offers a short 14-day trial for users to test the platform. Its four premium plans start at $15/month and offer you email marketing, online forms, automation, and more.
7. AWeber – Best Tool for A/B Testing
Pricing: Paid plans start at $20/month, limited free plan
Best for: Online Media, Marketers & Advertisers
Unique feature: Email testing across devices
AWeber is an email marketing service that can provide you with email marketing and as many integrations as you need to power up your marketing efforts.
This email marketing solution also gives you plenty of automation options to create, curate, and send email marketing campaigns and targeted messages. When it comes to AWeber's integrations, you can connect the software with some of the best eCommerce platforms like WooCommerce and Shopify, and CRMs like Salesforce.
Another thing about the email marketing platform is the email testing across devices options it can provide through its integrations. This feature can be pretty useful for your business. By checking how your emails look across all email clients and devices, you'll pretty much make sure nothing will get clipped. AWeber's features can more or less ensure the quality of your email and how well it looks.
AWeber Email Marketing Platform Features
Email testing across devices
Newsletter signup forms to up your marketing game
List management and segmentation options
A plethora of integrations to boost productivity
Dedicated email support to help you out
AWeber Pricing
The platform has a free plan for 500 subscribers but for 3,000 email sends per month. AWeber's pricing starts at $20/month and it unlocks the full range of the platform's features.
8. MailerLite – Best Tool for Tracking Email Campaigns
Pricing: Paid plans start at $10/month, free plan
Best for: Creatives, Bloggers, SMBs
Unique feature: Email open rate by location
MailerLite is a top-notch email marketing service for SMBs since it has the most straightforward UI and advanced features to cover your needs.
The HTML editor, rich text, and drag-and-drop editor will help you create amazing email campaigns for your business in a few minutes. If you don't feel like creating something on your own, you can also use MailerLite's email templates to create cool email newsletters.
This email marketing tool will also provide you with extra features, including automation, contact tagging, and list segmentation. The best thing, though, is its open rates by location feature that not too many email marketing services have, which can help you in the optimization of your overall marketing plan.
MailerLite Email Newsletter Software Features
Custom HTML editor
Signup forms to increase your newsletter signup
A/B testing options to ensure that everything works
Variety of integrations including WordPress
MailerLite Pricing
For small businesses that want to send up to 12,000 emails per month to 1,000 subscribers, the free plan will be just fine. If not, MailerLite's paid plans start at $10/month.
9. Benchmark Email – Email Service With The Best Customer Support (Multilingual)
Pricing: Paid plans start at $15/month, limited free plan
Best for: SMBs, Bloggers, Agencies
Unique feature: Easy-to-use email editor
Benchmark is among the email marketing providers that offer multilingual customer support and a simple drag and drop email editor. Through the email builder, you can edit your elements by clicking on them, while the built-in image editor allows you to find and add pictures on the spot.
What's more, as a simple email marketing service, Benchmark will give you access to essential personalization to increase your click-through rates. The "preview email" function can also be quite useful; however, it doesn't have a mobile device preview.
When it comes to automation, the email marketing service gives you some basic trigger-based emails that are also available on the free plan. Nevertheless, to get access to more advanced automation features, you'll need a premium plan.
Benchmark Email Newsletter Service Features
Clean drag and drop email builder to create newsletters
List management and tools to promote your list hygiene
Basic automation that gets triggered by email engagements
Live chat, email, and phone support in different languages
Benchmark Email Pricing
Benchmark Email's free plan offers 250 emails/month for unlimited subscribers. Paid plans start at $15/month for 500 subscribers.
Looking For The Best Email Marketing Services To Scale Your Business?
Email marketing is one of the most profitable marketing channels out there, and with the right tools, you can get your business to higher heights.
Fortunately, most email marketing tools have a free trial that you can start with if you're not yet ready to commit fully. In any case, choose smartly and opt for a tool that provides advanced features at an affordable price, without requiring eons to master it.
So, don't forget to tell us about yours in the comments below, share the knowledge and, if you've already decided, sign up for a Moosend account and give our marketing platform a try!
Frequently Asked Questions (FAQ)
We've gathered some of the most frequently asked questions when it comes to email marketing services. So here they are:
Q1. What Are Email Marketing Services?
Email marketing services are dedicated tools allowing marketers to reach, engage and convert their target audience through email newsletters, subscription forms, landing pages, and more. Also, an email marketing service has to be able to send bulk emails without any compromises in email deliverability.
Q2. What Is the Best Email Marketing Service?
Constant Contact, HubSpot, Mailchimp, Sendinblue, and GetResponse are by all accounts excellent email marketing solutions, but Moosend is the best among them due to its ability to offer all the features that businesses might need, with the added benefits of affordability and an almost non-existent learning curve.