7 Best Ecommerce Platforms to Start Your Online Business in 2023
7 Best Ecommerce Platforms to Start Your Online Business in 2023
Published By
John Desyllas
September 29, 2023
Online shopping has seen a tremendous rise both before the coronavirus pandemic and after, with more and more businesses searching for the best eCommerce platforms.
By selecting the right tools for the job, businesses can quickly start selling their products online, accept payments, track their inventory and handle shipping, all from the same platform. But there is a slight problem here!
There is a wide range of eCommerce platforms available right now, all having slight differences, so it's pretty difficult for someone to select the one that suits their needs, especially without sacrificing tons of their time.
For this reason, we've selected 7 eCommerce solutions to build your eCommerce website based on a clear set of criteria that you'll find below.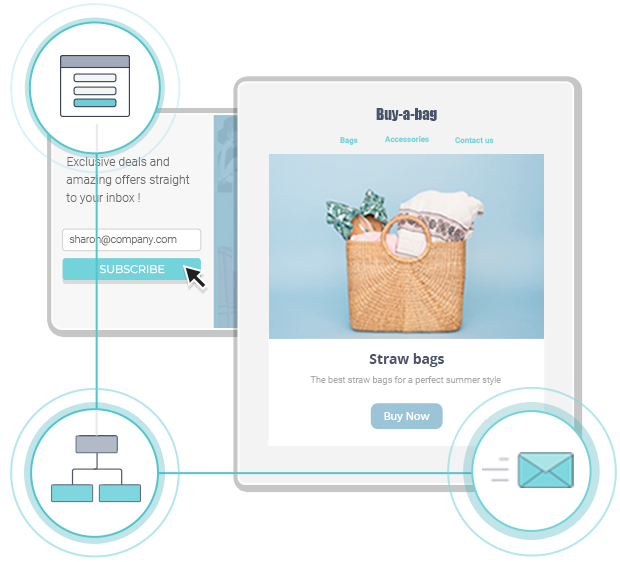 Try Moosend Today

The easiest and most affordable email marketing and newsletter software!
Criteria For Selection
To compare the eCommerce platforms in our list, we set the following criteria so it makes more sense and it's easier for the reader to identify their differences and pick the right solution for their store.
Pricing: The pricing model of eCommerce platforms is a little different from other tools, so fees had to be clear and easy to understand. Specifically, there are 3 kinds of fees attached to an eCommerce website builder, and these include the monthly fee, the payment gateway fees and the transaction fees. The monthly fee is straightforward as to what it is. The payment gateway fee is the amount you have to pay when you process a credit card charge. Usually, this fee is around 2.9% plus $0.30 for each transaction. Finally, the transaction fees are a 1-2% fee on top of the gateway fees. Some platforms have their own gateways that you can use, while others rely on Stripe, Paypal, etc.
Ease of use: All of the eCommerce platforms listed had to be easy to navigate with straightforward dashboards. Moreover, they should have some sort of a setup wizard guiding you through the creation of your online store. Finally, with these tools, users have to be able to create a modern and responsive online store without being skilled in coding or graphic design.
Customer support: it is crucial for eCommerce businesses, and at some point, it will be needed. Among the best types of support offered is, of course, via live chat and phone, while support can also be offered through email. It's important to have support 24/5.
Integrations: The ability of platforms to work together with any other apps and services you rely on to conduct business. The tools selected had to have a variety of integrations, available either through a plug-in marketplace or as built-in features.
Best eCommerce Platforms Quick Comparison Table
If you're pressed for time or you want to get a quick overview of the best eCommerce platforms, check out our comparison table:
| | | | | | |
| --- | --- | --- | --- | --- | --- |
| Platform | Pricing | Trial | Built-in CMS | Support | Easy Install |
| Shopify | $29/month | 14-day | ✓ | Dedicated | ✓ |
| BigCommerce | $29.95/month | 15-day | ✓ | Dedicated | ✓ |
| Wix | $23/month | 14-day | ✓ | Dedicated | ✓ |
| WooCommerce | Free | – | ✓ | Community | ✓ |
| Squarespace | $27/month | 14-day | ✓ | Dedicated | ✓ |
| PrestaShop | Free | – | ✓ | Community | ✓ |
| Adobe Commerce (Magento) | Not available | ✗ | ✓ | Online Documentation | ✗ |
Now let's dive deeper!
1. Shopify
Best eCommerce platform for effortless eCommerce store building
Shopify is arguably one of the most popular eCommerce platforms today. It is an established SaaS platform that has seen tremendous growth over the last 15 years. Setting up the platform is as easy as it gets and the onboarding wizard guides you through all the steps.
What makes Shopify so appealing to so many users is that it provides you with an easy-to-use drag and drop website builder that doesn't require any sort of technical knowledge as long as you know how to move a mouse! So, it's a great option for small businesses wanting to get their online store up and running quickly.
In addition to the website builder, you'll find 8 free themes and a huge range of premium pre-made ones that are exceptionally designed, with prices starting from $150. Most of these themes are fully customizable, making it effortless to make changes where you see fit.
Another great aspect of Shopify is store management. You can analyze customer profiles, set up a dropshipping store, manage refunds and set up fulfillment solutions like Amazon. Moreover, you get 1-click order fulfillment.
But what about inventory management? You get advanced inventory tracking, product variations like multiple sizes and colors, while you can upload multiple images.
Furthermore, Shopify has the largest app store, so everything you may ever need is there. From social media to marketing tools and sales reporting.
Regarding payments, Shopify can truly handle all of your business. Particularly helpful is the Shopify POS allowing brick-and-mortar stores to accept payments in-store through the mobile app.
All in all, Shopify is an eCommerce software that can please both beginners and seasoned professionals. It's a great choice for beginners looking into starting a serious online business at minimum cost while using a platform that's easy to navigate.
Shopify Pros
Extremely easy to use
Good for dropshipping
Multi-channel support
Included secure hosting
Shopify Cons
Costs pile up over time (themes, apps, etc.)
Limited (100) product variants
Not ideal for search engine optimization (SEO)
Switching between templates requires reformatting your website
In case you want to start building your eCommerce website with Shopify, you can take advantage of the 14-day free trial and get started right away!
2. BigCommerce
Best eCommerce platform for large businesses
BigCommerce is another robust eCommerce platform, ideal for large brands or businesses with high-volume inventories. What's more, it's among the best Shopify alternatives out there.
BigCommerce offers a powerful website builder that will allow you to customize even the tiniest detail of your online shop to make it fit your vision. The platform provides you with 12 free themes and various paid ones starting from $150 up to $400. While they are great, admittedly, their cost is high. Despite the platform being aimed at people with limited web design skills, it allows you to tweak the HTML and CSS in case you're tech-savvy.
It offers a fully-fledged eCommerce CMS solution which allows you to seamlessly add and edit products or even create a blog to accompany your store. With BigCommerce, you can easily purchase and register your domain name through the platform. This is sure nice and useful. Another notable eCommerce feature offered is the ability to sync your inventory with marketplaces like Facebook, Amazon, and eBay.
To accept payments, BigCommerce integrates with online payment processors such as PayPal, Stripe, and Amazon. Alternatively, store owners can set up their eCommerce websites to receive payments via bank transfer or check.
Overall, BigCommerce lets you make fully-detailed make listings on the back end, while on the front end, customers enjoy increased control to find exactly what they are looking for. This makes the platform a great solution for large enterprises expecting to have fast-track growth without any compromises on performance.
BigCommerce Pros
Out-of-the-box SEO tools
Variety of payment options with no transaction fees
Easy to customize and extend its functionality through APIs (for developers)
Excellent multi-channel selling compared to the competition
Fully hosted platform
BigCommerce Cons
Each paid plan comes with a yearly sales limit
Premium templates are quite expensive
Cart abandonment is not on the Standard plan
Limited free templates
You can start using BigCommerece completely free for 15 days without even providing your credit card.
3. Wix
Best eCommerce platform for small businesses with limited inventory
Wix is a modern, user-friendly eCommerce website builder that gives you the ability to create a complete website with eCommerce capabilities. It is a good option for smaller businesses and new entrepreneurs looking for a robust website builder that doesn't "lack" eCommerce functionality.
Specifically, Wix has some very powerful tools such as order tracking, abandoned cart recovery, dropshipping, print-on-demand and automated sales tax. This eCommerce site builder equips you with more than 800 designer-made templates to build your website, many of which are free. As an alternative, you can let Wix's ADI (Artificial Design Intelligence) make your site for you after answering a couple of questions.
You should know, however, that while you can build your website with the free plan, you'll need a paid subscription to use its eCommerce-oriented features. Another not-so-great thing about the tool is the absence of low stock alerts, which could cause unnecessary trouble down the line.
What's interesting about Wix is the long but detailed onboarding process. Some people may find it tiresome. However, we believe it's better to give you more assistance than you need than be lacking in that respect.
As expected, this eCommerce website creator has a nice third-party app and extensions marketplace. There, you can find shipping coordinators, accounting services, useful social commerce integrations, and many more.
Overall, Wix is an eCommerce platform that gives business owners complete freedom to create, design and manage their online presence without much hassle and without any skills whatsoever.
Note: Similar solutions to Wix are Weebly and Squarespace.
Wix Pros
Huge variety of free themes
Unlimited bandwidth on all eCommerce plans
Great on-page customer support
Extremely beginner-friendly
Wix Cons
Still weak at SEO (especially for large businesses)
Limited storage space
Lack of advanced automation functionality
Not great inventory management and tracking options
If you want to try out Wix and have complete control over your creation, sign up for the free 14-day trial.
4. WooCommerce
Best eCommerce platform for existing WordPress websites
WooCommerce is an open-source eCommerce platform and a dedicated WordPress plugin. This means that you will need to have an active WordPress website to utilize that platform.
Unsurprisingly, WooCommerce is among the most popular eCommerce platforms. According to Datanyze, it has an astonishing 33.18% market share across all eCommerce solutions, making it the most used platform for eCommerce stores.
In terms of design, WooCommerce comes prepacked with Storefront, which is the free standard theme. You can customize the buy button, embed products on any page with shortcodes and split products into categories. Your online store can have unlimited products and product images, while you also get reviews and rating systems out-of-the-box.
WooCommerce allows you to sell both physical and digital products. You can manage orders, create coupons, integrate different payment gateways (instead of WooCommerce Payments) and print shipping labels, all from the same dashboard.
Regarding its installation on your website, it's fairly easy to do. Just follow the steps of the onboarding process and then select Auto-install WooCommerce on an existing WordPress site.
What might be a problem with WooCommerce is scalability. Users have reported that the more products you add and the more customers you acquire, it starts slowing down. The cause might also be due to the weight of themes and plugins. Finally, you'll need to deal with web-hosting, which can be expensive if you opt for quality.
Overall, WooCommerce is primarily for people accustomed to the WordPress platform who already have their own WordPress site and want to start selling products or services.
In case you've decided to go with this platform, here's a detailed WooCommerce tutorial you can follow!
WooCommerce Pros
Free to use and highly customizable
Best eCommerce platform for SEO
1-Click selling app available
Active developer and expert community for support
WooCommerce Cons
Self-hosted
Only for active WordPress web pages
Main features are free but some useful extensions can be costly
Lack of full PCI compliance
Bonus Tip
A great way of increasing your WooCommerce store presence and revenue is with the use of email marketing and email automation. WooCommerce offers some pretty basic email marketing functionalities. Using a dedicated email service provider like Moosend can make a tremendous difference.
Moosend has direct integration with WooCommerce which allows you to set up amazing email automation such as cart abandonment emails, welcome emails, and thank you emails!
You can easily start email marketing for free with Moosend and engage with up to 1,000 subscribers without even entering your credit card.
5. Squarespace
Best eCommerce platform for sleek and high-quality website templates
Squarespace is a popular website builder with add-on eCommerce capabilities on its higher tier plans. It boasts an excellent drag-and-drop functionality, and you can have your shop set up in no time. We could say that the platform's emphasis is in giving businesses the ability to design unique, memorable websites that go beyond a "shopping cart focused" approach.
While you won't get advanced eCommerce features that "pure" eCommerce platforms have, Squarespace is a great option for print-on-demand businesses or businesses looking to add eCommerce functionality to their existing website. As with other eCommerce platforms, there are no restrictions on the number of products your store can have.
To start selling products online, you'll need at least the Business plan, which includes a free custom domain, SSL certification and gift cards. Opting for a higher tier plan unlocks features like powerful analytics, abandoned cart recovery and automatic shipping rates calculation.
Where things are not ideal is the processing of payments. You can take online payments via Paypal, Stripe, Apple Pay, and Afterpay (only for certain countries). Regarding in-store payments, they can be handled through Square hardware. Limited is also the integration with other third-party apps.
All in all, Squarespace will be a great solution for businesses in need of a tool with the ability to create stunning websites with simple eCommerce capabilities.
Squarespace Pros
Flexible store templates
Unlimited bandwidth
Intuitive visual website builder
Fully hosted
Decent SEO tools
Squarespace Cons
Payment processing is significantly limited
No transaction fees on Commerce plan
Scalability can be an issue
Limited integrations with third-party tools
If you want to use Squarespace, their 14-day trial will be an excellent way to get started!
6. PrestaShop
Best eCommerce platform for business owners with technical knowledge
PrestaShop is an open-source eCommerce platform that's completely free to use. You still have to pay for hosting, though, and advanced features, but it's affordable to start. Their technology is being used by more than 300,000 online stores around the globe, covering a staggering availability translated into 75 languages.
PrestaShop is a feature-packed solution that offers you the ability to create products and assort them into categories and sub-categories, as well as an advanced inventory management system. In terms of customization, you will be able to add various payment methods and shipping options, assign shipping carriers based on geographical delivery zones and implement SSL certification to enhance security.
Setting up your product pages is as easy as it gets. You can even configure your store's search engine. Furthermore, PrestaShop allows you to insert a product search engine into your 404 pages. You might even see a bump in sales with this feature!
Regarding the customization of your checkout page, you get features like displaying a summary page and order validation. These provide your customers with an enjoyable journey through your checkout.
And to make things a bit more interesting, PrestaShop offers a complete solution of features that allow you to market your e-shop on autopilot. From product suggestions to promoting specific products across your store and even custom product sliders, you will be one step ahead of your competition.
To sum up, PrestaShop will be a good solution for small to medium enterprises that are not looking for a sophisticated solution. If you have limited technical knowledge, PrestaShop might not be the best solution for you unless you outsource it.
PrestaShop Pros
Free and open-source
International selling
Large community
5,000+ PrestaShop modules and themes available
PrestaShop Cons
You have to pay for dedicated support from PrestaShop's team
Expanding your store's functionality with modules can become pricey
Installation and configuration require some technical knowledge
7. Adobe Commerce (formerly Magento)
Best eCommerce platform for multi-channel commerce
Adobe Commerce is a well-known eCommerce platform that can help B2B and B2C businesses build a flexible, extensible and scalable eCommerce store that's optimized for easy checkouts. Its drag-and-drop tools help you create compelling content and create a unique shopping experience for your customers.
This cloud-hosted platform can easily handle both digital and physical products and provide you with essential, real-time inventory data to run your business smoothly and efficiently. However, you'll need to do some "manual" work to keep up with the latest security patches and version updates due to its cloud-based "nature."
One area where the platform does great is order management. If your business has multiple stores, sites, or warehouses, you don't need to worry, since Adobe Commerce allows you to create a seamless experience.
Through the Magento Marketplace, you can achieve the ultimate customization of your eCommerce website. To give you some examples, you can choose responsive themes, add global currencies and languages and connect with your favorite CRM and marketing tools.
Overall, Adobe Commerce is a solution aimed at brands that know their needs, expect to grow big and have serious plans for the future.
Adobe Commerce Pros
Highly customizable and scalable
End-to-end platform
Out-of-the-box integrations (addons, modules)
Adobe Commerce Cons
Pricing not publicly available
Requires developer skills
Too much for small businesses
Conclusion
As you probably saw yourself, there is no "perfect" platform. However, these small differences between the above eCommerce platforms can decide the success of your eCommerce store.
Therefore, it is essential to look at the tools closely and decide which one will enable you to achieve your goals faster and more efficiently.