How Much Does Email Marketing Cost? [September 2023]
How Much Does Email Marketing Cost? [September 2023]
Published By
Alexandra Marinaki
September 13, 2023
Rumour has it that email marketing is one of the most effective business growth strategies. Email campaigns help marketers boost brand awareness, increase sales, and build solid relationships with customers. But how much does email marketing cost?
This guide explores which elements affect email marketing costs to distribute your budget wisely. We also share the potential costs of email marketing agencies to see what suits you best.
But first, let's show you some top email marketing statistics to decide if it's worth implementing for your business.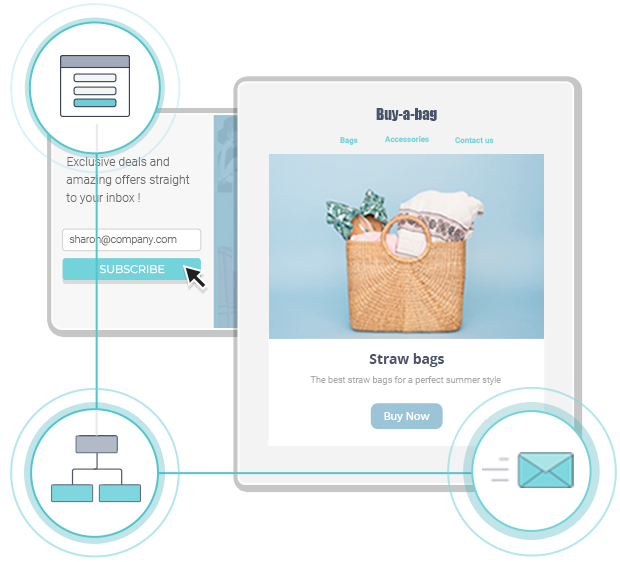 Try Moosend Today
The easiest and most affordable email marketing and newsletter software!
Our Appetizer: Email Marketing Statistics
Why is email marketing considered a top marketing tactic whatsoever? Have a look at these stats:
The average email ROI is $42 for every dollar spent on email marketing campaigns.
49% of people said they'd like to receive weekly campaigns from their preferred brands.
Automated campaigns get 320% more revenue compared to non-automated emails.
Segmented emails can cause a 760% boost in return on investment.
74% of marketers stated that email engagement increases through targeted personalization.
59% of survey respondents said that marketing emails affected their purchase decisions, with half of them buying straight from those emails at least once monthly.
Therefore, to increase your revenue, you can utilize email marketing tools like email automation and segmentation. Personalized marketing is all you need to deliver timely and relevant messages to your customers.
Which Factors Affect Email Marketing Pricing?
Email marketing can be game-changing, but let's move to the granular aspects now and slowly get to our main point – email marketing costs. Here's a breakdown of the factors that determine the pricing:
1. Email Marketing Software
To streamline a successful email marketing process, the first move is to acquire an appropriate email marketing tool. Fortunately, there are many email marketing services to choose from, tailored to almost every business need and budget.
Here are some examples to give you a clearer picture: Moosend and Constant Contact have monthly plans that start at $9 and $9.99, respectively, which are great for small businesses experimenting with email marketing for the first time. Both platforms have plans suitable for enterprises, too.
On the other hand, if you have a large business, you can opt for more expensive and sophisticated email service providers (ESPs) like Mailchimp and Hubspot, checking several marketing boxes, including CRM and lead gen solutions. For instance, Mailchimp's standard pricing package is $20, while HubSpot's starts at $50.
The good news is that most of those tools enable you to request a free trial to see for yourself how the process works and decide if it's suitable for your team. Not to mention that some of them let you begin totally for free – e.g., Brevo (formerly Sendinblue), SendPulse, etc. – but with limited features and functionality.
Overall, it's highly recommended to start with a platform and avoid using your regular internet service provider (ISP) like Gmail or Yahoo, even for a few emails. You may end up with a high spam and unsubscribe rate that will eventually damage your sender's reputation. Plus, with email marketing tools, it's easier to comply with data privacy rules.
Looking for a thorough email marketing service guide? Click here for a shortcut!
2. Number of Subscribers
Another significant element that will determine how much you'll spend on your software is the size of your email lists. If you go to the pricing page on the websites of email marketing platforms, you'll see that in most cases the price depends on the number of email subscribers you have.
As you may understand, the longer your email list, the larger the price you'll pay. The minimum of subscribers most platforms allow is 500-1,000. If your business is on a scaling mode, it's crucial to check how these prices change for bigger lists.
For example, ActiveCampaign starts at $15 per month for up to 500 subscribers and switches to $30 for 1,000 subscribers. At the same time, Moosend's pricing for the same number of users is $9 and $16, respectively.
Apart from the size, the quality of your email list matters, too. Εmail list cleaning is essential to keep your campaigns away from the spam folder and maintain a good deliverability score. There's no need to pay a higher price for inactive contacts, as this can increase your bounce rate and put your sender's reputation at stake.
3. Email Marketing Features
Another element that impacts the email marketing cost is the email marketing features you'll select. Most email marketing tools include these capabilities in their plans, without extra charge. Here's a brief feature list:
Email templates and editor
List segmentation
Automation workflows
CAN-SPAM compliance
Real-time analytics
Integrations
A/B testing
However, in some cases, there is an extra fee for features like transactional emails and custom reporting to look for, especially for cost-effective plans.
Moreover, some marketing platforms with email capabilities have other features you may find useful for your outreach, like pop-ups and SMS transactions. So before you decide which platform to purchase, check their features and pricing page in-depth to see which can prove more useful based on your current and future plans.
4. Email Frequency & Volume
How often do you plan to send email campaigns to your customers? Will you go for a monthly email blast or set up drip campaigns? And ultimately, how many emails do you plan to send?
Many platforms like Moosend and GetResponse allow users to send unlimited emails to their subscribers based on the plan you've chosen, while others set a limit that can affect the pricing. This is even more evident in free plans when there's usually a small sending limit for a restricted contact list.
So if you're uncertain about what tactic to follow, maybe it's best to go for a more flexible plan based on the size of your email list to avoid switching plans from time to time.
How Much Does An Email Marketing Agency Cost?
Not all businesses manage their email marketing strategy in-house. Many prefer to employ freelancers or email marketing agencies to perform this process for them. But how much does this cost?
In general, the rate depends on the email volume, frequency, and contact list size. On average, it can start from around $300 and reach up to $2,000 for large-sized businesses.
Is it worth it? It depends on how you'll manage to run this project independently. Most email marketing platforms are user-friendly, and with a bit of help from the support team, marketers can solve any issues that arise and set up beautiful campaigns that convert.
However, it's important to have a copywriter aboard who can showcase your brand as good as it gets through email newsletters. If you hire someone externally, add their hourly rate to your budget to figure out if it's the best solution for you.
Building An Omnichannel Experience Via Emails
Apart from the obvious benefits shared earlier, email marketing can work in tandem with the rest of your marketing functions if done right, serving an omnichannel purpose.
Most email marketing platforms enable users to build signup forms and landing pages for maximum lead generation without extra costs. You can use dedicated editors or templates to collect valuable customer information. Then you can lead them to your eCommerce website or other assets to keep nurturing them on the way to conversion.
The best part? There's no need to hire an email designer or pay any extra fees. The email marketing platform you've chosen is more than enough to make this omnichannel magic begin! Moreover, you will be able to elevate your brand awareness efforts through email marketing by bringing traffic to your social media channels and more customers to you!
So if you find yourself sitting in a meeting room wondering how much email marketing will cost and if it's worth it, it's good to remember all its advantages and cheer up a bit!
How To Measure Your Email Marketing ROI
Let's imagine that you've found out how email marketing will cost for your business and finally chosen your preferred service. Now you can use the average email marketing cost to measure your email ROI using the formula below:
How will you know your tactics' success if you don't frequently monitor them? However, finding your average gain can turn into a complex process. In a nutshell, here are the metrics that will show you how much you've earned:
Open rates
Click-through rates
Website traffic
Email-generated sales
Conversion rates
Impact on revenue
To make sure that the results are accurate, apart from your email platform, collect data from Google Analytics or any similar tool you use.
Then, based on your email marketing ROI, you can find ways to earn the biggest possible gain while you minimize the costs. This can include purchasing a new platform or building a more solid email strategy to turn even the most reluctant subscribers into customers.
Ready To Calculate Your Email Marketing Cost?
Long story short, if you're looking for a cost-effective digital marketing strategy, then email marketing should be on your priority list. Ιt can help your business pivot, starting at a relatively low price.
So search for your niche's top three email marketing solutions, examine their pricing pages, and find the most cost-effective service that suits your needs based on the factors shared earlier. Remember, essential features like marketing automation and segmentation usually belong in the package, but cross-check before moving to the checkout page.
Did you know that Moosend is one of the cheapest email marketing services with excellent features and a high deliverability score? Sign up for a free trial today to see it for yourself!