20 Best Email Automation Software In 2023 [Features & Pricing]
20 Best Email Automation Software In 2023 [Features & Pricing]
Published By
Alexandra Marinaki
September 22, 2023
Email automation can free your hands and help you send more targeted messages to customers and prospects.
In this guide, we'll thoroughly explore some of the top email automation software so you can find the ultimate tool that offers high functionality and deliverability for your business.
But first, let's see a quick email automation definition for novices!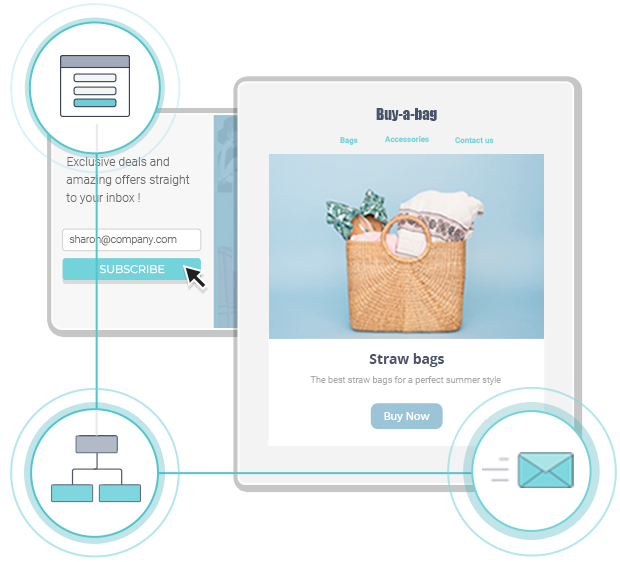 Try Moosend Today

The easiest and most affordable email marketing and newsletter software!
How We Selected The Following Tools
All of the tools in this list have been tested by our team to provide an unbiased description of its features and capabilities.
We spent hours setting up new accounts and trying each software to provide an accurate experience and show users exactly what they will come across when they sign up. Find more information about our software selection methodology on how we choose tools to feature on the Moosend Blog.
What Is Email Marketing Automation?
Email automation is the process of setting up automated emails triggered when subscribers complete specific actions, such as purchasing or based on behavioral customer data. Let's see some of the main triggered emails that help businesses communicate fast with customers at crucial times:
Welcome email
Onboarding series
Notification emails
Order/Registration confirmation
Re-engagement campaigns
According to recent stats, triggered emails have a 70.5% higher open rate and 152% higher click-through than other newsletters. Customers seem to favor them, so you'd better hurry up and try them out.
1. Moosend
Pricing: Paid plans start at $9/month, 30-day free trial (Sign up here)
Best for: eCommerce, SMBs, SaaS, Bloggers
Unique feature: Audience management features
Moosend is an all-in-one email marketing solution with top-notch automation features to nurture your customers right on time. You can easily create automation workflows and transactional emails using the drag-and-drop builder or ready-made recipes.
Moosend offers integrations with platforms such as Woocommerce and Salesforce to help track your customers' behavior and deliver highly targeted newsletters. This software is well-known for its ease of use, providing all the tools to optimize your automated emails.
As a holistic email platform, Moosend offers segmentation solutions to manage your contact lists and take personalization to the next level. And, of course, the user-friendly email builder lets users design beautiful and responsive emails using pre-made templates or the intuitive campaign editor.
If you're wondering how you'll manage to track the success of your campaigns, this email service offers thorough reporting and analytics solutions. You'll also find an A/B Testing tool to test different email variables and discover what is more effective for your subscribers.
Last but not least, with email deliverability reaching 98%, it's safe to conclude that your emails will end up in your subscribers' mailboxes and hardly ever in spam!
Moosend Email Automation Software Features
Sophisticated automation features
Pre-made design templates and a drag-and-drop editor
A/B Testing tool (subject lines, content, etc.)
Landing pages and online forms
Integrations with CRM, eCommerce platforms, social media, etc.
Moosend Pricing
This email automation software offers flexible pricing packages starting at $9/month for unlimited emails. The plans include automation workflows, an SMTP server, landing pages, and forms.
You can also sign up for a free trial for 30 days to test its capabilities.
2. Constant Contact
Pricing: Paid plans start at $12/month, free trial
Best for: Small businesses, Educational institutions, NPOs
Unique feature: Event management
Constant Contact is a well-established email marketing service with practical digital marketing extensions, including a social media feature and an event management tool. Moreover, the platform offers a native CRM solution to bring together all your marketing and sales tasks.
Regarding email automation, the platform offers simple solutions at a higher price tag, unlike some of its popular competitors. You can set up triggered email series like welcome, anniversary, resending emails, and autoresponders, but there are limitations for more complex automated sequences.
Nevertheless, this email platform includes all the additional assets to thrive, such as email templates, list-building tools, and integrations with other marketing stacks to build seamless processes. Plus, they offer a mobile app to help you manage all email marketing tasks.
Constant Contact Features
Customizable templates and a drag-and-drop editor
Email automation and integrations with CRM, Gmail, etc.
Email list building tools
Event management, promotion, and reporting
Social media management feature
In-built CRM
Contact Contact Pricing
Pricing plans start at $12/month for 500 subscribers, but to access more advanced automated solutions, you need to purchase the Plus plan, starting at $45/month for the same number of subscribers.
3. Mailchimp
Pricing: Paid plans start at $20/month, Limited free plan
Best for: eCommerce businesses, Agencies, Publishers
Unique feature: Multi-step automation workflows
And now, let's move to Mailchimp, one of the most popular email marketing platforms for eCommerce businesses with advanced automation options. Users can build multi-step automation workflows to target their audience.
They offer the so-called customer journeys, allowing users to create personalized experiences for each customer, including behavioral-based and RSS campaigns. The platform also provides scheduling features and pre-built journeys to help you save time.
This email automation software offers various tools to optimize your email marketing efforts, such as audience management, a marketing CRM, and enhanced insights and analytics solutions like Smart Recommendations and Surveys.
Mailchimp Features
Simple email editor and ready-made templates
Advances automated sequences
Send time optimization tool
Integrations with 300+ apps
Segmentation and predicted demographics
Mailchimp Pricing
Mailchimp's pricing starts with the Standard Plan, costing $20/month for 500 subscribers. There's also a free plan with limited options; however, it excludes automation, letting you send 2,500 emails monthly.
If you are looking for a more affordable solution, check out Mailchimp's less expensive alternatives.
4. HubSpot
Pricing: Paid plans start at $20/month, limited free plan
Best for: eCommerce businesses, SaaS
Unique feature: CRM and lead generation tools
HubSpot is the ultimate marketing and CRM tool to boost your lead generation efforts. Even though its email automation assets are limited, it is worth mentioning as it can prove very useful for marketing and sales teams.
With Hubspot, you can build automated workflows and schedule follow-up tasks to save time. Plus, you access all assets required to gain new subscribers, like pop-up forms. Combined with a robust CRM solution, it dives into each subscriber's data to deliver more personalized experiences.
As an all-in-one marketing platform, it also offers social management, ad tracking, and SEO solutions to support your marketing strategy and lead your business to success.
Hubspot Features
CRM and behavior tracking
Landing pages and web pages
Automated workflows and performance analytics
Social media integration and management
Analytics reports and dashboards
Hubspot Pricing
Regarding pricing, you can get the Starter Plan at $20 for 1,000 contacts to access email automation features. There is also a free email marketing plan but with limited tools.
5. ActiveCampaign
Pricing: Paid plans start at $29/month, 14-day free trial
Best for: SMBs, SaaS, eCommerce
Unique feature: Advanced marketing automation
If you're looking for a platform that excels in marketing automation, then ActiveCampaign should be on your radar. It provides marketing pros and eCommerce stores with advanced marketing solutions to boost conversion rates.
This marketing automation tool enables you to build strong customer relationships and nudge prospects on the best timing, using everything from transactional emails to triggered campaigns and autoresponders.
Not to mention that their CRM and sales automation enable business owners and marketing leaders to build a powerful lead-generation engine. Moreover, it offers an omnichannel feature that combines email with SMS, social media, and chatting to reach customers where they usually hang out.
ActiveCampaign Features
Advanced features for marketing and sales automation
Online form builder
Email campaign management
Cross-channel engagement feature
Integrations with Salesforce, Shopify, WordPress, etc.
ActiveCampaign Pricing
This automation software has flexible pricing packages starting at $29/mo for 1,000 contacts (paid yearly) or $39/mo if you pay monthly. For more advanced features such as website optimization or attribution reporting, you need to switch to the Plus plan, starting at $70/month for the same number of subscribers.
Note: ActiveCampaign has been moving the Lite plan around a lot recently. Make sure to visit its pricing page for the exact prices and available plans.
6. Brevo (Formerly Sendinblue)
Pricing: Paid plans start at $25/month, free plan
Best for: eCommerce, Publishers, Agencies
Unique feature: Transactional emails
Brevo is a platform with email, SMS, and CRM capabilities letting users manage customer communications in one place. Hence, you can send transactional messages via email and SMS for maximum results.
Users can create complex automated sequences to maximize email engagement through its marketing automation functionality. Moreover, the platform provides email API, email list growth tools, and a Facebook ad feature for maximum reach. Of course, its segmentation tool helps you personalize your content based on data such as demographics or website behavior.
Lastly, Brevo is marketed for enterprises by ensuring high deliverability and compliance.
Brevo (Formerly Sendinblue) Email Automation Software Features
SMS capabilities
Drip campaigns
Audience segmentation
Transactional emails via SMTP
Integrations VIA email API
Brevo Pricing
This email automation software is a little pricier, with paid plans starting at $25/month for unlimited contacts. There is also a free pricing plan but with minimal features.
7. Omnisend
Pricing: Paid plans start at $16/month, free plan
Best for: eCommerce, Fashion
Unique feature: Email and SMS tools
Next to the list comes Omnisend, enabling you to build a multi-channel experience combining email, SMS, and web push notifications.
Regarding automation, there are prebuilt workflows for essential triggered email newsletters such as welcome series and cross-sell campaigns. In addition, they offer a tool called Automation Splits to tailor offers and incentives and create highly targeted experiences.
Lastly, Omnisend has all the features you need to streamline an efficient email marketing pipeline, from email design to A/B Testing.
Omnisend Features
Advanced marketing automation
Automation splits
SMS marketing
Integrations with eCommerce solutions
Cookieless and cross-channel tracking
Omnisend Pricing
This platform offers a free plan for 250 contacts and 500 monthly emails. Paid plans start at $16 for 500 contacts, including all features. Visit their website for more info about SMS pricing.
8. GetResponse
Pricing: Paid plans start at $19/month, free plan
Best for: Publishers, eCommerce
Best feature: Lead magnet funnels
GetResponse is another all-in-one marketing solution with compelling automation capabilities. Apart from autoresponders and transactional emails, the platform sports tools like tagging, scoring, and website behavior tracking.
GetResponse doesn't limit itself to email marketing but also offers a website builder and features to streamline webinars, from screen-sharing to polls and surveys.
This platform also provides users with a lead magnet creator, allowing you to promote your content in an automated, optimized way. Lastly, it can support your paid advertising efforts via its online ad creator.
GetResponse Features
Advanced automation and segmentation
Forms and pop-ups
Omnichannel marketing support
Live chat
Website builder
GetResponse Pricing
While it has a free plan, it can cover basic email marketing needs for up to 500 contacts. To access basic automation features, choose the Standard pricing plan at $19/month. For more complexity, switch to the Marketing Automation package for $55/month.
9. Drip
Pricing: Paid plans start at $39, 14-day free trial
Best for: eCommerce
Best feature: One-click integrations
Another brand that stands out from the marketing automation crowd is Drip. Even though it's not the most affordable for businesses with less than 2,000 contacts, the rest can profit from it.
You can easily set up triggered emails based on pre-built workflows to save time. You can create your automation sequences and use tailored product recommendations through its personalization package.
Finally, you can easily collect customer data using forms and popups or syncing Drip with social media or various integrated platforms.
Drip Features
SMS workflows
Dynamic segmentation
Benchmarking reports
Prebuilt automation workflows
A/B Testing
Drip Pricing
As mentioned earlier, it's not a convenient email automation software for small businesses, as the pricing starts at $39 for up to 2,500 subscribers. Drip has no free plan, but you can request a 14-day trial.
10. Mailerlite
Pricing: Paid plans start at $10/month, free plan
Best for: eCommerce, SMBs, SaaS,
Unique feature: A/B Testing
Now, let's move to MailerLite, an easy-to-use and affordable solution for beginners and pros. You can send triggered campaigns from transactional emails based on customers' actions or choose the multi-trigger option to achieve next-level targeting.
It offers an intuitive HTML editor and drag-and-drop builder to create a branded design for your email campaigns. It also has reporting capabilities with click maps and deliverability reports to optimize your campaign performance.
Finally, MailerLite offers simple website and blog builders and tools for effective list building.
ΜailerLite Features
Multi-trigger automation
Landing pages and sign-up forms
Email verifier for list cleaning
Digital products and eCommerce solutions
RSS and auto-resend campaigns
ΜailerLite Pricing
First off, MailerLite has a free plan for up to 1,000 subscribers with a few automation features to get started. For more assets, you can choose the Growing Business pricing plan starting at $10 monthly for the same number of contacts.
11. ConvertKit
Pricing: Paid plans start at $15/month, free plan
Best for: Bloggers, Creators
Best feature: Easy-to-use rule builder
ConvertKit also checks all mandatory boxes regarding email automation. Set up drip campaigns and edit your content with just a few clicks. Moreover, the tagging systems enable you to remove or add subscribers to your workflows.
You can integrate ConvertKit with platforms like Shopify and additional apps through Zapier to expand your reach. This marketing software offers everything you'll need to design beautiful, responsive emails.
Finally, ConvertKit has a high deliverability score, making it an excellent asset for email marketers.
ConvertKit Features
Visual automation builder
Paid newsletter
Email signup forms
Newsletter referral program
Subscriber scoring
ConvertKit Pricing
If you're still a novice, you can start with a free plan for up to 300 subscribers but with limited capabilities. Select the Creator pricing package for $15 for more features or the Creator Pro for $29/month.
12. Mailjet
Pricing: Paid plans start at $15/month, free plan
Best for: SaaS, eCommerce
Best feature: Multi-user account
Next on our automation list comes Mailjet. Powered with pre-built automation journeys and segmentation, it helps users meet their conversion goals faster with timely customer communications.
You can also check your real-time data on the Statistics Dashboard to learn what works and improve your tactics in the future. Moreover, with Mailjet's A/B Testing you can test different variables of your campaign like the subject lines, images, CTAs, and more.
Lastly, the real-time collaboration feature helps your teammates sync to get the best decisions before they hit "Send."
Mailjet Features
Email builder
Multi-user account
Pre-built automation workflows
Email API
SMTP Relay
Mailjet Pricing
Mailjet's email marketing platform has a free plan for up to 6,000 monthly emails with basic email capabilities. Paid plans start at $15/month with Essential, but to access the advanced automation features, you should move to the Premium plan, with $25/month.
13. AWeber
Pricing: Paid plans start at $15/month, free plan
Best for: Small businesses, Online creators
Best feature: Customizable campaigns
AWeber promises small business owners to take the next level. They offer the essential email marketing features SMBs and freelancers need to streamline a successful email marketing strategy, from an email editor integrated with Canva to list building assets like landing pages.
Moreover, you can use autoresponders and send triggered campaigns to your audience. Combined with the segmentation tool, it's easy to schedule highly targeted campaigns and see them convert.
Finally, this platform is easy to use, especially regarding email design. You can also find pre-written email marketing campaigns to get inspired.
AWeber Features
Canva integration
Drop-down menu for personalization variables
Web push notifications and landing pages
SMS marketing integrations
Cross-device and A/B Testing
AWeber Pricing
AWeber's free plan has limited capabilities, and advanced automation is excluded from the list. For more, check the Lite plan at $15/month for up to 500 contacts.
14. Campaign Monitor
Pricing: Paid plans start at about $10/month, free trial
Best for: NPOs, eCommerce
Best feature: Time zone sending
Campaign Monitor offers many email marketing tools to convert your subscribers and boost your ROI. Apart from automated sequences, its personalization features can be game-changing for your business. Time zone sending and dynamic content are also among them.
This email automation software has everything you'll need to design beautiful transactional emails and newsletters and fully customize them. Finally, the platform supports SMS marketing, enabling you to build an omnichannel marketing approach and win your subscribers faster.
Campaign Monitor Features
User, role, and access management
Transactional emails
Template builder
SMS marketing
Integrations with platforms like Shopify, Salesforce, etc.
Campaign Monitor Pricing
Pricing plans start at approximately $10 for 500 subscribers. For unlimited emails, you can choose the next plan at $20/month – visit their pricing page for more.
15. Cakemail
Pricing: Paid plans start at $8/month, free plan
Best for: Freelancers, SMBs
Best feature: Automated list hygiene
If you're looking for a cheap email marketing service with basic automation capabilities to start nurturing your target audience, then Cakemail should be on your list. Through Cakemail's automation builder, you can craft triggered email sequences, like onboarding or welcome campaigns, and keep track of their performance stats.
In addition, you can plan transactional emails via the SMTP and grow your lists with signup forms or by utilizing the dedicated contact list import feature.
Cakemail Features
Advanced segmentation
Dynamic content and personalization
Automated list hygiene
Signup forms
Consent management
Cakemail Pricing
If you want to give Cakemail a go, you can get the free plan with a sending limit of 6,000 emails and limited features. You can then upgrade to the Growth Plan, starting at $8/ for 500 contacts, and take it from there.
16. Benchmark Email
Pricing: Paid plans start at $15/month, limited free plan
Best for: SMBs, eCommerce
Best feature: Polls and surveys
Next on the list is Benchmark Email, which has everything an email service needs to build a successful email process. You can create beautiful emails using pre-made templates or the available builder and demonstrate your products using the drag-and-drop eCommerce block.
The Automation Pro feature lets users send highly targeted automated emails with conversion-focused messaging. To be safer, you can also conduct A/B Testing to find the best variables for a winning campaign.
Benchmark Email Features
Signup forms, polls, and surveys
Integrations with popular platforms
Advanced automation and segmentation
Multi-user account
A/B Testing
Benchmark Email Pricing
This software offers a free plan with limited capabilities like other platforms mentioned earlier. Then, you can purchase the Pro plan for $15/month for 500 subscribers and unlimited emails.
17. SendGrid
Pricing: Paid plans start at $19.95/month, free plan
Best for: eCommerce, SaaS, Startups
Best feature: Delivery optimization tools
SendGrid is a well-known email service with a set of tools that guarantee success to their customers. You can set up triggers for automated, hyper-personalized emails minus the complexity. Analytics is, of course, on the list to improve your campaigns over time.
You can also conduct email testing to ensure that your campaigns will be delivered flawlessly to your subscribers' mailboxes, not spam. Finally, you'll access all the essential tools to build your lists and craft responsive and attractive emails.
SendGrid Features
Advanced list segmentation
Event tracking API
Email testing feature
Drag-and-drop editor and templates
Marketing automation
SendGrid Pricing
You can start with a free plan with limited capabilities, with only 100 daily emails. Upgrade to the Essentials pricing plan starting at $19.95/month to access foundational email tools.
18. SendPulse
Pricing: Paid plans start at about $8/per month, free plan
Best for: Freelancers, SMBs, eCommerce
Best feature: Free CRM
SendPulse is a holistic marketing and sales software. Its CRM solution enables users to build highly segmented email campaigns and manage lead generation successfully.
But what happens with automation? With its Automation 360 solution, you can closely monitor your visitor's data and send them triggered emails at perfect timing. You can also leverage chatbots to build an ongoing communication channel with subscribers.
SendPulse Email Automation Software Features
SMS campaigns
Chatbots
Automation workflows
Online course creator
Signup forms and web push notifications
SendPulse Pricing
This email automation software has a free plan with limited features. For more advanced features, consider purchasing a paid plan, starting at approximately $8 for 500 subscribers.
19. Emma
Pricing: Paid plans start at $99/month, billed annually
Best for: NPOs, Agencies
Best feature: Team management
Even though it's not the most affordable email solution, Emma is an excellent option if you need to distribute different access and roles to your teammates. You can schedule targeted messages for your subscribers for different customer journey stages.
Emma also has an SFTC connection to enable users to upload their contacts if you can find integrations that suit your system. Finally, it provides users with basic reporting tools.
Emma Features
Responsive dashboard
Drag-and-drop email editor
Brand controls
List segmentation
User and account permissions
Emma Pricing
The pricing starts at $99/month with an annual contract for 10,000 subscribers and continues at $159 for unlimited automation options. Check their pricing page for more details.
20. Sendloop
Pricing: Paid plans start at $79/month, free plan
Best for: SMEs
Best Feature: List management
Sendloop is another solution SMBs can use for basic automation solutions, such as automated responses. The platform offers a multi-user account capability to help teams sync for better results.
Lastly, this software promises advanced segmentation, personalization, dynamic content, and email list verification.
Sendloop Features
Email list management
Multi-user account
Automation solutions
Reporting and analytics
Sendloop Pricing
The pricing for this email automation software starts at $79/month for up to 15,000 subscribers. A free plan is also available but with limited features.
Email Automation Benefits
Did you find something that suits your needs? Or are you still skeptical?
If you need more evidence, here are a few more email automation advantages for every business:
Helps you save time, eliminate dull tasks, and maximize productivity
Boosts your ROI by utilizing marketing personalization
Delivers a better customer experience with higher relevancy
Improves your brand awareness and lead-nurturing efforts
Overall, automation and email segmentation are the most potent weapons marketers have to make the most of email marketing and increase profitability.
How To Find The Best Email Automation Software For Your Business
How can you choose the best email marketing automation software for your business out of all these options? Here are some elements to make the right choice for your marketing strategy:
Ease of use: If you want to ensure your new platform is simple and easy to use, request a demo or a free trial.
Features: Check the feature page and see which platform suits your existing marketing stack. Don't forget to see their available integrations, as well.
Pricing: Another factor hard to ignore is pricing. If you're in growth mode, find a platform with flexible plans regarding scalability.
Customer Support: Finally, search for a platform with ongoing customer support to have a helping hand if something occurs.
There are many options to choose from to streamline your email automation efforts. Find the best solution based on your industry and needs and see your conversions rising.
Not quite sure yet? Sign up for a Moosend account and try our powerful automation and personalization features today!
Frequently Asked Questions (FAQs)
Helpful answers to common questions.
1. What are some common use cases for email automation?
Email automation can be used for various purposes, including:
welcome emails for new subscribers
drip campaigns for lead nurturing
abandoned cart recovery
birthday and anniversary emails
behavior-based product recommendations
customer onboarding and nurturing
2. How does email automation software handle unsubscribe requests?
Email automation tools should automatically process unsubscribe requests and remove recipients from your mailing list to comply with anti-spam regulations like CAN-SPAM and GDPR.
3. Is email automation software suitable for small businesses?
Yes, businesses of all sizes can use email marketing software with automation capabilities. Many email service providers offer plans that cater to small businesses with affordable pricing and essential features.
4. What are some popular email automation platforms?
Some great email marketing automation platforms include Moosend, Mailchimp, HubSpot, ActiveCampaign, Drip, and Constant Contact.
5. What are the costs associated with email automation software?
Pricing for email automation software varies widely. It can be based on the number of subscribers, the features you need, and the level of automation required. Some providers offer free plans with limited features, while others have tiered pricing models.
6. Is there a learning curve to using email automation software?
The complexity of using email automation software can vary depending on the platform. For example, ActiveCampaign's automation is far more complex than Moosend's. Nevertheless, most providers offer tutorials, guides, and customer support to help users get started and make learning easier.