How To Create A Marketing Plan In 2024 [+Free Template]
How To Create A Marketing Plan In 2024 [+Free Template]
Published By
John Desyllas
September 12, 2023
Every business, regardless of industry, needs a solid marketing plan to highlight its marketing objectives, estimate the cost, and keep track of the strategic goals it sets.
However, brands usually try various marketing tactics simultaneously and even go over budget to get the best results. And this is exactly why they fail!
So how can you avoid that? Today, we'll show how to create an effective marketing plan that will work for every business. Without further ado, let's start.
Disclaimer: You can get a copy of our marketing plan template to make yours as you read.
What Is A Marketing Plan?
A marketing plan is a roadmap outlining the way businesses set their marketing goals, how they plan and execute them, as well as the way they track their marketing strategy.
In a nutshell, it provides a clear view of all your marketing activities, including seven important sections:
A summary of your company
The business initiatives set by your team
Your target audience and potential customers
The marketing strategies and tactics you aim to leverage
Potential budget and financial considerations
The marketing channels you'll target
The marketing technology you will require
All these, along with the metrics or Key performance indicators (KPIs) you need to measure results, will help you structure a viable marketing plan clearly and efficiently.
Before we get to it, let's explore the difference between a marketing plan and a strategy.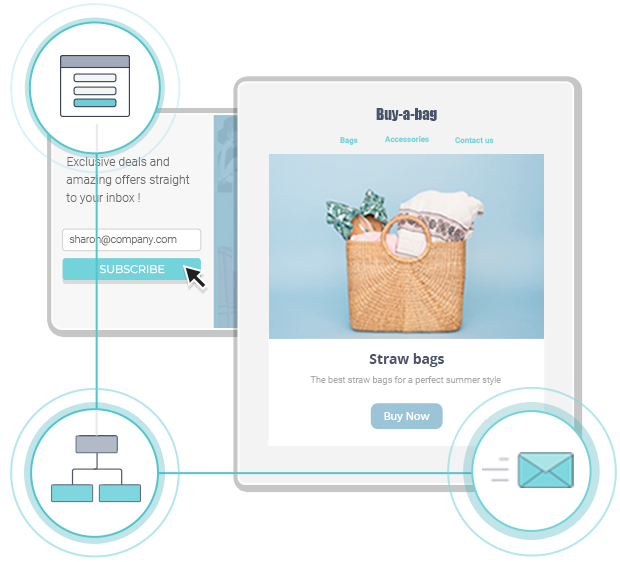 Try Moosend Today
The easiest and most affordable email marketing and newsletter software!
Marketing Plan Vs. Marketing Strategy
Sometimes, these two terms are used interchangeably. However, they have their differences.
A marketing strategy illustrates how a business will attempt to accomplish a certain goal or mission, including the channels, campaigns, content, or software/tools used to reach those goals and measure success.
On the other hand, a marketing plan involves the specific steps and activities (daily, weekly, etc.) that the marketing strategy requires.
Essentially, it is the framework dictating which marketing strategies are to be used, and it helps connect each strategy to your overall digital marketing operations and business goals.
Now that we cleared that, let's see what marketing plan types you can use.
Types Of Marketing Plans
Depending on how detailed you want your marketing plan to be, you can opt to craft one for the whole year or separate plans for each individual channel you wish to target.
Here are the most common types of marketing plans you can craft.
Annual marketing plan (General): These plans let you see everything at a glance, from the company mission and unique selling points (USPs) to your SWOT analysis and marketing channels.
Content marketing plan: This type sheds light on the different tactics, strategies, and campaigns you can use to help your business reach its goals content-wise. It can also feature an editorial calendar for your team to use.
Social media marketing plan: This one contains specific social media tactics, campaigns you plan to run, and ways to establish your presence on other social media platforms.
Paid marketing plan (demand generation): This type of marketing plan involves your paid marketing strategy, such as search ads, paid social media ads, email marketing strategy, and more.
Product launch marketing plan: Launching a new product requires planning. This is a roadmap for your strategies to promote your new product.
Now that we got the basics covered let's create your marketing plan.
How To Write Your Marketing Plan Step-By-Step
Before we get started, you need to get our template. You can get it here, make a copy, fill in your company's details like we did with our fictional company, and follow our lead.
Now, here are the components we are going to focus on. You can visit each section separately by clicking on each link below:
1. Business Summary
Your business or executive summary is a brief company overview. It introduces readers to your company objectives, marketing achievements, and plans.
The point is to get people excited to read your marketing plan. That's why it should be concise and to the point.
Your summary can include the following things:
Simple marketing goals
Company achievements/milestones
Future plans
Facts relevant to your brand
You don't need to delve into specifics since you want to pique people's interest.
Below, you can see an example of a publishing software company:
Your summary helps set the tone for your marketing plan. So, think carefully about what tone fits your brand best.
Moreover, your SWOT analysis is also found in this section, so create your SWOT grid and add your strengths, weaknesses, opportunities, and threats here.
Before you start, determine the scope and context of your analysis. Are you evaluating a business, a specific project, a product, or a marketing strategy?
Clarifying the purpose is the first step in crafting an effective grid for your plan. To create your SWOT analysis, you can also consult this informative guide.
2. Business Initiatives
Moving to the next section of your marketing plan, we'll find your business initiatives.
Here, you need to consider the purpose of each goal and determine the metrics to measure the success of each one of them.
Business initiatives can be explained in full or kept short depending on how you approach your marketing plan. To help you, here are a few steps you can take to create yours:
Clearly define your business initiative: write a clear and concise description of the initiative, stating the goal.
Link to your marketing goals: highlight how they align with your broader marketing objectives to establish the strategic context for the initiative.
Specify target audience: add the specific target audience or market segment the initiative aims to reach.
Set your Key Performance Indicators (KPIs): Define the metrics you will use to measure the initiative's success.
Of course, don't forget to estimate the potential impact on your marketing efforts and overall business goals. You can calculate the expected return on investment (ROI) to determine better which initiatives should be prioritized.
Next, let's see how to complete the target market section.
3. Target Market
Tailoring your marketing strategies to address the unique needs of each segment of your customer base will help you set more measurable and smart business objectives for your marketing strategy.
Here, add your audience and provide some key characteristics to help you identify their customer needs.
Below, you'll have to add another important element crucial for creating a comprehensive marketing plan.
Buyer Personas
Buyer personas are representations of your ideal customers. The majority of businesses have a few different types of target customers. So, you may have to identify and craft more than one buyer persona.
By outlining the different buyer personas for your business, you can properly segment your marketing campaigns and adjust your marketing materials accordingly to resonate with them. Moreover, your personas may influence the messaging you apply in your marketing content.
Creating buyer personas is necessary to help you understand your ideal customer and what they want. If you haven't defined yours, you can follow a few steps before adding the information to your marketing plan template.
These include:
Conducting in-depth market research through surveys, questionnaires, or interviews.
Asking the right questions to collect the necessary information.
Understanding how your product/service benefits your audience.
Compiling and analyzing what you collected.
When you have your customer personas, you can add the details on your marketing plan, providing their background, demographics, goals, pain points, key features they want from your product/service, and preferred content.
Competitive Analysis
A solid marketing plan cannot but include thorough research of your business' competitors.
In this section, you can analyze your current market situation, identify and study your competitors, and delve deeper into your company's strengths and weaknesses.
Conducting competitor research is vital if you own or want to start a blog. Your competitor analysis can include:
Who their leadership team consist of
Who their marketing team is
What their marketing strategy is
Their social media strategy
What kind of ads they're running
Their SEO marketing strategy
Their top-performing content
Their yearly growth (using a marketing tool like Ahrefs)
The number of customers they have
Their market share
Research thoroughly, and you'll be able to identify some great opportunities, especially if you are a small business owner who wants to grow the right way.
Below, you can add all the information you've compiled regarding your competitors, focusing on the products/services they offer and their strengths and weaknesses.
Now, we are ready to start working on your market strategy section.
4. Market Strategy
To create your strategy and have a comprehensive plan for your business, you need to consider the current industry trends, your audience, and the competitive landscape.
Before you complete your market strategy, make sure you have:
defined your goals and conducted a SWOT analysis to discover what you can leverage and improve
understood your target market to tailor your strategy to new customer needs and chose the right segments to target
analyzed the competitive landscape and identified their strengths and weaknesses
developed your unique value proposition (UVP) to highlight the benefits of your product or service
After performing the above, you can finally create your market strategy. Then, you can optimize it based on feedback from your team and customers.
Below, let's see how we completed our template using the 6 Ps of marketing, starting with product and pricing.
Product & Pricing
In this section, you can use our template copy to guide you through the process. For the product section, you need to add:
Product/Service description: briefly describe your product or service
Key features: highlight what sets your offering apart
Value proposition: clearly state the value your product/service brings to the target market
For the pricing, you need the following:
Pricing model: Describe your pricing structure
Competitive pricing: How your pricing compares to competitors
Value-Based pricing: Explain how your pricing is justified by the value you offer
Promotion & People
In the next two sections, you need to add the tactics you will follow to promote your product/service and the team responsible for running everything smoothly.
More specifically, for the Promotion table, make sure to include:
Marketing channels: list the channels you'll use to reach your target audience
Content strategy: how you plan to create and distribute valuable content
Advertising and promotion: outline any paid advertising or promotional campaigns
For your People and Team section, include:
Roles and responsibilities: list key team members and their roles
Skill sets: describe the skills and expertise of your team
Training and development: how you'll ensure your team is equipped to execute the strategy
Process & Place
Lastly, you should add your process and distribution (place) methods.
In the process section, you can add:
Timeline: outline the timeline for executing the strategy by highlighting your short-term (0-6 months), mid-term (6-12 months), and long-term goals (1+ years).
Project management: explain how you'll manage the execution process
Feedback and adaptation: how you'll gather feedback and make adjustments
For the distribution, you can add:
Distribution channels: describe how your product/service will be distributed to customers
Sales strategy: explain your sales approach (e.g., direct sales, partnerships)
Customer relationship management: how you'll maintain relationships with customers
Now that your market strategy section is ready, let's move on to an equally important part of any marketing or business plan.
5. Budget
Another thing your marketing plan should include is a definition of your marketing budget.
While your team may be leveraging many free channels and platforms, there will be "hidden" expenses a marketing team will have to account for.
You can use business budgeting software to track spending, create budgets, and monitor progress.
Moreover, putting your budget down will prevent you from losing sight of the financial aspect of things during execution and implementation.
Let me give you a few examples of what this part can include:
freelance fees
sponsorships
new marketing hires (full-time or part-time)
cost for collaborations
You can add everything in the Budget section and provide the estimated cost (if you don't have the actual price yet.)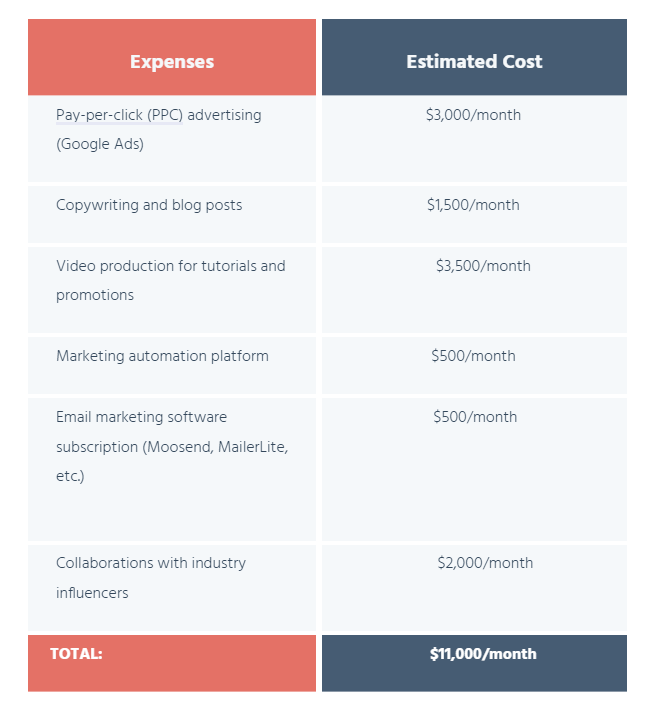 6. Marketing Channels
Choosing the right marketing channels for your business requires a strategic approach that considers your target audience, marketing goals, budget, and your products or services.
To make an informed decision, you need to:
Identify and understand your ideal customers. Consider their demographics, psychographics, online behavior, preferences, and where they spend their time.
Determine your available budget for marketing activities. Some channels may be more expensive than others.
Research various marketing channels to understand their strengths, weaknesses, and suitability for your business. Some popular channels include email marketing, SEO, social media, affiliate marketing, content marketing, and paid advertising.
Consider the nature of your product or service. For example, visual products may perform well on Instagram, while B2B services might benefit from LinkedIn.
These are some of the essential things you need to consider before choosing the right marketing channels for your business. Getting the wrong tools for the job will affect not only your operations but your budget, too. So, do the necessary research before you add them to your marketing plan and commit.
Below, you can highlight the channels you will use, providing a small description of their purpose and goal and the metrics with which you will measure their success.
7. Marketing Technology
As technology becomes increasingly sophisticated, choosing the right marketing tools for your company requires a strategic and thorough approach.
Now, you can't get the first tool that "looks good" to you, but try numerous alternatives to find the one that will be the perfect match for your business and teams.
Switching tools often will be time-consuming as your team members need to learn everything anew. So, taking some time to find cost-effective and useful tools is the best thing you can do to avoid rookie mistakes.
Before you commit, you should:
Assess integration capabilities
Consider scalability as your business grows
Evaluate user-friendliness
Plan for training and onboarding
Ensure data security
When you find the right tools, you can add them to your marketing plan and briefly describe what each asset of your marketing mix will do for your company.
Now, you have successfully created your marketing plan from scratch!
The next section will give tips to ensure you make a comprehensive and effective plan for your organization.
Tips To Polish Your Marketing Plan
Here are a few things to keep in mind before you make your plan.
1. State your business mission and values
The first step when crafting an effective marketing plan is to state your mission and company values. You can do that at the beginning of your plan to give your reader more information about your company.
This way, you immediately answer why you're doing what you're doing.
While your mission is specific to your marketing department, it has to be aligned with your main mission statement as a brand. Try to be as specific and clear as you can without exaggerating.
For example, if your business mission is to "provide affordable sports goods," then your marketing mission could be to attract users of a certain income, educate them on how to achieve the same results with competitive products and convince them to invest in them.
Note: This information is crucial for anyone reading this since you can educate them about the main objective of your business. In this way, they'll be able to understand your marketing goals and future plans better.
2. Establish your KPIs
Successful marketing plans clearly define how the marketing department tracks the progress of its mission. Consequently, you'll need to identify the key performance indicators (KPIs) that measure and track the different elements of your marketing campaigns.
These indicators will help you better communicate your progress to the business leaders and understand whether your marketing efforts yield the desired results.
Usually, these KPIs have specific numbers and timelines attached to them. Potential KPIs you may set include:
Getting X new leads
Decreasing bounce rate by X%
Writing X more articles per week/month
Reach X organic page views
Increase retention rate by X% each year
Get 100 new followers each month on Facebook/Twitter, etc.
As you will need to specify metrics in some sections, establishing your KPIs will be great before you create your plan.
3. Describe your strategy and initiatives
In multiple sections of your marketing plan, you will put the key points of your strategy. You'll have to explain how you'll use each element to achieve your marketing objectives and goals.
For example, if content marketing is part of your plan, make sure to add all the necessary information to the dedicated section, such as:
The type of content: blog posts, webinars, educational videos on Youtube, infographics, and ebooks.
The amount of content: define your content volume with daily, weekly, and monthly intervals. This is based on your workflow and the potential goals you have.
The distribution channels: Facebook, Twitter, Instagram, LinkedIn, YouTube, or Pinterest. Will you focus on one or more channels?
Paid ads that you plan to put on these channels/platforms
The KPIs you'll use to measure your success. These indicators can be organic traffic, email traffic, social media traffic, and referral traffic. You may even want to include traffic on specific product pages, blog pages, or landing pages.
Remember that your marketing plan doesn't need to be long. Keep it informative and exciting enough to intrigue your readers and make them want to read more.
4. Clearly define your plan's omissions
Every marketing plan aims to explain your marketing team's focus. But it also needs to elaborate on what the marketing team will not focus on.
For example, if there is any aspect of your business that this plan does not cater to, include them in this section.
Putting these omissions into your plan will help you justify your mission, buyer personas, KPIs, and content strategy.
Every marketing campaign is designed for a specific reason, and as a result, it cannot possibly please everyone.
If you want, you can create an extra section and add your omissions there. Or, if you like, you can include notes at the bottom of each section to inform the reader and ensure everything is clear.
A great plan is clear and concise. So, ensure you add everything in your marketing plan outline to avoid forgetting it.
Creating A Comprehensive Marketing Plan
For most businesses, operating without a marketing plan can result in reduced ROI, campaigns that fail to hit the mark, and a waste of your marketing budget and resources.
Formulating a solid marketing plan can align your marketing objectives with your overarching business goals.
To truly deliver what your target audience wants, you must test different ideas and strategies, measure their success, and optimize your strategy accordingly. Optimization should be essential to your strategy as it will help you improve every aspect of your business.
To get started, you can check out our free marketing plan template and use this informative step-by-step guide to make your.
Also, how about giving Moosend a try? You can see if it's the right fit for you, and if yes, you will have one less tool to add to your marketing tech table later on.
You can register for a free account today!
FAQs
Find answers to common questions.
1. What are the 7 elements of a marketing plan?
A comprehensive marketing plan should include 7 elements: a business summary, initiative, target market, market strategy, budget, marketing channels, and marketing technology. You can add extra sections if you like, but it's essential to have the ones mentioned above to present your plan fully.
2. How do you write a marketing plan?
To create a marketing plan, you need to follow a few simple steps. These include:
Stating your business's mission and values
Crafting an executive summary
Establishing your KPIs
Outlining your buyer personas
Identifying your competition
Describing your market strategy and initiatives
Clearly defining your plan's omissions
Setting your marketing budget
Outlining your plan's contributors and their responsibilities
To help you, you can use a pre-made marketing plan template like Moosend's to simplify the process.
3. What are the P's of a marketing plan?
A marketing plan includes the 6 P's of marketing, i.e., product, pricing, promotion, people, process, and place (distribution). You can use the 6 Ps to create your market strategy.