15 Newsletter Signup Examples And Why They Work [+Tips]
15 Newsletter Signup Examples And Why They Work [+Tips]
Published By
Alexandra Marinaki
September 11, 2023
Email marketing is of the most effective tools marketers have, among other digital marketing practices like SEO or social media. To add a customer to your email list, you first need to get their email opt-in to comply with GDPR guidelines.
Newsletter signup forms are designed to capture your visitors' attention and encourage them to share their email addresses with you. In this article, you'll find some fantastic newsletter signup examples to get inspired, including some valuable tips to create memorable email newsletter signup forms.
Ready? Let's get into your customer's shoes to make it all easy!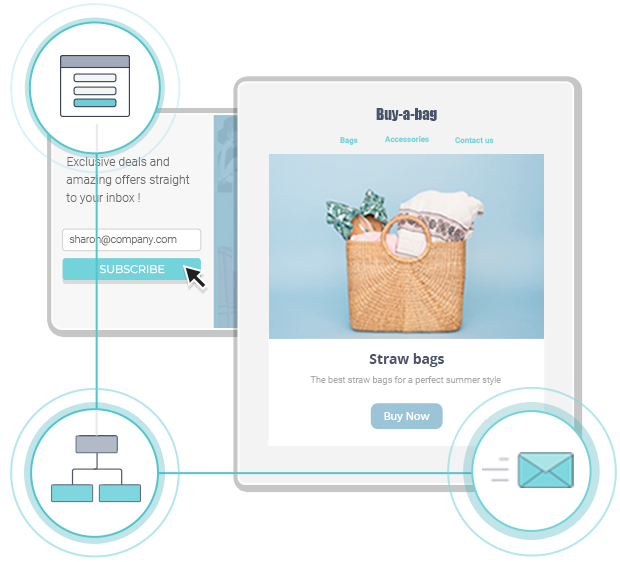 Try Moosend Today
The easiest and most affordable email marketing and newsletter software!
Choose The Right Signup Type
There are various types of popup and embedded forms to choose from to increase your conversion rates. You can also run A/B Testing from time to time to see what works best for your business.
Let's see the main types based on placement:
Floating bar: This signup form type remains in the visitor's sight as they scroll up or down the website.
Header: This signup form is found at the top of the website and is the first thing the visitor sees.
Sidebar: This is placed on the left or right of the content – you can also place it inside your blog.
Landing page: A standalone webpage that can boost your SEO efforts when created efficiently.
Scroll box: This signup form appears when the visitor scrolls down a page without interrupting the user experience.
Exit-intent pop-up: A popup form that appears when visitors show exit intent.
Let's see some newsletter signup examples:
1. Esqido
Esqido is a cosmetic company that chose a scroll box to capture their visitors' contact information. This box is triggered while visitors scroll down. They have the option to turn it off and continue their search.
Moreover, it's hard not to notice the amazing incentive marked in red. This is an example of an efficient signup form that checks all the boxes for success – a headline, excellent copy, a product image, and a clear call-to-action. We'll walk you through these elements as your keep on reading.
2. Poketo
Let's move to Poketo now, a business with stationery, houseware, and other accessories that chose a floating bar to drive more newsletter subscriptions. This form fits perfectly with the rest of the website design, following the same branding rules.
This signup form has effective copywriting with a headline that shows the business' intent to form close relationships with customers. Plus, the incentive is also easy to spot and hard to ignore!
3. Renogy
Renogy went for a more straightforward signup form placed at the website's footer. Users with a higher drive and buying intent are more likely to see it and subscribe. This means that the business builds an email list with qualifying leads.
If you decide to build a similar form, make sure it stands out from the rest of the text. The color of the CTA button here also does the trick, attracting attention to the desired action.
Offer An Incentive
One of the first tips newsletter signup gurus give to gain new subscribers is to provide solid incentives to convert. Most B2C eCommerce businesses offer discounts on the first purchase or coupons to make subscriptions more appealing.
At the same time, in B2B, lead magnets are more popular choices. For example, free ebooks and similar resources such as infographics or templates can drive more signups down the road.
In any case, make sure that your incentive is strong enough to get you more newsletter subscribers. Test different variations until you find what works best for your audience.
Want to see some email newsletter sign-up form examples from brands out there? Here you go!
4. Revelry
Revelry creates stylish boho dresses for bridesmaids and offers a great incentive to one of their email subscribers every month – a $200 gift card. Potential customers can join this competition and claim a meaningful gift, considering how expensive these products can be.
The visitor can also select if they're the bride or bridesmaid, which can help the business with its email segmentation efforts. Last but not least, this subscription form includes an amazing image that shows two bridesmaids in stunning dresses to attract potential subscribers faster.
5. Solo Stove
This form by Solo Stove also points to a powerful incentive, which in this case is a $10 discount on the first order. Why wouldn't someone just go for it?
This signup form is found at the end of the homepage, aiming to attract new visitors with conversion likeability who've scrolled down until the end.
Mind Your Form Design
Not all businesses have the resources to design responsive and eye-catching signup forms from scratch. Thankfully, most online form builder apps like Typeform, Jotform, or even marketing platforms with form-building features like Moosend, offer premade templates to free your hands.
In a nutshell, follow your brand guidelines and color for a seamless user experience. You can also add an image to draw their attention faster.
And off to the newsletter signup form examples we go:
6. AriZona
This signup form by AriZona beverages serves as the general style guide of the brand. It steals the show straight away with funky colors and assets, which you'll also find on its packaging.
The four stickers surrounding the form show that the company offers a great incentive to celebrate its 30th anniversary, completing the unique design!
7. Bohemian Traders
The apparel company Bohemian Traders chose wisely when they added a stunning image of a model showcasing their clothes. If you want a classy and straightforward result, this popup form is the perfect example to inspire you.
Apart from contact information, they also ask for the date of birth. If you want to send more personalized campaigns to your subscribers on that special day, add that section. Plus, they included the terms and conditions below, including clarification about the unsubscribe process.
Make CTAs That Stand Out
As a part of the final design, the call-to-action button plays a key role in converting your website visitors. It should be visible at first sight, with a color that pops out and copy that motivates readers to click on it.
Which signup form shared earlier doesn't adhere to these rules? Someone could argue that the CTA button by Bohemian Traders is hard to miss; however, the whole design flows harmoniously, tempting the reader to do exactly what they should.
Let's see two examples that undoubtedly fulfill all the requirements:
8. Topo Designs
This CTA button made by Topo Designs is definitely a win. The red color is alarming, and the copy says it all: To claim the amazing discount, you only need to click on it!
Moreover, the creator has added a link to the privacy policy on the signup form footer, which is a smart move regarding GDPR compliance.
9. Modern Urban Jungle
This CTA button from Modern Urban Jungle can also do the trick for those who favor more minimalistic design. The signup button stands out from the rest of the text, made in pine green, which is part of the brand's color palette.
Moreover, they've also included a simple form at the website footer to increase the probability of attracting engaged visitors.
Write Clever Copy
Flawless copywriting is mandatory for every successful asset in your marketing strategy. To get the right messages across, you need to master storytelling and be able to write catchy copy lines that will help you convert your audience.
So what exactly do you need? An attractive headline, the main body, and a CTA button. The golden rule is to maintain a certain tone of voice throughout all your communications for consistency.
Off to some inspo, now:
10. Allbirds
Allbirds wrote a headline in slang that's hard to ignore, especially for those who admire exclusivity. Yes, we do want first dibs; who wouldn't?
As for the rest of the copy, it clearly outlines what the customers can expect from the brand once they sign up, followed by a note stating that they can freely opt out whenever they wish.
11. Frank Body
Frank Body has created an authentic and cheeky brand voice that is hard to resist. "Pants off" and "Guess what? You'll be naked in one minute" are used to promote body products in the best possible way.
Plus, they added three checkpoints with all the different materials their new subscribers will receive to help visitors convert.
Εxplain The Benefits
Even though monetary and gift incentives are very intriguing, not every business can offer them freely. However, subscribers can reap many benefits just by signing up for your newsletter if you carefully choose the content you'll share.
If you pay more attention to the newsletter signup examples above, most of them share details on what your visitors should expect when subscribing, from product updates to exclusive offers.
Let's see two more forms fulfilling these requirements.
12. Solstice Intimates
Solstice Intimates knew precisely how to capture the visitors' attention with their signup form, even without a powerful incentive. The headline is enough to make it happen, inviting visitors to the ultimate party.
Below, the reader will find everything they'll access after subscribing, like new arrivals and discounts. Moreover, the phrase "be the first to hear" makes the signup feel like a unique experience.
13. Skagen
At the same time, Skagen hits two birds with a stone. After announcing the amazing $20 discount on the first purchase, they added a description of what else the new subscribers can expect from the brand once they join the list.
Moreover, they created a fully transparent form, as they added the privacy policy and exclusions that apply.
Use Social Proof
Last but not least, many businesses choose to add social proof to make potential customers trust them more, subscribe faster, and look forward to receiving their emails. Here are the types most marketers opt for:
Testimonials
Number of subscribers
Expert endorsements
Let's see how two brands approached that:
14. Demand Curve
Demand Curve wanted to attract its audience to sign up for its newsletter for the right reasons. They promised to share resources from experts in their field to help their business grow.
Moreover, they specified when the subscribers will receive those newsletters to set expectations. Once a week sounds not spammy at all, so why shouldn't someone join this list?
15. Nerd Fitness
With powerful and motivational copy, Nerd Fitness encouraged their website visitors to subscribe to get free resources, such as guides and free tools.
Plus, they mention that by joining, you become a part of the community of 300,000 "rebels" to trigger their need for belonging!
Newsletter Signup Examples That Click No Matter What
Are you inspired by the fantastic newsletter signup form examples above? Find the ones that suit your brand style, choose the best incentive and demonstrate it in the best possible way.
To build a seamless signup process that will boost your lead generation, schedule a welcome email and show your appreciation to new subscribers. In addition, if you offer an incentive to them, like a coupon or discount, explain how they can claim it.
Looking for an email marketing solution with a top-notch online form feature? Sign up for a Moosend account today to streamline a successful marketing process like no other using the easy-to-use builder and pre-made form templates!