8 Best MailerLite Alternatives For 2024 [September Update]
8 Best MailerLite Alternatives For 2024 [September Update]
Published By
Marilia Dimitriou
December 6, 2023
Mailerlite has been a popular option for beginners and users who don't want to break the bank. However, if you want more advanced capabilities to scale your business, it may be time to consider a few great MailerLite alternatives.
Today, we'll focus on some of the best competitors you can choose to make your business thrive. From more advanced marketing automation options to additional functionality, here are the top options you need to keep in mind. Let's see them!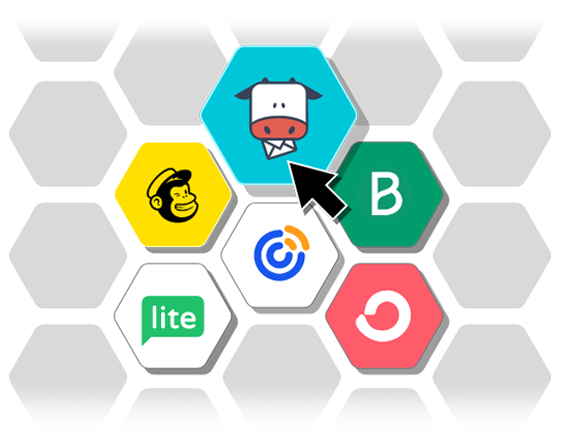 Looking for an alternative?

Save $$$ of your marketing budget by switching to Moosend today!
How We Selected The Following Tools
All of the tools in this list have been tested by our team to provide an unbiased description of their features and capabilities.
We spent hours setting up new accounts and trying each software to provide an accurate experience and show users exactly what they will come across when they sign up. Find more information about our software selection methodology on how we choose tools to feature on the Moosend Blog.
Best MailerLite Alternatives: Comparison Table
As mentioned above, there are certain areas that MailerLite is lacking. While the email marketing tool offers a free plan, it has a 12,000 monthly email limit that may not be ideal for fast-growing businesses.
Of course, you can increase your email sending and access MailerLite's user-friendly tools if you get a paid plan. Nevertheless, if you're looking for more sophisticated features, you need to find a MailerLite competitor that is both user-friendly and advanced.
Here are your best options:
| | | | | |
| --- | --- | --- | --- | --- |
| | Price/Month | Free Plan/Trial | Unique Feature | Ratings |
| MailerLite | $10/month | Yes | Beginner-friendly email editor | |
| Moosend | $9/month | Yes (30-day free trial) | Easy-to-use visual workflow builder | |
| ActiveCampaign | $39/month | Yes (14-day trial) | Advanced marketing automation | |
| Constant Contact | $12/month | Yes (60-day trial) | Event invitations management | |
| Mailchimp | $20/month | Yes (very limited) | Powerful reporting capabilities | |
| Brevo | $25/month | Yes | Email testing features | |
| SendGrid | $15/month | Yes | Easy-to-use API | |
| Zoho Campaigns | $4/month | Yes | Email scheduling tool | |
| Mailjet | $15/month | Yes | Multi-user collaboration | |
Now let's see more details about the email marketing services listed above.
1. Moosend
Pricing: Paid plans start at $9/month, 30-day Free trial (Sign up here)
Best for: Small Businesses, eCommerce, Bloggers, SaaS
Unique feature: Easy-to-use visual workflow builder
Moosend is a great MailerLite alternative that remains on the affordable side but offers you more advanced features and functionality.
The email editor provides various content blocks to craft beautiful email campaigns that convert. If you want to save time, you can also grab one of the ready-made email templates and customize them on the spot.
Moreover, Moosend offers an easy-to-use workflow editor to set up your automated sequences, including welcome, cart abandonment, re-engagement series, etc. Compared to MailerLite, this email marketing software gives you pre-made recipes you can use as a blueprint for your workflows.
To help you increase your subscriber base, the tool offers an easy-to-use form editor and a landing page builder with numerous templates. When you capture your new leads, you can use the segmentation options to deliver more targeted content to your email list.
If you want to optimize your strategy, you can benefit from the custom reporting and analytics to create a personalized dashboard to monitor campaign performance. Lastly, Moosend offers better email deliverability than MailLite, with a sending score of 98%.
Moosend Top Alternative Features
Pricing
Moosend's pricing starts at $9/month for up to 500 subscribers and unlimited emails. By getting a paid subscription, you can access the email and workflow editors, create landing pages and forms, send transactional emails, craft custom reports, and manage your audience. If you want to try the tool, you can sign up for a free account and see why it's a great alternative to MailerLite.
2. ActiveCampaign
Pricing: Paid plans start at $15/month, 14-day Free trial
Best for: eCommerce, SaaS, Experienced marketers
Unique feature: Advanced marketing automation
If you want more advanced marketing automation options, then ActiveCampaign may be the right alternative for you.
This competitor is great for users who want to craft more complex sequences. Keep in mind, though, that if you are a beginner, you may find it quite difficult to learn and use.
When it comes to email creation, the builder is fast and easy, giving you numerous content block options. Also, you can benefit from the "campaign changes history" option to see what other users have done to your template.
Apart from that, you can use the platform's list management tools to keep your contacts organized. You can also use the email testing features to test how your campaigns look, but they are more on the basic side.
ActiveCampaign can be a high-maintenance email marketing automation platform. If you want something more advanced but as beginner-friendly as MailerLite, you should consider one of the top ActiveCampaign alternatives.
Best ActiveCampaign Features
User-friendly interface
Advanced marketing automation features
Autoresponders
Email list management
HTML campaigns
Integration with Salesforce, Shopify, etc.
Pricing
ActiveCampaign isn't a free email marketing solution, but it offers a 14-day free trial you can use to test it. When the free period is over, you need to get one of the paid plans, starting at $15/month. The Pro features will also give you access to authentication options, domain tracking, landing pages, etc.
3. Constant Contact
Pricing: Paid plans start at $10/month, 60-day Free trial
Best for: Educators, Event organizers, Small businesses
Unique feature: Event invitations management
This competitor to MailerLite is ideal for marketers who want to create emails and power up their digital marketing efforts through online events.
Starting with the email builder, you can use the tool to craft email campaigns from scratch or use one of Constant Contact's email newsletter templates.
Marketing automation is also available, letting you set up automated sequences for your audience. Nevertheless, there may not be as flexible as other Constant Contact competitors. However, A/B testing is only for email subject lines.
Furthermore, you can use the email software's list management features to create segments for your subscribers for better engagement. This will allow you to craft better content for your potential customers.
Lastly, Constant Contact offers reporting and analytics features to let you monitor your performance and compare your campaigns.
Constant Contact Best Platform Features
Drag-and-drop email editor
Event management tool
Autoresponders
Pop-ups for lead generation
Multiple customer support channels
Integrations through API
Pricing
You can try Constant Contact by signing up for the 60-day free trial to test its capabilities. After the free period, you need to get one of the paid plans starting at $10/month.
Read Full Constant Contact Review
4. Mailchimp
Pricing: Paid plans start at $20/month, Limited free plan
Best for: Agencies, Publishers, eCommerce
Unique feature: Powerful reporting capabilities
Next on the list of best MailerLite alternatives is none other than Mailchimp. This email service is popular for its fast email marketing campaign builder and the various email types you can craft, including postcards.
More on email creation, Mailchimp's editor lets you add numerous content blocks to create beautiful email campaigns for your target audience. Furthermore, you can use elements like videos and social buttons to make them unique.
When it comes to email marketing automation, the features are pretty solid, offering your advanced multi-step workflows to amplify the customer journey as seamlessly as possible. Nevertheless, the email marketing platform doesn't have a visual workflow builder, unlike other Mailchimp alternatives on our list.
Last but not least, the powerful reporting and analytics features will allow you to monitor everything, giving you access to geo-tracking, click-mapping, and social media tracking.
Mailchimp Best Software Features
Fast email campaign editor
Multi-step automated workflows
Campaign push notifications
Landing page builder
Integrations with apps like Salesforce and Shopify
Pricing
Mailchimp lets you sign up for a free plan, but it's quite limited, having an email send limit of 2,500 emails per month (500/day). For more, pricing starts at $20/month for 500 contacts.
5. Brevo (formerly Sendinblue)
Pricing: Paid plans start at $25/month, Free plan
Best for: Publishers, Agencies, eCommerce
Unique feature: Email testing features
Brevo is the alternative that equips you both with email marketing and SMS marketing tools to help you ace your engagement strategy. If you want to combine these two channels, this email marketing service will allow you to personalize your messages to convert your audience more effectively.
Brevo's email editor is also easy-to-use, although there have been instances where the builder has been a little slow. Nevertheless, you can use it to craft various email marketing messages, like newsletters, transactional campaigns, and autoresponders.
Regarding marketing automation, the workflow editor is flexible and robust, letting you create numerous sequences, such as welcome, abandoned cart emails, and re-engagement series. Moreover, you can use behavioral data like your subscriber's website or email engagement to craft specific workflows for them. This way, you will have better chances of converting them.
Brevo Best Email Service Features
Email drip campaigns
SMS marketing options
Social media ads
CRM tool
Advanced reporting and analytics
Pricing
Brevo gives you a limited free plan to test the email marketing service. Nevertheless, you can only send 300 emails per day. For full access and no sending limits, you can get a paid subscription plan starting at $25/month.
If you want something more affordable, check out our list with some of the best Brevo alternatives.
6. SendGrid
Pricing: Paid plans start at $15/month, Free plan
Best for: SaaS, Marketers, Advertisers
Unique feature: Easy-to-use API
SendGrid by Twilio is a great MailerLite competitor and mass email service provider to help you cover your bulk email needs.
To create your email newsletters, you have at your disposal an email builder that is both distraction-free and easy-to-use. Moreover, you can edit your HTML code and see the changes on the spot instead of previewing the campaign on a separate tab.
SendGrid can also power up your eCommerce business through transactional email campaigns. Just use the SMTP server, and you are ready to go. You can also set up automated series for your audience and integrate the tool with numerous third-party apps to streamline your process.
Lastly, SendGrid's API will let you create a customized email program for your subscribers, achieving the best results regarding inbox placement and email deliverability.
SendGrid Best Email Tool Features
Email design and code editor
Powerful Email API
Email list segmentation
Newsletter signup forms
A/B Testing and Insights
Pricing
SendGrid's free plan gives you access to its basic features for 2,000 contacts and 6,000 emails per month. Pricing starts at $15/month, giving you access to more features, including marketing automation.
7. Zoho Campaigns
Pricing: Paid plans start at about $7/month, Free plan
Best for: SMBs, Bloggers
Unique feature: Email scheduling tool
Zoho Campaigns is an email marketing platform with a rich set of features and advanced capabilities to boost your email marketing efforts. You can use the drag-and-drop email editor to craft your messages and benefit from the responsive newsletter templates to save valuable time.
What's more, this competitor enables you to create and schedule email sequences through the autoresponder feature. This way, you will manage to reach the right people with the right content. Real-time analytics are also available to keep track of important email metrics, such as your open and click-through rates.
Lastly, you can benefit from Zoho's integrations with other Zoho products, like the CRM, Creator, and Docs, and third-party applications, including social media platforms, WordPress, and cloud storage services.
Zoho Campaigns Best Features
Pre-made newsletter templates
Scheduled email sending
Social statistics
Link tracking
Pricing
Zoho Campaigns has a free plan similar to SendGrid's, offering 6,000 emails per month for 2,000 email subscribers. For more, you can get one of the two paid plans, starting at about $5 and $7/month for 500 contacts.
8. Mailjet
Pricing: Paid plans start at $15/month, Free plan
Best for: Online marketers, SaaS
Unique feature: Multi-user collaboration
Last but not least, we have Mailjet, an alternative to MailerLite that is great for online marketers and SaaS companies. This email marketing platform combines the power of email and SMS marketing to help you boost your engagement and conversion efforts through various channels.
Moreover, Mailjet's email marketing campaign builder is very easy-to-use, giving you several templates to get started. If you like collaborating with various team members, you can also benefit from the service's multi-user collaboration feature to simultaneously edit and comment on your design.
Lead generation-wise, Mailjet has a Subscription Widget that lets you craft pop-ups to expand your email list effortlessly. You can either use the form editor or edit the HTML code directly.
Mailjet Best Email Platform Features
Real-time email template collaboration
Responsive newsletter templates
SMS marketing options
Integrations with CRM and eCommerce apps
Pricing
Mailjet gives you a free plan for 6,000 email sends per month. However, there's a daily limit of 200 emails. If you want more, you have to get a paid subscription. The Essential plan starts at $15/month for 15,000 sends per month.
The Best MailerLite Alternatives You Need
While MailerLite is a great choice for beginners and users who want a fast solution, it may not be the best ally to help you scale.
If you need more advanced tools and functionality but keep user-friendliness and cost-effectiveness, you can choose one of the above options. The market also has many more email marketing platforms, like AWeber, GetResponse, and HubSpot.
Before you make the change, though, make sure to research your potential tool, read reviews, and take advantage of any free plans and trials to see if it's the right fit for your business.
Moosend is a great alternative if you want an easy-to-use, powerful, and affordable email service to empower your email marketing strategy. Just register for a free account and see how the platform can cover your needs and help you succeed.