21+ Welcome Email Examples You Need To See [2023]
21+ Welcome Email Examples You Need To See [2023]
Published By
Marilia Dimitriou
July 25, 2023
It's raining welcome email examples! Grab your inspiration buckets!
Need to make an excellent first impression but don't know how? We got you!
Today we'll see how to win your new subscribers (and potential new customers) at first glance.
Moreover, if you're here to get some newsletter templates to welcome your audience, you can check our free welcome email newsletter templates section here!
Now, let's get this welcome party started! But first…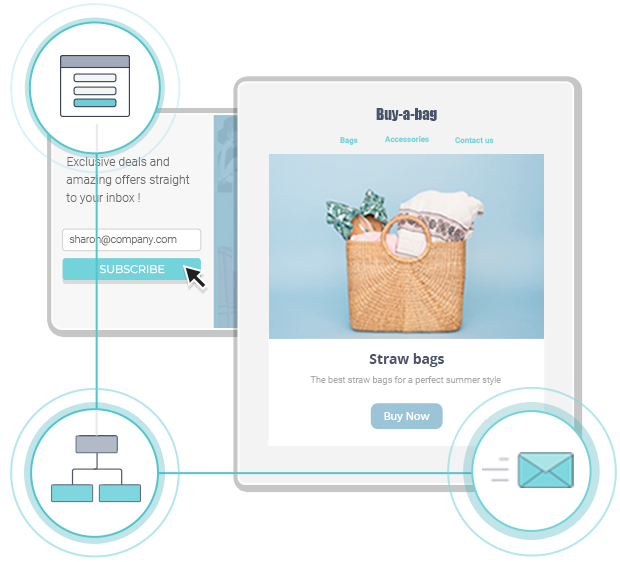 Try Moosend Today

The easiest and most affordable email marketing and newsletter software!
How To Create An Effective Welcome Message
For experienced email marketers, this is a piece of cake! However, if you're just learning the ropes, you'll need more than a simple subscription form to convert your audience.
More specifically, you'll need:
an email marketing service with a responsive drag-and-drop builder,
marketing automation to create an automated welcome workflow,
high-quality visuals and advanced elements to entice your recipients,
a convincing email copy and value proposition, and
a converting call-to-action.
With all these in your marketing toolbox, you'll manage to create a successful welcome email sequence to convert your new customers. After all, welcome emails already have a high open and click-through rate. So, making them extra efficient will skyrocket your rates!
Now that you know what welcome email mastery entails, let's get to the examples!
23 Top Examples of Brilliant Welcome Emails
A welcome message can be as simple as a single incentive or focus on more lead-nurturing messages, giving us the famous onboarding experience!
Below, you'll see various welcome email marketing examples from B2C and B2B businesses that stand out.
Let's see them!
1. Moosend – The Personalized Welcome Email
Subject line: You're officially a part of the Moosend family!
At first glance, Moosend's welcome email design might not look as fancy as you'd expect. However, this allows us to distinguish between B2B and B2C welcome campaigns where messages are more elegant and helpful rather than promotional.
Here, the company uses personalization to attract attention and build trust with the new subscriber. The email copy also makes Moosend's email friendlier, boosting engagement with new subscribers. For them, the subscriber isn't just another customer but a new addition to the Moosend family!
Apart from personalization, Moosend leverages its advanced email builder to add a gif for showing rather than telling its audience what they need to do next. Clever, right?
Finally, the company provides users with additional information about how to set up their new accounts through the Moosend Academy and Help Centre. Helpful and informative, this is the first email of a great onboarding sequence that converts!
Why it works:
Personalized message using the subscriber's name
Minimalist email design with advanced elements (gif)
The copy and friendly tone work perfectly with the subject line
Guides new users to the next step through a new section
Includes social media buttons for email and social media integration
Responsive email newsletter template
2. Four Seasons – The Classy Welcome Email
Subject line: A warm welcome to Four Seasons
When you hear about the Four Seasons, all you think about is luxury, classiness, and elegance. Now, if you take all these and put them in an email, you get one of the classiest examples of a welcome email on this list.
The hotel has transformed its email copy into a letter/invitation coming from the Four Seasons President. Furthermore, the friendly tone and clear CTA make this an effective welcome email example to increase the hotel's open rate and conversion rate in a breeze.
Lastly, the Four Seasons also uses images with different CTAs to lead new subscribers to its landing pages and get them a step further down its funnel. Beautiful and elegant, this welcome message is what a Four Seasons subscriber/guest needs to see!
Why it works:
Use of the subscriber's name
Email copy that reflects the brand's image
High-quality visuals that nurture the audience
Elegant email design that's super easy to navigate
Phone and email contact options
3. Royalty Soaps – The VIP Welcome
In this welcome email by Royalty Soaps, you can see how the brand treats each member of their email list as a VIP. Also, if you look at the email design, you can see how the copy and visuals create a friendly and delightful result.
For those familiar with Katie Carson's videos (like myself), this welcome wagon also carries a bit of her personality, making the welcome message more effective and vibrant.
Of course, the promise of not spamming them is also something that not many welcome email examples have. That's a plus for Royalty Soap's welcome campaign and one of the most important email best practices you should keep in mind!
Why it works:
Promise not to spam the email list with unnecessary emails
Friendly tone that increases the click-through rate
Delicious visuals that reflect the product
Clean email design that guides recipients
4. Velasca – The Commitment Campaign
Subject line: Welcome to the Velasca family
Like Moosend, Velasca uses its campaign to welcome new subscribers to the family. However, the eCommerce store also combines this warm greeting with a discount to boost its click-through rate and conversions.
What makes this welcome email example special is the founders' promise underneath the discount. This way, the brand builds trust with new subscribers and gives them an idea of its vision. And to top it off, the brand also uses its Instagram account to boost engagement and show its products!
If you want to mimic Velasca's email example, make sure to get an email marketing platform with advanced elements like Moosend. All you need is to register for a free account!
Why it works:
Friendly language and tone
Special discount code for first-time buyers
Clean email design
The brand's commitment
Social media and email integration
5. Canva – The Tips in Your Welcome Jar
Subject line: Welcome to Canva
Canva's welcome campaign might not have a fancy subject line, but it does have one of the cleanest email designs on our list. The company makes sure to communicate a friendly message that highlights all the perks of using the tool.
Moreover, Canva's welcome sequence guides first-time users through a series of simple steps and a bright CTA that leads to the platform's designer. And to make sure that Canva's email list will engage with the rest of their campaigns, the company adds a little message at the end that more tips are on the way.
Why it works:
Cleverly introduces subscribers to Canva's onboarding sequence
Colorful visuals that show the platform's capabilities
Excellent use of white space
Brightly-colored CTA that attracts attention
6. MFMG Cosmetics – The Introduction
Subject line: 👋 Welcome to the club 👑
MFMG Cosmetics has a lot of things going on here. First of all, the subject line of their welcome message includes emojis, a great practice to get higher open rates! Secondly, the brand uses this email to show who they are, turning them from a faceless company to a brand with a face and voice.
Another thing that this email uses to build trust with new subscribers is social proof in the form of company logos. And, of course, this wouldn't be an effective welcome email example without a special offer.
To get better open rates like MFMG, make sure to create effective email subject lines! Don't worry if they aren't your forte. You can always use a great subject line tester to make sure your subject lines work every time!
Why it works:
Emoji-infused subject line for better open rates
Social proof to build trust in the brand
First-order discount to motivate new customers
Short brand introduction to make it relatable
Clear CTA and unsubscribe button at the end
7. Partake Foods – The Story Behind the Product
Subject line: Welcome to Partake 🍪
Partake Foods follows into the steps of our previous example with a cookie emoji that perfectly fits the brand. Compared to other welcome email examples, this one is lengthier than the rest. However, that doesn't mean it doesn't work.
What makes it unique is the storytelling aspect and the perks the new subscriber receives. Furthermore, the heart-felt message from the company's founder makes this email more personal and relatable as it shares the starting point of the brand.
Beautiful and sweet, this welcome message is all Partake's new customers want to see when they open their inbox.
Why it works:
High-quality visuals of the products
Brilliant use of email and content marketing
A clear value proposition
Straightforward CTA
8. Mint Mobile – The Join the Movement Email
Subject line: Welcome to Mint Mobile
I'll start with a fun fact first: Ryan Reynolds owns part of this company. So, now you can reread Mint Mobile's copy in his voice. Of course, not every brand out there has Captain Deadpool to back them up, so let's see what works for Mint Mobile.
First of all, this welcome email series is very visually-oriented, using the brand's mascot to attract attention and please the eye. Then, the use of contrasting colors makes the CTA button stand out. The short email copy is also perfect, highlighting the value of doing business with them.
Overall, this welcome email design is both modern and engaging, encouraging the company's target audience to take action.
Why it works:
High-quality visuals
Straightforward value proposition
Use of multiple CTAs to convince new email subscribers
Help section at the end of the welcome message
Follow-up email with details about the plans
9. Adored Vintage – The Jane Austen of Welcome Emails
Subject line: Thanks for joining us
If you want to make a great first impression, you need to make sure that your first email reflects your brand to the fullest. For Adored Vintage, this email example hits all the right notes right from the start.
The vintage aesthetic, short email copy, and visuals make it look like a parchment piece straight out of Jane Austen's books. Furthermore, every element fits into the theme, even making the discount an integral part of the email rather than a sales-y addition.
This welcome email is one of the best things you can create to amaze your new subscribers. If I had to change anything, I'd go for a unique subject line to boost its open rate! For that, make sure to consult your email subject line tester to create the Mr. Darcy of subject lines!
Why it works:
Unique email design that reflects the brand
Special offer is part of the email
Social media buttons for cross-promotion
Short and to-the-point email copy
Clear button for unsubscribing from the list
10. MOO – The Visually-Oriented Campaign
Subject line: Fantastic. You're in!
MOO is a print products company that has a very visually-oriented email marketing strategy at work. Starting with their first email, you can see how the company favors high-quality newsletter images and a short copy to increase its engagement rate.
Moreover, MOO uses three different CTAs to satisfy the needs of every new subscriber. More specifically, the "Shop now" CTA aims at leading new customers to MOO's product pages, the "Contact us" gives a line of communication between the company and customer and the "Read more" offers more information. MOO has one of the best welcome email examples to please the eye. So, if you want to replicate its example, make sure to create high-quality visuals as well!
Why it works:
Unique email subject line
Beautiful email visuals
Fun email copy with a clear goal
Different CTAs
11. Besame Cosmetics – The Welcoming Gift
Subject line: To show our thanks — here's 10% off
Besame's email campaign is a prime example of how you can use your first email to give your audience more reasons to buy from you. This welcome email has two goals. The first one is to give new subscribers a welcome gift for subscribing, and the second to showcase new and exciting products.
The beautiful visuals also contribute to the success of Besame's email, placing its products under the new subscriber's radar. Lastly, the subject line is very straightforward, showing new subscribers the benefit and boosting the brand's open rate!
Why it works:
Clear CTAs to lead subscribers to landing pages
Product-oriented visuals
Short copy that has the right amount of urgency
12. Manitobah – The Segmented Welcome Email
Subject line: Welcome to our Fireside 🔥
Manitobah is a shoe brand specializing in winter boots. To make a great first impression, the brand opts for a segmented email design containing all the relevant information new subscribers want to see.
Firstly, Manitobah welcomes new customers to "Our Fireside," a community to share updates and receive exclusive offers. The next two sections focus on the brand and the product, offering valuable info and social proof to convince potential customers to act.
The last section offers an exclusive discount code to boost the brand's click-through rate and lead to conversions through urgency. If you want to get more clicks and opens, make sure to add urgency. Among others, you can make your emails urgent through countdown timers, an element that you can check out by signing up for a free Moosend account!
Why it works:
Segmented email design
Exclusive code for first-time buyers
Use of social proof to boost legitimacy
Use of emojis in the subject line
Warm and friendly email copy
13. Hiut Denim – The Unique Welcome Scenario
Subject line: Thanks for Signing Up. Here's Your Free User Manual For Creativity.
Let's be honest; more or less, all welcome emails look similar to one another. So, if you want to make yours stand out, you should go for something a little different.
In this welcome email example by Huit Denim, you can see how the brand has an entirely different approach. First of all, the brand uses a fun image of a man to attract attention instantly. (which I strongly believe to be the co-founder!)
However, the visual isn't the only thing that makes it unique, but rather the email copy coming from the brand's co-founder, David Hieatt. The personal touch makes subscribers feel like this is an email coming from David himself, building trust and leading subscribers to take action.
Why it works:
Playful visuals that attract the eye
Email copy looks like it's a personal email from the co-founder
Free digital manual to inspire subscribers
Unique and different from other welcome messages
14. Skullcandy – The Energetic Welcome Email
Subject line: You're in. Welcome to the family.
As you can see, Skullcandy's email is very short. However, within a few lines, the brand manages to deliver a compelling message. The visual of the man using the product brings the product to life and makes a great first impression. After all, that's all new Skullcandy customers want to look like with their new cool headset!
The short and friendly welcome copy is a great example of welcome messaging done right. So, if you have a product that has an energetic vibe, make sure to show it!
Why it works:
Visuals that have an energetic vibe
Instant value in the form of a 15% discount
Simple and clean email design
Free shipping and warranty build trust in the brand
15. United By Blue – The Brand's Vision
Subject line: It's nice to meet you!
If your brand has a particular goal or supports a cause, you should make sure your new subscribers know it. For United by Blue, the message is bold and clear: "We're here to prove that fashion can be a force for good."
The brand uses its welcome email to make a statement and show potential customers that their contributions to the store will have a greater impact. Of course, to sweeten the deal, United by Blue offers 15% off to incentivize new customers to make their first purchase and call them to participate in a $200 gift card giveaway!
Why it works:
The brand shares its vision with its new subscribers
Offer a line of communication with them
Subscribers can win an amazing $200 gift card
First-time buyers get a 15% off
Balanced colors that reflect the brand
16. Stripo – The Information Scavenger Email
Subject line: Thanks for joining Stripo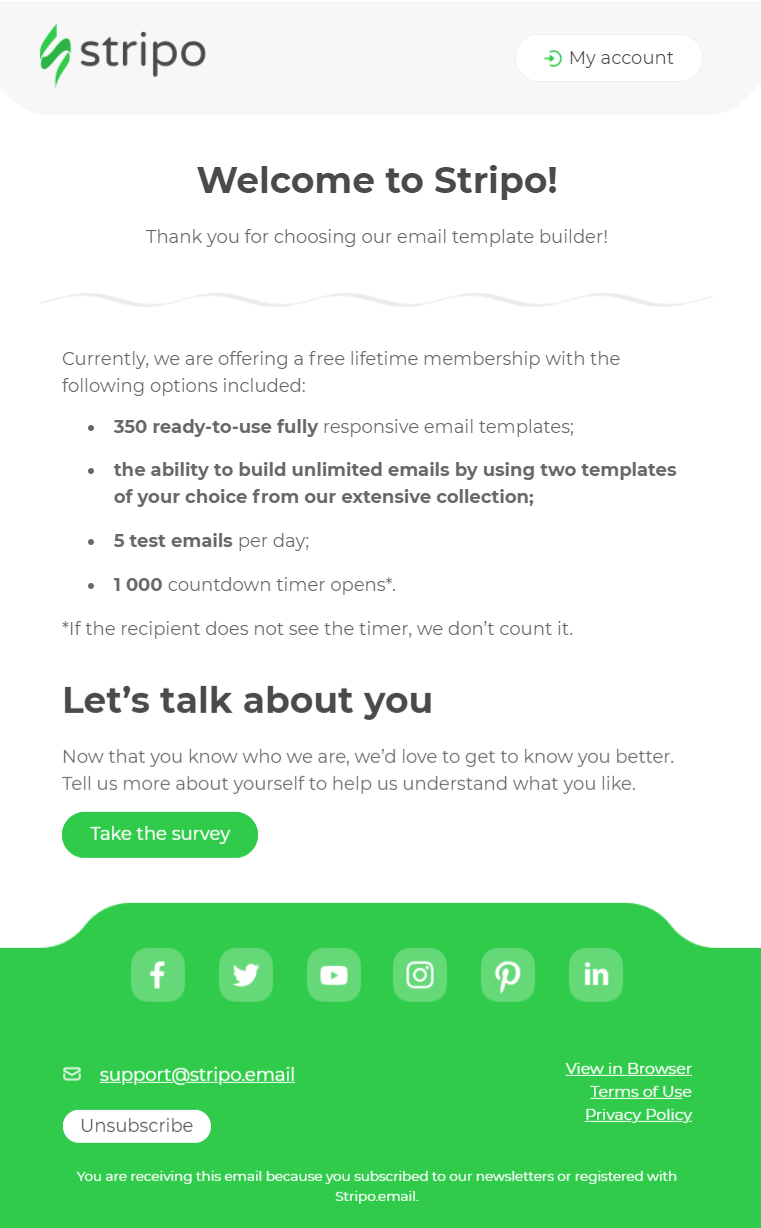 Stripo is an email template builder that knows exactly what its audience wants to see in its first email. The company grabs the opportunity to highlight the perks in bullet form and bold letters to show subscribers the immediate benefit.
Apart from its simplicity, Stripo's welcome email example has a different CTA from the rest of our examples. The software calls new subscribers to take a survey, a handy tool to boost your segmentation efforts and deliver more targeted content.
Furthermore, the green CTA also works perfectly, while the social media buttons invite its email list to follow the company for more content and better engagement.
Why it works:
Subscribers can see the perks at first glance
Great use of white space and brand colors
The survey makes the welcome email all about the subscriber
Bright green CTA button that stands out
17. Bonjoro – The Hyper-Personalized Welcome Email
Subject line: A personal welcome to Bonjoro (Yes I recorded this just for you) 🐻🎉
Bonjoro's email campaign is like no other. Why? Well, the company has turned their welcome message into a short welcome video that's enough to make new subscribers feel super-welcome.
Of course, not every brand can do this, especially those with huge email lists. Nevertheless, for Bonjoro, that's a great opportunity to showcase its video-making software and build a strong bond with its prospects.
If you want to make videos part of your welcome strategy, make sure to get your hands on an email marketing platform that lets you add advanced elements like videos and gifs! Moosend can help you with that, so don't forget to register for a free account and give it a go!
Why it works:
Brilliant use of the product and welcome sequence
Hyper-personalized message
Email subscribers feel like acknowledged by the brand
Short, sweet and to-the-point
18. IKEA – The One with the Benefits
Subject line: 👋 Hi Marilia, welcome to IKEA!
A great welcome email should have a personalized welcome subject line. For IKEA, the easiest way to do it is by inserting the subscriber's name! This simple yet important addition is what will make IKEA's email stand out in their subscriber's inbox.
But that's not all. When you check the brand's welcome message, you can see how it uses the subscriber's name to lead the copy. This automatically makes the message friendlier and builds trust among the brand and new subscribers. Moreover, IKEA's email design and CTAs focus on stressing the benefits of joining, which is meant to boost engagement.
If you want to replicate IKEA's email, start with an equally converting welcome subject line. If you need a helping hand, make sure to use a subject line tester to see how your subject line will perform!
Why it works:
Beautiful email layout highlighting the perks
Visuals that trigger an emotional response
Personalized subject line and content
Multiple CTAs leading to IKEA's landing page
19. Home Chef – The Delicious Welcome Email
Subject line: 👋 Welcome to Home Chef!
Home Chef uses its brand cleverly to deliver a delicious welcome message that's engaging and inspiring. The use of the brand's colors gives a nice touch to the campaign and makes it more appealing.
Moreover, the layout of this welcome email example works great at showcasing Home Chef's products. Both CTAs add balance to the email, leading subscribers to take action. It's worth mentioning that the brand also opts for a Z-pattern layout to demonstrate its product. Which is a clever technique to make your emails more dynamic and engaging!
Why it works:
An engaging layout that boosts engagement
High-quality email visuals featuring the product
Use of color to make the email design pop
Use of emojis in subject line
20. MasterClass – The CTA That Stands Out
Subject line: Thank you for your interest in MasterClass
Your CTA is the most important thing in your email. If you hide it or don't add a splash of color to make it stand out, then your new subscribers won't click on it. To make a statement, MasterClass turns their welcome email CTA into a big attention grabber.
More specifically, red is one of the best CTA colors you can use to make your button the star of your email and increase your click-through rate. Of course, the black background and white copy also create a balanced result that will incentivize new customers to click.
Why it works:
The use of red makes the CTA stand out
Using black, white, and red create a converting result
Offers recommendations to inspire and engage new learners
21. Cox & Cox – The Welcome and Explore
Subject line: Welcome to Cox & Cox | 20% off your next order
In this example by Cox & Cox, you can see how the brand boosts its message with a nice visual that invites them to get comfortable and start shopping. The 20% off is also an amazing way to incentivize new shoppers to make their first purchase.
Apart from these, the brand takes the opportunity to show its collection through a simple layout with different CTAs leading to product pages. This way, newcomers can see the variety of products offered and quickly visit the category they are interested in.
You can easily replicate Cox & Cox's welcome email example by creating a free Moosend account and jumping into the email template builder, where you'll find all the elements and CTA buttons you need.
22. Shopify – The Clever CTAs
Subject line: Moorilia, say hello to Moo-mails (Store name)
After looking at examples from successful Shopify stores, it's time to take a look at the company itself. This welcome email is specifically designed for new Shopify store owners taking their first steps into the eCommerce arena. As you can see, the email has a very personalized subject line using my username and Shopify store name.
From the visuals to the single-column layout, Shopify has created an engaging email to help new store owners succeed. Also, it's worth mentioning that while this email has numerous CTAs, Shopify's main button is purple to lead attention to the most important action and guide users to the next step.
Why it works:
Fully personalized subject line and email copy
Clever use of CTA colors
Single-column layout to guide new customers
Use of social proof to build trust with the brand
Social media buttons to boost its engagement rates
23. Burt's Bees – The Brilliant Pun
Subject line: HIVE FIVE! You're officially an insider.
Are you a fan of puns? Then this example is for you! Burt's Bees' "Hive Five" is the perfect example of how to differentiate your welcome subject line and make a fun first impression.
When it comes to the perks, the brand offers a discount and free shipping, an amazing new subscriber combo, to engage and convert its "new bees." Moreover, the brand uses its welcome email to show its bestsellers in a beautiful and structured way that doesn't annoy them. With a beautiful email design with vibrant colors, Burt's Bees' welcome message has all the right elements to boost engagement and lead to conversions.
Why it works:
Visuals reflecting the brand
Converting welcome gift combo
Offers a line of communication with the brand
Social media buttons to boost engagement
This concludes our best welcome email examples. However, we aren't done yet!
To give you a helping hand, here are some quick welcome email templates you can use to set your welcome strategy in motion!
 4 Free Welcome Email Templates To Get You Started
Need a quick template to get started? We got you! Here are some amazing templates you can quickly customize through your email newsletter software to send your welcome campaign in a few minutes.
1. The Ultimate Sophistication
A welcome message doesn't need to be complex. You can customize this email template from Moosend to deliver a focused welcome email that converts.
How to get:
You can find this template in Moosend's email template library. To get access, you'll need to create a free Moosend account, and then you're ready to go.
2. The Welcome/Sales Combo
If you have an eCommerce store, you can easily turn your sales template into a cool welcome email. Give your new subscribers what they signed up for: an amazing discount to make their first purchase easier.
How to get:
You can also find this template in Moosend's template library, along with more template examples. You can also create your own welcome email from scratch! Just make sure to grab an email template builder that gives you all the creative freedom you need.
3. The Nice to Meet You
Need to make a great first impression? Take advantage of color! This welcome email template is great for a younger audience who wants something playful and relatable.
How to get:
To get this template, you'll need to sign up for a free Stripo account. Then, all you need to do is customize and export your welcome creation to your favorite ESP.
You can easily integrate Stripo with Moosend to export your favorite templates to the ESP and then use the platform to deliver your welcome messages to your audience.
4. The Classic Welcome Email
A great welcome template you can easily customize to suit your brand. Perfect for all subscribers, regardless of age and gender, you can use this template to target every new subscriber in your email list.
How to get:
Another great template from Stripo. As before, don't forget to create your Stripo account and export it to your ESP.
Ready to Make a Great First Impression!
Making a great first impression will determine whether your subscribers will keep interacting with your email campaigns or not.
By looking at the welcome email examples above, you can get your inspiration running and see how other brands use them in their email marketing strategy.
Of course, don't forget to get the right tools for the job! A great email builder will let you add more advanced elements to get your welcome campaign to higher heights!
Whether you already have an ESP or not, make sure to give Moosend a try and see how you can create your next big welcome email in a few minutes!
And if you need more examples and design tips, make sure to click on the button on the right to get 30 more amazing welcome examples!