23 Customer Segmentation Examples Your Business Needs
23 Customer Segmentation Examples Your Business Needs
Published By
John Desyllas
August 11, 2023
It's undeniable that many eCommerce marketers still don't know what good customer segmentation is!
Email blasts definitely had their moment. But in the era of personalization and targeting, generic messaging sent to everyone isn't going to cut it.
The solution is to leverage the power of customer segmentation and personalization to deliver messages tailored to your subscribers' needs.
Today we're going to show you some of the best customer segment examples to help you improve customer experience and promote customer retention.
But first…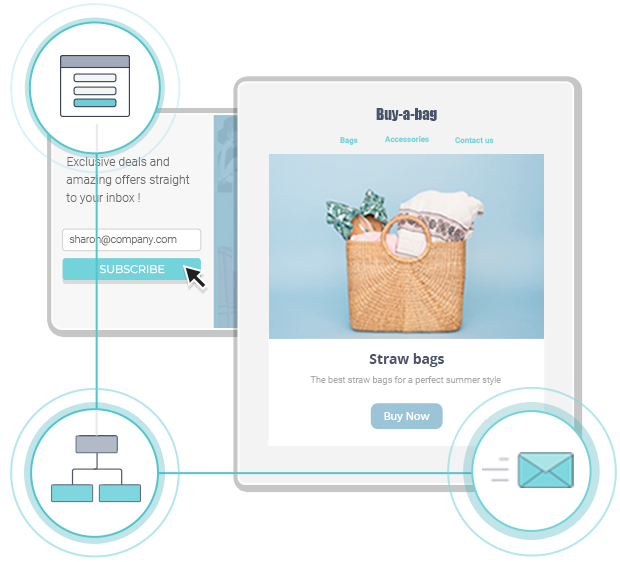 Try Moosend Today

The easiest and most affordable email marketing and newsletter software!
What is Customer Segmentation?
Customer segmentation is the process of dividing your shoppers into segments based on similar characteristics.
This process is done using specific variables such as demographics, behavioral, psychographic, geographical data, etc.
Segmentation of your customer base helps you identify each segment's particular needs and deliver the appropriate marketing messages.
Moreover, segmentation allows marketers to make the most out of their available budgets since they can devise different marketing strategies for each segment.
Not getting your S-factor straight might lead you to kiss your six-digit marketing budget goodbye.
Essential Customer Segmentation Examples for Effective Campaigns
We've gathered the most prominent customer segmentation examples that would benefit an eCommerce business and present them to you below.
1. Gender
The foundation of customer segmentation could start nowhere else than the gender of the customer.
Using the exact same campaign for both genders just won't work. If your target customers don't see what they expect to see, then the game is lost.
In Lucchese's example, the brand employs a varied hero image and different product recommendations based on the gender of the recipients.
This allows the campaign to resonate with the needs of the target audience and bring more conversions.
You can go the extra mile and adjust the email copy for each gender segment.
All this can be done effortlessly through Moosend's platform with the audience management options available, which you can try out by signing up for a free account.
This feature allows you to assign tags to your customers based on the data you've collected and make batch actions that save tons of time.
2. Age
Segmenting your customers according to the different age groups is also of great importance.
If you're offering products/services that appeal to different age groups, Gen Z as an example, it's good to create age-oriented segments to maximize the effectiveness of your campaigns.
Avocode targets their segment of young students with an irresistible discount that ends just before the start of the new school year. This is undoubtedly appealing to every student who doesn't want to spend a fortune.
As you can understand, the same campaign would not be suitable for professionals belonging to older age groups.
3. Geographical segmentation
Does your online store serve multiple locations? In that case, how about you send your customers a virtual "hi," only this time a photo of the local branch and employees appears?
Imagine how insanely more personable this would make a brand.
You can group your customers based on their country, region, city, etc.
All of this through the magic of adding a custom field for the location to your subscription form! This will allow you to do location-based marketing on a whole new level.
Another idea is to set up weather-based product recommendations (try this on Moosend – sign up here) so that users residing at a specific location will be prompted to make purchases depending on the weather in real-time.
4. Profession
You can also do demographic segmentation by looking at the jobs your customers have.
In this way, you'll be able to create highly-targeted campaigns that appeal to them.
This is what Home Chef did in their thank you email example above. Their email campaign focuses heavily on teachers and nurses, providing them with a generous discount.
When targeting specific professions, be sure to keep in mind seasonality, as it can maximize the results of your campaign and grab customers' attention easier.
5. Birthdays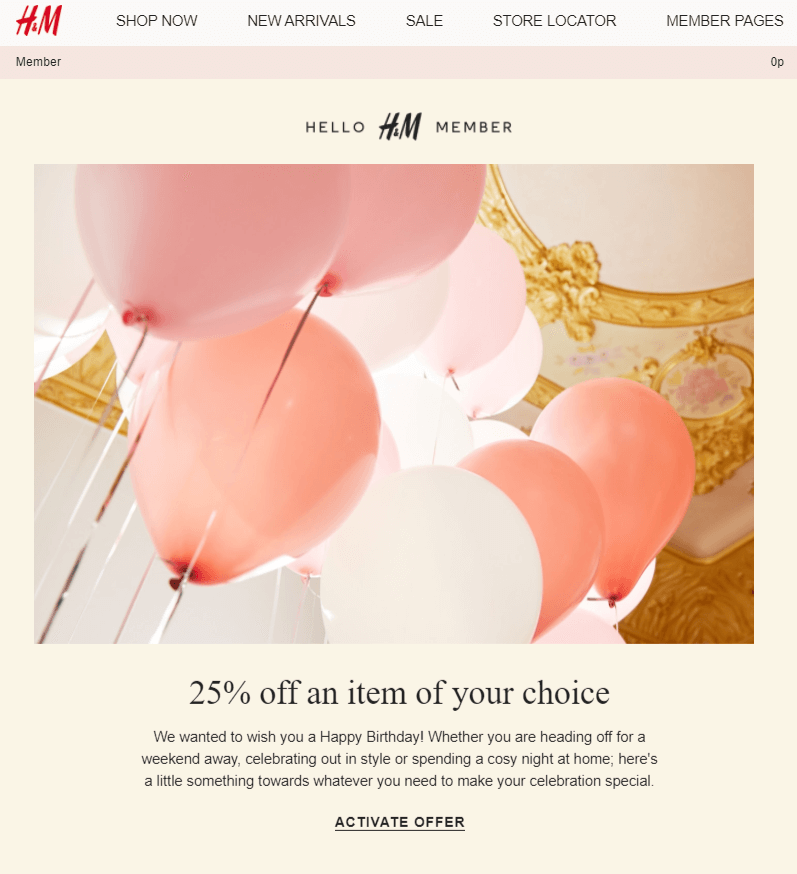 Birthdays are an excellent option for customer segmentation that you shouldn't ignore.
Delivering automated personalized emails on your customers' DoB is a win-win situation.
Not only are you "present" on this important day but you also give customers a chance to celebrate choosing your product/service.
The example above by H&M is an execution of all this.
The email itself is colorful, celebratory and of course, contains a nice 25% off for purchases. However, it could be way better if it was more personalized with the name of the customer instead of the cold "member."
You can do this through Moosend's drag-and-drop editor by inserting a personalization tag and selecting "Recipients Name".
So, it's vital to gather customers' birthday data when they sign up or create an account on your website.
6. Income (Economic status)
Segmenting your current customers based on their income is also very helpful for eCommerce stores.
This works particularly well when you have both expensive and more affordable products.
When you segment your customers based on their income, you can provide them with suitable products they can afford.
If you combine these customer data with their age, you can boost your email's relevance and use the appropriate messaging.
That's the case with the example from Argos. It's clear they're targeting the working-class professionals waiting for their payday.
The email copy is loud and clear. We can also assume this targets younger demographics due to the language used and the tempting coupon code that sweetens the mix (this might be absent in older demographics).
7. Top purchasers
Have you heard of the Pareto principle?
20% of your users bring in 80% of your revenue. And 80% of your revenue is what's keeping you in business. So you gotta be on your best behavior with that 20%.
Create marketing automation flows for your big spenders based on purchase behavior.
This segment could potentially receive:
an automated email with a special voucher or discount code to use in that month.
special greetings through popups when they visit.
exclusive offers for, say, $40 orders or more.
Kenneth Cole does something similar by offering an exclusive sale for their top customers. This will lead these shoppers further down the loyalty funnel– how cool is that?
And it only gets better with Moosend's subscription plans giving you unlimited campaigns for every subscriber.
So, essentially, this automation doesn't cost you anything and brings back more revenue which you might not get otherwise.
8. Cart abandonment segments
Behavioral segmentation of customers is of great importance for eCommerce. It also works supplementary to segmentation based on demographic data.
This is a chapter in itself since abandoned carts are one of eCommerce's biggest pain points. I've come up with a number of cart abandonment segments for you so choose the one you are most interested in.
You can target cart abandoners who…
are hesitant to buy and then it's been 4 days before they know it and their carts have expired already
are waiting for cart abandonment emails with discounts
have just 1 item in their cart
have more than 3 items in their cart
added items of $100 or more, $200 or more, and so on
Whatever the case, it is wise to create specific email templates for each different group and employ originality like the example above by Nomad.
Alternatively, if I owned a B2B company, I would be more interested in cart abandoners who have carts worth $1000 or more, for example.
There could also be an automation in place to send a Webhook and have my sales team give them a call.
9. Device Type
Are your customers coming from a desktop? Are they browsing on a mobile device? What does the operating system of your user's devices tell you about them?
A strong preference among your subscribers on the device type could inform all your marketing efforts, from targeting customers to the pricing of your product.
Moreover, this would help you optimize your emails for each device and make them more responsive.
Last but not least, it could shed light on their income level (iOS/iPhone users being high-end customers, compared to Android users).
So it doesn't come as a surprise that most apps for iOS are more expensive than for Android because marketers use this as evidence of their income. The same goes for Windows VS Mac VS Linux, etc.
10. Inactive customers
It's all fun and games while users are under your spell, but what happens when they don't drop by your online store anymore?
Well…your customer segmentation strategy comes to the rescue once again.
Ideally, you want to bring those idle customers back or at least say something like "We've missed you", or "Hey 👋, it's been a while…", etc.
The reason you need these customers is that they have a high monetary value but decreasing frequency.
PopInABox's email campaign is an excellent example. They make the case about the customer ("How is you Pop Collection doing"), not their lost revenue, of course!
They nudge the target segment to come back and provide a nice incentive to do so with the addition of the discount code.
So, the takeaway here is to establish the frequency that is considered normal for your online business and set an automation to go off when someone hasn't been around for 30 days, for example.
11. Re-engage subscribers that did not order (1-month)
Leave no one behind; users who have not purchased from you are missing out on the sweet experience of shopping with you.
Those not shopping with you keep you behind on getting bigger, greater, fancier, the best version of you.
Not reaching your full potential is, ultimately, how you are hurting yourself.
Here are 3 steps to re-engage inactive subscribers.
12. Subscribers that didn't order (3-months)
"Whoa, whoa, where'd you get my email address?"
THAT awkward moment when your subscribers signed up, (you had no onboarding email sequence set up but let's not play put the blame on someone here), and now you are in the process of just setting everything up and you need to ring a bell or two.
Set up a segment for those customers who haven't made a purchase from you (or checked your website at all in the meantime) for the past 3-4 months.
Subject line: "Ok, this is awkward!"
Email body: "WE'VE MET BEFORE- DON'T HIT THAT UNSUBSCRIBE BUTTON AT THE BOTTOM OF THE EMAIL!
Here's what you've been missing out on this whole time, [Name]!
In the past 3 months since you visited, we… "
…where you list what's different about you in the last few months.
Here is an example from LastObject.
13. The "hesitant" customer segment
Some call them Libras, others call them IFNPs, others just call them hesitant, I call her "Anastasia" cause that's my sister right there.
The kind of consumer that has to know everyone's opinion WITH arguments and loves to ask for feedback on social media to finally make educated decisions.
It's true that you're no longer just competing with the business down the road, but literally every business with an advertising budget and an international marketing plan.
Therefore, you need to go beyond what everybody else is offering.
So, create a customer segment for the users who "have viewed a specific product/page" and filter it with "number of times" (e.g. more than twice in the past seven days), and "have not purchased yet".
Set up a marketing automation flow for this customer segment, and remember it should be activated only once per week or so, otherwise you'd be overflowing someone's inbox with your emails.
14. Coupon Lovers
It is totally acceptable that some people love coupons or discounts more than others. By running a few "test" campaigns across your mailing list, you'll see which users buy.
These will be your "Coupon Lovers" segment.
So, at any given time, when you need to give your revenue a little boost, you'll be able to turn to this segment to do so.
And it's essential to keep that segment growing! Try to feed more subscribers to this list as regularly as possible.
It doesn't have to be random coupons, it could be free delivery (that's hard to say no to), free samples, a bonus of some kind, and so on!
This way, you will be able to track a substantial number of consumers who will place an order when there is an added benefit involved, such as complimentary products, services, and accessories.
15. Lifestyle
If you want to make your eCommerce campaigns more customer-centric, it's vital to incorporate psychographic segmentation into your overall segmentation process.
Lifestyle is one such variable.
Lifestyle segmentation enables marketers to understand customer needs and requirements and then inform their decisions about product development and placement in the appropriate market segment. Especially when product development is the approach a company has taken based on the Ansoff Matrix, segmentation becomes vital.
Nike for example targets different segments such as "extreme runners", "fashion trends followers", "people who adopt an athletic and fashionable lifestyle" and so on.
In the above example, the email campaign specifically targets the "extreme runners" segment that seeks a durable and comfortable shoe design.
16. Favorite brand segment
If you sell products from a lot of brands, like Amara for instance, you could segment users based on their favorite brands.
As a case in point, Amara could segment customers who have clicked a specific link (i.e. MISSONI home products) more than 3 unique times (in at least 3 newsletters).
So, every time they want to promote new MISSONI products or offers, they could target them.
As a result, users would feel appreciated and understood, while ultimately they would be more likely to convert.
From there, the company could segment further those who purchase most often following these emails, entering them to a "highly-engaged, "MISSONI home fans" segment.
17. B2B and B2C Customers
If you haven't set up a different website for your B2B and B2C customers, then it's high time you segmented those two.
This would help to un-skew your analytics results.
These two groups of customers require a different approach to marketing.
For example, you can create batches of bulk packages and see which ones your B2B clients click, so you can then offer shipping fees accordingly, while for B2C customers you can offer more personalized packages.
18. New customers
The first step in dividing your potential customers according to their customer journey stages is segmenting by new customers.
This is what the F1 Store does with its email campaign. On the plus side, the cool discount on the first order.
To establish sub-segments within this segment you can pose some questions:
Did they sign-up with you?
Are they one-off shoppers?
Did they use a discount code or not?
All these will help you create specific groups that you can then target better by creating personalized campaigns.
19. Frequent users
Frequent users are those who seem unable to refrain from checking back to your website every once in a while.
By "frequent users" we do not necessarily mean frequent shoppers, so this customer segment could be further divided into those who are highly engaged and those who are not.
This means that you need to come up with ways to increase the engagement on the part of those "at-risk" customers who need an extra push.
20. Users spending more than X minutes on any product or page
This is a segment that you can possibly come across more often, given that users can be idle on your page or just hesitant to proceed.
Here's what you can do. Set up your conversational marketing with Drift or Intercom to go off every time a user has spent more than, say, 10′ on a page.
Your marketing bot can pick it up from there and through predetermined questions guide the user around the site or to your customer support.
Hint: Even if you work for a small business and don't have dedicated customer support, you can run it from your account!
21. Updated product versions segment
Another way to bring the personal feel of offline transactions to online shopping is by sending updates on the new versions of the items customers purchased.
This is also a good way to promote those new products in a segment that has shown an interest in the past.
Suppose you purchased a GoPro Hero 5 camera.
Now, imagine when you registered your camera online, you were segmented into a new segment for the camera model.
This means that, as soon as GoPro Hero 7 was released, you would get a personalized newsletter saying:
"Hi [your name], is it time to say Hello to Hero 7? Check out its potential"
22. Source
Where are your customers coming from? Is it from your newsletters, a LinkedIn ad, an affiliate link, word of mouth?
In digital marketing, it is essential to know so as to devise the appropriate strategy.
For example, if you discover that a large number of customers come to your online store from social media, you might consider designing a landing page.
Furthermore, by establishing this kind of segmentation you'll be able to see whether shopping behavior changes for users coming from social media vs. ads vs. search engines.
23. Customers returning from churn
This is an interesting segment but rather important since we're talking about customers who have returned to your online business.
Segmenting into this group allows further on-site personalization for these customers.
It is useful to establish the time that these customers churned in order to figure out why this happened and what their pain points were.
These shoppers have a different customer relationship with your online store if they churned quickly rather than late, so this could be an extra segmentation opportunity to utilize.
FAQ: Customer Segmentation VS Market Segmentation
On the one hand, market segmentation breaks a market down into separate segments using needs, interests, lifestyles, or demographics as filters.
It's concerned primarily with outlining the available social groups, etc. in the target market.
Customer segmentation helps us come up with a polished profile for our consumers.
Customer segments also serve as the basis for buyer personas.
How to do Customer Segmentation
Start with market segmentation; run market research or another type of data analysis to discover the segments your market is made up of.
As soon as you find your segment, ensure that the size or revenue potential from this segment will make your business viable.
If not, either pick a different segment (if you are still in the designing process of your product) or choose a different target market where you can find more of your ideal customers.
If you are launching your own online store, consider the common characteristics of your cross-cultural audience and adapt your messages accordingly.
What is your ultimate goal? Align your strategy with your business goals.
Spot weaknesses in other competing brands (if any) and use them to your advantage.
Customer segmentation may serve different purposes and, as such, it can be applied in a different manner.
In email marketing, email list management can be the underlying factor in underperforming email marketing campaigns.
For example, you can use customer segmentation on your existing mailing lists to recover users with specific characteristics, as seen on the Moosend platform.
This way, you bring in data with dynamic segmentation.
With website tracking, you upgrade your analytics game further as you can feed literally the entire customer journey to your favorite email marketing and automation platform.
Having set up your marketing automation and top drip campaigns, you make the most of real-time segmentation, offering your new subscribers the best service, suited to their needs.
Conclusion
Customer segmentation may be a constant process but it can be made simple with the help of a trustworthy email marketing service.
Start with a small selection of segments and track their performance over time. Gradually, add or remove segments along the way, depending on their performance.
Segmenting your audience will not only help you increase customer loyalty but also create relevant campaigns that will set you apart from the competition.
You can start segmenting your customers today by signing up for a free Moosend account of up to 1,000 subscribers and upgrade your email marketing today!