11 Free SMTP Server Solutions for Marketers & Developers [2024]
11 Free SMTP Server Solutions for Marketers & Developers [2024]
Published By
Nick Dimitriou
December 6, 2023
I'm sure you came here looking for an excellent free SMTP server to send transactional emails to your recipients. Choosing an SMTP service provider to simplify email sending shouldn't be the most difficult task.
So, rest assured because after reading this blog post, you'll know how to choose the best SMTP relay service for your business.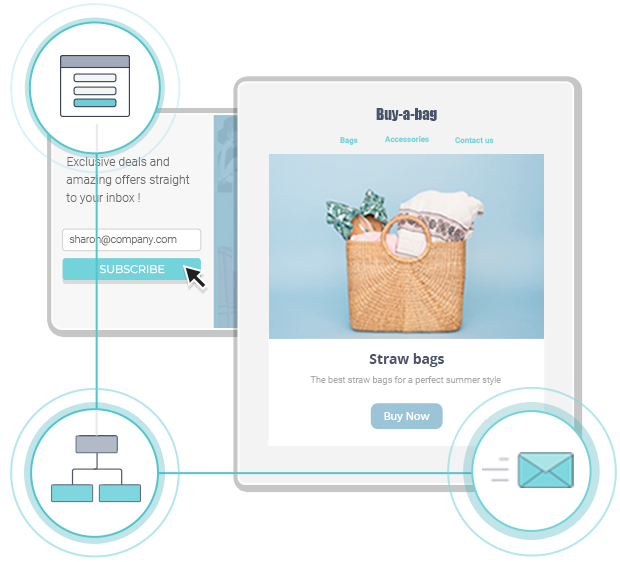 Try Moosend Today

The easiest and most affordable email marketing and newsletter software!
Best Free SMTP Servers For Transactional Emails
Here are the top free SMTP server solutions right now:
1. Google
Google's free SMTP server is one of the most popular options for those who want to send their first transactional emails. All you need to access the service is a Gmail account. The company's global infrastructure minimizes disruptions and favors simplicity and easiness. Google's free SMTP service is reliable and offers great email deliverability for Gmail users, so your emails won't end up in the spam folder.
Free emails: Google SMTP provides 500 emails per rolling 24 hours (for the 14 days of the free trial)
Pricing: Google offers its free SMTP server solution for a 14-day trial period. After that, you have to upgrade to a Google Workspace paid plan starting at $6/month. In that case, you can send up to 2000 emails per rolling 24-hour period.
Best Features:
Send messages from a different email address and receive emails to your Gmail account. For instance, if you have a business email address, you can add it as a custom domain name and send bulk emails through Gmail.
Great email deliverability
For details on how to set up Google's SMTP server, you can click here.
2. Amazon SES
Amazon SES (Simple Email Service) is a cloud-based platform that provides users with a sophisticated SMTP interface. The SMTP service allows you to integrate Amazon with your email client, app, etc. Amazon SES lets you monitor your activity and reputation, an essential feature for every free SMTP relay server. Overall, Amazon SES is a cool free SMTP option to get your work done fast, but it has its limitations.
Free emails: 62,000 emails per month from applications hosted in Amazon EC2 or via AWS Lambda.
Pricing: The Free Usage Tier offers 62,000 emails/month, while you're charged $0.10 for every 1,000 emails you send after that. Moreover, you pay $0.12 for each GB of attachments you send.
Best Features:
Great email deliverability with support for some of the most popular authentication methods like SPF, DKIM, and DMARC
Multiple sender configuration options (Amazon console, Amazon SES API)
Reputation dashboard including data such as delivery rate, blocked domains, spam trap hits
Abundant free emails to get started
You can see how to use the Amazon SES SMTP interface to send emails here.
3. Moosend
Moosend is one of the best email marketing automation platforms out there. When you sign up, the service offers you sophisticated tools and responsive newsletter templates to scale your business. As it is natural, choosing Moosend's SMTP is a no-brainer since it's an ESP (Email Service Provider). The SMTP service is easy-to-use and it lets you send order and account confirmations, invoices, and password reset messages.
To start your email marketing journey, you can sign up here and enjoy the benefits of a premium yet cost-efficient service.
Free Emails: none, but unlimited in the paid plan
Pricing: While the free trial doesn't include the SMTP server, paid plans start at $9/month (see all pricing options here) giving you access to an additional arsenal of email marketing tools.
Best Features:
Powerful analytics and tracking system perfect for monitoring performance
Great IP protection due to first-class infrastructure and IPs
Effortless connection with WordPress sites
To use Moosend's SMTP server with the application of your choosing, check out this resource. In case you want to connect it with your WordPress website, check out this guide!
4. SMTP2GO
SMTP2GO is a free SMTP relay server to send emails, track them, and achieve an excellent deliverability rate. The service has an intelligent network with built-in redundancy to handle traffic and make sure your emails get delivered even in case of internet failure. Joining the free plan will also grant you five days of premium email reporting. However, it only allows you to deliver ticket support to your recipients.
Free emails: SMTP2GO's free plan offers 1,000 emails per month
Pricing: Apart from the free plan, there are paid plans unlocking more features. These start at $10/month.
Best Features:
Actionable real-time analytics to assist your email tracking efforts
Spam-trap detection
Easy-to-use API that can be used without trouble from both developers and marketers
14 days of toll-free phone support and live chat to learn and configure the server
For more information on how to use SMTP2GO to send emails, check out this page.
5. Postmark
Postmark's free SMTP relay server promises to deliver transactional emails in your customers' inboxes in a breeze. When you sign up, the software will equip you with sophisticated tools and responsive email templates to create mobile-friendly transactional campaigns. The email provider also gives you access to fast email delivery and detailed analytics to monitor your open and click-through rates. Overall, Postmark is a good SMTP server solution that's secure, cost-efficient, and easy to integrate with your website or applications.
Free emails: Postmark's free developer plan offers 100 emails/month
Pricing: If you want to go over the free plan's limits, you need to purchase a paid plan starting at $10/month for 10,000 emails. Getting a dedicated IP address is an optional add-on that you can get for an additional price per month.
Best Features:
Lightning-fast email delivery
Two-factor authentication (2FA) to keep your data secure
Responsive, well-designed email templates
45 days of full content history
To configure Postmark and start sending transactional emails with the SMTP server, check out this guide. In case you encounter any problems, here is a useful video on how to connect with WordPress.
6. SocketLabs
SocketLabs is another free SMTP relay server that developers can use to deliver timely bulk emails to their recipients. The service is perfect for new developers and IT professionals who want high deliverability rates at no cost. Moreover, choosing SocketLabs' hosted SMTP service will maximize your inbox placement and keep your emails away from spam folders.
Free Emails: 2,000 emails/month (on the free developer plan)
Pricing: SocketLabs offers a free Developer plan with 2,000 emails/month and a 30-day free trial of their Core plan. For more emails and additional features, you can opt for a paid plan starting at $39.95/month.
Best Features:
Email APIs allow you to integrate your statistics with in-house apps for better access
Fully-managed cloud SMTP servers
Support for DKIM signing, SPF, ISP traffic
Find out how to use Socketlabs' Free SMTP Server here. Alternatively, if you want to integrate Socketlabs with WordPress, follow this guide.
7. Pepipost
Pepipost is another free SMTP server solution to deliver mass-sent emails. This free SMTP server solution is great for developers and marketers who want to keep track of their users' opens and clicks. The smart analytics, along with the service's AI-powered tools, will help you increase your email deliverability, avoid spam traps, and maintain your sender reputation. Due to Pepipost's global infrastructure, you can have a fast service and great network latency.
Free Emails: 30,000 emails for the first 30 days (then 100/day forever)
Pricing: If you outgrow the free plan, paid plans start at $25/month for 150,000 emails. For high-volume senders, you can get a custom plan.
Best Features:
Dynamic Email Delivery
90 Days of History
Subaccount management
You can use Pepipost to deliver WordPress emails by following their WordPress integration guide.
8. Mailgun
Next in line is Mailgun, an SMTP service to send automated transactional emails and track your email deliverability. Mailgun's service is easy-to-integrate with any WordPress site or application, offering a wide selection of features. Among others, you'll get access to email address validation tools, inbox placement, and detailed documentation. As a developer-oriented email delivery service, Mailgun may lack some beginner-friendly features.
Free Emails: Mailgun lets you send 5,000 free emails for the 1 month of its trial period
Pricing: The Trial plan only lasts for a month and it's purely to test out the service. After that period, you're transferred to a paid plan, and specifically to the Foundation one at $35/month for 50,000 emails/month.
Best Features:
Real-time email tracking and advanced analytics
Advanced deliverability features to reduce bounce rates and spam complaints
Simple connection with MBPs like Gmail, Yahoo, and Outlook (over TLS or SSL)
You can integrate and check how to use Mailgun with your WordPress site by clicking here.
9. Brevo (Formerly Sendinblue)
Brevo is another great SMTP server solution with advanced email marketing capabilities. This free SMTP server is easy to use and has a straightforward integration with WordPress, even if you're a beginner. While the free plan doesn't offer much, it's ideal if you're starting out with transactional emails. The platform will also allow you to leverage other marketing channels, such as SMS marketing, live chats, and ads.
Free Emails: 300 free emails per day (forever)
Pricing: To increase the monthly number of emails and get more advanced features, paid plans start at $25 for 20,000 emails/month.
Best Features:
Flexible API to create custom and dynamic email messages
Automated workflows with both email and SMS
Effortless integration with services like WordPress, WooCommerce, Shopify, and Prestashop.
To integrate Brevo with your WordPress site, check out this guide, or if you are looking for more information check out this review by EmailVendorSelection.
10. Mailchimp Transactional Email
Mailchimp Transactional Email (formerly Mandrill) is a paid Mailchimp add-on for your standard or higher account to deliver personalized transactional emails through an SMTP email server. While Transactional Email has no free plan, there's a demo you can utilize to send automated emails. Overall, Mailchimp Transactional Email is an ideal SMTP solution for developers who want to increase their email delivery rate and customize sending.
Free Emails: The Mailchimp Transactional demo offers 500 transactional emails to any email address on a verified domain (new users only).
Pricing: The pricing structure is based on a block system where each one is a credit for 25,000 emails, starting at $20/block.
Best Features:
Optimized delivery infrastructure
Automatic loop registration
Vast knowledge base with simple and informative guides
You can easily set up Mailchimp Transactional Email by following the instructions in this detailed guide.
11. Sendgrid
SendGrid is a marketing automation platform offering both free and premium SMTP server functionality. With SendGrid you can reliably deliver your transactional messages through their global network. Apart from that, you are equipped with powerful delivery optimization tools like custom DKIM and suppression management. All in all, SendGrid offers an excellent service to send your email messages, despite being on the limited side regarding the number of emails.
Free Emails: Sendgrid's free plan gives you 100 emails per day forever.
Pricing: The free plan doesn't expire but it's very limited. Paid plans start at $19.95/month, providing you with up to 50,000 emails per month. For a dedicated IP and extra features, you'll need a Pro plan at $89.95/month.
Best Features:
Email testing for dynamic templates
Easy integration and a clear setup flow so you can effectively start sending your transactional emails
Developer-optimized SMTP relay
Frequently Asked Questions
Below you'll find some of the most frequently asked questions our clients are asking.
What is an SMTP Server?
SMTP stands for Simple Mail Transfer Protocol, a TCP/IP protocol used by professional and free SMTP servers to send, receive, and relay messages across the web.
Why do you need an SMTP Server?
Without an SMTP Server, your messages would never reach your recipient's inbox. To avoid that, you need a digital mail carrier. In this case, let's call him Bob.
Bob is responsible for delivering your messages to the right person. But Bob isn't just a simple mailman. He is also smart, so if he realizes that something is suspicious, he will act as your first line of defense.
Here's a great depiction of how an SMTP service works:
Is a Free SMTP Server the right choice?
Let's begin by saying that WordPress tries by default to send those transactional emails via PHP mail, which is not ideal since it causes all sorts of problems.
So, using a Free SMTP Server to counter that sounds like a wise choice, right?
While a free SMTP server is useful for someone who's just starting their business and has no budget, you need to consider the following.
A free plan can benefit someone with only a small number of subscribers. But, as your business grows, you'll soon realize that you need to send more messages.
For example, let's say you use Google's free SMTP relay server. The service allows you to send 500 emails per 24 hours during the free trial.
While they may sound like a lot, if you have a growing online business, you'll soon see that investing more in eCommerce email marketing and transactional emails is crucial for your success. Not to mention that soon you're back to square one since the free plan is not a permanent choice.
Also, when something's accessible to anyone, there might be potential spammers among them. This may also lead to lower deliverability rates and a bad sender reputation.
So, what's the takeaway? You need to think of your goals as a business. If you're aiming to grow your online business and increase your revenue, then you need a reliable "partner" down the line. This partner is a premium SMTP server.
Why choose a Premium SMTP Server?
Here are the most important benefits of choosing a premium SMTP service:
Send more transactional emails
Ensure hassle-free setup and configuration
Better security
Higher deliverability rates for your email campaigns
Accurate tracking of your email performance
Takeaway
While a free solution is always good for your pocket, selecting a more sophisticated relay service will allow you to send more emails and achieve higher deliverability rates. Moreover, you should always keep in mind the needs of your growing business.
If you still haven't decided, why not give our SMTP server a try? All you need to send unlimited transactional emails is a subscription to our $9/month plan.
Now, you are ready to scale your business like a pro!