25 Best Email Marketing Tips To Power Up Your Strategy [2023]
25 Best Email Marketing Tips To Power Up Your Strategy [2023]
Published By
Marilia Dimitriou
September 13, 2023
Did you just get a hold of email marketing and don't know how to boost your efforts?
Today, we're here with some sexy email marketing tips to help you drive growth for your business!
As experience has shown, email is a major customer acquisition weapon, with marketers reporting that business email is 40X more effective than Facebook and Twitter combined. So, it's a shame not knowing the tips and tricks to maximize it.
From creating the perfect subject line to targeting the holidays with brilliant seasonal campaigns, here are the best ways to charm your subscribers!
Let's see them!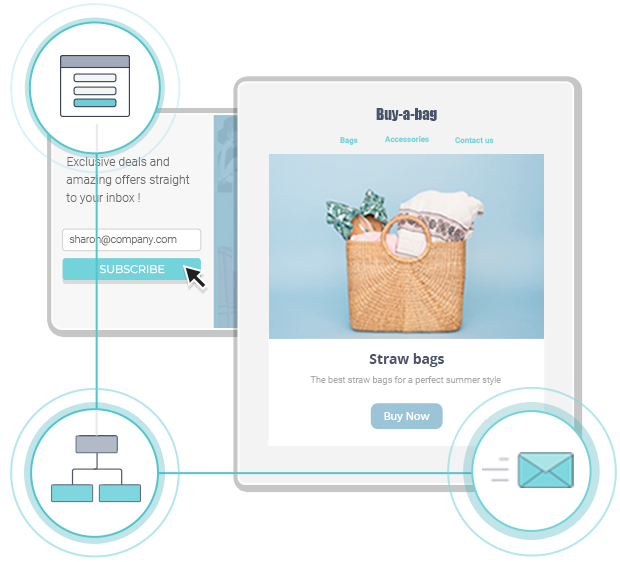 Try Moosend Today
The easiest and most affordable email marketing and newsletter software!
Pro Email Marketing Tips For Marketers
In a hurry? Here are all the email tips found in this post:
 Lead with value
 Segment your email lists
Hyper-personalize your content
Time your email marketing campaigns
Let unengaged subscribers go
Take advantage of double unsubscribe opt-ins
Don't buy email lists
Use email newsletter templates wisely
Write clear and compelling subject lines
Don't forget your preview text
Come up with entertaining email content
Target the holiday season
Create campaigns using trending topics
Plan social-infused emails
Reward customer loyalty
Equip your emails with interactive elements
Take care of email deliverability
Collect customer feedback
Match your emails with your landing pages
Embrace RSS Campaigns
Optimize your emails through A/B Testing
Use email testing tools
Pass the '5-second test'
Measure your results
Automate your email campaigns
1. Lead with Value
Reciprocity (giving value back to your audience) is one of the main principles of creating a strong and profitable relationship with prospects and clients.
To provide value, though, you need to adopt customer-centric practices that will nurture them into your brand advocates. Start by asking yourself who your audience actually is. Do you have buyer personas in place?
This ideal representation will show you what your target audience wants from you and help you address their pain points. Knowing who to target will result in designing a content marketing strategy that will provide the most benefit to your prospects and maximize your email marketing efforts.
There are a variety of ways to add value to your messages:
Provide case studies and success stories for inspiration.
Offer recipes, DIY guides, and other tips and tricks that are not product-specific.
Show them educational product content (blog posts, ebooks, etc.) that addresses their pain points.
Give them freebies, discounts, giveaways, and so on.
Here's a great example from IPSY, offering subscribers a free gift to entice them:
If you are constantly spamming your prospects with sales pitch after sales pitch with no value included to increase conversions, you will quickly lose subscribers and reduce your chances of making the sale.
Instead, focus on developing long-term relationships with your prospects, a practice that will ultimately help you reach customer retention.
2. Segment Your Email Lists
Segmenting your email list involves splitting up your contacts depending on where they are in their customer journey.  Email marketers can create different customer segments based on their recipients' demographics, lifestyle, location, website activity, job title, psychographics, etc.
A great example of segmentation comes from Avocode. The brand has created a specific segment to deliver targeted discounts to students, making the offer as irresistible as possible to help them nail their assignments:
As you can see, segmenting your contact list ensures that people receive deals and offers that will be of interest to them, making them more likely to buy and less likely to unsubscribe! If you want to make your messages effective, keep this email marketing tip on top of your mind, segment your list, and deliver your campaigns. It'll be an instant win!
3. Hyper-Personalize Your Content
I'm sure you've heard about personalization already. This practice is pretty simple since all you need is to add your subscriber's name in the subject line or email copy, and, voila, your email is now more personal!
However, if you want to step it up a notch, you can use hyper-personalization, one of the best tactics to tailor your messages to your audience's needs.
To hyper-personalize your campaigns, you need to combine the power of data, consumer insights, analytics, and automation. The more you know about your recipient, the better your campaigns will be. Consequently, your message will feel less salesy and more natural, providing an instant solution to your customer's pain points.
For example, BareMinerals often uses this practice in the form of a "We saw you looking" campaign. These automated messages leverage online behavior to target users with the right content at the right time:
Last but not least, to create hyper-personalized messages, you'll need the help of a marketing automation tool like Moosend or Mailchimp to set up smart workflows that will leverage the power of data!
If you want to see how they work, you can sign up for a free Moosend account, hop into the visual workflow editor and give it a try!
4. Time Your Email Marketing Campaigns
One of the most frequently asked questions out there is, "When and how often should I send out emails?" To answer this question, let's look at some 2021 email marketing data:
Emails delivered on Thursdays had the highest open rate, followed by Tuesdays.
Saturday had the lowest average open rate.
Email open rates were highest between 8 am, and 9 am.
After 6 pm, open rates started to decline.
As far as frequency goes, the optimum number for getting your emails opened is 2-5 campaigns per month.
However, this doesn't necessarily mean this will be right for your email list. The more you know about your prospects' behavior, the better it will help you determine the best timing and frequency of your email campaigns.
Also, when starting, it is best to experiment and deliver your emails at different times to figure out what works best by analyzing the results!
5. Let Unengaged Subscribers Go
Let's face it – not everyone who chooses to opt-in for your email newsletter will want to stay on your list forever. People move away, change jobs, or they are just no longer interested.
Regardless of the reason, nothing is more annoying for your customers than having to jump through hoops to unsubscribe from an email list. Don't make your subscribers search for a way out and give them an easy way out.
The most common place to add your unsubscribe button is at the bottom of your campaign. Sometimes, though, Gmail will display your unsubscribe link next to your sender address like Fenty:
While this email marketing tip might sound absurd to you, parting ways in good terms is actually better than having people reporting you. Which can easily happen if you "hide" the unsubscribe button from them.
Being transparent will work in your favor as it will help your email list hygiene efforts and improve your deliverability.
6. Take Advantage of Double Unsubscribe Opt-ins
As we saw above, disengaged subscribers will see their way out of your email list no matter what you do. But what happens with accidental unsubscribes?
This can happen at any time, leaving your subscribers wondering why they aren't receiving messages from your business anymore. This can be the cause of real disengagement! To avoid it, you can employ the power of the double unsubscribe opt-in.
This process will make sure that your subscribers will receive a message before they leave your mailing list. You can redirect them to a new page or display a message where they can cancel or unsubscribe like ThirdLove below:
Adding an extra step will help you prevent accidental unsubscribes and minimize any potential frustrations caused by it.
If you want to use this feature, you'll have to get email software that supports it. Moosend, for example, has recently launched a double unsubscribe opt-in option to help you out. To try it out, you can easily create a free account and select it from your account settings.
7. Don't Buy Email Lists
Building an email list from scratch has certain challenges. You have to create an online form to get your visitors' attention and then convince them to stay with you through their journey.
Of course, sometimes people might approach you, telling you that they can sell you their email list. While it might sound tempting, you should never accept such offers.
Lists like these can have subscribers of questionable origin. Also, they might not even be interested in what you offer, so you'll see a number of them unsubscribing the moment you start emailing them.
Creating your own list of engaged subscribers is better than buying random mailing lists, even if the numbers are low at first.
Pro tip: The best way to power up your list building is to create converting forms, offering web visitors some amazing incentives that will convince them to give you their email address!
8. Use Email Newsletter Templates Wisely
Every email service out there offers pre-made templates you can use to create an array of campaigns.
Most email marketing tips will tell you to avoid using generic designs that won't reflect your brand. That's true. But that doesn't mean you can't grab a template and customize it to your heart's content!
For instance, new email marketers can use ready-made email newsletter designs as blueprints to save time and avoid design-related frustrations.
What's more, apart from using your platform's email templates, you can create your own and save them in your library for future use!
So if you're thinking about customizing templates but are quite skeptical about them, you can use them as guides to create something wonderful for your audience. Plus, most of them are responsive, so they'll look good on several mobile devices and email clients!
9. Write Clear and Compelling Subject Lines
Now let's see a few handy email marketing tips for your actual email campaigns, starting with the most important component, your email subject lines!
First off, if a subject line isn't enticing enough to get your prospects to click on the email, then all of your email marketing efforts will go to waste!
Paying attention to your subject line copy will help you increase your email open rates, prevent campaigns from landing in the spam folder, and get your message in front of the right people. To make readers click, you need to:
Add a sense of urgency/scarcity: Use actionable language that tells readers why they must act now.
Make them short and sweet: Aim for 30 and 50 characters (including spaces) to ensure that your prospects can read them without getting cut off, particularly by mobile devices.
Avoid spam triggers: Avoid all caps and multiple exclamation points or spammy words like Cash, Quote, Buy now, Free, or Save to protect your email deliverability.
Use emojis: A clever emoji will help your email subject line stand out in the inbox. For instance, the majority of Halloween subject line examples include emojis to be playful and creative.
If subject lines are the bane of your existence, you can use an AI-powered subject line tester like Refine to check how they'll perform! You can also get valuable suggestions on how to improve them, like adding personalization, emojis, etc.
10. Don't Forget Your Preview Text
Your preview text is as important as your subject lines! So take advantage of the extra lines of copy to provide more details that will support your messages!
Let's take a look at some examples from my inbox:
Here, Wendell August Forge uses its preview text to give subscribers an extra incentive to interact with the email campaign. The brand's choice is clever as it acts as a reinforcement to the new product launch.
Similarly, Elementor grabs the opportunity to show the value of checking the new email by telling its subscribers about the new things they can do.
In a nutshell, adding relevant preview text that supports your subject line is an excellent way to entice your recipients without breaking the subject line length rule!
11. Come up with Entertaining Email Content
Apart from being valuable and concise, your email copy should be interesting and entertaining. So depending on your audience, you should try to incorporate your brand tone and give your recipients a unique experience.
Don't forget that the ultimate goal of effective email marketing isn't to close a sale but capture the reader and make them want to engage with your content and brand long-term.
For instance, Blizzard is a gaming company that uses story-infused email copy to convey various marketing and sales messages to its audience. Let's take a look at an example:
For Blizzard's mailing list, this copy is on-point, offering readers an immersive experience outside their favorite game!
Pro email marketing tip: Don't hesitate to create a story for your brand to promote your product/services uniquely and creatively. Brands like Coca-Cola have utilized this tactic for years and have seen solid results!
12. Target the Holiday Season
Sending holiday campaigns couldn't be absent from any successful eCommerce email marketing strategy! When you think of the holiday season, you automatically think of Halloween, Black Friday, and Christmas. However, these aren't the only festive times of the year to target.
Based on your audience, you can craft brilliant campaigns to target Father's Day or, if your audience is mainly in the US, create 4th of July sales messages for it.
Using the power of customer data, you can create specific segments for people celebrating different holidays. Then, all you need is a beautiful email design and a great offer to get them to act.
Apart from the big ones, here are some other holidays that your eCommerce business can target:
Oktoberfest (Sept. – Oct.)
Hanukkah (Nov. – Dec.)
Lunar New Year (Feb. 1)
Mardi Gras (March 1)
St. Patrick's Day (March 17)
Here's a brilliant example from Chubbies to celebrate Oktoberfest in style:
13. Create Campaigns Using Trending Topics
With your email tool, you can craft pretty much all sorts of emails. But have you ever thought about crafting campaigns influenced by trending topics?
If you search social media, and more specifically, Twitter, you'll come across various trending keywords. An example comes from a recent incident involving a Picasso painting that fell on the floor after being incorrectly placed by a Greek officer.
Of course, local brands immediately seized the opportunity to create social media campaigns inspired by it. Among them was also IKEA which promoted a single shelf with the hashtags #picasso and #oops:
So the question is, "Can you turn this into an email marketing campaign?"
Well, why not? People love seeing unique content in their inbox, especially when the inspiration is something like the above example! So keep a close eye on what's going on to create something astonishing for your audience!
14. Plan Social-Infused Emails
Gathering inspiration from social media is one thing but using actual posts in your email campaigns is one of the email marketing tips you need to keep in mind. Why?
Because integrating email and social media is one of the most popular tactics that email marketers use to increase engagement through channel cross-promotion.
And since social media is one of the biggest promotion/engagement players out there, "marrying" it with your email campaigns will help you elevate your strategy.
Here, Fila created an email marketing campaign to promote its most-liked Instagram posts:
As you can see, the brand grabbed the opportunity to show their best content and use CTAs to lead their subscribers back to corresponding product pages.
That's a smart way to boost your new eCommerce sales using your social media posts and newsletters!
15. Reward Customer Loyalty
The first thing you need to know before we delve into this email marketing tip is that retaining existing customers is a lot cheaper than acquiring new ones.
So if you want to use this practice, you need to start targeting your loyal customers first and then investing in getting new ones on board. For eCommerce businesses, this is possible through customer loyalty emails or buyer appreciation campaigns.
Your loyal buyers will love an exclusive offer or discount coupon that will lead them back to your store.
Here, you can see an email example by Michael Kors sent to subscribers who have joined its loyalty program:
Rewarding existing customers is among the best eCommerce strategies you can use to make your business thrive! So don't hesitate to create a VIP campaign for your loyal supporters!
16. Equip Your Emails with Interactive Elements
When we talk about interactive emails, we refer to campaigns that have various elements that the recipient can engage with simply by clicking on them.
The most common things found in these emails include GIFs, quizzes, videos, and countdown timers. These functional elements are meant to entice your audience by adding an extra engagement layer that will push the recipient towards your CTAs.
Below, you'll find a Black Friday email campaign from Carhartt. See how the brand uses a GIF to make the message interesting and unique?
Simple email marketing tips like this will help you create emails that will make your audience pay attention to your call-to-action, charm them, and hype them up for your next campaign!
17. Take Care of Email Deliverability
Email deliverability entails a set of activities that will help you place your email campaign into your subscriber's inbox.
To maintain a high delivery score, though, you need to have a good sender reputation. Sadly, this score can be affected by a variety of factors. Some of them include:
Unclean email lists
Soft and hard bounces
Spam complaints
Getting blacklisted
Usually, sending messages that contain one or more spam words can be a reason for harming your delivery rate. So, as we said in the subject line section, try to come up with messages that are free of spammy words!
Moreover, try to perform email list hygiene as frequently as possible to remove potentially harmful email addresses and use a series of verification methods like SPF and DKIM to confirm your Sender IP and email messages. Lastly, don't hesitate to use email spam checking software to ensure that your email delivery and sender reputation remain intact!
18. Collect Customer Feedback
Getting feedback on products and services is crucial to performing certain optimizations. Thankfully, you don't have to go to great lengths to find what your customers think of you.
The only thing you need is a customer feedback campaign! You can send different emails to first-time customers to find out what they think of you or existing shoppers for more in-depth insights. Whatever you choose, don't forget to give your audience the right incentive to participate in your survey.
Here, The Bump has created a dedicated email campaign to get recipients to share their experiences. Of course, subscribers participating in the survey will have the chance to win a $250 Amazon gift card:
Collecting feedback is one of the most important email marketing tips you need to consider to improve your business and products/services! So don't forget to use them!
19. Match Your Email Campaigns with Your Landing Pages
Most of your email campaigns will probably lead your subscribers to your website or product pages. But what happens when it comes to your landing pages?
Well, since these are independent pages, you can create a converting landing page that matches your email campaign to offer your audience a sense of continuity. To achieve that effect, you can:
Choose a similar design (colors, visuals, etc.)
Maintain your tone
Use similar wording and phrases
Here's an email marketing campaign example by Zapier to see how similar designs, colors, and visuals can offer a seamless experience:
And here's a part of the landing page design that subscribers see when they click on the CTA:
More on the layout, you can take advantage of email service providers offering matching landing pages and email newsletter layouts. For instance, a landing page editor like Moosend's allows users to choose designs that correspond to their newsletter templates.
If you're already using the platform, you can check all landing pages templates to find those that match the newsletter designs you might be using. If not, you can sign up for a Moosend account to try them out and upgrade to a paid plan to create more!
20. Embrace RSS Campaigns
RSS campaigns are automated messages that are sent to subscribers every time new content appears on your blog.
These emails are perfect for increasing your organic traffic (and SEO efforts) by promoting them directly to your audience. To create these email campaigns, you need to set them up through your email marketing software by selecting the RSS type and adding a feed URL.
RSS campaigns are an efficient tool to promote engagement with your content and give your audience the latest updates without searching through your website!
Here's an example by Torque:
Need some cool RSS feed newsletter templates? Get them all by registering for a Moosend account. The rest is easy!
21. Optimize Your Email Through A/B testing
No matter how valuable your content is or how clickable your subject lines are, not every email marketing campaign will get positive results.
That's why A/B tests or split tests are a great way to see what strategies and offers work best for your large or small business. A/B testing involves testing two different variations of the same campaign against each other to see which gets the best results.
The first step in setting up an effective process is to decide what you'll test. While you may want to check more than one element, it's important to test one thing at a time. Isolating one variable makes sure you can point to the exact reason why one email got better results than the other. Things you might consider testing include:
Subject lines – Test different phrasing or offers to see what gets the most clicks.
Calls-to-action – For example: "Buy Now!" vs. "See Plans & Pricing."
Sending time – Are your readers more likely to open an email sent at 7:00 am on a Tuesday? Or 6:00 pm on a Friday?
Email content – Try out various images and copy.
Personalization – Use the sender's name in the subject line or not.
Offer types – For example, "Save 20%" vs. "Get free shipping."
Optimizing your campaigns is one of the most important email marketing tips I can give you. Be open to change and make adjustments to help your campaign perform better and increase your engagement and profit!
22. Use Email Testing Tools
One thing you should never forget is that A/B testing your campaigns and subject lines isn't the only thing that will improve your email marketing plan.
To succeed, you'll also need to take advantage of various advanced platforms to perform email tests. Below, you can see some of the most important testing tools you can use:
Email preview and spam platforms
Deliverability test services
Email address verification software
These services will allow you to fix common email problems and help you land your emails in your subscriber's inbox every single time!
23. Pass the '5-Second Test'
Anyone creating email campaigns needs to remember that they only have a brief moment to capture their audience's attention.
Your prospects are constantly bombarded with so much content every single day that it's easy for them to tune you out. So if something doesn't capture their attention immediately, it won't catch it at all.
The 5-second test is a user research tool that helps marketers measure what information their audience takes away within the first five seconds of viewing a design.
First impressions matter and those five seconds may be all the time you have to get your point across. Send a copy of the email to a friend or colleague and ask them the following questions:
What do you think this email is about?
Is the product or service clearly presented?
What do you remember most vividly?
If their answers don't satisfy you or if they are failing to see the point, then you may want to go back and rework your email.
24. Measure Your Results
With the amount of data available to businesses today, it's easier than ever to monitor the performance of your email marketing campaigns based on specific metrics. Most email marketing tools will automatically track this information for each campaign you set up.
These key email marketing metrics can give you insight into what content resonates with your audience. Without measuring these data points, it's impossible to improve your results.
Open rate: How many people open your emails. If your open rate is low, then you most likely have a lot of unengaged subscribers, or your subject lines aren't capturing their interest.
Click-through rate (CTR): The percentage of people that click on your call-to-action. If your CTR is low, it means that your message is either not relevant enough or simply not getting through. To fix this,  focus on improving your copywriting skills and look into segmentation.
Unsubscribes: Measure the number of contacts who unsubscribe from your list after receiving a campaign from you. If your unsubscribe rate is high, examine when and why people leave and take action based on those insights.
25. Automate Your Email Campaigns
Setting up automated email workflows not only saves you time but allows you to personalize and segment your list based on predefined rules or triggers.
Some examples of successful email marketing automation include:
Welcome Emails: Engage new subscribers with a welcome email by taking advantage of the early excitement and curiosity of new email subscribers.
Re-engagement emails: These are sent to anyone on your list who is considered 'inactive' or hasn't engaged in your emails in a certain amount of time. For example, if you've defined an inactive subscriber as someone who hasn't interacted with your brand in 6 months, then a re-engagement email should be automatically sent out to check in on them once they've reached that time trigger.
Anniversary/Birthday Emails: An easy way to make your prospect feel special. Don't be afraid to include a discount or freebie – just make sure to include an expiration date to create a sense of urgency.
Marketing automation can be a game-changer for eCommerce stores that want to target their audience with the right message at the right time. After all, streamlining your tasks is the best gift you can give to yourself for a thriving business!
Now that we've seen the email marketing tips you need to know, let's see 5 email tools that you can use to capture, nurture, and convert your audience!
5 Email Marketing Tools To Get You Started
Whether you're just getting started with email marketing or you're already a seasoned veteran, using the right email marketing software for your business can save you time and make your emails pop.
The best email marketing software should allow you to design emails easily, segment your list, personalize your messaging, create automation workflows, and view analytics reports. So let's take a look at some of the most popular email marketing service providers (ESPs) and how they stack up against each other.
1. Moosend 
Moosend is an email marketing and marketing automation platform that offers various features at an affordable price.
You can easily create a campaign from scratch in a few minutes using the drag-n-drop email builder or select one of the available pre-made newsletter templates to save time and effort.
Features
Easy-to-set-up automated workflows
Personalization features to deliver more personalized content
Email list segmentation to group your audience more effectively
Landing pages and online form builder to boost your lead generation
Real-time reporting and analytics to monitor your performance
Integrations to connect your apps and increase your productivity
Pricing: The free trial lets you try most of the features, allowing you to send unlimited email campaigns for up to 1,000 subscribers. You can sign up for a free account to test everything out, including the landing page and form builders. Paid plans then start at $9/month, giving you access to unlimited forms and landing pages, transactional campaigns, reporting, and more.
2. HubSpot
HubSpot is one of the leading marketing automation software products known for its powerful customer relationship management (CRM) capabilities that make personalization and segmentation a snap.
Features
Multi-step marketing workflows
CRM capabilities for lead management
Landing page builder
A/B testing capabilities
Predictive lead scoring options
Pricing: Free plan, paid plans start at $50+ per month.
3. Constant Contact
Constant Contact is an easy-to-use and beginner-friendly tool that lets you create emails and online forms for your audience.
Features
Simple automated workflows based on behavioral data
Advanced event invitations management tool
Easy-to-use autoresponders
Email tracking feature to monitor performance
Integrations for social media and eCommerce platforms
Pricing: The software offers a 60-day free trial. Then, paid plans start at $20/month.
4. Mailchimp
Mailchimp is one of the top email marketing platforms on the market, known for its multi-step custom workflows and advanced A/B Testing capabilities.
Features
Advanced segmentation and behavioral targeting
Landing pages to increase your lead generation impact
Variety of integrations with popular apps
300+ integrations that help you customize the tool to your business.
Pricing: Mailchimp has a limited free plan. For extra tools, pricing starts at $20/month.
5. Brevo
Brevo is an email service that offers users the ability to integrate their email marketing with SMS marketing, create landing pages, and send transactional campaigns.
Features
SMS autoresponder
Landing page builder capabilities
A/B testing
Pre-made automation campaigns
Pricing: Available free plan. For more, paid plans start at $25/month.
Email Marketing Tips To Help You Succeed
Getting started with email marketing might seem overwhelming – but it doesn't have to be!
Ensuring that you have a strong plan in place along with the right tools and support can take you from zero to hero on your email marketing journey.
And while these tips are enough to get you started, don't forget to check more email marketing best practices to help you create a successful digital marketing strategy that will give your solid results and make your business thrive!
Last but not least, make sure to get the best email service to give you the means to create powerful engagement weapons without breaking the bank. You can start with Moosend if you like and see where the wind takes you!