How to Use a Countdown Timer in Email [+ Inspiring Examples]
How to Use a Countdown Timer in Email [+ Inspiring Examples]
Published By
John Desyllas
September 11, 2023
Fancy a good ol' countdown timer in emails? Well, 3, 2, 1… let's start this post!
A ticking clock certainly catches your attention wherever you may see one. Not to mention that it creates a sense of urgency! Nobody wants a limited sale to end before purchasing or miss a product launch they were expecting for so long.
That's exactly what FOMO (Fear Of Missing Out) is. A countdown timer can speed up your customers' decision-making process and urge them to act. Neglecting to use them means that your business is potentially losing revenue.
While any decent email campaign can bring in conversions, a countdown timer can tempt even the most "resilient" consumer and maximize the effectiveness of your campaign.
If you're looking to boost your email marketing campaigns with countdown timers, test out our Campaign Editor's Timer feature now! Just click and select a "Full-width container" and then from "Elements" on the sidebar select the "Timer" option: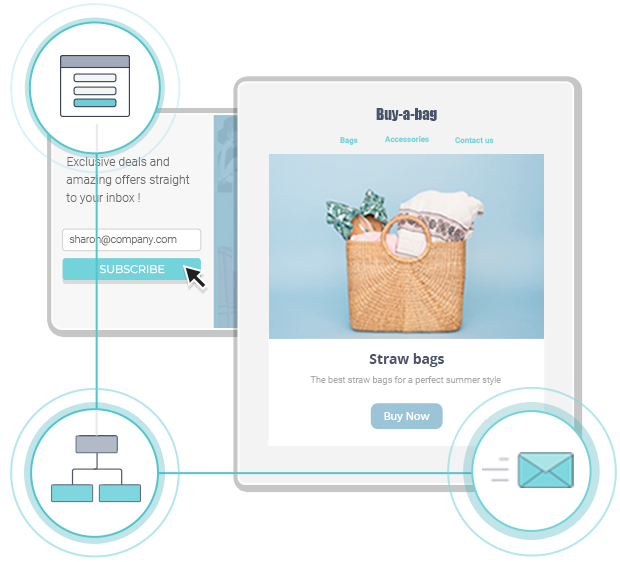 Try Moosend Today
The easiest and most affordable email marketing and newsletter software!
So without further ado, let's explore countdown timers more thoroughly and learn how to use them effectively.
What is a Countdown Timer in Email?
Simply put, a countdown timer in emails is a visual representation of a countdown clock that's embedded in your email, with the aim to make consumers act on the spot.
Generally, there are 2 types of timers that you can embed in your emails, HTML code timers and GIF countdown timers. HTML ones are hands down better since they offer more customization options, while animated GIF timers are more basic and have limited functionality.
With Moosend you won't need to worry about that though, as the feature is built-in and works flawlessly every time.
You get a real-time countdown timer that shows the true number of remaining days, hours, minutes, or seconds remaining until the offering expires.
So, every time your subscribers open their email to see how much time they have left, they will be getting an actual update on the remaining time.
As soon as the offer expires, subscribers who open that email will see 00.00.00 on their countdown timer.
Why do you need a countdown timer?
Let's begin by saying that in marketing and sales you need to be able to persuade your prospects to take action. If you leave them "unattended", they may not reach the desired action and convert.
Here are some tangible benefits you can get from using timers.
#1 Create urgency
Countdown timers in emails help digital marketers create a sense of urgency, which is proven to drive conversions.
According to a case study, a properly placed countdown timer can boost eCommerce stores' sales by an astonishing 400%.
#2 Leverage human psychology
Countdown timers also encourage people to act on a whim. This is Social Psychology 101.
By leveraging the Scarcity Principle, companies instigate in consumers a need to own something that is selling out fast or one that is in limited supply.
Complementing your email marketing campaigns with timers is a great way to amplify urgency and encourage users to take immediate action.
#3 Allow consumers to plan
Moreover, countdowns can help consumers plan. If you run an e-commerce store and send a drip campaign with countdown timers well in advance, you give your subscribers the chance to plan their budget, timetable, etc.
So, they're more prepared for the bargain to come.
#4 Build up hype
Counting down towards your new product launch, big event, or secret sale, you can create a feeling of anticipation for your audience.
This anticipation will promote sharing, and thus make the revelation even greater!
#5 Convince and convert
Convince your subscribers that your offer is not going to be valid after the expiry date. Fear of missing out will immediately kick in!
Keep your copy short and remove any distractions from your email newsletter. With a high-converting design and stunning visuals, you've won half the game before it even begins.
Pro tip: You can break almost any consumer defense by leveraging the power of segmentation along with countdown timers in your campaigns. How? By sending relevant campaigns to the right audience and putting a time limit in which consumers can act and benefit from it.
With Moosend this becomes almost effortless. Segment your email list by gender, purchase and on-site behavior, lifestyle, etc, and create automated workflows that reach those subscribers while the clock is ticking.
Register now for a free Moosend account and skyrocket your next flash sale's effectiveness!
Now it's time to get some useful inspiration.
12 Successful Countdown Timer in Email Examples
The possibilities are endless when it comes to how you can use countdown timers in your email campaigns. However, as the ancient Greek philosopher, Aristotle said "everything in moderation."
So, this great tactic should not be overused without a proper strategy in mind.
We've compiled the most essential among them and present them to you, so as to "spark" your imagination and creativity.
1. Lenovo – Countdown to Presidents Day Sale
Subject Line: "Hourly deals dropping tomorrow at 9AM ET 🕘"
In this example, Lenovo has upgraded their email marketing game for Presidents Day by embedding a countdown timer in their email campaign.
Instead of a "dull" sale, they have every tech fan on standby for the huge discounts to come.
As you can see, the email copy is minimal and the email itself is easy to read through. Also, the color palette employed is in alignment with the brand.
The extra magic of this specific campaign lies in that it maxes out tension with a sneak peek of the sale's top deals. There is no better way to tell customers what's about to follow without revealing everything.
This could easily be part of a carefully crafted drip campaign that follows up when the sale starts, with each hourly deal counting down to the next one!
Create your first countdown timer for free following Lenovo's example.
2. Moosend – Webinar registration
Subject Line: "Only a few seats left!"
When hosting an event or webinar, you certainly want to attract as many people as possible.
Using a countdown clock for your special event adds urgency to save a spot and creates buzz around your event.
Moreover, it is also a reminder for people about your online get-together.
So, the addition of a countdown timer in your email serves multiple purposes.
This email has been designed with our own Moosend newsletter editor.
3. MOO – Sale ends soon
Subject Line: "QUICK! Sale ends tonight!"
In this example, Moo combines the countdown timer on top with an animated GIF image of an hourglass. This is a nice combination as it adds one extra visual element indicating that the customer needs to act before the end time.
As to the email copy, it states only the bare essentials and leads the viewer straight to the CTA.
4. Harry's – Holiday sale
Subject Line: "You better hurry…"
This email is part of Harry's holiday email marketing campaigns.
Countdown timers are an absolute must in such campaigns because customers face the anxiety of their gifts arriving in time.
As you can see, the email's background color is aligned with the colors of the brand, while the email copy is smart and actionable. The reader is led to the CTA which urges them to "shop immediately."
5. Rayban – Early Access for Subscribers
Subject Line: "Last Hours // Black Friday Early Access"
Rayban's email features exclusive early access to the Black Friday Sale for members of their loyalty program. As you can see, the countdown timer is huge so it's hard to miss.
The email surely has the feeling of belonging to an exclusive group and that's what makes it powerful.
The countdown timer's use here is to highlight the urgency in using the promo code supplied in the email and enjoying a discount that others won't be able to have after the countdown expires.
6. Farfetch – Limited time offer for free shipping
Subject Line: "Free shipping for your saved items!"
Free shipping finds itself in the top 3 places of conversion tactics.
Couple that with a countdown timer and raise the conversion rate faster than ever!
Farfetch makes good use of the countdown timer to urge consumers to close the deal. This means more revenue for the company, which might otherwise be lost.
7. MAC – Loyalty program with exclusive rewards
Subject line: "Are you a M·A·C Lover? Hurry, join before March 9!"
This email by MAC Cosmetics is a masterpiece in its entirety. From email design to colors and copy, everything is spot on.
The countdown timer is placed in a visible position engulfed by an eye-catching pink stripe.
The best thing about this email is the wording and how much it urges you to act on the spot! By the time you reach the CTA you already know you're in for a treat.
OK… I lied! There is another best thing here. And that is the subconscious emphasis on acting fast, achieved through the background clock. Would you resist the urge?
8. Burberry – Limited release/new product launch
Subject Line: "B Series 17 February Is Now Live"
When you announce a new product or make a limited release, you want to make a statement. Thus you need an eye-catching email template to support your announcement.
In this example by Burberry, the email design is elegant and purposeful. At the center of the email lies the countdown clock, while the accompanying email copy is there to state the exclusivity of the product.
We all know that consumers can "go crazy" to partake in such limited runs, so a countdown timer cannot be absent.
9. Leesa – Weekend Flash Sale
Subject Line: "This weekend only…"
Flash sales are the ultimate opportunity to leverage countdown timers since by nature they don't last long. And that's the point!
Create additional excitement and urgency by putting a countdown clock at a visible spot. FOMO will kick in and do the job for you.
That's exactly what Leesa did in their easy-to-create email campaign that featured a cool gif image at the center to attract attention.
10. Bonobos – Everything is on sale
Subject Line: "Ends 🔜 25% Off Everything | 30% Off $200+"
As you can see in the above example, Bonobos ran a sitewide 25% discount. For large orders, the benefit was even greater.
They've kept the email design simple with emphasis on the particular benefits of acting before the expiration date. The use of the promo code is essential so as to track and measure the effectiveness of the campaign.
11. Forever 21 – Abandoned cart
Subject Line: "Yay! Good news about your order…"
An interesting alternative to the classic cart abandonment email campaign is the one above by Forever 21. Instead of just reminding their customers to finalize their purchase, they added a countdown timer for psychological reasons.
You have a subconscious urge to act before the clock reaches zero. That's what you need to leverage to improve your conversions.
12. MVMT – Extended sale
Subject Line: "⚠️ Prices Go Up Tomorrow ⚠️"
MVMT decided to extend their Cyber Monday sale, so it would be an omission not to include a countdown timer to nudge those wavering customers into purchasing before the end date.
The huge countdown clock along with the excellent email subject line will make even the hardest consumer "break".
BONUS: Get More Email Countdown Timer Examples and Ideas
How to create a countdown timer for your email marketing campaigns?
Creating a countdown timer in your email campaign is easier than you may have imagined. Follow the steps below and you'll have it set up in no time!
Bored of texts? Watch the video version!
1. Select the tool you'll use
The first step in the process is to select the tool that will assist you in creating your countdown timer.
As we said before, with Moosend you don't need to worry about it, since this is a native feature of the platform. You can access it directly when you sign up for a free account.
Register now (no credit card required!)
2. Start creating your campaign
Now log in to your Moosend account, hover over the add icon, and click on "New Campaign." From the available options choose "Regular campaign" and click on "Create."
Now you'll be able to set basic settings. First, set the campaign type to "HTML" since it's the option that allows countdown timers to work. Then, you'll need to give your campaign a name, subject line, and preview text and then fill in the rest of the details. Then click "Next."
After that, you'll be asked to select a mailing list. You can either create one right now or leave that for later by clicking "Next."
3. Hop into the Editor and select a template
Now it's time to hop into the Campaign Editor and start designing your email. To do that, click on "Start designing"
Once you're inside the Editor, click on "Template Library" and select the email template that you want to add a countdown timer to.
4. Add a Timer item
Now click on the "Items" button, located on the left side of your Editor page. Then, drag and drop the "Timer" item into an empty container inside your template.
Note: Make sure that the container is of the "Full Width" variety as that is the only container size that can accommodate a Timer item!
Your email will be looking like this after this step:
5. Customize your Timer
Now click on the Timer and its settings will appear on your right. You should be seeing this:
You can change all sorts of things like the background color, font, label color, time color and theme of the timer. For the theme, you have 2 options, plain or boxes. If you choose "boxes", you can change the shape of the box by increasing the "Box radius." Increasing the radius to "60" will make your box a circle, for example.
Note: Don't forget to hit the "Generate Timer" button if you want to see the changes you make to your timer in real time. Otherwise, you won't be seeing them until you click on that button.
6. Set the expiration date
The next step is to specify the date and time that your timer will reach zero.
To do that, click on the "Date" setting on the timer settings list. A calendar will appear that allows you to set the day and the exact time (on the other tab) that your timer will expire.
Note: Keep in mind that the time you set the timer is based on your time zone and will expire at the same time for all users.
7. Generate your Timer
Any changes you've made so far to any of the available settings will take effect once you click on the "Generate Timer" button. If you pressed this button along the way, you already saw each individual change happen in real time.
And there you have it! If you want to see how your campaign looks, click on "Preview" at the top bar. Your new creation will look like this:
Takeaway
Now you know! Countdown timers are a truly unique feature that you can use in your email campaigns to make your design stand out from your competition and incite a feeling of urgency in your subscribers.
Although customer behavior and preferences change dynamically, this specific customer "drive" will always be the same, namely the fear of missing out.
Clock's ticking! Sign up with Moosend and leverage this powerful feature to engage your audience and boost your conversions today!