How to Create an Online Form In 6 Simple Yet Effective Steps
How to Create an Online Form In 6 Simple Yet Effective Steps
Published By
Sophie Krokida
December 6, 2023
Time to stop fearing and start learning how to create an online form? You bet!
It's always my pleasure to help you overcome your marketing fears and show you how easily you can get your conversions going. And this is another post of this kind!
So make yourself comfortable and get ready for some subscription form creation awesomeness.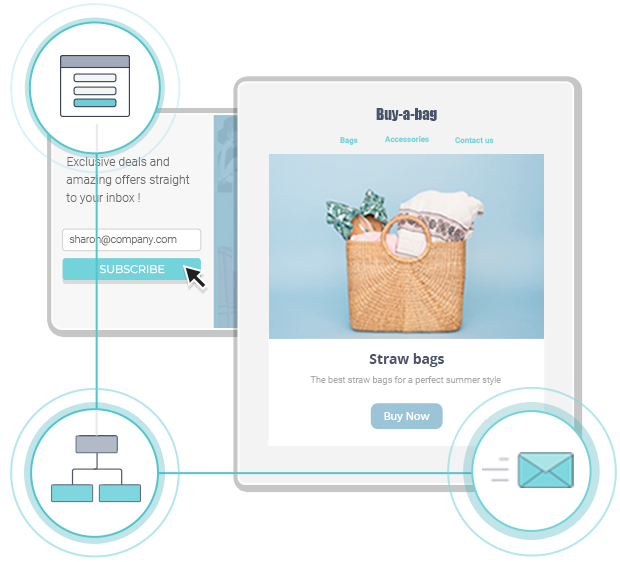 Try Moosend Today
The easiest and most affordable email marketing and newsletter software!
What is an online form?
An online form, or subscription form, is an online interactive page that allows for user input.
It's like a paper document or form, where visitors fill out particular fields.
This data is then automatically sent to a server for processing. And this is your weapon for creating custom subscription forms. (Speaking of weapons, have you tried Moosend subscription forms?)
Why do you need one (or two)?
There's a ton of good reasons why online forms should be a part of your marketing strategy:
1. Does list building ring a bell?
I want it, you want it, everybody wants it. A strong mailing list with a great number of members is your key to strong marketing campaigns.
As a matter of fact, according to Oberlo, in 2019, global email users amounted to 3.9 billion. That's all the people out there that could give love to your business.
And a well-designed, professional subscription form, placed at the right spot, is destined to capture your visitors' emails.
2. Higher conversions anyone?
Yes, I do love Deciem. And yes I keep ordering from these guys. Do you know why? Because I happened to subscribe to their newsletter and found out about their month of sales a while ago. I am a total convert since then.
To increase conversions you can spend hundreds of dollars on Google ads, Facebook ads and the like. OR, you can just create an effective subscription form that will do the job for nothing. Your call.
3. All the data you need
You can create just another email marketing campaign. Or you can create highly personalized experiences for your every subscriber, that will drive results and connect your audience to your brand. If the second option made you shake your head, then data collection should be your next move.
4. It's simple (conditional) logic
Do you believe in magic? You will! Because conditional logic is magical! Conditional logic can get your form to trigger different actions depending on the respondents' answers and collect the right user data without straining the user experience.
This means that you can choose whether you want to show or hide specific fields, send out emails, display custom messages and more.
Take a look at this Moosend example here.
There are so many things you can do with Moosend subscription forms. When you create an online form, you can choose when your want your form to appear and set a specific time. And you can choose if you want your form to appear depending on the different rules you set yourself.
For example, you can set your form to appear only to visitors from the Feroe Islands and you can apply other rules as well such as the users' cookies or the device they are using.
Basically, conditional logic has the power to transform your forms into personalized workflows and collect the right user information so your campaigns get the best results.
If your goal isn't just list building, smart forms that are here to help you boost engagement and lead to higher conversions in just a few steps.
Different types of online forms
Online forms can be a strong addition to your marketing stack. But which one is the right for you? Take a look at all the different types to choose from when you create an online form.
1. Popup
Popup is probably the most common type of subscription form out there.
It's a subscription form that appears on top of the page and prevents the visitor from making any other action until they either fill the form or close it.
When a popup appears, the page's background is darkened, so that the form stands out. Popups are used for various marketing actions.
For example, you can create a popup form to ask your visitors to:
Subscribe to your newsletter
Like your page on Facebook
Use a discount coupon on your e-store
Download an ebook (did you know that 27.7% of marketers are using them?)
Uniquely, popups are the most controversial type of form. Some find them annoying while others trust them blindly for their campaigns.
Of course, since they get all the attention, you should use them wisely. Usually, it's best to set them to appear:
As a welcome screen, before a visitor starts scrolling
As an exit intent, when the visitor has finished browsing
As a click-trigger, when the visitor needs particular forms and clicks on a specific element to trigger it.
2. Floating
Floating bars (also known as smart bars) are forms that sit at the header or footer of your page and stay in sight while your visitors scroll down.
Not to mention that they are not as annoying as popup forms. But they don't go unnoticed either.
So they are perfect for getting your visitors' attention without disturbing them if that's what you're after when you create an online form.
In addition, there are also floating boxes, that are more highly visible than bars.
While you can use a floating bar to collect emails, you can also use it to:
Highlight sales
Remind new blog posts
Highlight your social media presence
Offer a lead magnet
Showcase seasonal offers
Promote flash offers
Redirect attention to affiliate links
3. Fixed
Another type to choose when you create an online form, fixed forms are like floating bars actually. The only difference is that they come up at a specific part of the screen. And they stay there until the visitor closes or fills them. They can be used the same way as they are not obtrusive but catch the eye.
4. Inline
Looking to grow your mailing list with devoted subscribers that will love every word written in your blog?
Then what you need is an inline subscription form!
Inline messages occupy available width, they merge with the rest of your content and they don't have a "close" button. But they don't distract users either!
In the first place, if an inline form is what you choose, make sure you place it in a visible position, and not bury it in the depths of your content. Not everyone makes it to the end!
Usually, you will find this kind of form in blogs. Used for email collection, it's also a great way to promote new posts or highlight gated content and content upgrade.
How to create an online form in 6 steps
1. Define your goal
You should know that by now. Marketing strategies are effective only when they are…strategic. What I mean is that you must always have a goal in order to get results.
Do you want your visitors to give you their email? Maybe urge them to discover your e-store's new clothing line? Or read your new blog post?
Whatever it is that you want, make sure that you know it!
Successful subscription forms have their rules and there's no way to create one yourself unless you know why you want to create it.
2. Decide what type of form you need
There's no one-size-fits-all subscription form. That's why there are so many different types of them if you think about it!
For example, popups are great for list building, but not so great for highlighting your newest post because they might just drive them away.
And then there's welcome popups, time, scroll or click triggered popups, exit-intent and many many more. What's it gonna be for you then? Choose wisely and test different types of forms to see what appeals to your visitors more.
3. Choose your copy carefully
The mere act of creating a subscription form does not qualify for an effective marketing campaign. You should also put some (and by some I mean quite a lot) of effort into choosing the right words. Here's how:
Be benefit-oriented
People want to know what's in for them by doing what you ask them to do. So be a sport and tell them all the good things that will happen once they subscribe or enter the information you're asking.
Does their sign-up include a discount on their first order? Great news!
Are they in for special members-only treats? Hooray!
In other words, whatever is in for them, let them know. And do it in the most alluring way.
Be creative
Anyone can create a subscription form today. But not everyone knows how to do it convincingly.
Go the extra mile for the sake of conversions and create unique copy that will catch your visitors' eye immediately. You can use humor, urgency, or just something very clever. You know better. Just make sure it matches the general tone of your brand.
I mean, can you resist this one? (kudos to Marilia for opening my eyes)
Or how about this warm, friendly form that speaks straight to your summer heart?
Words are not there just to fill a blank space when you create an online form. They have the power to provoke different emotions and create needs.  A clever line can go a long way, trust me 😉
Be honest
Users today are very careful when it comes to giving out personal information. Even if that's only their email. So they want to know exactly what to expect.
Take some time to explain why you're asking for their data.
This will help you come up as a transparent, trustworthy brand while it will also make it easier for them to take the next step and fill in your form.
Moreover, it eliminates any doubts and helps them decide if they actually want to sign in. Hello, quality leads!
Use power words
Some words work better than others. And that's a fact.
In marketing, these are called "power words" and you'd better start using them…now!
Here are a few of my favorites:
Start
Upgrade
Free
Instantly
You
Join
Save
Extra tip: when offering a free trial of your platform, remember to use the magic words "No credit card required" if that's the case. It will make a world of difference!
4. Craft the right CTA
A well-designed form is a job half-done. What you need to relax and get yourself a glass of wine for the good work is to create the right Call-To-Action (CTA).
A CTA that will be clicked.
In general, what you should watch when creating a CTA for your online form is:
Button size & color
Copy length
Copy language & tone
Keep it short, simple, and comprehensive, and try adding that little extra that will make your subscriber-to-be excited for filling the form.
A good practice when you create an online form is to use contrasting colors that stand out. Also, use actionable words so that visitors know what they will get when they click on the button.
5. Ask for the right information
You might have created a good-looking subscription form, but this doesn't mean that people are now gonna share with you their darkest secrets just like that. Not just because you've loaded your forms with 20 questions you need to get your marketing campaign going.
The most common, and easiest to acquire, data to ask is:
These are "safe" questions all Internet users are accustomed to giving, and they are always a good start for your email marketing strategy.
However, not all forms are the same.
Depending on the type of form you create and the goal behind it you should make the right questions. Nothing more, nothing less.
If, for example, you are creating an online payment form, it's necessary to ask for the security code and expiry date, but the start date is not needed. So, instead of marking this as an optional field you can simply leave it out and make your customer's life easier.
If you add too many fields, you might end up with an abandoned cart!
Mother's maiden name? Seriously?
Fun fact, 27% of people cite form length as one of the main reasons for not completing an online form. Keep it simple.
6. Make it match your brand
I know, I know, Tea covered everything there is to cover around online form design in this post.
But branding is something I simply can't leave unmentioned.
As a matter of fact, branding should always be a top priority for your business, and something to always keep in mind while creating a new marketing campaign.
It tells a lot about your business, it represents your promise to the visitors and customers and it motivates them to take an action. Even if that's simply signing up for your newsletter.  So please don't take this lightly.
Make sure you:
Stick to your custom fonts
Keep your brand's color palette
Match your copy with your brand's tone and voice
What do we learn from this Vans subscription form? Keep your colors on-brand, and your copy cool. Just like your brand!
Online Form Mistakes
These are the ones you need to avoid no matter what!
1. Readers can't see them
How will someone fill in your form if they can't find it? It's happened to me and I'm pretty sure it's happened to you too. You visit a particular brand's website wanting to sign up for their newsletter. You wait a few seconds. Nothing happens. Scroll down a bit. Nope. Nothing here either. So you simply close the page. Bye-bye conversions.
I counted 11 scrolls before reaching the bottom of the Beis website to find their subscription form.
And it doesn't even look like one. Why, Beis, why?
Placing your online in your page's deepest depth means dooming it for eternity. And it's bad both for your business and your visitors that will leave your website disappointed.
So make sure to place your online form in an easy-to-spot place. First impressions count!
2. …Or they see it a little too often
Soooo. Just browsing for some more hair in your life and you are still not sure if you want to book an appointment. So you decide to pay no mind to the first form that pops up.
So far so good. But, wait, maybe you've changed your mind, and all of a sudden you desperately want to book an appointment now.
Happens. So here you go. Three different ways to let you know that we want you to BOOK AN APPOINTMENT!!!
What? Still not sure? Ok, we can wait.
Until you get to the bottom of this page at least. And then we'll remind you that you can book an appointment now. Twice. Just to be on the safe side.
Do you even want me to explain how tiring and desperate this looks? Thank you.
It's tempting to add your online form in every location possible. But it's also bad practice.
3. Don't ask me that
Yes, you need to gather all the right information to make this subscription form work for your business. But, don't overdo it. Long forms with dozens of questions never work because simpy no one will spend their precious minutes filling a questionnaire just for a newsletter or an ebook.
According to a recent study, the average web form length in 2019 was 5 form fields, which usually result in the highest conversion rates. But how do you know if this number works for you?
Ignore your marketing or sales team screaming for more information. The answer you are looking for is "enough". Enough fields to capture all the necessary information and as few as possible. You do the math!
4. Giving is receiving
You know humans. They are needy little creatures that always expect something from you. And it's up to you to satisfy them. Even if this means using the power of pure words.
Look how theSkimm invites subscribers to sign up. It's not a newsletter. It's a step to living smarter. And it prepares you for your day in minutes. Sounds like a bargain to me!
And if you have some $$$ to spare, which I strongly advise you to, then don't hesitate. A discount code, even if that's not as grand as the 30% off that Trade offers, is a surefire kind of reward to get your list building going.
Whatever you choose, make sure your visitors know what they are getting from you and why they should give you their personal information.
5. Who loves CAPTCHA?
You've decided to finally give in and book a demo with a new platform you've been using for free for, like, forever. That's one big step already, right? And then, before you know it, you are asked to click on taxis, buses, or windows. That you're not even sure that ARE windows or doors. This is getting stressful. You might never make it. *sweats*
And then there are these devilish CAPTCHA's trying to humiliate you and your IQ by asking you to do calculations.
And then you get frustrated. And you close the page and never come back.
I know you can feel me. So for the sake of conversions show some empathy here.
Don't make it harder for your visitors by adding impossible CAPTCHA's they don't have the time for.  It will only hurt your campaigns.
6. One form is not enough
It's a common mistake for subscription forms. You think that one is enough to cover all your visitors. Wrong. This method just drives users away.
It might sound too much, but personalization is more important than you think. Because not all users are the same.
In fact, 66% of consumers say they are likely to switch brands if they feel treated like a number rather than an individual.
Improve customer experience and boost conversions by creating different forms for your different campaigns, with different questions, different CTA's, and different images.
7. Now is not the time
Depending on your business and website, timing can be your subscription forms' missing ingredient. If, for example, you are a blogger or publisher, it's best to wait until your visitors have read the biggest part of your content before asking them to download your ebook.
This way you give them time to see the value of your work in order to appreciate your offer and give you their email. Makes sense, right?
8. This color doesn't look good on you
It's not just the design. It's the colors. Color psychology in marketing exists and you must know how to make it work for you and not against you because every choice might make or break your conversions. And I'm not talking just brand consistency here. There are quite a few rules when it comes to choosing colors for your subscription forms.
Colors depict different emotions and can have a different impact on your visitors' behavior.  They can influence them to a great extent and even drive them away.
Choose colors that make reading easy and don't overdo it with contrast. Mixing colors is ok, tacky forms aren't.
That's all folks
Well, what do you know! Online forms are easy to create after all. They just need a little of your time. And a few more things. Which I'm sure you know how to handle like the amazing marketer that you are.
So come on, it's time to take action and create a high-converting subscription form now.
You can try Moosend forms to see how everything I've told you can be done fast and easily!