The 21 Best Email Testing Tools You'll Need In 2023 [Free & Paid]
The 21 Best Email Testing Tools You'll Need In 2023 [Free & Paid]
Published By
Marilia Dimitriou
September 15, 2023
Getting your campaigns through email testing tools is no longer optional but a necessity for modern marketing teams. Crafting converting email campaigns that pass spam filters sounds like a dream. However, to achieve it, you need to test your messages to ensure that your subscribers will have the best possible experience with your business.
Today, we'll explore 21 different tools to help you:
preview your email design
power up your email deliverability
A/B test your campaigns
verify your email lists
optimize your subject lines
Without further ado, let's see the best paid and free email testing tools you'll ever need.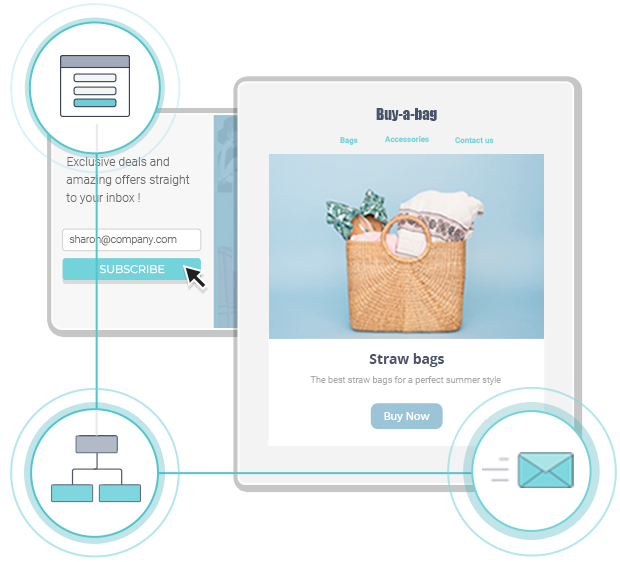 Try Moosend Today
The easiest and most affordable email marketing and newsletter software!
How We Selected The Following Tools
All of the tools in this list have been tested by our team to provide an unbiased description of its features and capabilities.
We spent hours setting up new accounts and trying each software to provide an accurate experience and show users exactly what they will come across when they sign up. Find more information about our software selection methodology on how we choose tools to feature on the Moosend Blog.
Best Email Testing Tools: Comparison Table
Before we start, here are the best email testing platforms you can find out there, organized per category.
| | | | | | |
| --- | --- | --- | --- | --- | --- |
| | Testing Software | Free Trial/Plan | Pricing | Unique Feature | Ratings |
| Email Preview & Spam Test | Moosend | Yes(30-day free trial) | $9/month | Design and delivery tests | |
| SMTP Server Testing | Socketlabs |  Yes | $39.95/month | Bounce processing option | |
| Email Deliverability Check | GlockApps | Yes | $79/month | Sender reputation check | |
| Email Validation | ZeroBounce | Yes | $16/month | Quality contact scoring | |
| Email Account Health Monitors | Reply | Yes (14-day free trial) | $29/month | Multiple warmup profiles | |
| A/B Testing | VWO | Yes (30-day free trial) | Upon request | Multivariate email tests | |
| Email Subject Line Tester | Refine | Yes | Free to use | Industry average | |
As you'll see below, the list contains numerous options you can choose from. But to choose the best one, always consider the following criteria:
While a free tool might sound ideal, especially for businesses with tight budgets, investing in paid email testing solutions might actually save you more time and money.
Now let's see the best of the best for each category:
Email Preview & Spam Test Tools
The first thing you need to avoid the spam folder is to make sure that your emails display correctly in the inbox. For that, you'll need robust HTML validation and preview tools to make sure everything looks good. Here are five options to consider:
1. Moosend – Design, Delivery & Content Spam Test
Pricing: Paid plans start at $9/month, 30-day free trial (sign up here)
Best for: SMEs, eCommerce, SaaS, Publishers, Bloggers
First of all, Moosend is an email marketing service that offers you the tools to craft, automate, test, and send your email campaigns.
Apart from its email creation, lead generation, and email list management capabilities, the platform will give you access to design and delivery testing features to make sure that your messages look good before they reach the inbox. This is useful for marketers who use the HTML builder and want an easy way to check their campaign and pre-send it to their testing email addresses.
On top of that, the platform will let you generate spam filter reports to see how your messages rate against popular spam filters including Outlook, Gmail, and Yahoo.
Best Moosend Features
Preview email functionality (desktop and mobile devices)
Content spam checker option
A/B Testing tool
Integrations with email testing and verification tools
Moosend Pricing
Paid plans start at $9/month for unlimited email marketing campaigns, forms, landing pages, and access to all email testing features. Register for a free trial (no credit card required) to try out the tools and see whether they suit your business goals.
2. Mailtrap – HTML/CSS Validation Tool
Pricing: Paid plans start at $14.99/month, Free plan
Best for: Freelancers, SMBs, Enterprises
Mailtrap is an email service with various testing tools to help you analyze your email campaign copy, discover your spam score, and validate your HTML and CSS.
The software allows email marketers to detect how many will receive emails that are displayed correctly for popular email clients. Moreover, Mailtrap makes it easy to identify problems in your HTML code and catch potential design or formatting issues before they harm your engagement and delivery rates.
Lastly, you can use the platform to check for potential rendering errors between desktop, mobile, and tablet devices.
Best Mailtrap Features
HTML email validation tool
Email client support verification
Audience optimization
Email preview for different devices
Shared virtual inboxes
Mailtrap Pricing
Mailtrap has a free version for up to 500 email tests per month. To increase the limit, you will need to upgrade to a paid plan starting with the Individual at $14.99/month.
3. Email on Acid – Email Preview & Validation
Pricing: Paid plans start at $99/month, 7-day trial
Best for: Large businesses, Agencies, SaaS
Email on Acid is among the paid email testing tools you can use to preview your email content and discover which elements might cause your trouble with spam filters.
When it comes to previewing, the platform sports an array of features to help you nail your test emails, including sharing, approvals, and commenting. Apart from its content email testing options, Email on Acid allows you to perform domain blocklist checks to improve your email deliverability.
On top of that, you can benefit from its engagement tracking options to be up to date with your subscribers' interactions.
Best Email On Acid Features
Image validation
Inbox display feature
Email accessibility options
Pre-header text test
Team management
Email on Acid Pricing
You can try the platform by signing up for the available 7-day trial. Then, you can upgrade to the four different paid plans, including the Basics at $99/mo, the Premium at $179/mo, and the Professional at $599/month or the Enterprise (custom price).
4. Litmus – Inclusive Email Marketing Platform
Pricing: Paid plans start at $99/month, 7-day free trial
Best for: Large Business, SaaS, Financial, Retail
Litmus in an all-in-one email marketing platform pricing users with excellent testing capabilities to check elements that can hinder your email performance.
With Litmus, you can see how your email looks for different clients and devices and receive recommendations on what areas you can improve to get better results. It also provides users with an automated QA analysis to ensure links, images, and other important assets look perfectly. Moreover, this email testing tool also confirms if your content is accessible for all users.
Finally, you can run advanced spam tests to avoid common filters and successfully deliver your emails to your audience.
Best Litmus Testing Features
Email preview for different email clients and devices
QA analysis
Accessibility capabilities
Advanced spam testing
Various integrations
Litmus Pricing
This email service provider has three main paid plans, starting with Basic at $99/month. You can upgrade to Plus which costs $199/month or request a custom Enterprise plan.
5. Email Preview Services – Email Testing & Editing
Pricing: Paid plans start at $25/month, 7-day free trial
Best for: Agencies, Professional services, SaaS
Email Preview Services – previously Previewmyemail – is another option to consider to deliver compelling emails to your audience. It offers a wealth of features ranging from design to spam testing.
Briefly, you can check how your campaign looks in different applications and devices to secure a great user experience for everyone. It also helps users maximize their deliverability rates by identifying risky content and running spam checks
Finally, Email Preview Services has a user-friendly API to embed it into your existing email marketing solution.
Best Email Preview Services Features
Email design testing
Deliverability insights
Email content analyzer
Email campaign analytics
API
Email Preview Services Pricing
This email testing tool has four main pricing plans. The Standard plan starts at $25/month for limited checks, with the most popular plan – Business – at $45/month. There's also an option suitable for Enterprises at $399/month.
SMTP Server Testing Tool
If you're interested in keeping your inbound and outbound email sending problem-free, you need to get your hands on an SMTP Server testing tool. Here are some great options to consider:
6. SocketLabs – SMTP Checking Software
Pricing: Paid plans start at $39.95/month, 30-day free trial
Best for: Marketers, eCommerce, Large businesses
Socketlabs is a great option for testing your SMTP relay service, giving users easy configuration options, reporting tools, a dedicated IP address, and a lot more.
With the platform, you can send marketing and transactional emails by integrating the tool with your apps or through Socketlabs' Control Panel.
Moreover, the tool is great for improving your email delivery through its advanced reporting capabilities. More specifically, you can access detailed reports showcasing failed messages, deliverability issues, engagement, and more.
Best SocketLabs Features
Deliverability insights
StreamScore™ delivery reporting
Automatic bounce processing
Dedicated IP address
Reporting API
Socketlabs Pricing
This SMTP testing tool has a free trial of the Basic Plan. After the 30-day free period, pricing starts at $39.95/month. For more, you can upgrade to the Professional plan for $79.95/month or talk to an expert regarding the High Volume Custom plan.
7. MxToolBox – Mail Server Testing Tool
Pricing: Paid plans start at $129/month, Limited free plan
Best for: Agencies, SaaS, Enterprises
MxToolBox's delivery service is equipped with a variety of tools to help you identify potential issues and improve your SMTP Server security.
The platform will also help you keep track of your MX record, DNS, blacklists, and SMTP analytics. All you have to do is to add your domain name, your IP address/hostname and you are ready to roll.
Apart from that, MxToolBox's super tool will allow you to run various tests, including HTTP/HTTPS verification, SPF and TXT record check, ICMP pinging, trace routing, and DNS server trouble-shooting.
Best MxToolBox Features
Mail server testing
Real-time deliverability insights
Blacklist monitoring
Inbound and outbound Mailflow monitoring
Email Health check option
MxToolBox Pricing
MxToolBox offers a limited free plan but with limited capabilities. For access to the premium features, you have to upgrade to the Delivery Centre plan starting at $129/month or the Deliver Centre Plus plan at $399/month.
8. Wormly – Uptime Monitoring Platform
Pricing: Paid plans start at $44/month, Free trial
Best for: Agencies, Marketers, Developers, Enterprises
Wormly's email testing tool focuses on monitoring your uptime and metrics to help you minimize your downtimes and increase your revenue.
To achieve it, the tool is designed to give you instant failure alerts through SMS, Slack, etc., to help you act fast. What's more, you will have access to all protocol monitoring, including HTTPS, POP3, IMAP, FTP, and so on.
When it comes to running an SMTP test, you only need to add your Hostname or IP, your email address, and your TCP port and you are ready to start.
Best Wormly Features
SSL web server test
SMTP server testing tool
Advanced metrics (Apache, PHP-APC, etc.)
Performance trends
Uptime reporting
Wormly Pricing
Wormly has a free trial you can try, giving you access to 5-second High Definition monitoring, HTTP POST & SSL cert. Monitoring and more. If you want more, you need to upgrade to a paid plan starting with the Startup at $44/month, the Agency at $107/month, the Devops at $221/month, and the Enterprise at $562/month.
Email Deliverability Test Tools
To avoid the spam folder, you need to pay attention to your email deliverability in order to maintain an excellent sender reputation and sender score. Below, we'll see a few handy tools to achieve it:
9. GlockApps – Email Deliverability Tester
Pricing: Paid plans start at $79/month, Limited free plan
Best for: SMBS, eCommerce, SaaS
Next on the list is GlockApps, a tool that will help you identify common email issues, test major internet service providers (ISPs), and, ultimately, increase your open rates.
The platform is equipped with numerous features to help you land your emails in your subscribers' inbox, from inbox insights and DMARC analytics to uptime monitoring and bounce tracking.
Lastly, GlockApps comes with a Domain Checker that you can easily use to protect your domain from malevolent use and shield your business from spoofing attacks.
Best GlockApps Features
Inbox email tester and insights
Bounce analytics
Sender reputation tests
Domain check tool
Email template editor
GlockApps Pricing
GlockApps has a Personal Free Plan for 3 email spam tests, 10,000 DMARC messages, as well as 10 uptime and Reputation Monitors (2 weeks trial). Then, pricing starts with the Basic Plan at $79/month and the Business at $129/month. A Custom Plan is also available.
10. Mail Tester – SPF & DKIM Testing Service
Pricing: Free to use
Best for: Individuals, Small businesses with tight budgets
Mail Tester is a free-to-use tool that you can use to test your email deliverability. Users can instantly check their email campaigns for any issues and receive their score in a couple of seconds.
What's more, the tool is great for checking your SPF (Sender Policy Framework) and DKIM (Domain Keys Identified Email) records, testing your mail server, IP address, and identifying spam-related content that will harm your email delivery.
If you're looking for more tools like this, check our email spam checker post!
Best Mail Tester Features
SPF & DKIM testing option
IP address verification
Mail server testing
Configuration reports
SpamAssassin collaboration
Mail Tester Pricing
As mentioned above, Mail Tester is a free email testing software you can use simply by visiting their website.
11. Spam Check by Postmark – Email Delivery Tool
Pricing: Free to use
Best for: Bloggers, Marketers, SMBs
While Postmark is an SMTP email delivery service, it comes with a few handy email testing tools to help you detect potential issues using SpamAssassin.
The platform will give you access to its Spam Score Checker for free. You can easily run your tests by adding your email code to the tool and taking advantage of the JSON API to connect spam score processing in your applications.
If you want to take advantage of Postmark's platform as an SMTP relay service you will have to get one of the available paid plans.
Best Spam Check Features
Lightweight JSON API
SpamAssassin score
Spam score processing
Easy-to-use interface
Spam Check Pricing
You can use Postmark's Spam Check tool for free. If you need additional features, you might want to consider using it along with other email deliverability tools found in this list.
Email Address Verification Tools
Verifying your email lists will allow you to maintain good list hygiene and help you remove questionable email addresses that might lower your sender score. Here are some amazing tools to make it happen:
12. ZeroBounce – Email Validation Service
Pricing: Paid plans start at $15/month, Limited free plan
Best for: Individuals, SMBs, SaaS, Enterprises
ZeroBounce is among the popular email verification tools you can try to make sure that your emails will reach your recipients' inboxes. The service is perfect for cleaning your email lists by running them through the bulk email verifier.
On top of that, you can easily connect ZeroBounce's email validation API with your newsletter signup forms to perform real-time checks that will save you valuable time.
Apart from email validation, the email testing tool offers additional features to run email deliverability tests and detect mail server errors.
Best ZeroBounce Features
Email verification tester
Quality scoring for contacts
Email deliverability test option
Blacklist monitoring
Email validation API
ZeroBounce Pricing
ZeroBounce sports a free plan with limited capabilities. If you need more, you'll need to upgrade to a paid plan starting at $15/month for 2,000 emails and so on. For over 2M campaigns, the service has a custom Enterprise plan.
13. MailFloss – Email Address Verification Tool
Pricing: Paid plans start at $25/month, 7-day free trial
Best for: SMBs, Marketers, Large Businesses
Mailfloss will enable you to "floss" your email lists from harmful or fake email addresses. To do it, the service lets you connect with your favorite email platform to remove invalid contacts and maintain a good sender reputation and sender score.
The tool is also perfect for newbies as it requires zero coding knowledge. Nevertheless, if you are more on the tech side, you can benefit from Mailfloss' real-time API.
For more traditional users, you have the option to upload your spreadsheets or add email addresses manually.
Best Mailfloss Features
Automatic daily cleaning
Real-time API
Invalid address auto-removal
Detailed analytics and stats
Integration with popular ESPs
Mailfloss Pricing
Mailfloss doesn't have a free plan but offers a 7-day trial you can try out. After its expiration, you need to upgrade to one of the three available plans, the Lite at $25/month, the Business at $57/month, or the Pro at $200/month.
14. EmailListVerify – Email Verification Software
Pricing: Paid plans start at $139, Limited free plan
Best for: Agencies, SaaS, Enterprises

EmailListVerify will assist you in validating your email list addresses. All you need is to upload your contacts (accepted formats include CSV, XLS, TXTX, etc.) and in a few minutes, you can download a clean list that won't damage your email deliverability.
Apart from its list verification abilities, the platform is capable of validating your SMTP server and domain, running spam checks, and performing MX record tests to increase your email ROI and help you succeed.
Best EmailListVerify Features
Email health checker
Blacklist tests
MX lookup
Email address extractor
SMTP server validation
EmailListVerify Pricing
EmailListVerify gives you 100 free email verifications when you sign up for the free plan. Then, you can choose between the Pay-as-you-go plan or get a monthly subscription starting at $139/month for 5,000 emails, $289/month for 15,000 emails, and so on.
Email Account Health Monitors
If you're just getting started with a new email account, you will have to pay attention to two things: technical setup and sender reputation. Here are some tools that might help you take care of both.
15. Reply – Email Warm-Up tool
Pricing: $60 per user per month
Best for: Sales reps, SaaS, Agencies, SMBs
Email Warm-Up tool by Reply offers visibility and full control over your email account health, from tech setup to inbox placement and more, within a full-fledged sales engagement platform. First, you can ensure proper technical setup of your email account by automatically checking the validity and authentication of your key DNS records, including SPF, DKIM, DMARC, Domain age, etc.
You can also use the tool to build or repair your sender reputation. Simply put, the platform will send a set number of emails to trusted peer accounts (other users) and automatically interact with the emails on your behalf, closely imitating human behavior.
As the sending limit gradually increases day by day, your sender reputation will improve as well. But the best part is that you get real-time insights on how your account performs and track the progress with detailed reports.
Best Reply Features
DNS issue detection
AI-generated templates
Multiple service profiles
Peer-to-peer sending
Ramp-Up mode
Reply Pricing
The Warm-Up Tool starts at $60/month per user. It's a transparent, usage-based pricing model with no extra charges or upfront payment.
16. Folderly — Email Warm-up and Deliverability Platform
Pricing: Paid plans start at $200/month
Best for: Marketers, SMBs, Enterprises
Folderly offers a complete suite of tools to test, monitor, and automatically improve your email deliverability. It is a complex platform that helps you identify and fix any issues that might arise with your domain or email account.
Just like Reply's tool mentioned above, Folderly offers an automated email warm-up service. On top of that, there are some helpful add-ons, including the SPF Generator and Email Placement Test.
If you want more help, you can also request professional help from their in-house experts, including deliverability audit and even order template writing service.
Best Folderly Features
Custom API integration
Email placement test
Domain status monitoring
Email content analysis
Detailed account dashboard
Folderly Pricing
Folderly offers two main pricing plans – the first, which is suitable for cold outreach, costs $200/month. The pricing for various add-ons and professional service packages (including enterprise plan) can be provided upon request.
A/B Testing Software
Performing regular A/B tests on your email campaigns is crucial for scaling your email marketing efforts. While the majority of email marketing platforms like Moosend and Mailchimp offer A/B testing, here are a few extra tools to help you out:
17. VWO – Multivariate Testing Platform
Pricing: Available paid plans (upon request), 30-day free trial
Best for: SMEs, Marketers, Engineers
VWO is one of the most popular email testing tools in the market regarding split and multivariate testing. This means that you can A/B test any element of your email campaign and measure the performance of your new variants.
Marketers can easily launch new tests through the point-and-click editor to increase their email open rates and find the winning campaign versions. This testing software will let you run multivariate tests compared to other tools.
This means you can try numerous combos to find what works best for your audience!
Best VWO Features
Email split test options
Point-and-click visual editor
Ready-to-use widgets
AI copy generator
Segmentation-based tests
VWO Pricing
VWO has a 30-day free trial you can check out. After that, you can grab one of their three available plans, the Growth, Pro, or Enterprise. To check their prices, you need to contact their sales team.
18. Optimizely – Experimentation Platform
Pricing: Available paid plans (contact sales), Limited free plan
Best for: SMBs, Non-profits, Online stores
Optimizely is another testing platform that you can use to run concurrent experiments that will improve your marketing plan.
The platform sports an advanced set of tools to experiment with different elements to optimize your messages and increase your overall engagement.
Apart from your email A/B Tests, Optimizely will give you the means to test your website through their visual editor. This way, you can try different UI variants to personalize your website messages and convert more visitors.
Best Optimizely Features
Web experimentation
No code visual editor
Multivariate testing
Rollout tool
Optimizely Pricing
Optimizely offers a Free Rollouts plan where you can get started with feature flagging and experimentation. To access the Full Stack or Web tools, you need to upgrade to one of their respective paid plans by requesting a quote.
19. Mailchimp – Email A/B Testing & Automation Software
Pricing: Paid plans start at $20/month, Limited free plan
Best for: eCommerce, Publishers
Mailchimp is a famous email marketing tool, you can use to A/B test your email campaign before it hits your recipient's inbox.
More specifically, the platform offers advanced tools to test various campaign elements (up to 3) like your content, subject lines, design, formatting, and more. Moreover, there's also a Multivariate feature, but it's only available for Premium users, letting you test up to 9 variations.
Are you looking for a cheaper Mailchimp alternative? How about trying Moosend's email service and A/B Testing tools instead?
Best Mailchimp Features
Multivariate testing option
Cross-device tests
Email campaign editor
Landing page builder
Behavioral tagging
Mailchimp Pricing
The tool's limited free plan is for 2,000 contacts/month, giving you access to basic features to get you started. Then, pricing starts at $13/month for 6,000 sends.
Email Subject Line Testers
A great subject line can make the difference between low and high open rates. To ensure that your subject line isn't the reason why your campaign lands in the spam folder, you can use the following tools:
20. Refine by Moosend – Subject Line Testing
Pricing: Free to use
Best for: Bloggers, Freelancers, SMBs, eCommerce
Refine is Moosend's free subject line tester tool you can use on the spot. To access it, you just need to go to the tool, insert your subject line, choose your industry and subscribers, and then hit the "Predict Now" button.
The AI-powered software will rate your subject line against the industry average and give you suggestions on how to improve its performance.
If your subject line needs optimization, Refine will suggest important changes like adding emojis, personalization, and other elements that will fine-tune your messages.
Best Refine Features
Ever-advancing algorithm
Very easy to use
Tailored to each industry
Optimization options
Refine Pricing
The tool is available for everyone out there. If you want to step up your email marketing game, though, you can sign up for a free Moosend account and use it along with the powerful A/B Testing features for better results.
21. Send Check It
Pricing: Free to use
Best for: Freelancers, Small businesses
Send Check It is a simple yet effective solution to detect problems in your email subject lines. The software is accessible by anyone as long as you have an email address.
When you add your subject line, the tool will automatically analyze it and provide you with information such as your performance score, scannability, reading level, and length.
Moreover, you'll get useful recommendations on how to improve your subject line, including personalization and punctuation suggestions.
Best Send Check It Features
Subject line scoring
Spam word detection
Sentiment analysis for marketing emails
Big subject line database
Send Check It Pricing
Send Check It is another free tool you can use to test your subject lines. To get your results, you only need to fill in your name and email address, and there you have it!
The Takeaways
Email testing tools are essential for every business, big or small! As mentioned above, testing is a crucial part of your marketing strategy, so don't forget to find the best platforms and add them to your marketing toolbox as soon as possible.
If you haven't already, why not start with Moosend's design and preview, spam check, A/B Testing, and subject line tester features? All you need to do to try them out is to register for a free Moosend account!