Customer Journey Maps: How To Build Them [2024]
Customer Journey Maps: How To Build Them [2024]
Published By
Alexandra Marinaki
December 6, 2023
What is a customer journey, and how can you map it successfully? Get in your buyers' shoes and explore new ways to retain your customers and gain new ones!
The not-so-secret formula to business profitability is customer satisfaction. A huge part of keeping buyers happy relies on customer experience (CX), the holistic perception a customer holds of your brand resulting from interactions with it.
Customer experience can have detrimental effects on your growth, according to the stats below:
So how can you ensure that your leads, prospects, or customers keep trusting your brand, and most importantly, converting? By mapping your top customer journeys, you can explore buyers' most prominent struggles and tackle them before it's too late!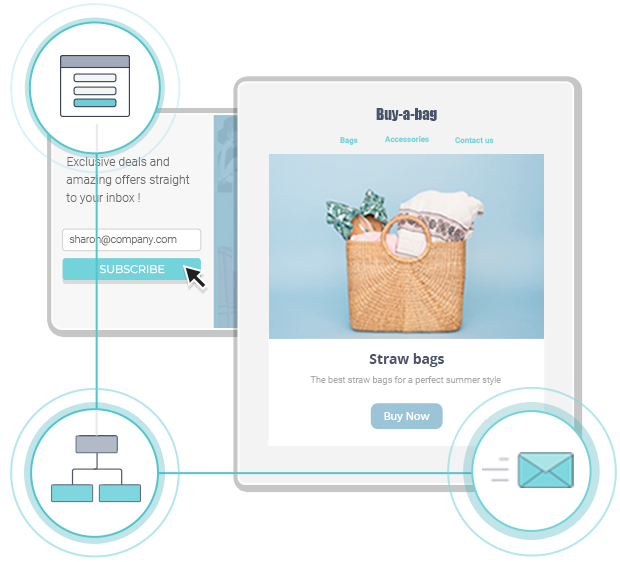 Try Moosend Today
The easiest and most affordable email marketing and newsletter software!
What Is a Customer Journey?
A customer journey encompasses all the different interactions customers have with your brand on the road to conversion and customer loyalty. The customer journey starts when the customer hears about you for the first time and consists of several customer touchpoints.
As touchpoints, we define all contact points a consumer has with your brand throughout their whole journey.
Here are the most common customer touchpoints that occur before, during, and after the purchase:
Real-Life Customer Journey Example
Here is a demonstrative customer journey example of a professional who's looking for a new CRM (Customer Relationship Management) system:
Samantha is Head of Sales at a tech start-up that has recently scaled up. She is looking for a new CRM system for her team with enhanced features and functionality. During her research, she reads a review article online and finds three CRM alternatives that look suitable, including a tool that we'll call 'product X.'
In the next few days, Samantha runs into an ad by 'product X' online and clicks on it. She lands on the website, reads a few blog posts and customer reviews, and signs up for their newsletter. Samantha finds all 'product X' emails relatable and decides to register for a demo with their sales team. She finds it helpful and requests a free trial to experiment with it for two weeks.
In the meantime, Samantha also researches the other two alternatives from the review article but finds them pricey. 'Product X' offers more flexible pricing options and valuable features for her team. Plus, they have a great mobile app, and their user interface is easy to navigate.
One month after she first read about 'product X,' she decides to buy it and writes a business case for approval. And it's a deal! Soon, Samantha onboards with 'product X' with the help of their customer service team.
She follows the company on social media and starts engaging with more of their content over time. She is super happy with her new acquisition and wants to share it with the world!
That's a wrap… or isn't it?
You just read an imaginary B2B customer journey. By unveiling Samantha's touchpoints in real-time, you get a clearer understanding of her actions and motives.
Keep in mind that the entire customer journey doesn't stop after the purchase; it lasts way beyond that stage. What happens in the post-purchase phase is equally important. Stay on track with the onboarding process and other customer exchanges to conceive their unique journey.
In B2C eCommerce, the buyer's journey can be more straightforward stepwise. However, it's still worth exploring how your customers behave to maximize conversion rates.
But is learning that information just enough? In most cases, no. You need to mark down those details in a way that makes sense and is easy to analyze.
In short, you should introduce customer journey mapping into your marketing strategy.
What Is Customer Journey Mapping?
Customer journey mapping is the process of visualizing the customer journey. These visual representations are the customer journey maps. Apart from the touchpoints, this map includes other substantial information about buyers, such as their actions, feelings, and pain points.
Here is Eric's customer journey map, who is currently in search of a new car. You can learn how much time he spent in each purchase phase, including his expectations, actions, emotions, and thoughts every step of the way.
Amazing, right? It's like getting into your customer's mind, without any supernatural powers needed. But instead of a magic wand, you need a great strategy to satisfy your buyers and move them down the funnel.
Most businesses gather that data on an Excel spreadsheet and design visuals of the most profound customer journey aspects. The visual representation helps you grasp that information faster and use it as a roadmap to create optimal customer journeys down the road.
Overall, the complexity of these maps depends on many factors. For instance, if you have an omnichannel marketing plan, you need to gather info from all different touchpoints, such as social media, PPC, and your website. You can yield that data from various sources, like analytics tools and customer surveys.
Plus, for some B2B companies, the whole process from brand awareness to decision can last for several months, and in most cases, purchase decisions depend on more than one person (e.g., managers, C-Suite).
The Value Of Customer Journey Maps
The customer journey mapping process comes with many business benefits and can lead to strategic and tactical changes. Here is why:
You Can Improve Customer Experience
Based on the stats we shared in the introduction, consumers appreciate positive experiences when interacting with a brand.
While mapping your customer journeys, you may spot certain aspects that hurt CX and let some buyers down. For example, you may realize that the bounce rate of your checkout page is high. It would help if you tackled this obstacle asap, as it can reduce your ROI (Return on Investment) in the future.
Here are some questions that can help you improve this metric:
Do we offer flexible payment options?
Are the shipping rates costly?
Is the checkout process time-consuming?
Also, you can use the most viewed pages as indicators of what attracts buyers the most. For instance, if the customers spend lots of time on your review section in the pre-purchase phase, you can consider adding some top customer reviews on the homepage or schedule an email campaign with testimonials for your qualified leads.
Have a look at Shopify's approach:
Send newsletters and abandoned cart emails to customers and prospects with an intuitive email marketing platform, and convert them in just a few clicks!
You Can Understand Your Target Audience Better
When you design an eCommerce website for the first time, it isn't easy to picture all possible customer touchpoints flawlessly. You start with some best practices, such as clear CTA buttons or product tours, and you end up with a refined website design that is supposed to work.
The same applies to physical stores, too. It's unrealistic to accurately predefine which product shelves and items will attract customers; it's a work in progress!
So when you start analyzing your KPI (Key Performance Indicator) metrics, you may realize that customers behave differently than expected. For instance, they may prefer to run a free product trial instead of a demo. Yet, the free trial button is difficult to find on your website. Well, guess what you should do next!
Adopt the same mindset to discover your target audience's preferences in other areas, as well. For instance, monitor their favorite content types and grasp some of their most extensive interests and pain points. You can also analyze your social media and email campaign performance to see what resonates with your audience the most.
You Can Boost Conversion And Retention Rates
Your product wouldn't exist without your customers. With a customer-centric culture, you will attract new buyers and retain existing ones by providing real solutions to their problems.
By following their footsteps, you realize how they behave on different channels and gradually grasp their real needs and pain points. By addressing them, you manage to satisfy them on the spot and convert them.
Plus, if you revisit your customer journeys regularly, you can predict their future headaches and try to resolve them as soon as possible. Nothing attracts customers and prospects more than believing that their needs matter to you. Show it to them!
Long story short, ensure a positive customer experience, optimize your processes diligently using data, and you'll see your conversion and retention rates rising high!
You Can Improve Your Customer Service
Finally, you can capitalize on the knowledge you gain through customer journeys to optimize your product/services and satisfy your buyers. Ensure that the customer support team is well aware of all the customer pain points and ready to address them efficiently.
Encourage them to show current buyers that all their problems are a priority for your business. To address them with empathy and discuss possible solutions. Once buyers see positive changes, they'll trust you more.
Besides, by analyzing which customer support channels your audience prefers, you can draw your attention to them and improve response times and efficiency.
Critical Elements Of Effective Customer Journey Maps
If you're new to customer journey mapping, you may wonder what the essential elements of a customer journey map are. You can start by naming the touchpoints for different customer lifecycle stages.
Here is a customer journey map by Moosend to help you visualize and execute the process yourself. You can access it for free and start completing it! Let's do this together!
Lifecycle Stages & Touchpoints
Here are the typical buyer's lifecycle steps combined with some possible touchpoints:
Awareness: The potential customer identifies a problem and starts searching for solutions. Common touchpoints are blog posts, social media, webinars, and email campaigns.
Consideration: The prospect has started to evaluate several services and products. Some of their touchpoints are reviews, demos/trials, and your sales team.
Purchase: The potential buyer has decided to trust and move on with you. Congrats! They are now in the signup step, onboarding with your customer service team.
Retention: The customer is using the platform daily. They read your content, get informed about new features and releases through emails, and interact with the account manager and support teams when needed.
Advocacy: Customers are over the moon with your product and have become part of your community. They engage with your social media posts, write stellar reviews, and encourage others to trust you, too. Well done!
Different Customer Journey Types
You can also explore different customer journey types. For example, apart from unraveling the current state, you may want to trail the future state, too. Write down the main stages of the customer journey as you imagine it evolving going forward and add it to the product roadmap to inspire you.
Or, you can follow the day-in-the-life customer journey that adopts a more holistic perspective of a consumer's daily life. Apart from customer interactions with your brand, you get an overview of a buyer's behavior throughout the day to understand them better.
Imagine them driving to work, putting their kids to bed, or ordering pizza for dinner! Find a free day-in-the-life sample in our Moosend template!
Of course, these methods are not only applicable to eCommerce services. If you have a physical shop, let's say a grocery store, you can trail your customer's touchpoints inside the store and create a service blueprint.
For example, if you follow the Moosend map above, your front store can be Step 1, the product shelves step 2, etc.
Additional Customer Journey Aspects
Have you ever been on a road trip with your friends or family? If yes, then you can probably confirm that the places you've been wouldn't matter without the feelings, adventures, and memories you made there. The same happens with customer journeys, too!
So apart from touchpoints, a comprehensive map should include the customer's thoughts, feelings, and pain points at each stage:
Actions: What is the customer doing and why?
Emotions: How are they feeling?
Goals: What do they want to achieve?
Pain points: What are their most significant obstacles?
Improvements: How can you move them to the next step?
In short, you should fully empathize with your customers to identify their needs and introduce the right enhancements to your product and processes along the way.
How To Create Flawless Customer Journey Maps
Now that you have a better idea of what a customer journey is, why it's essential for your business, and what it should include, let's share some tips on how to nail the actual process!
Define your Objectives
After reading the benefits of customer journey mapping, you'll probably feel the urge to start this procedure asap. But first, what exactly do you want to achieve for your business and customers through your journey? Before hitting the road, set your goals first!
Identify what you'd like to learn at each stage of the customer journey and how you can make good use of it. Of course, you can get your teammates onboard; remember, it's a business matter! So find out what each department can acquire through customer journey mapping and ask for their feedback along the way.
Choose your Buyer Personas
Every customer journey is unique. When you begin observing data on how specific prospects turned into loyal customers, you'll start feeling that it's difficult to collect them in one place. There can be thousands or millions after all!
To make things easier, you can follow the customer journeys of your so-called buyer personas, in other words, your ideal customers!
If you don't know how to create those ideal customer profiles, here is an example of an analyzed buyer persona of a bookkeeping Saas solution:
You can create your top three buyer personas in simple steps in this sheet!
Use the Right Data
You can't design effective customer journey maps without access to various data. Your leading resource can be your analytics tool, for instance, Google Analytics, which offers extensive reports coupled with valuable insights.
Plus, you can gather that data from other tools at your disposal, such as CRM systems like Salesforce or a social media listening tool like Brand24.
Most email automation platforms like Moosend offer similar solutions, too. By analyzing key email marketing metrics, you gain more insights into your customers' behavior and their preferences.
Run Customer Surveys
You can also send dedicated surveys to customers to better grasp their needs, behaviors, and pain points. Here are some questions you can include:
Where did you first hear about our business?
Which is your favorite feature/service and why?
On a scale of 1 to 10, how easy is our website navigation?
Did you ever request customer support? If yes, rate your experience from 1 to 10.
What would you improve in our product/service?
On a scale of 1 to 10, how helpful was the onboarding process?
But if you realize that customer experience is lacking for many, don't worry. You have plenty of data to help you out, and customer journey mapping will show you the way to customer happiness sooner or later!
Craft the Customer Journey Maps
Now that all the data you need is available, you can start building your customer journey maps, introducing one of the formats we discussed in the previous section. When you finish writing down the information on a spreadsheet or doc, you can also design a visual to make it more readable.
You can use a mainstream design tool, such as Adobe Photoshop, or choose a more sophisticated customer journey mapping solution, like UXPressia.
Name Possible Roadblocks and Solutions
Your customer roadblocks are your roadblocks, too. And if you keep being a pain for your beloved buyers, they may end up enrolling in one of your competitors' lists sooner or later.
Now that you've marked everything down, try to spot which parts can confuse your customers or prospects regarding user experience.
For instance, what if you figure out that Samantha, from the imaginary example we shared at the beginning, turns to customer support excessively for help during the onboarding stage? This can't be a good sign, so you must act upon it. Read on to find out a possible solution!
Search for Potential Improvements
After long hours of customer journey mapping, it's time you found intelligent solutions for your customers to pivot your business growth!
Starting with Samantha's case and onboarding troubles, you can create comprehensive guides or webinars to enable a smoother introduction to your service and decrease support tickets!
Let's imagine another obstacle now: while following your customer journeys, you realize that your prospects spend lots of time online searching customer reviews for your products, potentially increasing the average lifecycle.
Earlier on, we mentioned the significance of including case studies on your website from diverse customers at a visible place. This practical solution applies here, too. This way, you keep customers on your website for a more extended period and increase your chances to convert!
Check the seven-step problem-solving cycle below for inspiration:
Moreover, with tools such as A/B testing and customer feedback surveys, you can collect additional information about the solutions you've introduced to ensure maximum results.
As you understand, improving your customer journeys requires a strategy of its own. But that's precisely why customer journey mapping is so important. It enables you to craft your marketing game more accurately, enhanced by data.
Conclusion
If you believe that customer journey mapping is a good-to-have or minor strategy for your business, well, you're wrong! If you conduct it diligently, it's going to become one of your product or service development assets that will boost conversions all the way!
Plus, in many cases, a tiny twist in your strategy is all you need to create a more positive experience for your buyers. For example, change the position or copy of a CTA button and, ta-da, the customer will have better chances of spotting your message.
So start assembling that data today! Find the customer personas you rely on the most and follow their journey step-by-step. It will turn into a game-changer for your business!
Started to improve your product/services already? Create a free Moosend account and see how to improve the customer experience with email today!