17 Black Friday Email Examples + Tips [2024]
17 Black Friday Email Examples + Tips [2024]
Published By
Marilia Dimitriou
December 6, 2023
The busiest sales time of the year is just around the corner, so here are some of the best Black Friday email examples to inspire you!
As you know, during Black Friday, most brands will send email marketing campaigns with special discounts, off-everything deals, and limited sales. To leverage the increased traffic and give your business a huge revenue boost, you also need to craft the perfect Black Friday email to get your customers to buy.
Today, we'll try to help you out by:
Showing you Black Friday email designs from popular brands like Dell, Levi's, and Happy Socks
Giving you a few tips to create the perfect holiday campaign
Time to roll!
Why Black Friday Email Marketing Matters
To give you an idea of what's happening during Black Friday, we'll check various campaigns sent before, during, and after the holiday. But first, let's see why you should care about creating an awesome Black Friday email. According to Sitecore's holiday trends report:
71% of shoppers between 25-34 have saved up more for holiday shopping.
54% of buyers will use online stores for their Black Friday shopping.
55% of eCommerce stores and retailers will have more product promotions this year.
Moreover, Black Friday sales in the US can reach approximately $9 billion dollars, with electronic device purchases being a top priority for consumers.
Now let's get to the examples you can study to create great campaigns for your Black Friday email strategy to drive sales!
Interested in getting an affordable email marketing service with user-friendly automation features to create those campaigns effortlessly? Sign up for a Moosend account today!
Pre-Black Friday Email Campaigns
Below, we'll see examples sent days or weeks before the actual Black Friday sale!
1. Tease's early sale
Subject line: Black Friday Came EARLY ⏰
Tease delivers this amazing example before Black Friday to get more traffic and conversions.
What works: As you can see, the most prominent part of this email is the countdown timer found at the bottom of the design. The brand uses this FOMO marketing technique to add urgency to the offer and incentivize potential shoppers to purchase before they miss out on "their only sale of the year."
Apart from that, Tease has placed the discount code above the fold to make sure the subscribers see the benefit of interacting with the email. Lastly, the big font also draws attention to the offer while the colors and product images work great with the call-to-action button.
Pro tip: To power up your early Black Friday sale, you can set up an email campaign series to ensure that your audience will notice it! Leverage the power of marketing automation to create powerful sequences that will convert your shoppers.
2. Walmart's Pre-Black Friday sales email example
Subject line: 😍 Pre-Black Friday: score AMAZING deals NOW! 😍
Walmart leverages the above Black Friday campaign example to power up its grocery email marketing strategy for the holiday season.
What works: Here, the brand promotes its Black Friday deals with short and targeted email copy and eye-catching visuals. More specifically, the retailer emphasizes the pre-Black Friday deals and then provides its audience with a holiday gift guide to make their Black Friday shopping easier.
In terms of design, the brand has inserted a "Shop Pre-Black Friday Deals" section with all their promotional goods to lead their customers back to their website or landing pages.
Pro tip: Give your potential customers the best customer experience by leading them back to converting landing pages. You can easily create yours by grabbing one of the best landing page builders in the market, like Moosend or Instapage!
3. High Beauty's email alert
Subject line: Want early access to Black Friday + the chance to win? ⏰✨
A simple email marketing campaign for Black Friday by High Beauty to prepare your shoppers for the biggest sale of the year.
What works: The above example is meant to get subscribers to sign up for exclusive deal alerts to avoid missing anything. This is a great way to keep your customers engaged and create a dedicated list of shoppers who are interested in your Black Friday sale.
You can also segment them and deliver VIP discounts and rewards. Moreover, as you can see, High Beauty automatically adds those who will click on the CTA to a ruffle for exclusive gifts.
Pro tip: Use your email footer to insert extra details that will encourage your potential shoppers to act. Here the brand has added a shipping disclaimer and giveaway details to keep its audience informed. Plus, an unsubscribe button will help you secure your brand reputations and deliverability rate.
4. Leesa's sneak peek
Subject line: Black Friday sneak peek: Up to $400 off 🛏️
Leesa sent this campaign during September to give its audience a sneak peek of the upcoming holiday sale, using a converting Black Friday subject line to intrigue shoppers and increase its open rates.
What works: From the clean design to the visuals, the brand came up with a great teaser email campaign to excite its email list with a Black Friday Preview Sale. As you know, shoppers usually need an incentive to buy. For Leesa, giving potential customers an incredible offer weeks before Black Friday is all they need to avoid the holiday shopping frenzy and enjoy "the gift of sleep this season."
On top of that, the red call-to-action (CTA) button is perfect for attracting attention and increasing the click-through rate of this pre-holiday email!
Pro Tip: Like Leesa, use your loyalty program to reward your customers and get them to refer their friends. This way, they will earn more rewards and discounts, and you'll get more traffic and sales.
5. Dell's personalized shopping deals example
Subject line: 🎯Bullseye! Personalized Black Friday deals hand-delivered to your inbox.
Dell gets its deal-hunters to shop its Black Friday deals with a personalized example!
What works: The electronics manufacturer leverages one of the best tactics in the email marketing book, which is personalization! This eCommerce feature is perfect for targeting your audience with the right message at the right time. Dell uses personalized content to create a more targeted offer for each customer.
What's more, the brand has also nailed its design by utilizing visuals that reinforce this unique offer. By using "This offer was picked for you," customers feel special and will have better chances of interacting with the campaign since it's tailored to their needs.
Pro tip: To use personalization, you need to collect customer insights and then use your platform to come up with relevant recommendations based on each customer. The market offers various marketing automation software tools you can use to manage these data and create workflows that will convert your audience into loyal customers.
6. Maingear's Black Friday savings
Subject line: Up to $750 off your dream PC today!
Maingear's black and neon red campaign is an email design made in heaven!
What works: The brand's color choices are perfect for this simple Black Friday email example. Maingear uses those two colors to excite its target audience and draw attention to its special Black Friday offer. Apart from that, it makes sure to use a red CTA button to increase its click-through rate. Last but not least, this example uses social buttons to cross-promote between email and social media.
This is an excellent way to connect with your subscribers on your networks of choice, promote giveaways, show them engaging content, and lead them to your online store where they can do their online shopping!
Pro tip: While your Black Friday campaigns will run just for a limited time, this doesn't mean that you should neglect their design, subject lines, or preview texts. Pay attention to all the elements to impress your audience and increase your conversions.
If you need a list of tips and tricks to nail them, check out our post with the best practices for email marketing!
7. Happy Socks' interactive campaign
Subject line: Do you know what week it is?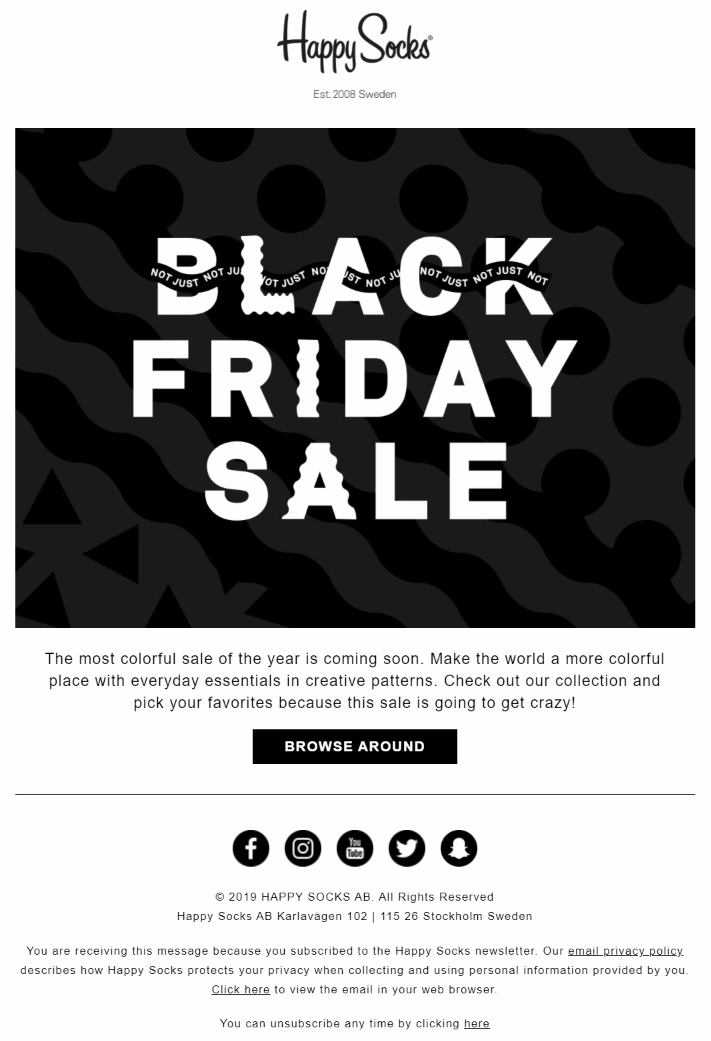 Happy Socks' simple GIF makes its Black Friday campaign more exciting and dynamic!
What works: GIFs are a great element that can turn any dull campaign into something that will pique your subscribers' interest. Happy Socks uses this simple idea to make its Black Friday email campaign more interactive and fun to engage with.
Furthermore, since this is a pre-Black Friday campaign, the brand uses its copy to inform subscribers about the upcoming sale of the year. Not only that, but they also incentivize customers to check their products to avoid the craziness of the Black Friday shopping spree, solving their customers' pain points.
Pro tip: If you want to make your Black Friday messages more engaging, you can insert GIF elements into your emails using your ESP to make them more unique!
Black Friday Day Email Examples
When Black Friday arrives, you need to create messages that will highlight your amazing offers using a sense of urgency! Let's see how these examples perform:
8. Miracle Brand's Black Friday email example
Subject line: 👆 Better than their deals 👇
An awesome Black Friday campaign by Miracle Brand to entice shoppers and allow them to bundle up for the holiday!
What works: The first thing we notice here is the attention-grabbing Black Friday email subject line meant to show that this campaign has an offer that's better than its competitors! This is a clever technique to draw attention to your campaign during a hectic inbox day.
Design-wise, the brand uses a beautiful and clean email design, straightforward copy, and a CTA that stands out. What's more, Miracle grabs the opportunity to cross-promote between email and Instagram. This will inspire shoppers and allow them to check your followers' content that'll power up the credibility of the brand.
Pro tip: User-generated content is one of the best forms of social proof you can use to amplify your marketing messages and increase the legitimacy of your products. Make sure to use it in your campaigns but don't forget to ask for permission first!
9. Elementor's B2B Black Friday email
Subject line: Hurry, Don't Miss Our Black Friday Sale! Go Go Go 🏃‍♂️
Who said that Friday is only exclusive to eCommerce businesses and retailers? B2B companies like Elementor can benefit equally from the holiday season!
What works: Compared to the previous examples, the company opts for a short email that includes only the necessary information. As a SaaS platform, Elementor focuses on the deal that its target customers want to see: X% off the Pro Plans. Using valuable and concise copy along with vibrant images and colors, the company has crafted a great Black Friday campaign with an equally appealing subject line.
On top of that, Elementor leverages countdown timers to add a sense of urgency to their special offer to make sure that subscribers will click through. Plus, CTA copy with active language like Buy or Shop Now can do the trick!
Pro tip: Make your Black Friday messages as simple as possible to capture your audience's attention at first sight. Clean designs will have better chances of converting and presenting your offers in a straightforward manner! If you need some cool and responsive designs, make sure to check some of our favorite Black Friday newsletter templates!
10. Bonobos' Black Friday weekend deals
Subject line: G'morn: Here's 30% Off All Black Friday Weekend
Bonobos delivers an email campaign on Black Friday day with fantastic deals for the whole week!
What works: The eCommerce business steps up its Black Friday marketing day with a campaign that gives value to its customer base. As you can see, the copy immediately tells shoppers that their offers and coupons are valid throughout the week. This is an excellent incentive for last-minute shoppers!
Moreover, the brand uses high-quality images and GIFs to attract attention, showing them discounted items and their new prices. Lastly, Bonobos adds urgency with a simple "Holiday Heads Up!" section that urges customers to shop early to avoid shipping delays.
Pro tip: Black Friday can be chaotic for online stores! Make sure to add a dedicated customer service section like Bonobos to help customers during the busiest time of the year and answer questions before they flood your customer support channel.
11. Clarks' free shipping
Subject line: Black Friday Deal: 50% OFF EVERYTHING
Grabbing some fabulous deals is perfect! To improve the customer experience, you can give your potential shoppers free shipping like Clarks!
What works: Apart from the irresistible sitewide free shipping and free returns in the preheader, the brand has created an elegant Black Friday email example that leverages the holiday color palette, using a large white font to draw attention to the 50% discount.
Clarks also showcases their products and calls their subscribers to find a store to try them out. Lastly, you can see how the brand uses an extra content block to direct users to their holiday gift guides. This way, shoppers can plan their Christmas shopping, giving Clarks a head start!
Pro tip: Sending campaigns with targeted messages is perfect for increasing engagement and conversions. You can leverage the power of customer segmentation for eCommerce to send your audience the ideal Black Friday product deals. Also, give them more reasons to buy with free shipping and one-day delivery (if possible)!
You can start segmenting your audience using Moosend's advanced audience management features. Create a free account and see for yourself!
12. Casper's sale ends campaign
Subject line: Black Friday is almost over…
Sending more than one Black Friday message is perfect for reminding subscribers about your deals and coupons like Casper!
What works: After their primary campaign, the brand sent another message later that day to make sure that subscribers will check out its special deals. The design uses pastel colors, high-quality images, and bold fonts to make the Black Friday discount code stand out. Regarding the copy, it employs short and valuable sentences to get shoppers to act.
Of course, Casper promotes more products and even gives its subscribers a "Surprise Black Friday steal" to increase its profit. Last but not least, it adds a refer-a-friend section to power up its referral marketing efforts and increases brand awareness through loyal customers!
Pro tip: First-time shoppers will give your Black Friday revenue a boost. However, don't forget to create special deals for your VIPs. Not only will they appreciate the unique offer, but they are more likely to purchase from your store since retained customers already trust you!
Post-Black Friday Email Newsletter Examples
Here, we'll see examples sent during the Black Friday weekend to extend the deals or get shoppers ready for the Cyber Monday sale!
13. Levi's discounts on discounts
Subject line: Our bestsellers are 40% off
Excite your audience with discounts on already discounted items like Levi's.
What works: The brand takes advantage of all the elements we mentioned above to power up its post-Black Friday email marketing efforts. First of all, they use GIFs to make the message more engaging and interactive. Also, they give their audience an extra 50% discount to get shoppers to make a purchase and shower them with free shipping & returns to make the deal sweeter.
On top of that, Levis shows potential customers their daily deals to capture their interest and lead them back to their online store for more!
Pro tip: While this Black Friday email example is great, the message is unfortunately clipped. Email clipping occurs when the size of your emails is more than 102 KB. Avoid that by optimizing your images and content. This way, you'll increase your email deliverability and minimize the risk of getting flagged as spam.
14. Kenneth Cole's extended sale
Subject line: 50% Off + more sitewide
Kenneth Cole extends its Black Friday deals to give shoppers more time to get them!
What works: With this Black Friday email example, the brand gives its audience a last chance to shop discounted items after Black Friday day. The email design is simple and informative, placing the 50% Off Sitewide above the fold to incentivize shoppers to act. Also, the free shipping option under the header is perfect for increasing its audience's purchase intent!
On top of that, Kenneth Cole makes sure to add various product blocks to lead shoppers back to its online store. Apart from that, you can also see a "Shop your size" section that helps customers find their ideal pair of shoes and avoid unnecessary returns.
Pro tip: Depending on your products, try to give your email subscribers as much information as possible to solve potential pain points on the spot.
15. MVMT's sale extension just for you
Subject line: 🚨 ALERT 🚨 Congrats, sale extended just for you!

MVMT's Black Friday email newsletter is the perfect mix of personalization and urgency!
What works: Starting with the subject line, the brand uses various elements to get shoppers to interact with it. The emojis help the campaign stand out in the inbox, while the "just for you" makes the message more personal and friendly. When they open the campaign, MVMT's subscribers will come across the discount and the code they can use to grab it.
Furthermore, MVMT makes sure to lead customers back to their product pages using dedicated product blocks for specific item categories. Last but not least, they have included free shipping on all orders to give their international shoppers more reasons to make a purchase.
Pro tip: Post-Black Friday campaigns need to be clever enough to get shoppers to act. Nevertheless, don't come up with new deals to convert them. Instead, try to hint at better deals coming their way and create Cyber Monday email campaigns to power up your sales.
16. Tone It Up's last chance to shop
Subject line: only hours left! 😱
Add a sense of urgency using your Black Friday subject line and visual elements like Tone It Up does.
What works: The brand leverages its short subject line to get subscribers to open the email. When they do, they come across a GIF that increases the urgency of taking action with the good old message, "going, going, gone." Of course, the visuals alone aren't enough to convert last-minute shoppers.
To do it, Tone It Up uses specific language like, "Our best sellers are running low," and "Grab your faves before they're gone" to show shoppers that this is their last chance to get their favorite products. Lastly, the brand takes the opportunity to offer additional incentives by promoting its bundle deals for better sales.
Pro tip: Shoppers love free shipping, returns, and… gifts! If you can, give your audience a fantastic freebie to complement their orders. The more attractive the gift, the more chances you have to motivate them to spend a little more to get it!
17. The Citizenry's give B(l)ack Friday
Subject line: Final Hours
Black Friday doesn't always have to be about increasing your revenue but giving back to those in need.
What works: The Citizenry has a beautiful Black Friday email example that gives their shoppers a good reason to buy from them. Giving its email a goal (Build a school) differentiates this campaign from the rest. Consequently, its audience has better chances of purchasing since the brand's Black Friday profits will help others.
Design-wise, this email is charming to the eye, using the right colors and CTAs to convert its audience. What's more, the brand adds extra links in their footer to engage their audience and lead them to their gift guides, product pages, etc.
Pro tip: If you're planning a similar campaign, make sure to be clear and transparent. Don't use vague copy to tell shoppers that you'll be donating part of your profits 'somewhere.' Give them details and even link back to the organization to increase the legitimacy of your claims!
How To Create A Great Black Friday Email Campaign
So now that you're all inspired, let's take a moment to see how you can put all this inspiration to good use, shall we?
1. Start with a Black Friday email template
Time is of the essence during the holidays. If you have already planned your campaigns, then good for you! If not, then you can save time and effort by choosing a pre-made template to work on. You can start with something simple and add all the elements you like using your template builder tool.
For instance, in Moosend's pre-made newsletter designs, you'll find a responsive Black Friday email template you can grab and customize on the spot:

Customize for free
You can also add an array of elements like:
Your logo and menu
Various product blocks
Countdown timers
Videos and GIFs
You can easily add yours by dragging and dropping the element in the correct position. If you choose a timer, make sure to see how to use countdown timers in your emails, and check a few examples for inspiration!
2. Create a Black Friday email subject line
After you're done with your design, you need to craft an intriguing Black Friday subject line to power up your open and click-through rates. Come up with a unique copy to differentiate yourself from your competitors.
Below, you can see some great Black Friday subject line examples from popular brands:
Be Ready, The Black Friday Sale Is Coming… (Diesel)
Free Shipping on ALL ORDERS—today only! (Burt's Bees)
💥 EXTENDED: Black Friday deals (but not for long!) (Walmart)
👇Better Than Their Deals☝️ Up To 40% Off (Timberland)
Our four-day shopping event is here. (Apple)
Happy Black Friday: 30% off EVERYTHING! (H&M)
Whatever you choose, make sure to keep yours short, valuable, and to the point to make them convert and avoid the spam folder.
If subject line creation is the bane of your existence, you can take advantage of an email subject line tester like Refine to check whether your ideas will perform well or not! Or, you can conduct A/B Testing to ensure that your final subject line version will appeal to your audience.
3. Come up with a valuable offer
A 10% off isn't going to cut it for your holiday deal-hunters. Instead, create an irresistible offer that will wow your potential shoppers. To do that, check what your competitors do and try to offer something better.
Also, don't forget that having discounts on valuable items and best sellers will be better than dropping deals on low-value products that nobody buys.
When you have your amazing Black Friday deal, create an email campaign to promote it and catch your potential shoppers' attention!
4. Use product images
Product images can work miracles for your holiday campaigns. Add specific product blocks to feature your best deals and add a high-quality visual.
Then, you can insert all the relevant information like:
the product name
a short description
the old and new price
a clear CTA
Here's an example of a product block created with Moosend's drag-and-drop editor:
5. Add an intriguing CTA
Your CTAs can make or break your email campaigns. Make sure to choose the right color to make them stand out. Also, add your copy wisely to promote action! For instance, prefer creative language and avoid the generic "Buy now," that everyone uses.
Your CTAs can be as unique as you like. Just make sure that they are clear and short to make your subscribers click on them. Moreover, don't forget about the position of your buttons! Placing them above the fold is a great way to promote clicks.
And if you have a lengthy campaign, add multiple buttons to catch your readers' attention before they leave!
From Black Friday Inspiration To Creation
Black Friday can be intimidating. But it shouldn't!
After checking all of the above Black Friday email examples, it's time to get down to Black Friday email marketing campaign creation! You should start planning as early as possible to make sure that you cover everything, from your sales emails to your landing pages!
Draw inspiration from other successful campaigns, organize your email calendar for the holiday, and finally jump into your email marketing platform to start crafting your messages!
If you need a builder or you feel like trying something new, you can register for a Moosend account and take our editor for a spin!
Time to nail Black Friday email marketing, one sales email campaign at a time!