How to Add a GIF Into an Email [with Tips & Examples]
How to Add a GIF Into an Email [with Tips & Examples]
Published By
Alexandra Marinaki
September 11, 2023
If you want to enhance your email marketing campaigns with unique, interactive content, there's one easy way to do so. Learn how to insert GIFs into emails and catch your readers' attention on the spot!
In short, GIFs (Graphical Interchange Format) are animated series of static images or videos playing in the loop. Marketers increasingly use creative assets like GIFs, emojis, or online pictures to communicate with customers and partners via email or other channels like social media. Here, we'll show you how to add GIFs in emails and some excellent practices to follow to amaze your customers!
And if you're searching for an email marketing platform that makes adding GIFs to emails a piece of cake, go no further – you're at the right place!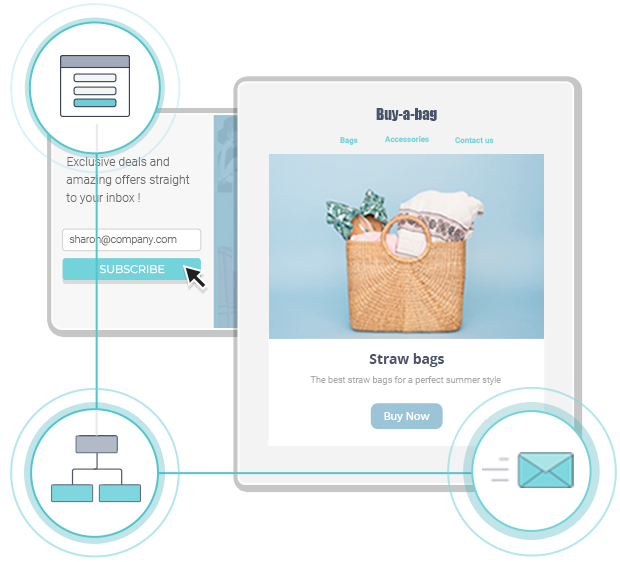 Try Moosend Today
The easiest and most affordable email marketing and newsletter software!
How To Insert A GIF Into An Email In Simple Steps
Once you've found the perfect GIF for your email message, whether it's custom-made or obtained by a platform like GIPHY, it's time to insert it into your email provider. Every email client has slightly different rules; here, we'll focus on Gmail and Outlook email, two of the most popular providers. See which steps to follow – apart from the common "copy and paste" commands:
Gmail
Step 1: Compose your new email and move your cursor where you want to put the GIF.
Step 2: When you're ready to add the GIF, click Insert Photo from the options below.
Step 3: Add a GIF straight from your device through the Photos or do it the drag-and-drop way via the Upload button. Also, you can embed it through Web Address in the form of a URL address if you've obtained the GIF from an online source.
Step 4: Right-click on the GIF to resize if needed inside the body of the email. Once you've completed your messaging, hit Send.
Microsoft Outlook
Step 1: Go to New Message and craft your email. Then move your cursor accordingly.
Step 2: Click on Insert Images Inline at the bottom to add your GIF from your PC. Copying and pasting the GIF can work, too.
Step 3: If you want to include an external GIF, go to Get Add-Ins and integrate the platform you wish, for example, Gfycat.
Step 4: If you want to resize the GIF, click on it and hit Send when you're ready to roll.
Keep in mind that there are several versions from Outlook 2007 onwards that don't display animated GIFs. It's best to test the email for certain providers to avoid delivering a poor experience to your customers.
The Benefits Of GIFs In Emails
So if you want to give a fresh style to your email design, animated GIFs are great to start with. Here are some good reasons why:
1. Showcase your Brand Identity
Adding GIF images in your emails can highlight your brand personality and even show your values and goals to readers, combined with the appropriate email copy. For example, if you want to show that your company embraces fun and creativity, share a GIF that will cheer your readers up. Plus, custom-made GIFs can boost your branding efforts even more.
Want a great example to get inspired? Here's one from Brain.fm:
2. Deliver your Message Efficiently
You've probably heard that a picture is worth a thousand words. Imagine how powerful your marketing storytelling can become if those images are animated. So except for branding purposes, you can also use GIFs to describe more complex concepts to your readers regarding your services.
This way, you also avoid embedding videos that don't receive much engagement after all.
3. Delight you Customers
Overall, GIFs can become very engaging for your audience. They are easy to process and can add a cheerful tone to their rather dull-looking mailbox. If they start receiving more exciting content from you, they are likely to continue opening your emails and convert down the line.
And remember, even plainer GIFs can do the trick. Like this email by Tillamook:
How To Compose An Animated GIF Email With Moosend
Most email marketing services enable you to send animated GIFs to subscribers en masse, whether they are promotional or transactional emails. With Moosend, this process becomes a piece of cake.
Once you step into the newsletter editor to create your campaign, you can use one of the available templates or start from scratch. If you select a template, drag and drop the Item "Image" onto it. If you start from scratch, start your layout with a "full-width container" and select the "Image" option.
Once you do that, click on the box and a menu will appear on your right side. There, click on "Add Image."
From there, you can upload your favorite creative element straight from GIPHY or insert your own GIF from the other available options, such as Local Files. Easy, right?
So sign up for a Moosend account today and get a quick tour of our great features if you want to see it for yourself.
Adding GIFs In Emails: Best Practices
If you want to ensure that your animated emails will bring you maximum results, here are some great tips for you:
1. Demonstrate your Product
Want to showcase a new product or describe a process to customers? Then GIFs are an excellent resource to achieve this. You can also use them instead of videos as readers often skip them because they're more time-consuming.
For instance, here is an animated GIF from Moosend, showing snapshots of our Custom Report feature that can easily fit a promotional email to customers:
2. Craft Customized Email GIFs
If you want to elevate your branding game, it's wise to create personalized GIFs. Τhey don't necessarily have to be demonstrations of your product, but beautiful, creative elements that show to customers and subscribers that you aim to deliver a unique experience to them.
And if you lack design resources, you can use a tool like Make A GIF or GIPHY to help you out. Remember to attune the GIF with your brand voice to craft a consistent experience.
3. Add a Relevant CTA to Convert
A standalone GIF in an email won't ultimately lead to conversions. It would help if you combined it with some of the best email marketing practices to see click-through rates going through the roof. Relevant copy combined with a noticeable and straightforward call-to-action (CTA) is a must if you want the reader to go the extra mile.
Look at this excellent example by Cowboy. From design to copy, everything's perfect:
Subject line: Forget your keys
4. Check the GIF File Size
Specific file sizes don't load and can hinder your email performance. Here are some simple rules to follow: Make sure that the file ranges from 0.5 to 1 MB and that the width is up to 600 pixels.
Plus, considering that some email providers don't support emails, make sure that the first frame of your GIF aligns with the purpose of your email, in case it fails to load.
5. Enrich Daily Communications
Besides enhancing your email with GIFs for promotional reasons, you can also use them for more casual email communications with partners and colleagues.
However, it's best to know your target audience first before you kick off. Some prefer to keep those interactions fully professional and receive plain text instead.
GIF It Out!
Now that you know how to successfully insert a GIF into an email, it's time to give it a go! Remember, your GIF should serve a purpose and be aligned with the rest of your brand. And then your subscribers are going to love it.
Have fun and enjoy the process!