Grocery Store Email Marketing Guide For 2024
Grocery Store Email Marketing Guide For 2024
Published By
John Desyllas
December 6, 2023
Looking for ways to create a high-performing grocery store email marketing strategy? You are in luck!
With the advent of the pandemic, online shopping experienced a steep rise. Businesses had to adapt their digital marketing strategies to meet the growing demand as well as establish a communication channel with their customers. Even small businesses turned their brick-and-mortar stores into online stores.
The problem, however, is that many business owners struggle to leverage the power of email marketing for grocery stores or they can't reach its full potential.
This guide aims to illustrate the benefits of email as a marketing channel for grocery retailers, show you step-by-step how to create an effective email strategy, and provide insightful examples that you can use.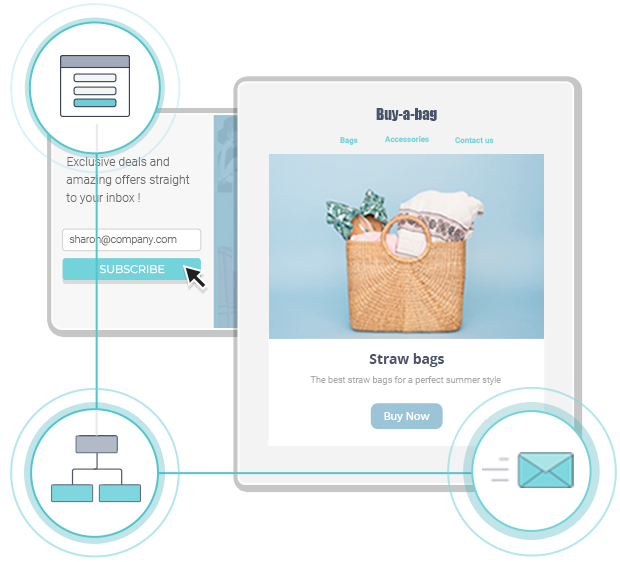 Try Moosend Today
The easiest and most affordable email marketing and newsletter software!
Why Is Email Marketing Important For Grocery Stores?
Grocery stores traditionally relied on marketing channels such as print media, outdoor advertising, and flyers. While these channels are still effective and help get the message out, their nature is untargeted, meaning that you're potentially wasting part of your advertising budget to reach the wrong audience.
On the other hand, email marketing lets you send the right message to the right person and craft personalized campaigns that resonate with your email subscribers. Moreover, email is among the most effective channels in online marketing, providing a direct line of communication with both past and new customers.
What's more, email remains an affordable medium to reach and engage your audience, while it delivers a stunning return on investment (ROI) of $42 for every $1 spent.
Even more interesting is the fact that consumers themselves seem to respond favorably to marketing emails from grocery stores. According to recent research, the grocery industry's average open rates stand at 36.6%, while the average click-through rates are at 7.9%. These numbers are much higher than the overall average for all industries.
Now consider that most grocery stores send email newsletters with special offers, suggestions, or news multiple times a month. This shows the potential of email to increase customer loyalty, boost brand awareness and drive better conversion rates.
Last but not least, by utilizing email marketing grocery stores can stand out from competitors that are not using this channel to target their audience.
How To Implement An Email Marketing Strategy For Your Grocery Store
Whether you're just starting out or looking to "reinvent" your grocery store's email marketing strategy, these are the steps you need to follow to craft an effective email strategy.
1. Select an Established Email Service Provider (ESP)
The first step you need to take to lay solid foundations for your grocery store email marketing strategy is to choose an email marketing service that offers all the features you'll need down the line.
An email service provider (ESP) is a marketing platform that allows you to design and send email campaigns to your subscribers. Moreover, it can segment your email list, automate repetitive tasks as well as personalize your messages.
Consequently, the ESP you choose will be your "trustworthy" partner that accompanies you in achieving all your marketing efforts.
The market is now saturated with various email marketing software that is more than capable of delivering on their promises and bringing more customers as well as revenue to your business.
However, finding the right one among the crowd is tedious and time-consuming.
Below you'll find some key functionalities your ESP should have:
a user-friendly email newsletter builder: drag-and-drop functionality means a short learning curve plus you can design emails with no technical skills.
robust SMTP server: send large volumes of transactional emails in a split second without compromises.
a wide arsenal of email templates: take advantage of your ESP's responsive newsletter templates to save time and effort.
high-converting subscription forms: build and expand your list with popups and landing pages all in one place!
marketing automation and personalization: set up automated workflows to target the right person with the right message.
mobile-friendly campaigns: create responsive emails for your mobile-first customers.
customer success team/support: solve any problem that comes up in real-time.
If you're looking for a robust all-in-one service with advanced eCommerce features that is also on the affordable side, you can give Moosend a try.
2. Grow Your Email List
The next step is to build a healthy email list. It's best to add to your list only the people who have actively shown an interest and have agreed to receive your emails.
Avoid buying email lists as you risk getting spam complaints. Not to mention that sending emails to people who haven't opted to receive them is a violation of privacy according to the GDPR rules in the EU (or CCPA in California).
In case you're building your list from scratch, check out this guide.
The best way to entice more people to join your mailing list is through an opt-in form at your website.
To ensure that your opt-in form is successful at getting more people to subscribe, you have to offer incentives that they can't resist. For example, you could give new subscribers a $5 coupon in exchange for their email address.
Here is a real example of the opt-in form that Sprouts Farmers Market uses.
As you can see, the brand emphasizes the value the subscriber will get from signing up. From exclusive promotions to digital coupons, it's practically impossible to resist as a consumer. Modern consumers are selective about signing up for newsletters, so you need to make every effort to persuade them.
Other alternatives to monetary incentives might also interest people. You could provide updates about incoming special store offers for email subscribers or deliver useful resources such as recipes.
To grow your list, you can also use a QR code at the bottom of your receipts encouraging people to sign up from the leisure of their home. In this way, they can effortlessly scan the code with their mobile device and reap the benefits.
If your store owns social media pages, be sure to share your signup form there to increase email subscriptions.
3. Create Customer Segments
The true power of email marketing is in the ability to send the right message to the right person.
Therefore, you need to segment your audience into smaller groups to be able to target them better and more efficiently. Creating customer segments will help you deliver tailored content and a more personalized experience to your customers.
Some ideas for the customer segments you can create include:
New subscribers: send a welcome email or series to build trust with them and nudge them towards making a purchase.
VIPs: they are the most loyal of your customers. Reward them with exclusive offers or loyalty programs to keep them happy.
One-time buyers: a re-engagement email or a follow-up offer after a purchase could turn them into repeat customers.
Engaged customers: subscribers who open most of your emails.
Expenditure: segment your audience based on the value of their purchases.
Preferences: customer segments based on the product categories or brands they prefer.
All in all, customer segmentation will help you get a competitive advantage over other grocery businesses since your campaigns will resonate with your target audience.
Finally, these customer segments will allow you to create your automated email sequences later on.
4. Plan Your Email Marketing Campaigns
After you're done with the previous steps, it's time to decide what types of emails you are going to send. Think about what motivates your customers to buy from you and craft engaging messages that will keep them coming back.
The general tendency of most grocery stores is to send sales-oriented messages. However, there are also a plethora of other ideas that you should explore for your email content. Let's go ahead and see them one by one:
New product / Product Line Announcements
Email is the perfect way to let your customers know that you've recently added a new product or product line to your store.
This type of email works particularly well with brand new products which have just been launched, especially if they have also been heavily advertised. Inform your customers about them and amplify their eagerness to try them out.
Here is an example of how SupermarketCy does it:
As you can see, the brand follows a clean email design with high-quality product images and a bright call-to-action (CTA) that leverages white space to stand out.
What is unique about this campaign is that the brand uses a red sticker-like graphic on top of the image to attract attention to the new product line.
To take things a step further, you could accompany this with a limited-time discount exclusive to email subscribers. That would serve as an "irresistible invitation" for customers to try the new product out.
Store Events and Announcements
Any kind of news pertaining to store announcements and events should also come in the form of an email update, regardless of its in-store promotion.
The benefit of such emails is twofold. Not only do you establish a close connection with them but you also ensure that customers who might no longer visit your stores get updated about big clearance events, delivery news, etc.
Take a look at the example below featuring Coborn's partnership with DoorDash delivery service.
This email informs customers about the new option for "same-day delivery" through their partner while shopping from the comfort of their home or work.
Additionally, the brand nicely promotes the new service by offering the first three deliveries for free. The red banner with white lettering immediately stands out, while it also adds "urgency" to utilize the offer since it is only for a limited time.
Seasonal / Holiday Campaigns
Undoubtedly, one of the busiest and most profitable periods for grocery stores is the holiday season like Christmas and Thanksgiving.
Consumers are actively searching for seasonal products and deals to save money and get as many items as they can. At the same time, they are more likely to spend more on groceries compared to other times of the year.
For this reason, you need to provide your customers with holiday-themed content. Such content includes recipe ideas and deals on popular holiday items.
Here is an example from Target for the Halloween season:
The email design follows the color palette of both the Halloween season and the brand's colors making a beautiful combination.
The images are carefully selected, while the email copy is easily skimmable and leads the user towards the main CTA.
And here is another example from Whole Foods Market for the Thanksgiving season.
The email is heavy on Thanksgiving-relevant imagery that draws the reader in and makes the email "easy on the eye."
The brand has structured the email in such a way that all customers will land exactly where they should, whether they want a deal for a turkey or other ingredients for their recipes.
Recipe Suggestions
Grocery store marketing could not but include recipe suggestions and ideas that customers can use to upgrade their cooking game. After all, one of the most common reasons for grocery shopping is to purchase ingredients for home recipes.
Lowes Foods has done an excellent job in providing its audience with such an email.
First of all, we have a brilliant email copy with an engaging message "Don't let mum do all the cooking." Moreover, all copy is placed into nicely designed graphic elements that are aligned with the brand's color green.
Readers are compelled to check out the recipes, meaning that chances are high that they will shop for ingredients to try them out.
At this point note that it might be a good idea to include a link that lets customers put all of the ingredients in their shopping cart with one click. In this way, you make the whole experience effortless and less time-consuming.
Finally, you could go the extra mile for customers that shop in-store and create a downloadable shopping list that also provides information about the isles that these products are located.
Promotional Sale Events
Emails about promotional sales are a major chunk of grocery marketing emails. These kinds of emails are particularly useful to attract customers to your store and increase their likelihood to make a purchase.
To make your promotional emails effective you need to highlight the product savings and include high-quality imagery of the featured products.
Last but not least, you have to send them at the right frequency. Usually, the ideal frequency for such newsletters is once a week. Avoid sending at a higher frequency as you could potentially annoy your subscribers and risk them unsubscribing.
Let's take a look at an example from the Greek grocery store E-fresh:
In the above email, the brand promotes its weekly grocery deals and specifically the 1+1 special offer on select products.
The email is skimmable and readers can instantly realize the value of the offer they have in front of them. We have high-quality product images along with cool graphics signifying the offer without any unnecessary copy.
5. Set Up Automated Email Sequences
Previously, we explored those campaigns that require "manual" work every time you need to send them to your customers.
Email automation, however, opens up a whole new level of efficiency in grocery email marketing. Not only do you engage with your customers when it makes sense but you also save crucial time instead of creating the same campaigns from scratch.
Automated emails are sent to subscribers after a predefined event has been triggered. These automated emails or email sequences are a killer strategy especially if you have an online presence apart from your physical stores. If you want to take your brick-and-mortar grocery store online, check out our guide.
Let's go ahead and see some of the most important categories of automated emails.
Welcome Emails
The most essential category of triggered emails is welcome emails, which are sent right after someone joins your mailing list.
They are the first point of contact with your customers so you should definitely show your appreciation and thank them for joining your audience. You can find insightful examples of automated thank you emails here.
In case you have promised to provide something of value during the signup process, this is the right time to deliver it while welcoming your new subscribers.
Often businesses do not use a single email to welcome subscribers; they rather use a welcome series. For grocery store email marketing, however, introducing your subscribers to your brand and illustrating your brand's core elements is just the perfect way to welcome them.
On another note, welcome emails should not be underestimated. Subscribers are "fully" engaged when they receive those welcome emails. So, it's the perfect time to mesmerize them and turn them into loyal followers.
Now let's see a real example from Waitrose:
As you can see, the brand welcomes new subscribers with a nice email, thanking them for joining their list. They immediately inform users about what they should expect to receive from them in their inboxes, namely offers, recipes, and ideas for inspiration.
While the email itself is not something unique, it helps new subscribers familiarize themselves with the brand and start browsing their website.
If you're hungry for more, you can find inspiration in our welcome email examples guide!
Abandoned Cart Emails
Every online business faces the phenomenon of customers putting items in their carts and then never checking out, which is known as cart abandonment. This is also true for online grocery stores.
Email automation comes to save the day (and your lost revenue) with abandoned cart emails which serve as a gentle reminder towards users to finalize their purchase.
These useful emails are easy to set up and some eCommerce platforms like Shopify let you enable them in a few clicks.
However, if you're serious about the timing that they land and how they appear (in short, more control over them), you'll need a robust marketing automation solution. This way, you'll also have more personalization options available.
Below you'll find a cart abandonment email example from Thrive Market:
In the email body, you find the product you forgot in your cart and didn't reach the checkout, along with a coupon code you can use for an additional discount. Note that providing users with a coupon code to tempt them into closing the sale is an excellent strategy to restore otherwise lost revenue.
What's interesting about this particular email is the CTA placement above the product. It prompts users straight to the desired action, while there are two more CTAs further down.
To identify what yields the most conversions, it's advisable to A/B test CTA placement and measure metrics such as the click-through rate to find the ideal one.
Pro Tip: Carefully craft the subject lines of your cart abandonment emails. You can choose to go with the more mysterious "Oops, you forgot something" subject line or opt for something more straightforward like "Hey! Here's a discount on your purchase.."
Product Recommendations
These automated messages are usually delivered some time after the last purchase based on the purchase history as well as the customer's personal preferences.
They are a little harder to set up than cart abandonment emails since they require a few more steps. You need to select the products that you'll recommend for each purchase and then set the trigger that sends the email automatically when the appropriate purchase is made.
Grocery stores with a wide range of products can see particular benefits when their recommendations are on a product category level.
Here is an example of what product recommendations look like:
In this email, Mackenzie Limited has crafted a nice email that thanks customers for their recent purchases. To top things off, the user is given a 15% discount on their next order.
The email, of course, contains product suggestions based on data collected from previous purchases, so that these recommendations appeal to the customer.
Win-back Campaigns
It's natural that some of your customers will become inactive and they'll stop purchasing from your store. With the help of email automation, you can target those customers and retain them.
What you need to do is craft an automated email that gets triggered when a customer hasn't purchased from your store for a certain amount of time.
For example, this win-back email could be sent after a customer hasn't made a purchase in a whole month.
Take a look at the example below from Blue Apron:
Blue Apron targets inactive customers with this beautiful win-back campaign. The email copy is spot-on while it also highlights the connection between the customer and the brand.
But it's not just words…The brand generously offers a $30 off to lure customers into restarting their deliveries. The value is clear and at the top of the email so that it's the first thing you see.
Back In Stock Emails
Let's assume that your customers are shopping and they come across a product that they want but unfortunately it's out of stock. Why not give them the opportunity to be informed when it becomes available through an automated email message?
These email notifications ensure that your customers are up-to-date regarding the products they have an interest in.
Moreover, they are an indirect way for you to "score" one more visit to your store and bring in more revenue.
6. Measure The Performance Of Your Campaigns
To make sure your campaigns work as intended, you need to track their performance and identify ways that they can be improved. Most email service providers offer reporting and analytics tools that help you greatly in the process.
There are three key metrics that you should be focusing on and these are the open rate, click-through rate (CTR), and unsubscribes.
The open rate is an indication of the relationship that you've formed with your subscribers. If the number is low, then you need to provide more value to your subscribers. Also, you should take a look at your subject lines and ensure they are not spammy.
You can test different variations of the same campaign to establish what yields the most opens. Just make sure you are only changing one element at a time (e.g. the subject line, CTA)
As for the CTR, it shows how many people actually clicked on your email's elements. If your CTR is not great, you need to improve your email copy and A/B test for CTA placement. Additionally, use actionable wording in your CTA to inspire action and drive more conversions.
Finally, the unsubscribes. While they are unavoidable, it's important to keep an eye on them, since a high number indicates that you may not be delivering on your promises or you're providing content that doesn't resonate with your audience.
In a nutshell, keeping these three key metrics at "healthy levels" means that you're bringing more potential customers and more revenue through your email marketing efforts.
Takeaway
Email marketing offers impressive benefits for grocery stores and forming a prosperous email marketing strategy is fairly straightforward.
Start growing your subscriber list, set up powerful automated messages, and, most importantly, target your subscribers with valuable and engaging content.
If you want an all-in-one solution to upgrade your grocery store's email marketing game today, sign up for a Moosend account and experience the benefits yourself!