13 Email Drip Campaign Examples To Steal Today
13 Email Drip Campaign Examples To Steal Today
Published By
Marilia Dimitriou
September 12, 2023
Wondering how to get more out of your email marketing and drip campaigns? Wonder no more!
We've compiled and analyzed 13 email drip campaign examples to fuel your inspiration and get more sales by doing less!
A drip campaign's primary goal is to nurture subscribers, deliver highly relevant emails to convert them, and, essentially, meet them at every step of the sales funnel.
If you're looking for a tool to create effective drip campaigns while having the ability to engage with your new leads and manage your email list, check out Moosend + this amazing template from Monday.com!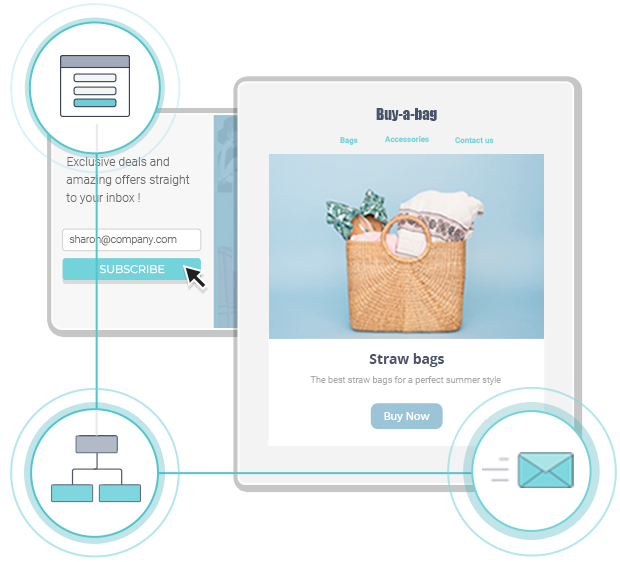 Try Moosend Today
The easiest and most affordable email marketing and newsletter software!
What Is A Drip Campaign?
Drip marketing is an email marketing strategy composed of multiple automated emails sent out at specific times and dates.
Your new subscribers usually start receiving these emails after signing up through your newsletter signup forms. Then, they will receive your emails in a timely fashion until the campaign ends.
The unique thing about drip campaigns is that they aim to anticipate and follow the user's actions through automated workflows. For example, if someone just subscribed to your newsletter, you could have a sequence send a welcome email and after 2 or 3 days deliver the most popular content on your blog.
Effective drip campaigns will help you achieve consistent growth and automate time-consuming, demanding, or delicate manual tasks that otherwise could incur mistakes. So, they make your email marketing a lot easier!
Why Do You Need A Drip Campaign?
In the previous section, we saw the definition of a drip campaign. Now let's see what makes these campaigns so unique and the benefits they offer.
An email drip campaign is perfect for:
building your list and turning subscribers into advocates through lead nurturing campaigns
automating time-consuming tasks
segmenting your target audience into more targeted groups based on user actions
restoring your revenue through renewals, abandoned cart campaigns, etc.
increasing brand awareness
humanizing your brand
If you have no idea how to come up with a drip campaign for your business, then you're in luck.
Below, you'll discover some of the best drip campaign examples to help you come up with your email templates.
As to how you can implement a drip campaign, you need the power of marketing automation. Marketing automation allows you to set up your email campaigns and schedule them.
So, if you haven't registered to Moosend yet, you can sign up for a free account and start sending unlimited email campaigns in a breeze.
What Makes A Drip Campaign Successful?
Gathering inspiration is crucial, but is it enough to come up with a successful drip campaign that converts?
If you want to ace your campaigns, you need to address your pain points first:
Do you need more checkouts?
Drive your one-off website visitors back to your website?
Do you need to increase user engagement among existing subscribers?
Or onboard users smoothly so that they set up their accounts and start using your service?
All of these can be automated via the right drip email campaign!
On Moosend's platform, there is a growing list of preset drip campaigns to jump-start your list-building like our beloved abandoned cart emails.
That's one of the features that make us part of the best email marketing services out there, allowing you to automate your checkouts, and power up your sales cycle like a pro.
The secret to creating the perfect drip, though, is to tweak it along the way by looking at high-converting drip campaign examples.
Of course, don't forget to feed your insights and results into your existing drips, consult your marketing and sales team, and optimize them accordingly. This way, you will streamline every single aspect of your business – automatically!
13 Incredible Drip Campaign Examples To Steal Today
I hope you brought your black hoodie (or black cat-suit) because it's time to steal some inspiration for your next big drip campaign!
Let's begin!
1. Netflix's Win-Back Campaign
At some point, your loyal customer was happy to do business with you. However, something happened, and you saw them leave. The reasons behind this phenomenon are simple: your customer found a better product, forgot about you, or they don't need your product anymore.
Since competition can be tough for businesses with similar products/services, being smart with your re-engagement tactics is a must. In this case, your best shot is a well-crafted win-back drip campaign that will be personalized and attractive enough to get your customer back.
A fantastic win-back drip campaign comes from Netflix. The brand is familiar with the losses incurred by lost subscriptions. To combat the issue, Netflix has created a smart win-back drip campaign to reduce its churn rate and boost engagement.
While the email content is nothing special, Netflix aims at winning back its customer by including a brightly colored call-to-action.
However, that's not the only thing that'll get back those lost subscriptions. For the next three months, the brand sends its former customers a series of emails with all the new movies and TV series they are missing out on.
Showing their recently added shows along with the user's top picks, Netflix incentivizes its former customers with more reasons to restart their subscription.
After a series of personalized drip campaigns, Netflix finally delivers a targeted email to show customers what they need to do to enjoy all the benefits highlighted throughout the email sequence.
The brand's entire win-back approach is based on reminding the customer how much fun they had during their subscription.
So, favoring simplicity and showing your customers why they should reinvest in your brand is all you need to restore your lost revenue.
Create this drip marketing campaign with Moosend's pre-built automation templates:
2. Patagonia's Weather-Based Recommendations Campaign
If you are familiar with weather-based marketing, then you know what this is about. If not, then, let's find out together!
For starters, weather marketing is all about sending emails whose copy and visuals are based on a subscriber's location and its weather conditions.
For this to work, you need to leverage the power of email marketing automation to set up a drip campaign that will draw weather data from a specific location. Then, all you need is to deliver targeted recommendations corresponding to the weather forecast.
When I received my first weather-based drip campaign, it was 5°C outside (41.0 °F for my Fahrenheit friends), and I was already debating whether I should buy a new pair of gloves or a lovely scarf.
To my surprise, Patagonia offered me exactly what I needed to protect myself from the sudden low temperatures.
The brand's targeted messaging makes this drip series an excellent example of personalized eCommerce email marketing for higher conversions.
The success behind it, though, lies in giving customers tailored recommendations that will fulfill an urgent need caused by environmental changes.
Of course, to get your subscribers to engage with your weather-based drip campaign, you need to give them a straightforward CTA.
As you can see, going minimal is always the best way to do that, especially when you need to deliver multiple CTAs for different products.
Just make sure that your recommendations match your customer's weather conditions; otherwise, you might end up recommending the wrong product.
If you feel like testing the weather-based campaigns yourself, you can signup with us, check our cool marketing automation templates, and "make it rain!"
3. Dollar Shave Club's Cross-Selling Campaign
According to the now-famous book Marketing Metrics, the chances of businesses successfully selling to an existing customer are 60 to 70%, compared with the 5 to 20% probability of selling to a new customer.
Coming up with the perfect plan to incentivize your customers to buy more is a challenging task that needs the right planning, time, and effort. Well, what if I told you that you could skip all that with an excellent cross-sell drip campaign?
Cross-selling is an effective sales technique that aims at recommending additional products to customers based on their order history and personal preferences.
Now, if you take that technique and turn it into an attractive email, you will get one of the most effective email drip campaigns to boost your Average Order Value (AOV) and make your sales fly. To master the art of the cross-sell drip campaign, offer your customers something that will make them think it will be a shame not to add it to their cart.
A fantastic example of a cross-sell drip campaign comes from the Dollar Shave Club. I'm sure that you've already heard about the brand before. Or at least came across their viral landing page and video!
Here, we got another smart marketing campaign:
This cross-sell drip campaign from the Dollar Shave Club hits all the right notes. Why? First of all, the email summarizes the customer's order, displaying valuable information about each product. Then, the next section gives customers a fantastic opportunity to buy additional items that complement their initial order.
Keep in mind that your cross-sell emails need to be smart and elegant. Don't turn them into ugly promotional campaigns that will scream "buy me now!" Instead, use your drip campaigns to emphasize the "I think this item will also benefit you."
That's cross-selling drip marketing done right.
4. Leesa's Limited Offer Campaign
Arguably, one of the most iconic tactics used by hundreds of brands is the limited sales drip campaigns. But you already knew that, right?
These email campaigns work because they have an irresistible offer that your subscribers can't ignore. Of course, when you infuse these campaigns with the right incentive and a magical X% off, you get a conversion bomb.
Here, you can see how the Leesa team has combined its limited offer drip series with a powerful sales trigger:
Black Friday in July? That's a steal! Not only that, but Leesa delivers two more exceptional campaigns to maximize its click-through and conversion rates in a breeze.
The first email of the sequence informs its subscribers that the sale will end soon. For Leesa's subscribers, this translates into "hurry up, the amazing deal will end soon!"
Of course, Leesa has another secret ace up its sleeve to increase conversions.
Subscribers who didn't purchase within the limited sale period will come across a little surprise:
Sale extended! What a relief!
This email sequence qualifies as one of the top email drip campaign best practices you can find.
Now imagine how "pressed" subscribers would be if the above email contained a nice email countdown timer to pump those FOMO levels to the maximum. Pure madness!
You can do this effortlessly with Moosend. Just click and select a "Full-width container" and then from "Elements" on the sidebar select the "Timer" option.
Summing up, Leesa's drip email examples give subscribers an incredible experience:
first, they are notified of the limited Black Friday in July sale
then, the brand tells them that the offer is valid for another two days, and
lastly, like a deus ex machina, the final email informs them that the offer is extended.
5. Kenneth Cole's Cart Abandonment Campaign
If you're running an eCommerce store, then you're fully aware of the difficulties involved in closing a sale with a potential customer.
One of the biggest pitfalls of eCommerce is cart abandonment. There are many reasons why people abandon their carts. According to cart abandonment statistics, 60% of customers leave their carts due to high extra costs.
The best way to combat cart abandonment is by sending them an automated email reminding them that they forgot to check out. In fact, you may need to send out more than one email to convert these deserters into buyers.
The idea behind this campaign is to encourage people to complete their purchases by offering a much larger discount as time passes. As valuable as cart abandonment recovery is, you should never condition buyers to leave their shopping carts on purpose for the discount fee to kick in.
Now, let's take a look at this drip campaign example from Kenneth Cole:
At first, the brand gives customers an amazing 15% off to motivate them to complete their purchase. However, to increase the chances of converting them, Kenneth Cole makes the offer valid for 48 hours.
But is this enough to get your cart abandoners to complete their purchase? Well, maybe, but why risk it? With this in mind, the brand delivers another cart abandonment drip campaign that effortlessly leads abandoners towards conversion:
With 20% off, who can resist?
Find out more and kiss cart abandonment goodbye with these amazing abandoned cart email templates.
6. Paul Mitchell's Break Up/Unsubscribe Campaign
Do you know what the movie "Marriage Story," your subscribers, and your eCommerce business have in common? No? Well, you should have taken the hint when that one special subscriber of yours, who always opened and clicked on your emails, started giving you the cold shoulder.
Unfortunately, no matter how many fantastic offers you sent them, it still led to their disengagement with your business in general. But wait, what if this happens to the rest of your email list? This sounds like a break-up to me.
Well, in this case, it's time to call for the best mediator out there. And by that, I mean that single email campaign that will fix your subscriber's relationship with your business. As we said before, nothing can stop your subscribers from deleting your emails or unsubscribing.
Worry not, though, because you still have one last trick up your marketing sleeve to get your subscriber to re-evaluate their relationship with your business and start anew.
So, let me introduce you to Paul Mitchell's mediator:
Upon receiving this email, subscribers come across a sad face consisting of the brand's products. The visual, along with the break-up vibe of the copy, make them rethink their relationship with you while demonstrating the products they once used to love.
By highlighting what the subscriber will miss out on if they stop receiving emails, the campaign invites them to re-engage with the brand. With this unique email, Paul Mitchell not only boosts its eCommerce sales but also guarantees its long-term survival and growth.
All in all, this is a unique unsubscribe drip campaign example to inform your subscribers that you'll stop emailing them if they don't take one last action to "save" their relationship with you.
7. Tone It Up's 21-Day Challenge Campaign
Staying fit can be frustrating if you don't have a clear goal in mind! With Tone It Up's 21-day challenge, though, you can build strength from your living room and give your well-being a boost.
To respond to its audience's need, the brand uses this email drip campaign to deliver an engaging challenge for its fitness-lovers:
Upon signing up, you will receive your workout schedule and various recipes to get you the results your desire. However, that's not the only thing that the brand does right.
Tone It Up will keep delivering emails whether you sign up for their program or not. In the next email, you can see that the brand highlights the benefits of the challenge and some tips to help its subscribers stay motivated.
Of course, email personalization couldn't be absent from this campaign! Adding your subscriber's name makes the entire campaign more relevant, increasing their desire to be part of the program!
Furthermore, the brand grabs the opportunity to integrate its email marketing with social media. This brilliant email sign-off will increase your engagement and cross-promotional efforts leading to better brand awareness and more conversions.
If you want to boost your conversion rate, creating a challenge drip campaign will be a fresh way to engage with your audience, especially when the entire community is involved.
And if you aren't in Tone It Up's niche, worry not! Instead of workouts, you can leverage case studies, white papers, and even webinars to plan an equally amazing challenge for your audience!
8. Leah Kalamakis' Freelancing to Freedom Project
Leah Kalamakis has made a living as a freelance web designer. She wants to impart her knowledge and success to other people, which is why she set up the Freelancing to Freedom Project School.
Through this online course, she offers paid subscribers access to exclusive content that contains blueprints to her success that they could emulate.
To get a taste of what she offers, you can sign up to receive Leah's Freelancer's Toolkit. From there, she also sends emails regularly to upsell her online course.
However, what makes Leah's drip marketing remarkable is the personal tone she sets on each email. She shares her day-to-day musings with her subscribers and manages to connect her experiences with her online course.
By opening up and being more personable, she gains her subscribers' trust, giving them more reason to shell out cash for her course. While this drip campaign example may seem simple and plain, a friendly copy and a personal experience will make your audience feel closer to you.
And while newsletter images generally contribute to better click-through rates, sometimes a friendly email might be more effective. Especially for bloggers, this can be your ticket to nail your drip series, build better relationships, and increase your sales.
So, if you are a crafty wordsmith and have a ton of experiences in your arsenal, make sure to use them!
9. Drift's Welcome Drip Marketing Campaign
Now let's take a look at a welcome email autoresponder series. The good old welcome email is the first thing subscribers receive after signing up.
Such messages are important because they set the tone for the rest of your email campaign. If it doesn't resonate with your audience, they might hit the unsubscribe button then and there.
Therefore, you have to get this right if you want to retain your subscribers and bring them down your sales funnel.
One of the best welcome email drip campaign examples is from Drift.
Usually, welcome emails take the form of a landing page that thanks you for signing up and highlights the benefits you'll get as a subscriber. However, Drift foregoes the formality by getting down and dirty with what truly matters.
Upon signing up, you will receive this email from them that curates the best blog posts that you need to read. There's an icon for each of the popular posts, and the number of views each has accumulated since it was first published.
More specifically, the beginning of the copy sets the tone of the email, and perhaps the succeeding emails you will receive in the future.
You can replicate this type of email for your drip sequence if you:
create and refine your subject lines for higher open rates
write a compelling intro
nurture your audience by adding links to your best posts
And as always, don't forget to try out our sophisticated tools to create and set up your automated welcome series in a breeze. You can sign up for a free account here.
10. Twelve Days to Trello
Ah, the holidays! The perfect time of the year to promote your products and services to your audience! While the jolly holiday spirit is all you need to come up with high-converting messages, if you want your drip campaign emails to generate the conversion rates you desire, you should try a more aggressive sales approach as well.
By featuring the overwhelming benefits of your products or services, you might persuade subscribers to give in and convert.
Trello implemented a unique approach to this method through its "Twelve Days to Trello" campaign. This drip campaign example was launched during the holiday seasons, and the title is a play on words to the song "12 Days of Christmas."
The email contains links to pages on how to use Trello not only as a project management tool but also as a productivity tool.
The approach also matches well with the holiday season, which is the perfect fit for what Trello was trying to achieve with this drip email.
By creating a timely message as part of your drip campaign, you can maximize your sales and generate more interest in your product.
11. SkinnyDip's Website Re-Engagement Campaign
It's nice to be thought of, isn't it? That warm, fuzzy feeling when one of your fave brands checks up on you to find out if everything's all right?
Whether you're out and about, or feeling under the weather, or maybe to see whether you're handling the break-up well (some would say there is a correlation between the amount of money you spend on clothing and your break-up phase, *smh*).
Well, this set of website re-engagement drip marketing campaigns is beautifully crafted, and very customer-oriented. So, here's one of the best drip campaign examples I got from SkinnyDip:
Set up a re-engagement drip campaign to show you care about your customers. What's more, you can use it to revive your relationship with your once highly engaged segment members.
That's what makes this email one of the most essential drip campaigns you need to create ASAP!
Engagement equals more clicks, and more clicks equal better conversions. So, help your subscribers find their way back to your online store, and reward them with a sweet discount coupon!
By the way, I usually advise that your coupon codes and discounts come with an expiration date to manage your promotional offers better.
In this case, though, SkinnyDip sent me over a code, and even though I checked my mailbox quite later, I still managed to get my discount! *frantic laugh*
12. Bellroy's Post-Purchase Campaign
Say you got your cart abandoners to complete their purchase. Now what? I'm sure you send them a beautiful Thank You email to let them know how much you appreciate them, right?
However, is this the end? Absolutely not!
Even in the post-purchase stage, you can engage with your customers, collect valuable feedback, and even recommend additional products.
To give you an idea, here's Bellroy's brilliant post-purchase drip campaign:
The company has created an email campaign that reaches its subscribers' inbox 30 days after their initial purchase.
Using such an email sequence will allow you to collect valuable feedback from satisfied and not-so-satisfied customers. Then, you can use the data to improve your products/services and enhance your customer experience.
Of course, don't forget about social proof! Collecting online customer reviews will give you an extra advantage to increase your sales and show your future customers that you are the real deal.
So, who's ready to create the next big post-purchase drip campaign? You are!

13. Zendesk's Onboarding Campaign
Thinking of how to use drip campaigns for onboarding subscribers or website users? Set up a simple drip campaign to show users what to do next!
Creating a successful onboarding email series isn't rocket science, and it all starts with your welcome email like this one from Zendesk:
After your welcome email, let your new trial users know that you're going to help them learn the ropes. Number all of the steps you need them to take and set up a drip campaign that's triggered based on their activity (or inactivity!).
Furthermore, give your new users a guided demo of the actions you want them to take! In Zendesk's onboarding sequence, from creating my account to learning how to answer tickets, I enjoyed a smooth user experience!
The team took extra special care of their new users, even sending personalized emails from a company email as part of their onboarding process.
A positive first experience with your product or service is highly likely to elicit confidence in users, and consequently, positive reviews and referrals.
Better yet, four days in the demo, I received a follow-up email, inviting me to schedule a call with a Zendesk representative. What more can a new user ask for?
Drip Campaigns By Industry
Drip campaigns are a must for every industry!
If you have trouble recognizing the potential of creating a drip series, here are some of the industries that can benefit from drip campaigns:
Drip Campaigns for Real Estate
Real estate is growing beyond imagination. So, it was natural to follow other businesses that took the digital leap.
Through email marketing, realtors can deliver onboarding campaigns to potential viewers, giving them all they need to book a viewing. With email automation, they can easily set up drip campaigns triggered when users join their list or even click/don't click on a specific/random link.
For example, you can send them more information about a specific property, or a different house altogether, and so on. Zillow gets the point:
The sky's the limit, really. And drip campaigns will do the work for you.
Drip Campaigns for Bloggers
Unsure how famous influencers and bloggers grow their fanbase? No, they don't have a team of 10 because they don't need it; they can run everything themselves with a little help from drip campaigns.
One of the top drip campaign examples for bloggers is that of website re-engagement, to drive users back to the blog.
From the subject line ("Let's reconnect… <3") to the visuals, this beautiful re-engagement campaign from New Darlings is the real deal:
Apart from that, bloggers have also used welcome email drip campaigns to show new subscribers around the blog and help them get familiar with the actions they can take.
Many blogs have some kind of Youtube channel or video with educational content as well. For every explainer video or how-to, you don't need an online course platform. Simply drip-feeding the classes or episodes can work like a charm.
Drip Campaigns for the Fashion Industry
Chances are that if you are in fashion marketing, you have already used drip campaigns or, at least, searched for some drip campaign examples. If you haven't, your competitors have. Trust me!
The possibilities are endless for the fashion industry. You can send out well-crafted surveys and website re-engagement drip emails to boost your sales.
But more importantly, you can send those birthday drip campaigns to supercharge your open and click-through rates like Topshop:
So, make sure to give it a go!
Drip Campaigns for eCommerce
Need I say anything more than abandoned cart email campaigns?
What about repeat purchase reminder drips, VIP customer reward campaigns, and upselling/cross-selling drips? I thought so.
If you own an online store and haven't set up drip marketing campaigns yet, you are losing money as we speak.
Just take a look at Rockin' Wellness' replenishment drip. Isn't this the perfect way to let your subscribers know you care about them?
I know I've said it before, but if you still haven't started your email marketing journey, it's high time you did!
Turn Your Email Drip Campaign Ideas into Action
Whether you're a newbie or a seasoned email marketer, it's difficult not to see how important drip campaigns are when it comes to converting subscribers to your desired goal.
Taking the examples above into heart, you should be able to gather enough drip marketing ideas to develop a campaign that fits with your brand and resonates with your audience.
Of course, you will need a marketing automation tool like Moosend to help you create your drip campaign and schedule when the emails will be automatically sent to the subscribers.
With Moosend, you can enjoy the best features of marketing automation without putting a dent in your budget. Sign up with us and see for yourself what drip campaigns can do for your business!