8 Teaser Email Campaign Examples [+Tips & Best Practices]
8 Teaser Email Campaign Examples [+Tips & Best Practices]
Published By
John Desyllas
September 12, 2023
Successful marketing builds up hype and anticipation before an actual launch or announcement, and that's exactly what teaser email campaigns are for.
Read on to learn about:
the best strategy and tips for successful teaser email marketing campaigns
insightful email examples from well-known brands
email subject lines for your teaser campaigns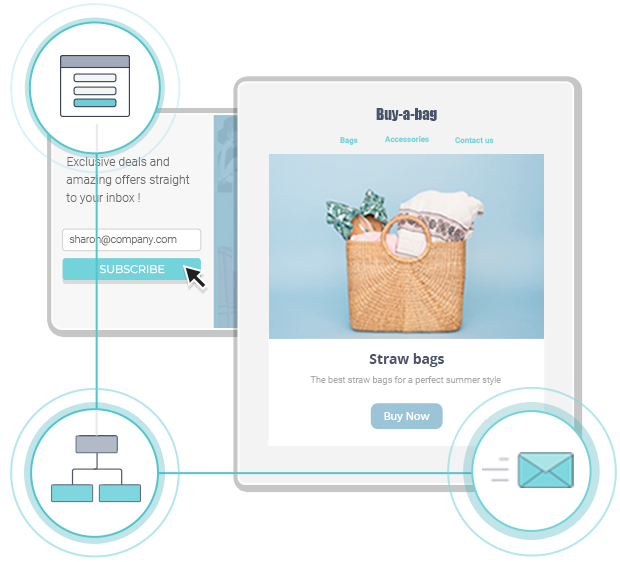 Try Moosend Today
The easiest and most affordable email marketing and newsletter software!
What Is A Teaser Email?
A teaser email is a marketing email designed to attract the readers' attention by creating mystery and building anticipation. The main goal behind a teaser email campaign is to generate interest to the potential customers and make them want to discover more.
So, the focus is on piquing readers' interest as effectively as possible, rather than bombarding people with product information. This is one of the reasons why people love to receive them since they differ from the "common" marketing email they usually receive.
Teaser email campaigns have the power to:
drive traffic to the company's website
deliver a unique brand experience
generate leads, and last but not least
boost sales and conversions
Now that we've seen their value, let's explore some tease email best practices to infuse your digital marketing strategy.
Teaser Email Campaign Tips & Best Practices
Beginner or pro, the tips below will help you create successful teaser email campaigns that hit the mark and capture your target audience's attention.
#1 Have A Clear Objective For Your Teaser Email
Before you send a teaser email, you need to have established why you're sending it. Do you want people to pre-order your product before the launch day, mark their calendars for an upcoming event, or visit your website to find out more about a product or service? These are example questions you need to ask yourself.
Generally, a teaser email campaign can be used to announce:
a product launch
upcoming sales
a special event
#2 Make Readers Curious and Excited
The whole point of a teaser email campaign is to create some intrigue and get people excited over the upcoming revelation (e.g. new product launch). Promoting a sense of urgency or exclusivity is key.
You can use a countdown timer in your campaign to create a FOMO feeling, while also making your email campaign more eye-catching. Countdown timers attract attention and may be more memorable than "simple" email copy.
A different idea you can utilize is to insert a "now you see it, now you don't" animated GIF, which equals a partial revelation of your product or service.
#3 Align CTA With Your Goal
Regardless of what your goal is, your call-to-action needs to be fully aligned with it. This ensures that users have an easy and actionable way to do what you want them to do.
Do you need them to mark their calendars? Provide a beautiful add-to-calendar CTA that stands out from the rest of the email.
Want your subscribers to check out a new product before it launches? Allow them to join a waitlist or give them the chance to pre-order it.
Remember that your email design should lead users toward the call-to-action in a "natural" way. You can try the inverted pyramid method or experiment with A/B testing and see if you have any significant results.
#4 Find The Best Time To Send Your Teaser Emails
As we said before, the purpose of your teaser emails is to build hype. As a result, you'll want to send them when they will be most impactful.
While you could just send them at the time you send your regular marketing content, the best time to send emails seems to be between 9 and 11 am, ideally on a Thursday.
Of course, this is not an absolute rule, but data suggests that using the aforementioned time and day would yield "optimal" results.
If you're going to send multiple teaser emails or follow-up emails, be sure to send the last teaser email in your series right before the actual launch/event.
8 Great Examples of Teaser Email Campaigns
In this section, we'll look at a few handpicked examples of successful teaser email campaigns from recognizable brands, in the eCommerce, SaaS and bloggers industry.
1. EM Cosmetics
Subject line: SHHH… COMING SOON.
EM Cosmetics chose to use a big, high-quality GIF that provides a glimpse of the new product line they are about to launch. It doesn't give the full picture of what the product is exactly, thus piquing users' curiosity. The CTA is clear and aligned with the overall goal, while the color chosen blends nicely with the color of the title above. As expected, the email subject line is simple and mysterious.
2. Timex
Subject line: Coming Soon: Waterbury Ocean
Timex is a popular watch company. In this teaser email campaign example, the brand has created a smart campaign about their soon-to-be-launched watch collection from upcycled plastic.
From the headline and email copy to the visuals, everything follows the same theme (i.e., that of the ocean and recycling). At the bottom of the email, we see the new watch but only half of it. So, subscribers take a glimpse but not the full product. This is an example showing that teaser email campaigns don't need to be "fancy" to be effective or successful.
3. GUESS
Subject line: Big news coming soon
Here we have a teaser email campaign example from Guess announcing the new personal shopper service. It is a clean and elegant campaign that stays true to its purpose and doesn't bore subscribers with additional details.
At the same time, the brand has achieved its marketing purposes since it prompts users to discover new arrivals on its website.
4. Moosend
Subject line: Coming soon to your Moosend account
Here we have a teaser email campaign example from the SaaS brand, Moosend. The marketing team of Moosend chose to tease the launch of the new campaign editor with a GIF that reveals the redesigned editor as the wind blows on the curtain.
Despite being a teaser campaign, this email doesn't fail in showing the value that the user gets with this. As you can see in the main headline, users' emails are about to get better. That's all email marketers and business owners want to know at this point.
5. Natori
Subject line: Introducing Our Latest Print: Ikagai
Natori provides a sneak peek of the new product to get more eyeballs and drive traffic to the website. This is a great strategy for eCommerce stores to drive more sales.
Specifically, here we have a GIF teasing the new design in many different poses. This ensures the viewer stays engaged and captivated while it increases the chances that subscribers will want to purchase it.
6. Revelry
Subject line: pssssst
This is a teaser announcement email example from Revelry. Through this, the brand informs their email list about the new 2023 collection dropping tomorrow. Users can click on the email to view or pre-order their favorite products.
You'll notice there are no visible CTA buttons. This is because they might distract users from watching the entire GIF featuring high-quality shots of the new collection. Finally, the email subject line used certainly adds to the mysterious element and could potentially lead to improved open rates.
7. Litmus
Subject line: Pssst … Litmus Live is coming to you
Here we have another teaser email campaign example from the SaaS world, this time from the well-known brand Litmus. Litmus is an email marketing platform that enables users to craft campaigns that look good in every inbox.
In this teaser email campaign, they announce that their email marketing conference is going global. Email marketers, developers and other interested parties can learn more by clicking on the CTA and being forwarded to the dedicated landing page.
There is no need to bombard subscribers with all the information here, so they are prompted to find out more by clicking through the email.
8. Then I Met You
Subject line: Something New is Coming
Skincare brand Then I Met You has crafted a beautiful teaser email as part of the launch campaign series for a new product line. The teaser is simple yet elegant. It features an attractive shot of the product to be launched, while it prompts subscribers to sign up for SMS notifications.
The email copy is short in order to avoid tiring people. It also adds a sense of urgency (be the first to know), since it implies that stock may not last long if you aren't quick enough to purchase.
Teaser Email Subject Line Examples
A unique and eye-catching subject line is absolutely vital for effective teaser email campaigns. Not only does it help get better open rates, but it can also add to the message of the email campaign.
Below you'll find real examples of email subject lines used by well-known brands to announce all kinds of things, from product releases to sales and events!
SHHH… COMING SOON. – EM Cosmetics
Something New is Coming – Then I Met You
You've Got 24 Hours – Huckberry
Annual Sale Sneak Peek Unlocked 🔓 – Lenovo US
Psst…we have a surprise for you! – MAC Cosmetics
For the First Time Ever – Chubbies
Coming Tomorrow… – Solo Stove
Psst, we've got BIG news… – BEE
COMING SOON: For your skin…and makeup 👀✨ – MAC Cosmetics
Black Friday Sneak Peek: The Iconic Mercer Crossbody – Michael Kors
Psst—It's a Holiday sneak peek ❄️👀 – meUndies
Sneak Preview: The Fall Collection – The Citizenry
You're the First… – Julie Blanner
📅 Save The Date For A Flawless Finish! – Sigma Beauty
hold up. 🤚 wait a minute. ⏱ this is TOMORROW! 👉 – Bath & Body Works
[name], You're invited to #SHEINXPARISFW22! – SHEIN
The Wait is Finally Over – Made In
Takeaway
Teaser email campaigns are an excellent marketing tool to add the element of surprise and mystery to your campaigns. They can help both big and small businesses build anticipation and hype over upcoming product/service releases and boost the sales of eCommerce stores.
Starting with a catchy subject line and an email design that pops out, all that's left is a powerful and easy-to-use email marketing software to make your teasers a reality.
If you want an all-in-one solution with advanced elements such as countdown timers and a plethora of email templates to help you get started, sign up for a Moosend account and create impactful teaser campaigns the easy way!