8 Best Autoresponder Software in 2024 [Free Tools]
8 Best Autoresponder Software in 2024 [Free Tools]
Published By
Marilia Dimitriou
December 6, 2023
Using autoresponder software is an absolute necessity for every business. Why? Because sending your audience the right message at the right time will help you engage them on the spot!
Fortunately, most of the tools in this list are free to use or have affordable plans, so you don't need to compromise your business growth or wait until you start making tons of revenue.
Before we explore the best email autoresponder tools, let's see what an autoresponder is.
Disclaimer: The information is accurate as of May 2023.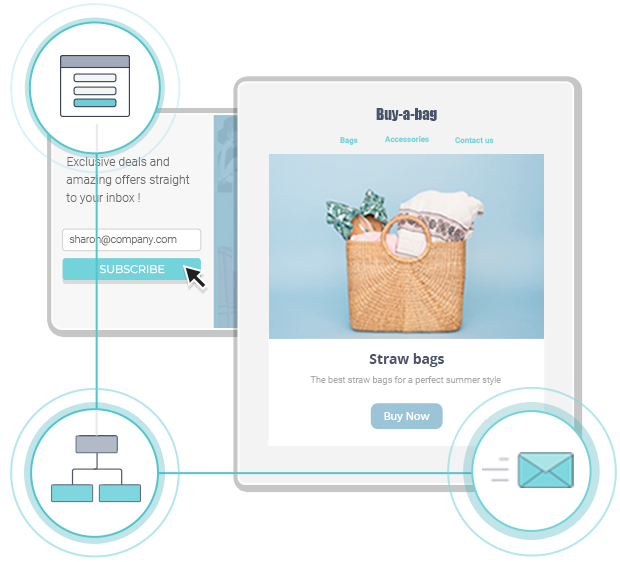 Try Moosend Today
The easiest and most affordable email marketing and newsletter software!
How We Selected The Following Tools
All of the tools in this list have been tested by our team to provide an unbiased description of its features and capabilities.
We spent hours setting up new accounts and trying each software to provide an accurate experience and show users exactly what they will come across when they sign up. Find more information about our software selection methodology on how we choose tools to feature on the Moosend Blog.
What Is An Autoresponder?
An autoresponder is an automated email or number of emails that land in your subscriber's inbox when a trigger event occurs. The main goal is to engage with your audience as soon as they take action through a series of follow-up messages.
Autoresponders are the simplest form of email automation. They can be a welcome email, an abandoned cart reminder, or even a Thank-you email. More complex use cases of autoresponder emails can be found in digital industries or Saas products in the form of lead-nurturing onboarding campaigns.
Autoresponder Software By Use Case
Here, you will find the tools on our list organized by use case. Take a look before we find out more about them in the table below.
Email Autoresponder Software: Comparison
Autoresponders are perfect for big and small businesses. So, if you are looking for a fast solution, here's a comparison overview of the best email autoresponder tools:
| | | | | | |
| --- | --- | --- | --- | --- | --- |
| | Free Plan/Trial | Pricing | Subscriber Limit | Best Feature | Ratings |
| Moosend | Yes (30-day free trial) | $9/month | 500 | Advanced and easy-to-set-up automated workflows | |
| Constant Contact | Yes (60-day trial) | $12/month | 500 | Event invitations management tool | |
| Mailchimp | Yes | $20/month | 500 | Multi-step custom workflows | |
| AWeber | Yes | $15/month | 500 | Advanced reporting and analytics tools | |
| Brevo | Yes | $25/month | Unlimited | SMS marketing tools | |
| GetResponse | Yes | $19/month | 1,000 | Spam testing tools | |
| SendPulse | Yes | $9/month | 500 | SMS messaging option | |
| MailerLite | Yes | $10/month | 1,000 | Email open rate by location | |
A simple autoresponder is essential for bridging the gap between your subscriber's action and your business' reaction. More specifically, an autoresponder series will:
help you build solid bonds with your email list
give your email marketing a sense of continuity
enable constant communication between you and your audience
With these in mind, let us show you the best autoresponder solutions based on affordability, features, and automation capabilities.
1. Moosend – Best Advanced Autoresponder Service
Pricing: Paid plans start at $9/month, 30-day free trial (sign up here)
Unique feature: Advanced and easy-to-set-up automated workflows
Moosend is one of the best autoresponder tools with a minimal learning curve and advanced capabilities. The all-in-one service has an intuitive automation builder and pre-built recipes to customize or create your autoresponder sequences from scratch.
To build your workflow, you can select from various triggers and actions, use A/B split testing, and even duplicate your automation steps to save valuable time. You can also add "And/Or" logic to your automation steps and share your creations among team members.
Besides email automation, Moosend also sports a drag-and-drop email builder that makes email campaign creation effortless, even for beginners. The available email templates are also responsive, and you can infuse them with advanced elements to create your ultimate autoresponder sequence in a few minutes.
To top it off, Moosend also provides an equally easy-to-use landing page and subscription form builder to boost your lead generation. Last but not least, advanced real-time reporting and integrations are two of Moosend's strengths, and you can try them out when you register for a free account.
Best Autoresponder Features
Marketing automation to deliver email sequences at the right time
Email newsletter templates to save time and effort
List segmentation to target your subscribers with tailored content
Landing page builder to give your lead generation a great boost
Reporting and analytics to track important email metrics in real-time
Signup forms to capture your leads in a breeze
Integrations with Zapier, WordPress, Woocommerce Salesforce, etc., to streamline your efforts
Pricing
Pricing starts at $9/month for 500 subscribers, giving you all the features like marketing automation, landing pages, SMTP server, and more. You can test the software and send unlimited email campaigns by registering for a free account – no credit card is required. A pay-as-you-go plan is also available.
2. Constant Contact – Best Autoresponder Software For Basic Automation
Pricing: Paid plans start at $12/month, 60-day free trial
Unique feature: Event invitations management
Constant Contact is among the oldest autoresponder tools in the market. As we saw in our in-depth Constant Contact review, the software has an easy-to-use drag-and-drop email builder to create newsletters and choose between different email types, including event registrations, A/B testing, and surveys.
Regarding email automation, the autoresponder software allows you to create welcome messages, abandoned cart emails, and reminder sequences for your eCommerce store. Its best feature, though, is its event invitation management tool that enables you to simplify the way you manage your online events. The RSVP feature will also give your webinars and online courses the boost they need and even allow you to collect responses straight from the automated email you sent.
Constant Contact's autoresponder tool also provides personalization options to make your automated messages more effective. However, while you can add your contact information, you can't use "if/then" logic, unlike other Constant Contact alternatives, such as Mailchimp and Moosend, with more sophisticated personalization features.
Best Autoresponder Features
Powerful event invitations management features
Basic personalization and email list segmentation
RSVP tool to manage online events more effectively
Automated resend to non-openers option
Subscription form builder to boost lead generation
Social media, WordPress, and CRM integrations
Pricing
Constant Constant doesn't offer a free plan. However, it has a 60-day free trial you can use to test its capabilities. After the trial, the autoresponder's paid plans start at $12/month for 500 subscribers, giving you access to the platform's basic email marketing tools.
Read Full Constant Contact Review
3. Mailchimp – Best Free Autoresponder Solution In A Marketing Suite
Pricing: Paid plans start at $20/month, limited free plan
Unique feature: Multi-step custom workflows
Mailchimp is one of the most well-known email marketing autoresponders you'll find out there. When we tested the platform, we found a clean UI, an intuitive template editor, and a user-friendly workflow builder to create automated messages and deliver your auto-responses to subscribers' inboxes.
While Mailchimp's email editor and autoresponders are pretty solid, we found its email automation features difficult to handle for beginners. So if you have no prior knowledge, getting used to the tool will take some time. If you want a more simple tool, you can check our list of Mailchimp alternatives that are more user-friendly.
Moreover, the platform will give you access to subject line and content personalization, as well as email list segmentation. You can segment your audience based on different conditions, including tags and online behavior.
Lastly, Mailchimp's autoresponder is famous for its advanced reporting and analytics capabilities. Through them, you can track all the email metrics you need to improve your email marketing campaigns and boost your conversions.
Best Autoresponder Features
Multi-step custom workflows to target your audience
Predictive insights to improve your marketing campaigns
Email newsletter templates you can customize
Huge knowledge base (only guides and tutorials for the free plan)
Integrations with popular apps, including Shopify and more
Pricing
Mailchimp is among the free email marketing services you can join. However, the free plan is very limited, and you'll need to sign up for a paid subscription. The Standard plan costs $20/month for 500 contacts and gives you access to more features and advanced automation.
4. AWeber – Best Autoresponder Software With Advanced Reporting & Analytics
Pricing: Paid plans start at $15/month, limited free plan
Unique feature: Advanced reporting tools
Aweber is another free autoresponder you can use to create an automated sequence of emails for your target audience. We found this email marketing platform fairly easy to use; however, it might be difficult for seasoned email marketers already using other autoresponders due to its different terminology for each marketing feature.
Apart from the email editor and newsletter templates, the autoresponder lets you create triggered messages after a subscriber takes specific actions like subscribing/unsubscribing from your email list. Moreover, AWeber is a great email list management tool to keep your contact lists clean and promote your email deliverability.
Regarding streamlining your marketing efforts, we found numerous integrations to do the job. The service lets you connect the software with popular platforms like Shopify, Salesforce, and more to exchange information between apps and improve your email marketing. Last but not least, AWeber has a great set of email testing tools to optimize your email marketing campaigns and lead your new subscribers a step further down your marketing funnel.
Best Autoresponder Features
Advanced reporting tools to monitor performance
Email list management for better email deliverability
Easy-to-use drag-and-drop email builder
Signup form builder to create pop-ups and more
Dedicated customer support to help you out
Pricing
AWeber has a basic free plan for 500 subscribers and 3,000 emails/month. To unlock all the features, the email autoresponder offers a paid plan starting at $15/month.
5. Brevo (Formerly Sendinblue) – Best Autoresponder Tool With SMS Marketing Capabilities
Pricing: Paid plans start at $25/month, free plan
Unique feature: SMS marketing options
Brevo is among the free email autoresponder tools on our list. What distinguishes the software is the combination of email and SMS marketing, allowing you to deliver transactional emails to both channels. In addition to its SMS marketing options, we found a simple and fast email editor that let us customize the available templates and create an HTML email campaign from scratch.
Segmentation is another feature the autoresponder offers, allowing you to target your new subscribers with better content. For instance, the tool allowed us to group our audience based on demographics, online behavior, and more. Everything was simple and fast, which made the tool great for beginners.
Regarding email automation, we also took the workflow builder for a spin during our extensive Brevo review. During our tests, we discovered that you could set up triggered campaigns based on behavioral data and email engagement metrics. Lastly, Brevo can help you increase your lead gen through forms and responsive landing pages, as well as discover which features convert better through its A/B Testing tools.
Best Autoresponder Features
SMTP server for transactional emails and SMS
Advanced segmentation options to group subscribers
SMS marketing personalization features
Contact list management to keep everything organized
Landing page builder tool to boost lead generation
Pricing
Brevo's free plan lets you send 9,000 emails/month (300/day) to unlimited contacts, which is great if you're starting your email marketing journey but not ideal for fast-growing eCommerce businesses. Pricing starts at $25/month, giving you more email sends and additional features.
Compared to other providers, Brevo doesn't charge you for the number of subscribers you have but for the emails you send.
6. GetResponse – Best Autoresponder Service For Sales Teams
Pricing: Paid plans start at $17/month, free plan
Unique feature: Spam testing tools
GetResponse isn't a free email autoresponder software; however, it's an affordable solution that offers great functionality. After testing the tool, we found out that you can create responsive email campaigns through its drag-and-drop editor and use personalization to make your messages more relatable.
Moreover, the autoresponder's email automation tools allowed us to create complex workflows to target our audience with the right message at the right time. For instance, we were able to build triggered campaigns based on lead scores, cart abandonment, and unsubscribes to engage with our subscribers. The only downside is that you need to get a higher-tier plan to test them.
Lastly, the autoresponder software has a detailed reporting section to help you track your email marketing campaigns and a great set of spam tools to avoid the spam folder.
Best Autoresponder Features
Advanced automated workflows
Reporting and analytics, including geo-tracking
Spam email tools for better email deliverability
Powerful eCommerce segmentation features
GDPR compliance
Pricing
GetResponse has a free plan you can register for (it doesn't include autoresponders). For full access, you need to purchase one of the available paid plans starting at $17/month.
7. SendPulse – Best Autoresponder Software For Multiple Channel Automation
Pricing: Paid plans start at about $9/month, limited free plan
Unique feature: SMS messaging options
Like Sendinblue, SendPulse is a free autoresponder software combining email and messenger marketing. More specifically, the autoresponder will give you various tools like SMS and web push notifications to engage with your audience in the best possible way.
Moreover, the software gave us opt-in autoresponders that allowed us to create automated email sequences to collect feedback, target cart abandoners, upsell products/services, and promote events. Segmentation is also part of SendPulse's toolbox, letting you divide your email subscribers based on their website activity and email engagement.
If you want to boost your lead generation, the service also has a great landing page builder to create converting pages. Lastly, besides its email marketing and automation tools, SendPulse has multilingual phone and email support to help you.
Best Autoresponder Features
HTML email editor
SMS and Viber marketing options
Advanced email list segmentation
eCommerce platform integrations
Pricing
The autoresponder offers a free plan for 500 subscribers but for a limited number of monthly email sends. For more features and email sends, SendPulse's pricing starts at about $9/month for 1-500 subscribers.
8. MailerLite – Best Email Autoresponder For Beginners
Pricing: Paid plans start at $10/month, free plan
Unique feature: Email open rate by location
MailerLite is one of the simplest autoresponder software tools we reviewed, with an easy-to-use email editor and customizable templates. The software allowed us to create various email types, including classic campaigns, A/B Testing, surveys, autoresponders, and more.
Regarding email automation, MailerLite enabled us to create simple workflows based on behavioral data. During our extensive MailerLite review, we found the builder simple and the workflows straightforward. However, we believe the software is more basic than other tools on our list, which is great for beginners.
Moreover, the autoresponder will equip you with some great reporting and analytics tools. The best feature we found was that it could display email open rates by location, a valuable insight that not many marketing automation platforms have. This way, you can improve the performance of your email marketing campaigns and target your openers with more relevant content.
Best Autoresponder Features
Advanced analytics and open rate by location
Unsubscribe page builder
Landing page builder tool
Powerful email tracking features
Pricing
MailerLite's free plan allows you to send 12,000 emails/month to up to 1,000 email subscribers. Pricing starts at $10/month, giving you access to more features.
Choose The Best Autoresponder Software For Your Needs
A smart, automated responder will help you deliver relevant messages to engage and nurture your subscribers while establishing a relationship with them.
So, choosing the right software for your business is paramount since it will help you make a difference and be smarter and more efficient than your competitors.
If you have decided to try Moosend, sign up for an account and see how our autoresponder can help you and your business achieve greatness together.
Time to step up your email marketing game, one auto-response at a time!
Frequently Asked Questions (FAQ)
Here you'll find some of the most prominent questions we've been getting regarding autoresponders.
1. What Is the Best Autoresponder Service?
There are several great services competing head-to-head such as Constant Contact, Mailchimp, AWeber, Brevo, and ConvertKit. Still, Moosend is the best service among them due to its advanced features able to help businesses of all sizes without compromising on affordability and usability.
2. Why Do I Need an Autoresponder Email Service?
Autoresponse emails are an integral part of your email marketing strategy because they allow you to send subscribers the right message at the right time. Whether you are a blogger or an eCommerce store owner, they can help you maintain a healthy email list (through double opt-in), welcome and onboard your subscribers, and save precious time.