Brevo Review (Formerly Sendinblue) 2023: Pros, Cons & Pricing
Brevo Review (Formerly Sendinblue) 2023: Pros, Cons & Pricing
Published By
Marilia Dimitriou
July 7, 2023
As of May 2023, Sendinblue has undergone a rebranding effort, resulting in Brevo, the platform's new brand name.
According to the company, the visual identity change occurred after they started thinking about how to help businesses grow better, offering more tools and capabilities.
Today, we will conduct an in-depth Brevo review to check out the features and see what this email marketing service is about.
So without further ado, let's find out its strengths and weaknesses, pricing structure, and answer some common questions.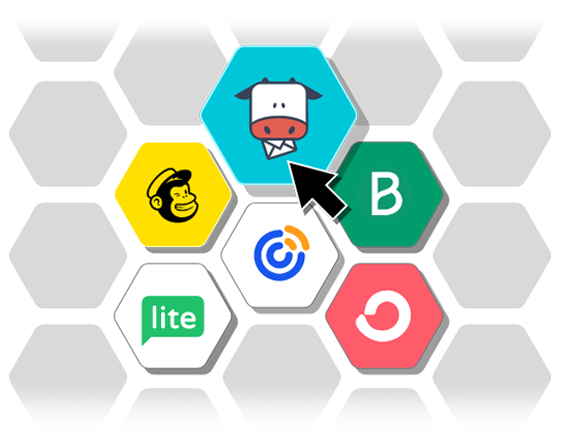 Looking for an alternative?

Save $$$ of your marketing budget by switching to Moosend today!
Disclaimer: The information below is accurate as of May 2023.
Brevo (Formerly Sendinblue) Overview & Ratings
Before we dive into specifics, let's see what Brevo is all about, starting with our ratings for its features:
Due to its advanced features and functionality, Brevo's platform is among our best email marketing services, along with services like Moosend, Mailchimp, and HubSpot.
What distinguishes it is the additional features users can benefit from, including the SMS marketing capabilities, built-in CRM tool, the Conversations app, and WhatsApp campaigns.
At first glance, Brevo seems to have everything a modern online business needs to reach and engage its customers. However, as we tested the tool, we discovered some cons you need to consider before committing to the tool.
With these in mind, let's see what it did well and where there is room for improvement.
Brevo Pros & Cons: Summary
Below is a summary of Brevo's pros and cons to give you an idea of what we will explore.
| | |
| --- | --- |
| Pros | Cons |
| Ease of use | Affordability |
| Email Editor | Landing pages |
| Email Templates | Reporting & Analytics |
| Signup Forms | Email Deliverability |
| Email Automations | Integrations |
| Segmentation & Personalization | Customer Support |
| SMS Marketing | |
Now let's take an in-depth look at them.
Brevo Pros: Analyzed
In the following sections, we tested and compiled the features that impressed us the most. Let's have a look at them.
Ease Of Use
Starting with the most important element in our Brevo review, we found the tool user-friendly, with a clean user interface (UI) that minimized friction.
As you can see, Brevo has already implemented its visual rebranding, changing the colors and logos to reflect the change.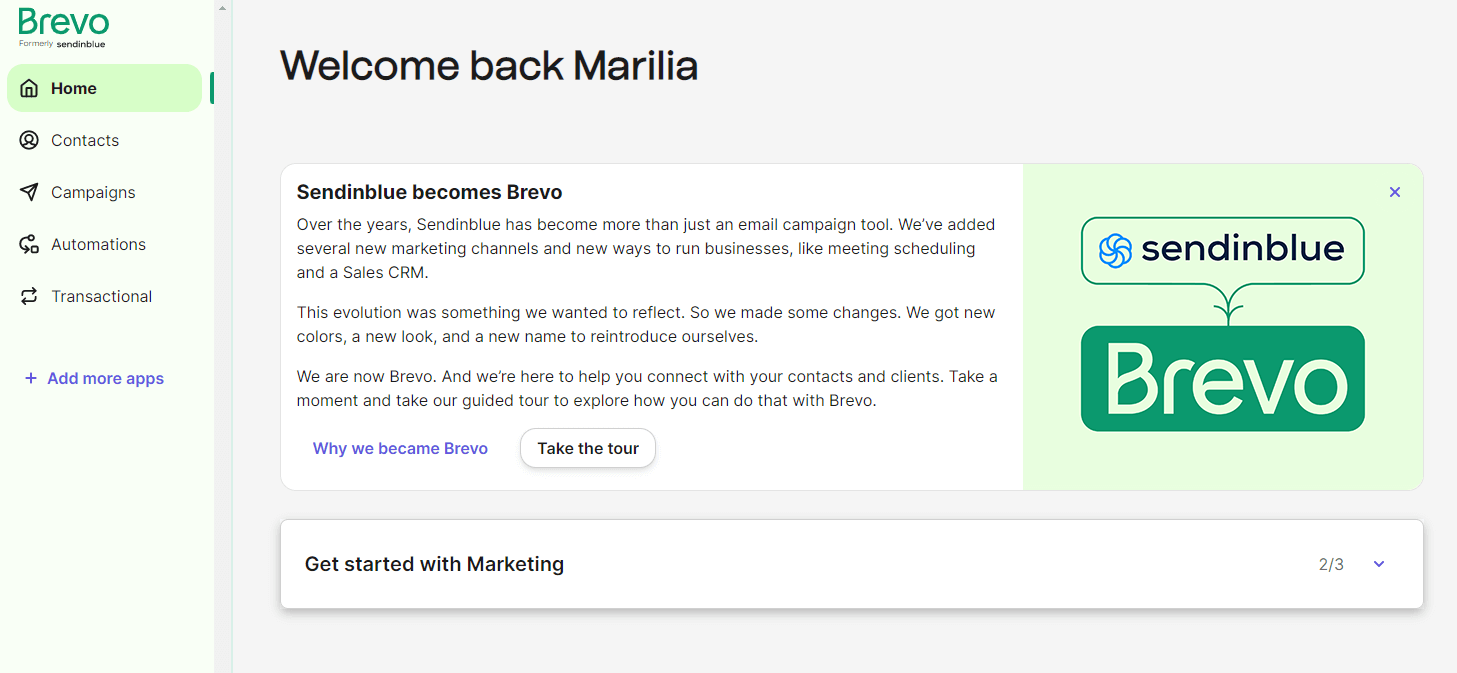 We found the new welcoming message friendly and helpful, while new users can take the short tour to get to know Brevo or skip it.
You will find all the necessary information on the left side of your dashboard, such as your contacts, recent campaigns, and conversations.
Moreover, we noticed that clicking on each element takes a few seconds to load, and the transitions aren't as seamless as on other platforms we've tested, like Mailchimp.
Overall, the interface is clean and easy to navigate. Fixing the unnecessary loading time will improve the experience and make it more user-friendly.
Email Editor
Now let's look at the email campaign builder, one of the most important parts of this Brevo/Sendinblue review. When we clicked the create a campaign option, we were prompted to choose a template, layout or start from scratch.
The Simple layout is a plain-text campaign to create a quick message for your email marketing strategy on the spot.
For this test, we selected one of the pre-made templates. The editor also suggested saving our brand assets to have consistent branding, which saves time and simplifies the process.
When creating campaigns, the drag-and-drop editor seems fast and seamless, allowing you to add various elements from the left-side menu.
By clicking on each element, you can further customize them.  For example, you can add text directly to your email design and then change the fonts, size, and colors, add links, and more through the floating ribbon.
When you finish, you can also send a test email to yourself to make sure everything is working.
Overall, our experience with Brevo's drag-and-drop email builder was positive, and the new brand assets feature will help you speed up email creation, automatically adding your colors, logo, and social media icons.
Lastly, you can create A/B Testing campaigns to find the best variations of your emails for better conversions.
Email Template Library
In this section of our Brevo review, we'll see the email marketing platform's pre-made designs.
There are 47 email templates to choose from, 4 of which are simple layouts. The designs are fully responsive and beautifully made to assist your email creation process.
Moreover, you also have a Template Categories menu for easier navigation, including sales, thank you, welcome, and re-engagement email campaigns.
We found the templates great for beginners who aren't familiar with email marketing yet but also marketers who want a quick email design to save time and effort.
Moreover, we also noticed a separate Templates tab on the menu, where you can create your own designs and save them for future reference.
Overall, the creation and organization system is pretty straightforward, allowing users to craft what they want in a few minutes, which is a major plus.
Sign-up Forms
Regarding Brevo's form builder, we found the option under the contact management tab, which immediately earns the tool some extra points. A friendly UI is necessary for modern software, and Brevo hits the mark again.
Regarding the actual form creation, Brevo prompted us to add a name and enable GDPR fields (which is necessary for customer data protection).
Next, the tool opened the actual builder in the second step. What we liked here was how smooth the entire process was. The step-by-step sequence you need to follow is unique to Brevo compared to other tools that redirect you to a new page.
This can save users a lot of time as you can see the menu and go back to other things with a single click.
In a nutshell, form creation was very simple and refreshing. You can drag and drop the elements from the left-side menu and customize them accordingly.
What we noticed is that there's no clear save button here. However, when you click "Next," your design is automatically saved.
Compared to other form builders, Brevo doesn't have additional form templates. Nevertheless, we found the process very simple, and the one you have is enough to help you craft something unique.
Overall, Brevo's online form structure is impressive as everything is in one place, including the double opt-in and the success/failure messages.
Email Marketing Automation Tools
Now let's move on to Brevo's email automation features.
At first glance, the interface is clean, allowing you to create your own automation workflows or use one of the 8 prebuilt ones, including abandoned cart, product purchase, welcome message, and transactional activity (password resets, etc.).
Now, for this review, we selected the welcome message template. The editor asked us to select our email list, waiting time, and the email we wanted to send. After that, it generated our automation workflow based on the data we inserted:
From there, we could customize it further, selecting another entry point and adding extra steps to make the sequence more complex.
The available actions and conditions were also enough to craft different paths for our audience based on behavioral data and more to personalize their journey further.
Our experience with Brevo's automated workflows was positive. The editor was simple and fast, allowing us to see stats and examples and test our creation before activating it.
Brevo's marketing automation also lets you set up and send SMS, email, and WhatsApp sequences, which is impressive. Moreover, you can use the feature for contact management, updating details, scoring leads, removing inactive subscribers, and more.
Note: When we tried the email automations feature, we got a notification that the platform faced difficulties creating the database. We got this error a few times when we clicked on "Create your first automation," but the platform let us use the feature after a few seconds.
Segmentation & Personalization
Moving on to two important features, Brevo's segmentation and personalization didn't disappoint us.
We created a new email list to test the segments and added contacts by importing them through an Excel spreadsheet. Also, before you group contacts, you need to check if you have the attributes you want to segment for.
Back to the segments, you can filter your contact list based on these attributes to create more targeted groups.
The process was fast and easy, and you only needed to select the option you wanted from the menu.
Regarding personalization, Brevo allowed us to add different attributes (name, location, etc.) and values through the customization ribbon after selecting our text.
Moreover, you have advanced conditions to work with, allowing you to insert dynamic content into your email marketing campaigns for better engagement and conversions.
Similarly, you can easily personalize your subject line and preview text by clicking on the icon on the right while adding them.
SMS Marketing
Of course, SMS marketing couldn't be absent from our Brevo review. Not many email service providers offer this feature, so it's worth using to increase your engagement.
We created our first SMS campaign in a few minutes, as the process was straightforward and fast.
All you have to do is add the SMS sender, select the compliance button (if you send SMS to US recipients), and add your message.
You can also send a test SMS to check how your campaign looks. Be careful, though, because the cost of sending a test is deducted from your SMS credits.
Then, you need to select your contact list, and you are ready to schedule it. Moreover, if your audience is in the US or Canada, the platform urges you to complete a TNF form to register for a toll-free number and comply with the regulations.
Lastly, you can also use the SMTP server to send transactional SMS along with your transactional email marketing campaigns.
In a nutshell, Brevo will be a great and easy-to-use sms marketing tool to cover your needs.
Brevo Cons: Analyzed
Now that we analyzed Brevo's strengths let's look at what it could improve.
Affordability
First, Brevo's pricing structure differs from other email marketing platforms. Instead of charging you for contacts, the paid plans are based on the number of emails you send.
While we liked the pricing structure, the features offered in the plans and the additional features you need to buy to take advantage of Brevo's capabilities fully didn't excite us.
For instance, if you get the Starter plan, you must get an add-on to remove the Brevo logo.
Moreover, compared to other platforms, landing pages are available only in the Business subscription and you get only one. If you want more, Brevo gives you the option to buy five more but for an additional $24/month. Dedicated IPs also come at an extra cost.
This can make the Business subscription plan expensive for small businesses with limited budgets. Moreover, it's good to know that your credits don't roll over, so you'll sadly lose them if you don't use them.
Lastly, while this is a free email marketing tool, the free plan has a very small sending limit of 300 email campaigns per day, which isn't ideal for growing businesses.
Landing Pages
As mentioned above, Brevo's landing page builder is only available in the Business plan, where you must pay to create more. Before we proceed, it's good to know that Brevo has a new landing page editor with different settings.
Regarding the actual creation, the tool will let you build a landing page from scratch or choose one of the available pre-made landing page templates (60+).
The landing page builder is easy to use; however, it can be slightly clunky at times, and there's no variety in third-party integrations.
Moreover, following the onboarding process can be a little tiresome for some users who already have experience with landing page creation and just need to jump into the editor and start creating.
Reporting & Analytics
Moving on to Brevo's real-time reporting and analytics, we discovered that users only get a basic version of the feature in the lower-tiered plans.
Overall, the dashboard looks a little too simple and basic compared to the rest of the platform.
On the top right corner, you'll get a summary of your email metrics, which feels outdated. As you can see, you can track, among others, your opens, clicks, and soft and hard bounces.
To get more advanced reporting tools, such as heat maps, geolocation tracking, and more in-depth open-and-click rates, you need to upgrade to the Business plan, which is a lot pricier than the Starter.
In a nutshell, Brevo's analytics will let you track everything you need to monitor and improve your email campaign. However, other digital marketing tools like Moosend or Mailchimp will give you the same advanced features in more affordable plans.
Email Deliverability
Email deliverability is an integral part of every good email marketing tool.
Based on a series of tests, Brevo's email deliverability score seems to have been fluctuating:
While it is decent, it definitely has room for improvement.
Integrations
To find Brevo's integrations, we had to click the Add more apps button (+) on the left side menu. Here, you'll find different plugins ranging from e-Commerce platforms and sales CRM tools to lead generation and developer tools.
We added integrations in the con because of the limited number you can find. As of today, Brevo has only 63 plugins you can use. Some of them include:
Shopify
Woocommerce
WordPress
Google Analytics
Salesforce
Facebook Messenger (add-on)
As the branding took place to give users more powerful tools to enhance the customer experience, we expect Brevo to expand its integration list to help businesses connect all their favorite tools and streamline their efforts.
Customer Support
Brevo doesn't have live chat support, email is available in the Starter plan, and you need to upgrade to the Business plan if you want phone support.
According to user reviews, Brevo's support team has room for improvement. The help center offers tutorials and articles that are quite helpful in solving simple issues.
However, the lack of a live chat, a more direct support channel, has dissatisfied many users. This can cause user/customer relationship issues and drive people away if slow customer support hinders their campaign performance.
Brevo (Formerly Sendinblue) Pricing
As we mentioned above, Brevo offers unlimited contacts for all plans, including the free version of this email marketing software. You can choose between the Marketing Platform, Conversations, Sales, and Transactional Email.
Here are the paid plans you have at your disposal:
Marketing Platform
Forever Free Plan:
Brevo's free plan is for up to 300 email campaigns per day, including:
Customizable email templates
Drag & drop editor
Transactional emails
SMS & WhatsApp campaigns (extra cost)
This is a great plan for those who want to test the tool and play around with the features.
Starter Plan:
The Starter plan begins at $25 per month for 20,000 monthly marketing emails, including everything in the Free plan, plus:
No daily sending limit
No Brevo logo (add-on)
Basic reporting & analytics
Email support
Brevo recommends this plan for marketing managers, online stores, and eCommerce professionals.
Business Plan:
The Business plan starts at $65 per month, giving you 20K emails and everything in the Starter, plus:
Email marketing automation
A/B testing
Advanced statistics
Multi-user access
Send time optimization
Phone support
This is the most suitable plan for those who want to send email and SMS campaigns, have detailed reports, and create landing pages.
Brevo Plus Plan:
This is the Enterprise-oriented custom pricing plan. Among other things, you'll get
Enterprise-grade security
Advanced integrations
Sub-account management
Tailored onboarding
Personalized support
Flexible contract
Other Packages
Apart from the marketing platform, Brevo offers three different packages.
Conversations: for a chat widget tool, including a free plan and a paid subscription starting at $15/month for Facebook Ad management, chatbot, etc.
Sales platform: to keep track of your sales processes. This includes Brevo's contact management system (CRM), which is completely free.
Transactional Emails: for the SMTP server. You have 300 free emails per day. Then you need to pay $15/mo for 20K, $25/mo for 40K, etc.
Brevo Alternatives
After reading the above Brevo review, you'll have an idea of whether the tool is good for your business or not. If the cons outweigh the pros, you can always choose some of the best Brevo alternatives.
Below, we collected three competitors with the abovementioned Brevo/Sendinblue features and functionality.
Moosend
Moosend is an all-in-one email marketing and marketing automation platform that will give you access to a fast email editor, templates, email automation, landing pages, detailed analytics, and transactional email marketing campaigns, even in the lowest-tiered plan.
It is an affordable and scalable email marketing service for your eCommerce activities.
Mailchimp
Mailchimp is another great platform with an easy-to-use builder, powerful email automation, and capabilities. You can find out more about it in our recent Mailchimp review.
The tool's main pain point is its steep pricing.
Constant Contact
Lastly, you can check out Constant Contact, a simpler email marketing tool to get your marketing running. It is a great option for small businesses, offering a huge variety of integrations to streamline your tasks.
You can check our Constant Contact review and the platform's pricing page for more details.
Conclusion
By thoroughly examining Brevo's features, we can say that it is a great tool with robust email automation features, ease of use, and additional services, such as WhatsApp and SMS campaigns.
What we liked the most about Brevo's email marketing platform were the email and form builders, which were both user-friendly and fun to use.
On the other hand, improving certain features, such as the basic reports, tweaking the features included in each plan, and taking steps to have a stable deliverability score and faster customer support will improve the user experience.
Moreover, the lack of a generous free plan will be a bummer for those just starting. So if you want something more affordable, you could check Brevo's competitors.
As Sendinblue has now become Brevo, we expect to see a lot of improvements and new things from the team. We hope this detailed review sheds some light on the pros and cons and helps you decide.
Frequently Asked Questions (FAQ)
Here you will find some common questions and answers regarding Brevo.
1. Is Brevo good for online businesses?
The Brevo platform will offer all the features you need to run your online store, including email automation features, personalization, transactional emails and SMS, push notifications, unlimited contacts, and more.
2. What are the best Brevo alternatives?
You will find a lot of powerful competitors out there. Some of the best Brevo alternatives include Mailchimp, Moosend, Constant Contact, and HubSpot.
3. Can I use Brevo for free?
Yes. Brevo has a free plan you can use. However, it is quite limited, allowing you to send only 300 email marketing campaigns daily.
4. Is Sendinblue CRM (currently Brevo) good?
Brevo's CRM is a great addition to your marketing stack. It is also free, so you can use it any time you want, especially for many online businesses that don't have the budget to get a dedicated sales CRM tool.
5. Does Brevo have a lot of integrations?
Brevo has 63 integrations, including a Sendinblue WordPress plugin, Google analytics integration, eCommerce platforms, and more.
6. Who is Brevo best for?
This email marketing platform is a great small online store, digital agency, and Non-Profit solution. Moreover, there are Business and Enterprise plans to cover more complex needs.