MailerLite Review 2023: Pros, Cons & Pricing [Analyzed]
MailerLite Review 2023: Pros, Cons & Pricing [Analyzed]
Published By
Marilia Dimitriou
May 31, 2023
MailerLite has established itself as a simple and handy email marketing software to create professional emails, popups, workflows, and websites. But is it as good as it seems?
In this MailerLite review, we will closely examine what made the software so popular, focusing on the features and pricing.
Of course, we will also pinpoint the areas that need improvement and what this email marketing platform is currently missing compared to other tools, such as Mailchimp, Moosend, and Constant Contact.
Without further ado, let's start.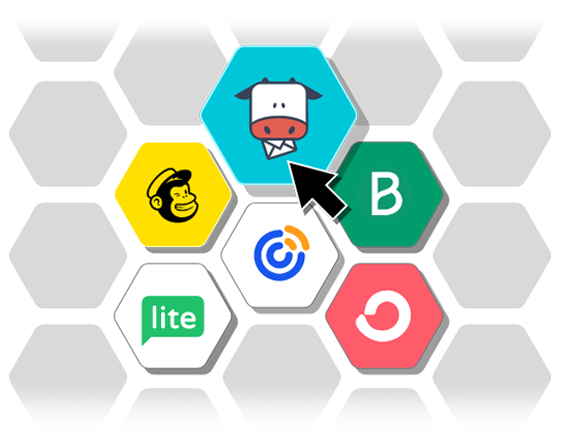 Looking for an alternative?

Save $$$ of your marketing budget by switching to Moosend today!
Disclaimer: The information below is accurate as of May 2023.
MailerLite Overview & Ratings
Before we take an in-depth look at MailerLite's strengths and weaknesses, let's see our overall feature rating of the platform.
MailerLite made into our list of best email marketing services due to its user-friendly interface, simplicity, and affordability.
Overall, it is a great option for small businesses and beginners who want to get started with email marketing. Among its strengths, you will find the intuitive drag-and-drop builder and email deliverability.
Nevertheless, MailerLite also comes with certain cons, including the lack of advanced features, such as advanced automations and reporting, as well as the limitations of the free plan.
With these in mind, let's continue with a summary of the pros and cons we found.
MailerLite Pros & Cons: Summary
Below, you can see where MailerLite excelled and what areas need improvement:
| | |
| --- | --- |
| Pros | Cons |
| Ease of use | Marketing automation |
| Email editor | Review process |
| Newsletter templates | Reporting and analytics |
| Sign-up forms & Landing pages | Spam & design testing |
| Email deliverability | Customer support |
| Segmentation & Personalization | |
| Affordability | |
| Integrations | |
Now let's analyze MailerLite's features, starting with the pros.
MailerLite Review: Pros Analyzed
Before we proceed, we should mention that MailerLite has launched a new version of its software, with the old one turning into MailerLite Classic. In this review, we used the new version.
If you want to discover what changed, we recommend checking out this MailerLite vs. MailerLite Classic resource.
Ease Of Use
Starting with the user interface (UI), MailerLite has a clean dashboard to find everything you need. The left-side menu will redirect you to the apps and builders, while you can also access your account settings, templates, and more.
We also liked that you can customize your dashboard by selecting your preferred theme. MailerLite offers light and dark modes, while the auto option will match your default preferences automatically.
You can find this option under your profile, where you can also enable two-factor authentication, change your profile photo, reset your password, and opt-in for MailerLite's newsletter.
Overall, navigating our profile was fast and easy, something we always appreciate when working with email marketing tools. This is surely a win for every modern email marketing platform that wants to provide a seamless user experience.
Now let's move on to the email builder.
Email Editor
We found MailerLite's email campaigns builder under the campaign option, allowing us to create regular, A/B split, RSS feed, or auto-resend campaigns.
After clicking the regular one, we had to insert the sender's name and email address.
Note: To access the email and form builders, you must first verify and authenticate your domain through your account settings.
This will take several minutes, especially if you aren't familiar with the DKIM and SPF authentication processes.
When you are done, you can finally access and select the builder that suits your needs. As you can see, there are three options to choose from:
drag-and-drop editor
rich-text editor
custom HTML editor (only for Advanced plan users)
Using MailerLite's drag-and-drop editor was pretty smooth. As you can see below, the content blocks are neatly organized in categories in a drop-down menu, allowing you to add headers, text, and visuals.
MailerLite offers several options to build different types of emails, from eCommerce offers with countdown timers and product blocks to surveys and quizzes.
What was impressive about the builder is that, apart from social buttons, it allowed us to add Instagram and Facebook posts.
This is a unique feature that many eCommerce brands can easily use to cross-promote content and showcase products and social media content through email.
Below, we used a post from Calvin Klein to show you how easy it was to add it:
Lastly, the drag-and-drop editor builder lets you track recent changes in your email design. We found this quite useful, especially if multiple people are involved in the creation process.
Important: On May 24, 2023, MailerLite teased the existence of a new drag-and-drop editor through a sneak peek email and video. We'll take a look at the new version when it's released to keep our review updated.
Email Template Gallery
Now, let's move on to the email templates. Here, we found 90 pre-made designs organized into 12 categories for easier navigation.
MailerLite has different templates for various occasions, including holidays, events, newsletters, RSS campaigns, notifications, and more.
We found the newsletter templates modern and customizable. The variety of designs is a plus, saving you valuable time and effort.
Moreover, there's a "My Templates" option where you can create and save your designs or import some in .zip or .gz (Linux) format.
Important: MailerLite's templates aren't available in the free plan, and you have to upgrade to the Business plan to use them.
Sign-up Forms
MailerLite will ask you to verify your domain to access the builder, as with the email campaign builder.
After you add a name to your form, you can choose the type you want to create: a pop-up, an embedded form, or a promotion (only for Advanced users).
Next, we were prompted to create a new subscriber group to continue the form content creation. When we did, we found 24 templates, including full-screen, half-screen, model, and slide box forms.
Now let's take a look at MailerLite's form builder.
Our experience with forms was very positive. The drag-and-drop builder was easy to use, and the UI was clean, allowing us to find everything we needed to create our newsletter signup form.
The available content blocks included text, images, countdown timers, and social links to make our creation more unique and targeted.
Design-wise, we also had a lot of options to choose from, from background customizations to content elements, fonts, and button settings.
Besides changing the colors and width, MailerLite's form editor allowed us to change the form type, which is very convenient and time-saving. Moreover, we got various options to make the form compliant, including a privacy policy, confirmation, GDPR, interest groups, and reCAPTCHA checkbox.
When we finished, the form builder let us create a post-subscription success message, which was very convenient and fast.
Overall, MailerLite's form builder is user-friendly and has everything you need to create pop-ups and embedded forms with a minimal learning curve and many design options.
After you finish your form, you can set up triggers, frequency, schedule, and visibility. Then you are ready to use your new pop-up to boost your lead gen.
Email Deliverability
Another crucial part of our MailerLite review is the email software's deliverability score.
According to findings from different tests, from 2017 to 2023, MailerLite has shown that its lengthy and rigorous verification process has managed to keep email delivery rates high.
With a score of 91.7 in 2023, the ESP has room for improvement to return to the 98 it featured in 2022:
However, judging by the overall performance, it seems that MailerLite pays attention to its email deliverability, which is higher than other tools in the same table.
Segmentation & Personalization
Email list management, segmentation, and personalization are present in MailerLite's platform.
While there's no in-built CRM tool like in other tools, you can use the available options to segment your audience based on various criteria, including location, age, etc.
Before you group your contacts, you need to add them through the Subscribers tab. The process was pretty straightforward. All we had to do was drop our CSV list in the box and then import our subscribers following the necessary steps.

MailerLite offers different options to add contacts, including copying/pasting from Excel, adding a single subscriber, and importing from Mailchimp.
Moving on to segmenting our audience, we found the process pretty simple. MailerLite asked us to set the parameters of our group, choosing from various options, such as location or signup source.
Moreover, there's a "fields" option to segment your contacts based on the tags you created while importing your subscribers.
We also found that you can manage your email list through automations by setting up certain actions to keep everything up-to-date.
Personalization
Regarding personalization, MailerLite lets you personalize your subject lines and add dynamic content blocks in your campaigns to create more targeted offers for your customers.
For simple personalization elements, you can select the variable option found in the customization box on the right:
You will find the options for the dynamic blocks after clicking the "eye" symbol found on top of each content block when hovering over it.
MailerLite gives you different options to specify and customize the recipients who can see your content and exclude certain subscribers.

Lastly, it's worth noting that MailerLite's dynamic content doesn't have if/then/else logic to personalize your email campaigns further. This may be a drawback for those who want to build more advanced blocks.
Now let's move on to another crucial section.
Affordability
Looking at MailerLite's pricing page, we discovered that the tool is among the cheap email marketing services that one can get.
The Growing Business plan starts at $10 monthly for 1K contacts (plus $2 tax). Users will get unlimited emails, access to templates, dynamic campaigns, and more.
To get the more advanced options, including the custom HTML editor, promotion pop-ups, and multiple automation triggers, you must get the Advanced paid plan, starting at $21.
For what it offers, MailerLite is an affordable option for new business owners and marketing professionals who want to get started with email marketing but have a small budget.
Landing Pages
Moving on to the additional features, we found MailerLite's landing page builder under the Sites tabs on the left-side menu, where you can create websites.
To get to the builder, we had to enter a name for our page and select a subscriber group; then, we got the option to start from scratch or select one of the landing page templates.
We found 49 pre-made designs neatly organized into categories for easier navigation.
The templates are modern and customizable, following the drag-and-stop email editor's logic. This made it a lot easier for us to create our page as we were already familiar with the builder.
Compared to other landing page tools, MailerLite's editor is a simple and fast solution to power up your lead generation without using additional software.
Lastly, the website builder follows the same logic, allowing you to create your webpage as you would with your landing pages.
Integrations
Last but not least, we checked MailerLite's integration list, which features 140 integrations with popular third-party apps, such as WordPress, Shopify, Stripe, and social media networks.
You can also access MailerLite's API to connect the software with other apps through a developer.
Furthermore, you can use Zapier to connect the ESP with other tools if no dedicated integration is available.
MailerLite Review: Cons Analyzed
After examining the platform's strengths, it's time to examine its weaknesses and areas needing improvement.
Email Marketing Automation Tools
Another important part of our MaillerLite review is the available marketing automation features of the tools we explore.
Before testing the feature, we noticed that multiple users claimed they weren't as advanced as other email marketing platforms.
After checking it, we also concluded that the automation tools are very basic compared to other services such as Mailchimp or ActiveCampaign.
Nevertheless, this makes the software great for beginners and business owners with simple needs. So, with this in mind, let's see how the workflows performed.
First off, MailerLite offers you the option to start from scratch or use one of 15 pre-made templates, ranging from welcome and new promotions to abandoned cart and webinar invitations.
Important: Three of the workflows are only available for Advanced users, including the webinar, advanced welcome, and demo call invitation.
MailerLite's automations felt too simple after looking at Mailchimp's Customer Journeys.  Moreover, you can't drag and drop to rearrange the steps of your automated workflow or duplicate the selected items.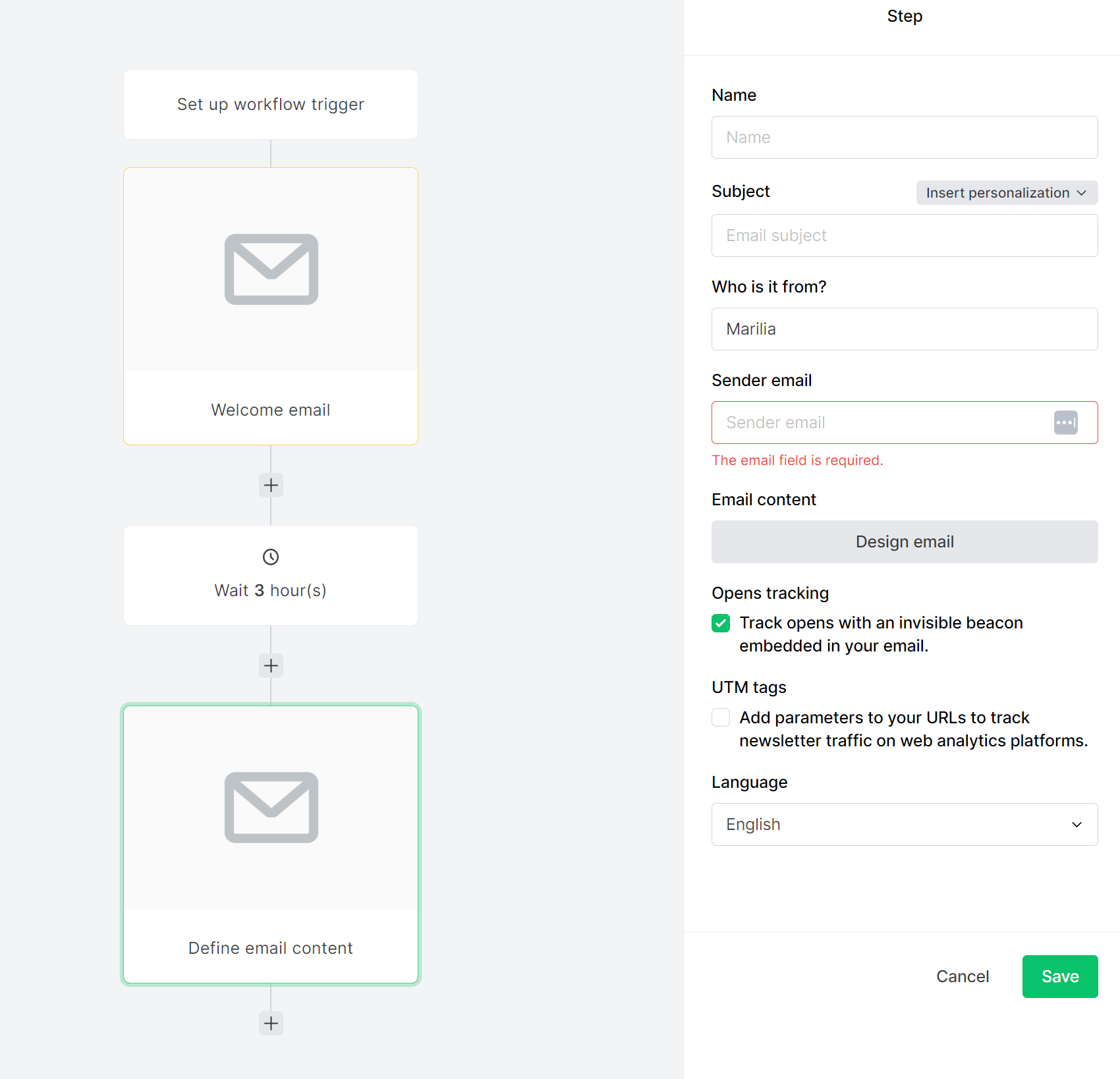 Regarding the conditions and actions, MailerLite will give you different options to target your subscribers and customers based on their behavior, such as after completing a form or leaving a product in their basket. You need to upgrade your plan to the Advanced option for multiple triggers.
Apart from that, there's an A/B Testing option to create split tests and check various elements to find the perfect sequence.
In a nutshell, despite the easiness of use that the editor offers, it felt a little rigid compared to other tools. The advanced templates are only for Advanced plan subscribers, and the functionality may seem lacking to experienced users. Nevertheless, automation is available on all plans, even on the free version.
Lengthy Review Process
After signing up for MailerLite's Business plan, it took a while for the software to verify our account and let us send our campaigns.
Moreover, we couldn't access the email editor without authenticating our domain, which we haven't encountered before while reviewing email marketing software.
While we understand the need to keep deliverability high and keep non-ideal customers away from misusing it, the thorough approval process felt quite lengthy.
We also felt we could at least have been granted access to test the editor and create our campaign while waiting for MailerLite to review our account.
This may feel too much for professionals who want to get started on the spot or people testing numerous tools to find the best fit for their business.
Now let's move on to another important part of our MailerLite review.
Reporting & Analytics
Measuring your email metrics and campaign success is crucial in digital marketing. To do so, the platform will give you access to important metrics to monitor your performance.
While MailerLite has some cool features, such as open rate by location and click maps, the lack of a dedicated analytics tab and its basic reporting capabilities are a bummer.
For example, to check our subscriber metrics, we had to go to the subscriber tab and click on the stats option:
To get access to individual reports for each campaign, you need to send your email first and then check its performance.
If you want an overview, you can go to your dashboard and check the Campaigns box to see your open rate, clicks, and click-to-open rate (CTOR).
Overall, MailerLite's reporting and analytics are great for tracking your email, subscriber, and webpage performance; however, they could be more advanced.
It's also worth mentioning that eCommerce tracking is also available, but it's limited to Woocommerce and Shopify stores.
Spam & Design Testing
One of MailerLite's biggest cons is the lack of spam and design testing tools to improve your email campaigns before they reach your subscriber's inbox.
The only available feature is a message preview on desktop and mobile that sadly doesn't show you how your email will look on different email clients.
MailerLite only allows you to save your preview and copy a link to share with your team. Apart from that, you can't fix any problems or run it through a spam check.
The lack of design and spam tools are probably MailerLite's greatest weakness, especially since the tool is geared towards beginners who may not have the knowledge or skill to fix common mistakes.
Customer Support
Based on our experience and other customer reviews, MailerLite's support team is fast and reliable.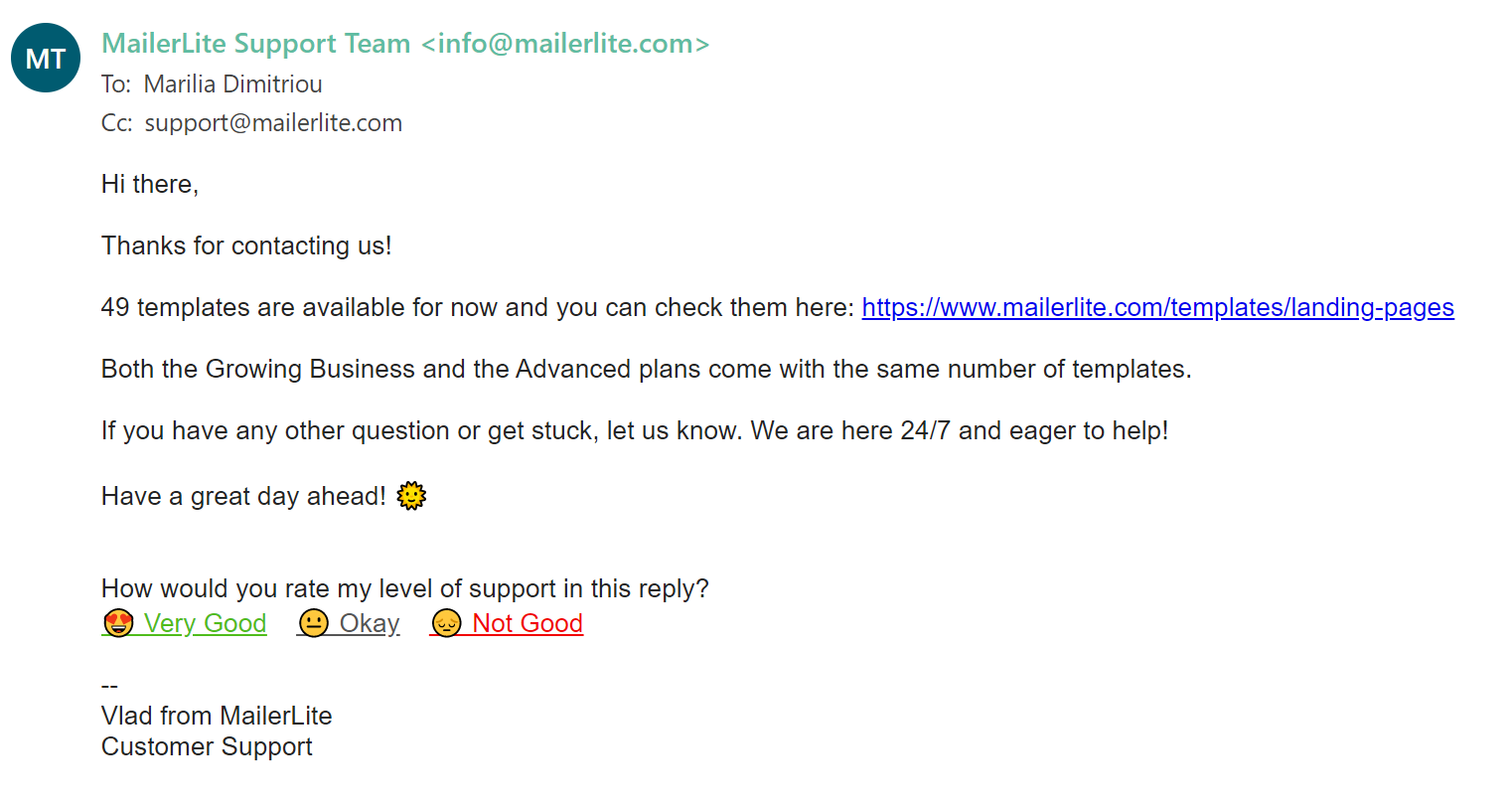 However, certain things made us add customer support to the cons sections despite the positive experience.
The first thing we noticed is that live chat support is only available for Advanced users, which means only the knowledge base and email support channels were available to us.
What's more, for an email marketing service that promotes a free plan, the limitation of assistance to only 30 days of personal support is not ideal for free accounts.
MailerLite's customer support offers a knowledge base, an Academy, and a Community to find the answers you may seek. However, the lack of a live chat option for free and Growing Business users and the lack of phone support in the Enterprise plan made us add it to the cons section.
MailerLite Review: Pricing
After examining the pros and cons, it's time to look at MailerLite's pricing.
The paid plans are pretty straightforward, offering four different options based on the number of subscribers you have.
Let's see more details below:
Free Plan
MailerLite's free forever plan covers up to 1,000 subscribers and 12K monthly emails.
Drag and drop email editor
Email automation builder
Websites
10 landing pages
Signup forms and pop-ups
24/7 Email and chat Support for 30 days
Best for: The free plan is great for testing the ESP's functionality and capabilities.
Growing Business
This plan starts at $10 monthly (about $12 with tax) for 1K contacts, giving you unlimited emails and 24/7 email support.
Digital products
Unlimited templates
Dynamic email campaigns
Auto resend campaign
Unlimited pages
Unsubscribe page builder
Best for: This is a great plan for beginners, even though it may feel limiting along the way due to the lack of specific advanced features.
Advanced
The Advanced plan starts at $21/month for up to 1,000 subscribers, unlimited email, and users.
Custom HTML editor
Promotion pop-ups
Multiple triggers in automations
Preference center
Facebook integration
Best for: As MailerLite's advanced plan, this may be the most suitable option for businesses that are more serious about email marketing.
Custom Pricing
The custom pricing plan is geared towards Enterprises with over 100K contacts. Here, you have unlimited monthly emails and users, as well as 24/7 email and live chat support.
Dedicated success manager
Dedicated IP & deliverability consultation
Custom landing page design
Custom newsletter design
Best for: Enterprises and businesses with bigger lists and more complex needs.
MailerLite Alternatives
After looking at MailerLite's features and pricing, we concluded that the software is great for growing your business, especially if you aren't an advanced user.
However, if you need more complex automations and reporting, you can consider some of MailerLite's best alternatives to help you scale faster.
Below you will find three great email marketing competitors to help you:
Moosend: an all-in-one email marketing and marketing automation solution offering a user-friendly interface, intuitive builder, newsletter templates, autoresponders, and more. It is an equally affordable tool that will give you what MailerLite lacks: spam and design tools, advanced reporting and analytics, and 24/7 live chat support.
Mailchimp: as one of the most popular competitors, Mailchimp will give you access to more powerful automations and functionality. However, the pricing will be much steeper compared to MailerLite's, so it's best to consider this option after planning your email strategy and budget. You can consult our in-depth Mailchimp review to learn more about the software.
Constant Contact: another great and more affordable (compared to Mailchimp) option you can get to continue your email marketing efforts. The software is great for small businesses and has a few handy tools to help you during your journey. For more details, check our Constant Contact review and see whether it fits you.
Conclusion
By analyzing MailerLite's features and limitations, we can conclude that the software is great for supporting your email marketing needs, especially for small businesses and beginners.
However, the lack of essential pro features, such as advanced automations and reporting, may not be ideal for eCommerce store owners and users with complex needs.
To conclude our MailerLite review, our experience with the software was positive. Its simplicity and user-friendliness are perfect for starting your email marketing journey, learning the basics, leveraging the extensive knowledge base, and keeping your audience engaged.
Frequently Asked Questions (FAQs)
Here you will find some common questions regarding MailerLite.
1. Is MailerLite safe to use?
MailerLite's platform is safe to use as they take all necessary precautions to ensure a safe experience. The software also has a rigorous authentication process to prevent spammers from using the tool and a strict anti-spam policy.
2. Is MailerLite free forever?
MailerLite is a free email marketing platform offering a free forever plan for 1K subscribers and 12K monthly emails. Free accounts can use all the core features but don't get access to the templates.
3. Is Mailchimp better than MailerLite?
Both Mailchimp and MailerLite are great for small businesses. However, MailerLite is a more affordable and easier-to-use platform as it lacks Mailchimp's advanced functionality.
4. Can I use my domain for MailerLite?
MailerLite will let you use its root domain for landing pages and websites built with the software if you don't have a website on your custom domain.
5. What are some great MailerLite alternatives?
Some of the best MailerLite alternatives with more advanced capabilities include Mailchimp, Moosend, ActiveCampaign, and Brevo (formerly Sendinblue).