39+ Best SaaS Tools Per Business Function In 2023
39+ Best SaaS Tools Per Business Function In 2023
Published By
Alexandra Marinaki
September 15, 2023
The COVID-19 pandemic showed business owners and leaders that, in most cases, it's possible to move your operations partially or entirely remotely. With the appropriate platforms and tools, you can overview and complete all essential tasks fully online.
So if you've decided to give remote work a shot, you'll need a bunch of platforms to ensure a smooth transition to the new arrangements. There are loads of SaaS tools to choose from to help your teammates thrive in a digital environment.
In this guide, you'll find a list of 38 Software-as-a-Service tools covering different business needs to select those that suit your business and working style.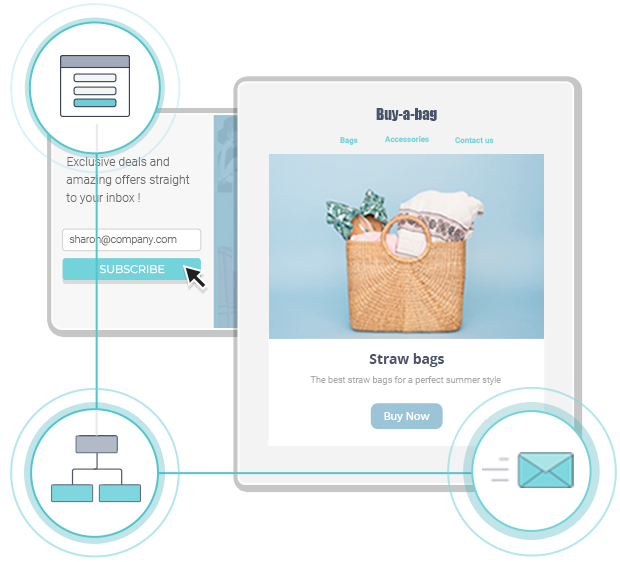 Try Moosend Today

The easiest and most affordable email marketing and newsletter software!
How We Selected The Following Tools
All of the tools in this list have been tested by our team to provide an unbiased description of its features and capabilities.
We spent hours setting up new accounts and trying each software to provide an accurate experience and show users exactly what they will come across when they sign up. Find more information about our software selection methodology on how we choose tools to feature on the Moosend Blog.
Project Management Software
Project management platforms enable individuals and teams to organize their projects effectively, divide them into different tasks, and assign them to employees accordingly. Let's explore some of the best options:
1. Trello
Best for: Startups, Enterprises, Agencies
Pricing: Starting at $6/month, Free plan
Top feature: Workflow automation
Trello is a Kanban-style project management solution with a drag-and-drop dashboard that helps professionals meet important deadlines. They offer intuitive applications for marketing, product, engineering, and design teams, letting them assign and monitor projects in simple steps.
This tool enables teams to create boards comprised of lists and cards describing various tasks, including assigned members. You can also use its premade workflows, such as onboarding and brainstorming. Finally, Trello offers additional intuitive features, such as integrations with platforms like Jira, Slack, Zoho, and automation capabilities to increase productivity.
Trello Key Features
Boards, cards, and lists
Subtasks, checklists, and attachments
Automation capabilities
Power-ups and integrations
Calendar and activity log
Pricing
Trello has three main paid pricing plans starting at $6/month – their most popular is Premium, at $12.5/month. They also have a limited free plan for beginners.
2. Asana
Best for: Small businesses, Agencies, Enterprises, SaaS businesses
Pricing: Starting at about $15/month, Free plan
Top feature: Mobile app
Another cloud-based software that lets businesses plan and deliver their tasks effectively is Asana. Its features aim to improve team collaboration and help small businesses and enterprises meet their goals.
With Asana, you get a clear overview of your projects and can set specific rules to automate a part of your tasks. You can work flexibly across different teams and receive status updates based on the progress. Finally, Asana offers SaaS applications for Marketing, Operations, and Product teams, and it's suitable for fully remote teams due to its extended functionality and flexibility.
Asana Features
Workflow builder
Kanban boards and Gantt charts
Real-time insights
Goal-tracking
Mobile-responsiveness
Integrations with 200+ apps
Pricing
Asana offers a free forever plan for beginners with essential but valuable capabilities. You can switch to the Premium plan to sync with your teammates for more complex projects, starting at approximately $15/month.
3. Proofhub
Best for: SMBs, Enterprises, Real Estate, Software
Pricing: Starting at $45/month, Free trial
Top feature: Time tracking
Proofhub is a project planning software that promises top-notch capabilities. Apart from planning and tracking, you can also use it to communicate with your team members and share valuable notes and feedback. You'll get everything you need, from project templates to workloads and time-tracking. You can also build daily agendas and upload files and docs your teammates will find helpful.
Proofhub also sports custom and resource reporting, project views, and milestones. They also provide accessibility options like keyboard shortcuts, multiple languages, and bookmarks.
Proofhub Features
Various project view options (e.g., table, Gantt)
Workload and customized reports
Custom roles and guest
Integrations and API access
Stickies and bookmarks
Project exports
Workflows
Pricing
Proofhub is pricier than its alternatives, but it offers many assets to help you thrive. The Essential pricing plan is $50/month but offers limited capabilities compared to the Ultimate Control plan, which costs $99/month.
Email Marketing Tools
With an ROI of $42 for every dollar spent, email marketing should be part of every business's marketing and brand awareness plan. However, you need an email marketing service with user-friendly solutions and flexible pricing to leverage its benefits. Learn more below:
4. Moosend
Best for: SMBs, eCommerce, Agencies, Bloggers, Publishers
Pricing: Start at $9/month, 30-day, Free trial (Sign up here)
Top feature: Audience management
Moosend is an all-in-one email automation tool with excellent assets that comes at a very affordable price compared to its counterparts. It has an intuitive drag-and-drop builder and premade email templates to create beautiful email marketing campaigns without needing coding or design experience.
Moosend helps businesses deliver highly targeted campaigns using its premade automation workflows and list segmentation feature. Moreover, it provides users with email list-building tools, such as landing pages and subscription forms. Finally, you'll get access to thorough reporting and analytics assets to keep track of essential email metrics, such as open and click-through rates.
Moosend Features
Email editor and newsletter templates
List segmentation
Automation workflows
A/B Testing
Reporting and analytics
Sign-up forms and landing pages
Integrations
Pricing
Moosend's paid plans start at $9/month for unlimited emails, automation workflows, landing pages, sign-up forms, and access to an SMTP server. Start your 30-day free trial to explore our features.
5. Constant Contact
Best for: SMBs, Education, Government
Pricing: Starting at $12/month, Free trial
Top feature: Event management option
Constant Contact is another email marketing platform that helps businesses reach their audiences with timely and relevant campaigns. Apart from email, it also has SMS, social media, and CRM capabilities to build a unified customer experience.
Its email tools include an easy-to-use editor and premade templates, and marketing automation features, such as dynamic content blocks. You can also track your campaign performance through analytics, including engagement reports, heat maps, and campaign comparisons. You can learn more about Constant Contact in our dedicated review.
Constant Contact Features
Email template library
Drag-and-drop email editor
List growth solutions
Email segmentation and automation
A/B Testing
Event management
Pricing
Constant Contact offers three main paid plans, starting at $12/month for the simple version, and can reach up to $80 for more advanced solutions, such ads, and lead generation.
6. Mailchimp
Best for: eCommerce, SMBs, Agencies
Pricing: Starting at $20/month, Limited free plan
Top feature: Advanced automation workflows
Next in the line is Mailchimp, one of the most popular email marketing platforms for eCommerce businesses. This email service provider has many customizable templates to build unique campaigns and a Creative Assistant to optimize and resize them.
Mailchimp gives businesses effective audience management tools, such as behavioral tagging and predictive demographics. You can also create multi-step automation workflows to send timely and relevant campaigns to your subscribers. Finally, you can experiment with different email versions and find which will work best for your audience through A/B Testing and its delicate Smart Recommendation tool.
Mailchimp features
Premade templates and email builder
Email list management
Reports and analytics
A/B Testing
Creative capabilities
Multi-step automation workflows
Pricing
Mailchimp offers a limited free plan for freelancers and beginners. Its Standard plan with valuable features, including personalization and segmentation, start at $20/month. But if it's too complex or expensive for your needs, here are some Mailchimp alternatives.
E-commerce Platforms
Are you looking for a holistic eCommerce platform that will help you manage all business processes of your website in one place? Here are some options to consider:
7. Shopify
Best for: eCommerce, Retail, Enterprises
Pricing: Starting at about $35/ month, Free trial
Top feature: Powerful analytics tool
Shopify is one of the top SaaS eCommerce platforms for businesses wishing to manage everything in one place, from finding a domain name to invoicing and managing your inventory. It has an effective online store editor with many available themes to build a website that matches your branding.
Plus, Shopify offers solutions to market your business successfully. For instance, you can access significant insights to look at customer journeys in-depth, chatting, and social media integrations to track your communications with customers.
Shopify Features
Online store builder and customization
Customer insights
Multiple payment options
Shipping solutions
Email and messaging capabilities
Centralized inventory tracking
Pricing
Shopify's pricing starts at about $35/month for basic features, which is most suitable for small businesses. The next option is at $101/month for more advanced solutions.
8. Wix
Best for: eCommerce, Restaurants, Fitness, Bloggers
Pricing: Starting at around $16/month
Best feature: Flexible payment options
Another great option for novices in the eCommerce world is Wix, a website builder with a wealth of growth and promotional options. This tool has 800+ premade templates and a mobile app to create your website on the go, including secure web hosting.
Among other essential features, Wix offers sales, payment, and marketing solutions to nurture your visitors and convert them into customers. These include Facebook ads, emails, and client management. Finally, they are an excellent option for Fitness businesses and Restaurants, as they help with reservations, classes, etc.
Wix Features
Editor and templates
SEO tool
Mullti-channel sales
Event creation
Online payments
Pricing
Wix offers various pricing plans based on your business. The most popular choice is Unlimited, starting at around $16/month. Visit their pricing page for more information.
Team Collaboration
Now, let's move to two SaaS communication tools enabling teammates to discuss projects, issues, and concerns in real-time:
9. Slack
Best for: Media, Enterprises, Startups, Tech
Pricing: Starting at $7.5/month
Top feature: Knowledge base
If you operate fully remotely, it's hard to skip Slack from this SaaS product list. It's a notable collaboration tool with many features that bring teams together to thrive. This platform enables users to ping their teammates, create channels, share valuable docs, and even communicate with people outside their company.
Moreover, Slack offers a workflow builder and a security system to ensure your files and data remain private. You can also jump into a conversation using huddles or share short video clips if you want to explain a concept in-depth. Finally, there are multiple integrations, such as Zoom or Gmail, to build the ultimate internal communication tool.
Slack Features
Public and private channels
Video or audio calls (huddles)
Audio, video, screen recording
Various integrations
Accessibility options (e.g., keyboard shortcuts)
Slackbot
Pricing
Slack's paid plans start at $8.75/month for basic features. There is also a free option for a limited time if you wish to get together with your team for a short project.
10. Microsoft Teams
Best for: SMBs, Enterprises, Education
Pricing: Starting at $4/month per user (annual subscription)
Top feature: Webinar hosting
If you're already familiar with the Microsoft Outlook stack, then you probably know its product Teams and its amazing capabilities when it comes to virtual collaboration. Its chatting options include instant messaging, file sharing, and video/audio calls.
This platform sports a decent virtual conferencing solution to hold online meetings with screen sharing and custom background features. You can also use Teams to hold webinars, starting from registrations to insights on attendee participation.
Microsoft Teams Features
Instant chatting and messaging
Video conferencing and online meeting
Webinar management
Hot desking
Apps and integrations
Workforce management
Pricing
The pricing plans range from $4 to $12.5/month per user paid annually. Check how pricing differs if you obtain the whole MS Outlook packaging at their dedicated page.
Video Conferencing
Are you looking for more tools to hold virtual meetings that enable real-time interaction? Here are two options for you – except for MS Teams shared above:
11. Zoom
Best for: Education, Retail, Financial Services, Government, Healthcare
Pricing: Starting at $16/month per user, Limited free plan
Top feature: Conference room systems
Zoom needs no introduction when it comes to video conferencing. It has all the assets your business needs to hold online conferences, events, and webinars for online or hybrid workspaces.
Zoom equips you with a chatting option, a phone system, and a whiteboard to spark instant creativity and brainstorming. It also has a Conversation Intelligence feature, which is suitable for for those using his platform to drive more sales and deals. Finally, you can use Zoom Huddles to boost connectivity in remote teams and make the most of social interactions.
Zoom Features
Online collaboration tools
Email and calendar invitations
Connected conference rooms
Community and single-session events
Virtual agent
Pricing
Zoom has a very limited free plan for beginners. Paid plans start at $16/month/user, but most companies select the Business plan at $20/month/user.
12. Google Meet
Best for: SMBs, Startups
Pricing: Starting at $7.20/user/month
Top feature: Live captioning
If you're a fan of the G Suite tech stack, then Google Meet is a viable option for you if you don't want to search for other SaaS solutions. You can hold one-on-one video and group calls and, of course, meetings. The number of participants who can join depends on the pricing plan you choose.
Some of the top capabilities of this platform are break-out rooms, noise cancellation, whiteboards for instant brainstorming, background blur, and different screen layouts to cater to the preferences of each participant. Overall, Google Meet offers a satisfactory conferencing experience for most business types.
Google Meet Features
Secure 1:1 and group meetings
Mobile responsiveness
Dial-in phone number
Hosting control center
Various layouts and accessibility options
Pricing
As a part of Google Workspace, this tool's pricing starts at $7.20/user/month for starters, but the most useful option for most SMBs is Business Standard, at $14.40/user/month.
Business Intelligence
Every business that operates through a website needs to analyze its traffic and user behavior to understand the needs of its buyer personas and optimize its strategy accordingly. Here are two platforms to dive into valuable customer insights:
13. Google Analytics
Best for: SMBs, Startups, Enterprises
Pricing: Freemium plan
Top feature: Proactive reporting
Google Analytics has proven to be game-changing for businesses aiming to improve the performance of their website, campaigns, and products. This platform helps you analyze and predict user behavior and take all necessary steps to keep your metrics healthy and customers happy.
Google Analytics provides users with excellent reporting assets, unveiling real-time data, engagement, and acquisition, among others. It enables you to visualize your data and share them with your teammates and leaders and make the most of integrations if you need to dive deeper into data.
Google Analytics Features
Built-in automation
Various reporting capabilities
Cross-platform advertising attribution
Custom reporting and data visualization
Integrations (e.g., Good Ads, Search Console, etc.)
Pricing
Google Analytics offers valuable tools for SMBs for free. To get access to Google Analytics 360, which is a premium plan, you'll spend $12,500/month.
14. Tableau
Best for: Finance, Healthcare, Retail, Media
Pricing: Starting at $15/user/month (billed annually)
Top feature: Intuitive dashboard
Another option to analyze and visualize important customer data is Tableau. It has a drag-and-drop interface and secure collaboration tools to drive accurate data-driven decisions. You can collect and import data from multiple sources, such as spreadsheets or other BI and CRM software.
With Tableau, you access a wealth of visualization options, from charts to maps, to get a better view of your data. You can also get access through iOS or Android.
Tableau Features
Real-time data exploration
Various visualization options
Robust security
Predictive analytics
Mobile view
Pricing
Although Tableau's paid plans start at $15/user/month, the most popular plan is Tableau Creator, which costs $70user/month. Both options refer to annual subscriptions.
Digital Marketing & SEO Tools
If you invest in inbound marketing and want to analyze, monitor, and improve your organic traffic, we have two options for you, followed by a tool every eCommerce business should consider:
15. Ahrefs
Best for: Enterprises, SMBs, SaaS companies
Pricing: Starting at $99/month
Top feature: Content explorer
Ahrefs is an excellent SaaS tool for businesses that want their websites to rank higher on popular search engines such as Google or YouTube. In its intuitive dashboard, you can track changes in important metrics such as health score, referring domains, and domain rating, among others.
In short, Ahrefs provides users with a site and keyword explorer and site auditing to find SEO issues before it's too late. They also have a dedicated tool for marketers who want to spot new content ideas to stand out from the competition.
Ahrefs Features
Website authority and health score
Baclilnk and broken link checker
Keyword generator for different engines
Site audit
Content explorer and gap analysis
Pricing
Ahrefs pricing starts at $99/month and can reach up to $999/month for enterprises. Visit their dedicated page for more info.
16. Semrush
Best for: SaaS, Enterprises, Retail
Pricing: Starting at $120/month
Top feature: Competitor tracking
Another SaaS marketing platform you can use to optimize your digital marketing channels is Semrush. Except for SEO capabilities, it offers social media, content marketing, paid advertising, and competitor research opportunities.
Semrush will help you increase your organic traffic with excellent keyword research tools, including on-page and off-page SEO suggestions based on up-to-date data. Finally, you can use its tools to power up your paid advertising tactics and conduct market and competitor analysis to stay ahead of the curve.
Semrush Features
Rank tracking
Local SEO
Content creation, analytics, and optimization
Website monetization
Social media management
Competitor analysis
Pricing
Semrush has three main pricing packages, starting with the Pro plan at $120/month for up to five projects.
17. Zapier
Best for: Startups, SMBs, Enterprises
Pricing: Starting at $30/month
Top feature: Advanced data security
If you're looking for an app that will help you integrate different platforms and automate your marketing and sales processes, then Zapier is the right SaaS tool for you. You can connect it with 5000+ apps using a drag-and-drop editor tool and following simple rules.
Most importantly, Zapier checks all the security boxes needed to safeguard your data privacy, letting you transfer and integrate data from different platforms without hesitance.
Zapier Features
Secure logins
Filtering and formatting
App restrictions
Advanced admin controls
5000+ integrations
Pricing
Zapier has a free plan for limited tasks, while paid options start at $30/month.
Social Media Management
Do you need a dedicated social media management solution to improve your brand awareness and sales on platforms such as LinkedIn or Facebook? Have a look:
18. Sprout Social
Best for: SMBs, Enterprises, Agencies
Pricing: Starting at $249/month
Top feature: Employee advocacy
Sprout Social enables businesses to leverage the power of social media, by contributing to brand awareness, customer care and sales. It has applications for different industries, such as Travel and Hospitality, Software, Retail, and Education.
This platform will help you sustain high engagement in your key social media platforms, schedule your social content in advance and analyze important metrics, such as impressions and shares. Moreover, it enables you to spot an actionable trend in your niche market and empower your employees to share important posts.
Sprout Social Features
Community management
Task assignment
Campaign planner and shared calendar
Analytics and reporting
Brand advocacy
Pricing
Sprout Social offers three main paid plans, starting at $249 per month. Enterprises can request a tailored quote.
19. Hootsuite
Best for: SMBs, NPOs, Agencies
Pricing: Starting at around $99/month (billed annually)
Top feature: Content calendar
If you're looking for a more affordable social media management tool, you can look into Hootsuite. First and foremost, it offers an intuitive editor and planner to publish your content on time. It also provides users with suggestions regarding captions and sending times.
Hootsuite secures easy collaboration to ensure that all your team members are on track. Additionally, you can set notifications for posts and messages to answer when needed. Finally, you can automate specific conversations to boost productivity.
Hootsuite Features
Bulk social media scheduler
Analytics and social media listening
Content inspiration tool and AI suggestions
Social media monitoring
Social ads
Multiple integrations
Pricing
Hootsuite's pricing starts at around $99/month for annual subscriptions. Visit their pricing page for more information.
Customer Support
Your support team plays a significant role in customer acquisition and retention, and you should provide them with specific tools to elevate their work. Here are two of them:
20. Help Scout
Best for: SaaS, Ecommerce, Education, Media, Financial services
Pricing: Starting at $25/user/month
Top feature: Help Desk reporting
Help Scout offers lots of solutions to create top-notch customer experiences and respond to important queries fast. It enables you to respond to customers through different channels using a shared inbox with your teammates.
Moreover, you can easily access a knowledge base to address different requests. You can also deliver tailored recommendations and feel certain that security and encryption requirements are met.
Help Scout Features
Autoreply and Beacon help widget
Conversation follow-ups and task assignment
Advanced reporting
Email integration
High security and reliability
Knowledge base (e.g., FAQs)
Pricing
Help Scout has three main pricing plans: Standard, Plus, and Pro. The simplest one starts at $25/user/month.
21. ZenDesk
Best for: SMBs, Startups, Enterprises
Pricing: Starting at $19/user/month (billed annually)
Top feature: Built-in routing and intelligence
ZenDesk is a holistic customer service platform that provides users with solutions for support and sales teams. Regarding support, you get access to tools, such as ticketing, help center, and shared workspace for your agents.
Plus, there is a routing and intelligence to send the right tickets to the right agent based on their experience, and AI solutions to resolve issues faster. Finally, you'll get all the reporting and analytics tools you need to showcase your team performance and velocity across channels.
ZenDesk Features
Centralized workspace
Smart workflows
Embedded voice calls
Reporting and analytics
Onboarding and adoption guidance
Third-party integrations
Pricing
Paid plans for the Support Team plan begin at $19/user/month (billed annually) and continue at $49 for more advanced tools. You can visit ther website to check out more info about the pricing of additional stack.
CRM Software
And now, let's move the customer relationship management software – the tools that will help you nurture your leads and close more deals:
22. Salesforce
Best for: All business types
Pricing: It varies based on selected features
Top feature: All-in-one customer experience platform
Salesforce is one of the most well-known SaaS tools with loads of amazing products for businesses. From customer service to sales and marketing, Salesforce provides users you with all the data and solutions they need at different customer journey stages to thrive.
Overall, Salesforce helps businesses manage different accounts and sustain engagement and performance in the long term. Finally, it's a scalable solution, so you can easily adjust your plans and features as the business grows.
Salesforce Features
Customer service and support
Marketing automation
Third-party app integration
Real-time data
In-depth customization
Pricing
Visit Salesforce's pricing page to learn more about its plans.
23. Pipedrive
Best for: Startups, SMEs, Enterprises
Pricing: Starting at $20/month
Top feature: Email capabilities
Another excellent solution, especially for SMEs, is Pipedrive. First off, this CRM tool has a drag-and-drop visual sales pipeline to update deals easily. It offers lead generation and segmentation features to close deals faster, and a revenue forecasting tool based on data in your pipeline.
In addition, it enables you to combine your customer relationship management tool with emails, to leverage this effective marketing by promoting relevant and timely communications. Make the most of its 250+ integrations to build a powerful sales engine.
Pipedrive Features
Intuitive dashboard and customizable pipeline
Easy lead segmentation
Analytics and reporting
Web forms
Email integration
Pricing
Pipedrive has four different main pricing plans for different business needs starting at approximately $20/month. Check out their pricing page for more.
24. Hubspot
Best for: SMBs, Enterprises, Agencies
Pricing: Starting at $20/month, Limited free plan
Top feature: All-in-one business solution
If you're interested in purchasing a SaaS tool that combines all forces in one, then Hubspot is a viable option. It offers solutions for your customer service, sales, and marketing, including content management capabilities.
Regarding customer relationship management, it enables you to track your customer activity in real-time and access tools like email and call tracking, sales automation, and reporting.
Hubspot features
Prospect tracking
Meeting scheduler
Live chatting
Contact management
Various integrations
Pricing
Hubspot has a free CRM solution for novices with simple demands. If you wish to learn more about their paid options, visit their website.
Content Management
Are you looking for a software solution to build and modify digital content inside your website? Here are two options to explore:
25. WordPress
Best for: Bloggers, SMBs
Pricing: Starting approximately at $10/month, Free plan
Top feature: SEO-friendly
WordPress is one of the most popular and widely used CMS, mainly because it's safe, secure and easy to manage. It has flexible design, writing, and publishing solutions. However, if you want to build an eCommerce website, it's best to consult a developer to overview the technical part.
Overall, WordPress has lots of assets and plug-ins to cater to different business needs, such as domain management tools, website themes, and its eCommerce plug-in – Woocommerce.
WordPress Features
Intuitive website builder
Multiple website themes
Monetization capabilities
Integrations (e.g., Google Analytics)
User management
Pricing
If you're a beginner, you can start with a free package and move to paid plans starting at around $10/month as your business grows.
26. Joomla
Best for: Startups, SMBs
Pricing: Free with paid extensions
Top feature: Unlimited design option
Joomla is a free, open-source content management system for those who want to start a website or app. Made by developers and volunteers around the globe, this CMS remains a user-friendly platform with multiple capabilities.
Overall, Joomla is easy to customize, offering various design options, plugins, and extensions. However, some users argue that even though it's simple to start at the beginning, as your website becomes more complex, you'll need development expertise.
Joomla Features
Intuitive editor and customization capabilities
Search engine optimization
Multi-lingual language optimization
Mobile optimization
Multi-user level permission
Pricing
You can start for free using a Joomla domain and pay if you move to private hosting.
Accounting SaaS Tools
If you want to move away from the Excel era when it comes to accounting and bookkeeping, one of these tools can be a great starting point:
27. Freshbooks
Best for: Agencies, Construction, Consulting, Software
Pricing: Starting at $8.50/month
Top feature: Client estimates and proposals
Freshbooks is one of the best solutions for accountants wishing to optimize their day-to-day projects and automate some of their tasks. First, it offers various professional payment and invoicing options and a time tracker to keep a record of your working hours, among others.
Moreover, you'll be able to calculate taxes and expenses more efficiently and build thorough reports of your bookkeeping and accounting activities. Finally, it provides you with solutions to pitch to your clients and build proposals that will stand out.
Freshbooks Features
Invoicing and easy online payments
Payroll management
Time tracking
Profit, loss, tax reporting
Client collaboration and proposals
Freshbooks have three main pricing plans starting at $8.50/month for freelancers and small businesses. There's also an enterprise option – visit their pricing page for more.
28. Quickbooks
Best for: Small businesses, Startups, Freelancers
Pricing: Starting at $17/month
Top feature: Inventory management
Another accounting software suitable for small businesses is Quickbooks. You'll manage expenses, customize invoices, and run reports to ensure your profit remains healthy.
Plus, Quickbooks has inventory management solutions, GST and VAT tracking, and data migration capabilities, to name a few. Overall, it's an excellent cloud accounting option that can improve your business operations in that area.
Quickbooks Features
Bank feeds
Profit and expense tracking
Multi-currency support
Insights and reports
Mobile app
Pricing
If you're interested in Quickbooks, pricing starts at $17 per month. Check out their pricing page for features included in each plan.
29. Elorus
Best for: Agencies, software teams, consultants, and freelancers
Pricing: Free for up to 5 active clients. Paid plans start at $7/month
Top feature: Invoicing, time tracking, and expense management
Elorus is an "all-in-one" business software for project-driven teams. The application simplifies the process of time tracking, invoice generation, company expense management, billing process automation, and tracking of core financial business metrics. Through robust data sets, you can focus on your company's strengths and weaknesses, identifying opportunities for growth and development.
Elorus seamlessly integrates with popular project management tools such as Asana, JIRA, Slack, and Trello. Additionally, it allows you to handle payments through a processor of your choice, including Stripe, PayPal, or Authorize.net.
Elorus Features
Invoicing
Time tracking
Project management
Expense management
Payment integration
Client portal
The free version of the application lets you work with up to 5 active clients. The Premium plan costs $30/month (billed annually) and enables work with an unlimited clientele.
Design Software
Do you need a SaaS tool to create content that will appeal to your customers? Let's see two relevant platforms:
30. Canva
Best for: Agencies, Startups, Media, Real estate, Education
Pricing: Starting at $13/month, Free plan
Top feature: Customization options
Canva is one of the most popular creative platforms suitable for small businesses, with excellent tools starting with a free subscription. If you want to go the extra mile, you can choose the premium features.
In short, with Canva, you can create unlimited content such as images, videos, and animation that suit your brand and will attract your prospects and customers. It also has team collaboration capabilities with built-in comments to secure qualitative content.
Canva Features
Brand management
Visual, real-time collaboration
Ready-made designs
Planning and scheduling
Custom brand templates
Pricing
Canva has a forever-free plan for freelancers and small businesses at a low budget. The pro paid plans starts at $13/month.
31. Adobe Creative Cloud
Best for: SMEs, Enterprises, Agencies
Pricing: It varies based on selected features
Top feature: Editing assets
If you want to invest in your creative assets, then you need a more state-of-the-art platform like Adobe Creative Cloud. You'll get access to a wealth of design tools to craft amazing images, graphics, videos, and so forth.
All in all, Adobe will enable you to create unique brand experiences and keep customers and prospects engaged by means of amazing content.
Adobe Creative Cloud Features
Stock images
Video and film editing
Visual effects and motion graphics
PDF solution
Team collaboration
Pricing
Visit Adobe's website to learn more about the pricing of smaller packages and extras.
Human Resources Management
If your business is in a scaling mode, you'll probably need a platform that will enable your people operations department to manage everything in one place. Let's see two solutions:
32. Deel
Best for: International teams, global remote teams
Pricing: Starts at $49/month. Free plan for HR admin automation
Top feature: Global payroll management (100+ countries)
Deel is a global HR platform that enables organizations to hire, onboard, and manage payroll for its international workforce. The platform eliminates "hiring borders" that limits businesses from hiring qualified workers from outside their geography.
Deel offers EOR (Employer of Record) facilities in over 100 countries, and helps drafts contracts that are locally compliant, along with automated invoicing, tax and bonus calculation, time off management, payroll management, workflow automation, and more.
Deel features
Employer of record
Locally compliant contracts
Local tax management
Automated invoicing and expense management
Centralized payroll management
Workflow automation
Pricing
The Deel HR admin platform is free to use. EOR features cost $599/month while managing international contractors start at $49/month. Customers who need advanced features like visa sponsorship and immigration consultation may reach out to the sales team for more info.
33. BambooHR
Best for: Construction, Finance, Healthcare, Technology
Pricing: Request a quote
Top feature: HR reporting
BambooHR is an all-in-one HR platform with all the solutions an HR team needs to thrive. It helps you manage all employee lifecycle stages, from hiring to offboarding.
From all its amazing features, the ones used to track performance, such as reporting, eNPS scores, and employee surveys make a difference, as they enable businesses to keep employee satisfaction elevated at all times.
BambooHR Features
Employee workflows and approvals
Applicant tracking system
eSignatures
Payroll and benefits administration
Performance management
Pricing
BambooHR offers two main plans – Essentials and Advantage. Contact the business to get a free quote.
34. Workday
Best for: Enterprises, SMEs
Pricing: Starting at $99/month/user
Top feature: Diversity and belonging capabilities
Another SaaS tool that can be useful to HR leaders is Workday. It has applications in different industries, ranging from people operations to finance. It gives users access to financial and workforce reporting to make data-driven decisions.
In addition, Workday has a talent management feature and diversity and belonging solution to boost employee well-being and engagement. Finally, you can utilize it to track different projects and tasks.
Workday Features
Payroll and spend management
Professional services automation
Employee engagement tool
Analytics and reporting
Time tracking
Pricing
According to customer testimonials, Workday's pricing starts at $99/month/user. You can contact their sales team to learn more.
Appointment Scheduling
Are you looking for user-friendly SaaS products to keep track of important meetings and appointments? Here are two tools to check out:
35. Calendly
Best for: Tech, Education, Financial and professional services
Pricing: Starting at $10/month, Free plan
Top feature: Automation workflows
Calendly is a scheduling automation software enabling professionals to keep track of appointments and sync with their teammates and customers. It also has insights to find the most popular meeting times, top performers, etc.
Overall, you can integrate Calendly with many tools, especially in marketing and sales, to schedule important meetings with prospects and customers and automate certain tasks.
Calendly Features
Availability preferences
Automated workflows
Embedded bookings
Calendar connection
Meeting polls
Analytics
Pricing
You can start with a free-forever plan with limited capabilities. For more, Calendly offers four different plans, starting at $10/month.
36. Acuity Scheduling
Best for: SMBs, E-commerce
Pricing: Starting at $20/month
Top feature: Payment solutions
Another scheduling SaaS tool that can be game-changing for you is Acuity Scheduling. Apart from appointments, you can also use it to collect payments via tools like Stripe or Paypal.
In a nutshell, this platform helps businesses with processes such as self-scheduling, reminders, and automatic time-zone conversions. You can also use it to sell subscriptions, memberships, and gift coupons.
Acuity Scheduling Features
Client self-scheduling
Accepting payments and deposits
Confirmations, reminders, and follow-ups
Multiple time zones
Integrations with video conferencing and other tools
Pricing
Paid plans for Acuity Scheduling start at $20/month. Visit their pricing page for more information.
Document Management
If you're searching for optimized ways to create, organize and archive your files, here are two platforms to consider:
37. PandaDoc
Best for: SMBs, Enterprises
Pricing: Starting at $29/month/user
Top feature: Automated document creation
With Pandadoc, you can build, manage, share, and store different document types, such as proposals, quotes, and contracts. It sports a drag-and-drop builder to enable you to create documents fast based on previous templates.
Pandadoc checks all boxes regarding compliance and comes with an e-signature feature to optimize your operations. You can track engagement and integrate it with various tools, such as Hubspot and Salesforce.
Pandadoc Features
Drag-and-drop editor
Real-time commenting and approvals
e-Signatures
Payment collections
Various integrations
Pricing
Pandadoc's pricing starts at $29/month/user for essential tools, but the most popular plan costs $59/month/user offering seamless integrations with various platforms.
38. Legito
Best for: Real estate, Financial, Law, Financial services
Pricing: Starting at $120/user/month
Top feature: Document auditing
Another solution for SMEs and enterprises is Legito. It offers applications for sales, HR, Legal, and IT systems, among others. Users get access to end-to-end document lifecycle management with approvals, dashboards, collaboration tools, and reusable data.
With Legito, you can also automate tasks without needing coding experience and build custom applications to meet the needs of your business. Finally, you can use the online signature tool to shield important transactions.
Legito Features
Document creation and sharing
Collaboration tools
Compliance management
Activity tracking and dashboard
Secure electronic signature
Pricing
Legito's pricing starts with the Basic plan, which is $360 for three months. Explore more options at their dedicated pricing page.
Online Surveys
Do you want to collect employee or customer feedback to improve your strategy and processes? Here are three tools for you:
39. SurveySparrow
Best for: Market Research, Agencies, Education, HealthCare
Pricing: Starting at $19/month
Top feature: Multiple Integrations
SurveySparrow is a leading online survey tool that revolutionizes the traditional survey experience with its conversational approach. By providing a chat-like interface, SurveySparrow engages respondents in a more interactive and user-friendly manner, resulting in higher response rates and better insights. With its focus on user engagement and data-driven insights, SurveySparrow stands out as an innovative and efficient survey tool in the digital landscape.
SurveySparrow's user-friendly interface, robust feature set, and commitment to data security and privacy make it a top choice for individuals and organizations seeking to conduct effective online surveys that deliver meaningful results and actionable insights.
SurveySparrow features
Conversational User Interface
Multi-Channel Distribution
Mobile-First Surveys
Offline Surveys
Real-time Analytics
Pricing
SurveySparrow offers a free trial for 14 days and its basic plan starts at $19/month.
40. Survey Monkey
Best for: eCommerce, Education, Technology
Pricing: Starting at approximately $25/month, Limited free plan
Top feature: Survey templates
SurveyMonkey enables businesses to run all types of surveys with top-notch user experience. You can choose one of its premade survey templates and customize it based on your needs. Then, users can analyze the data with built-in reports or export it for further analysis.
Finally, there are plenty of customization options to ensure the survey aligns with your brand, and team collaboration capabilities for optimal performance.
Survey Monkey Features
Premade survey templates
Reporting capabilities
Multiple integrations
Different survey types
Customization options
Pricing
Survey Monkey has various pricing plans, including a free option, starting at around $25/month.
41. Typeform
Best for: SMBs, Enterprise, Education, eCommerce
Pricing: Starting at $25/month
Τop feature: Multiple integrations
Finally, we present Typeform, a survey solution with loads of pre-written templates to create different types of quizzes, forms, and polls.
You can also integrate Typeform with all types of SaaS tools to power up your lead generation, sales, and HR activities, among others.
Typeform Features
Premade quiz templates
Integrations with various platforms
Customization options
Pricing
Typeform's pricing plans start at around $25/month – visit their website to check out all the available options.
The Takeaways
So if you want to move part or all of your business operations online, the above list is what you need to start your SaaS tool research. Sit down with your teammates, and determine your business goals to find the best solution and subscribe to it. Most of them offer free trials and demos to help you out.
Is email marketing on your checklist? Sign up for a Moosend trial today and try our top-notch features for free!
FAQs
Here are some short answers to the most frequent questions about SaaS tools:
1. What is a SaaS tool?
It's a cloud-based software application available to Internet users on a subscription model.
2. What are the advantages of using SaaS tools?
Here are the main benefits of SaaS tools: 1) Cost-effectiveness, 2) Scalability, 3) User-friendliness, and 4) 24/7 accessibility.
3. What are the best SaaS tools for marketing?
The best SaaS marketing tools are: 1) Moosend for email marketing), 2) Ahrefs for SEO, 3) Salesforce for CRM, and 4) Adobe Creative Cloud for design.