What is Email Automation? Beginner's Guide [Tools & Flows]
What is Email Automation? Beginner's Guide [Tools & Flows]
Published By
John Desyllas
December 6, 2023
Email automation is a powerful tool at the hands of modern marketers and business owners who want to create an optimized experience for their customers and deliver personalized campaigns.
Manually crafting every single email campaign is not sustainable in the long run, and in 2022, businesses need to leverage the benefits of automated email marketing to convert their audience and beat their competitors.
In this blog post you can expect to find:
what email automation is
its benefits for email marketers
email automation workflows that you can integrate into your digital marketing strategy
…plus the best tools for the job!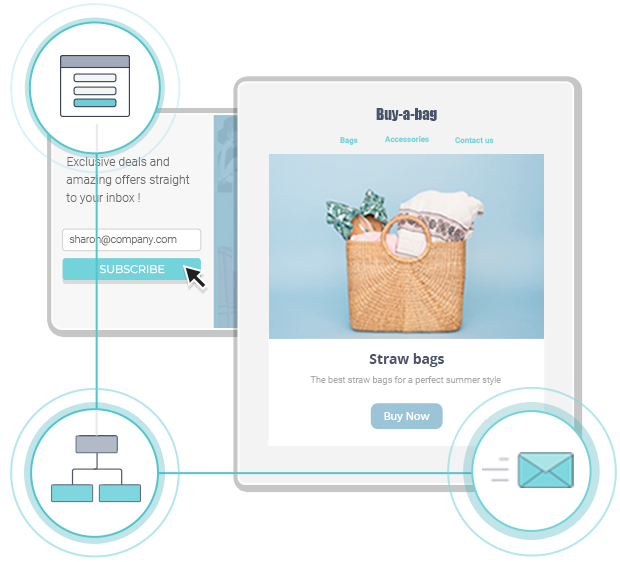 Try Moosend Today

The easiest and most affordable email marketing and newsletter software!
What Is Email Automation?
Email automation is the process of using automated email messages to target your subscribers, based on a specific trigger or an elapsed amount of time.
For example, when someone successfully subscribes to your email list, you can have a welcome email set up to reach that subscriber automatically, without the need to do it manually every time.
In essence, email automation enables businesses to eliminate repetitive tasks and save crucial time, while delivering relevant email messages to the right people and at the right moment.
Recent email marketing statistics show that 51% of businesses already use email automation as part of their marketing efforts, while more than half of B2B companies (58%) plan to leverage this technology.
So, it's clear that both B2B and B2C companies value the power of email marketing automation. Now let's take a closer look at what makes email automation so important.
Why Is Email Automation Important?
Email automation is important because it enables you to stay connected with your audience and customers at all times.
Marketing and selling things online is highly competitive, so businesses need smart solutions to save up time and simultaneously have a direct communication channel with their potential customers.
All in all, the value of email automation lies in its ability to deliver personalized automated email campaigns no matter the stage of the customer journey.
In the following section, we'll dive deeper into what tangible benefits email automation offers for both big and small businesses.
What are the Benefits of Email Automation?
Despite email automation being fairly straightforward to implement, some companies fail to see the benefits or think they need some complex or marketing automation software. This is far from the truth.
In the graph below, you'll find the key benefits of email automation to see why it is vital for SMBs in eCommerce and SaaS companies.
Benefit #1: Save Time & Increase Productivity
Among the most important benefits of email automation, if not the number one benefit, is that it can help marketing teams save time. Marketing teams can spend less time manually compiling email lists and crafting email campaigns, not to mention scheduling these campaigns.
As a result, they can focus on more important tasks such as creating engaging content and brainstorming new ideas instead of doing repetitive tasks.
It's not surprising that 69% of workers believe that automating such tasks can significantly decrease wasted time.
The bottom line is that by automating tedious and repetitive tasks you increase employee productivity and, thus, make the most out of your marketing team.
Benefit #2: Personalize The Customer Experience
Personalization is critical in online marketing. Modern customers just love receiving content that's not only relevant but also tailored to their needs. In fact, a staggering 80% of consumers claim they are more inclined to purchase from a brand that offers personalized experiences.
Email marketing is all about collecting customer data and delivering a unique experience. And email automation enables marketers to grow their relationships with customers through automated email series or campaigns that are highly personalized.
When you collect the right data as a business, your automated emails will always be relevant to your subscribers.
Benefit #3: Help With Brand Building
Automated email campaigns can also assist businesses in creating consistent brand communications. While automated email marketing is not an alternative to your regular email newsletters, it is an excellent supplement to it.
These automated campaigns are delivered after users trigger them with an action they took or didn't take, and familiarize them more with your brand. Moreover, automated emails also strengthen brand exposure, and they are a factor affecting sales if done right.
In essence, email automation provides an additional channel of direct communication with your audience, without the need to be initiated manually.
Benefit #4: Increase Your Customer Retention Rate
Selling to an existing customer is easier and more cost-efficient than trying to convert a new one. Not to mention that successful businesses are the ones that have loyal customers. Email automation gives you the ability to stay in touch better than ever.
Don't let your customers wait too long before hearing from you. By leveraging email automation, you can schedule your message and customize your email copy to maximize its impact and increase conversion rates.
Benefit #5: Scale Your Marketing Efforts
Last but not least, email automation enables you to make your marketing strategy scalable. If you're just starting out, things may be manageable even without email automation. But what if your audience doubled or tripled down the line?
The power of automation is a prerequisite for scalability. Once you've set up your automated campaigns, your new customers will automatically integrate into your system when they perform any action that triggers your automation.
With email automation, you can essentially map out the entire customer journey from the point that a user first subscribes to your mailing list until they become loyal customers.
And now the time has come to present you the 10 most essential email automation workflows for your eCommerce business!
10 Email Automation Workflows & Examples for eCommerce
As we mentioned before, email automation can yield tremendous results, especially in the eCommerce industry. Today we'll be focusing on ten distinct automated workflows along with examples that you can imitate and take your email marketing strategy to a whole new level.
Email Automation #1: Welcome Emails
Welcome emails are probably the most essential automation workflow you can create since it introduces new subscribers to your brand and helps with their onboarding. First impressions matter, so you'll want to do your best to give subscribers a good overview of what you offer. Here is an example from RECOIL.
Subject Line: Welcome to RECOIL's family ❤️
Research suggests that the vast majority of visitors that come to your eCommerce website aren't ready to buy yet. However, capturing their email address through your signup forms and targeting them with an incentive they can't resist on your first email can work wonders.
Not only do customers expect welcome messages but they also notice if you don't. It's not surprising that welcome email campaigns get 4x more reads and 5x more clicks than standard marketing messages.
Setting up a welcome email series is easy regardless of the email marketing service you're using. In case you use Moosend, it's even easier since the platform offers a ready-made automated welcome email recipe.
Pro tip: Include a call-to-action (CTA) in your welcome messages so that subscribers know what action you expect them to take. Moreover, keep your email copy short and sweet to avoid overwhelming them. Finally, don't forget to place your brand logo and adjust the colors and visuals to match your brand.
If you choose to make your welcome messages more like a Thank you email, be sure to send your new email subscribers a gift such as a discount code to encourage them to purchase.
You can get more inspiration for your welcome email series by looking at these top welcome email examples!
Email Automation #2: Cart Abandonment Emails
For most eCommerce businesses, cart abandonment is one of the biggest leaks in their sales funnels. Among the most common reasons for this phenomenon include high shipping costs, having to create an account, the complexity of the process, or concerns about the site's security.
Abandoned cart emails help businesses recover lost sales. Below you can see an example from Fig.1.
Subject line: Forgetting something?
The usual trigger for such automated campaigns is any cart with items abandoned for a certain amount of time. Ideally, you can add up to three steps or reminder emails in the sequence depending on the type of campaign you prefer.
The process is effortless with Moosend's cart abandonment recipe. The recipe filters out people who have completed the purchase. Then, those who have incomplete purchases receive the email campaign you have prepared for this occasion.
All you have to do is connect your Moosend account to your website and allow the platform to identify your customers when they visit your site.
To increase your chances of making your customers complete their order, offer a discount code or free shipping. It's a good idea to provide those incentives at the follow-up email or you risk "educating" your audience to wait for the coupon.
Pro tip for best results: Your abandoned cart email sequence should be set to be triggered one hour after the abandonment of the shopping cart. Wait too long and you risk your customers forgetting the urge that drove them to purchase the product.
Email Automation #3: Product Recommendations Emails
Another way that email automation can help you bring in more revenue is through personalized product recommendations. As soon as a user completes their purchase, they will receive a personalized product recommendation email after a short time.
Essentially, you'll be setting a behavioral trigger so you can recommend products based on what your customer has already purchased.
Similarly, if your customers browse a certain category of shoes you sell (e.g. sneakers), you could send them an automated email suggesting potential picks they might like.
Below is an example from Allbirds. Along with a great subject line, this email campaign surely doesn't go unnoticed.
Subject line: Personalized Picks, Just For You
As you can see, you don't necessarily need much. A catchy headline along with high-quality product imagery and short but intriguing supporting copy can increase your click-through rates.
Email Automation #4: Lead Nurturing Emails
Often the new leads generated by businesses may be qualified, but not yet ready to make a purchase. Using automation you can set up a series of emails that nurture and move your potential customers down the sales funnel.
The above example from ILIA is a great way to educate prospects on how they can use the product and achieve optimal results. Lead nurturing emails shift the focus towards educating users rather than making the hard sale.
If your business offers products that solve a specific pain point of people, it's best to educate them enough first on the limitations of their existing approach and the benefits of introducing it into your process. And then make them an offer.
Email Automation #5: Customer Feedback Emails
Successful businesses collect and listen to their customers' feedback to improve their processes as well as their products. This is especially true for online stores.
Reviews play a major role in a product's success, while user-generated content (UGC) is not only great for SEO, but also as positive word of mouth.
An excellent way to get reviews is to set up an automated email that reaches your subscribers after a certain number of days has passed. It's critical that your customers have received the products or it will be awkward for them to receive an email about something that they're still waiting for.
Subject line: Review Your Recent Purchase
In the example above, you can see how a big brand like Ralph Lauren does it. Through this simple but effective email template, the brand encourages customers to share their opinion regarding the fit, quality, and style of the product they bought. The automated email cleverly includes a big product image and an eye-catching CTA that you can't miss.
Email Automation #6: Birthday & Noteworthy Events Emails
Birthday emails are without a doubt the most common type of automated email a brand can send. Their purpose is on the one hand to wish the reader a happy birthday and on the other hand to deliver a special offer that will encourage them to make a purchase.
These kinds of emails as well as those for noteworthy events such as anniversaries can drive customer loyalty. It's also easy to set them up since you only need to collect your customers' dates of birth. So, customize your popups accordingly.
Here you can see a birthday email from Nike.
Subject line: Happy Birthday! We give you a 25% discount 🥳
The brand has included a stunning GIF that's eye-pleasing, while the messaging is clear and elegant.
In the case that you're offering products that the recipient might use during the celebration, it would be ideal to have the email sequence triggered a few days earlier. This will not only look good but also give the appropriate time to the recipient to plan ahead.
You can use this recipe with Moosend and bond with your customers on such a pleasant occasion!
Email Automation #7: Content & Brand Promotion Emails
Content marketing is among the most powerful marketing channels for growing your audience, especially if you have a blog as part of your marketing strategy.
So, make sure you alert your subscribers about your most recent posts and entice them to click through and read them.
Doing this for your own business is relatively straightforward. You need to set up an automated email that monitors your blog's RSS feed for new posts and then pulls the content and delivers it to your list of subscribers.
Check out these beautiful email templates for your RSS email newsletters that will get subscribers back to your website to consume and share your content.
Email Automation #8: Behavior Triggered Emails
Email marketing campaigns that are triggered by user behavior are another strong tool for eCommerce businesses to engage with their audience. For these campaigns to work, website visitors need to be logged in, so you can track their behavior.
To give you an example, say a customer hasn't made a purchase lately and they visit a certain product three times. This could trigger an automation to send a discount or coupon on the third visit within one week.
Alternatively, suppose a customer downloads a resource you have on your website. After two hours, you can send an automated campaign with additional relevant content. So, your behavior-triggered emails can work well in combination with the downloadable content you've created to nurture your subscribers.
Email Automation #9: Order & Shipping Status Emails
Order confirmation emails and shipping notifications have become standard in the eCommerce industry and they are a great means to foster trust with your customers.
Imagine your anxiety if you make an order online and you don't receive a confirmation email within a reasonable time! A bad experience might even deter you from ordering again.
Below you can see a good example from the eCommerce store CROP.
What the brand achieves through this automated workflow is to reassure customers that their order is going well and inform them when it has been shipped. The next email is going to contain the tracking link which allows users to see the shipping status in real-time.
To send these transactional emails, you'll need to choose a reliable SMTP server that is easy to connect to your website. Ideally, it should offer unlimited transactional emails while having great email deliverability.
Email Automation #10: Reminder Emails
This is a particularly effective marketing tool for businesses that offer products or services on a subscription model. By sending a series of reminder emails a few days before the expiry date, you gently nudge customers towards renewing their subscription.
Reminder emails can also take the form of replenishment emails. If your products have specific expiry dates or last for a certain amount of time, set up an automated replenishment email to remind customers to refill their stash in time.
Another use of reminder emails is to inform people about upcoming events they are attending. For example, if someone has registered for your webinar, you can deliver a series of reminder emails leading up to the webinar and encourage them to attend live.
After the webinar has concluded, attendees can receive a follow-up email with the slides of the webinar or the recording of it so they can watch it at their own leisure.
Here is an example from one of Moosend's webinars.
How to Choose an Email Automation Software
In 2022, there is more than a wide range of marketing automation tools out there, able to automate almost every aspect of your digital marketing efforts. However, in most cases, these tools offer more than you'll ever need for your business, while they also charge a hefty price.
To select an email automation tool that will help you deliver amazing automated messages and scale your business, you need to look at four distinct factors:
Usability: a user-friendly workflow editor that requires a minimal learning curve to master.
Automation features: ready-made automation recipes, email newsletter templates, personalization options, and audience segmentation are key features your email automation platform must-have.
Pricing: choosing an affordable tool that has the functionalities you seek will help you grow your business without draining your budget. As it was mentioned before, there are tools that offer too many features that you'll probably pay for and never use.
Integrations: being able to integrate your automation software with your favorite apps (e.g. CRM) is going to be handy down the line.
Some of the established players in the market right now include Moosend, Mailchimp, Brevo, and Constant Contact. In case you want to evaluate your options further, check out our detailed list of the best email automation software.
Now Over to You
Email marketing still remains one of the most effective and affordable channels to engage and convert your target audience. By leveraging the power of email automation, you can maximize your results and save crucial time!
If you want a cost-effective yet powerful marketing automation tool that utilizes eCommerce A.I. to deliver personalized automated campaigns, sign up for a Moosend account and see the benefits for yourself.