ConvertKit Review 2024: Pros, Cons, Pricing
ConvertKit Review 2024: Pros, Cons, Pricing
Published By
John Desyllas
December 6, 2023
ConvertKit is an email marketing software targeted towards creators of all kinds, professional bloggers, podcasters, YouTubers and course creators. Its features are designed to help them grow and monetize their audience, automate their marketing and sell their digital products with ease.
So, ConvertKit as an email marketing tool aimed at this target group, appears to have some useful niche features that make the platform the go-to software for the job.
In this ConvertKit review, we'll find out whether this is actually true, and we'll be showing what users can expect from the software. We'll take a deep dive into the strengths and weaknesses of the service, its pricing and its alternatives, so by the end of this review, you'll know whether it's the right tool for you!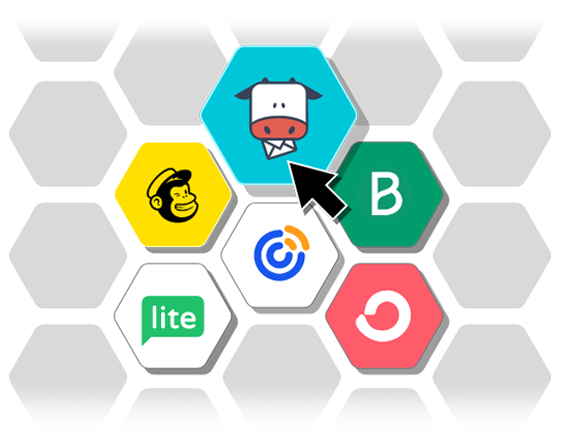 Looking for an alternative?

Save $$$ of your marketing budget by switching to Moosend today!
Disclaimer: The information below is accurate as of May 2023.
ConvertKit Overview & Ratings
Let's begin with an overview of ConvertKit's feature and functionality ranking:
ConvertKit was founded in 2013 by a blogger named Nathan Barry. He was looking for an email marketing solution that would be more creator-friendly, so he ended up creating his own. The result was a platform that appealed to online creators like himself, with more than half a million users today.
This email marketing service manages to provide a user-friendly solution that's easy for users to master while giving them all the necessary tools to convince and convert their audience. It also has some interesting niche features that aren't found in other services, like the ability to sell digital products and subscriptions and a newsletter referral system.
Nevertheless, it might not be ideal if you want complete freedom to create your marketing campaigns or an affordable solution with rich analytics to grow and optimize your digital strategy.
ConvertKit Pros and Cons: Summary
Below you can find a table showcasing ConvertKit's major strengths and weaknesses.
| | |
| --- | --- |
| Pros | Cons |
| Ease of use | Email Designer |
| Email marketing automation | Personalization |
| List management / Segmentation | Newsletter templates |
| Forms | Landing pages |
| eCommerce Features | Analytics & reporting |
| Customer Support | Affordability |
| Integrations | Email deliverability |
Now let's see in more detail the reasons that led to this categorization.
Convertkit Pros: Analyzed
In this section, we'll take a look at the areas in which ConvertKit exceeded our expectations and the features described worked as intended.
Ease Of Use
The first thing we tested in our ConvertKit review was the overall ease of use of the product. First-time users are presented with a clean and straightforward interface where everything is organized appropriately.
On the top bar, you have five options (Grow, Send, Automate, Earn and Learn). Even a novice can easily find, let's say, where the forms and landing pages or the email editor are.
On the plus side, there is also an extensive knowledge base that allowed even us upon reviewing the service to solve all our questions (simple and advanced).
Email Marketing Automation
Automation is particularly important in email marketing and ConvertKit shows you immediately that you're in good hands!
The tool has a great visual workflow builder that's user-friendly and straightforward. What's more, the platform equips you with 28 pre-built automation templates that cover most creators' needs. This is impressive, to say the least!
If you want to create a custom automation workflow, this can be done with the visual automation builder. This is a very powerful tool that enables you to create complex paths based on actions, events, and conditions.
The automations you create can have up to 5 entry points (which will be more than enough for most users).
These entry points include:
users subscribing to a form
subscribers getting a tag
changes in a custom field
subscribers making a purchase
Users get various actions and conditions to help them craft their sequence. For a beginner, this may be a bit overwhelming but once you get the hang of it, things get much easier.
Another great thing about ConvertKit's automation is that you can further optimize your email sequences by creating "Rules." Through an impressive "if/then" rule system, you set the triggers and the actions that follow them.
This is very intuitive and it practically enables even beginners to apply advanced automation to their digital marketing efforts.
Finally, you can use ConverKit's automation to generate emails or digests when RSS feeds update.
List Management / Segmentation
ConvertKit lets you add new subscribers in three ways:
Add a single subscriber manually
Import a CSV file
Import contacts from another provider (Mailchimp, Drip, Infusionsoft, AWeber, ActiveCmpaign, MailerLite)
We noticed that the import tools for AWeber, ActiveCampaign and MailerLite weren't available at the time of our ConvertKit review.
Unfortunately, .csv is the only file format accepted for uploads. It would be nice if users could import contacts also from Excel/.xls files.
Diving deeper, we found that ConvertKit has a "unique" way of letting you organize your subscribers. You have tags and segments.
Tags let you organize subscribers based on previous behavior, like clicking a link in your emails, purchasing a product, etc. Segments, on the other hand, help you create smaller parts of your email list using one or more tags.
Tags are going to be your main method of organizing your subscribers. For some people, this will be ideal, while others may hate it. It completely depends on preferences.
Overall, we found list management to be decent in our ConvertKit review.
There is one thing, however, that we believe was not ideal. If you want to clean your list from subscribers that aren't engaging with your emails, that's gonna be a little tricky. This feature (Subscriber Scoring) is only available on the Creator Pro plan and measures how often subscribers open your emails and click the links in them. Without it, you are practically guessing.
Forms
Working with ConvertKit's forms was an absolute pleasure. Signup forms are easy to customize, while the editor is fast and simple (similar logic to the email designer – no drag-and-drop functionality).
Users get 9 pre-made templates that they can customize by changing the colors and putting images, text, quotes, and countdown timers to suit their purpose and messaging.
The available form formats include inline, modal, slide-in, and sticky bars.
The form settings are well-organized and help the users navigate successfully towards completion.
You get various display options (exit intent, scroll percentage, timing) and you can also choose which devices will be shown the form as well as how often a visitor will see the form.
eCommerce Features
One of the unique selling points of ConvertKit is the ability it gives users to sell products directly through the platform. This feature is powered by Stripe, so you don't need third-party apps.
Example use cases  of this valuable functionality include:
Music albums
Ebooks
Coaching
Paid newsletter subscriptions
Presets (photo or video)
To use the feature, you're charged a 3.5%+ $0.30 transaction fee once you start selling products. Payouts are done every week directly to your bank account.
Creators can connect their custom domain and add all kinds of digital products in a simple way.
Note: ConvertKit's shopping cart is fairly basic, so don't expect advanced features like upsell, downsell, or bump offers.
Integrations
ConvertKit comes with more than 70 integrations available. Some popular categories include the following:
eCommerce: Shopify, WooCommerce, Gumroad, SamCart, Stripe
CRM: JetpackCRM, Flow.ly, Monday.com
Lead capture: OptinMonster, ClickFunnels, LeadPages, Convertful
Memberships: WishList Member, Memberful, MemberMouse
Webinar services: WebinarNinja, CrowdCast, Demio, WebinarJam
Website platforms: WordPress, WP Engine, Wix, Kajabi
What's more, ConvertKit also integrates with Zapier, meaning you won't have any problem connecting the platform with the most popular online platforms out there.
Overall, we believe that the number of integrations offered will cover even the most "demanding" creators, providing all the necessary tools to supercharge their email marketing strategy.
One thing we should note here is that ConvertKit's API could be more developer-friendly. However, this won't make a difference for most bloggers and creators.
Customer Support
In our ConvertKit review, as with every review we conduct, we showed a particular emphasis on the efficiency of customer support.
Based on the overall experience we had, their support team was fast and provided coherent explanations.
We contacted support to see if we had missed the option regarding how to add dynamic content to our campaign. We received our answer within 15 minutes.
Users can contact support either via live chat support or email. Creator Pro plan users also have priority support. As for the free plan users, they only get community support, but that's understandable.
We also need to mention that ConvertKit has an extensive knowledge base that we found very useful. Whenever we wanted to find out how to do something specific, the knowledge base helped us find the solution right away. Some tutorials, however, could have been a tad more detailed.
Finally, if you have a burning question, you can try the ConvertKit creator community. Other creators will be more than happy to provide their help.
ConvertKit Cons: Analyzed
Now it's time for our ConvertKit review to shed light on the cons of the service. Some of them can be major deal-breakers for you, while others can easily be mended with future updates to this SaaS tool.
Email Designer
The first thing we noticed upon trying to craft a new email campaign (a "Broadcast" as ConvertKit calls it) is that the email editor looks more like a plain text editor.
If you're used to drag-and-drop email builders like most email newsletter software have, then you may need some getting used to.
ConvertKit tries to keep things simple, so the editor is pretty basic. You can customize text, insert bulleted or numbered lists and add blocks for quotes. What's more, you can insert links, CTA buttons, images, videos and songs.
We were very happy to find that you can also add countdown timers to your campaigns. This can be particularly useful when you want to leverage urgency to increase conversions.
ConvertKit also gives you the option to add different "layouts" that help save time.
We also liked how easy it is to A/B test different subject lines. You don't get any other A/B testing option though.
And now the bad news! You cannot rearrange your email content once you put it there. What's more, if you accidentally remove a layout, you cannot bring it back. This was frustrating for us, to say the least.
There is no easy way to create columned designs, while you are also restricted regarding the placement of elements on the campaign. The service lets you align them, but that's it. You don't get to move them around freely.
So, let's sum things up. ConvertKit's email designer can be a perfect fit for complete beginners who don't have any prior experience. But for all other users, it will take time (and some frustration) to get used to, hence the reason why we put it in the cons.
Personalization
In our ConvertKit review, we found personalization to be difficult to understand and implement.
If you want to personalize your broadcast with simple greetings, your subscribers' name or email addresses, that's easily done with a click of a button.
For more advanced personalization, things get tricky since you'll need to understand the basics of code!
ConvertKit provides "if/then/else" logic, but it's code-based. If you get it, you'll be able to use "unless" statements, add name filters, and more. Let's see an example:
Let's say you want subscribers with the tag "VIP" to get an exclusive coupon code. You add that paragraph after the code part. Subscribers that don't have that tag will be shown the other message ("Check out our website for more deals and offers!")
Now, what happens if you want to show different CTAs, images, etc based on who is seeing your email?
You first need to create a "Snippet" and then insert it in the right place. This is complicated to understand and should be more straightforward like in other ConvertKit competitors.
So, if you plan on delivering hyper-personalized campaigns, ConvertKit may slow you down.
Newsletter Templates
As an email marketing service aimed at content creators, you might expect ConvertKit to have a plethora of templates.
Upon entering the platform users will find 15 aesthetically-pleasing email templates. While they follow a "simple" structure, they are customizable and mobile responsive.
They surely are a big help if you want to save time, but again, they are only a handful. It would be great if there were more designs available since the editor also limits creativity, as mentioned before.
Lastly, you can create your own templates. You can use one of ConvertKit's starting points or import your own custom HTML template.
Landing Pages
Besides its opt-in forms, ConvertKit lets you capture new subscribers' email addresses via its landing pages. These landing pages can be ConvertKit-hosted or pages on your own domain.
We found 53 landing page templates that, let's be honest, look very good. They are modern and eye-catching.
They can cover various purposes such as events, podcasts, videos, waitlists, webinars and more.
But while the templates are more than enough to cover your needs, the landing page builder just lacks functionality. Options to modify the design are severely limited, while the usability is levels below other competing services like MailerLite and GetResponse.
It's obvious that ConvertKit tries to keep things simple. This may be fine for some users. But in reality, what you're only allowed to do spans from replacing images and text to adding countdown timers and Instagram Feeds.
So, this feature is by no means a website builder.
Furthermore, we were surprised to find image editing options considering the pricing of the tool. Users can freely crop images, add filters, and change color levels. Moreover, you can place arrows, draw shapes, and apply text on images, too.
Finally, we should note that you can track landing page performance via Google Analytics, Facebook Business, and more.
Reporting & Analytics
With ConvertKit, you only get basic analytics. Yes, you heard that right! They are as simple as they get.
The email marketing platform tracks the open rate, click rate, clicks, and unsubscribes.
For some reason, the bounce rate is missing. Moreover, you don't get heatmaps or insights about which subscribers open your emails or have the most engagement.
One thing we found particularly helpful was the "Resend to unopens" feature that lets you target the people who didn't open your email the first time.
ConvertKit's Creator Pro plan promises advanced reporting, so we definitely had to check that too!
We found that you get trends in user engagement, clicks, and overall email deliverability, as well as purchases. This helps the whole situation, but the reporting and analytics capabilities of ConvertKit are far behind those of similar alternatives like Moosend and Aweber.
Affordability
According to our research for this ConvertKit review, the tool has an expensive pricing model compared to other similar email marketing services.
We also noticed that users found the pricing "steep" the more the subscriber list grew. ConvertKit may have a free forever plan, which is great, but paid plans starting at $15/month for 300 subscribers is not ideal.
We should restate that ConvertKit offers ample functionality. The price is "fair" but we would prefer the email designer to be more advanced and the platform to have richer analytics.
If you find other tools less intuitive or your small business can cover the cost easily, then ConvertKit may be the way to go.
Email Deliverability
If you want your email marketing efforts to not go to waste, you need to be aware of the deliverability rates of your email marketing software. What good would it be to craft personalized campaigns only to end up in the spam folder?
In this ConvertKit review, we searched for deliverability reports available as well as user reviews about their experience with the service.
As you can see below, ConvertKit's overall deliverability score fluctuates. You'll also note that lately, it is not the best possible. We find this concerning but not necessarily alarming since various factors affect deliverability.
ConvertKit gives you the opportunity to "fortify" your deliverability by using a Verified Sending Domain. This enables you to set up authentication records (SPF, DKIM, and DMARC) with your web host.
However, this is available only if you send at least 5,000 messages monthly, and have an average open rate of at least 20%.
Now, regarding ConvertKit's policy about spam, you could see your account suspended if you're caught sending spammy emails to people who haven't asked for them. So, they're serious about it.
ConvertKit Pricing
If you look at ConvertKit's pricing, you'll see three plans available.
Before we delve into specifics, we should mention that the pricing model is subscriber-based, so you're billed based on the number of subscribers.
Note: If you go over your current plan's subscriber limits, ConvertKit automatically upgrades you to the next tier, so your growth isn't stopped. However, if you clean your list and your subscriber number falls into the previous subscriber tier, then you need to contact them to downgrade your plan manually.
Now let's explore each plan in detail, starting with the free plan:
Free
ConvertKit's free plan is a great option for new creators exploring the world of email marketing. It allows up to 1,000 subscribers (which is very generous), but it's limited on the available features.
Specifically, free plan users enjoy:
Unlimited broadcasts (emails), forms, and landing pages
Audience tagging and segmentation
Selling digital products & subscriptions
Community support
If you can live without autoresponders and live chat support (for some time, at least), this plan can be a great start.
Creator – $15/month
Moving on to the Creator plan, it gives you more features to automate your processes and start scaling your business. This plan starts at $15/month for up to 300 subscribers.
Apart from the free plan features, you get:
Live chat & email support
Automated email sequences
Visual automation builder
Third-party integrations
One additional team member
What's more, ConvertKit provides free migration from your previous email marketing software.
Overall, the Creator plan gives users all the essential features to supercharge their business. Nevertheless, the starting price is quite steep.
Note: There is a 14-day free trial (no credit card required) that users can leverage to test out ConvertKit and its features.
Creator Pro – $29/month
The highest tier plan of ConvertKit is the Creator Pro plan. This is aimed mostly at established creators looking for more advanced ways to scale their businesses.
This plan includes everything the Creator plan has with the addition of:
Facebook custom audiences
A newsletter referral system
Advanced analytics (subscriber engagement scoring)
This plan also allows you to edit "wrong" links even after sending your email campaigns (broadcasts).
For those extra features plus priority support, this plan starts at $29/month for 300 subscribers.
Migration Service
As we mentioned above, free migration is included when purchasing the Creator or Creator Pro plan.
The process is very easy. You simply fill out ConvertKit's migration form, and the team will do the rest for you.
If you have less than 5,000 subscribers, ConvertKit provides you with a mini migration that includes tags, segments, etc. For more than 5,000 subscribers, you get a full migration service that covers your forms, email sequences, templates and automation.
The migration period usually spans from 2-10 business days.
ConvertKit Alternatives
ConvertKit may be a platform heavily targeted towards creators but, as you've seen, it doesn't come without its drawbacks. As a result, you need to be aware of other alternative solutions that may be a better fit to grow and scale your business.
Our team has tested the best ConvertKit alternatives in the market right now so you can make an informed decision about your email service provider.
Here you can find the top 3 contenders based on the criteria of functionality, ease-of-use, and affordability:
Mailchimp is a top ConvertKit alternative offering a variety of email templates and a user-friendly editor. According to our Mailchimp review, it has powerful automation options and rich analytics that can inform your every decision. Unfortunately, these benefits come at a higher price tag than ConvertKit.
Moosend is another great ConvertKit alternative offering advanced features and affordable pricing that just can't be beaten. Specifically, the software provides easy-to-implement automation, rich analytics and an intuitive email editor that has a minimal learning curve. Starting at $9/month, Moosend gives you all the tools you need to skyrocket your digital marketing efforts.
ActiveCampaign is a well-known ConvertKit competitor with features that surpass ConvertKit's. When it comes to landing pages, marketing automation and advanced reporting, ActiveCampaign is easily the way to go. The only downside is that you'll have to pay more than ConvertKit to enjoy this improved functionality.
Conclusion
Upon close testing of ConvertKit's features, it's time to share our final thoughts about the service. Starting with the overall user experience, the software does not disappoint and we believe that even complete beginners will feel "at home" with the excellent user interface.
Furthermore, the visual automation builder as well as the powerful automation options help users save time and put their marketing on autopilot. Coupled with the niche feature of selling digital products directly from the platform, users have a robust platform to grow their business effectively.
But while ConvertKit is aimed at creators, there are a few things that could be better. There is no easy way to create visual emails (design-heavy emails), while the editor lacks flexibility. Regarding affordability, the pricing isn't easily justified since with other services you get more advanced features at a similar price.
So, overall, ConvertKit can be a great solution not only for creators but also for other online businesses that want a simple and straightforward solution to power up their marketing. For more flexibility or better value for money, you may need to look at other options too, before committing.
Frequently Asked Questions (FAQ)
We've gathered some of the most frequently asked questions about ConvertKit.
1. Can I Use ConvertKit For Free?
Yes, ConvertKit offers a completely free plan with basic features for up to 300 subscribers. What's more, you can take advantage of the 14-day free trial available, which gives you access to most of ConvertKit's advanced features.
2. Does ConvertKit Have A Mobile App?
No, unfortunately, there is no mobile app for ConvertKit.
3. Is ConvertKit Better Than MailChimp?
In this ConvertKit vs Mailchimp battle, there is no clear winner. ConvertKit has the advantage of multi-step automation, advanced segmentation and an excellent support team (that's actually there). On the other hand, Mailchimp has a whole template library and a robust email editor, unlike ConvertKit.