Email Marketing ROI Benchmarks + How To Calculate It
Email Marketing ROI Benchmarks + How To Calculate It
Published By
Alexandra Marinaki
December 6, 2023
You've recently started sending email marketing campaigns to your customers and wonder how profitable this tactic is for your business. So what is your email marketing ROI up to this point, and how can you increase it going forward?
E-commerce and email marketers are well aware of the blessings that email marketing can bring to their business. From brand awareness to lead generation, nurturing a stable and trusting relationship with your customers and prospects will gradually lead your business to prosperity.
In this guide, we'll share the latest updates on the ROI of email marketing, with tips on measuring and maximizing it. And just in case you're a beginner, let's take it from the top!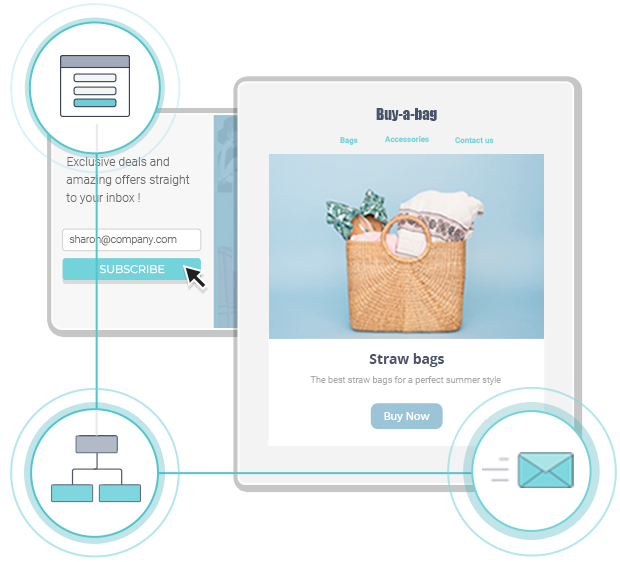 Try Moosend Today
The easiest and most affordable email marketing and newsletter software!
What Is ROI In Email Marketing?
Email marketing ROI (Return On Investment) is the net profit a business generates from email campaigns. It indicates how successful your email outreach is, including promotional, transactional, and direct mail.
Overall, discovering this metric can help you build a sustainable growth plan over time by combining this method with additional marketing channels.
Is Email Marketing Still Effective In 2023?
The straightforward answer to this question is – yes, of course. Actually, the COVID-19 pandemic has increased the number of emails sent daily, along with engagement rates. Here are some additional email marketing statistics from previous years that shed more light on email efficiency:
The average ROI for email marketing is $42 for every dollar spent. – DMA
73% of marketers rated their email ROI as "Excellent," followed by SEO (72%) and paid channels. – SaleCycle
81% of survey respondents stated email marketing promoted customer acquisition and 80% that it enhanced customer retention. – Emarsys
Email segmentation can cause a 760% increase in business revenue. – Campaign Monitor
Welcome emails can drive 320% more revenue compared to other promotional campaigns. – Invesp
Triggered emails have higher open and click-through rates than generic email newsletters. – Epsilon Email Institute
As you can understand, email marketing has gained solid ground over the years and has established itself as a successful marketing tool. Plus, specific methods such as customer segmentation and creating welcome emails can be super-profitable when performed appropriately.
How To Calculate Your Email Marketing ROI
Now that you've learned all these notable trends, it's time to measure your business email ROI and see how much profit you gain. Here is the equation you can use:
So firstly, to measure your email marketing net gain, you should estimate the profit from direct sales or leads resulting from your campaigns. Then, calculate all your costs, for example, your marketing automation platform and team bandwidth, and follow the formula to get an overview of the actual performance of your campaigns.
Ready to measure your revenue? Here is an ROI calculator to save time!
Top Email Marketing ROI Metrics To Monitor
Every email campaign has a purpose. For example, the goal of an abandoned cart email is to boost sales, while a content newsletter during a B2B customer journey aims to move leads down the marketing funnel. Here are some top KPIs to consider for your email marketing strategy:
Engagement
One crucial marketing aspect to take into account is how engaged the recipients are with your emails. If they find your messages interesting and relevant, they may start to interact more with your brand and eventually become loyal customers.
The two primary engagement metrics to measure are email open rates, which indicate how many people opened your campaigns, and click-through rates (CTR), which show how many clicked on those messages. Follow the practices below on specific stages of the sales funnel to craft engaging emails and limit unsubscribes:
Website Traffic
Most of your emails will redirect your subscribers to your website, where they can find out more about your product/services. Through those interactions, your website traffic will increase, leading to increased purchases in the future.
Plus, including additional assets to your emails, such as your social media profiles, can create new opportunities to connect with customers or prospects and form long-lasting relationships. You can analyze your website traffic via a platform such as Google Analytics.
Email-Generated Sales
Next, you can estimate the purchases that resulted from your email campaigns. Search how many people turned into customers after clicking on your calls-to-action (CTAs) to understand the impact of your campaigns. Try to analyze what made each campaign successful to replicate those positive results in the future. You can tailor the email ROI formula shared above for the specific email you want to analyze.
Conversion Rates
Apart from direct sales, emails can serve additional purposes such as lead generation. For instance, let's say that you've included a CTA in your email, leading to a landing page with a sign-up form to collect new email addresses. In this case, you should estimate the number of conversions you gained and keep nurturing qualified leads going forward.
Impact On Revenue
Finally, you can measure how impactful your email marketing efforts are, compared to other digital marketing and sales methods you use, such as content marketing, SEO, or social media. Once you have a better view of what works and what needs to be improved, you can adjust your strategy accordingly.
The information above shows that the pathway to email marketing ROI is not always that easy to track. It requires stable effort on your behalf to uncover the net gain of your promotional and transactional emails. That's why an email automation software like Moosend, which offers you reporting and analytics features, can be game-changing for you.
How To Boost Your Email Marketing ROI
If you're looking for new ways to maximize your average email ROI, find here some email marketing tips to amaze your email subscribers and make them stay for good:
Set SMART Email Marketing Goals
As you saw in the previous section, there are various metrics relating to email ROI to keep on track. If you want to simplify this rather complex process, it's essential to set clear goals in advance. For instance, birthday emails aim to increase your sales through personalized marketing by offering discounts and other gifts to customers on their special day. Who doesn't love that?
The well-known SMART framework, which stands for Specific, Measurable, Attainable, Relevant, and Time-bound, will enable you to succeed. Remember, short- and long-term goal-setting is crucial in every business strategy. Set expectations for each email campaign you create to target your subscribers with messages they can relate to.
Find A Top Email Automation Platform
According to the email marketing stats above, some email types drive higher engagement and ensure a bigger return on investment. For example, triggered and welcome emails belong in that category, leading to increased open rates. To schedule them, find an automation platform with incredible capabilities that will help you automate dull operational tasks.
A tool like Moosend or Mailchimp will allow you to manage all tasks in one place. For example, with Moosend's ready-made automated recipes, you can create triggered emails in a flash by placing criteria such as order history or demographics.
Plus, you can have access to sophisticated analytics and reports that show your recipient's behavior. Feel free to connect it with other marketing services, such as your CRM system, to retrieve rich data from your interactions with customers.
Design Attractive Emails That Convert
If you wish to craft lovely emails with better chances to convert, you should think about email design and copywriting. Here are some key factors to take into consideration:
Write a relevant subject line that is hard to ignore.
Create compelling copy that reflects your brand voice.
Design a CTA that is easy to spot and drives clicks.
Here is a great welcome email example by Huppy:
Subject Line: Welcome to the fam 🙂
Remember, the goal of the email should be reflected in your messaging to set the right expectations for your readers. This way, it will be easier for customers and prospects to grasp the required action and go for it!
Focus On Segmentation And Personalization
Segmented and personalized emails have been linked with higher email open rates. By dividing your customer base into targeted email lists, you can create personalized marketing messages that boost your click rates based on demographics or other criteria.
Again, a marketing automation tool will be an asset for this process. Once your new email users receive a highly targeted and relevant message from your brand, they will be more likely to engage with it and ultimately convert.
Plus, personalized email subject lines can also bring better results in terms of engagement. You can also try A/B testing to find which subject line performs better for your audience and make it prevail.
Secure Email Deliverability
One of the biggest allies of email ROI is email deliverability. To avoid receiving high bounce rates that can harm your sender's reputation, make sure to update your email lists regularly.
On the other hand, one of the biggest foes of your ROI is your recipients' spam folder. If you want to ensure that you'll find the way to your subscribers' inbox, you can use an email spam checker to see if your emails can make it past the filters of ISPs and email clients successfully.
Build A Mobile-Friendly User Experience
Did you know that 41.9% of emails are opened on mobile devices? This means that lots of your subscribers will interact with your messages on their smartphones. That's why you should ensure a spotless mobile user experience to help your readers convert without switching devices.
Boost Your Business ROI Through Email Marketing
Whether you operate in a small business or a corporation, email marketing can positively impact your growth and secure a stable ROI. Look at our email marketing stats and monitor your industry's email benchmark data, such as average return on investment, to understand what works in your field. Then follow the practices we shared, and you'll start reaping the benefits sooner than you'd expect!
Are you looking for a new email automation platform that will help you increase your ROI? Sign up for a free Moosend account and build emails that convert in a flash!