12 Brilliant Abandoned Cart Email Templates For 2023
12 Brilliant Abandoned Cart Email Templates For 2023
Published By
Marilia Dimitriou
September 13, 2023
If you're having a lost revenue problem, it's time to pick the right abandoned cart email template to save the day!
Unfortunately, cart abandonment is a reality for many eCommerce businesses, including yours. According to statistics, 69% of online shoppers leave without completing an order, while 60% of cart abandonment occurs due to poor shipping.
The good news, though, is that 45% of cart recovery campaigns are opened; 21% of them are clicked on and 50% of the abandoners engaging with them convert. So, with almost 70% of buyers leaving their shopping carts behind, you need to craft the perfect email to win them over.
Today, we're going to make this process easier by giving you some of the best templates to restore your revenue. Let's go!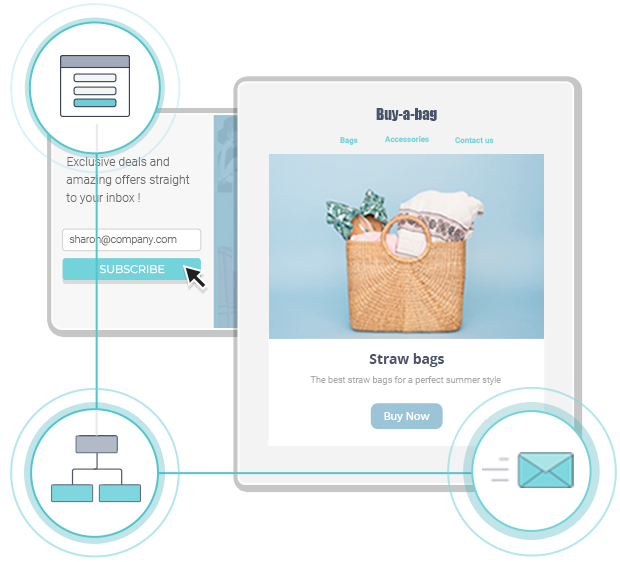 Try Moosend Today
The easiest and most affordable email marketing and newsletter software!
Elements For Successful Cart Recovery Campaigns
Before showing you the templates, let's take a look at the essential components of a cart abandonment email campaign:
Compelling email subject lines: Make your customers open your email.
Intriguing copy: Highlight the reasons why your shopper needs to buy.
Items in the cart: Show the abandoned products with high-quality images.
Discount codes: Give your customers the perfect incentive to purchase.
Clear call-to-action (CTA): Turn your buttons into major attention-grabbers.
Social proof: Make the offer more appealing through customer reviews.
Sense of urgency: Use time constraints to get indecisive customers to act.
With these in mind, let's check out some awesome email templates for your eCommerce business!
Moosend's Free Abandoned Cart Email Templates
Moosend's cart recovery templates are perfect for creating quick emails for your audience. To check them out, sign up for a free account, hop into the drag-and-drop editor and select the one you like from the template library.
Moreover, you don't have to be a coding expert to customize them. This is a major plus for someone who wants a smart email marketing service to scale their business.
Pro tip: Make sure that your email tool integrates with popular eCommerce platforms like Shopify and WooCommerce to streamline your abandoned cart email strategy like a pro!
Now let's see 5 simple email templates you can pick to recover your lost revenue! Just don't forget to get your free Moosend account first!
1. The Minimal Cart Reminder Template
Your shopping cart recovery campaign doesn't need to be fancy with multiple CTAs and visuals.
The perfect message needs to be clear and informative. Thus, Moosend's minimal abandoned cart email template came to be!
Why you need it:
The above template will help you minimize distractions by placing your product images at the heart of your campaign. Also, this design allows you to add your email copy at the beginning to entice your shopper.
Moreover, since it favors white space, you can change the color of the CTA button to make it stand out. Overall, this is a great choice for online stores that need a quick email campaign to get customers back to their abandoned shopping carts.
Start customizing this email template by signing up for a free Moosend account and then jump to the workflow editor to automate your campaign!
2. The Sunny Cart Abandonment Template
Since it only takes a second for customers to close your email, finding ways to keep them engaged, even for a few extra seconds, will make a difference.
How? With color! According to color psychology, adding a splash of color can positively affect your consumers and motivate them to take action!
Why you need it:
Moosend's Sunny template can be a bright addition to your automated email sequence. Its simplicity and clean structure are perfect for online store owners and online retailers who want an effective recovery email.
What's more, the two CTAs are great to get your indecisive customers to click through and revisit their online shopping carts!
3. The Visual Cart Recovery Template
Want to make your email campaigns more appealing? Then combine your introduction with a beautiful visual to amplify your message.
Why you need it:
First of all, email marketing benchmarks have shown that emails with images have higher open and click-through rates than plain-text campaigns.
Don't forget to add an urgent message to lead your shoppers to the CTA along with your visual. Also, you can keep the red button color as it will make your CTA pop!
4. The Copy-Oriented Abandoned Cart Email Template
Colors, images, and multiple CTAs are amazing. But sometimes, customers need more.
If your audience favors stories, you can include additional copy lines to make your offer more appealing to them. To do that, Moosend has another great abandoned cart template that favors copy!
Why you need it:
Moosend's Indigo template will allow you to add your copy on top of the email along with a beautiful image. The pre-added "Need Help" section is also perfect for providing answers to common customer questions related to their abandoned items.
This template is great because you can combine it with the rest to deliver a converting email sequence with multiple drip campaigns.
5. The Converting Cart Reminder Email Template
All of the above templates are great. To convert your difficult customers, though, you need a true cart recovery bomb!
Why you need it:
Apart from its clean email design, this template has a GIF to make your marketing campaign more dynamic and playful.  Moreover, the customer testimonial section is perfect for showing your abandoners that your product is worth their time and money.
Overall, you can use this template as a blueprint to create a simple yet effective recovery sequence for your online store!
Want to grab it today? Don't forget to sign up for a free Moosend account.
Stripo's Abandoned Cart Email Templates
So what do you do if you need more pre-made templates? Well, you can easily grab more from other email template builders and import them to your email marketing platform!
Stripo is one of those tools you can use to get more designs, customize and deliver them through your email service provider (ESP). To get them:
If you need extra help, check the video below:
Now let's see those templates!
6. The Compact Cart Abandonment Template
I know it's great to give your abandoners as much information as you can to win them over. Nevertheless, creating lengthy email marketing campaigns can have the opposite effect.
To avoid it, you can use a compact abandoned cart template!
Why you need it:
The above template is perfect for eCommerce stores with visually-oriented email campaigns. Also, since it's relatively short, you can add extra elements like a discount offer or a timer to increase urgency.
Apart from that, including your return policy is a great idea to convert shoppers who are concerned about faulty or wrong products.
When you finish customizing it, you can use your workflow builder to automate your campaign. Don't forget to get an effective marketing automation tool to do it!
7. The Urgent Cart Recovery Email Template
Email marketers have used FOMO to encourage their audience to take action. More specifically, 60% of millennial consumers purchased out of fear of missing out on something.
Using FOMO and urgency in your marketing campaigns is a clever way to promote click-throughs, increase conversions and lower your abandonment rates. The easiest way to do it is with a countdown timer!
Why you need it:
The above template will allow you to combine the power of effective copy with countdown timers and discount offers.
The multiple product blocks and CTAs are also perfect for shoppers with more than one abandoned product, while the "Need Help" section is ideal for providing customer support.
8. The Simple Abandoned Cart Email Template
Testimonials are the best thing you can use to change your abandoners' minds about your product. Using your positive feedback along with a beautiful product image and multiple CTAs will give you the perfect cart recovery email.
Why you need it:
Stripo's template has a great email design that you can easily customize to suit your needs. You can use it to place your product at the heart of your email and show how cool it is through reviews.
Furthermore, using colored fonts is perfect for adding a sense of urgency to encourage recipients to click on your CTA.
Grab this template, export it to your Moosend account and turn your abandoners into loyal customers with converting emails!
9. The Premium Abandoned Cart Template
This is one of Stripo's premium templates, which you can get by signing up for the free trial or upgrading to a paid plan.
Why you need it:
This example has all you need to motivate your customers to click on the CTA button and make the checkout process smoother.
The design has every element the cart abandoner needs to change their mind: a detailed section of their shopping bag, social proof, and more shopping reasons.
Also, the template has a dedicated section to add your social media profiles, a link to your physical store, a phone number, and your email address for better customer service!
BEE's Cart Abandonment Email Templates
Need more pre-made templates? Let's check some cool examples from BEE!
BEE is another template builder with free and premium templates you can easily import to your favorite email newsletter tool.
To use these cart abandonment emails, sign up for a free (or premium) account and then download them as ZIP files (HTML email template and visuals).
Now let's see them!
10. The Bold Cart Reminder Template
Your templates don't need to be boring! Bright colors and bold images will help you create a unique result that will grab your subscribers' attention.
Why you need it:
Your cart recovery efforts need to be smart. A fascinating cart abandonment email with bold product images and vibrant colors will be perfect for your abandoners. Of course, always keep your target audience in your mind when you go template hunting.
While younger shoppers might find this template cool, an older audience might require something more traditional.
11. The Traditional Abandoned Cart Email Template
I know that sometimes you see a template and you're like, "This is the one!" Well, it might, but when you create your emails, don't forget to think whether your audience will like them or not!
Why you need it:
Compared to the bold template, this example is more austere, favoring black, white, and grey. You can easily customize it to suit your online business and offer your customers a great experience.
The discount section is also perfect for giving them more reasons to return to their shopping cart!
Grab this template, customize it and make your abandoners change their mind!
12. The Recommendation-Infused Template
There are many reasons why shoppers abandon their carts, including costly shipping, high product prices, and customer indecisiveness!
Why you need it:
If your customers leave their shopping carts behind, despite your great prices and free shipping, then they might not be interested in that specific product in the first place.
With the above template, you can show them their cart and motivate them to make a purchase with relevant recommendations. This way, you'll hit two birds with one stone; try to change their minds about the abandoned item and inspire their next purchase!
5 Best Abandoned Cart Email Examples To Get You Inspired
An abandoned cart email template is great to get you started! Nevertheless, don't forget to leverage the power of your email tool to create converting messages with advanced elements.
To give you an idea, let's take a look at some incredible examples with clever email designs, irresistible offers, and urgency!
1. Fenty Beauty's Cart Recovery Example
Subject line: P.S. Your shopping bag is waiting…
Fenty Beauty has a simple cart abandonment campaign with pleasing colors to remind shoppers to complete their purchase.
What works:
Straightforward subject line
Use of the second person
Clear abandoned product image
Focused CTA (which could have been a brighter color)
A section that answers FAQs (e.g., payment methods, return policy)
Social media buttons to promote engagement
2. Endy's Social Proof-ed Abandoned Cart Email
Subject line: It looks like you left something behind…
Endy's campaign might look simple at first glance. However, its true power lies in the beautiful use of email copy and customer testimonials!
What works:
Straightforward email subject line
Bold introduction that uses a question
Summary of the abandoned product
Use of customer reviews and star ratings to increase conversion rates
Social media buttons to increase engagement
3. John's Crazy Socks Cart Abandonment Email
Subject line: Ready to buy? Get Happiness Now 😘
John's Crazy Socks are phenomenal! And their cart recovery emails share the feeling! Let's see why.
What works:
Intriguing subject line to increase the open rate (use of emoji)
Personalized and friendly greeting
Email copy to motivate abandoners to click through
Summary of the abandoned item
Additional support through a phone number and email
Reasons why customers should buy from the store
Want to mimic John's cart recovery example? Sign up for a free Moosend account, grab your abandoned cart email template, and set your revenue restoration efforts in motion!
4. Nutriseed's Free Shipping Cart Recovery Example
Subject line: Your Order Information
Nutriseed uses a short email campaign to get customers back to their shopping carts. While the subject line needs optimization to improve its open rate, this example is great to lead your audience back to their cart.
What works:
Free shipping to make the abandoned item more appealing
Playful email copy that uses emotional language
Brightly-colored CTA button that stands out
365-day money-back guarantee to encourage shoppers to buy
5. Sunday Somewhere's Social Feed Example
Subject line: Lost luggage
Sunday Somewhere opts for a short shopping cart abandonment email, using white space and high-quality visuals.
What works:
Unique email subject line
Clever copy with storytelling elements
Multiple CTAs (the button could be a different color to increase clicks)
Abandoned product image at the center of the campaign
Reasons for making a purchase
Social media feed to show the product in real situations and motivate the customer to buy
Kiss Cart Abandonment Goodbye
Abandoned carts are and will continue to be a problem for eCommerce businesses. However, with the right marketing campaign, you can minimize its effects and restore your lost revenue.
A nice offer, free shipping, and friendly messaging will help you motivate your abandoners to revisit their shopping bags and complete their purchase!
So next time you're planning your cart recovery emails, make sure to choose a beautiful abandoned cart email template to save time and effort!
And remember to use your amazing email tool to add advanced elements that will power them up! Moosend's countdown timers can really work miracles, so don't forget to sign up for a free account and try them out!
Now it's time to kiss cart abandonment goodbye and say hello to your new customers!