A Simple Guide To Birthday Emails That Bring Customers Joy
A Simple Guide To Birthday Emails That Bring Customers Joy
Published By
Alexandra Marinaki
September 13, 2023
"Happy birthday to you, happy birthday to you…!"
We all love singing these words to our friends and family on their special day! And, of course, bringing them gifts we know they'll cherish and appreciate!
So have you ever thought about doing the same for your customers as a business owner or marketer through birthday emails?
It's such a beautiful initiative to deliver birthday greetings and gifts to customers on their big day. It makes your relationship more personal and authentic!
And it's not just a well-thought gesture. It's also super profitable! Sending out birthday emails to shoppers and subscribers can bring excellent results to your business. As soon as you start this email marketing practice, an increase in ROI and customer retention will be waiting just around the corner!
Long story short, if you run an eCommerce store or any other type of customer-centric business, you'd better hit the road!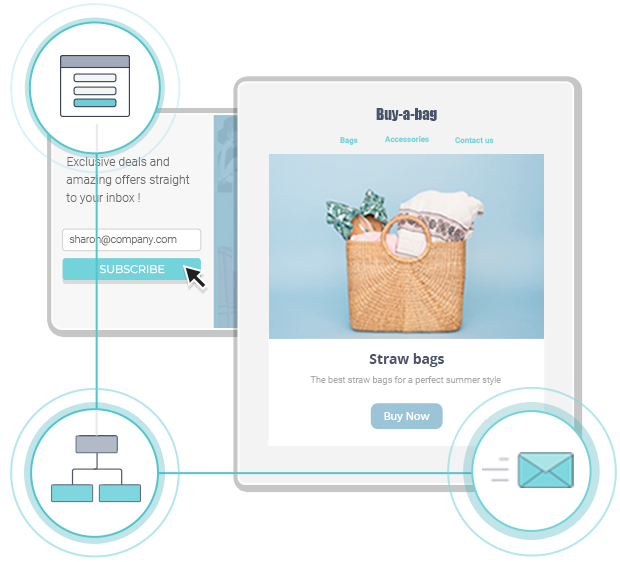 Try Moosend Today
The easiest and most affordable email marketing and newsletter software!
What Is A Birthday Email?
Shortly, it's a targeted email you can send to customers on their birthday, offering them presents, mainly in the form of special deals. For instance, you can provide them with coupon codes, discounts, or even free shipping.
Overall, these email marketing campaigns aim to nurture relationships with customers, increase retention, and boost sales or traffic. So make sure to create a thoughtful and well-planned email that satisfies your marketing purposes.
It's up to you to decide your offer based on your business type and services. For example, for some businesses like small local stores, a birthday e-card without a special deal could still do the trick!
In any case, remember to show customers your appreciation and gratitude on their birthday and wish them well. This way, they will never forget you!
What Are The Benefits Of Birthday Emails For Your Business?
Aren't you already convinced that wishing Happy Birthday to customers can change your business forever? Then we'll let the numbers do the talk!
Here are some stats by Experian about the performance of birthday emails vs. promotional emails that would impress every marketer:
481% higher transaction rates
342% higher revenue per email
179% higher unique clicks
So birthday emails can play a massive role in sustaining revenue, customer engagement, and retention when done right!
Keep on reading to learn how to build your birthday email strategy from scratch and design emails that convert in a flash!
How To Create Birthday Emails Effortlessly
So if birthday emails to customers are not part of your current email marketing strategy, it's best to set up a process to make things work. Let's see:
Pick a Marketing Automation Tool
First and foremost, to start this process optimally, you need an email marketing automation platform like Moosend or Mailchimp to help you out!
Best email marketing solutions let you create automated workflows and almost do the job for you. All you have to do is set the right conditions and develop segmented lists to achieve better reach!
Most email marketing tools enable you to craft everything you'll need on the road to convert! With smart design solutions and ready-to-use templates, you can create the email layout and landing pages in simple steps!
And of course, these platforms can offer you access to important analytics and reporting tools to monitor your progress. See what works and what needs to be improved to scale your business!
Plus, with methods such as A/B testing, you'll be able to compare different email variables, find the most effective and get an ROI booster!
Did you know that Moosend is an all-in-one email marketing platform that checks all those boxes? Sign up now to our free plan and see it with your own eyes!
Collect Actual Birth Dates
But how can you learn your customers' exact birth dates in a compliant and respectful way? Luckily, there are lots of ways to tackle this challenge.
First, you can collect this information at the customer registration phase along with other personal data. Check this example by Moscot:
In the email sign-up form, you can also mention that you're requesting their birth dates to send them the best free gifts on the planet!
Second, you can create a dedicated email capture form on your website just for this purpose, where visitors and customers can subscribe!
Also, you can build a separate email campaign to collect your customers and subscribers' birthdays, as Timex did. Reveal your most significant assets to them! Mention what types of offers and deals they can expect from you on this special day to attract them!
In any case, it's important to include a Preference Center on the email or form footer. This way, you give your customers the option to select which personal data they'd like to share with you to avoid spamming them.
Choose the Right Time
Which is the best time to send those emails to your customers to convert? On the actual birthday or earlier?
Many businesses create email sequences for this purpose. Apart from the actual birthday, which is a must, they send triggered emails before that date to give customers more time to claim their gifts!
You can start with an email a few days earlier to show them that you already think about their birthday celebration!
With Moosend's birthday email recipe, you can build automated workflows to wish your customers Happy Birthday well on time!
And don't forget to send them a post-birthday email reminder if they've missed it. It's worth a second shot!
But not all emails perform the same, no matter how structured your processes are. So how can you delight your customers at first sight and make them click through your email?
Top Elements Of Successful Happy Birthday Emails
Here is how you can make things work and ensure that customers will finally receive their present!
Lovable Design
A clear email layout is essential to maintain customers' attention once they open your email. As mentioned earlier, most email service providers let you design your email quickly, using beautiful ready-made templates.
These email templates can save you lots of time and resources!
To manifest the celebration theme, find the perfect birthday email template and add festive images and visuals. A birthday cake, balloons, or confetti will get the readers straight to the point!
And remember, GIFs are always a good idea to have some fun!
Clear CTAs
Every email is designed for a specific purpose: To make the reader complete the required Call-To-Action (CTA). In this case, you want the customer to spot the special deal straight away and click to redeem it!
It's best to avoid unnecessary information that could distract the reader, as it could hurt conversion rates.
The CTA button should be easy-to-detect so that customers don't get lost in translation. Write a copy line with active and inviting language and leave no room for errors!
Alluring Copy
Apart from your CTA, the email copy should reflect the whole birthday theme, starting with the subject line.
To increase your open rates, you should create subject lines that charm the reader. The copy should be unique and to-the-point with all the elements that would make your customers engage with your campaign!
To craft catchy subject lines, use Refine – Moosend's free subject line tester and see your open rates rise!
Here is an example by H&M that will show you the way:
Subject line: Happy Birthday! We have a present for you.
Would you open this email on your special day? Well, you would! Who doesn't want a birthday discount from their favorite store after all?
And of course, don't forget to write down your birthday wishes and keep a positive, friendly, and celebratory tone throughout the email! Customers will appreciate it from the heart!
Personal Matter
Happy birthday to who? It's best to avoid sending generic birthday emails to customers. Blasted emails are outdated, with personalized marketing winning solid ground!
More specifically, according to a recent report, email personalization increases open rates by 26%! So why miss that opportunity?
For example, you can personalize your email by adding the customer's name on the subject line. You can also create more sophisticated lists based on each customer's preferences to send them tailored birthday gifts.
So make them feel that you're singing Happy Birthday to them only and increase open and conversion rates!
Conclusion
As you can see, there's a lot to win with birthday emails for your business, from increased revenue to eternal customer loyalty!
Hurry up, then! Choose the right email marketing platform for your business, design lovely emails, and personalize them for extra love. And we promise you – you won't regret it!