How To Build An Effective Marketing Funnel In 2023 [Beginner's Edition]
How To Build An Effective Marketing Funnel In 2023 [Beginner's Edition]
Published By
Marilia Dimitriou
September 13, 2023
Marketing funnel on the wall, how to increase my lead generation on the spot?
Previously on "How to get away from low conversion rates," we saw how to create an efficient sales funnel to get your new leads to make a purchase.
But how exactly do you acquire prospective customers, turn them into opportunities, and convince them to stay? Through your digital marketing process!
Today, we'll take a look at how a marketing funnel works, the different stages, and what content you need to create for each step.
Need something powerful to build a high-performing promotional funnel for your business?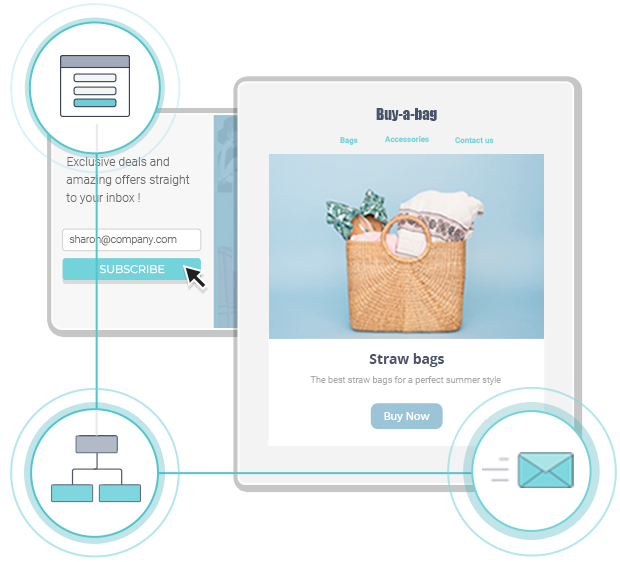 Try Moosend Today
The easiest and most affordable email marketing and newsletter software!
What Is A Marketing Funnel?
A marketing funnel is a process that allows you to visualize the customer journey and understand how prospects turn into paying customers. Apart from the four main stages – awareness, interest, consideration, conversion – the funnel has expanded to include additional steps like the retention and advocacy stage.
Compared with a sales funnel, where the goal is to lead your prospects to action, a marketing funnel focuses on generating brand awareness and promoting your product/service to your potential customer.
The Stages Of The Marketing Funnel
Speaking of which, now it's the perfect time to see the steps your prospects need to follow. Here's a depiction of the stages by Ahrefs:
Now let's break them down:
Awareness Stage
In this stage of the marketing funnel, you have to find a way to attract your target audience. Here, companies will try to increase their brand awareness through social media posts, YouTube videos, search engine results, influencer campaigns, Facebook Ads, etc.
Stage objectives:
Approach your audience with interesting messages.
Address their pain points and hint at the potential solutions.
Interest Stage
Moving on is the interest stage. Here, your audience is finally aware of your product/service and wants to find more about you. To forward them to the next stage, you need to show them how your product/service can solve their pain points.
Stage objectives:
Target niche-specific keywords (both short and long-tail).
Refine your content through SEO practices to rank higher in SERPs (Search Engine Page Results).
Run social media marketing campaigns to turn them into followers.
Consideration Stage
In the consideration stage, your audience knows their pain points and what they need to solve them. Nevertheless, they still haven't chosen the right product/service to do it. As a result, they'll conduct their own research to compare different options.
Stage objectives:
Narrow down their options by presenting your advantages.
Convince your target audience that you have the best possible solution for them.
Create valuable newsletters to nurture your subscribers.
Conversion Stage
Now you are one step closer to converting your audience! In this marketing funnel stage, your potential customers will look for a good reason to join you. By providing great user experiences and smoothing out the buying process, your leads will finally take the leap.
Stage objectives:
Post-Purchase Stage
After converting them, you can lead your new buyers to the final stage of the funnel, where we have customer retention and advocacy. Also, according to statistics, having repeat customers is 5x less expensive than acquiring new ones. So whether you have an eCommerce store, an agency, or a SaaS business, make sure to retain your buyers!
Stage objectives:
Provide loyalty rewards to your customer base.
Incentivize them to bring over referrals.
Create unique offers for VIP buyers.
To keep your marketing funnel up and running, make sure to create converting email marketing campaigns with urgent messages. Just sign up for a Moosend account and witness the magic!
Successful Marketing Funnel Example
But wait! How do we know if a funnel actually works? For that, let's say you are the owner of a small SaaS business.
Awareness: To capture your target audience, you decide to take part in different podcasts, addressing your potential customer's pain points.
Interest: Intrigued by your presentation, your prospects try to find out more about you, thus landing on your website. There, they come across your blog content and start reading.
Consideration: Since your potential buyers don't know whether your service is good or not, they will search for customer testimonials to see if you are the right company for them.
Conversion: To ensure that you are worth it, your leads will also ask for a live demo of your product. If your sales reps are helpful and convincing enough, then they will seal the deal and make a purchase.
This is a simple example of how a marketing funnel can help you get more customers through content and tools like your landing pages and social media profiles!
Differences Between B2C And B2B Funnels
With a performing funnel in place, you can address and solve your customer pain points more effectively. However, to do it the right way, you need to consider your industry.
B2C and B2B have very different marketing approaches. Below, you can see the stages and marketing processes between a B2C and a B2B funnel:
In a nutshell, B2C marketing funnels focus on:
Increasing brand awareness with emotional messaging.
Building transactional bonds with new subscribers.
B2B funnels, on the other hand, aim at:
Showing the target audience your expertise in the field.
Establishing personal connections with clients.
Now let's move on to something that a lot of newbie marketers often confuse.
Marketing Funnel Vs. Sales Funnel
Is my marketing funnel the same as my sales funnel?
The short answer is no. The long answer is that their difference lies in their objectives.
A marketing funnel focuses on successfully promoting a product/service to visitors. Your sales funnel (or conversion funnel in eCommerce terms), though, aims at taking the leads your marketing funnel generated and turning them into new customers.
What's interesting is that both processes have undergone certain changes:
As you can see, marketers were only involved in the awareness and interest stages. The new model includes everything from the awareness to the mid-evaluation stage, leaving sales reps with the rest.
This change is really a sign of our digital times, the amount of products/services that customers have at their disposal, as well as the plethora of marketing messages trying to convince them to buy.
Now that we saw the difference between your marketing and sales funnel, let's not forget your leads!
Marketing Qualified Leads (MQLs) vs. Sales Qualified Leads (SQLs)
When they find out about you, prospects will start searching for information. If you satisfy their criteria, they'll gradually turn into warm leads. If not, then they will become what we call cold leads.
As they go down your marketing funnel, warm leads can become Marketing-Qualified Leads. MQLs have great chances of converting as they usually check all your buyer persona boxes. Also, since they correspond to the consideration stage, they are aware of their pain points and the solution, but they still haven't found the perfect product/service.
On the other hand, Sales-Qualified Leads are those who have been nurtured enough and are now open to a sales pitch. SQLs should be handed to your sales reps immediately to make them an irresistible offer that will eventually turn them into opportunities and paying customers.
But how can you influence your customers' journey and bring them on board? With the right type of content, of course! Let's see.
Types Of Content For Each Stage Of The Marketing Funnel
To plan the perfect content marketing strategy that will power up your marketing efforts, you need to deliver content based on the stage your lead is at. To make it simpler, we'll divide your marketing funnel into three stages:
Top of the Funnel (ToFu)
At the top of your funnel lie your visitors and leads. To engage them, you need content that will increase your brand awareness and insert your prospects into your funnel:
Blog posts
Webpages
Social media posts and influencer content
Podcasts and Videos
Infographics
White papers
Middle of the Funnel (MoFu)
As your prospective customers go down your funnel, they turn into MQLs and SQLs. To engage them, create content with empathy to entice them. You can do that with:
Webinars
Surveys
Promotional emails
Bottom of the Funnel (BoFu)
Leads reaching the bottom of the funnel have become new opportunities. To fully convert them, you need to create personalized messages and show them the benefits of investing in your product/service. Here's what you need to seal the deal:
Free demos and trials
Tutorials
Case studies
Online/offline events
Sales calls/outreach
With the right type of content, you will successfully move your leads down your marketing funnel and, finally, convert them into loyal advocates.
Marketing Funnel Template
Are you more of a visual type? Here's a simple template you can use to keep your content and stages all in one place:
With these in mind, it's time to see how to build your first funnel!
6 Simple Strategies To Create Your Marketing Funnel
Now that you know what a marketing funnel is, how it works, and the types of content you have to deliver, let's see some simple strategies to build yours:
1. Discover Your Target Audience
Did you know that most digital marketing strategies fail because business owners market their products to the wrong audience? Don't be like them! Instead, take your time to discover who is interested in your product/service.
You can do that by creating your buyer personas, i.e., a representation of your ideal customer and their characteristics. Next, don't forget to dive into consumer behavior to determine how people reach a buying decision. This will help you create an effective marketing funnel for the right audience!
2. Create Irresistible Lead Magnets
After identifying your audience, you have to find a way to introduce them to your brand. The easiest way to do that is to generate awareness through social media. Nevertheless, a social post isn't enough to get them a step further down. For that, you need a strong incentive that will lead your audience to the middle of your funnel. Enter, lead magnets!
A lead magnet is a "free item" that you offer to your audience in exchange for their contact information. This can be an e-book, white paper, or even a newsletter subscription.
Here's an example by Just Creative:
A strong lead magnet will capture your new leads' attention, add them to your mailing list, and offer you a way to communicate with them. This leads us to the next step…
3. Send Personalized Email Messages
You added your potential customers to your email list. Now what? If you have enough information about them, you can segment them into groups with similar interests. Keep in mind that email list segmentation is one of the most important tactics to deliver more personalized messages. So don't forget to grab effective tools to make it happen!
Here's a B2B email marketing example that works:
Subject line: Marilia, hope to see you tomorrow for What's New
The above email from Zendesk is a great example of using plain-text emails in your marketing funnel to engage your prospects with personalized messages.
Need the perfect tool to segment your email subscribers and personalize your messages? Sign up for a Moosend account and power up your email marketing strategy like a pro!
4. Employ the AIDA Model
To successfully convert your prospects, you have to pinpoint where they are at during the buying process. To do that, you can use the AIDA model.
AIDA, which stands for Attention, Interest, Desire, and Action, will help you identify the stage your potential customer is at. Then, you can use the information to deliver the right piece of content to engage them. Keep in mind, the more you know about them, the more effective your efforts will be!
5. Employ Social Media and Influencers
Of course, don't forget about social media marketing and its tremendous potential! Whether you create engaging content or invest in paid ads, social networks are your best ally to generate more leads and increase your brand awareness.
To fully leverage their power, make sure to:
Share valuable content with your followers.
Create converting landing pages for your paid ads.
Collaborate with influencers in your niche.
Promote your blog content on social media.
Monitor your followers' reactions.
Below, you can see a great example of increasing brand awareness through a LinkedIn post by Moosend:
6. Use Remarketing
Remarketing is a tried and tested practice that allows you to reach disengaged website visitors with ads. This way, you can create targeted messages to capture those website abandoners and lead them back to your funnel.
To make your ads work, you can use the power of urgency and scarcity. As you already know, consumers are more likely to buy something when it comes out in limited quantities. So use this to your advantage! Apart from that, don't forget to leverage your positive feedback and customer testimonials to increase your brand's credibility and generate more MQLs!
Key Marketing Funnel Metrics To Track
To improve your audience's digital experience, you need to monitor your marketing funnel to fill any potential gaps.
To be one step ahead, make sure to track the following marketing metrics as they will help you with funnel optimization:
Lead Entry Points: The channels from which your visitors entered your funnel.
Cycle duration: How much time your leads spent on each stage.
Email Opt-in Rate: How many visitors signed up for your newsletter.
Click-Through Rate (CTR): Percentage of engagement with your content.
Conversion Rate: How many prospects turned into paying customers.
If you want to monitor the performance of your email campaigns, make sure to sign up for a free Moosend account. The advanced analytics and reporting tools will provide you with valuable insights to improve your email marketing efforts and re-invent your marketing strategy!
Create The Marketing Funnel Of Your Dreams!
Knowing what a marketing funnel is and the different stages a customer goes through is vital to creating an effective marketing strategy.
Before you build your funnel, make sure to identify your target audience and create content that will address their pain points. Of course, make it as valuable as possible because that's how you'll win them over at first glance!
And… don't forget about the tools! From your social media accounts to your email marketing platform, choosing the right allies will power up your efforts! If you need to grab an email service right now, sign up for a Moosend account to capture, nurture, and convert your audience.
Are you excited about building your new funnel? Us too!
Now go get those leads!