The Essential Guide To Webinar Marketing For 2024 [With Best Practices]
The Essential Guide To Webinar Marketing For 2024 [With Best Practices]
Published By
Marilia Dimitriou
December 6, 2023
What is a webinar? Is webinar marketing the missing link to better lead generation and nurturing? Time to find out!
Webinars are among the best marketing tools to get direct access to a market of new customers who have raised their hands and want to hear about what you have to offer.
Usually leveraged by B2B marketers, webinars can help you drive conversions, nurture leads, and position your brand as an authority in your market.
If you're new to creating and hosting webinars, the idea of getting started with them may be overwhelming. Today, we're about to change that!
Stay tuned as we are about to discover the essential steps to creating your first webinar and how to promote it effectively.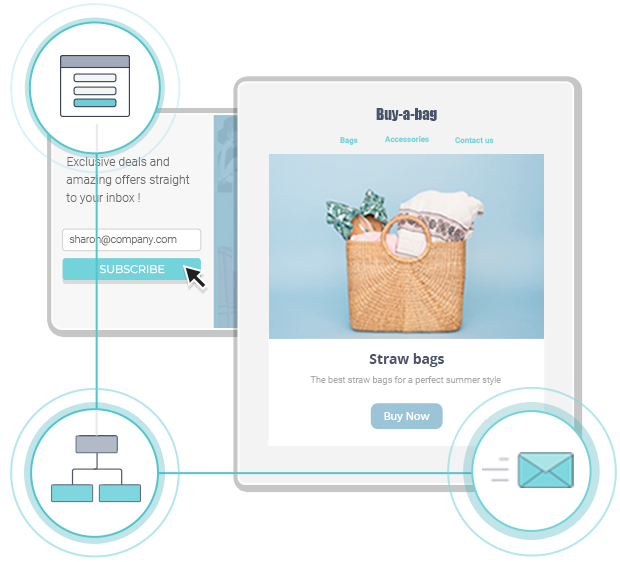 Try Moosend Today
The easiest and most affordable email marketing and newsletter software!
What Is A Webinar?
Unlike your common seminar, webinars are cool online conferencing events that your participants can attend from the comfort of their own home, office, or even the park!
Webinars help brands grow in different ways. That's why B2B marketers use them as a primary educational tool for their qualified leads!
As you can tell, webinars are all about sharing valuable information. The best part? They also come in different forms.
Different Types Of Webinars
While not an exhaustive list, here is a collection of four types of webinars you can use to boost your marketing efforts and improve your conversion rate.
List Building Webinars
List building is a powerful way of attracting prospects and converting them into qualified leads.
To build and expand your list, you can simply create a subscription form. This way, every interested visitor can sign up for your newsletter.
Compared to your forms, list building webinars will offer you the opportunity to give something precious to every participant.
For you, a successful webinar of this type will be able to provide you not only with a registrant's email address but with other valuable information that will assist you with your segmentation process later on.
Below, you can see a great list building webinar example by MarketingProfs:
In the above example, you can see how MarketingProfs uses an extensive form to collect the participant's job description, country, and company size.
This information will help the company target its subscriber more effectively in the future through highly personalized campaigns!
Of course, you can also use list building webinars even after your event is over. What you need is a form to give your visitors the access link.
And while you're at it, add a required field to ensure that you'll add them to your mailing list no matter what! Here's a very simple webinar form example by Visme:
Webinars Showcasing Thought Leadership
Building a brand demands that it becomes known for something special. While anyone can claim stellar service, thought leadership is easier for audiences to spot. You just need to create great content!
Establishing your brand as a thought leader will help you build authority, increase your brand awareness, and attract quality leads.
Webinars that offer valuable information will help you position your brand as a thought leader in your niche and build your digital PR strategy.
Microsoft, for instance, knows that security and privacy are a big deal. To help their audience navigate the ever-changing landscape, the brand hosted a webinar titled, "Speaking of Security: Privacy compliance."
To take advantage of thought leadership webinars, identify your strengths, create content that represents your core values, and show your expertise without being self-promotional.
Lead Nurturing Webinar Marketing
Nurturing is all about guiding leads along their journey to becoming qualified leads and then loyal customers. Most businesses will nurture leads through email marketing with an onboarding email sequence.
For webinars, using a case study, workshop, and report summary will help you educate potential customers, giving them the right information and tools to take the next step.
For example, Amy Porterfield knows how to host a livestream, a simplified way to use webinars without dedicated webinar software.
More specifically, the host created a Facebook Live video for her followers with tons of nuggets that help her audience build confidence and get maximum business results.
This example is perfect for showing you that webinars aren't by a platform. This way, you can easily host an online event on Facebook to engage your followers and incentivize them to take action.
Nevertheless, if you are serious about running a successful webinar for your audience, you should get your hands on a web conferencing software like Demio, Zoom or GotoWebinar to enable interactivity between participants, webcasts, screen sharing, webinar presentations, and more.
Whatever you choose, don't forget the magic words: valuable content!
Conversion Webinars
While most may feel uncomfortable about selling using webinars, don't be afraid to grab the opportunity.
Webinars are as close to being in front of your lead as a salesperson at a sales engagement.
Plus, you get to use one pitch to sell to a larger audience than a salesperson in an online meeting with a single potential client. To be successful, you need to make your conversion webinar as convincing and valuable as possible.
Here, Clickfunnels used a webinar to showcase Funnel Scripts, a tool that helps online marketers quickly and effortlessly produce high-converting copy.
In this webinar, viewers had the opportunity to see how the tool works and learned how to get their hands on it by signing up for a trial.
Showcasing your products will give your audience an idea of what they'll get and how it'll help them attain greater results.
Giving them a free trial period to test it out is the perfect CTA to incentivize them to try the tool themselves and, if they like it, make a purchase!
Now that we saw what a webinar is and the most popular webinar types, it's time to see how to create your own webinar. 
Let's do it!
How to Create Your Own Effective Webinar
Webinar creation isn't rocket science, but it does require a few things to get started!
A topic, an internet connection, a webcam, and an audience are basically the essential things you need to run a webinar.
However, to nail your own, you'll need a couple more tools. More specifically, you'll need:
a dedicated easy-to-use webinar platform to set up a professional-looking webinar
an email marketing service to promote your webinar to your mailing list and deliver follow-up messages
An online form builder to create your webinar sign up form and collect your registrants' email addresses
Now that you know the tools you are going to need, here are 7 easy steps to create your own webinar:
1. Identify Your audience
If you've been exposed to digital marketing, you already know that creating buyer personas is gold.
First and foremost, customer personas can simplify marketing by offering a clear idea of who your ideal customers are, what they want, their pain points, and more.
Knowing what your customer wants is the alpha and omega of creating a service/product that will speak to them.
Creating an effective persona profile isn't nearly as challenging as it sounds. The easiest way to learn more about your audience and what they like is through a simple survey.
To create a buyer persona survey, don't forget to ask questions regarding:
demographics
educational background
job position
skills
interests
The more data you collect, the better you will identify your audience and find interesting and suitable topics for them.
If you don't have the time to create a dedicated survey, you can easily create a newsletter signup form with multiple fields to collect this information.
Now, with your audience identified, let's move on to the second step: your webinar marketing topic!
2. Pick An Interesting Webinar Topic
As we said above, your topics should always align with your audience's goals and interests.
For instance, if your target audience is interested in learning how to master the art of newsletter creation, you can't serve them content on how to create an eCommerce store.
Of course, you can always teach them new things and promote multiple aspects of your services.
Nevertheless, always pick topics closely connected to your audience's needs and how your product can help them solve a problem.
For example, Moosend's webinars focus on showing you how to create a newsletter from scratch using the drag-and-drop builder.
This webinar covers everything, from learning how to select a template and add your text to visuals and more!
So, when new users join the company for the first time and want help, they can easily check these webinars for step-by-step guidance and tips right from the expert! (Let's all thank our colleague Daniel for this amazing contribution, guys!)
Knowing more about what challenges your ideal attendee experiences will help you create a super valuable piece of content. So, keep this in mind when it's time to select your topic!
Connect the Dots with the Before and After Grid
With your topic idea bedded down, you'll need to establish what your audience will gain from your online seminar.
Here, think about your webinar as a solution to a specific problem or set of problems.
For the above example, the company has provided registrants with a summary of what they'll learn:
Design amazing newsletters using Moosend's new Campaign Editor
Use pre-built newsletter templates found in the Template Library
Easily customize every element of your emails
This is a great example to help customers learn your product's new feature and teach them how to create a newsletter.
However, if you want to make sure that your audience stays engaged, don't focus only on showing your products but on the broader challenges customers have.
By creating a solution-oriented webinar, you change the narrative. Your content becomes more customer-focused and value-based.
If the solution is multifaceted, then don't hesitate to create collaboration webinars to provide a more rounded solution like Visme and Moosend did:
Also, if you're uncertain about how to make the shift to a solution-based approach, take a look at this before and after grid template introduced by DigitalMarketer.
It helps by zeroing-in on before and after buyers' states, helping you see what value your webinar delivers, and how your event can transform your buyers.
3. Choose The Right Type of Webinar
Organizing a webinar can be a wild thing. You start with a great topic, and then you need to select the proper type.
While webinars are valuable because they can be used at any stage of the funnel, picking a format that's best aligned with where your audience is in the buyer's journey will be a more effective and targeted effort.
Webinars are a very versatile tool. To bring their full potential forth, though, you need to know who your audience is and how to add value to their lives. Thankfully, you have your buyer personas to help you with that!
Take the time to establish clearly defined personas and what they need at the stage of their journey before deciding on the type of online seminar to host.
To give you an idea, here's how you can approach webinar marketing for each stage of your funnel:
Top of the funnel: create a webinar that will generate brand awareness.
Middle of the funnel: use webinars to show your expertise in the field and boost thought leadership.
Bottom of the funnel: provide the solution to customer pain points through your product/service.
4.Create A Webinar Agenda
Agendas provide structure, help you tidy your ideas, make them flow, and breathe value into your webinar content.
To create a winning agenda, you need to follow three steps: research your topic, break it down into sections and check for flow.
First of all, the amount of research you'll conduct depends on how familiar you are with the topic you choose. It's really important to be as prepared as possible because people are going to ask questions!
Hosting a web seminar that you're not equipped for can damage your brand reputation.
So, start by identifying the challenges your audience faces. Then, create a list of possible questions that they need answers to.
The next step requires you to arrange your ideas. You can use your questions to structure your webinars around the solutions.
Using the sequence method, create clear headings for each section, then list all pertinent points.
Here's an easy way to structure your webinar content through a simple table:
Since this is an agenda, your points under each section won't make it into the formal version. Listing them, though, will help you with the next step!
Finally, your sections should have a flow. Your goal is to make the ideas you introduce easy to digest and follow.
Remember: A good flow will answer all questions and give your webinar participants a great experience!
5. Create Your Webinar Talking Points
Break your sections into talking points. These points should contain the right amount of detail to add value to the lives of your attendees.
Talking points will be the meat of the event, so spend time writing down high-quality ideas that add value to your audience's experience.
Not sure how to add value?
Introduce examples, facts, and figures for context! These help attendees appreciate what you have to offer, especially when you introduce new or unfamiliar concepts.
Here are a few talking points examples to help you out:
With your talking points laid down, it's finally time to create your webinar marketing offer!
6. Create A Strong Value Proposition And Call-To-Action
Your call-to-action will depend on the type of event you're hosting. If you're wondering whether you should have an offer, the answer is always yes!
CTAs are a crucial component of marketing and generating results. If you want to turn more attendees into new customers, you have to have a strong action button to get them to buy your solution.
Here, you can see a webinar landing page example by Zapier:
The company uses two CTAs (colored blue to attract attention) to get visitors to save a seat. The offer is also present, showing what registrants will gain if they sign up.
Of course, to make sure everyone signs up, Zapier commits to sending a webinar recording to those who can't make it.
On-demand webinars will allow you to engage those missing the event and collect some extra email addresses for your lead generation efforts.
Here are the four golden principles to help you create a strong and effective webinar CTA:
Relevancy: Make a relevant offer that solves the problem you've introduced in your event. If it's not, buyers will struggle to understand the value of your offer.
Right timing: If acquired today, your offer would help solve a serious problem your audience has today.
Straightforwardness: Your audience must easily see how your offer will work for them.
Accessibility: Ensure the acquisition path is easy to understand and follow. They click on a button, buy, and know exactly what happens next.
7. Prepare your Assets
Websites and landing pages must be live and working; otherwise, you'll lose many webinar registrations.
Also, ensure that downloadable resources are available and easily accessible for your audience.
Performing a mock webinar with a colleague's help will also pinpoint any mistakes in the process and help you solve them before your actual webinar goes live.
Moreover, make sure that your support channels are live, easy-to-use, and manned by personnel who have the knowledge to answer questions related to your event's subject matter.
Now that we saw the essential steps you need to host your own webinar, let's see some of the best practices to ensure that your online event will run smoothly.
Let's see!
5 Simple Webinar Marketing Best Practices
Webinar promotion is best thought of as campaigning. You must draw as much attention to your event to have as many booked seats as possible.
You've done the heavy lifting by identifying your ideal audience through the use of personas, and you've also figured out what they will gain from your before and after grid.
However, how can you show your amazing webinar to the world? Let's find out!
1. Promote Your Webinar Through Email Marketing
To promote your webinar, start by identifying which marketing channels you'll use. Today, you have access to social media, email lists, paid ads, and partner brands.
The easiest way to get more webinar registrations is by creating a dedicated webinar email.
This is a fairly simple process. What you need is to create a webinar announcement through your email marketing platform, add a converting copy, and a clear CTA, calling your subscribers to register for your event.
This is how Hootsuite does it:
This email example has everything Hootsuite's subscribers need to sign up for the webinar. The copy is short yet valuable, with enough information to incentivize the recipient to register.
To get the most out of your webinar promotion through email, you can create a webinar email sequence starting weeks before the webinar.
You can easily create and automate your sequence through an email marketing and marketing automation platform like Moosend.
All you need to do is sign up for a free account, create your campaign through the email builder, and then schedule your webinar emails for better engagement and more registrations!
2. Leverage Your Social Media Accounts
While you could stick to one or two channels, go as broad as possible. Aim to reach the widest audience for maximum results.
As with your email campaigns, build your campaign to include at least two weeks of promotional webinar content to maximize visibility.
This may sound excessive, but it isn't. GotoWebinar found that 59% of registrations happen in less than a week before an event.
Each channel is filled with potential attendees that receive promotional and video marketing content from other brands. Skimping on your webinar marketing content increases the chances that your one or two attempts may go unnoticed.
Now, your best ally here is your social media accounts. Compared to your email campaign, social media will offer you a wider reach.
Creating social media posts about your new webinar is simple. Just make sure that you share your registration link and some relevant information about your online event!
Here's a simple yet effective way to do it by Holistic Email Marketing:
And if you need an extra boost, you can also leverage the power of social media ads to get your webinar in front of more eager eyes.
The limit is the sky!
3. Ask Closed Questions
Engagement isn't as difficult as it may appear. As a simple rule of thumb, consider webinar engagement as a simple mechanism for maintaining audience attention.
In this case, closed questions keep the momentum of the webinar flowing. When asked, they trigger immediate replies from webinar attendees, which are short and don't require deep thought.
Examples you can use include:
"Where are you joining the webinar from today?"
"Type "X" in the chat if you agree"
"Give me a #in if you've just joined"
Remember, closed questions can be used at any stage of your event to hold attention. Ensure that you use them throughout your webinar to keep your audience engaged!
4. Offer A Prize For Attending Your Webinar
Want to boost engagement with your participants? Introduce a competition at the beginning of your event!
This is a great way to get participants interested in the event and the chance to win something.
It also helps keep people on the webinar throughout the event as they wait for the results.
Here's a simple webinar attendance prize example by GlideFast:
To make the most out of your webinar competitions, make sure you:
Offer a relevant price to your audience by giving away something they want.
Make it valuable by offering something attendees deem important and worthy of their interaction.
Don't forget to deliver the prize to the winner.
5. Include Q&A Sessions
Q&As are a smart way to open the floor. While there are many ways to handle Q&As, pick one that ensures your webinar doesn't lose its flow or go over time.
A smart method is to invite people to add questions into chat in real-time and then go through them either at the end of a section in your webinar agenda.
This helps keep the question relevant and responses timely.
Alternatively, you can wait until the end of the event, then answer questions. Just remember to let your audience know when you are having your Q&A session and try to answer as many of them as possible!
How To Charge For Your Webinar
Monetizing a live webinar may not seem possible, but it is! People are willing to pay for webinar access if your live event offers a powerful solution to a pain point.
To successfully monetize your content, you need a balance between two important elements:
Exclusivity: Content shared and/or the host isn't easy to gain access to. For example, a webinar with a well-known industry expert or a topic that hasn't been explored yet or needs a lot of preparation and resources.
Value: The value of participation can lead to greater potential future outcomes. For example, a unique business training webinar to help brands scale rapidly.
Finding your price depends on the value of the material you'll share. Once again, exclusivity influences your price point.
To find your online event's price point, compare ticket fees of webinars in your industry on similar topics and with similar audiences. Also, compare the prices of in-person events as a gauge.
While in-person events offer more direct contact, assessing the agenda of an in-person event helps determine how strong your virtual event is in comparison.
Which is something attendees will consider before purchasing a seat!
Becoming a Webinar Master
Webinars are powerful marketing and lead generation tools. But to host a successful one, it must be planned and marketed effectively. Your audience is at the heart of a successful virtual event.
To generate the results you want, develop an intimate understanding of who your ideal attendee is, and produce an agenda that speaks to what they want and need to move further along the customer's journey.
Of course, don't forget to promote your webinar on as many channels as possible! Starting with email marketing, a dedicated webinar campaign is the easiest thing to inform your already engaged subscribers about your event, invite them to register, and even share your webinar with their peers!
You can easily sign up for a free Moosend account to set your webinar marketing promotion in motion!
Don't forget to take the time to plan all sorts of engagement opportunities for your event and devise a solid promotional campaign that reaches far and wide to secure as many seats as possible!