11 Best Online Learning Platforms For 2023 [+4 Tips To Market Your Courses]
11 Best Online Learning Platforms For 2023 [+4 Tips To Market Your Courses]
Published By
Marilia Dimitriou
August 31, 2023
Since e-learning has become an integral part of modern education, selecting one of the best online course platforms to create high-quality courses is essential.
But how exactly do you pick the right one? That's why we're here today! Especially after COVID-19, online courses have increased in popularity and demand, leading many traditional educations to try out this new approach.
Today, we'll help you out by comparing the top course services and giving you a few essential tips to promote your lessons through email marketing and social media.
Before we jump into the tools, it's also important to define two easily confused terms: online learning platform and online course platform.
Let's see why!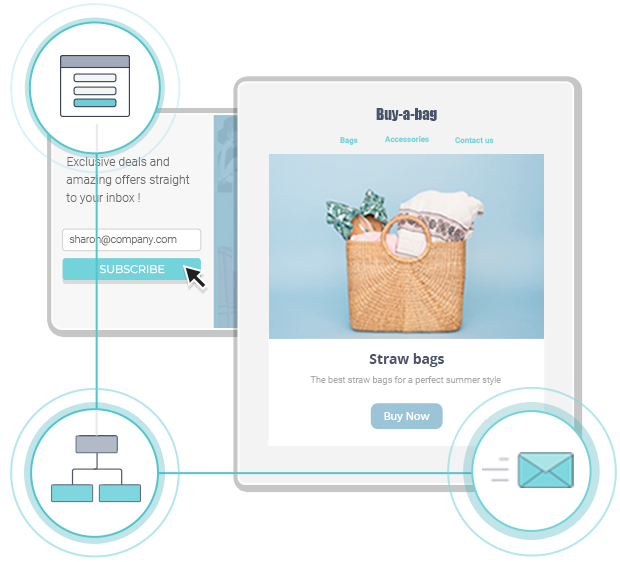 Try Moosend Today

The easiest and most affordable email marketing and newsletter software!
Defining Online Course Platforms
First of all, an online course platform is a learning management system (LMS) that online teachers can use to craft and sell online courses.
Some of the most famous platforms include LearnWorlds, Teachable, Thinkific, Kajabi, Podia, and Ruzuku. Here's a course website example by LearnWorlds:
Now, enterprises use LMS for employee training and onboarding purposes. However, LMS can sometimes include course platforms or even WordPress plugins used by SMEs to create and sell online courses.
These platforms are cloud-hosted, allowing instructors to easily get into online course creation by uploading educational material like text, images, interactive video content, documents, and audio.
With rapid growth in the creator economy, individual instructors and businesses can use course platforms to create their own course websites (or course storefront) instead of hosting their courses on popular course marketplaces.
What Is An Online Learning Platform?
Compared to online course tools, an online learning platform is an environment that offers a safe learning space for students who want to learn new skills. Some of the best online learning services include Udemy, Skillshare, Coursera, Masterclass, and LinkedIn Learning.
As you can see, compared to our previous example, this course by Gordon Ramsay is on the Masterclass website as part of its cooking series:
Moreover, these e-learning platforms are often called online course marketplaces. Just think of online learning software as a department store with a variety of shops. These shops are digital products, which you can access through one-time payments.
The good part is that creators will be associated with famous tools like Udemy or Skillshare, increasing their legitimacy. However, you can't have a dedicated website for your course or access detailed reporting and analytics.
While some of these marketplaces like Udemy, Coursera, and Skillshare allow you to create online lessons, the majority is more education-based, offering university-level education.
So, if you want full course autonomy, then an online course tool is your best option!
Top Online Course Software Comparison
With an e-learning platform, you are practically part of something bigger and have limited customization.
So, choosing one of the best online course platforms will help you build your personal branding, choose your course pricing, and offer you better revenue.
If you're pressed on time, here's an overview of the top course tools in the market:
| | | | | |
| --- | --- | --- | --- | --- |
| | Free Plan | Pricing | Best Feature | Ratings |
| LearnWorlds | 30-day trial | $29/month | eCommerce, marketing, and affiliate options | |
| Thinkific | Yes | $49/month | Built-in sales and marketing tools | |
| LearnDash | No | $159/month | Automated email notifications | |
| Teachable | No | $39/month | Email creation tool | |
| Kajabi | 14-day trial | $149/month | Sales funnel building option | |
| Podia | 14-day trial | $39/month | Rich resource library | |
| WizIQ | Yes | N/D | Mobile app for iOS and Android | |
| Academy of Mine | Free demo | $9,997/year | Integrated eCommerce options | |
| LearnPress | Yes | $49-$69 one-time payment | Performance management tracking tool | – |
| LifterLMS | 30-day trial ($1) | $99+/year | Front-end student profiles | |
Best Online Course Tools To Create And Sell Your Content
Now that you've glimpsed at them let's take a more thorough look at each platform, starting with LearnWorlds:
1. LearnWorlds
Pricing: 30-day free trial, paid plans start at $29/month
Best for: Entrepreneurs, Individual instructors, Educators, SMEs
Best feature: eCommerce, marketing, and affiliate features
LearnWorlds is a cloud-based platform that markets itself as an all-in-one solution, offering ease of use and many features. The tool gives you the ability to build your online academy while creating unique, interactive, and social learning experiences.
Moreover, the course software will provide you with advanced online course creation tools to craft your lessons at an affordable price. On top of that, LearnWorlds has a small learning curve and a user-friendly interface. This way, you can easily set up your account and create online courses without having any technical skills.
When it comes to selling, LearnWorlds has the tools to upsell and cross-sell your digital content through offers and high-converting sales pages. Another notable feature is the built-in eCommerce and marketing options that will help you expand your online course promotion and boost your revenue. And if you want to gain a little more on the side, the software also has an affiliate program you can register to earn extra for new referrals.
Overall, LearnWorlds is a great course software to create your own course with great functionality and high-quality features.
Best Online Course Tool Features
Cons
No pre-built sales funnels
No support for TinCan
Limited email marketing capabilities
Pricing
LearnWorlds offers a 30-day free trial and then pricing plans starting at $29/month with the Starter plan (plus $5 per course sale). For more features and functionality, you can get the Pro trainer plan or the Learning center at $99/month and $299/month, respectively. High Volume and custom corporate pricing are also available.
2. Thinkific
Pricing: Limited free plan, paid plans start at $49/month
Best for: Solopreneurs, SMEs, Coaches
Best feature: Built-in sales and marketing tools
Thinkific is among the best online course platforms to you create and sell your courses. The tool has an array of features to step up your course business, including a user-friendly interface to build your lessons and rich multimedia to add to your course content.
Moreover, Thinkific simplifies course creation by uploading or dragging and dropping content. Then, you can easily launch it yourself without using any coding. Apart from that, the platform is designed to support key multimedia course content, including quizzes, Google docs, surveys, online forms, and more.
Among others, the platform provides you with an easy way to run your courses by making courses private, adding prerequisite lessons, assigning multiple instructors, and offering your students membership sites.
In general, Thinkific is a good online lesson tool to get started. However, it can be a little difficult to handle if you want to create more complex lessons.
Best Online Course Solution Features
It includes a landing page builder for your courses
Built-in sales and marketing tools to boost your revenue
Cloud-hosted platform to connect your domain
Easy-to-use course builder
Various integrations with popular apps
Dedicated 24/7 customer support
Cons
Pricing
You can use Thinkific to create free courses but with limited functionality. Subscription plans include the Basic plan at $49/month, the Pro plan at $99/month, and the Premier plan at $499/month.
3. LearnDash
Pricing: Paid plans start at $159 (1 site license)
Best for: SMBs, Coaches, Entreprises, Academic Institutions
Best feature: Automated email notifications
LearnDash is one of the most popular WordPress learning management system plugins out there used by big and small businesses and academic institutions. With LearnDash, you can build, promote, and market online courses all in one place.
More specifically, its speed and drag-and-drop course builder make the tool stand out, simplifying the difficult process of course creation. When it comes to themes, the software offers various choices you can choose to elevate your online courses. WP Mayor also features the 12 best themes that will help you create high-quality courses without much effort.
Another advantage is that the plugin lets you market courses through monetization tools like a checkout, memberships, course bundles, and course licenses to boost your revenue.
Overall, LearnDash is an amazing online course tool to maximize your revenue and use your WordPress site to educate your audience.
Best Online Course Plugin Features
Test and management tools: grade books, student metrics, and profiles
Automated email notifications and real-time reporting
Works with WordPress themes and multi-sites
Compatibility with PayPal and Stripe payment gateways
Drip-feed content and certificates
Extensions and premium add-ons for better functionality
Cons
No free trial to try it out
Video conferencing tools aren't available
Needs to be integrated with a third-party plugin like Easy Digital Downloads for payment options
Pricing
LearnDash has three pricing options, including the Basic Plan at $159 (1 site license), the Plus package at $189 (up to 10 site licenses), and the Pro package at $329 (up to 25 site licenses).
4. Teachable
Pricing: Paid plans start at $39/month
Best for: Course creators, Solopreneurs, Coaches, Creatives
Best feature: Email creation tool
Teachable markets itself as one of the best online course platforms to turn your material into high-quality courses. This teaching tool equips you with an easy and simple solution to upload your lesson content, create customizable online schools, and keep in touch with your learners through discussion forums.
One of the things that distinguish Teachable is its built-in email marketing tool, a great solution to boost your online lesson promotion and share your materials with your email list. However, if you're serious about increasing your course visibility and collecting valuable insights, you should invest in a dedicated email marketing automation platform for better results.
Apart from that, Teachable users can create unlimited courses without paying extra, a useful feature if you plan on building the biggest online school out there.
Overall, Teachable will enable you to create unlimited courses and market them without having any technical knowledge.
Best Online Teaching Platform Features
Easy-to-use course authoring options with quizzes
Landing page builder and blogging capabilities
Built-in eCommerce features
Affiliate, marketing, and sales tools
Mobile app for iOS (currently not available for android)
Cons
No support for SCORM or TinCan
Landing pages aren't very customizable
No social or community building capabilities
Pricing
Teachable doesn't offer a free plan or a trial, so you have to pick one of the paid plans. The Basic Plan starts at $39/month (plus a 5% transaction fee). Then, you have the Professional plan at $119/month and the Business plan at $299/month.
5. Kajabi
Pricing: 14-day trial, paid plans start at $149/month
Best for: Course creators, Entrepreneurs, SMEs, Freelancers
Best feature: Sales funnel building option
Kajabi is an all-in-one online teaching solution that offers the tools to sell simple format courses and downloadables in a matter of minutes. More specifically, Kajabi specializes in building high-converting sales pages and webinar pages for your online business.
When it comes to the features, you can use Kajabi to create marketing sequences using the built-in pipeline templates. On top of that, you can upload unlimited video lessons, photos, and more to create rich online courses that will attract your students' attention.
Landing pages are also included, allowing you to collect information about your potential learners. And to give you an extra boost, Kajabi offers segmentation features to help you deliver more relevant content and move your audience a step further down your funnel.
All in all, Kajabi offers useful features to profit from digital products more easily. Nevertheless, the course software is a little difficult to set up.
Best Online Course Platform Features
Offer built-in email and marketing tools
Has a collection of beautiful themes
Sales pipelines/funnels building capabilities
Landing pages to promote your courses
Various integrations with popular apps like Zapier
Cons
Expensive pricing options
Limited control over website design
Not many learning features – focused on digital product sales
Pricing
Kajabi offers a 14-day trial with a credit card. To get the full version, you need a subscription plan, which means you have to pay a monthly fee of $149 for the Basic Plan, $199 for the Growth Plan, and $399 for the Pro Plan.
6. Podia
Pricing: 14-day free trial, paid plans start at $39/month
Best for: Content creators, Artists, Entrepreneurs
Best feature: Rich resource library
Podia is among the best online course platforms that make creating and selling online courses, memberships, and other digital products an easy task.
The tool is great for content creators and artists who want to monetize their content and knowledge with simple learning activities and gated videos. Another interesting thing is that the tool supports 11 languages and 22 currencies to make your courses available to everyone.
Moreover, Podia offers a rich resources library and free tools for entrepreneurs who want to build their online store, school, or website. Website creation is also possible, allowing users to add relevant pages for their audience, like an about page or a contact page.
Overall, while Podia is a good option for creating and distributing your lesson content, it's quite limited. This makes the platform suitable for smaller video-based learning, coaching, and downloadables only.
Best Course Platform Features
Offers ease of use
Sales page customization options
Affiliate marketing options within the platform
Individual membership subscription for users
Cons
No community area or discussion forum on the platform
Lacks learning tools like grading and certificates
Does not support SCORM or TinCan
Pricing
Podia offers a 14-day free trial. After the free period, you need one of the two subscription plans: the Mover for $39/month or the Shaker for $79/month.
7. WizIQ
Pricing: 14-day free trial, paid plans available (contact sales)
Best for: Enterprises, Teachers, Trainers, Universities, Test-Prep companies.
Best feature: Mobile App for iOS and Android
Looking further into the best online course services, we come across WizIQ, a cloud-based education service for real-time or self-paced training using your own custom domain.
On top of that, WizIQ offers live and on-demand webinars, making it a famous choice for online course creators who want to have that traditional classroom-like feel during their lessons.
Moreover, the service comes with course authoring tools to design or redesign the content and arrange it into an interactive video format for a better e-learning experience.
Along with that, users can benefit from WizIQ's test and assessment capabilities to boost engagement between students and test their new skills. Finally, a mobile app is also available in the App Store and Play Store, allowing you to conduct and attend an online lesson on-the-go.
Best Online Lesson Solution Features
E-learning reporting and analytics
Ability to teach in a virtual classroom
Mobile app (mLearning) for iOS and Android
It has eCommerce features
Cons
No support SCORM or TinCan
No gamification options
Difficult-to-reach customer support after setup (based on online reviews)
Pricing
WizIQ has no free plan. Instead, you can test it out through the 14-day free trial. When it comes to paid plans, pricing varies depending on rooms, attendees, and the number of registered users. Paid plans branch into two categories, the Virtual Classroom (Professional & Enterprise, or Pay-Per-Use plans) and the LMS (Elite and Infinite Plans).
8. Academy of Mine
Pricing: Free demo, paid plan starts as $9,997/year (about $833/mo)
Best for: Academics, Large enterprises, Public administrations, SMEs
Best feature: Integrated eCommerce options
Academy Of Mine is an online course platform that enables instructors to craft and monetize their courses in professional training, continuing education, and certification. With Academy of Mine, you can customize existing features for a better learning experience or build new ones via the API.
What's more, the platform lets you craft interactive content with PPT, PDF, video, and more. If you want to brand your lessons, Academy of Mine also lets you build a strong brand image and establish meaningful connections with your learners.
While Academy of Mine is geared towards enterprises who want to do onboarding, the platform can also help individuals boost their revenue through its integrated eCommerce capabilities.
Consequently, users don't have to acquire an eCommerce platform as Academy of Mine integrates everything right into their tool.
Best Online Course Solution Features
Custom Payment Gateways
Dedicated servers and hosting
Integrations with webinar software (Zoom, GoToWebinar)
Responsive customer support
Cons
Inflexible site customization
Limited video guides and tutorials
Pricing is quite high
Pricing
Unfortunately, Academy Of Mine has no free version. If you want to see its capabilities, you'll need to book a free demo with the sales team. Otherwise, there's a pricing plan available at $9,997/year, which is about 833/month.
9. LearnPress
Pricing: Free plan, paid plans start at $49 – $69 (one-time payment)
Best for: SMEs, Course creators, Bloggers, Beginners
Best feature: Performance tracking management tools
LearnPress is another WordPress LMS plugin to help you set up your online lessons through your WordPress site. One thing you should know about this lesson creation tool is that you can get add-ons at a cost depending on your online school needs.
When it comes to usability, LearnPress offers ease of use and has a straightforward interface. Also, it's frequently updated to fix bugs and improve security.
Payments are also flexible as it supports gateways such as PayPal, 2 Checkout, and Stripe. Lastly, when it comes to themes, you will most likely need to make a one-time payment of around $50 to get one.
You can choose your theme from the LearnPress theme collection wisely because the add-ons you get are only used for the theme you choose.
Best Course Plugin Features
Integration with BuddyPress, bbPress forums
Free add-ons like Wishlist, course reviews, and prerequisite courses
Automatic email system to send quiz results to participants
Available tools for tracking students, grades, and course content
Cons
Drip-feed and certificates capability is available through paid add-ons
No setup wizard like most WordPress plugins
Lacks a variety of communication tools
Pricing
LearnPress has a free plan you can get. Then, pricing starts with the Theme Bundle at $49 – $69 (one-time payment) and the LearnPress Pro Bundle at $249 with access to all add-ons (one-time payment).
10. LifterLMS
Pricing: 30-day trial for $1, paid plans start at $99+/year
Best for: Course Creators, Bloggers
Best feature: Front end student profiles
LifterLMS is a free open source WordPress LMS solution you can use to get started with course creation. The service has various management tools to manage your individual courses, create  membership websites, and Massive Open Online Courses (MOOCs).
With the plugin, you can create and power up an LMS through various add-ons that will satisfy the needs of various niche markets.
Also, LifterLMS has a large variety of themes you can choose from, which are found on the plugin's website. You can easily browse and choose the one that best suits your subject, industry, or brand.
Lastly, the plugin provides the possibility to integrate with marketing tools, including MailChimp, WooCommerce, and WPForms.
Best WordPress Course Plugin Features
Completion certificates and achievement badges
PayPal, Stripe, WooCommerce, and Authorize.net support
Backgrounds and design elements included in the graphics pack
Integrates with drag and drop editors
Cons
Becomes expensive if you need extra add-ons
Not SCORM-compliant
No video conferencing tools
Pricing
LifterLMS has a 30-day trial period, but you need to pay $1 to access it. Subscription packages start with the Individual Add-on for $99+/year, Universe Bundle for $299/year, and Infinity Bundle for $999/year.
11. Astra and LearnDash
Pricing: Astra is free or from $59/year, LearnDash $199/year
Best for: SMEs, Coaches, Agencies, Freelancers
Best feature: The combination of WordPress theme and LMS plugin that work together
Astra and LearnDash are a force to be reckoned with. Astra is the world's most popular third-party WordPress theme. LearnDash is the most popular LMS plugin for WordPress. Together, they provide the ultimate platform for building a learning website.
Both utilize drag-and-drop functionality to help build the website and the courses. Both have been designed to keep things simple and help you be productive. LearnDash does have its own themes but it integrates seamlessly with Astra so you have a ton of options.
Both Astra and LearnDash include performance optimizations to maintain the user experience and lots of monetization options so you can make a business out of teaching. Both have their own dedicated support team to help with anything you might need.
Overall, the combination of the most popular WordPress theme and most popular LMS plugin means you get everything you need to launch an online learning website.
Best Online Course Plugin and Theme Features
Super-fast WordPress theme with over 230 templates
Astra has a free version with access to some templates
Intuitive LMS plugin with everything you need to build courses
Both work seamlessly together and support each other
Compatibility with PayPal and Stripe payment gateways
Drag and drop creation tools for both
Cons
No free trial for LearnDash
Need to integrate eCommerce plugin for payment
Pricing
Astra has a free version while premium plans cost from $59/year for Astra Pro, $169/year for the Essential Bundle and $249/year for the Growth Bundle. LearnDash doesn't have a free option and costs $199/year.
4 Ways To Market Your Online Courses More Efficiently
Creating your courses will take time and effort, especially if you want to create a high-quality digital product that will add value to your students' lives.
Marketing them to your audience, though, shouldn't be a rough process. If you don't know where to start, below you'll find 4 easy ways to promote them.
Let's see them!
1. Promote Your Course With Email Marketing
Before you market your online lessons through email, you need to build your email list.
This is a fairly easy process as you'll need your website and a newsletter signup form to collect your visitor's email addresses.
Here's a straightforward example from Copyhackers:
This form might be simple, but it uses social proof ("Join 50,000+") to get visitors to sign up. Also, if you want to collect more information like your audience's gender or location, don't hesitate to add more fields to your form.
After that, it's time to create your online course email campaign. While some of the best online course platforms we saw today offer email creation, I'd highly recommend you get a dedicated email marketing platform for that.
An email marketing service will give you all you need to create and automate your campaigns, plus some more cool features to track your performance.
By choosing an all-in-one marketing tool like Moosend, you can benefit from online forms, email list management, landing pages, advanced reporting, and ready-made newsletter templates.
Now, all you need to do is create a converting email marketing campaign for your subscribers!
Below, you can see how A Beautiful Mess created a campaign for their online school to target the post-holiday period:
With this campaign, the course creators aim at boosting engagement between learners and giving new subscribers the chance to get one of their popular courses at 40% off.
If you still aren't using email, this is the day! You can check our email newsletter tools list for more information or, if you feel like it, try Moosend for free!
You can start sending unlimited emails a month for up to 1,000 subscribers. For more, Moosend pricing starts at $8/month giving you access to landing pages, the SMTP server, and more!
2. Market Your Course Through Social Media
Everyone uses social media these days! And somehow, businesses have even found ways to promote their products/services through TikTok marketing. Which, in my opinion, shows how versatile social media platforms are and how ingenious marketers can be!
Like any other brand, you can effectively promote your online courses and downloadables through Facebook, Instagram, Twitter, and more. The choice is yours!
To achieve this, you'll need to set up a new profile/page for your online course business. After setting everything up, there are two things you can do to promote your lessons: go the organic way or create paid ads.
Let's see what these entail!
Online Course Promotion Through Organic Traffic
Creating beautiful posts will set your organic traffic efforts in motion. Here, all you need is to create some attractive posts.
What you need is:
converting social copy to intrigue your followers
a straightforward call-to-action leading to your course page/landing page
a cool image to attract attention
Here's an excellent example by the School of Calisthenics:
The brand has set up a great Facebook profile that posts regularly and replies to comments. On top of that, they also add beautiful visuals to attract attention.
Their greatest weapon, though, is the addition of videos that show followers what the course entails and how easy it is to get fit.
This is a very simple strategy to promote your online course at zero cost.
Just don't forget to maintain a regular posting schedule for better results and greater engagement!
Online Lesson Promotion Through Paid Ads
Now paid traffic needs a little more work since depending on the social platform you pick, you have different options and tools to work with.
For example, if you create a Facebook page, you can create Facebook Lead Ads to target your audience.
Below you can see how LSE promotes its online certificate course. From the social copy to the image, this is a very simple yet effective strategy to advertise your course to potential students looking for their next challenge.
Paid traffic will give your online course more visibility, allowing you to show your content to the right social media following.
Whether you choose Facebook, Instagram or Twitter, paid ads are an effective way to market your lessons. Just don't forget to run your ads on the platform that has the majority of your target audience to maximize your conversion efforts!
3. Plan An Irresistible Course Sale
Running a sale is one of the oldest and most successful tricks in the marketing book. With digital products, orchestrating an irresistible sale is a piece of cake since your customer receives the product immediately.
However, to get the most out of it, you need the right allies. First of all, you have to decide which digital product you will promote and on which marketing channel.
Again, leveraging the power of your email list should be a priority as your subscribers will already be familiar with your content and teaching methods.
Now, whether it's a single course or a bundle sale, make sure to give your potential learners all the right reasons to get it from you.
To create the ultimate online course sale email, make sure that you check the top email marketing best practices to avoid common rookie mistakes like sending them at the wrong time or delivering impersonal messages.
As you can see below, CoSchedule follows some of the top tips to give its course sale a boost:
More specifically, the company:
personalized the content using the recipient's name
added a countdown timer to add urgency
made the offer stand out through visuals
used an eye-catching CTA with converting copy
If you want to replicate this example, make sure that you add personalization and countdown timers through your email marketing tool.
Through Moosend's platform, you can find all the advanced elements you need to plan and create your next big sale in a few minutes. You can sign up for a free forever Moosend account and see what you can build!
All you need is your course and your imagination!
4. Reward Your Learners With A Free Course
Did someone say FREE? Well, you know it, I know it, everyone knows it: free stuff is the best promotion tool for your business.
For your online course marketing efforts, giving away a free course will give your audience the chance to know your teaching style and get familiar with you as an instructor.
If you want to benefit from this strategy, create either an email campaign or a social media post and promote it to your subscribers or social followers.
Here's a free course promotion email example by MarketingProfs:
I love how this is based on an "open house" idea to make it a little more special rather than saying here's another free thing for you.
What is also worth mentioning is that subscribers can select any course they desire. So, this automatically increases the value of the message.
Next, subscribers can see the instructions in a simple bullet form. Which is something that you should include in your free promo campaigns, especially when your learner needs to follow a few steps.
Simple and informative, you can follow this example to create an equally converting email for your subscribers and slowly turn them into your loyal students.
Choose The Best Online Course Tool
Planning an online course requires some of the best online course platforms to equip you with efficient and time-saving tools.
Examining your options is the best way to determine which software will work in your favor! Of course, taking advantage of any free trials and plans is the best tactic to avoid getting a hard-to-use tool.
Moreover, to get from lesson creation to online course domination, don't forget to invest in cost-efficient marketing channels like email and social media. These two will help you build your online course marketing strategy and ensure that your learners will see your online content and give it a try! And if you need a quick solution to get started asap, register with Moosend and show your email subscribers what you've been up to!
Learning is a lifelong process, but it doesn't need to be bound by classroom walls! So, get out there and teach your learners something new!
The sky's the limit!