9 Best Sendy Alternatives For Better Usability (2023)
9 Best Sendy Alternatives For Better Usability (2023)
Published By
John Desyllas
September 14, 2023
If you're considering using Sendy for your business needs or you're disappointed with the service, you may want to explore the best Sendy alternatives out there.
In this post, we'll take a look at other affordable alternatives to Sendy that offer more features and better usability, so you can pick the one that best suits your needs!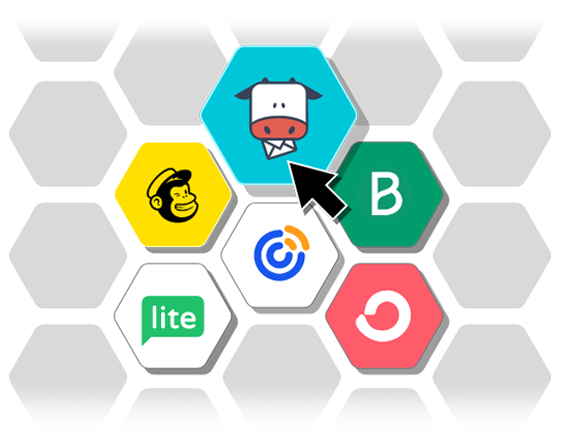 Looking for an alternative?

Save $$$ of your marketing budget by switching to Moosend today!
How We Selected The Following Tools
All of the tools in this list have been tested by our team to provide an unbiased description of their features and capabilities.
We spent hours setting up new accounts and trying each software to provide an accurate experience and show users exactly what they will come across when they sign up. Find more information about our software selection methodology on how we choose tools to feature on the Moosend Blog.
Top Sendy Alternatives: Comparison Table
Sendy is a self-hosted email newsletter application that helps you send trackable emails via Amazon Simple Email Service (SES). It is quite popular among users because it allows you to send bulk emails, transactional emails as well as newsletters at a very low cost.
But along with the pros, it has some major drawbacks/limitations compared to its alternatives:
There is no easy way to create modern newsletters (the editor is very basic)
There are no email templates available
The service is difficult to set up on your server
There is no A/B testing functionality to test your campaigns
Updates are manual and you also need to pay for them
No option for a dedicated IP address
Most users observe that the above limitations start hindering their businesses' growth at some point. So, the table below will help you decide on your next move whether you want to switch from Sendy or start using an email marketing platform.
| | | | | |
| --- | --- | --- | --- | --- |
| | Free plan/Trial | Pricing | Best Feature | Ratings |
| Sendy | No | $1 per 10,000 emails + $69 one-time payment | Rules and webhooks | |
| Moosend | Yes (30-day free trial) | $9/month | Powerful email automation and segmentation | |
| Constant Contact | Yes (60-day trial) | $12/month | Social media posting and reporting | |
| Brevo | Yes | $25/month | Built-in CRM feature | |
| MailerLite | Yes | $10/month | Surveys and quizzes | |
| Email Octopus | Yes | $9/month (or $7/month for Amazon SES users) | Reports are available forever | |
| Mailchimp | Yes | $20/month | Well-established platform that's easy to use | |
| SendGrid | Yes | $19,95/month | Easy-to-use API | |
| Zoho Campaigns | Yes | $4/month | Geo-tracking feature | |
| Listmonk | Yes | Free | Open-source and totally free | – |
Now let's see each service in more detail!
1. Moosend
Pricing: Paid plans start at $9/month, 30-day free trial (Sign up here)
Best Feature: Advanced email automation and segmentation
Moosend is one of the best alternatives to Sendy since it eliminates all of the above limitations while staying true to the affordable side. The platform has a modern newsletter editor that's not only easy to use but has also a minimal learning curve. Moosend users are provided with various email newsletter templates for various industries and goals and, best of all, they are all mobile responsive.
This email marketing tool is also helpful in saving crucial time. Specifically, you can automate repetitive tasks and create automated sequences with ease. This is all due to the visual workflow editor that lets you see the triggers and actions of your workflow in a nice view. Sendy users, on the other hand, would need a service like Zapier to craft a series of follow-up emails based on certain triggers.
When it comes to expanding your list, Moosend gives you various types of subscription forms and landing pages. On top of that, you can further segment your audience based on a plethora of criteria to target them better and deliver tailored content to them. Finally, if you experience any difficulty whatsoever with your campaigns, the support team is always there to help, even for free accounts.
Overall, Moosend offers an all-in-one service for email marketing and automation, so users don't need to resort to third-party apps (as in the case of Sendy) and end up paying more.
Moosend Best Sendy Alternative Features
Modern drag-and-drop email editor
75+ free email newsletter templates
Advanced marketing automation (pre-made recipes, conditional logic, visual editor)
Email list segmentation to deliver the right content to the right people
Subscription forms and landing pages to grow your audience and convert them
Integrations with various CRM, eCommerce, social media platforms and more
Pricing
The platform offers a nice 30-day free trial that you can use without even providing your credit card. Paid pricing starts at $9 per month giving you access to all the features including unlimited emails, subscription forms, landing pages, and more.
2. Constant Contact
Pricing: Paid plans start at $10/month, 60-day free trial
Best Feature: Social media posting and reporting
Constant Contact is an email marketing solution for small businesses as well as bigger ones, offering all the tools you need to reach your customers and grow your business. It has a nice drag-and-drop editor that requires minimal effort to create a stunning email design. Users also get pre-made email templates that help save.
Regarding automation, you can easily create drip campaigns or series of emails to onboard, nurture, or convert your audience, while you can schedule email delivery to ensure maximum impact. What's more, Constant Contact equips you with the ability to A/B test your email subject lines and thus increase your rates. This is a surefire way to optimize your marketing strategy.
Last but not least, the platform has integration with social media platforms. This enables you to create and launch posts to Facebook, Instagram, Twitter, and LinkedIn from a single dashboard.
Constant Contact Best Features
Various email newsletter templates
Autoresponders and contact triggers
List management tools
Event management and polls
Integrations through API
Pricing
Paid plans of Constant Contact start at $10/month for up to 500 subscribers. There is also a 60-day free trial of the service for testing purposes.
Read our Constant Contact Analysis
3. Brevo (formerly Sendinblue)
Pricing: Paid plans start at $25/month, free plan
Best Feature: Built-in CRM feature
Brevo is another email marketing software capable of handling your transactional emails as well as your marketing campaigns. The most important feature you get with the software is its CRM, that's free to use and lets you store unlimited contacts. Moreover, you can manage your deal pipeline efficiently and keep track of every stage.
Regarding email campaigns, they can be created with ease due to the user-friendly email editor and the abundant HTML newsletter templates offered. The platform also gives users advanced automation and a visual workflow editor, despite being limited to 2,000 contacts for the Starter plan.
Finally, this tool offers personalization of your email campaigns and SMS. Coupled with the WhatsApp campaigns functionality, you get a multi-channel tool to reach and convert your audience effectively.
Brevo Best Features
Unlimited contacts and CRM automation
Transactional email sending
SMS & WhatsApp Campaigns
Customizable signup forms
Pricing
Paid plans of this Sendy alternative start at $25/month giving you 20,000 emails per month, unlimited contacts, transactional emails and SMS marketing. Brevo also offers a free plan for unlimited contacts, but 300 email sends per day.
4. MailerLite
Pricing: Paid plans start at $10/month, free plan
Best Feature: Surveys and quizzes
Another really affordable alternative option to Sendy is MailerLite. This email marketing service is simple and easy to use, so you won't get stuck or need technical knowledge to continue. It is ideal for startups and small businesses on a tight budget since it offers all the necessary tools in a neat package.
More specifically, you get a custom HTML editor and a plethora of newsletter templates to simplify email creation. Additionally, Mailerlite users can create unlimited pop-ups and embeddable forms, as well as landing pages to increase lead generation and conversions.
Regarding the performance of your emails and analytics, you get real-time performance reports, email click maps and eCommerce sales tracking.
MailerLite Best Features
Drag-and-drop newsletter editor
Unlimited pop-ups and embedded forms
Unsubscribe page builder
Email open rate by location
Website builder
Pricing
MailerLite's premium plans start as low as $10/month and you get the majority of features, but unfortunately, multiple automation triggers are absent. The service has a free plan, too. It allows 12,000 monthly emails for up to 1,000 subscribers.
5. Email Octopus
Pricing: Paid plans start at $8/month ($7 for Amazon SES users), free plan
Best Feature: Reports are available forever
Email Octopus is an email marketing software that helps businesses design, launch and manage personalized email campaigns. It offers two options, one for regular users and one for Amazon SES users.
You get a nice drag-and-drop editor, customizable templates and simple automation functionality to schedule any kind of drip campaign sequence. Interestingly, users get multi-step automations even in the free plan. While the service is great overall, its API documentation is a bit lacking so you may not have complete control over precise details.
Where the platform really shines is the reporting aspect. Reports are available forever (in the paid plan) and you can see visually each subscriber activity in real-time. The historical view of past activity helps users identify problems and optimize their strategy.
Email Octopus Best Features
High-quality email templates
Unlimited landing pages and forms
Basic automation for welcome emails and drip campaigns
Customer support even in the free plan
Pricing
Paid pricing of the tool starts at $8/month (or $7/month for Amazon SES users) for the full features of the platform. There is also a free Starter plan for up to 2,500 subscribers and 10,000 email sends per month.
6. Mailchimp
Pricing: Paid plans start at $20/month, free plan
Best Feature: Well-established platform that's easy to use
Mailchimp is a well-known email marketing and automation platform that boasts easy campaign creation and powerful automation tools. For starters, Mailchimp has a clean interface and a robust editor that will enable even complete beginners to craft a stunning email campaign. Users can also set up autoresponders, send their RSS and transactional emails and optimize their campaigns via A/B testing.
What's more, the tool equips you with behavioral targeting, a feature allowing you to create more tailored campaigns for your subscribers. Furthermore, the A/B testing functionality helps you find the right subject line, test your email copy and send times and decide the winning variation of your campaigns.
Mailchimp integrates perfectly with numerous apps, including social media and CRM, to streamline your processes. The downside of the platform is the steep price tag and the advanced features that are only available in the highest tier plan.
Mailchimp Best Features
List management tools to keep your contacts organized
Campaign push notifications
Multi-step automation workflows
Behavioral targeting
Various integrations with popular tools
Pricing
Mailchimp's premium plans start at $20/month and provide access to most of the essential features, but not all of them. The service also offers a free plan that users can take advantage of, but it's only for 2,500 monthly sends and 500 contacts.
7. SendGrid
Pricing: Paid plans start at $19,95/month, free plan
Best Feature: Easy-to-use API
SendGrid is another notable Sendy alternative allowing users to deliver mass emails to subscribers using a reliable infrastructure. The platform equips you with an easy-to-use email builder and you can either create a newsletter from scratch or customize one of the available templates.
Of course, you can create automated sequences for your audience and integrate the service with various third-party apps to streamline your process. In case you own an eCommerce business, SendGrid can deliver your transactional emails without any deliverability issues.
On top of that, you get delivery optimization tools, such as SPF records, custom DKIM and suppression management so that you ensure the best possible deliverability.
Last but not least, SendGrid's powerful API will let you create a customized email program for your subscribers, thus achieving the best results possible.
SendGrid Best Features
Great deliverability
A/B testing options
Real-time analytics and delivery insights
Pricing
SendGrid's premium plans start at $19,95/month for the Email API package. You get email marketing, an SMTP relay, webhooks and delivery optimization tools among others. The service has a free plan for up to 100 emails/day forever.
8. Zoho Campaigns
Pricing: Paid plans start at about $4/month, free plan
Best Feature: Geo-tracking feature
Zoho Campaigns is a very simple email marketing solution you can choose for your business with a great set of features. This tool has a user-friendly interface and a drag-and-drop email builder to create your newsletter campaign in a few minutes. To help you out, this also offers pre-made templates to save you time and effort in creating your campaign from scratch.
Moreover, you can benefit from Zoho Campaigns' email workflows to set up unique sequences with your triggers and actions. This way, you can engage your audience with meaningful messages at the right time.
Apart from marketing automation, you can also use the available mailing list management and segmentation features to keep your contacts organized and nurture your leads with personalized content.
Lastly, this alternative to Sendy comes with reporting and analytics to help you track your performance and optimize accordingly. You can use geo-tracking and device reports to improve your promotional messages based on data, as well as benefit from social statists to power up your multi-channel marketing approach.
Zoho Campaigns Best Features
Drag-and-drop email editor
Email newsletter templates
Scheduled email sending
Social analytics
Pricing
Zoho Campaigns has two paid plans. The Standard starts at $4/month for up to 500 contacts, while the Professional starts at about $6/month for the same number of subscribers. There is also a free plan available, offering the basic features for up to 2K contacts and 6,000 campaigns/month.
9. Listmonk
Pricing: free to use
Best Feature: open-source and totally free
Listmonk is a self-hosted newsletter and mailing list manager. Its main difference with Sendy is that it's entirely free to use. The tool certainly requires you to have strong technical knowledge since you'll need to install it on our server and work out the details.
The UI is simple and easy to grasp, but don't expect anything fancy like other email marketing providers. Listmonk lets you create powerful, dynamic email templates and write HTML emails in the WYSIWYG editor. The API also enables you to send transactional messages to subscribers using pre-defined templates. What's more, the tool helps you manage subscribers across many single and double opt-in lists with custom JSON attributes for each subscriber.
All in all, Listmonk is an ideal tool for businesses with specific needs that are on a really tight budget. Nevertheless, users need a strong technical background to run the tool as intended.
Listmonk Best Features
Dynamic email templates and transactional emails
HTTP webhooks to send SMS, Whatsapp, and FCM notifications
Simple analytics to track important metrics
List management
Pricing
Listmonk is completely free to use.
Choosing The Right Sendy Alternative
While Sendy provides an undoubtedly affordable service, it lacks the usability and advanced features of its competitors. This will impact the time you spend in creating your campaigns as well as your budget since you'll need third-party tools to assist you.
If you're looking for an email marketing solution capable of handling your marketing and transactional emails while having support agents there for you 24/7, sign up for a Moosend account and see how you can transform your digital game for yourself!