Email Marketing Vs. Social Media: Definitions, Assets & More
Email Marketing Vs. Social Media: Definitions, Assets & More
Published By
Alexandra Marinaki
September 11, 2023
You've probably landed here to watch the ultimate battle between email marketing vs. social media. Grab some popcorn and join us on the field!
Email and social media have gained substantial popularity in digital marketing. Through both channels, marketers aim to boost brand awareness, increase conversions, and secure customer retention. But are they equally effective at all times?
In this guide, we'll explore their definitions and some of their top uses in a marketing context. Finally, we'll help you decide how to capitalize on each one based on your business goals and target audience.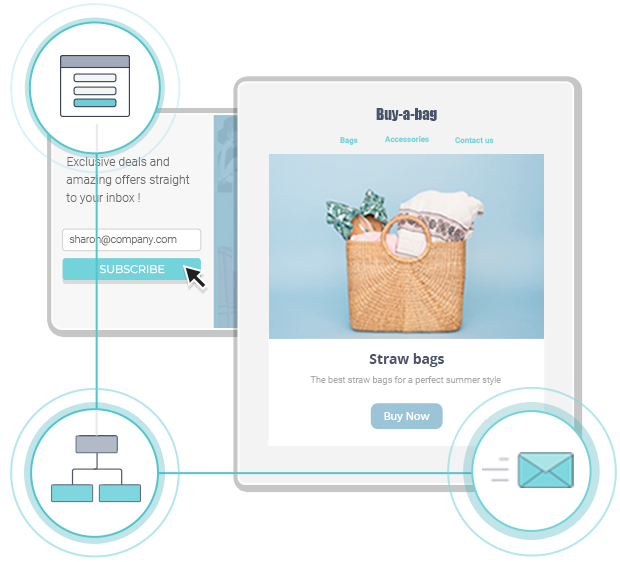 Try Moosend Today
The easiest and most affordable email marketing and newsletter software!
Ready? Let's go!
Email Marketing Vs. Social Media Marketing: The Definitions
Let's start with the definitions of these two methods:
What Is Email Marketing?
Email marketing is an efficient online marketing technique that aims to nurture existing and potential customers, increase sales, and generate new leads via emails. The primary email types used for this goal are newsletters and transactional emails. For instance, you can send a seasonal offer to your buyers or a campaign with the latest content from your blog.
Most businesses utilize email marketing services to set up beautiful campaigns in simple steps. Plus, email marketing automation and segmentation help marketers build personalized experiences for current or potential buyers. To start messaging those email users, you need to get their opt-in first.
Look at this email example by Forever 21:
Did you know that Moosend has all the features you'll ever need to build a finetuned email marketing process and power up your ROI?
What Is Social Media Marketing?
Social media marketing is a dedicated marketing strategy utilizing the power of social media platforms such as Facebook, Instagram, or LinkedIn to promote services/products and build a strong brand presence.
Here's a social media post from the same brand:
You can do it both in the organic and paid way. In the first case, you can share your latest content, like blog posts, infographics, or podcasts, to extend your organic reach and bring visitors to your website. Or you can set up targeted ads to get a new audience based on specific criteria, such as age and profession.
And Now Off To The Stats
You probably need more evidence regarding the efficiency of both channels. Here, we've gathered the latest marketing stats for each platform to show how impactful they are:
Email Marketing Stats
We'll kick off with a few email marketing statistics:
The number of emails sent and delivered daily in 2020 was around 4 billion and is projected to reach 376.4 by 2025.
47% of marketers stated that email marketing is their most effective channel, followed by social media marketing (39%), SEO (33%), and content marketing (33%).
Almost half of the consumers (49%) responded that they'd like to get weekly emails from their preferred brands.
Consumers marketed via email often spend 138% more than shoppers who do not receive email offers.
The average email marketing ROI (Return-on-Investment) is $42 for every dollar spent.
As you can understand, it's worth implementing an email marketing strategy in your whole business plan. Spot the needs of your target buyers and adapt your email marketing messaging accordingly. And sooner or later, the engagement rate will start rising.
Social Media Marketing Stats
Let's move to social media. Here are the most informed statistics you need to know:
There are over 3.6 billion users on social media, and by 2025, this number is projected to reach up to 4.41.
Top social media networks are Facebook, YouTube, Whatsapp, and Facebook Messenger.
57% of consumers follow brands on social media to stay up to date with their products and services, and 47% to learn about company news.
91% of consumers following a brand on social media land on the company's website or app, 89% purchase, and 85% spread a word to their family and friends.
83% of top social media marketers stated that the value of their content is a leading contributing factor for social media success, and 60% said it's website changes.
Hence, whether you have a small business or lead a large corporation, it's wise to craft a social media plan and make the most of those trends.
The Pros Of Each Digital Marketing Channel
Undoubtedly, the stats above are impressive. However, if you've just launched your own business or you're looking for ways to optimize your existing strategy, you may be wondering how to distribute your marketing budget.
Here, we've listed some of the benefits of each method to help you make the right decisions based on your business goals.
Email Marketing Benefits
Let's dive into the top benefits of email marketing:
1. Personalized Marketing Campaigns
Personalized marketing has proven to be a potent tool in the hands of marketers. When you infuse your messages with personalization, you can craft targeted campaigns and secure a high conversion rate.
Most email marketing platforms like Moosend offer segmentation features to build email lists based on specific criteria, such as demographics or behavioral data. Send targeted marketing messages to each buyer to maximize open rates.
You can even personalize email subject lines to draw the subscriber's attention at first sight.
2. Nurture Existing Audience
Through this marketing technique, you contact email subscribers that have already interacted with your brand. You can send them newsletters with company updates and promotions to build positive relationships and win customer loyalty.
For example, set up welcome and onboarding email series to support them at critical customer journey points. Or you can send an informative newsletter with relevant and valuable content. Remember, email and content marketing often go hand in hand, so share your articles and infographics with them to show that you care.
3. Increase Website Traffic
Want to boost your website traffic in simple steps? With the appropriate CTA buttons on your emails, you will increase click-through rates and redirect email subscribers back to your website.
From there, you can lead them to pages they'll find interesting, such as product recommendations or customer stories. The more they interact with your website content and assets, the higher the chances they'll convert.
Social Media Marketing Benefits
Off to the social media marketing blessings:
1. Reach A Wider Audience
With social media marketing, things flow differently. Apart from your followers, who chose to see your updates and posts, each platform's algorithm will display your posts to other users. This will take place based on network activities or relevant interests.
Thus, if you want to broaden your outreach, social media is an excellent option. Moreover, you can target a specific audience through social ads to increase website traffic and lead generation and find new potential customers.
2. Boost Brand Awareness
According to the social media stats mentioned earlier, the number of global social media users is massive. So you can't leave this opportunity unseized. Research your target audience to find their most common social media accounts to nurture buyers wherever they are.
People already interested in your brand will keep an eye on your updates on social media. If you share content that resonates with them, and get reactions such as likes, shares, or retweets – as long you're on Twitter – additional users will get notified about your business and product/services. Digital word-of-mouth marketing is coming to life!
3. Build Customer Relationships
Social media channels offer the space for two-way communication. When followers are interested in a post, they will comment and even get a reply from you. By monitoring customer engagement through your posts, you can "listen to" what they like and dislike, which is helpful for your business.
Plus, lots of businesses provide customer service through social media, too. This way, you show that you're available and ready to support them asap. These actions create a sense of community and belonging for your buyers and prospects, which can benefit your brand in more ways than you can imagine.
Email Marketing Vs. Social Media: Which One Is Best?
The correct answer is – it depends!
As you saw above, these methods can serve various purposes. So before making any decision, define your primary business goals and your budget.
For example, if you've just launched a B2C eCommerce store, you can first start nurturing communications through social media. For starters, no cash is required to raise brand awareness if you go the organic way.
But, if your business has recently grown, you'll need more targeted marketing efforts to sustain and increase your ROI. Use email marketing and send personalized campaigns to your subscribers to move them down the funnel. Or set up social media campaigns to attract a new audience that is likely to convert in the future.
How To Combine Email With Social Media Marketing
The real magic happens when you find ways to combine those marketing forces. When interacting with your buyer personas in more than one channel, you build ongoing communication that can prove to be super handy for you.
Here are some marketing ideas to consider:
1. Add Social Media Icons To Your Email Marketing Campaigns
First off, when crafting your new email campaign, make sure to add social media links on the footer. This way, you invite subscribers to see the rest of your content and receive regular updates on your products or services.
Here's your reference by GoPro:
You can also create a dedicated campaign for active subscribers to invite them over to your social media profiles. Feel free to offer them an incentive if you wish!
2. Invite Social Media Followers To Subscribe To Your Newsletter
You can also do it vice versa. Get your social media followers to subscribe to your newsletter through a social post. This is even more useful if you already have a fan base.
Here's an example by Pamperedpost:
Don't forget to mention what they'll gain by signing up. Whether you send offers or new content, it's wise to create the right expectations and reach up to them.
3. Run Retargeting Campaigns On Social Media
Another great idea is to leverage your subscriber data to run retargeting campaigns on social media. This technique will keep reminding users who have already interacted with your brand about your services and which pain points they can relieve.
For instance, you can run social media ads for subscribers who have recently clicked on an email to keep them alert.
4. Host A Giveaway Contest To Go Viral
Last but not least, you can also host a giveaway contest, obtain the info you want, and use them wisely. For example, ask the users to follow you on social media, share your post, and sign up for your newsletter.
And who knows, maybe your giveaway will go viral, and more people will learn about you!
Limitations Of These Marketing Tools
Before wrapping up this email vs. social media marketing post, it's worth mentioning that there are some red flags in both marketing techniques to take into account.
For email marketing, that would be deliverability. Keep an eye on your email provider to ensure that your campaigns don't end up in spam and your bounce rate remains low. Otherwise, this can damage your brand authority down the road.
Plus, to excel in email marketing, it's essential to have access to specific resources. Creating compelling copy and a newsletter design that sticks may need some practice, but it's worth the effort.
As for social media, the main disadvantage is that it's difficult to measure its effectiveness and ROI. Even though you can gain insights into how social ads perform, it's challenging to translate the impact of organic to ROI.
Plus, if users start complaining about you on social, this can hurt your brand image, depending on the importance of the matter. So it's essential to stay alert to respond quickly if similar incidents occur.
It's Officially A Draw!
There's no one way or another when it comes to marketing. All you need to do is learn your target audience inside out and unveil their purchase preferences and habits. Sit down with your team and set your goals first based on your available budget when you're ready. And once you decide which method to prioritize, create a marketing strategy, and get ready to roll!
And if you concluded that email marketing would be your go-to tactic, then we have the best solution for you. Sign up for a Moosend account today, pick one of your favorite ready-made templates and build campaigns that are hard to forget with unique features!