Email Blasts: Definition, Tips & How To Send One [2023]
Email Blasts: Definition, Tips & How To Send One [2023]
Published By
John Desyllas
September 12, 2023
Does an email blast actually work? The answer is it depends!
Email blasts surely had their moment. After all, they've been around since 1978. In later years, email campaigns were born.
Today we'll be exploring:
the definition of an email blast
3 reasons why email blasts should be avoided
tips to craft successful email blasts
how to send an email blast
Ready?
What Is An Email Blast?
An email blast (a.k.a mass emails) is when a single email message is sent to a large group of customers or prospects simultaneously.
Instead of the classic one-on-one communication between two people, you deliver your email messages to a whole mailing list at the same time.
Usually, an email blast lacks personalization features. Nevertheless, email blasts were once the power that gave Gary Thuerk (the first of the "eblasters") $13 million in sales. Since then, marketers have used email blast software to design beautiful email newsletter templates and reach out to their audience.
Using an email blast service like Moosend will allow you to craft converting newsletters and capitalize on the ROI that email marketing offers. You can create an account and test the service for free!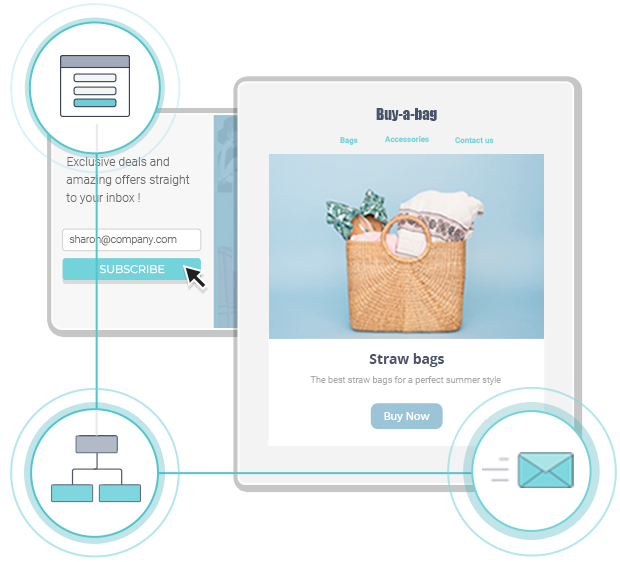 Try Moosend Today
The easiest and most affordable email marketing and newsletter software!
3 Reasons Why Email Blasts Belong To The Past
Email blasts had their prime in the early years of the Internet when the goal of digital marketers was to reach as many people as possible. Moreover, everyone was thrilled that the ROI was so massive. So, email blasts were close to spam!
Things have changed now! Spam traps are getting smarter. The same applies to your email recipients who are now more than capable to identify and delete spammy emails.
While bulk emails can prove useful in some cases, let's see why an email blast belongs to the past.
Note: If you're pressed for time and want to learn more about how to create and send an email blast, click here!
1. Email Blasts are Unsegmented
Email blasts overlook the number one rule of email marketing, which is none else than the fact that you can't be all things to all people. Email list segmentation is the first step of the three-step approach of the marketing model: the STP model.
Email campaigns follow this model. With segmentation, you can identify groups with specific needs and create more focused, and effective marketing messages.
More specifically, you can segment your audience using:
demographics
psychographics
hobbies and entertainment habits
geographical location
behavioral characteristics, and many more.
Usually, all it takes is to segment your email subscribers is to create an online form and add them to the correct segment.
Let's see this example by Chubbies:
Do you understand what "HAWT" stands for? Well, it's the eye dialect for "hot." Depending on your target audience (gender, age group, interests, etc.), this may or may not resonate with them. So, what audience would this subject line work best with? You guessed that right! TEENS!
Now, if you tried sending this subject line to every subscriber, the most important thing you'd manage is to waste credits or money.
Your subject lines determine the success of your marketing email and affect your open rate and click-through rate. The same applies to your pre-header and email copy. Therefore, segmenting your audience will give you more conversions.
Email Campaigns: Segmenting your Audience
Email campaigns are sent out to segmented lists. These lists are segmented using different filters.
For instance, you can use Moosend's powerful segmentation features to group subscribers based on various criteria, like the ones below, and increase conversion rates. You can do that simply by creating a free Moosend account!
Segmentation is paramount for eCommerce stores that need to re-engage their audience and deliver powerful CTAs to convert them.
Moreover, by leveraging Moosend's sophisticated marketing automation features, you can also create segments using filters. Here's how the magic happens:
These filters take over automatically, based on the action you set as a trigger.
2. Email Blasts are Untargeted
While segmentation and targeting appear similar, targeting picks up right where segmentation left off. Targeting occurs within the particular way in which we evaluate how inviting a segment is.
This could be achieved through any of the characteristics below:
Email Campaigns: Leveraging Targeted Email Marketing
Targeted email marketing can work miracles for your email marketing efforts since your email content will be tailored to your recipients' needs.
This way, your subscribers will feel valued and buy your new products or services more easily.
A great example of email targeting done right comes from EM Cosmetics:
The brand has a simple email campaign to target cart abandoners (like myself) and lead them towards conversion. So, does this email work?
Well, based on my experience as a buyer, a clever cart abandonment email campaign that has the right level of personalization is better than any random email blast!
And if you're wondering how to get started, Moosend has all the personalization features you'll ever need to grab those subscribers' attention.
3. Email Blasts are Unpredictable
Due to the lack of scheduling and planning, an email blast is neither consistent nor frequent. As a result, despite all the hard work on behalf of the digital marketer, the impact is zero.
Why? Well, the reasons are quite simple:
users can't get to know your brand through one unexpected email once in a blue moon.
recipients do not establish an emotional connection with your brand
consistency in sending shows reliability; otherwise, users wonder whether you are still in business.
Email Campaigns: Maintaining a Regular Sending Schedule
Planning ahead is the best way to engage your audience in a timely manner, establish connections, and pass as a reliable sender. Experienced email marketers are weeks ahead in their content.
A consistent schedule isn't only important for your recipients but also for your email deliverability. Getting flagged as spam will harm your sender reputation. This means that your future emails won't even stand a chance against the spam folder.
Also, don't forget that there are laws in place like the CAN-SPAM act that impose strict commercial message rules, allowing recipients to stop you from emailing them.
To avoid turning into a spammer, schedule your email campaigns to establish bonds, and avoid harming your reputation.
You can do that through Moosend's email marketing automation platform. All you need is to sign up for an account! Then, set up your email campaign (which I'll show you how later on), choose your mailing list, segment, and set the date and time you want your campaign to go out.
This feature is tremendously helpful as digital marketers can set up their entire email marketing master plan. It will also further enable you to align your campaigns on other platforms, such as social media networks.
One certainly needs to plan carefully to ensure that their latest webinars, articles, ebooks, you name it, are out there, served while it's still hot.
Tips To Improve Your Email Blasts
In this section, we'll provide you with useful tips on how to do an email blast the right way and amaze your subscribers.
1. Step up your Email Newsletter Design Game
Your email design is basically what your users will see once they open your campaign. It's imperative to use a design that's consistent with your existing website and brand.
For inspiration, you can always check our incredible newsletter examples guide to fill your creative pools!
If you're wondering how to get the best email design, here are some of the things you can do:
Get an in-house designer's help
You can ask your in-house web/graphics designer to create your email blast template on their tool of choice.
Remember that they will have to export that in HTML as this is the format of email campaigns.
Find a ready email blast template
If you don't have an in-house designer, you can use a template library to find your ideal email blast template. You can also purchase a ready-made email template through websites like Themeforest.
The con: You will receive a preset email campaign template that might look distant from your own brand and personal taste.
The pro: With so many options available, you will most likely find something simple that matches your branding.
Use an email designer tool
Email marketing tools like Moosend provide simple online tools that let you design a bespoke email campaign from scratch. Click here to register for free and have a look at our campaign editor!
Using simple drag-and-drop components and uploading your logos and images, you can customize any aspect of your email design and make it consistent with your brand and taste.
If you don't want to start from scratch, don't forget that you can use our free email templates as a starting point for a gorgeous email campaign.
2. Find out the Best Time to Send an Email Blast
As emails and advertorials pile up in your subscribers' inbox you really need to make sure you optimize your sending time.
Based on recent email marketing best practices, it turns out that Thursday at 8:30 am is the optimal time for the average sender.
But hey – you need to make sure what works for you and your audience.
3. Create Consistent Email Copy
Your email campaigns should feature consistent copy, a universal writing style, and a clear message. Moreover, your email copy should reflect your brand personality. This way your customers will feel familiar every time they receive a marketing message from you.
To show you what I mean, Morphe has the perfect example:
The brand uses the same tone in every email they deliver. Also, their killer subject lines like "Bundle up, babe" give off a certain vibe. This entertains their subscribers and makes them feel closer to the brand. And with the rise of generative AI creating copy that is consistent can be done with the use of tools like Hubspot's Free AI Paragraph Rewriter or ChatGPT!
3. Leverage the Power of Personalization
Email marketing is the primary strategy for marketers to reach out to their audience in a personable way. By applying personalization in your promo messages, you can win your recipient's hearts and wallets easier.
To give you an example, let me show you a brilliant personalized welcome email by bareMinerals:
The personalized email subject line is all your new email subscribers want to see to establish a relationship with you.
Failing to personalize your emails will prevent you from building connections with your list and, thus, lead to lower open and click rates.
4. Keep an Eye on your Metrics and Performance
Email campaigns give marketers access to valuable information, so monitoring and tracking should be your new best friends from now on.
Through open and click rates, marketers can assess and evaluate data to improve their future campaigns. Through bounces, they can decide whether they need to adjust their opt-in methods or check their sender reputation.
You didn't forget about email deliverability, right? To make the most out of your metrics, make sure to choose one of the top email marketing services that offer advanced reporting capabilities.
5. Use Email Blasts Smart
There are certain cases that email blasts just make sense. When you want to spread a message fast and to your whole email list, email blasts are the go-to.
Specifically, an email blast would be ideal for:
flash sales
company newsletters
events
new product launch
contests and giveaways
Using your email marketing software to send an email blast for the above use cases can help both big and small businesses engage their audience fast and effectively.
Now, dear reader, it's the moment you've been waiting for! It's time to learn…
How to Send an Email Blast
As promised, let's see how to create a cool email blast.
Now let's get your email marketing strategy to new heights!
1. Select an Email Blast Service
The first step to send an email marketing campaign is to log in to your email marketing or automation tool. If you haven't decided on one yet and want a reliable email service provider to deliver your next email blast, be sure to try out Moosend for free.
Once you access the platform of your choice, you'll need to create a new campaign. You'll see various options such as regular campaign, A/B test campaign, etc.
The one you need is a regular campaign. Then, you'll need to complete some basic information about your email blast like the campaign name, type, subject line, and sender name.
Regarding the campaign type, it's better to use the HTML campaign, which will allow you to include images, links, text, and other cool elements.
You can also enable tracking in Google Analytics provided that you have it configured on your website.
Hot tip: To make your subject lines more effective, you can use Refine, a free subject line optimizer tool that tests their efficiency and provides useful recommendations.
2. Choose your Email List
The second step involves selecting the mailing list or segment that will receive your awesome campaign.
Keep in mind that if your email blast service is Moosend, you can send unlimited emails. Plans start at $9/month and you get access to all the features like the landing page builder, transactional emails, and much more. You can even check out our pricing page at your own leisure.
So, without a doubt, selecting an email marketing tool that offers unlimited emails lets you send your email blasts without any fear of going over your limits.
3. Design your Email Blast
After setting the basic setting of your email blast and selecting the email list that will receive it, you're ready to start designing your campaign.
To do that, you'll need to access your email marketing platform's campaign editor. What you're going to see will look something like this:
As you can see, you can either pick a pre-made email blast template and save crucial time or start from scratch.
Most email blast software provide rich template libraries, so you can probably find a template that suits your needs and simply customize it to fit your goals.
Customization is effortless. It happens simply by dragging and dropping new items into your design.
Note: In case you've chosen Moosend, the available email blast templates are also mobile responsive. What's more, our editor allows you to add advanced items like videos, countdown timers, and product blocks to take your campaigns to the next level.
These can be found under the "Items" tab on the left side menu:
As soon as you've added the elements you want and crafted your email copy, you can see how your email blast looks. You can do that by finding the "Preview" button.
4. Run Spam and Delivery Tests
Before sending your email blast, you can also benefit from a spam and delivery test.
A content spam test helps you identify spammy content and prevent unsubscribes, while it also indicates the likelihood of your email being filtered as spam
The delivery test ensures that your email blast will be displayed properly once it reaches your recipients.
On Moosend, these two options will appear right after you've created your email blast design in the previous step.
All in all, this feature is very important to avoid sending email blasts that'll get caught by spam filters!
5. Schedule Email Delivery
In this step, email automation will allow you to send your campaign immediately or schedule it for a later date.
Scheduling your campaign is essential in email marketing as you can maximize your email blast's impact based on the time it will reach the recipients.
With Moosend, you get another great feature that most marketers love; automatic retargeting of your non-openers!
By enabling the automated resending option from the Schedule Delivery tab, you can drastically improve open rates without the need to do anything manually.
6. Preview Your Email Blast and Send
You're almost done! Take a final look at your campaign to make sure that everything is as it's supposed to be.
Now you are ready to hit that send button and show your cool campaign to your email list!
Important Note: In case you hit send by mistake (or you just remembered you missed something), Moosend has you covered. You have 30 seconds to abort sending of your email blast.
Make It Last, Not Blast!
All things considered, email blasts may have their cons due to their nature, but they still remain effective when used right.
It's important to choose a reputable email marketing and automation platform to deliver, perform, and track meaningful actions. These insights will contribute to the customization of your communication strategy and overall performance.
And if you signed up for an account and created your first Moosend email blast, share your experience in the comments below!
Frequently Asked Questions
1. How to Do Email Blasts?
To launch an email blast, first, you need to select a reliable email blast service. Then you import a mailing list or select one of your existing ones. The next step is to design your campaign either starting from scratch or selecting a ready-made template. Customize your design and then run a spam and delivery test. Schedule your email blast and hit send.
2. What is a Good Open Rate for Email Blasts?
A good open rate for your email blasts is between 17-28%. While this metric may be a little broad, it gives you a good idea about how your email campaigns should be performing.
3. What is the Best Email Blast Software?
There are various email blast services available like Constant Contact, Mailchimp, and Campaign Monitor, but Moosend is the best among them because you can personalize your email blasts in a short amount of time and get better results. Moreover, it's the most affordable among them.