The Definitive Beauty Brand Email Marketing Strategy Guide [2023]
The Definitive Beauty Brand Email Marketing Strategy Guide [2023]
Published By
Marilia Dimitriou
September 12, 2023
The beauty industry has seen a tremendous change in profit after the emergence of eCommerce. And with the rise of online stores, it's no surprise that businesses have adopted digital marketing strategies to nurture and convert their target audiences.
Thus, beauty brand email marketing has been numerously employed to reach potential customers and convert them into loyal advocates.
But how exactly do you use email marketing and where do you start? In this guide, we're going to take a look at the necessary steps you need to take to build a high-performing email strategy for your beauty business, including:
Setting your email goals
Choosing an ESP
Planning your beauty emails
Segmenting your list and more
Bust first…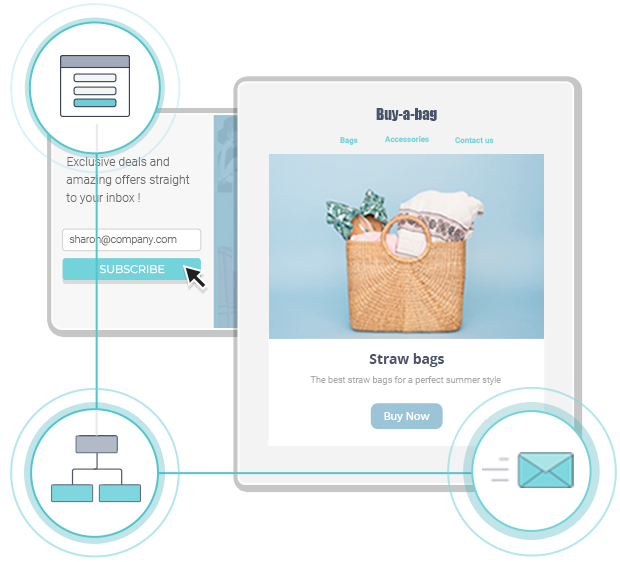 Try Moosend Today
The easiest and most affordable email marketing and newsletter software!
Why Is Email Marketing Necessary For Beauty Businesses?
Why should you get yourself into beauty email marketing? Let's take a moment to look at some email marketing statistics to see why:
The number of email users was 4 billion in 2020. By 2025, the number is expected to reach 4.6 billion.
47% of marketers consider email to be one of the most efficient digital channels, followed by social media, SEO, and content marketing.
49% of buyers want to receive promotional emails on a weekly basis from brands they love.
59% of consumers claimed that an email marketing campaign influenced their purchasing intention. Half of them made a purchase through these emails!
What these stats show us is that email marketing is a very effective marketing tool to influence consumer behavior and lead your audience a step further down your marketing funnel. If you're still wondering whether emails are an effective marketing channel for your beauty business, just check the following graph:
Digital marketing is constantly evolving, and as the trend shows, its online sales channels will keep growing and expanding. So this is the perfect opportunity to leverage channels like email, social, and more to make your beauty business thrive!
After all, modern consumers are now in a love relationship with online shopping, so targeting them with the right message at the right time will give you better results than the traditional methods of the past. Also, getting an ROI of $42 for every $1 you spend on email doesn't sound bad, right?
Now, with these in mind, let's see how you can start building your email marketing strategy from the ground up!
How To Build An Email Marketing Strategy For Your Beauty Brand
From setting your goals to choosing an advanced email marketing tool to create beautiful campaigns, here's all you need to make it work!
1. Set Your Beauty Brand Email Marketing Goals
Setting the goals of your email campaigns is the first step to success! So, before you get the right tools to create your messages, you need to think about what you want to achieve.
For your beauty email marketing strategy, you should consider the following questions:
What is the purpose of my campaigns?
Who will receive my email?
Where are my subscribers interacting with my emails?
How will I track my performance?
Answering these questions will help you create more targeted messages for your audience that will provide solutions to their pain points.
The easiest way to set your email goals is to adopt the SMART model, standing for Specific, Measurable, Attainable, Relevant, and Time-bound.
What's more, this process is perfect for boosting your inbound marketing efforts, by keeping track of what you need to achieve to make your beauty business thrive. To give you an idea of how this model works, let's see an example!
Smart Goal Example For Beauty Brands
Let's say that our goal is to promote a new product to potential customers.
My beauty business goal: Promote a new lipstick line to potential customers through email.
Specific: I want to increase brand awareness for the new lipstick line, inform our potential customers of the benefits of the new product, how it's different from the rest, and incentivize them to make a purchase through an email campaign.
Measurable: Our goal is to sell 2,000 new lipsticks.
Attainable: Create a series of campaigns featuring our new line to excite our potential shoppers. Give our potential shoppers a discount or free shipping to get them to act.
Relevant: When subscribers see the campaign and interact with it, our new product pages will have more traffic that will lead to more sales.
Time-Bound: See results within a month of running the campaign.
Setting and measuring the success of your goals is the first step to keeping track of your email marketing performance. Of course, to achieve that, you are going to need a few handy tools to make it work!
2. Choose an Advanced Email Marketing Service
To set your beauty email marketing in motion, you'll need an email marketing platform, a service to create, automate, and send your campaigns, and an online form builder to capture your visitors' email addresses.
Starting with your newsletter software, the market has a plethora of options to choose from to power email marketing for beauty brands. Nevertheless, since there are so many options out there, how can you be sure that you'll get the right one?
To give you a helping hand, here are the most essential features you need to look for before you choose:
User-friendly email builder: Craft the perfect eCommerce email for your beauty products within a few minutes using a drag-n-drop email editor.
Advanced automation: Create workflows to target your customers with the right message and at the right time.
Segmentation and personalization: Divide your email subscribers into groups with similar interests to target them more effectively and personalize the customer experience.
Pre-made email designs: Save time by taking advantage of your builder's pre-made newsletter templates.
Converting landing pages and forms: Increase your lead generation with beautiful landing pages and pop-up forms to expand your mailing list.
High-performing SMTP server: Deliver transactional emails to your new customers with all the relevant information they need.
All of the above are essential features that every beauty brand needs to target potential and new customers. If you're looking for a platform that offers advanced eCommerce functionality, you can give Moosend a try and start creating your next big campaign.
3. Expand Your Email Subscriber List
Having a loyal subscriber base is important for eCommerce brands that want to thrive. The easiest way to build and expand your email list for your beauty brand is to create valuable newsletter signup forms!
For the perfect popup, you need the right incentive. As you may know, different industries will use a variety of ways to get their visitors to join their lists. For instance, B2B companies will offer lead magnets in the form of free guides, checklists, and so on.
For your beauty brand, though, you need to take advantage of the most popular and effective incentive, the good old first order discount! Let's see an example by Concrete Minerals:
The above full-page popup has all the right elements to excite visitors and turn them into subscribers and then new customers. Why? Let's see what works here:
Short and valuable newsletter signup copy that highlights the benefit.
Beautiful visuals that showcase the beauty product.
Clear call-to-action that matches the brand's vibe.
All these make Concrete Mineral's popup a great addition to their email list-building efforts. What's more, apart from full-page forms that cover your visitor's entire page, you can use a variety of other types, including classic popups, inline forms, floating bars, and sticky forms. Every form has its unique charm.
To make them, you are going to need a user-friendly online form builder. You can take advantage of tools like Moosend or Typeform to pick the right type, customize, and add it to your website to expand your list.
4. Segment Your Subscribers and Customers
Customer segmentation is a process that aims to divide your audience into smaller groups with similar interests. This can be done based on specific criteria like your subscribers' demographics, location, psychographics, profession, etc.
Segmenting your audience has an array of benefits that you'll realize soon after performing it. Among others, you will:
Identify each group's pain points and specific needs more easily.
Create dedicated messages for each segment that will provide solutions to them.
Come up with specific marketing tactics to convert subscribers into loyal advocates of your beauty brand.
So now that you know the benefits, how do you get started with it? Well, the best way to group your subscribers is to do it during newsletter signup.  You can ask them to fill in specific form fields with their age, gender, or check the product categories they're interested in!
In the following example, you can see how the beauty brand St. Ives redirects its new subscribers to a separate page after they take action.
Knowing about their location and birthday will allow the brand to create a more focused content strategy with messages that will excite the potential customer and, ultimately, convert them.
What's more, the beauty business asks new email subscribers to select their primary skin concerns. This is an excellent way to deliver emails that will resonate with your audience. Similarly, if your beauty brand has a variety of products like skincare, haircare, or nail care, you can segment your audience based on their interest in those product categories!
If you want more customer segmentation ideas to help you out, make sure to check our customer segment examples to power up your beauty brand email marketing efforts!
5. Plan and Automate Your Beauty Email Marketing Campaigns
After selecting your email platform and segmenting your list, it's time to plan your campaigns! The easiest way to keep everything nice and tidy is to create an email marketing calendar.
When you have it ready, you can decide on what to send! In general, beauty brands focus on messages that promote new products, offer discounts, ask for product reviews, and so on.
Below, let's take a look at the essential beauty email campaigns you need to send to nurture and convert your subscribers into repeat customers.
Welcome Emails
Everything starts with your welcome campaign, an automated email message that will be triggered the moment your audience signs up for your newsletter.
Effective welcome email examples need to be friendly, visually pleasing, and offer an irresistible incentive. Remember, your first email will affect your subscribers' opinion about your brand, so make sure to craft a campaign that will check all the right boxes for them to stay on your email list.
Let's take a look at The Body Shop's welcome email to see what you need to do!
Subject line: Welcome – enjoy 10% off
The beauty brand has a very warm campaign that aims at making new subscribers feel part of the family (or in this case tribe).
Let's see how they do it:
Newsletter Design: This simple email newsletter design uses the brand's trademark colors to offer a great customer experience. From the clear structure to the visuals, the beauty company has created an eye-catching design to welcome new subscribers and offer them a discount on their first order.
Email copy: In the first part of their campaign, it uses a bold headline and a quote to excite the recipients. Scrolling down, they come across an "Our Story" section, where the beauty brand uses short chunks of text to familiarize the subscriber with its story.
CTAs: The brand has two distinct buttons, one leading to the company's story page and the other to their product pages.
Social Buttons: Social media can be a useful ally for beauty brands. Here, The Body Shop makes sure to invite new subscribers to follow their social media accounts for better engagement.
Cart Abandonment Campaigns
Abandoned cart emails are one of the most important beauty brand email marketing campaigns you need to set up. These automated follow-up messages will reach your subscribers when they add products to their carts but leave without purchasing.
According to a case study, the average cart abandonment rate for online stores is 69.80%. So, finding ways to restore your lost revenue is a necessity.
Now let's see how Truly Beauty manages to turn its cart abandoners into customers with a simple yet effective cart recovery campaign!
Subject line: About your order
This fancy email is all Truly's product abandoners need to see to get back to their shopping carts. First of all, the design is simple, using colorful email fonts to get the message across. Also, placing the extra discount as high as possible in the email design is a great email practice to incentivize potential shoppers to get the beauty products left behind.
The CTA uses actionable copy (Save 15% off now) and GIFs to attract attention to the action and achieve better click-through rates and conversions. To create the perfect cart recovery message, keep in mind the following:
Give your customers an incentive to buy your product. An extra discount, coupon, or free shipping can work miracles.
Create a straightforward email design to get the message across and avoid confusion.
Show the abandoned items to remind your customers what they left behind.
Add links to your customer support, FAQs, or any other elements to provide them with answers.
If you want to craft converting cart abandonment emails you need to get an email marketing automation software that will provide you with an easy-to-use workflow builder. If you feel like it, you can try Moosend's workflow editor by signing up for an account!
New Product Launch Campaign
New beauty product, new campaign! When your amazing product team comes up with a new item, you can craft a beautiful message to showcase the new addition to your subscribers!
These emails are perfect for presenting the benefits of your new product and incentivizing your audience to try it. Also, you can provide any extra information you feel like, especially when your product is part of a collab with other brands or artists! Below, Harry's has created a campaign for their new razor handle:
Subject line: Introducing the Harry's x Ghostly Razor

The brand plays around with vibrant colors and interesting copy to intrigue potential shoppers to buy. Also, it includes a separate section to provide customers with additional information about the collab.
Harry's campaign is simple and stunning, favoring visuals and valuable copy to make its audience click!
Product Recommendation Emails
Now let's take a look at another famous beauty campaign, the product recommendation email. These messages will allow you to target your new and old customers with relevant items that will keep them coming back to your online store.
To make them effective, you can leverage the power of data, such as:
Purchase history: See what your customer buys and recommend similar products to them.
Website history: Find out what your buyers are looking at and then target them with a relevant recommendation. You can throw in a discount to sweeten the deal.
Specific segments: Approach the shoppers in your haircare, skincare, or fragrance lists with segment-specific products to increase sales.
For instance, Sephora uses Moosend's email tool to create great product recommendation campaigns for skincare beauty product lovers:
Subject line: Beauty with your name on it
As you can see, the brand uses vivid colors and bold copy to excite the potential shopper. From the subject line to the email headline, Sephora puts emphasis on "you," to make the subscriber feel that these products are tailored specifically to their needs.
What's more, using high-quality visuals of the recommended products is a great practice that all beauty brands should follow, especially when your packaging is a work of art itself.
Lastly, don't forget that you should always consider customer preferences, targeting your audience with valuable content, not just sales-y campaigns. If you do adopt bulk-email practices, then you should be ready to face the consequences, i.e. unsubscribes, low click-through, and conversion rates!
Want to do it like Sephora? Make sure to sign up for a Moosend account and see the magic happen!
Upsell & Cross-Sell Campaigns
Upselling and cross-selling and two efficient sales tactics that email marketers have turned into profitable campaigns! If you're not familiar with the terms, let's see what they entail.
Upselling is a sales tactic that aims at getting a potential customer to buy a more "deluxe" version of the product they intended to buy. Cross-selling, on the other hand, is the art of recommending additional items to your buyers. For instance, if a customer is about to buy an eyeliner, you can recommend related products like mascaras, eyelash curlers, and so on.
So, now, how do you take these two practices and turn them into converting beauty brand email marketing campaigns? Let's see an example by The Dollar Shave Club:
With the above cross-sell campaign, the brand aims at increasing its revenue by recommending relevant items. This gives its customers the opportunity to throw more products in before their order ships!
For a successful upselling campaign, you should also leverage customer data to see what your potential shoppers are looking at and then target them with more high-end versions of the products. And don't forget! Since a lot of premium beauty products are more expensive than their basic version, make sure to add the reasons why your customers need them!
Survey Email Campaigns
Surveys are a great way to collect feedback from your customers. Be it for a specific product, the company, or a customer, surveys will allow you to get valuable info from the people you target. Also, don't forget that having your audience rate your products and provide you with their opinions is a great way to social proof your online store.
Apart from that, you can use survey emails to find out more about your subscribers. This will help you with your segmentation and content personalization, as well as customer experience efforts later on!
Below, you can see how Burt's Bees has crafted an email asking customers how they use its products and how the beauty brand can improve their experience.
Subject line: Give us your feedback, get 15% off!
To nail survey emails, you can:
Add short and straightforward copy, focusing on the action your recipient needs to take.
Offer them an incentive to click on your CTA (discount code, gift card, etc.)
Make your survey short to prevent abandonment.
Educational / Tutorial Emails
When it comes to beauty brand email marketing, marketers always think about flash sales campaigns or promotional messages. But did you know that you can nurture your subscribers into loyal advocates of your brand through educational content?
Providing them with tutorials via your Youtube channel, TikTok, Instagram or any other platform is a great way to familiarize them with your brand and teach them how to use your products. Especially for the Cosmetics industry, creating makeup tutorials is the best way to show your customers the benefits of choosing your brand!
MAC uses this practice by offering tips and tricks, inviting their subscribers to join their pro-artists and learn more about their makeup routines.
Subject line: Our Artists will help your holiday dreams come true! ✨
Thank You Campaigns
There are numerous reasons to thank your customers; be it for signing up for your emails or being loyal supporters of your brand, you can set up these automated campaigns through your workflow editor to show your gratitude for taking a desired action. Here are a few thank you email examples you can use for your beauty brand:
Newsletter – Thank you for signing up
Purchase – Thank you for your order
Anniversary – Thank you for being part of our family
Giveaway – Thank you for entering our giveaway
Cart abandonment – Thank you for dropping by
Of course, you can create different thank you campaigns for different occasions. A great and unique example comes from bareMinerals, a brand that created a message (in GIF format) to thank customers for being loyal during the pandemic.
Subject line: Marilia, thank you

Whatever you choose, make sure to craft your thank you messages with your subscriber/customer in mind. Tell them why you are thankful, be honest, and even give them something to thank them for being your supporters!
If you need more inspiration, you can check our amazing collection of thank you email examples to step up your beauty brand email marketing game!
Seasonal Email Messages
Of course, don't forget that eCommerce stores and seasonal marketing are a great match! And since beauty products are a timeless gift option, you can craft converting holiday emails to target important holidays for your beauty brand! Among others, you can leverage the following:
Halloween
Black Friday
Christmas & New Year
Valentine's Day
However, should you just create a few holiday campaigns and send them to your audience? Well, no. According to Sitecore's research, consumers need more experience-based recommendations tailored to their needs. So, to win, you need to create emails that go beyond the traditional sales email and focus on customer experiences!
Below, you can see a beauty email creation by EM Cosmetics, featuring the founder of the company, Michelle Phan.
Subject line: HAPPY HALLOWEEN 🎃

This Halloween email marketing campaign has the right amount of visuals, creativity, and uniqueness to excite the brand's audience. Also, apart from selling the beauty product, EM Cosmetics provides them with the steps to recreate the spooky look!
Anniversary / Birthday Emails
Last but not least, you should always create personalized content to deliver unique experiences that will make your target audience want to stay with you through their customer journey.
The ultimate way to do it is to leverage customer data and send them emails based on their special day, anniversaries, or even location!
Birthday emails, for instance, are one of the most popular and effective email marketing campaigns you can send to get your subscriber to make a purchase. This will not only give you extra revenue but make your potential customer feel special! As you can see, St. Ives makes the most of this practice to celebrate its subscriber's birthday with a unique gift!
Subject line: 🎂 Happy Birthday, Marilia
Promotional Messages
Of course, don't forget to send your subscribers a variety of promotional messages and special deals! For instance, if you're having a sale on specific beauty products, you can create a beautiful email campaign to let them know.
This is a tried and tested practice used by every eCommerce store that wants to give its sales a boost. As you can see, Estée  Lauder has used Moosend's drag-n-drop builder to create a campaign for their audience, promoting its beauty essentials offer:
If you want to mimic Estée Lauder's example, you can register for a Moosend account! Hop into the email builder, create your design (or choose a template) and you're ready to roll!
6. Pay Attention to Your Subject lines
Now that you know which email campaigns you need for your beauty brand, let's take a moment to look at your subject lines!
As you understand, for your campaigns to give you the conversion rates you desire, your audience needs to open them first. To do that, you need an intriguing subject line that will communicate the benefit of interacting with your campaign.
Depending on your goal, your email subject lines need to:
Be short and concise to display correctly on a variety of devices
Align with your brand voice
Have emojis when necessary to attract attention
Be valuable and have no spammy words
Below, let's take a look at some interesting beauty brand email subject lines to get you inspired.
Welcome Emails
Hello, new friend! Our faves to use you 20% off! (NYX)
HIVE FIVE! You're officially an insider. (Burt's Bees)
Cart Recovery Campaigns
You left some pretty things in your bag (Sigma Beauty)
View Your Cart Now Before It Expires! (MAC)
Promotional Emails
Shop up to 50% off with early Black Friday! (Ulta Beauty)
✨ The Ultimate Anti-Aging Gift Set (Caudalie)
Now, if email subject line creation isn't your strongest suit, you can use an AI subject line tester like Refine to make sure that your subject lines will work! For instance, if you insert the following subject line, the tool will suggest adding emojis or personalization to increase your open rates.
Subject line example: THIS new lipstick is glamour in a glide…
7. Integrate Your Beauty Brand Email Marketing with Social Media
When you get the hang of beauty email marketing, you should start thinking about how to maximize your results. The best way is to find other marketing channels to integrate it.
One of your best cards for your industry is social media marketing! As you've seen, popular brands like Glossier, Sephora, and L'Oreal have invested in their social accounts and more specifically Instagram, the land of beautiful posts and, best of all, influencers.
But how exactly do you combine email marketing with social media? Here are a few simple things you can do:
Add social media buttons at the bottom of your email campaign.
Invite your audience to join you on social media by adding a specific section in your email footer.
Increase your signup rate by getting your followers to register for your email newsletter.
Collaborate with influencers who have a nurtured audience and email list to successfully promote your brand.
Create social media-infused email campaigns featuring your posts.
Here's how Serumize uses Moosend's builder to craft a campaign that integrates beauty email marketing with Instagram:
Of course, there are more social media networks you can use like Twitter, Facebook, and Pinterest. Nevertheless, before you choose your channels make sure to check your engagement rates! For instance, if you have an active Twitter following it's better to focus on it rather than on your not-so-active Facebook one!
8. Measure Campaign Performance
Following the above steps will help you turn email marketing into a sure-proof way of increasing your beauty brand revenue. Nevertheless, this is not the end of the line.
The last steps to a successful email marketing strategy for the beauty industry are to measure the success of your campaigns and optimize them accordingly. You can track your performance through your email marketing platform's reporting and analytics features. Here are the email marketing metrics your beauty brand needs to monitor:
Email open rate
Subscribes/Unsubscribes
Click-through rate
Conversions
Non-opens
Platforms with advanced analytics like Moosend and Hubspot will give you a dashboard with all the metrics you need to track. Here's an example from Moosend's reporting and analytics dashboard where you can check your performance:
9. A/B Test Everything
After collecting your data, you'll have an idea of which campaigns worked for your audience and which didn't. Based on your opens, clicks, and conversions you can now start A/B Testing your messages.
A/B Testing is a process that will allow you to try different element combinations and compare them with your original designs. You can pretty much test everything as long as your email platform supports different test combos.
For example, Constant Contact has very limited A/B Testing features that focus only on your subject lines. On the other hand, Moosend and Mailchimp will allow you to test every element you like to improve performance. Among others, you should make sure to try different variations of your:
Subject lines and preheader text
Email headlines and copy
Visuals, graphics, and colors
CTA buttons (color, copy, placement)
When you find the winning combination you can deliver it to the majority of your email subscribers to excite and convert them! A/B Testing is a process that will help you power up your email marketing strategy, so make sure to implement it as soon as possible for better results!
Apart from your emails, you can run A/B tests on your signup forms and landing pages! Just make sure that your landing page builder and online form editor give your the option to test them!
A Successful Beauty Brand Email Marketing Strategy 
Email marketing is a profitable channel that the majority of beauty businesses out there use to capture, nurture and convert their target audience.
Hopefully, after reading this guide you'll now have a better understanding of the steps you need to take to give your beauty brand the boost it needs.
Start by setting your goals, plan your campaigns, integrate your channels and, lastly, measure your performance and optimize your messages for better results!
Of course, don't forget about the tools of the trade! A beauty brand-friendly email service will allow you to set up the best sequences and craft high-performing email marketing campaigns for your audience. If you need a great solution, you can get started with Moosend by signing up for an account. The choice is yours! Now get out there and get the most of email marketing!