16 Welcome Email Template Examples To Nurture Your Leads In 2023
16 Welcome Email Template Examples To Nurture Your Leads In 2023
Published By
Marilia Dimitriou
May 31, 2023
Did you know that the difference between a great and a bad first impression is your welcome email template? No? Then, we need to talk!
To convert your leads, your welcome messages need that extra something to turn first-time recipients into your loyal newsletter fans. And to do that, you need the perfect template to welcome them aboard.
So, stay tuned as today we share some of the best welcome templates and examples to give your email list the greatest welcome ever!
Alonsy!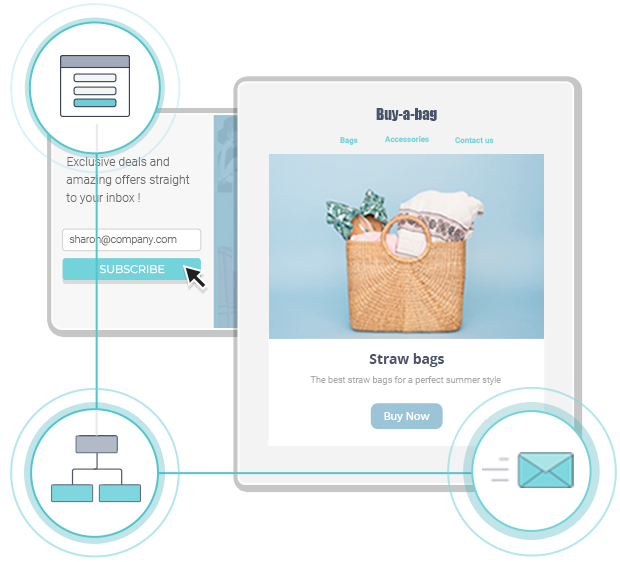 Try Moosend Today

The easiest and most affordable email marketing and newsletter software!
Top Welcome Email Templates To Steal Today
Here are all the templates you need to achieve better open rates, build trust, start your onboarding sequence and turn your subscribers into potential customers!
Time to give your customers a welcome to remember!
1. The Onboarding Sequence Welcome Message
Let's start with a welcome email that will make a great first impression! But wait! Is a single welcome message enough to get you from customer acquisition to customer retention?
Sadly, no. To win your new subscribers over, you need to deliver a personalized onboarding experience that will highlight the benefits of joining your company, starting with your welcome campaign!
The Template:
[Recipient name], Welcome to [company name]!
You are now part of the [company name] family! Get ready to depart on an exciting journey with us!
To make things extra special for you, starting today, we will send you a series of exclusive emails with amazing tips and tricks to get the most out of [your account/product].
Get ready!
Not sure where to start? Make sure to visit our [knowledge base/academy/help center/FAQ section]!
If you prefer something more personal, you can always contact our support team through live chat or at .
Best,
The [company name] team
The Example:
Subject line: You're officially a part of the Moosend family!
Moosend's welcome email arrives soon after new subscribers verify their email addresses. As you can see, the ESP uses a simple email newsletter template to welcome new email list members and inform them about upcoming follow-up messages.
Also, the company adds a "Not Sure Where to Begin?" section to lead users to provide users with all the necessary information they need to get started.
If you want to mimic Moosend's example, you can sign up for a free account, hop into the editor and create your next beautiful welcome email design for your subscribers! Then, you can leverage marketing automation to create an automated welcome email sequence to deliver your campaign at the right moment.
2. The Introduction Welcome Email Template
If you want to build a solid brand-customer relationship, you need to make subscribers feel like they joined your family, not another impersonal brand! The best way to do it is to introduce yourself to new members!
Take the time to say a few things about yourself and what you do or describe your goals and the company's vision.
The Template:
Hi [recipient name],
My name is [owner name] and I'm the [position] of [company name]! I'm so glad to have you on board! 
Don't know where to begin? Here are some easy steps you can follow to get started with [your service/product].
[Step #1]
[Step #2 and so on]
If you need anything, don't hesitate to contact me directly! I'd be happy to help you out!
Best,
[Your name]
The Example:
Subject line: Welcome to PieSync! Let's get started.
In this example by PieSync, you can see how to use the above template to make your welcome message more personal and helpful, introducing the person that new users can contact during their journey with the platform.
Also, the company gives the new user seven easy steps to guide them through, adding a CTA to increase its click-through rate and lead email subscribers to take action. Finally, PieSync adds a little PS at the bottom, letting subscribers know that they'll receive more follow-up messages during the trial period and informing them about the unsubscribe link to minimize any potential friction.
3. The Welcome Example To Ensure Engagement
Email engagement is crucial to nurture your leads and motivate them to take various actions. However, if they stop receiving your emails, then this engagement will be gone!
To prevent that, you can give them more information about how to receive your campaigns. As your email list consists of different users (mobile-first, desktop, Apple, etc.), letting them know how to access your newsletter will keep your engagement rate high and reduce your bounces.
The Template:
Welcome!
Thank you so much for becoming a part of our list!
To never miss our weekly newsletter, make sure to:
[Step #1]
[Step #2 and so on]
Cheers,
[Your name]
The Example:
Subject line: 😎 Warm Welcome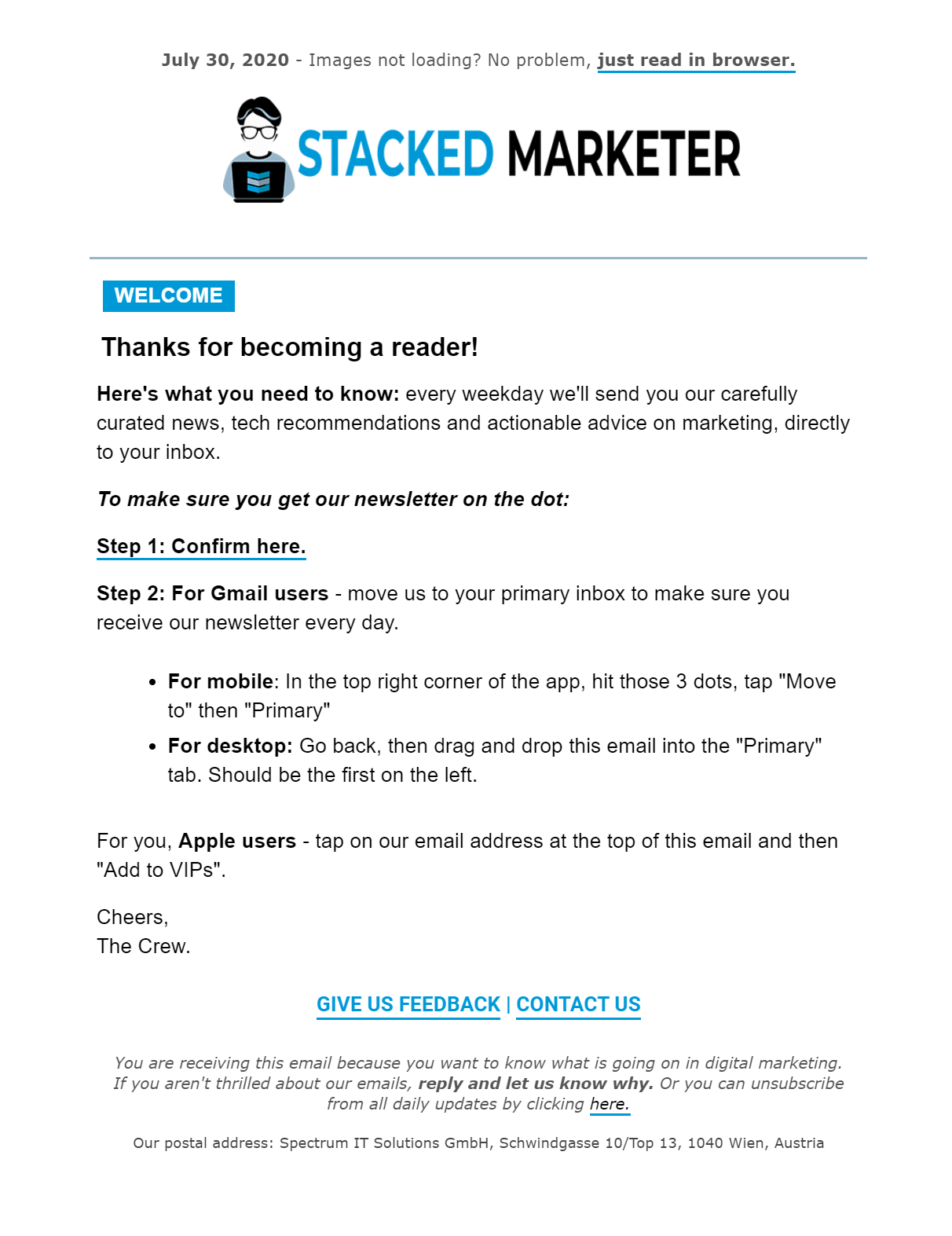 As you can see, Stacked Marketer has a straightforward welcome message that uses bullet points to make the message easier to digest. Also, the unsubscribe link is clearly placed underneath the email to allow accidental subscribers to remove themselves from the list.
Adding an unsubscribe link to your email is one of the most important things of newsletter creation since it will minimize the risk of getting you flagged as spam and promote your email deliverability.
4. The Discount Code Welcome Email
Giving a discount code is probably one of the most successful ways to engage your new email subscribers.
A 10% or 20% discount on their first purchase will intrigue your audience and lead them towards their first purchase effortlessly. Here's a simple welcome email template to create an effective campaign for your eCommerce email marketing strategy.
The Template:
Welcome to [company name]!
Thank you for subscribing to our weekly newsletter! Every week we will inform you about our new arrivals and our secret subscriber-exclusive deals!
As thank you, here's an amazing [X]% off on your first purchase! Just use code at checkout!
If you need any help, you can send us an email or reach us through our social media accounts.
We'll be happy to help you!
The Example:
Subject line: Welcome, friend! Your £10 off code is inside...
This email campaign by Scout & Co is the perfect example of how you can combine your email newsletter copy with simple visuals to create a beautiful welcome email design.
Also, the subject line manages to trigger positive emotions using the word "friend" and, of course, the "£10 off code," which functions as an instant attention grabber.
Keep in mind that a great welcome email should always go with a converting email subject line to improve your overall open rate! If you have trouble finding the right subject line recipe, you can always use an email subject line tester like Refine to see how it will perform before hitting the send button!
5. The Super-Personalized Welcome Video
Is there a limit to welcoming your new email subscribers? Well, no! Writing effective copy for your welcome email sequence is the simplest way to get your audience to interact with your brand. However, sometimes you might need something extra!
If you want to create impressive welcome emails that will convert, you should leverage the immense power of personalization and even consider "marrying" your copy with the power video!
The Template:
Hi [recipient name]!
Welcome to [company name]!
I would personally like to welcome you on board and offer you some amazing tips on how to get started!
You can click on the [link/video] below to reveal the amazing tips I collected just for you!
Thank you so much for being part of our community!
The Example:
Subject line: A personal welcome to Bonjoro (Yes I recorded this just for you) 🐻🎉
This personalized welcome video by Bonjoro gives us a glimpse at how future emails might look, where every single message will be tailored to each subscriber! Of course, not every brand can create something like this.
However, for those who have smaller target audiences and want to build solid bonds with them, creating super-personalized welcome email examples like Bonjoro will show your new subscribers how much you care about them.
This way, you can skyrocket your engagement rates to the moon and provide your subscribers with an out-of-this-world experience!
6. The Plain Text Welcome Message
Plain text emails have their own charm! So, if you ask why companies send them, let me tell you that a plain text email always looks like it was sent from a personal account rather than through an email marketing automation platform as part of your automated workflow.
A plain text welcome email template will help you create bonds with your new email subscribers and show them how much you want to establish a genuine relationship with them.
The Template:
Hi [recipient name],
My name is [your name], and I'm the founder of [company name].
I'm so glad that you've joined us!
As a small token of my appreciation, I'd like to offer you a [gift/special code/ discount].
You can easily access your discount by signing into your account or clicking on the following link: [add link].
Best regards,
[Your name]
The Example:
Subject line: Marilia, a small welcome gift 🎁
This example by JumpStory perfectly shows you how you can craft a plain text welcome email for your email subscribers. As you can see, this email is sent by a personal email address that instantly makes the message more personal and friendly.
Also, collecting more information about your subscribers like their name, gender, or age and using email list segmentation will help you deliver more personalized content to them. To do that, always make sure to add the necessary form fields in your newsletter signup forms or landing pages. Lastly, you can equip your welcome message with an amazing offer/gift like JumpStory to make your email even more special!
7. The Free Trial Welcome Campaign
If you want to help new users get the hand of your service, you should focus your welcome email on guiding them through your service.
For instance, you can start your welcome campaign with a friendly greeting and then link to your video tutorials and knowledge base.
The Template:
Hi [recipient name],
Thank you for signing up for [your service/newsletter]. We are here to help you get the most out of your trial to [highlight the immediate benefits].
Below, you can take a tour of [your service/product] to see how everything works and how you can use [company name] to [achieve a goal/s].
For any questions, don't hesitate to contact us at this email address or give us a call at [phone number].
We are happy to have you here!
The [company name] team
The Example:
Subject line: Welcome to Salesforce CRM. Start with the basics.
Visitors signing up for Salesforce's CRM trial will receive a beautiful welcome email example that thanks them for joining. The copy is simple and informative, leading new users to click on the CTA and take a tour of the service.
Moreover, the company adds a free number that new users can use to reach a representative directly. At the bottom, you can also see that Salesforce has furnished their welcome campaign with a testimonial by Coca-Cola. Simple and clever, the company aims at building trust with new subscribers through social proof, a powerful weapon to increase your credibility, especially when people have no idea who you are!
8. The "Company Promise" Welcome Email Template
A great first impression is a combination of converting newsletter copy and emotional triggers. These triggers can either be an exclusive discount code that will excite your potential customer or something that will lead them to action.
However, there's no better way to get an emotional response from your audience than explaining your vision and making a promise for the future!
The Template:
Welcome to [company name]!
Here's an amazing gift just for you!
Enter [discount code] at checkout to get [X]% OFF your first order!
[CTA button]
Our Promise
Here at [company name], we aim at [describe your vision and why customers should invest in your product].
Thank you for being a part of our family, and don't forget to share the love on social media!
The Example:

Velasca's welcome campaign is a great eCommerce email example for welcoming new subscribers. The discount code is perfect for turning subscribers into new customers, while the simple newsletter design helps them understand the point of this email.
Underneath the special offer, subscribers can see the company's promise, meant to familiarize the target audience with the brand's vision. Also, the founders' pictures allow new subscribers to put a face on the company and make the welcome message friendlier and more relatable.
9. The Checklist Welcome Design Example
Checklists! Everyone loves them, right? (or is it just me?)
Letting your audience know what to do after subscribing to your newsletter or free trial is the best way to keep them engaged. Huge chunks of copy with numerous instructions will tire your new subscriber.
Instead, you should create newsletters that are structured, leveraging the power of bullet points and checklists to make the message easier to digest! Here's a great template to do it:
The Template:
Hello [recipient name]!
Welcome to [company name]. We're so happy to have you here!
Now that you are part of [company name], here are some great steps you can take:
[Create…]
[Customize...]
[Share…]
[See the benefits of your actions!]
Have questions? Let us know by contacting our amazing support through live chat or by replying to this email!
We'll be happy to help!
The [company name] Team
The Example:
Subject line: Welcome to Bitly!
Bitly uses the above template to create a simple welcome message for its new users. While the company doesn't use any personalization elements to make their first email friendlier, they pay attention to their welcome email design to help new subscribers get started.
Before getting to the CTA, the company also adds a link to their plan upgrade page to catch their business leads. This way, Bitly's welcome email functions as a soft upsell for those interested in a more advanced version of the service.
10. The Story-Infused Welcome Email Template
Storytelling has become one of the most effective ways to keep users engaged with your content. After all, stories are part of our lives as a means to share information in unique ways.
Telling your story will help your audience understand you and your vision better. Like Velasca's promise, email storytelling will establish a strong bond with your email list and humanize your brand.
The Template:
Hi [recipient name]!
Welcome to the [company name] family! I'm [founder name], founder of [company name].
Before we get started, I'd like to share [company name's] story with you.
[Tell your audience your company story. What inspired you to start your brand, and what pain points you wanted to solve.]
We hope that by using [product/service], you will [achieve a goal/solve problem].
I am so excited to have you on board!
Best,
[founder name]
The Example:
Subject line: Welcome to Partake 🍪
Partake's welcome email is an amazing example of using your first email to tell your company's story. The founder of the company shares a touching story of her daughter's inability to eat certain foods. This story serves as the starting point for the brand.
Using emotional language, this email speaks to new subscribers and especially parents with children in similar situations, providing an instant solution to their pain points.
Partake's welcome email example shows us that a beautiful story will better highlight your core values and create a bond with your audience. So, if you have a similar brand story, make sure to share it with your new subscribers for greater engagement!
11. The Welcome Letter Template Example
The feeling of receiving a letter from someone is an experience that everyone holds dear. So, why not take this same experience and turn it into a beautiful welcome email?
Creating a welcome email letter will trigger (especially to those old souls like myself) a positive response and deliver something completely different from what your subscriber usually find in their inbox. Let's see:
The Template:
Dear [recipient name]
Thank you for signing up to receive our latest news, events, and exclusive offers.
As part of our family, I invite you to check [product/service] and see how [company name] can help you [goal related to your product/service]!
Don't hesitate to contact me if you have any questions!
We look forward to hearing from you soon!
Best Regards,
[optional: dramatic signature]
[Your name]
The Example:
Subject line: A warm welcome to Four Seasons
Four Seasons is one of the most popular hotels out there, sporting its luxurious accommodation on every occasion. As an example of elegance and luxurious lifestyle, the hotel has created an equally elegant welcome email to deliver its new subscribers and potential customers a slightly different experience.
Using the welcome letter format, the company aims at greeting new subscribers and calling them to action. The signature at the end of the copy is also a nice addition to make Four Season's welcome letter more believable and unique.
12. The Product-Focused Welcome Example
Making a great first impression is crucial to prevent your new subscribers from leaving your mailing list. Composing a beautiful welcome message with additional information/steps is the first thing you need to nurture them. However, sometimes your audience just wants to dive right into action!
Especially for younger audiences, showing your products in a dynamic way is enough to get them to act! How? Four words: GIF-Infused welcome email template!
The Template:
Welcome to [company name], [recipient name]!
We are so glad that you subscribed to our weekly newsletter!
Let us introduce you to our all-time favorites!
[GIF showcasing your products]
Don't forget to check your inbox so that you don't miss out on our cool new arrivals, exclusive deals, and special offers!
If you have any questions, our team is always here to help you out! You can contact us here [hyperlink to contact us page] or reply to this email.
Kind regards,
[Your name]
The Example:
Subject line: Welcome to La Famiglia BUSCEMI
Buscemi follows the GIF-infused recipe to create a simple yet interesting campaign for its new email list members. While you don't see it here, the brand has added a GIF to give new subscribers a taste of what to expect.
Featuring your products through GIFs is an amazing way to save space and show more without crafting emails that are too long to read!
Also, if you want to power up your conversions, you can insert additional elements like "Free shipping" or "Free returns" to make the deal sweeter and your conversions higher!
13. The Tips In Your Welcome Jar Template
Up to now, we saw numerous welcome email examples leading new users to relevant resources or informing them about the follow-up messages with extra tips that they'll receive next.
However, what about giving your new members some instant tips through your welcome message? Let's see a template you can instantly copy and add to your email template builder to create a simple yet effective message:
The Template:
Hi [recipient name]!
Welcome to [company name]! This is going to be an exciting journey!
Don't know where to begin? Here are some tips to help you out:
[Tip #1]
[Tip #2 and so on]
For more tips on how to use [product/service], you can check our [resource center/ blog post, etc.]!
Thank you for being part of [company name]!
The Example:
Subject line: 🤗 Welcome to Duolingo! 3 tips to get you started
Duolingo's welcome email design favors white space and a Z pattern to give new users some essential tips about the app. The copy is short and to the point, letting users know exactly what they need to know before starting learning a new language.
Moreover, the colors and visuals match Duolingo's application, giving recipients a continuous experience when they access the software. Structured and on-point, this welcome email is perfect for informing your audience about your features and calling them to take action!
14. The Join The Community Incentive
As your first email, you can use your welcome message to nurture your new subscribers. Apart from giving them a gift, though, you can also call them to take further action!
Among others, you can let them know about your loyalty program and the amazing perks they will receive by signing up and shopping from your eCommerce store.
The Template:
Welcome to [company name]!
Thank you for subscribing to our weekly newsletter for exclusive news, discounts, and secret events!
Want to be a [company name] Insider?
Our members get special rewards, exclusive discounts, and more when they sign up for our [loyalty program, community, etc.]!
What are you waiting for?
Sneak Peek: Here are some of the amazing Insider benefits you'll receive simply by collecting and exchanging your points!
[benefit #1]
[benefit #2, etc.]
Let this amazing journey begin!
The Example:
Subject line: Welcome to Sephora.
Sephora's email example aims at welcoming new members and, more importantly, promoting the benefits of its Beauty Insider Community. As you can see, the brand structures its email so that new subscribers can see the value of clicking on the CTA, equipping the email body with all the necessary information new subscribers need.
Furthermore, you can easily use the above welcome email template to promote the perks of your loyalty program for better engagement. Just don't forget to invest in a converting design to present them as smoothly as possible!
Moosend can help you create your next big welcome campaign and automate it in a jiffy! Just don't forget to sign up for a free account first to try its capabilities!
15. The Sweet Welcome Message
Your welcome messages don't need to be promotional all the time. As I mentioned above, creating emotional emails will work equally well for your new email list members.
If you want to create unique and beautiful welcome sequences, then using the template below, along with an eye-pleasing design, will help you charm your audience and improve your click-through rate. Let's see!
The Template:
Hello, there!
We are so happy that you have discovered [company name]!
We do hope that you'll stay awhile as we have so many exciting things planned just for you!
In the meantime, get comfortable, take a look around our website and enjoy the journey!
Also, to officially welcome you to our family, here's [X]% off your first purchase!
The Example:
Subject line: Thanks for joining us!
Adored Vintage has managed to create an amazing welcome message for its female target audience. From the newsletter copy to the beautiful design, everything screams vintage elegance.
What Adored Vintage's example shows us is that your welcome email should be as close to your branding as possible. This way, you will instantly connect with your subscribers, who will manage to recognize your email marketing campaigns and associate your brand with amazing customer experiences!
16. The Confirmation/Welcome Hybrid Email Template
Confirmation emails are all you need to verify whether your subscribers are real people or not. Through the double opt-in method, you can promote your list hygiene and minimize low open rates.
But wait! Can my confirmation email also be my welcome email? Well, it sure can, but let me tell you that if you have the option of crafting a separate welcome campaign with an amazing welcome offer, your subscribers are going to love it more!
If you want to use your confirmation emails this way, though, I suggest you turn them into a pre-welcome campaign!
The Template:
Welcome to [company name]!
Happy to have you on board! But first, let's verify your email address.
It's super easy! Just click below and let the magic begin!
[Verification button]
The Example:
Subject line: Please verify your email
At first glance, this confirmation/welcome email hybrid by Haus looks plain. However, the real estate agent makes a short introduction using a simple design.
Haus has chosen a sleek email template to make a great first impression before delivering the actual welcome message. At the bottom, you can also see that the real estate agency gives subscribers its support email to reach out in case of a problem.
3 Essential Tips To Welcome Email Mastery
The art of the welcome email is as sacred as the Chinese Art of War! But rejoice! You don't need to be an expert to emerge victorious on the battlefield. What you need are some essential tips to nail them every single time!
1. Leverage Personalization
Good old personalization will give your welcome emails a touch of friendliness. The easiest way to craft personalized messages is to include your subscriber's name in your greeting.
You see, "Hello, [name]!" feels a lot more personal than a generic"Hey, there!"
Apart from using your subscriber's name, you can also leverage the power of segmentation and personalization to create emails with dynamic content.
What's this, you might ask. Well, let's take a look at Lucchese's campaigns:
This, my friends, is the ultimate form of personalization! Showing your customers content tailored to their needs is extremely important. So, how can you use it in your welcome email?
That's simple! When you create your welcome campaign, you can set up dynamic content blocks to display specific content to your email subscribers based on gender or even their location!
If you want to leverage this amazing feature, you'll need an email marketing platform to let you set up conditional content for your audience. And then, it's time to convert them all!
2. Write Valuable Copy
Your copy, their gain!
When you create a welcome message, think about what you'd like to see. A bland copy will discourage your audience from taking further action, while the absence of an incentive won't allow you to get that first-time purchase boost.
And trust me, sometimes, that's all it takes to turn a subscriber into a customer of your brand!
Highlighting the value of joining your list by showing them the benefits is one of the greatest email marketing best practices you need to follow.
Also, before you create your copy, take into account your customers! If you have a B2B audience, make sure to craft a welcome email to show a great product/service to solve their pain points.
Here's an example by BigCommerce:
For B2C, make sure to offer customers extra incentives that will turn them from subscribers to loyal advocates of your company. The oldest trick in the brand book is to equip your emails with first-time purchase discounts, exclusive offers, and more!
Here's how Skinny Dip creates a beautiful and effective welcome email for its news subscribers:
3. Add The Right CTAs
What is the purpose of your welcome email? Make a purchase, get a tour of your product, or something else?
Adding the right call-to-action will get your subscriber a step further down your funnel.
First of all, don't forget to make your CTA copy urgent and relevant. Using action verbs and words like "now" and "today" will add urgency to your email and motivate recipients to click.
Of course, don't forget that your CTA placement and color are equal! If your subscribers fail to spot your calls-to-action, then you might experience lower click-throughs. And we don't need that!
Using bright colors will draw attention to your buttons. However, don't forget to use colors that match your email color scheme for an eye-pleasing result!
Here's an example by Home Chef:

Time To Nurture Your Leads!
First impressions matter more than anything!
So, if you are struggling with your welcome campaigns, then I highly recommend you use one of the above templates to create your first email for your audience.
Also, don't forget that to create a beautiful campaign, you need the right tools for the job!
Moosend's platform is perfect for building your first email sequence and then automating it through the workflow builder. So, why not sign up for a free account to test your email-building skills?
Your new subscribers are knocking on your brand's door; it's time to give them a warm welcome!