20 Best eCommerce Shopify Stores To Get Inspired
20 Best eCommerce Shopify Stores To Get Inspired
Published By
George Fakorellis
September 12, 2023
If you want your online store to be among the best Shopify stores out there, you don't necessarily need to have a one-of-a-kind product. But you must have a one-of-a-kind website!
As eCommerce marketing continues to grow, building a captivating Shopify website that can attract attention and convert visitors to loyal fans is imperative.
Today, we'll take a look at the top Shopify stores in various industries to draw useful inspiration!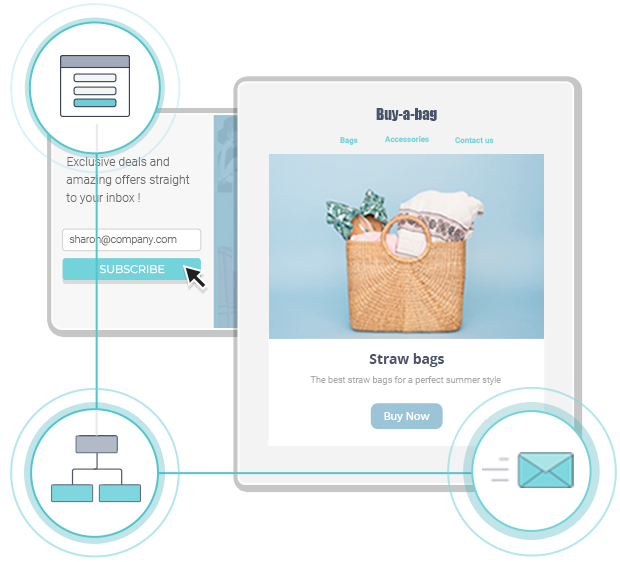 Try Moosend Today
The easiest and most affordable email marketing and newsletter software!
Best Shopify Stores (2023)
Pipcorn Heirloom Snacks
The Great Cookie
Death Wish Coffee
Jane Motorcycles
8 and 9
Skinny Dip
Tsuki Market
Allbirds
Taylor Stitch
Bombas
Ninja
Kylie Cosmetics
KKW Beauty
Carbon Beauty
Happiness Abscissa
Gymshark
Dryrobe
Ventana Supplies
Miracle by Aloft
Beardbrand
Best Food & Beverage Shopify Stores
1. Pipcorn Heirloom Snacks
Pipcorn has one of the most eye-catching website designs out there. This store was also featured on ABC's Shark Tank, where the owners got a deal that marked the beginning of their success.
As a small family business, Pipcorn has turned into a fast-growing Shopify store that knows how to satisfy its customers' need for tasty snacks.
Consistency plays a major role in having a top-performing Shopify store. For Pipcorn, having a solid Shopify theme and product pages that complement their homepage is key. When it comes to tabs, the store opts for simplicity by including four, two for the product and brand story and another two for the blog and store locator.
Why We Like It
Bonus Points
This Shopify store also earns extra points for its brilliant email marketing! When you sign up for their newsletter, you get well-crafted email campaigns promoting their natural products and vegan snacks.
Here's a drip campaign I got when I became part of their email list:

Pro Tip: If you want to make your store successful and boost your conversion rate, invest in an eCommerce-friendly email marketing service. For instance, you can sign up for a free Moosend account to access responsive email newsletter templates, advanced eCommerce AI and marketing automation tools!
2. The Great Cookie
The Great Cookie is another success story and is dedicated to selling cookies and cakes. Goodies in different designs and flavors are displayed all over the page; frankly, this design made me drool.
The design is attractive and playful, making it the perfect fit for the products. Shopping is effortless through two tabs that let you sort the products by category or occasion. This is why it has earned a place on our list.
Why We Like It
Ability to shop by occasion
Interactive homepage
Big CTA at the start of the page letting you instantly order a cake as a gift
Clicking on the "cross" symbols, you can start customizing your cookie cake as simple as that
3. Death Wish Coffee
Death Wish Coffee is a coffee brand that claims to have the strongest coffee on earth. Most of the website's content is displayed in big, clear text. In general, the design agrees with the brand's bold character, a fact that convinces you about the product.
There used to be a line of red text that warned potential buyers about how addictive the product is. This has now transformed into some "punchy" humor ("Mugs up, mother functioners.")
Why We Like It
Clear text with a bigger font that creates a memorable first experience
Alignment of the brand's tone with the colors and designs used on the website
No unnecessary steps to reach the checkout page
Best Clothing & Fashion Shopify Stores
1. Jane Motorcycles
Jane Motorcycles is a fashion Shopify store example with bold photography on its primary page—a close-up of a man riding his motorcycle immediately immerses you in a unique experience.
The website is easy to navigate, and the high-quality product images really make a difference. It turned my whole experience into a joyful ride, so it has rightfully earned first place in our top Shopify Stores list!
Why We Like It
"Shop" tab that lets you explore the store's product pages
Hovering over that tab, you find the listings segmented in two different columns (sorted by category and brand)
Responsive website
2. 8 and 9
8 and 9 is a streetwear brand and arguably one of the best Shopify stores I've seen. Your first contact with the website will be a big visual that speaks in street style terms and changes dynamically.
Scrolling down, I was impressed by the way these guys chose to direct their visitors. Nine big tabs, clearly stating visually and verbally where they are leading to. That's it!
Fortunately, they also managed to squeeze in an email form to the bottom of the page, which is not ideal but better than nothing.
Why We Like It
Great sense of style that convinces the visitor from the first glance
The product pages system is straightforward, with big product images and good segmentation
Items on sale are also easy to spot, making the buying experience easy
3. Skinny Dip
I didn't really know what Skinny Dip was until I visited the website. And I didn't need more than a couple of milliseconds to figure out what this Shopify store is about. This is really what a great online store should do!
The soothing tones, visuals, and overall feminine design energetically imply this is a women's fashion Shopify store.
Why We Like It
Carefully organized website with an excellent navigation bar
The "Sale" tab is in bright red color to attract attention
The site doesn't lack CTA buttons or subscription forms on its landing pages, which are essential converting mechanisms
4. Tsuki Market
Tsuki Market is the eCommerce business child of famous influencers and gamers Felix (a.k.a Pewdiepie) and Marzia Kjellberg. According to the owners, the name Tsuki is the Japanese word for Moon. Now let's take a moment to appreciate the eye-catching design of this collaborative effort.
Tsuki is a very user-friendly website, as it favors minimalistic website design. As you can see, the main menu has only four buttons. It's worth mentioning that the couple promotes the store through Instagram and Youtube, and they also model for the clothes exclusively. Every post they make perfectly complements their store, increasing their audience's desire to check it out and make a purchase.
Why We Like It
The color palette, visuals, and feel perfectly embody Felix and Marzia's love for playful, elegant, and practical designs
To make the store more unique, the couple has included kanji translations of their buttons (this reflects the brand's personality)
5. Allbirds
Allbirds is a shoe brand famous for its sustainable and natural products. This Shopify store is elegant, while their products are present throughout the whole homepage.
Simple, elegant, and with the product in mind, Allbirds has an amazing store to increase sales and promote its brand identity.
6. Taylor Stitch
Taylor Stitch is a classic men's clothing brand famous for its workshops. As with other examples in this list, Taylor Stitch uses photography to reinforce the "classic" element of its products and boost its sales.
Why We Like It
Elegant website design
Short copy
Clear CTAs
7. Bombas
Last but not least, we got Bombas, a comfort-focused sock and apparel brand that also helps those in need.
The Shopify store differentiates itself through its vibrant color palette and product display. Playful and youthful, Bombas has the right design elements and CTAs to attract its audience, boost conversions, and promote its good cause.
8. Ninja
Ninja is a famous gamer and influencer with one of the biggest channels on Twitch, with thousands of viewers. The online store has gone through major changes since its opening, and, as you can see, the homepage now features a short video with Ninja's new merchandise.
The webpage is simple and doesn't include many pages. Also, the absence of buttons is evident. This simplicity helps you browse almost all his products straight from the homepage.
Why We Like It
This Shopify store serves a clear purpose, namely to sell Ninja's merch to his fans
Seamless purchase process for those who want to support his streaming efforts
Best Shopify Stores For Beauty & Health
1. Kylie Cosmetics
No introductions are needed here. Kylie Cosmetics is one of the top 100 Shopify stores in the world, owned by world-famous influencer and fashion icon Kylie Jenner.
You will figure out what you should expect regarding the content and the products of the website right off the bat, even if you are not familiar with Kylie's brand. The background color is a soft pink that follows the rules of a website in the cosmetics industry, and at the same time, it doesn't distract.
Why We Like It
Nice combination of Kylie's personal story with her online business, making the website a powerful conversion machine
Close-up, high-quality images of lips covered in Kylie's products
Design-wise, Kylie's store reflects her younger target audience. Soft pink and red tones make the perfect combo to promote her beauty products in the most effective way.
2. KKW Beauty
Kylie Jenner's equally popular sister, Kim Kardashian, is also in our top Shopify stores list with her own KKW Beauty store. While she is an expert in Instagram influencer marketing, she also maintains one of the top Shopify stores globally.
Her Shopify store has a neutral design with a natural look that doesn't confuse the visitor. It also has a simple structure that makes it easier to navigate. The user experience is pretty straightforward, as well. Nevertheless, the store has dropped the drop-down menu and separate buttons for each product page, which can be a bit overwhelming.
Why We Like It
Effectively driving visitors to purchase the products while reminding them that this is Kim Kardashian's beauty brand
Extensive use of social proof (a great tactic for eCommerce sites)
The store instantly becomes more credible by displaying star ratings underneath the product images, leading to a better conversion rate.
3. Carbon Beauty
At Carbon Beauty, you will find cosmetic and beauty products like shampoos, fragrances, and makeup.
It has an intuitive and playful design with lots of colors that highlight its youthful spirit.
The minimalist design allows you to explore the products through the homepage.
Otherwise, you can click on the menu located on the top left corner and choose a category.
Why We Like It
This Shopify store's interactive nature and countless animations make it a very fun ride.
BONUS: Check our Fashion Marketing Tips guide!
4. Happiness Abscissa
Happiness Abscissa has a peculiar website design that I couldn't leave out of this list. Its creativity and structure make this Shopify store unique. Nevertheless, this peculiarity might frustrate visitors a little bit.
The store is probably one of the best examples of breaking free from the conventional website design that most stores adopt.
Best Sports Shopify Stores
1. Gymshark
Gymshark was created in 2012 by a group of teenagers.
Since then, it has managed to evolve into one of the most successful Shopify stores of fitness apparel.
Why? Because it utilizes a minimalist design with a lot of photography featuring the products and CTAs.
Why We Like It
I just can't resist some simple user experience that won't make me try too hard.
Gymshark contains only three main drop-down buttons on the top of the page where you should only be bothered by one of them, depending on your gender.
The bold "Explore" CTA button makes sure to stand out and, in case you are not really sure what you are looking for, help you find the best product for you.
My favorite part is the Instagram feed at the bottom of the page where you can shop the look on the photo.
This is actually one of the best Shopify stores I've ever seen since it conveniently drives the potential customer to the shopping cart.
2. Dryrobe
Dryrobe is a case of a brand that created a very specific and unique product and stayed focused on it, instead of expanding its collection.
Their main page consists of an action-packed, fast-paced clip showing people wearing the Dryrobe.
The brand cleverly incorporates user reviews and testimonials to increase its on-page SEO and push its skeptical buyers towards conversion.
Why We Like It
When it comes to design, the first tab will take you to a page where you can see every variation of their robe accompanied by big visuals and clear copy.
The last two tabs include a "How to choose" section, which is essentially a guide, and a "Featured Activities" section, which presents you with visual content of people using the Dryrobe in different activities.
The fact that this brand has to sell only one product with variations, gave them plenty of space to promote it the right way.
This way, their website will always bring up the value of the product by marketing it in many different ways and highlighting its benefits.
Originally, Dryrobe was third on our list. Nevertheless, the changes it has made have allowed it to become something more special for its customers.
3. Ventana Supplies
Ventana is a success story amongst Shopify store owners, featuring products that target the surfers' community.
Brown is the leading shade here, matching the colors in most of the brand's products.
A carousel of high-quality photographs covers the majority of the screen, displaying every important part of a surfboard's life, from the moment it is crafted to the moment it is ridden.
The three windows that pop up with each hover to describe the brand's philosophy are a nice touch as well.
Why We Like It
While this is not one of the best-structured (user-experience wise) Shopify stores that I came across during my research, it triggered some feelings that I don't usually get behind a screen.
The product photos are so good, and the light is so natural that I could almost feel the breeze and smell the sea.
In my opinion, that's exactly what a store selling surfer equipment wants to achieve!
Best Lead Generating & Converting Shopify Stores
1. Miracle by Aloft
Miracle by Aloft is a brand that offers sheets, towels, and pillowcases using antimicrobial silver.
This is one more minimalistic eCommerce store that eliminates unnecessary content and pages.
And that's mainly the reason why it's among our best Shopify stores list.
The store leverages soft shades of blue to create a sense of relaxation and bring up the feeling of snoozing among your fresh sheets.
Why We Like It
When I scrolled and clicked through the Shopify shop, I found out that it was ridiculously conversion-optimized.
From the beginning, you will notice the "Shop Now" button that is accompanied by the brand's tagline. (Which is really well-written by the way)
Scrolling further down, you will come across more Shop Now buttons, a showcase of the product's benefits along with their USP's and a 100% refund promise.
In order to make sure that you won't leave the store without taking action, a popup appears asking for your email address in exchange for a 10% discount.
And, of course, an exit-intent popup comes up to remind you of your free return prerogative and provide you with a $15 discount.
It's also worth mentioning that every CTA will take you to a new page specifically designed for the product you have selected.
There, you can find product reviews and testimonials. And you know well that adding those will give your on-page SEO a huge boost!
If I had to guess, I'd say that these guys also have a great eCommerce email marketing strategy in place to drive their acquired leads deeper into their sales funnel.
2. Beardbrand
Beardbrand is a brand that grew rapidly when the beard trend came about.
These guys did an excellent job leveraging content marketing to build their audience, which they later integrated with their Shopify store.
Unlike all previous stores, Beardbrand doesn't use its homepage to sell products, but rather strengthen their brand image even more.
Why We Like It
Facial hair grooming can be a pain if you are inexperienced.
Beardbrand knows that, and they want to help.
Their homepage has only one CTA, which asks the visitor to take a quiz to personalize your visitors' experience.
What makes its strategy unique is the online form Beardbrand asks you to fill in at the end of the quiz.
This way, they are able to create a strong first impression by recommending you some facial hairstyles based on your answers while you subscribe to their email list for some future "nurturing."
This is a great example of a conversion rate optimized website that is not about making sales in the first place.
Takeaway
As you may have noticed, the recipe for creating a successful Shopify store is not a fixed process.
There are numerous different ways to design your store, depending on your niche.
During our digital best Shopify Stores Olympics, we saw numerous examples and ideas. However, if you want to succeed, you shouldn't copy them randomly.
What works for someone else is not guaranteed to work for you.
Use your innovative spirit, creativity, and instinct to understand the psychology and intent of your users and deliver the experience they're looking for.
With this in mind, it's time to let your imagination run wild and create the best Shopify store out there!