Constant Contact vs Mailchimp [2023]
Constant Contact vs Mailchimp [2023]
Published By
Marilia Dimitriou
August 31, 2023
Welcome to the ultimate knockout: Constant Contact vs Mailchimp!
One way or another, I'm sure you've heard about these two email marketing platforms.
Selecting one of them, though, is as hard as deciding what to order for dinner: pizza or burger?
Today, we are here to make your life easier by breaking down what Mailchimp and Constant Contact offer.
From email features and deliverability to customer support and pricing, let the ultimate showdown begin!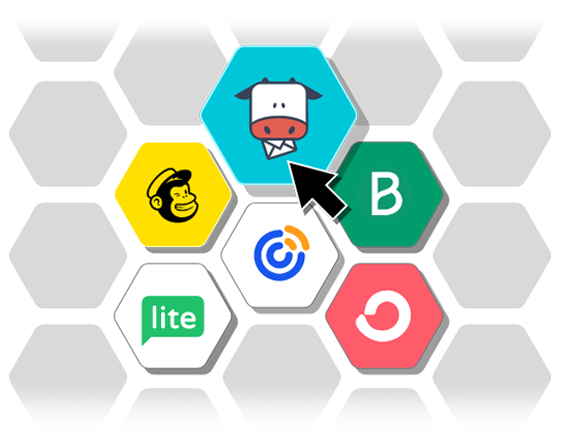 Looking for an alternative?

Save $$$ of your marketing budget by switching to Moosend today!
Mailchimp vs Constant Contact: Overview
So, which is the main difference between the two platforms?
That's easy: Mailchimp offers an all-in-one marketing solution, whereas Constant Contact focuses more on email marketing, offering some extra features.
| | | |
| --- | --- | --- |
| | Constant Contact | Mailchimp |
| Free plan | 60-day trial | Yes (limited) |
| Pricing | $12/month (500 contacts) | $20/month (500 contacts) |
| Best for | SMEs, Non-profits, Educators, Event Organizers | Ecommerce, Publishers, Small businesses |
| Email tools | Customizable templates, email editor, landing pages, online forms | Email builder, pre-made templates, signup forms, landing pages, Content Studio |
| CRM | Clean email list management tools, segmentation options | Built-in CRM system, audience management, and analytics |
| Marketing automation | Autoresponders, predefined contact segments, action-triggered automation | Pre-made automated workflows, product recommendations, and retargeting |
| Unique features | Survey tool, donations | Postcards |
| Reporting & Analytics | Key insights (sends, bounces, open rates, click rates) | Essential metrics (opens, clicks, industry average open rates, bounces) |
| Deliverability | 89% | 91% |
| Integrations | 542 (free and deal) | 284 apps and web services |
| Customer support | Knowledge base, seminars, chat and phone support, Twitter | Knowledge base, email support, chat, phone support |
That's an interesting comparison table! But what happens if both tools aren't exactly what you're looking for? Well, in this case, the market has an impressive number of alternatives to Mailchimp and Constant Contact!
If you're looking for an email marketing solution that combines Mailchimp and Constant Contact's virtues, you can try Moosend!
Moosend is a more affordable alternative to Constant Contact and Mailchimp, with paid plans starting at $9/month. You can find out more about the platform's features and pricing by clicking here!
Constant Contact vs Mailchimp: Email Marketing Features
Both Mailchimp and Constant Contact offer various features to help you create email newsletters and automated workflows, build forms, and more.
When we look at their interfaces, both services are fairly easy-to-use. Nevertheless, Mailchimp provides a more modern experience than Constant Contact's clunky and (sometimes) slow-loading interface.
To find the clear winner, let's compare the Email Service Providers' (ESPs') email and list building features, starting with their email editor.
Email Builder
The ideal email builder should be easy-to-use, offer advanced elements, and have a clean design. With these in mind, let's see how the platforms perform.
Constant Contact:
Starting with Constant Contact, the email designer is built with simplicity in mind.
While this is good for beginners who don't want to get overwhelmed, the lack of styles isn't ideal for someone who wants to create complex email designs.
Despite that, the builder has a drag-and-drop logic that lets you add new elements and edit your text, font, and images on the spot.
You can also read our full Constant-Contact review and get a detailed review on the tool's features, pros and cons and pricing.
Mailchimp: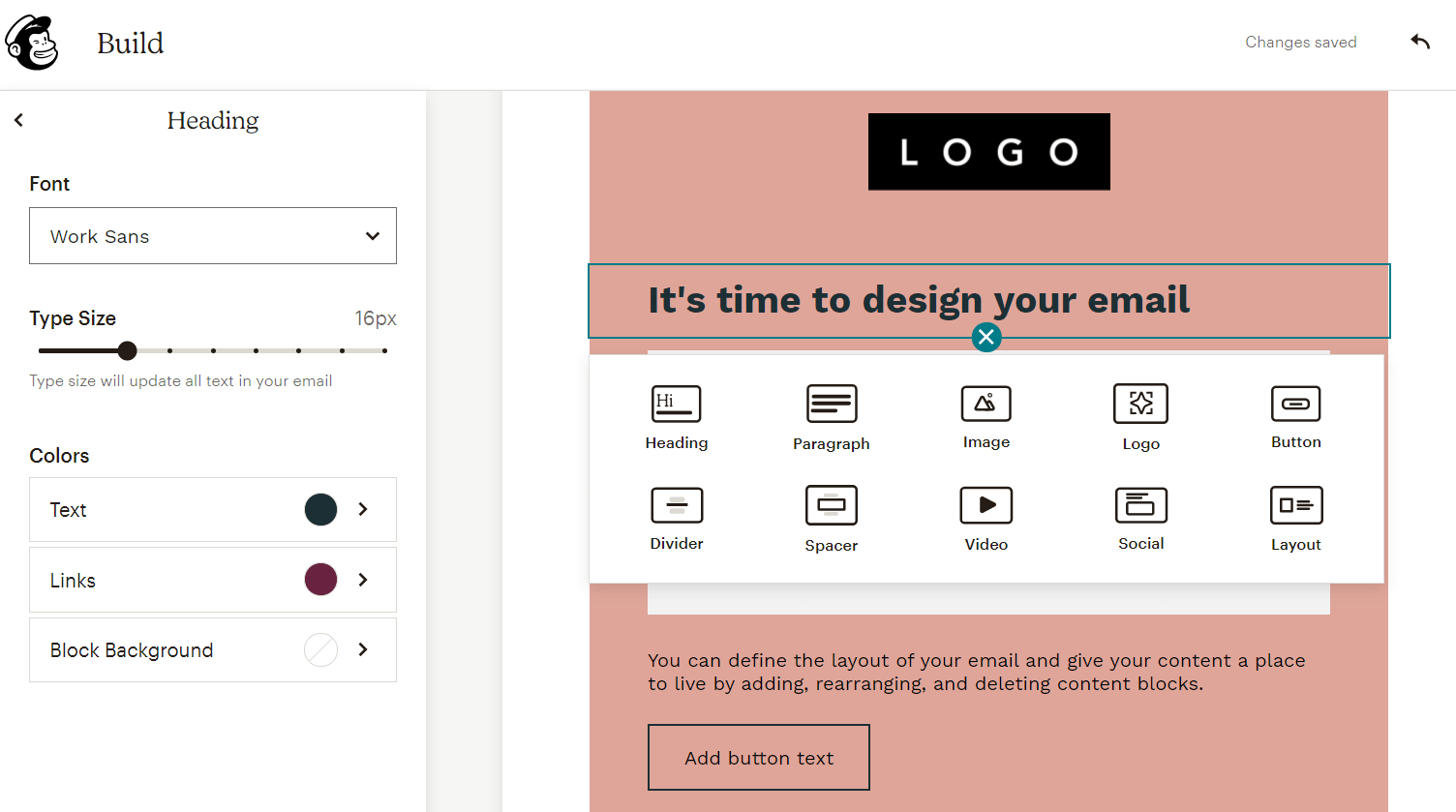 Mailchimp has recently released a new version of its classic builder, which you can still use. While the old version followed the same logic as Constant Contact's, you couldn't edit your elements directly and had to do it through the right side menu.
The new builder seems more modern than the previous version, allowing you to add elements by clicking on your design. Moreover, you can now edit everything simply by clicking on each content block, which is faster and more convenient.
Check also our dedicated Mailchimp review, where we dive into the tool's features, pros and cons and pricing!
The Winner: Mailchimp
Mailchimp's new email builder is more sophisticated and user-friendly than Constant Contact's. Also, the latter took a bit more time to load compared to Mailchimp's editor, which has the potential to reduce the customer experience.
Read our Comprehensive Mailchimp Review
Email Newsletter Templates
Every great editor has a selection of email newsletter templates to help you save time and effort.
Constant Contact:
The platform has a huge email template library, featuring 200+ ready-made templates you can customize to your liking.
From welcome email templates to announcements and seasonal email marketing campaigns, the platform offers pretty much all the essential templates you need to create a quick newsletter.
Another interesting feature is the branded template option that lets you create emails based on the images and colors of your website.
Mailchimp:
Mailchimp's email template library gives you access to layouts and themes and even lets you create your own templates through the "Code your own" option.
In the layout section, you'll find 14 basic designs you can use as a structure for your newsletter. The themes option, though, will give you 100+ ready-made designs (some available only on the Premium plan) that you can customize to fit your branding.
The Winner: It looks like a tie!
This Constant Contact vs Mailchimp battle was a tie. However, if you want a great variety, then Constant Constant is the one for you. If you are looking for more sophisticated email templates, Mailchimp's collection feels more polished.
Read Full Constant Contact Review
Automated Workflows
Creating automated workflows is the best way to run your email marketing strategy on autopilot. Especially for online stores, choosing an email marketing service with advanced automation features will help you achieve better sales and engagement.
With this in mind, let's see our contestants' marketing automation features.
Constant Contact:
First of all, you should know that the email service provider will give you access to its marketing automation features after purchasing the Email Plus plan ($45/month).
When you do, Constant Contact will let you create automated workflows for eCommerce platforms like Shopify, WooCommerce, and more. On top of that, you can use the email marketing solution to set up campaigns based on subscriber actions, an option that will allow you to target your subscribers at the right time.
Mailchimp:
Now, if we take a look at Mailchimp's automation features, we'll clearly see that the software has a more polished builder with an array of options.
Furthermore, the main difference between the two marketing solutions is that Mailchimp allows you to create workflows on the Standard plan.
Mailchimp's workflow editor allows users to create welcome and abandoned cart messages, event, and behavior-based automation, product retargeting, and product recommendations.
Nevertheless, the main drawback of Mailchimp's automation is the lack of a visual builder that can harm its ease of use.
The Winner: Mailchimp
Despite the lack of a workflow preview, Mailchimp offers more automation features and functionality to cover your business needs. Moreover, Constant Contact has no flexibility and doesn't allow you to combine different actions like other popular Constant Contact competitors. Plus, if you need to use all of the features, you'll have to upgrade to the $45/month plan.
If you want automation features that are both powerful and affordable, make sure to sign up for a forever-free Moosend account!
Email List Management
Both Mailchimp and Constant Contact are among the best email list management tools you can use to keep your contacts organized. But which is better?
Constant Contact:
Starting with Constant Contact, the software sports some simple list segmentation features that favor user-friendliness. The service lets you organize your contacts using contact tags and behavioral data to create more targeted segments.
What's more, the platform allows you to upload contact lists from Excel, Outlook, Gmail, and CRM platforms like Salesforce.
Mailchimp:
Mailchimp's approach to list management focuses on providing full CRM functionality at every step of the process. The email marketing software lets you manage your audience through advanced segmentation tools and measure performance through analytics.
While the software offers more options than Constant Contact, Mailchimp's audience management features require multiple steps to set up.
Like Constant Contact, you can also import and export your subscriber lists for better contact management.
The Winner: Constant Contact
Simplicity is the ultimate time-saver, so if you don't have any complex segmentation needs, Constant Contact's simple list management options will help you keep your lists organized without overwhelming you.
Personalization: Constant Contact vs Mailchimp
Email blasts are a thing of the past, giving their place to personalized messages with targeted content! With this in mind, let's see how our two contestants handle personalization.
Constant Contact:
Constant Contact's platform will give you the most popular form of personalization, allowing you to personalize your email subject line with a contact name, details, or custom fields.
Adding personalization to your subject lines is possible through the subject line section by enabling the "Personalize" button. Apart from subject line personalization, Constant Contact allows you to create dynamic content blocks to show relevant products to your subscribers based on specific criteria like their gender, age, and more.
Mailchimp:
In Mailchimp's case, you can also use the tool's subject line personalization tools to create effective subject lines for your list.
Regarding the dynamic content feature, Mailchimp provides you with specific content blocks to create highly personalized messages for your audience.
Setting up your dynamic conditions is similar to segment creation and is based on the data you have collected so far about your audience.
The Winner: Mailchimp
Both tools have similar personalization features, but since dynamic content is associated with the email builder, Mailchimp wins this round for user-friendliness.
Subscription Forms
A subscription form builder is an essential addition for every email marketer who wants to power up their lead generation.
Constant Contact:
The platform's list-building tools allow you to create pop-ups, inline forms, landing pages, and Facebook Lead Ads.
The form builder also offers basic customization options, allowing you to add text, change the background, CTA colors, and add custom fields (first/last name, country, street, etc.).
Mailchimp:
Mailchimp's form builder, on the other hand, is a little different from Constant Contact's both in ease of use and functionality.
The main difference is that Mailchimp's builder has more customized field options and offers a "Translate it" option to create translated versions of your forms.
The Winner: Constant Contact
While Constant Contact's form builder is basic, it is closer to the traditional form-building experience, allowing you to create a simple form within a couple of minutes.
A/B Testing Tools: Constant Contact vs Mailchimp
A/B Testing is an essential process to improve your marketing campaign performance and discover your audience's likes and dislikes.
Constant Contact:
To help you find the winning variations, Constant Contact gives you a subject line A/B Testing tool. This way you can test different subject lines and find the ones with the best open rates.
Unfortunately, the subject line A/B Testing option is the only A/B test you can run through Constant Contact's platform.
Mailchimp:
At first glance, you can see that Mailchimp offers more advanced A/B Testing tools, allowing users to test campaign elements (up to three variations), including the email design, subject lines, and more.
If you get one of Mailchimp's Premium paid plans, you can also access its advanced Multivariate testing, a feature that lets you test up to 9 variations of your initial design (control).
The Winner: Mailchimp
Mailchimp is the clear winner of this round. The email marketing solution offers various A/B Testing options to improve your content, send times, and subject lines.
Email Deliverability: Which Has The Best Rate?
Email deliverability is a process responsible for landing your email marketing campaigns in your recipient's inbox.
So, when you are about to choose one of the best email marketing tools on the block, you need to ensure that your delivery rates are high!
Mailchimp vs Constant Contact:
| | | | | | | |
| --- | --- | --- | --- | --- | --- | --- |
| | AUG 2017 % | MAR 2018 % | JAN 2019 % | JUL 2019 % | FEB 2020 % | SEPT 2020 % |
| Constant Contact | 89.74 | 93 | 90.4 | 88 | 89.4 | 89 |
| Mailchimp | 87.52 | 82.6 | 81.6 | 90.6 | 81.6 | 91 |
According to a recent study, Contact Contact seems to have delivery rates ranging from 88-93%, with an average of 89.92%. More specifically, the service's email deliverability rate was at 88% in July 2019 and reached 89% in September 2020.
It's worth mentioning that these rates are different from the platform's own claims of having a deliverability rate of 97%. Nevertheless, deliverability rates are very prone to change, so we can't determine the exact number.
Looking at Mailchimp's rates, we can see that the platform's deliverability ranges between 81.6-91%, with an average of 85.82%. So…
The Winner: Constant Contact
According to data, we can see that Constant Contact's email delivery rate is better than Mailchimp's.
Concerned about your email delivery? Moosend has an impressive deliverability rate of 98%. Sign up for a free account to make sure that your emails will land in your subscribers' inbox every single time!
Reporting & Analytics: Which Is More Advanced?
Tracking your email marketing campaigns in real-time will provide you with valuable insights. In this section, let's take a look at Mailchimp and Constant Contact's reporting and analytics features.
Constant Contact: 
First of all, the email marketing solution will show you your top emailing stats for the past days/month.
Apart from that, you can monitor your email opens, sends, clicks, bounces, and even hide specific metrics to personalize your reporting dashboard and display the metrics you want to focus on.
Mailchimp:
Similarly, Mailchimp's reporting dashboard will display the key email marketing metrics you need to track along with an industry average open rate you can use as a reference.
The main difference between the two reporting tools is that you can't hide your metrics to focus on specific rates. Another difference is Mailchimp's "Revenue" option, a useful addition that, along with Google Analytics, will give you a more in-depth look into your email campaign ROI.
The Winner: Mailchimp
Mailchimp's reporting and analytics will provide you with a better understanding of your campaign performance.
Constant Contact vs Mailchimp: App Integrations
Integrating your apps is one of the most important things you should look into before choosing your software. The more integrations you have, the easier it'll be to streamline your business!
Constant Contact:
Integrations are a serious matter for Constant Contact. More specifically, the email tool integrates with 542 free and deal apps, including:
Shopify
WooCommerce
Forms for WordPress
Salesforce
Eventbrite
MINDBODY
In a nutshell, Constant Contact integrates with the majority of eCommerce platforms out there, CRM tools, social media networks, and more.
Mailchimp:
Unlike Constant Contact, Mailchimp no longer integrates directly with Shopify, which can be a bummer for marketers who want a smooth Shopify email marketing experience.
Nevertheless, the email service has its own huge collection of 284 apps and web services you can choose from:
Google Analytics
Stripe
WooCommerce
Eventbrite
Zapier
HootSuite
The Winner: It's a tie!
It all comes down to your business needs. For instance, if you have a Shopify store, Constant Contact is a better solution for you. Overall, both email tools have a large collection of apps to choose from, and they also integrate with Zapier and Piesync.
Customer Support: Constant Contact vs Mailchimp
When you choose your tools, you need to be sure that they will provide you with all the support you need.
No-one wants to wait hours upon hours to receive a reply from a customer support representative!
So, with this in mind, let's see how our two contestants will support you in case of "email-gency!"
Constant Contact:
As you'd expect, Constant Contact has a huge knowledge base to help new users get a grasp of the software. Moreover, the tool offers various seminars, video tutorials, and helpful webinars for additional support.
Regarding direct support, you can reach the Constant Contact team through live chat, phone (available on all plans), and Twitter.
Mailchimp:
If you want to be a free Mailchimp user, then I have some bad news for you.
While you will have several guides and tutorials at your disposal, Mailchimp will only give 30 days of email support. To access the 24/7 email and chat support, you need to get the Essentials paid plan.
Also, phone support is available for Premium users. So, if you want to speak to a representative, you need to be a paid plan user.
The winner: Constant Contact
Overall, Constant Contact offers better support for all paid plan users, incorporating famous social media channels for better reach.
Pricing: Which Is More Affordable?
Choosing a free email marketing service is a great way to get yourself into the world of email marketing. And save some bucks on the side!
However, as you grow, your business needs will increase. So, choosing a tool that will scale with you without breaking the bank is essential for your brand.
Constant Contact:
In Constant Contact's case, the service doesn't offer a free plan but a 60-day free trial you can try.
After that, the software offers the following paid plans:
Email for $20/month (0-500 contacts): unlimited email sends, templates, reporting, subject line A/B Testing, eCommerce marketing, website builder, support.
Email Plus for $45/month: Pop-ups, automated emails, dynamic content, polls and surveys, advanced eCommerce marketing, websites, support.
It's also worth mentioning that pricing changes based on your email list size.
Mailchimp:
Compared to Constant Contact's pricing, Mailchimp has four different plans: Free, Essentials, Standard, and Premium.
More specifically:
Free up to 500 contacts: marketing, CRM, creative assistant, websites, forms, and landing pages
Essentials for $13/month: email templates, multi-step journeys, A/B Testing, email and chat support
Standard for $20/month: behavioral targeting, custom templates, dynamic content
Premium for $350/month: advanced segmentation, multivariate testing, comparative reporting, phone support
The Winner: Mailchimp
Mailchimp's free plan is ideal for small businesses that want a straightforward email marketing solution. Constant Contact's pricing changes based on your subscriber count, so if you have 2,000 contacts, the price increases to $70/month!
Need a more affordable tool? Register for a free Moosend account and then upgrade to a paid plan for only $9/month!
The Winner: Constant Contact vs Mailchimp
Each email marketing solution has its own strengths and weaknesses. Whether it is the additional features, functionality, or cost, each service will provide you with the tools to set your email marketing in motion.
In terms of A/B testing, automation, and reporting, Mailchimp will provide you with more advanced features. On the other hand, if you look for simplicity, better deliverability, and ease of use, Constant Contact may be a better choice.
Nevertheless, choosing a simple tool just because the alternative is more complex isn't the best strategy for a thriving business. If you are serious about email marketing, you need to get your hands on an advanced, cost-efficient, and user-friendly solution!
So, let's see some great alternatives for both tools!
Best Mailchimp And Constant Contact Alternatives
If you aren't satisfied with the pricing or features of both services, here are the top 3 Constant Contact and Mailchimp alternatives in the market:
1. Moosend – All-In-One Marketing Platform
Pricing: Paid plans start at $9/month, 30-day free trial (Sign up here)
Best for: eCommerce, SaaS, Publishers, Bloggers, Agencies
Unique feature: Advanced email builder features and marketing automation
Moosend is one of the best Constant Contact and Mailchimp alternatives, sporting an array of tools to get your email marketing going. The platform has a user-friendly drag-and-drop builder and automated workflow editor to create and automate your campaigns. Moreover, you can pick one of Moosend's email newsletter templates to save time or create your own and add them to your library.
Apart from email, Moosend has an audience management system that lets you organize your contacts, segment them and deliver targeted messages. To build your list, the email tool has an online form builder and a landing page editor to create your lead gen weapons.
Moosend's advanced reporting and A/B Testing features will also give you valuable insights and help you test various elements to discover the winning combinations. When it comes to email deliverability, the software also has an impressive sender score of 98%.
Overall, Moosend is a more affordable alternative to both services with a range of marketing tools that you can try out when you sign up for a free account.
Best Email Software Features
Pricing
Moosend's pricing starts at $9/month, giving you access to the landing page builder, SMTP server, team members, and more. You can sign up for a free account to try out its capabilities and see whether it is a great match for your business. No credit card is required.
2. GetResponse – Simple Email Tool Alternative
Pricing: Paid plans start at $15/month, free plan
Best for: Publishers, eCommerce
Unique feature: Spam testing options
Get Response is another alternative you can go for, offering an easy-to-use email creator and numerous customization options. The tool is great for marketers who want to create branded email campaigns for their business.
When it comes to lead generation, the service offers a landing page creator, opt-in forms to capture more leads, and a nice collection of segmentation options to divide them into focused groups.
On top of that, GetResponse will equip you with automated sequences to nurture your audience more efficiently. More specifically, you can use the workflow editor to create some of the most popular series like welcome emails and abandoned cart campaigns to engage your audience.
Overall, GetResponse is a great tool to create simple email campaigns. Nevertheless, email deliverability needs improvement as it has an average of 82.1%.
Best Email Service Features
Simple email newsletter creator
Email list management tools
Landing page builder
Pre-made email templates
Web push notifications
Social media Ads
Pricing
GetResponse offers a free plan you can experiment with. For more, you need to get a paid plan at $15/month for up to 1,000 subscribers.
3. Brevo (formerly Sendinblue) – Email & SMS Marketing Tool
Pricing: Paid plans start at $25/month, free plan
Best for: eCommerce, Publishers, Agencies
Unique feature: SMS marketing tool
Brevo is another alternative you can use to deliver email and SMS marketing campaigns. The platform will equip you with a drag-and-drop email builder to create your campaigns and a workflow editor to design automated sequences.
On top of that, Brevo gives you the tools to segment your audience based on specific criteria like their age, gender, or profession. Furthermore, you can leverage the platform's landing page feature to create lead gen pages to capture and nurture your audience. The software's unique SMS marketing feature is great to send transactional messages to your customers via mobile.
Overall, Brevo is a worthy alternative to both platforms, offering smart tools to engage with your audience. Nevertheless, if you want to take advantage of the free plan, you only have 300 emails per day, which isn't ideal for growing businesses.
Best Email Platform Features
Simple email creator
Landing page builder
Segmentation features
Open and click-through reports
App integration through API
Pricing
Brevo's free plan will allow you to send 300 emails/day to unlimited contacts. To lift the limit, pricing starts at $25/month with the Lite plan for 10,000 emails.
Scale Your Business With The Right Tool!
That was one of the most epic email software battles of history!
Now, you can make an educated decision based on the features, deliverability, support, and pricing of those two email giants.
However, if you feel that neither Mailchimp nor Constant Contact suits your business needs, you can register for Moosend's platform and see what the tool has to offer!
Whatever you do, don't forget to choose an email marketing platform that will scale your business!
Now it's time to step up your email marketing game like a pro!