9 Best iContact Alternatives For 2023 [Comparison]
9 Best iContact Alternatives For 2023 [Comparison]
Published By
Marilia Dimitriou
September 14, 2023
Businesses have used iContact to create email marketing campaigns that will boost their revenue. However, while using the tool, users have noticed a few usability issues that make running their email marketing strategy more difficult than it should be.
Among others, the limited design capabilities, the lack of list management intuitiveness, and the outdated user interface are some of the most common problems.
Exploring some of the best iContact alternatives will give you access to better email marketing services with more powerful features and functionality.
So, without further ado, let's see your options.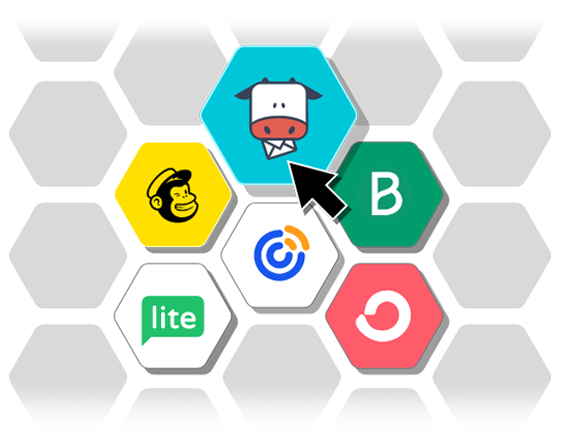 Looking for an alternative?

Save $$$ of your marketing budget by switching to Moosend today!
How We Selected The Following Tools
All of the tools in this list have been tested by our team to provide an unbiased description of their features and capabilities.
We spent hours setting up new accounts and trying each software to provide an accurate experience and show users exactly what they will come across when they sign up. Find more information about our software selection methodology on how we choose tools to feature on the Moosend Blog.
Top iContact Competitors: Compared For 5K Contacts
Based on reviews, iContact has a few weaknesses that other competitors can cover.
Below, we collected some of the best email marketing solutions to help you, focusing on functionality, user-friendliness, and intuitiveness. Let's take a look at them:
| | | | | |
| --- | --- | --- | --- | --- |
| | Free plan/Trial | Pricing | Unique Feature | Ratings |
| iContact | Yes (limited) | $65/month | Simple autoresponders | |
| Moosend | Yes (30-day free trial) | $48/month | User-friendly email builder | |
| Constant Contact | Yes (60-day trial) | $80/month | Event management tool | |
| HubSpot | Yes | $240/month | Powerful CRM system | |
| Mailchimp | Yes (limited) | $100/month | Advanced A/B Testing options | |
| ActiveCampaign | Yes (14-day trial) | $186/month | Complex automated workflows | |
| Campaign Monitor | Yes | $104/month | Customizable template library | |
| AWeber | Yes (limited) | $60/month | Cross-device email testing | |
| GetResponse | Yes (limited) | $86/month | Spam testing features | |
| Benchmark Email | Yes (limited) | $85/month | Inbox checker feature | |
Let's now take a more thorough look at the above solutions.
1. Moosend – Most User-Friendly iContact Alternative
Pricing: Paid plans start at $9/month, 30-day Free trial (Sign up here)
Best for: eCommerce, SaaS, Small businesses, Startups, Enterprises
Unique feature: User-friendly email builder
Moosend is a user-friendly email marketing platform you can use to get your strategy back on track. With an intuitive user interface and powerful drag-and-drop editor, you can create beautiful designs without the help of a graphic designer. Moreover, apart from using the advanced elements, you can customize the responsive email templates found in the library to save time and simplicity the task.
Regarding the second pain point existing iContact users deal with, Moosend's list management features will allow you to keep your subscribers organized and your email lists clean. The online forms and segmentation option will allow you to expand your subscriber base and then group your contacts based on specific criteria, such as demographics, interests, activity, and more.
Apart from its email creation and lead generation capabilities, this iContact competitor comes with a robust set of marketing automation tools. You can use the visual editor to create your sequences, from abandoned cart series to follow-up messages based on subscriber activity and actions.
This alternative can be integrated with numerous CRM tools like Salesforce and eCommerce platforms, social media networks, template builders, and more. The real-time reporting and analytics tools will let you keep track of your performance, while the A/B Testing features will help you optimize your strategy for better results.
Moosend Best Email Marketing Platform Features
Pricing
Moosend's pricing is $48/month for 5,000 subscribers, with a starting price of $9/mo for 500 contacts. The Pro plan offers all the features you need to thrive, including the email, online form and landing page builders, transactional emails (SMTP server), list management features, personalization, high deliverability, and more.
To give this iContact alternative a try, you can sign up for the 30-day trial. No credit card is required.
2. Constant Contact – Top Event Planning Alternative
Pricing: Paid plans start at $45/month, 60-day free trial
Best for: Event organizers, Startups, Governments, Non-profits
Unique Feature: Event management tool
Constant Contact will give you access to various features to power up your email marketing strategy. Geared towards event organizers and Startups, this alternative offers a user-friendly drag-and-drop email editor to craft your messages and dynamic content personalization to make them friendlier and more relevant to your recipient.
Moreover, the Plus plan will equip you with list-growth tools to expand and manage your customer data effortlessly. Among the features, you'll also find Google Ads, an essential social media marketing tool to help you drive more traffic to your website. Then, you can use the available signup forms to capture their email addresses and turn them into customers of your brand.
Auto-generated customer segments are also available, while Constant Constant will also equip you with marketing automation tools to drive more sales. You can set up automated workflows through the visual builder to target your customers with the right message at the right time.
Lastly, this alternative is popular for its event management capabilities, promotion, and reporting. You can leverage these features to nurture your leads and engage them further with webinars, online events, and more.
Constant Contact Best Features
Pre-made email newsletter templates
Autoresponders
Dynamic content personalization
Email list management features
Event management and promotions
Customer segments
Pricing
Constant Contact has a starting price of $45/month for the Plus plan, where you get extra tools and functionality. This email marketing solution has a 60-day trial you can use. After its expiration, you need to upgrade to a paid subscription.
Explore our in-depth Constant Contact review, where we discuss the pros and cons, pricing, features, and provide answers to frequently asked questions (FAQ).
Read our Constant Contact Analysis
3. HubSpot – Best For Email List Management
Pricing: Paid plans start at $50/month, free plan
Best for: Startups, SaaS, Enterprises
Unique Feature: Powerful CRM tool
HubSpot is another iContact alternative with powerful features, such as segmentation and personalization and a customer relationship management system.
Since iContact lacks in the list management department, HubSpot will be a great solution to help your sales and marketing teams manage contacts, track deals, identify qualified leads, and more. Also, it will allow you to best understand your target audience, collect information about it and then target it with the right message.
Speaking of that, HubSpot's email automation software will let you automate your drip campaigns, selecting the actions and triggers you like. You can choose from many options to target your recipient based on their actions and move them one step further down your marketing and sales funnel.
Last but not least, users purchasing the Starter plan will get access to the reporting dashboard (10 reports), ad retargeting, more forms and landing pages, as well as basic SEO recommendations and optimizations.
HubSpot Best Email Tool Features
Powerful CRM feature
List Segmentation
Ad management
Email health reporting
Email and form automation
Integration with third-party apps
Pricing
HubSpot is a more expensive alternative to iContact. For 5,000 contacts, you need to pay $240, with a starting price of $50 for the Starter Plan. To lift limitations and get more functionality, you need to get the Professional plan, starting at $890/month for up to 2K subscribers.
4. Mailchimp – Best For A/B Testing
Pricing: Paid plans start at $20/month, limited free plan
Best for: SMBs, Publishers, Agencies
Unique Feature: Advanced A/B Testing tools
Among our iContact competitor list, you'll also find Mailchimp. This popular email marketing automation software will provide you with two email campaign builders to craft your promotional messages, marketing automation features to streamline your tasks, pre-built email templates, and more.
When it comes to email creation, you get a variety of elements to build professionally-looking campaigns for your target audience. Then, you can use personalization and segmentation tools to make your messages more relevant to your recipients and increase your click-through rate and conversion.
Mailchimp's advanced multi-step workflows are perfect for targeting your audience at every step of the journey. More specifically, the automated Customer Journeys feature will help you automate unique and adaptable journeys for any customer scenario to be one step ahead.
Lastly, this email service provider is famous for its multi-variate testing capabilities. You can discover what changes have the most significant impact on your engagement and come up with solutions to boost your conversions. However, this is only available in the highest-tier plan.
Mailchimp Best Email Marketing Software Features
Two email builders
Multi-step automated workflows
Push notifications for campaigns
Transactional emails (through Mandrill)
Forms and landing pages
Email & chat customer support
Pricing
Mailchimp's pricing reaches $100/month for 5,000 contacts, and 60K monthly email sends. A free plan is also available, but it's very limited, offering 2,500 email sends per month and email support only for 30 days.
As of December 2022, the starting price for the Standard Plan is now $20/month for 500 contacts. If you want a more affordable tool, you can always check some of the top Mailchimp alternatives in the market.
Explore our detailed Mailchimp review to gain insights into its pricing structure, features, user interface, and support options.
5. ActiveCampaign – Best For Complex Automated Workflows
Pricing: Paid plans start at $70/month, 14-day trial
Best for: SMBs, Publishers, Agencies, eCommerce
Unique Feature: Complex automated workflows
Before, we took a look at some iContact alternatives that have a small learning curve. However, if you are an advanced user who knows how to set up complex automated workflows, then ActiveCampaign may be your solution.
This email marketing tool is perfect for targeting your audience with complex sequences that will provide your recipients with the right content at the right time. You can craft welcome and abandoned cart series, track contact engagement through tags and custom fields, and get information from other offline and digital marketing channels.
Transactional emails are also available through Postmark, ActiveCampaign's transactional email service with a flexible API. To get it, though, you'll have to pay extra, like Mailchimp. If you want an all-in-one solution, then you should consider some other more affordable ActiveCampaign alternatives.
Lastly, you can also benefit from this alternative's CRM and sales software to create new contacts, send follow-up emails, score leads, etc., through the user-friendly interface.
ActiveCampaign Best Software Features
Email and SMS marketing tools
Advanced performance reporting
Product block personalization
Mobile Campaign Reporting
Contact scoring
Ecommerce store Integrations
Pricing
ActiveCampaign's pricing reaches up to $186/month for up to 5K contacts for the Plus plan, where you get all of the features available in the Lite and more.
This tool also offers a 14-day trial to try it out. Then, you need to get a paid subscription to keep using it.
6. Campaign Monitor – Best For Design & Spam Testing
Pricing: Paid plans start at $9.50/month, very limited free plan
Best for: SMBs, Startups
Unique Feature: Customizable template library
Campaign Monitor is another email marketing automation solution you can consider to get your strategy back on track. This tool will give you access to a drag-and-drop builder, which is easy to use.
The customizable template library will also allow you to save time and effort from creating emails from scratch.  Another plus is that you can import custom-coded HTML emails to the editor, either through your device or from the web.
To boost your lead generation, Campaign Monitor comes with signup forms, landing pages, a CRM tool, and segmentation. You can use all these features to keep your email lists clean and your customer data organized.
Design and spam testing are also available to check how your emails will look in popular email clients (Microsoft Outlook, Gmail, etc.), ensuring that your messages go through spam filters and land in your recipient's inbox safely.
Campaign Monitor Best Service Features
Drag-and-drop email editor
Branded templates
List management tools
RSS feed trigger
Email address verification
Pricing
For 5,000 contacts, pricing goes up to $104/month with a starting price of about $31/month for unlimited campaigns. Campaign Monitor's pricing also offers a Basic plan for 2.5K email sends only and a Premier one that lets you access all the features.
You can also get the free plan; however, it is only for testing as it allows you to send to up to 5 people.
7. AWeber – Best For Pre-Made Templates
Pricing: Paid plans start at $30/month, limited free plan
Best for: Online creators, Small businesses, Agencies
Unique Feature: Cross-device email testing
AWeber is an email marketing and marketing automation platform that can help businesses grow and solidify their online presence. Despite its not-so-modern UI, the platform has an extensive email template library with professionally-looking designs.
Moreover, users get pre-built customizable campaigns to deliver the right content to the right people. You can also personalize your marketing campaigns by adding various personalization fields. Segmentation of your audience is easy and doesn't require much effort.
Regarding automation, AWeber has autoresponder tools that let you send triggered email marketing campaigns to your audience. These are based on the users' actions, so the message delivered can be tailored to that action.
Finally, you get custom forms and landing pages to grow your audience and sell digital products.
AWeber Best Email Tool Features
Huge variety of email newsletter templates
Web push notifications
Cross-device A/B testing
Custom signup forms and landing pages
Integrations with services like Facebook, PayPal, WordPress, and Shopify
Pricing
For 5,000 contacts, premium pricing is at $60/month (Plus plan) with a starting price of $29.99/month for unlimited campaigns and full access to the template library.
There is also a free plan available, giving you 500 contacts and 3,000 email sends per month. However, it's really limited in terms of available features.
8. GetResponse – Best For Email Tracking
Pricing: Paid plans start at $57/month, limited free plan
Best for: eCommerce, Small Businesses, Publishers
Unique Feature: Spam testing capabilities
GetResponse is a feature-rich marketing and automation solution to power up your email marketing game. It's a beginner-friendly service with a straightforward email editor.
You get various pre-made email templates you can customize to your liking and an autoresponder feature to set up simple action-triggered email sequences for your target audience.
What's interesting about the software is its email testing options. You are provided with various spam testing tools so that your email campaigns end up in your subscriber's inbox and your email deliverability remains high.
Finally, this email marketing service offers great segmentation features, geo-tracking, and integrations with popular services (eCommerce, CRM, etc.)
GetResponse Best Software Features
User-friendly email newsletter editor
Autoresponder tools
Spam testing feature
Web forms and landing pages
Pricing
For 5,000 contacts, paid pricing of GetResponse is $86.50 per month, with a starting price of $57/month for the Marketing Automation plan.
You can test the platform through the available Free plan, which is up to 500 contacts and 2,500 newsletters/month, and 1 landing page.
9. Benchmark Email – Best For Inbox Testing
Pricing: Paid plans start at $15/month, limited free plan
Best for: Startups, SaaS, Enterprises, eCommerce
Unique Feature: Inbox checker feature
Benchmark Email is a great solution for marketers who want a smart tool to keep sending their emails to their audience. You can use this iContact alternative to craft emails, schedule them and track essential metrics through campaign reports.
Apart from email creation, you can create and publish landing pages and segment your email list for better contact management and personalization.
A/B Testing is also available in the Pro Plan, allowing you to test your email content and perform any necessary changes to boost engagement and conversions.
Lastly, users can benefit from Benchmark Email's Inbox Checker, which lets you preview your campaign in web-based email clients. You can check how your message will display on mobile devices and test your campaigns in Windows and Mac OS inbox clients for better delivery and optimization.
Benchmark Email Best Platform Features
Automated customer journeys
Email performance tracking
Landing page builder
A/B Testing tool
Pricing
Benchmark Email is $85/month for 5K contacts (75K emails), with a starting price of $15 per month (7.5K emails) for the Pro Plan. There's also a Lite version, but it's limited compared to the Pro subscription.
A free plan is available for 500 contacts, and 3,500K email sends.
Getting The Best iContact Alternative
iContact had its moment, and you created some great campaigns with it. However, change is part of life, so if you are looking for a more intuitive, user-friendly, and powerful tool, you need to consider your options.
Email marketing is one of the best and easiest ways to engage your audience and turn them into customers of your business. Before you choose your next email ally, try any free trials and plans to check their capabilities before you commit.
Moosend offers you a 30-day free trial you can try by signing up for an account.
Change is always good. Don't be afraid to embrace it!