15+1 Must-Attend Marketing Conferences & Events For 2019
15+1 Must-Attend Marketing Conferences & Events For 2019
Published By
Iné Alexakis
December 6, 2023
Are Marketing conferences 2019 in your resolutions list? (Really, what was with all that New Year's Resolution abandonment trend? I make a resolutions' list every few months, how do these people get a hold of their lives without a plan? Beats me!)
Lifelong learning, staying competitive, using our brains and prefrontal cortex as much as possible so that they don't degenerate, hello?
(See, I sprinkled some medical benefits in there too so as to convince you that the benefits go above and beyond). These are only some of the benefits of attending Marketing conferences!
Looking for the best digital marketing conferences around the world is not as straightforward (gurrrl, have you seen the prices? They're a Louis Vuitton belt each, I'm telling ya!).
For the full list of events, dates, costs, and websites download our bonus below!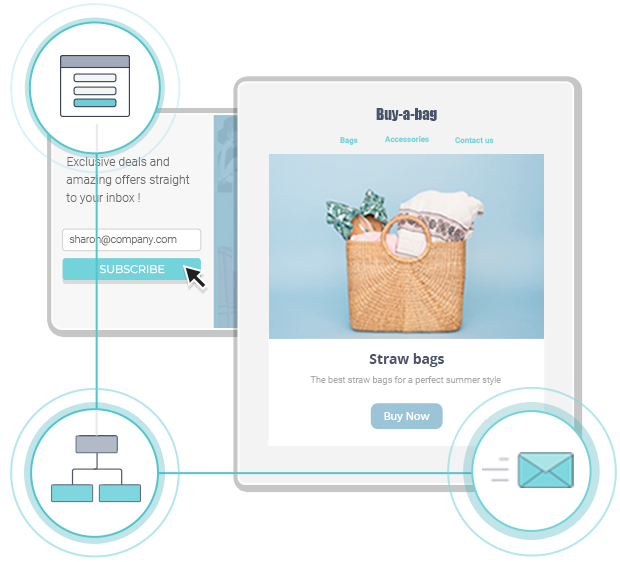 Try Moosend Today
The easiest and most affordable email marketing and newsletter software!
What is a Marketing conference?
A Marketing conference is the melting pot of one Marketing field with experts and experienced professionals holding presentations, workshops, masterclasses, Q&A sessions, one-on-one sessions, meet-and-greet sessions, and great parties.
Each of these conferences is competing with the rest in the industry to bring in the most impressive names, to present the latest trends, to add the name of a high-ranking expert to their event landing page.
Buuuut.
But not every event organizing team has the same access to talent or anticipates emerging trends, or even drives trends. It's not bad to lack the know-how.
So, this one's on us. We need to do the work, we need to look for the events, we need to do the digging.
Now, I've done my fair share of research but I'm pretty sure more marketing conferences will be popping up in the months to come.
In all honesty, I think I might be more tempted to go to a marketing conference that was born out of necessity rather than one that has been going on for years and has a tradition to keep up with and a branding worth hundreds of thousands of dollars.
Well, there is a little bit of both going on, so here are a few tips.
What should I look for in a Marketing conference?
Marketing conferences are pricey to attend. It's an expensive sport, so to speak. But you pay to enter and build a network while you are there.
If you miss the Early Bird rates (some conferences offer Super Early Bird rates), you will have one strong motive to really look into which Marketing conferences are worth attending in 2019.
Well-designed website
I have this rule: If you are in Marketing, all your actions should ooze marketing.
This means that you can't possibly have designed, organized, communicated a Marketing event without considering marketing in each and every single aspect of it!
That being said, I always look for organizations who love what they do and pay the right people to do the separate projects involved; from social media to website and landing page design, to blog posts, to customer service, everything.
So, if a landing page does not look like a few thousand dollars (while the entrance tickets do), don't go.
Now, in my research when putting this article together, I noticed quite a few well-designed pages, the speakers of which, however, were not as impressive.
I also did some reading between the lines (ok, I am very suspicious so I searched for everything anyway) and noticed that what looked as a "top content creator of 1 million viewers" referred to the total audience the creator had amassed, not an average.
Also, consider the quality of content shared on the website: for example, are there accommodation details?
Special rates for those flying in to attend the conference?
Is there a list of leisure activities?
Are there listed gyms in the area?
Have there been provisions for people who need medical care?
Will there be doctors on-site?
Is the event venue accessible by wheelchair?
Are there vegan and vegetarian or other food options?
Yes, these questions just come naturally to me. It's havoc inside my brain.
Check the event's reflexes
Send the organizers an email or contact them via LiveChat. Ask questions and try to find out as many things as possible.
Look for bloggers you've been wanting to meet
Don't just take what you are served. Look for a pattern or a concept behind every invited speaker.
Why did the organizers invite each and every one of these speakers? What will they be talking about?
As I was doing my research for this article, it doesn't take long for one to realize that there are some keynote speakers from various high-profile companies who speak to multiple events.
Now, this looks sketchy to me, my point being that they are probably pitching the same ideas over and over to multiple conferences.
In other words, this makes me suspicious about the content they are sharing; are they creating original content every time or are they pitching the ideas they want us to know about?
The former would be unrealistic unless that was in their contracts.
*Knowing that I might be taking it too far (and I often am), send an email to your favorite blogger or better yet, leave a comment below their latest article.
Bloggers love comments below their articles, and in this way, not only do they interact with their audience, but they also deal with a lot of
Know your speakers
Run a background check on the highlighted keynote speakers of the marketing conferences you are considering.
Don't take the organizers' word for it; read their blogs, google them, look them up on LinkedIn. If you are impressed by what they have to say (keyword here: impressed, not "not bored") then book yourself in.
Consider experience
Previous positive experience is a good pointer but not a finite one.
You should always take into consideration that event organizers might be too late to book in the speakers they want, or that they might get a last-minute cancellation for which they cannot make up in due time, and you will never find out about that.
So, how do you figure out whether a marketing conference is worth its buzz?
You take a deep breath and call in the CIA agent skills (the ones you've been using to do good on this planet, by unearthing Facebook profiles and the full family tree including their grandma's maiden name for your best friend who only remembered a name and three phone number digits.
Time for you to make it work! (:that was Tim Gunn from Project Runway).
"Who's paying for the ice sculpture?"
Check who is sponsoring the event.
If an event brings together the cream of the crop, brands will want to be there and meet more of their customers.
So look for awesome companies sponsoring it.
Sharpen your people skills
Ask around on Linkedin; ask within your network or on Linkedin groups.
DSIM states that 94% of B2B marketers use LinkedIn to distribute content, while 50% use it when making purchasing decisions.
Chances are that more marketing professionals are also looking for tips and testimonials so this is a good opportunity for you to bond with your network over a common goal.
Why should I attend a Marketing conference?
Attending well-reputed Marketing conferences is a great way to invest in knowledge.
I mean, you could pursue a Master's or a PhD, but ain't nobody got time for that!
This is a fast way to plug yourself in (Matrix style), get condensed knowledge from practitioners, experts, professionals with an impressive track record, pick the brains of other esteemed professionals, and build your network.
Who knows, you might even meet your co-founder to-be at one of these conferences, because "great minds think alike"!
Another reason why you should attend marketing conferences is that you can get inspired in so many different ways.
Even in the same room, people with the same background would still come up with different ideas!
And where else can you get generous input of knowledge from sources you trust (because you've done your fair share of background check *wink wink*) with like-minded professionals?
Top Marketing Conferences for B2C Marketers
Savage Marketing
If you are around Amsterdam or fancy a quick business trip around mid-June (12-13/6) for some fresh stroopwafels, Van Gogh museum, canal strolling, and red velvet cake at De Driej, or pizza at La Perla, why not check out Savage Marketing 2019?
B2C marketers will be coming together for what appears to involve "customer journey, data-driven strategies, storytelling, engaging immersive content, and mobile advertising".
Pick the brains of influential professionals from popular B2C brands, who are revolutionizing their industries and the way their brands interact with consumers. Meet the CEO of Red Bull Media House, the President of Huawei Honor Europe or the MD from Business Insider. Find out more about the speakers here.
The prices range from 210 euros for Super Early Birds to 1045 euros for Vendor passes. Explore your options and plan ahead for 2019!
Collision
Next up on our list is Collision, for the techies among us! Now held in Toronto, Canada, you should check out one of the nicest peoples on Earth! See what they eat, whether they drink water and sodas like the rest of us, brush up on your French why not, and pay in Canadian dollars!
Collision is to be held from May 20th to May 23rd expecting an audience of 25.000 attendees on average. Bringing together the cream of the crop, Collision boasted a list of keynote speakers appearing on stage such as the CEOs of Tinder, of Vimeo, Oracle, Booking. Sherpa, or Bitmoji.
If you, too, are interested in exploring the 14 tracks on the day, check out the pricing; starting at CAD$275 (that's Canadian dollars, or approximately USD$200) going up to CAD$22,294!
Dubbed the "world's most millennial meetup" by the Wall Street Journal, Collision sounds like the go-to place to network.
Get the 2019 treatment: sign up for their newsletter and get access to speaker announcements, promotions and discounts, invite-only events, etc. Find out more here.
Digimarcon
If you are on a quest to beat Phileas Fogg to his around the world in 80 days pursuit, it certainly won't be hard to find a Digimarcon event near you or on dates that work for you.
With 12 (!) Digimarcon events taking place all over the world, from Orlando to Sydney, and London to Singapore, Dubai and Johannesburg, you will definitely find an event that is the right fit for your schedule and availability and whereabouts.
Dates range from mid-May to late November 2019 and, if you can't make it to the events, you can always access the conferences online as some venues offer this option, too.
Alternatively, you can choose to attend Digimarcon World 2019 online.
3 Best Conferences for B2B Marketers
If you are in B2B, you probably feel that the B2C conferences are not for you (and that B2C marketing is so much less complex in comparison. I'm with you).
B2B Marketing requires a radically different approach and, chances are you will agree with me, it's not represented enough in terms of content created or information communicated, etc.
Below we have selected a few world-renowned B2B marketing conferences for you to check out and plan your marketing schedule for 2019:
B2B Marketing Exchange
Scottsdale Arizona represent! Late February (25-27) join 1,000 B2B marketers in this multi-track event and exchange views on content marketing, demand generation, digital strategy, ABM, channel marketing, and sales enablement.
Put together your own schedule for your needs.
Find your pass from $895 (early bird rates) to $1,995 (All Access Pass).
Featured speakers include representatives from Google, Marketing Insider, 3M, Oracle. Convinced yet? Find out more.
Get Stacked – The B2B Marketing Technology Conference
London calling! At the heart of everything in Europe (ok, I am not being objective, I know), Get Stacked is the most appropriate event for those who have limited time and budget.
This March 21st, for a total of 8,5 hours and for no more than £478.80 you can get the skinny on creating a martech strategy, pulling of sales-and-marketing alignment, or creating content that is meaningful and relevant so that all your hard work does not go to waste.
B2B Marketing Ignite 2019
I sure hope you enjoy taking trips to London, because Ignite takes place in London early July. Talk Marketing growth on July 8 and 9. Details have not been announced yet, but, for the time being, you can sign up here.
Affiliate Marketing Conferences in 2019
Whether you decided you need a side gig or decided to go full-on, Affiliate marketing is just the thing for that extra source of revenue. With more and more professionals hopping on the Affiliate bandwagon, affiliate marketing conferences are mushrooming for a good reason. Even if you don't have a unicorn idea, you can still make money out of one!
Affiliate Summit West
With as many as 25% of affiliates filling up the tracks in Affiliate Summit West, you will certainly have a great opportunity to exchange ideas and get your creative juices flowing!
Find like-minded professionals and draw insights on affiliate management, advertising, agency, solution provider, and network affiliate.
Join the networking events and discover your future partners or customers. Way to own 2019, right?
London Affiliate Conference
At the heart of everything (:heart_eyes:) EXCEL London will be hosting the major affiliate conference over 4 days of pure awesomeness, networking, and learning.
Meet exhibitors, sponsors, find the sessions you signed up for, and get access to top-drawer speakers. London style.
SEO Professionals, Look No Further
As Content Marketing is getting bigger, topnotch SEO skills are now one of the top priorities for headhunters. Whether you are working towards your next job or working towards your next promotion here are some of the hottest marketing conferences for SEO professionals:
SMX West
We are talking SEO and SEM classes, digital marketing training, and a rigorous SEO Bootcamp. All taking place right at the heart of Silicon Valley where the socio-economic and cultural-political centers of the area meet: San Jose, California. This January (30-31) make time for one of the biggest search-oriented marketing conferences in the world for over a decade. You can still catch your last-chance tix until January 29 for anything between $699-$2,795. SMX West awaits!
PubCon Florida
If California is not your cup of tea, maybe Florida is. Anything from PPC to Google Analytics and paid social is scrutinized over the three-day event in March (5-7).
Educational workshops, best practices, interaction with keynote speakers over Q&A and networking are some of the characteristics of this search and social media marketing conference.
If you are in the business of SEO, blogging, content creation, podcasting, social media management, you shouldn't miss this event. Entrance tickets start at $299 and go as high as $1249.
C3
How about you tried cookie dough in New York this time during the C3 marketing conference by Conductor? Excitement is peaking as, with most of its speakers soon to be announced, C3 is bound to reign over our LinkedIn and twitter feed this May (6-8).
MozCon
Seattle may not boast the best weather (although it might boast the best rainy weather), but it can certainly brag about the MozCon taking place there July 15-17.
By Moz.
THE Moz.
From SEO to content marketing to analytics to customer experience, Moz offers the single-track conference that will capture your attention from the first second.
More than 32 hours of meeting and networking with CEOs, content marketers, agencies or executives await you at the price of $799 for Moz subscribers to $1299 for General Admission, both of which, at the moment of writing, are the only available Super Early Bird ticket fees.
Brighton SEO
Want to become an SEO buff? Book your tickets to Brighton.
The twice-yearly search marketing conference and training event is -apparently so- one of the most popular events in the industry.
This year, Brighton SEO comes on in April and September (11th & 12th April | 12th & 13th September). Learn from the best, from the likes of Rand Fishkin (SparkToro founder), Emily Grossman (Skyscanner), Svetlana Stankovic (Searchmetrics) for £500 if you catch the early bird rates.
If you don't you might want to spend that extra pound or two because this SEO marketing conference will pay off.
If you can't make April, make sure you make all the necessary changes in your company by September and book tickets for then. Thank us later.
Last, not lost: Email Marketing Conferences
You saw it coming, didn't you? I saved the best for last!
If you've been in Marketing long enough (or been busy in Marketing long enough) then you already know that Email Marketing is your highest ROI and your safest bet.
So, almost a year after the GDPR came into effect, what are the trends for Email Marketers?
MediaPost's Email Insider Summit
Wouldn't you just looooooove to go to Austria for a few days? From February 18 to 21 (that's Monday to Thursday, wink wink) you will put in the work, and then from Friday to Sunday you blend the pleasure in, and that's how you make the "business with pleasure" mix! Kthnxbi.
For $1950 (Early Discounted price) and an additional $295 for afternoon activities (in case your sick day for Friday is not approved, you still have options).
What I really liked about this event organizer's page is that they offer a page dedicated to the available networking events.
From there everyone can reserve the activities they are interested in, and there is a complete list of rates.
Activities range from Camp Nou tour to Architecture tour and this goes on to show how much careful planning went into this event.
Another detail I liked was that spouses and children of attendees can join in the evening activities for the price the organizers are charged. I think that is considerate.
Email Innovations Summit
I am so looking forward to Email Innovations summit. Both events (Las Vegas and London) are to be packed with high-profile speakers such as Email on Acid co-founder.
Find yourself among the top email marketers in the industry, the ones who drive trends in email marketing, and ask them the hard questions. You in?
BONUS: Women In Tech by Collision
Ladies, this one is for us.
Although I am always torn between fully embracing and supporting a Women-specific event, service, product, you name it, and, at the same time, finding a Women-specific whatever essentially attacking equality between the sexes, here I am.
I mean, are women powerless? Do we need to be protected, so to speak? We certainly don't.
I mean, are men allowed in these Marketing conferences? Because the name of the event sounds rather exclusive.
If not, are we depriving them of one of their constitutional rights? Are we treating others the way we don't want to be treated?
In that case, is the LGBTQ community represented in Marketing conferences? And do we really need to bring gender into this?
Can we not differentiate a Marketing conference by creating content that everyone can relate to? Advance knowledge for the sake of it and discover more things that we share in common, rather than things that distinguish us in a binary way?
For example, by mentioning "women" in the title, we instantly render all other conferences as essentially male.
Even if the content is different, can't we add tracks to existing conferences?
Men, women, drag queens, whatever you identify as, everyone can work together and make more out of this combined notions. We just need better organizational cultures in every sector.
Collision offers the Women in Tech track (amidst another 13) that I found to be more inclusive: female speakers, transgender speakers, male speakers, everyone is invited in.
Outro
So, have you made your mind up? Which marketing conferences are you joining? Let me know in the comments section!