How To Make Money Online In 23 Easy Ways [2023]
How To Make Money Online In 23 Easy Ways [2023]
Published By
Alexandra Marinaki
September 21, 2023
Looking for ways to make money online to boost your monthly income stream or even begin a new career? You've come to the right place!
This guide will focus on short- and long-term money-making ideas to make extra cash by relying on digital resources.
Now let's find what suits you best based on your availability and needs.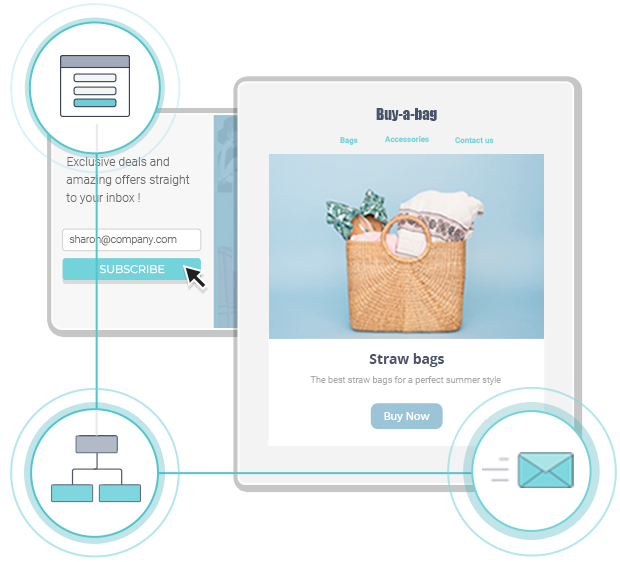 Try Moosend Today

The easiest and most affordable email marketing and newsletter software!
1. Create A Newsletter
Revenue potential: You can start with $10/month per subscription and reach up to $2,000 through sponsorships as your audience grows.
Global email users are expected to reach 4.6 billion by 2025. Consumers spend lots of time in their mailboxes daily for work or personal purposes. From communicating with colleagues to searching for product sales or new content, this channel is increasingly gaining ground in consumers' trust.
If you enjoy content writing and have expertise in or passion for a field, you can start your newsletter and profit from it by building a premium subscription with exclusive content. Exploding Topics and the Motley Fool are great examples to get inspired.
You can start small by sharing a landing page on your social platforms to gradually build an audience. Once you gain more traction, you can invest in a website and motivate your greatest fans to move to premium. Explain all the benefits they'll reap if they do so and try to reach up to their expectations.
Here's how Stacked Marketer approached it: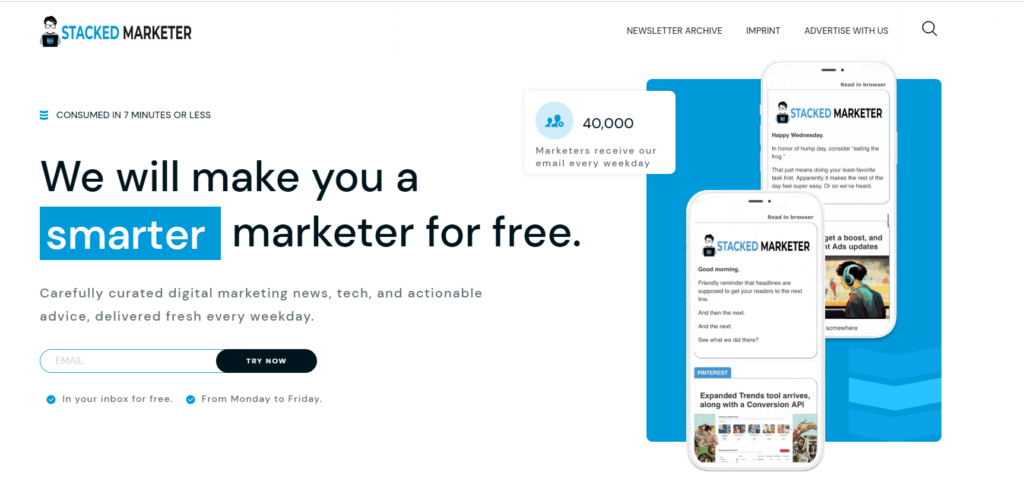 Let's look at a newsletter by the same creator as a reference: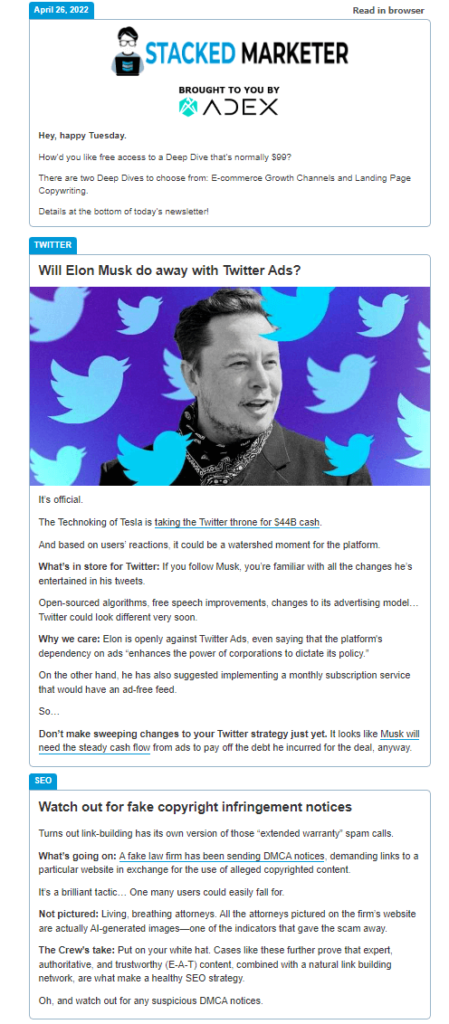 Before monetizing your newsletter, check competitors' pricing in your niche to stay ahead of the curve. As your email list and audience grow, you can partner with sponsors and earn more money by sharing their content or brand assets in your newsletter.
To start creating newsletters and managing your audience, you need:
an email marketing solution with user-friendly features

pre-made templates to help you save time and effort
reporting and analytics to monitor your performance

affordable pricing to begin your new venture
Moosend can help you build a newsletter and manage your email list effortlessly.
You can simply use its ready-made templates and intuitive editor to create outstanding campaigns without coding or design skills. Start your 30-day free trial today – no credit card required!
Also, if you're looking for more information on how to build your email list from scratch, click here!
2. Start An Ecommerce Business
Revenue potential: You can reach up to $63,000 in monthly revenue in three months and up to $127,000 in year one.
You can start an online store if you're looking for a large payout that can gradually lead to a full-time occupation. Setting up a small business online has never been easier if you find the right products/services.
To build a profitable store, select products/services you're passionate about and conduct market research to determine their potential. Then, sit down to map the logistics. You don't have to start big; just shape your brand and take it one step at a time.
Moreover, you can also get into the world of dropshipping, a business model that has gained many fans over the years. In short, you mediate between the customer and a third-party supplier. You don't need anything in stock, as they fulfill the orders on your behalf.
You can also offer print-on-demand T-shirts, mugs, and accessories. This way, you can design fantastic products and sell them before placing an order for them.
As you can see, these methods won't bring you money as fast as the first one, but with persistence and effort, you'll slowly build a profitable business.
Ecommerce Platforms To Build Online Stores
What are the most popular eCommerce websites to start your online store from scratch?
Here are some great eCommerce platforms to get started:
Overall, it's easy to say that opening an eCommerce store is not a low-effort deed. Look at this comprehensive eCommerce business plan guide to ensure everything runs smoothly. If you're short on time but fascinated by this business idea, consider a dropshipping business as an alternative.
3. Join An Affiliate Marketing Program
Revenue potential: Novices can earn up to $1,000, mid-level affiliates up to $10,000, and advanced affiliates $100,000+.
Becoming an affiliate marketer should be ideal for professionals interested in making extra income. Affiliate marketing occurs when an affiliate or publisher earns a commission for a product or service they promoted successfully to their audiences.
Affiliates can choose between physical and digital products if they can convince their audience to buy them. Even though promoting physical products can convert faster than digital, the commission is usually lower.
Affiliates usually get a unique website link that tracks conversions. They place it inside a blog post or promote it via social media, like TikTok, Instagram, or YouTube.
Others prefer to run Pay-Per-Click (PPC) campaigns if they have some money to invest beforehand to reach consumers who are very likely to convert.
Let's see some successful affiliate marketing programs you'd better watch out for.
Best Affiliate Marketing Programs For Digital Products
Best Affiliate Marketing Program For Physical Products
Amazon Associates: You can earn a 1-10% commission, depending on the program. The cookie lasts for a day.
Target: It's another notable retail brand, enabling you to get up to an 8% commission with the cookie lasting seven days.
eBay Partner Network: This well-known retail platform pays you a 1-4% commission based on the product category. The cookie's life span is 24 hours.
To succeed in affiliate marketing, create exciting and relevant content for promotional purposes to make good money.
4. Become An Influencer
Revenue potential: Micro-influencers (10-50K followers) can make from $40K-$100K annually, depending on many factors.
If you love social media and creating content regularly, you can consider leveling up your social profiles, like Instagram or TikTok. If you specialize in a niche market, e.g., education or traveling, you can create more specific content and target specific people by addressing their pain points.
As your following grows, you can experiment with different content types to see what drives more engagement, and sponsorships will start coming your way.
Even though this is one of the most creative ways to make money online and turn it into a real business, you'll need time to nurture results. Plus, competition is high in specific markets, so you'd better research first.
Here, you've listed some tools that will help nail your content creation:
As long as you find the appropriate tools, you must update your content consistently to fulfill your subscribers' expectations. Moreover, answering your followers' comments and interacting with your audience is essential to creating community vibes.
5. Start A Blog
Revenue potential: People who monetize their blog can earn $20,000-$50,000 annually.
If you love expressing yourself through writing or you can experience as a freelance writer, you can become a blogger. To build a successful blog, targeting a specific niche market and audience is much more efficient.
If you publish great content consistently and apply SEO principles, you can turn your blog website into a real money-maker. For instance, you can add affiliate links to blog posts that drive high traffic or sell advertising space to other businesses.

You should dedicate time and effort to set up an online business like this. But if you have a creative spirit, this safe writing space may give you the freedom you need.
Here are some Content Management Systems (CMS) to start a blog from scratch, paid and free:
WordPress: The free plan starts with limited features and no custom options. The most popular plan for freelancing is the Premium at $13.95/month.
Joomla: You can start for free, but you'll soon need to update to access top features. The annual cost for the Personal package is $99.
Ghost: The pricing varies based on the audience you have. For example, for up to 500 members, it's $11/month.
Lastly, you'll also need to buy a domain name from registrants like GoDaddy and HostGator to host your new blog.
6. Create A YouTube Channel
Revenue potential: The average YouTuber earns $18 for 1,000 ad views and around $5 for 1,000 video views. However, the final income can vary.
If you're more confident with public speaking and have solid story-telling skills, you can also start a YouTube channel to make money online. Again, sticking to a specific field is best if you want to gain authority and followers faster by creating how-to videos, so picking the right YouTube niche is a must.
Let's see an example:
You need to have reached the threshold of 1,000 subscribers to join the YouTube Partners Program. Then you'll get access to Google AdSense to start profiting from ads.
As your following grows, you may get business sponsorships to promote specific and relevant products/services to your audience. You can also run YouTube Ads and leverage the power of YouTube SEO to win more traffic. If you fancy all this, here's a YouTube marketing strategy guide to get inspired.
Also, here are the websites you should check if you decide to earn money online as a YouTuber:
YouTube Partners Program: Read the monetization policies and community guidelines carefully to see if you're eligible for this program.
YouTube BrandConnect: This program helps businesses collaborate faster with creators on YouTube to spread their messages.
Overall, you should be 18+ years of age to get your YouTube channel monetized. However, investing in tech gear, like a good camera, a mic, and an editing tool, is essential to grow your channel and sustain an excellent quality over time.
7. Open An Etsy Store
Revenue potential: A successful seller can make between $43,000 and $46,000 per year on average.
According to a recent report, Etsy, a selling platform for independent creators and sellers, had 96.3% active users, with many staying loyal to the platform over time. So if you enjoy creating handicrafts like pottery or jewelry, you can build your store on Etsy to increase your income.
Setting up your profile is pretty straightforward, but the competition is high, so it'll take some time to be more visible. Read this manual and learn how to create a successful Etsy shop online.
You should be 18 years old to be eligible to open an Etsy store. Children 13-18 are considered minors and need a parent or legal guide to manage the system.
Before opening a shop, ensure that your products are allowed on the platform and that Etsy Payments are available in your location. You should also follow the laws that apply to online business in your country.
What you can sell:
Handmade items
Vintage items (20+ years old)
Craft supplies
Digital items
What you can't sell:
Alcohol, tobacco, and substances
Animal products (e.g., leather)
Internationally regulated items
Mature content
Find more information about what you can or cannot sell on Etsy here.
8. Publish An E-Book
Revenue potential: You can make from $5,000 to $8,000/month on average.
With the rise of self-publishing, writing and publishing your e-book to make money online is now possible. So if you enjoy storytelling, why not give it a go?
To create a polished e-book, apart from a writer, you need a designer and an editor to ensure that your e-book is as great as possible. You can hire freelancers to help you out.
Then you can submit it to a self-publishing platform and focus on promoting it. However, before submitting it, check each company's royalty policy to see the rate you'll receive for every sale.
Let's see some self-publishing platforms:
Check the requirements of your preferred self-publishing platform and follow their instructions to publish your e-book successfully. You can make it work as long as you have a solid product with a topic that excites readers.
9. Take Up Freelance Work
Revenue potential: Up to $5,000+ monthly on average, based on your expertise, experience, and effort.
Becoming a freelancer is one of the most popular ways to increase income. This is even more workable for professionals specialized in web development, copywriting, graphic design, or digital marketing, to name a few.
You can start by building a solid portfolio and joining professional social media platforms like LinkedIn or Behance.
You can also visit these helpful websites to find projects made for you:
Once you get in the flow, ask your customers if they can leave a kind review to benefit from the power of social proof. As you get better at it, you can increase your payout and even commit to freelancing full-time if you wish. Or you can just roll out by doing side gigs in your spare time without sticking to a long-term plan.
10. Build A Membership Site
Revenue potential: Successful websites can make up to $200K annually.
If you already have a blog or a website with many resources, like articles and how-to guides, you can create subscription plans. Craft exclusive content for loyal subscribers or customers and make extra money.
What kind of content can you build for this purpose? E-books, infographics, and exclusive newsletters are great options. Moreover, you can create backstage content or Q&As to attract more community members if you're a YouTuber.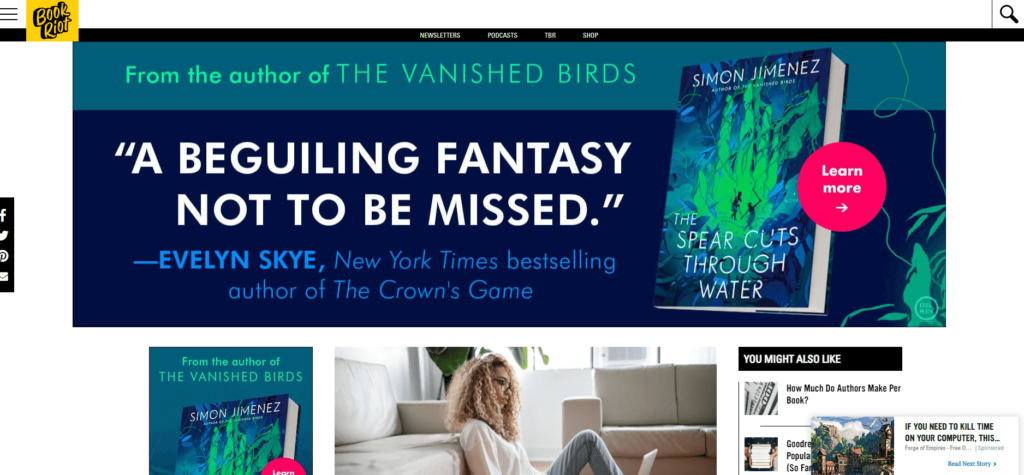 Check Bookriot as a reference. It's a website for book lovers with a community called Book Riot Insiders with three different subscription plans offering exclusive content such as podcasts, new release emails, online courses, or deals.
Looking for top membership website platforms? Check this list:
Once you find the best platform and start your membership plans, make your pricing accessible for multiple people to increase your subscriptions.
11. Create A Podcast
Revenue potential: Approximately $500-$900 for 10,000 downloads per episode. This range can fluctuate based on affiliate sales and the audience's support.
Another excellent option for people who love to narrate stories with specific expertise or a journalist's flair is podcasting. Start your show on Spotify, Apple, and Google Podcasts if that sounds like you.
Find a concept that fascinates you, from music to yoga and well-being, and choose relevant topics to attract your audience. It's also wise to watch your competitors' content to see trends or fill the gaps. You can go solo or bring guests to add value to your podcast.
But how exactly do you get paid for podcasts? Usually, you earn money from sponsorships, affiliate links, or support straight from your audience using platforms like Patreon.
Once all the essential elements come together, create a website or an RSS feed at existing sites to host your podcast and start promoting it on social media to gain more traction.
Top Podcast Hosting Websites
If becoming a podcaster is something that appeals to you, here are some hosting sites for starters:
Check their features and pricing to find the best plan for your needs.
12. Do Voice-Overs
Revenue potential: According to ZipRecruiter, entry-level voice actors can make between $13,500–$32,000 annually.
Another excellent option for people who love storytelling, singing, and acting is doing voice-overs. Having a talent for it is essential, as all companies require you to send a sample of your work to see if your voice fits their projects.
If you start doing voice-overs, many opportunities, such as commercials, demos, movie trailers, and audiobooks, can land in your hands. So if you have a strong and dynamic voice and are interested in bringing new worlds to life, start practicing today to claim your next side gig.
Want to launch your next voice-over work? Here are some websites to look at:
You need to demonstrate your ability to narrate your client's story and experience breathing techniques and warm-ups. Once you get the job, you'll need a high-quality microphone and recording software to excel.
13. Become A Virtual Assistant
Revenue potential: The average hourly rate is $16 – you can earn from $21-56K annually, based on the business.
Many businesses need a part-time workforce to complete administrative tasks for them regularly, e.g., scheduling appointments, arranging travel, etc. You can complete these tasks online, so it's the perfect solution for people with limited availability who want to work extra from home.
You need time management, organizational skills, and attention to detail to succeed in these side gigs. They may ask you to demonstrate previous experience in Excel or scheduling software, but usually, these jobs are suitable for people with little or no previous working experience, depending on the industry.
You can find a virtual assistant on websites like Fiverr, Upwork, and Wishup or well-known job boards such as CareerBuilder or Indeed.
14. Create An Online Course
Revenue potential: You can earn $0-$50K monthly based on your audience and pricing.
Online courses are one of the most successful content types to attract people to your website. Create on-demand courses and share your expertise with your audience.
Search for trending themes to understand what people need to learn to create competitive content. As with previous methods, checking what other course creators do is always good to find a unique angle.
In short, a successful online course consists of clear learning objectives, exciting yet challenging content, and some form of interaction. For example, you can create a community or a forum so that attendees can share their questions and experiences.
Finally, you can host this webinar on your existing website by adding a plugin or joining a dedicated e-learning platform. Let's see some examples:
Once everything is set, you can build a marketing plan to promote your course to your target audience and increase sales.
15. Become A Twitch Streamer
Revenue potential: Streamers with small channels can make from $50 to $1,500 per month on average, while expert streamers can reach $5,000.
If you're a member of Gen Z, you've probably heard of the mighty video live-streaming service Twitch. Even though it started as a platform for gamers, people from various industries have joined.
If you're already a Twitch lover willing to try to grow your audience, there are many ways to make good money from it. Let's explore the basics:
Subscriptions – viewers can subscribe to your platforms once or periodically, selecting their favorite plan.
Bits – virtual elements users can buy to "cheer" and support their favorite streamer.
Ads – this makes sense for channels with bigger audiences, and you schedule them straight on Twitch.
External sources – sponsorships, donations, affiliate programs, merchandise, etc.
So take this opportunity seriously if you love connecting with people in real-time and have something meaningful or fun to show them.
16. Become An e-Tutor
Revenue potential: The average hourly rate for online tutors is $18.30.
During the pandemic, work from home and e-tutoring became vital, and many teachers started to use video calling software like TrueConf, Zoom, and Meet to connect with their students. This has opened a new pathway to how teachers and mentors can deliver tutoring and training.
So if you are an expert in a particular field, why not share your knowledge with other people? From maths to foreign languages and writing, find your hen with the golden eggs and get ready to share your know-how with enthusiastic students.
However, you should treat this gig more diligently, as you work directly with people. Prepare your classes beforehand to satisfy your students' needs.
Here are some useful platforms to visit if you're considering e-tutoring:
Job boards: Find available job postings on websites like Indeed or Craigslist.
Tutor.com: Tutors are paid a set hourly rate, including incentives for high-quality tutoring.
Care.com: You can find different gig types, from childcare to tutoring.
Every platform has different requirements for tutors, like previous teaching experience or graduate degrees. Most require you to complete an assessment before accepting you, so read the instructions carefully.
17. Do Micro-Jobs Online
Revenue potential: You can earn up to $100 for each micro-job, depending on your effort.
You can search for micro-jobs if you're looking for easy side gigs to make money online occasionally. For example, transcribing would be a solid option for you. You'll get to transcribe specific audio or video files within a deadline. In most cases, the faster you type, the more money you'll get.
Apart from transcribing, you can also consider other relevant micro-jobs like translating, data entry, or editing. The first applies to native language speakers or professionals with relevant licensing, while the latter to detail-oriented people with organizational skills.
Interested in relevant side gigs? Have a look at these websites:
Amazon Mechanical Turk: Best for image/video processing, data verification and cleanup, and information gathering
Fiverr: Best for logo design, translating, social media, illustration, etc.
GigBucks: Offering many micro job categories and opportunities
To deliver those tasks, you need a stable internet connection and a highly functioning computer to do the work. In some cases, especially in design and development, you may be asked to showcase your previous work to get the job.
18. Sell Your Stuff Online
Revenue potential: It depends on the product you sell and its quality
If you want to make money online fast and receive it upfront, consider selling second-hand items. From T-shirts to furniture, find all the neat items you don't need anymore and prepare to give them out. To ensure that the price you ask for is decent, search for the original price and reduce it based on the current quality.
You can also sell your tech gear, like old laptops or cameras, or even trade them to get cash back. It's not a practice that will bring you a lot of money, but it can help you make it fast.
Let's see some websites you'll find helpful:
Ensure that the items you sell are in good condition, as some platforms will require proof to secure their shoppers. Therefore, to promote these items on the platforms above, you'll need to take high-resolution photos or videos to attract the right consumers.
19. Complete Online Surveys
Revenue potential: The range varies based on the items you complete. For example, for 30 monthly surveys, you may end up with approximately $150.
One of the easiest ways to gain extra dollars is by completing online surveys. Many businesses conduct market research to get the consumers' opinions before launching a new product.
However, this method will not bring you big cash. Consider it more if you need to make some pocket money in your extra time, as the pay for a single survey hardly ever exceeds $5. Moreover, sometimes, businesses provide participants with gift cards or similar incentives instead.
Finally, read each survey's instructions carefully as there might be demographic limitations, e.g., occupation or location. In most cases, the age range starts from 18, but you can find surveys that accept 13-year-olds and above.
Online Survey Websites
Let's see some top online survey sites:
Swagbucks: You earn points by watching videos, shopping online, and taking surveys. You can redeem them in gift cards or cash via Paypal.
Survey Junkie: An online survey community enabling you to make money through gift cards and cash via a pointing system. Available for people aged 16+.
Branded Surveys: An online survey program with an easy-to-use dashboard and a point redemption system.
20. Test Websites And Apps
Revenue potential: If you complete several tests monthly, you can earn approximately $140.
Are you a tech-savvy person with a keen eye for detail? Then there's one excellent side gig for you that you can't miss out on – website testing.
Long story short, you'll be among the first people to navigate new apps and websites and share feedback to improve their functionality and design. The rate per test varies based on the methods business owners and UX specialists use. For example, the rate usually gets higher if you participate in live sessions.
Here are what sites you can visit to get started:
Usertesting: You will complete a quiz, and if you pass, you will be matched with test opportunities based on your results. You'll usually receive payment by Paypal one week after completing the test.
Ubertesters: This app is mainly for QA testers with rich theoretical knowledge. You can participate in projects from big brands, testing pre-released websites, apps, and games.
Userbrain: After you pass the qualification test, you can participate in 5-20-minute tests and receive $5 for each via PayPal.
You must pass a qualification test to start this side hustle. So sharpen your web development, QA, and UX design skills before registering for the final stage.
21. Sell Your Photos
Revenue potential: For royalty-free sales, you can earn between $0.10 to $99.50. With extended licenses, you can move up to $500.
If you love taking photos and have a high-resolution camera, you can consider selling them to stock photo sites. Find which categories are in demand and take some great relevant shots.
You can also do the same with video footage for business owners who want to buy stock content for their campaigns to save money. Overall, practicing your hobby is a great way to make a passive income.
Here are some stock photo sites to explore:
Getty Images: Royalty rates start at 15%, and exclusive contributors can earn up to 45%.
Vecteezy: They have a Free and Pro program – in the Free program, you earn $5.00 per 1,000 downloads for photos and $10.00 for videos. In the Pro program, there's a 50% revenue split.
Shutterstock: Read the instructions carefully to understand earning levels based on licenses.
Once you upload your work to the chosen platform, they'll review it carefully to see if it meets their requirements. Lastly, you'd better watch out for possible copyright violations before submission.
22. List Your Room/Flat On Airbnb
Revenue potential: $948/month on average, but varies depending on the property and location.
If you have a spare room in your flat, an empty apartment, or a holiday cottage, you can use Airbnb to make money online like a pro. This practice has gained popularity over the last ten years, and some users profit sustainably from this platform.
Plus, if you are interested in hospitality, this side gig will be ideal, so try to offer your guests the best experience.
As you can understand, it's hard to manage everything entirely online, as you'll need to do regular housekeeping and welcome your guests. However, as this gig becomes profitable, you can hire someone to become the host on your behalf.
You can also check Airbnb alternatives, like Booking.com, Homestay, and Blueground, and choose the platform that covers your needs.
23. Invest In Stocks
Revenue potential: 7-10% on average yearly over a long period.
If you have an entrepreneurial mindset and are good at economics, you can invest in stock options. For example, you can check your employer's stock options to be safer or purchase shares in other companies if you can predict an increase in value.
However, if you're unfamiliar with these transactions, it's best to avoid this option, as you may lose lots of money if things go wrong. If you feel confident, you can visit stockbroker websites such as E*Trade and TD Ameritrade.
Choosing The Optimal Way To Make Money Online
Here's a quick guide on how to pick the right online job for you:
Determine your desired income: Calculate how much money you want to make online, then choose the best option.
Choose something interesting: Doing a side gig you like will be much easier, especially if you already have a full-time job. Choose a second job that feels more like a hobby.
Decide your availability: It's also essential to determine your availability before applying for a gig, including how much effort you'd like to put into it.
Beware of scams: Visit trustworthy platforms such as job boards or the sources mentioned earlier to ensure you'll receive your money.
After you follow these steps, you'll be ready to get your next side gig and make good money using some of the most popular online platforms out there.
Enjoy the process!
How To Make Money Online FAQs
Let's see some of the most common questions on how to make money online and try to address them.
1. How can I make money online immediately?
You can sell second-hand items like clothes or furniture to make money ASAP. Moreover, you also have the option to complete online surveys or test websites/mobile apps to earn some cash quickly.
2. How can I make $100 per day on the Internet?
There are many options to choose from. For instance, you can create and sell online courses, take freelance work, or become a part-time virtual assistant.
3. How do I make money from my own website?
Firstly, you can sell advertising space or spread affiliate links inside your content. In addition, consider creating membership programs by offering exclusive offers and resources to subscribers.