Business Marketing 101: How To Market Your Business For Success [2023]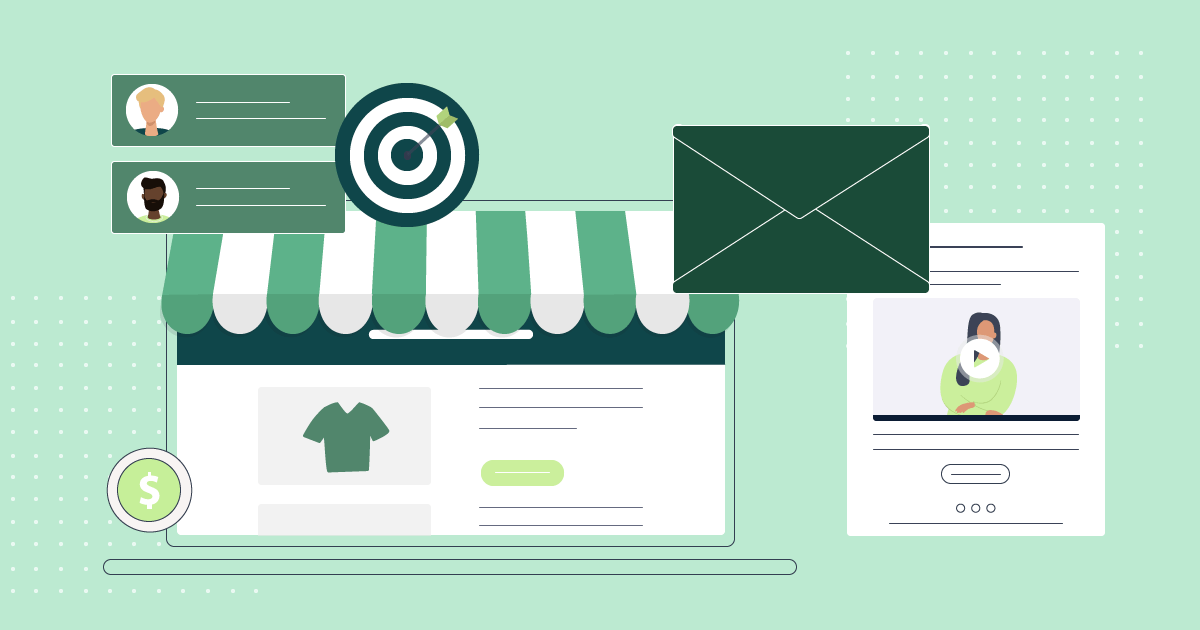 Business Marketing 101: How To Market Your Business For Success [2023]
No business can thrive without building a thorough marketing plan. If you've just launched a new brand or looking for more efficient ways to promote your existing one, stay tuned!
In this guide, you'll learn how to market your business successfully in various ways. We've included online and offline techniques for different budgets and business types to choose what suits you best.
But first, we'll explore how to create a marketing strategy from scratch for marketers and business owners who are new in this territory or those in need of a refresher. Let's start!
How To Set Up A Marketing Strategy From Scratch
Before showing your brand to the world, it's essential to craft your marketing strategy. This step-by-step process will help you determine what works well and which areas need improvement along the way.
Here's how to do it:
Understand Your Target Audience
Who are your products/services made for? Before you kick off your branding and promotional efforts, identify your so-called buyer personas and who your target audience is. Knowing your niche market will help you reach out to the right people with the appropriate tools.
What kind of information should you collect to build a buyer persona profile? Start with demographics, such as age, gender, and location, and move to interests, values, and purchase preferences. All this info will let you tailor your messages to your audience and choose the appropriate marketing techniques that suit their lifestyle.
Here's a buyer persona example to guide you:
But what happens when your products/services can serve a broader audience? Even in this case, it's best to have your primary target market in mind when forming your marketing strategy to lead the way. Once you gain more data points, you can experiment with other audiences, too.
Set Your Marketing Goals
Once you've learned more about your target audience, you need to set specific goals to attract new customers and retain existing ones. Even though all businesses aim at boosting brand awareness and return on investment over time, not all methods work equally well.
That's why it's essential to set your marketing objectives following the well-known SMART framework, which stands for specific, measurable, attainable, relevant, and time-based. This way, you'll be able to track them more effectively or adjust them fast if needed.
When your final marketing objectives are on the table, get your teammates from marketing and sales on the same page to bring the best possible results together.
Create Your Value Proposition
After building your ideal customer profile and setting your first marketing goals, it's time to create your value proposition. Why are your products/services useful for consumers, and how do you differentiate from competitors in your niche market?
Consumers pay attention to these details before choosing a brand. Whether you have a local business or a big company, you should share the right messages to attract them. To achieve that, you should identify the customer's pain points and promise to resolve them with clear evidence.
When your value proposition is ready, communicate with customers as much as possible to make it stick. You can add it to your slogan, place it on your website, or include it in testimonials and reviews.
Define Your Marketing Budget
How much will your marketing efforts cost? Small businesses start with a low budget and usually invest in cheaper techniques, like social media or email marketing. But as they grow, they move to more sophisticated digital and offline tactics, such as content marketing, search engine optimization, and paid ads.
To make the most of these techniques, you need dedicated tools that usually cost, like CMS and CRM platforms or email automation software. Thankfully, there are marketing tools for every budget and need. Calculate the cost of all these resources, including your headcount, to ensure that the gain is more than the loss and stay profitable.
How To Promote Your Business Online
Now that you have a more solid plan and a deeper understanding of how to approach business marketing, it's time to take action. We'll start with the primary tactics to boost your online presence from zero to hero:
1. Create A Website
A great-looking website is a must for every business. People landing on it expect to learn more about your products/services and what they'll gain if they choose you. Plus, they seek details such as contact information, prices, and of course, your brand's story. Here's an image of the ASOS website to inspire you, especially if you're in B2C e-commerce:
It's wise to see what your competitors do to design a unique and relevant website. Then you have two options: you can either choose a website builder like WordPress or Wix to build a branded website or partner with a creative agency. Both approaches have pros and cons, so weigh them before deciding.
Increasing your website's organic traffic can ultimately boost brand awareness and sales. So make sure that all additional marketing channels you use, for example, social media or email, point to your website to nurture the best possible results.
2. Set Up A Google Business Profile
A Google Business Profile helps business owners and non-profit organizations connect with customers looking for similar services to theirs through Google search. This marketing tool is handy for small business marketing, demonstrating essential information such as contact info, product photos, and location.
Here's how to set it up:
Go to google.com/business
Log in with your Google account
Type your business name
Choose your business type and primary category
Add your phone number and business location
Verify your business
Add business hours, description, and photos
And now your Google profile is ready to roll! Moreover, if you want to attract buyers from your local area, you can also promote your business on Yelp or in different online or offline directories.
3. Try Email Marketing
Email marketing is one of the most effective digital marketing practices to establish consistent communication with customers and prospects and nurture them over time. Email marketing services like Moosend or Mailchimp enable you to build beautiful campaigns using ready-made email templates or intuitive editors.
Moreover, these platforms make sending personalized emails and building automation workflows trouble-free. Delivering tailored emails to subscribers at critical times during the sales cycle helps you convert them faster.
Let's see some email types you can add to your workflow:
Promotional email – informing customers about offers and sales
Welcome campaign – welcoming subscribers who just joined your email lists
Lead nurturing – content to drive traffic to your website
Abandoned cart – reminders about items customers left in their carts
Transactional emails – triggered emails after specific customer actions
News/Updates – informing subscribers of what's to come next
Let's see an email marketing campaign by Blue Bottle Coffee as an example:
If you're looking for a top-notch, cost-effective email marketing solution, sign up for a Moosend account today. Craft great-looking emails quickly and monitor your metrics via our reporting tools!
4. Start A Blog
If you want to nurture existing and prospective customers, blogging is the right option for you. Content marketing is one of the most effective marketing tools, aiming to bring new consumers to your website who are highly likely to be interested in your products/services.
Moreover, through blogging, you can drive demand and educate your customers on relevant topics in your niche market. This way, you also position yourself as a leader in your field, and prospects and existing buyers will trust you more.
Before starting a blog, it's important to look at your competitors' posts and see what works best for them. Then conduct keyword research and create great content that answers the readers' most urgent questions – we'll explain more about this process in the next section.
Finally, remember that a high-quality blog post has a captivating title and an intro that gets you straight to the topic. If you want to start blogging from scratch, here's a guide with valuable tips!
5. Perform SEO
Another online marketing tool that can work miracles for your business is search engine optimization (SEO). SEO is a set of rules that help boost your organic traffic by ensuring that your website and pages appear high on the first results pages for industry-related queries.
One of the primary SEO practices is keyword research. Find keywords that drive high demand in your target market and sprinkle them throughout your website content. For example, add them in titles and product descriptions to boost your content higher on SERPs.
To make the most of this inbound marketing tactic, you'll need a dedicated tool like Ahrefs and Moz to help you with your SEO efforts. You can find keywords with high traffic potential and related questions consumers look for.
You can also conduct competitive research to see what keywords other businesses target to maximize their traffic. Moreover, optimizing your website's loading speed and images and updating the metadata of each page will ultimately boost your rankings.
Acquiring backlinks is another method that SEO practitioners use to gain more visibility. You can partner with other bloggers in your niche market and offer to write guest posts for their websites. This way, you'll add links leading back to your website or blog to bring more customers to your website and increase its authority over time.
6. Establish Social Media Presence
Νο one can argue the vital role social media platforms play in consumer purchase decisions these days. About 75% of the world's population, from 13 years old and above, are on social media, meaning that many of your current and future customers spend valuable time there.
To nail social media marketing, you must first identify which platforms work best for your target audience. For example, in B2C e-commerce, Instagram and TikTok prevail, while LinkedIn and Twitter are more suitable for B2B.
A solid social media marketing strategy will help you raise more awareness around your products, broaden your network, and ultimately increase your sales. Share great content, add hashtags to make it more trackable, and plan giveaways to gain more visibility.
But it doesn't stop there; social media are also great for customer support as people increasingly use them to learn more about your products or transaction processes. You can collect valuable feedback from it to improve some of your operational methods.
Live streaming has also become very popular as a social media tool. It's a way to sit down with your followers, conduct a Q&A, or present your new products to them creatively.
7. Partner With Influencers
To level your social media marketing game, you must put influencer marketing, a paid marketing type, high on your lists. Find top influencers in your niche market and partner with them so that they demonstrate your products and services to their audiences.
Before choosing with whom you'll partner, make sure they appeal to your target audience. Plus, expose your content to the right platform each time to bring maximum exposure and ensure that the final shared content is aligned with your branding rules.
You can also run affiliate programs, which have become very popular these days. When using this tactic, you pay a commission to individuals or businesses who act as your representatives for every deal they get you.
8. Run Paid Ads
Even though increasing your website traffic organically can work wonders for your business, sometimes you need to narrow your scope to get the desired outcomes. That's when to introduce paid advertising, such as Google ads, to attract consumers highly likely to convert based on specific criteria, such as demographics and geographic location.
Two of the most paid ad model types are Pay-Per-Click (PPC), where you pay a predetermined amount per click, and Cost-Per-impression (CPM). At the latter, you pay a certain amount for every 1,000 impressions you receive.
You can also set up social media ads to attract consumers who make purchase decisions while scrolling their social platforms. For example, Facebook ads are among the most effective paid ad types as its segmenting criteria work amazingly well.
SEM (Search Engine Marketing) is also an important part of paid advertising. These ads appear at the top search results and can bring new customers straight to you. So if you have the budget to support the bidding required for this digital marketing tactic, just give it a shot.
9. Create A YouTube Channel
YouTube is a social network that has gained extreme popularity over the past few years. Many businesses make the most of this trend by uploading videos in various forms. For example, they post educational content, product demos, or video testimonials.
Μoreover, by applying YouTube SEO principles, you can boost your videos high on search rankings for important keywords. So search what topics your audience can relate to and find creative ideas to deliver great content to them.
For example, Skillshare nails this process, uploading amazing videos with relevant content regularly:
Want to build a YouTube marketing strategy from scratch? Read our comprehensive guide and get ready to shine!
10. Plan A Webinar
If you have been in B2B for some time now, you've probably witnessed the rise of webinar marketing in response to COVID-19 restrictions. As this trend rose, everyone quickly understood the massive benefits you can gain from it, including lead generation.
So create a webinar for a challenging topic to soothe your customer's pain points and invite them over via social media or email. You can also turn this webinar into a lead magnet by asking for the attendants' email addresses on the signup form to start nurturing them with email campaigns and convert them fast.
11. Implement Referral Marketing
Do you want to make the most of word-of-mouth marketing and motivate your customers to talk about you to their families and friends? Then ask for their referrals! You can do so by sending a dedicated email campaign to them, offering an incentive to make it more appealing, such as a discount for every deal.
Here's a fantastic example by Italic:
You can also add a referral button inside your website to attract visitors there, too.
How To Market Your Business Offline
Even though digital marketing has conquered the business arena over the years, many offline marketing techniques can still boost brand awareness and ROI. Let's see:
12. Attend Or Host Events
If you want to take your networking offline and meet new people in your community, you can attend or plan events to increase brand awareness. Be it a conference or a workshop, it allows you to network with new people and hopefully convert or partner with them later on.
If you have a local business, you can also host an opening event with drinks and finger food and invite people over to show them around. Or offer some of your services for free to the local community to start building an audience from scratch.
13. Distribute Flyers And Coupons
If you want to promote your business to your local community, you can design beautiful flyers and distribute them door-to-door. Make sure to add your contact information and links to your website and social media links to get the benefits of an omnichannel marketing experience. You can also find ready-made templates online for inspiration in tools like Canva.
In addition, print out coupons to give a good incentive to potential customers to check your products/services.
14. Get Press Releases
If the sky is your limit, you can also seek press coverage to tell your story to the world. You can reach out to journalists and bloggers who operate in your niche industry and offer them a good reason to demonstrate your brand to their audience.
Through media coverage, you access a bigger consumer base who are more likely to show trust in you after seeing your brand name on a notary publication. As your business grows and your authority rises, you'll probably start earning media coverage organically, too.
15. Attend Trade Shows
Do you want to showcase your products to people in your industry, exchange ideas, and build a strong network? Then attending a trade show is an excellent idea for you. Building brand awareness inside your industry is fundamental, as your get access to targeted leads that can benefit you in the long run.
Moreover, you can attend workshops, presentations, and networking events during trade shows. This way, you can gain valuable feedback for your products/services and insights on how to improve and make them more competitive in the future.
16. Plan TV Ads
Businesses with a broad audience and a larger budget can benefit from traditional methods such as TV advertising. Even though you'll need more resources to craft them, in terms of money and headcount, they can steal the show if the output is creative and unique.
To create a successful TV commercial, it's crucial to nail your brand storytelling, share your values, and stand out from the competition.
17. Try Billboard Advertising
Another traditional marketing tactic to choose is billboard advertising. Billboards are large-scale printed ads placed at spots with traffic, e.g., metro stations. There are three main types: traditional, digital, and mobile. The price for classic ones ranges from $250-$750, while digital billboards can cost between $1,200-$1,500.
Even though billboards can be very impressive, tracking their performance and how they appeal to customers and bystanders is hard. Make sure that the image and messages are powerful enough to convert.
The Takeaways
In a nutshell, there are numerous marketing techniques for all budgets and business types. All you need to thrive is to craft a marketing strategy to choose the ones that suit your needs the most.
Keep in mind that the more your business grows, the more enriched your marketing outreach becomes. To succeed, you need a solid marketing team that will elevate the promotional games and increase your sales more than you could ever imagine.
Before moving to the FAQs, we bet that email marketing is already on your list. Sign up for a Moosend account today and try our amazing automation, segmentation, and reporting features! You'll get impressed by the results.
Business Marketing FAQs
Here's a quick round of questions regarding business marketing:
1. What's the best way to promote a small business?
Email and social media marketing are the top digital marketing tactics for businesses with a limited budget. If you want to attract people from your local area, you can also distribute flyers and coupons.
2. How can I promote my business on social media?
Post engaging content that will attract new customers and nurture existing ones, such as videos, GIFs, and polls. You can also set up paid ads to reach a more targeted audience.
3. What are three simple ways to promote a new business?
You can start by establishing a social media presence and hosting an opening event for friends and family to boost word-of-mouth marketing. Plus, start collecting your customers' email addresses to nurture them consistently.
4. How can I market my business for free?
Social media marketing is a safe way to market your business for free. Learn the rules of each social platform you use to expand your reach and post engaging content to attract new followers.