How To Write A Blog Post: The Ultimate Guide For 2023 [+ Free Templates]
How To Write A Blog Post: The Ultimate Guide For 2023 [+ Free Templates]
Published By
Alexandra Marinaki
September 11, 2023
Most businesses regularly communicate with their customers and prospects to show them what their brand is made of and establish solid relationships with them. From news and updates in terms of product creation to sharing your company vision and mission, building a solid communication channel with your audience will be an absolute win for you!
Thankfully, there's a safe way to interact with your audience as often as you like – blogging. And if it's not on your marketing plan yet, you should make some room for it as its benefits are infinite.
This guide will show you how to write a blog post from zero to educate or inform your audience about issues that matter to both of you.
Are you ready to write a great blog post? Follow this step-by-step guide!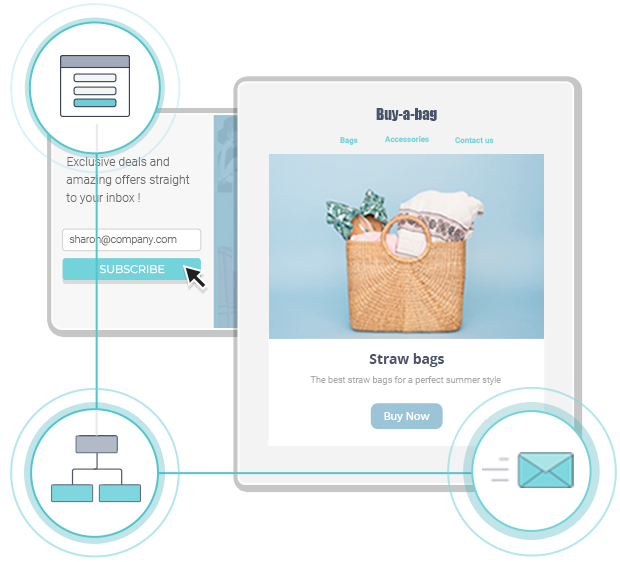 Try Moosend Today
The easiest and most affordable email marketing and newsletter software!
What Is A Blog Post?
A blog post is a piece of content that resides in the blog section of a website with educational or informational topics.
Blogging is a part of the content marketing plan of a business, and it can take many forms, such as guides, listicles, or infographics. The ideal word count to rank high on search engines ranges from 1,760 to 2,400 words per blog post. However, this is just an indication as it depends on the topic.
Overall, businesses invest in blogging to educate their audience around their niche and keep them up-to-date with their upcoming endeavors. Moreover, the wish of every blogger and content marketing professional is to generate traffic to the company's site and show their brand to the world.
Common Types Of Blog Posts
Let's see what a good blog post can look like based on the topic you want to cover:
Listicles: The blog content appears fully or partially in the form of a list.
Guides: A how-to article that explains a concept in-depth.
Checklists: A cheat sheet that will help readers understand and execute a task.
Comparison: A blog post that dives into the pros and cons of two similar products/services.
Infographic: This content piece mainly consists of imagery and data visualization to tell a story.
Interviews: A write-up of a conversation with experts in a specific field.
News/Updates: An article about a company's future releases or events.
Case Study: A testimonial about your product/service by people who have used it.
Expert round-ups: A collection of interviews or quotes from experts in a field.
So if you're a new blogger, choose from these blog post ideas to deliver great content to your readers or customers. Listicles and guides are great for beginners, and as you get more familiar with the process, you can experiment with the rest of those types.
Blogging Benefits For Businesses
So why should a business start a blog and invest in writing for good? Here are some of the main reasons that make a difference:
Lead Generation
If you optimize your blog and content according to search engine optimization rules, they are likely to end up high on google search results for queries related to your niche. So people interested in your field may read your articles when searching for solutions. And if they find what they're looking for, they'll probably stay around for more.
Your website traffic will increase through this process, and more people will learn about your brand. Some of them are your so-called buyer personas, and by nurturing them over time, you can transform them into happy customers.
Brand Awareness
Bringing new people to your website through your content can gradually boost brand awareness. Every time consumers land on your blog, they will learn more about your products/services, vision, and mission. Thus, they will gradually familiarize themselves with your brand assets, such as your logo or slogan, and memorize them.
Overall, this is an excellent formula for building a brand that lasts in time and space. Moreover, you can craft dedicated brand-oriented content with product updates or company news to show your audience everything they need to know to love you.
Demand Generation
As a part of the inbound marketing methodology, a blog post can also raise interest in your products/services and drive demand.
Think about it, someone googling a specific query is looking for an answer to a problem they have. If you succeed in addressing their pain points and offer solutions, they'll start showing trust in you and finally turn into customers and brand advocates.
Relationship Building
Last but not least, your blog can become a communication channel like no other. If your blog topics have a conversational and empathetic tone, you'll soon get prospective customers by your side.
In addition, when promoting your blog posts through email or social media, explain in your copywriting why this piece is relevant to them and how they can use it for their own sake!
And after all these benefits, let's move to the blogging essentials for beginners!
How To Prepare For A Blog Post
We've probably convinced you that blogging will be a powerful arrow in your quiver. So let's break down which essential steps to take before writing blog posts from scratch:
Know your Target Audience
Before you begin writing a new blog post, determine who your audience is and which of their pain points you'd like to resolve. Knowing your main buyer personas inside out will help you craft relevant content and draw their attention. Here's some information that will enable you to build a good description of them:
Name
Country/Residence
Age group
Education
Employment type
Engagement level
To create more sophisticated content for each marketing funnel stage, you can use your persona description to build a customer journey map. Then you can decide which topic ideas will nurture your top, mid, and bottom-funnel audience to tailor your content to them.
For example, let's say that someone is at the decision stage in the above scenario. The best type of content to deliver to them would be customer reviews and comparisons with other mobile services to seal the deal as soon as possible.
Get Inspired by your Competitors
What type of content do your competitors produce? What tone of voice do they have and how do they choose to interact with their audience? All this information will help you discover what customers are looking for and how to address their pain points.
In addition, apart from drawing inspiration from them, you can also think of what needs to be covered further or find creative ways to produce similar content taking a more fruitful angle. Apart from overviewing how their blogs look like, research how they promote their content to see what could work for you, too.
Find Top Topics in your Niche
Searching competitor blogs will also enable you to brainstorm for a new topic idea. Tools like Ahrefs have content gap analysis features if you want to do this process faster. You can also use platforms like Google Trends to discover what's popular in your niche at the moment.
However, knowing what your customers and prospects want to read can shed more light on this rather time-consuming task. To gain more insights, you can partner with your customer support and sales teams to learn more about their requests and answer them as soon as possible.
Search for Keywords and Traffic
Now that you know what to write about, it's time to put SEO in the game, starting with keyword research. Tools like Ahrefs, Moz, and Ubersuggest are essential to complete this process successfully.
For example, let's say you have an eCommerce store with organic food and want to boost traffic to your website. One of the keywords you decide to write about is "gluten-free sweets." When you type the keyword on Ahrefs, you get helpful information about this topic, including volume and keyword difficulty.
The Volume indicates how many monthly searches this keyword has. On the other hand, Keyword Difficulty (KD) shows how easy it is to rank high for this term. As you scroll down, you will find valuable details about it that will help you discover the search intent, such as related terms or SERP (Search Engine Results Pages) analysis.
Start Small to Go Big
If you are a new blogger on the block, it's best to prioritize which keywords you'd like to write to bring your target audience to your website organically. More specifically, choose keywords with less traffic and low difficulty to claim a higher position and visibility.
So start a spreadsheet with the keywords in your target market and start bottom-up. And when your website gains more authority, link your popular posts to new content and see your blog grow!
How to Write A Blog Post Like No Other
Writing blog posts is not rocket science, but you need to create a plan and stick to a methodology that suits you. Here are some writing tips that will help you shine brightly from day one:
1. Prepare an Outline
So one sunny morning after the second sip of coffee, you open Google Docs ready to write your first blog post. But how do you really get started?
All you need is a clear structure, the so-called outline that highlights the different parts of your blog post separated by subheadings. A brief but thorough SERP check will help note down the right content for your blog post to cover the reader's needs.
So note down the main headings and probably a few details on each section. It will help concentrate faster and tackle possible writer blocks. At the end of this blog post, you'll find ready-made outlines to get inspired!
2. Choose a Post Title that Sticks
To ensure that readers give your blog post a read, you need a great headline. A good headline should be unique, concise, and reflective of the content, excluding early spoilers. It also creates a positive disposition towards your content, making readers want to learn more.
Most bloggers start with a working title and alternatives and find the best variation when the blog post is complete. When crafting a new article, you can also glimpse at the headlines of blog posts that rank high on SERPs to understand what works best for readers each time. Just make sure to add your fresh outlook on it to stand out.
3. Write a Captivating Introduction
If the headline is the welcome drink, the introduction makes for an appetizer. You need a powerful blog post introduction to make your audience feel that what's coming next will fully please them.
Start with a sentence that is clear, concise, and exciting to intrigue your audience. You can use metaphors and active language to make it more enticing. The intro should also inform readers about what to expect.
Remember, all readers land on your blog post with a question in mind. So you need to show them that if they continue reading, they'll be more enlightened in the end.
4. Find your Flow
Every blogger or writer has their writing habits, but most prefer to block time to get down on writing without distractions. This helps them stay tuned to the process and keep a coherent writing style throughout the content. If you're new to this, you can try the Pomodoro technique, which prompts you to take short breaks without losing your focus.
One of my senior colleagues gave me the perfect pro tip when I started writing blog posts. Writing and editing are different processes, so it'd be best to avoid correcting my own mistakes or overly doubting myself when writing as this could hinder my creativity.
Therefore, focus on putting words together as they appear in your head in your first draft, and do some self-editing later on.
5. Write in a Conversational Tone
Most writers have a background in academic writing and unconsciously adopt a more rigid writing style. However, blogging should have a fresher and more upbeat style and rhythm. Avoid using jargon and choose simple words and phrasing to keep readers attuned.
Once you've identified the target personas for each blog post and their pain points, address them directly as if you were in a conversation with them. This will add a more personal tone to your content and make readers feel that your writing is relevant to them. Overall, avoid writing too abstractly, as this will prevent your readers from trusting.
6. Enrich with Visual Content
A picture is worth a thousand words, and this is something you should take seriously into consideration when creating new content. Sprinkle relevant images and videos throughout your content to form a rich experience for your readers, especially when explaining more complex concepts.
If you don't have a design team, you can take screenshots as long as you give credits to the owner or use a stock photo site. Thankfully, there are many free tools to use if you're on a tight budget.
7. Add a Call-to-Action
Every blog post you write should serve a unique purpose. Apart from educating the audience about your niche market, show them indirectly how your product/services can be helpful to them and prompt them to take further action. For example, they can download an item or subscribe to your newsletter.
It's up to you to decide which action is best based on each blog post. Below, you can see a CTA example from Moosend's blog, leading readers to our registration page:
If inline CTAs fit with your content, you can also use them to give an extra push to readers willing to take further action. You can also add a final CTA in your conclusion as a last conversion resort.
8. Get an Editor Onboard
Last but not least, it's important to have a proofreader or editor on the team to ensure that everything flows nicely and that your content is free of typos. No matter how great your writing is, keep in mind that we can all fall into logical traps when explaining issues we're familiar with to people who are not.
However, if you go solo and hiring someone is not feasible, leave a time gap between writing and editing to have a fresher look. The longer the blog post, the bigger the gap should be.
How To Optimize Your Blog Post For SEO
So how should you treat your blog post to see it rank high on search engines? Even though search engine optimization is a unique territory usually mastered by specialists, there are specific actions to take as a writer to claim a better position. Let's see!
Pick an SEO Tool
First off, it's essential to get a dedicated tool to search for keywords and relevant questions and monitor all pages from time to time. As mentioned earlier, Ahrefs and Moz are great for this task, and free tools like Ubersuggest can also help at the beginning.
Once you find the platform that works for you, search for metrics such as volume and keyword difficulty to see what is best to do right at the beginning. Plus, you can occasionally overview your existing content and optimize blog posts with potential that rank low to give them a boost.
Distribute Keywords Evenly
Once you find your focus keyword and the ones related to the topic, place them evenly throughout your content. More specifically, add the focus keyword in your title and the introduction, and then insert it a few more times in your content along with other terms.
However, overstuffing your blog post with keywords is a red flag for search engine crawlers as it is somewhat manipulative. At Moosend, we use two tools to ensure that everything is in place, Clearscope and Yoast SEO, and they're both game-changing!
Use H2 and H3 Subheadings
The more structured your blog post is, the easier it'll be to read it, especially for longer ones. Divide different sections using H2 and H3 subheadings, and use bullet points or visuals when it's feasible to enhance readability and make your content snackable.
Every subheading should reflect the text underneath to help the readers set the right expectations. Moreover, adding keywords to your subheadings will also boost your SEO efforts. Just make sure to go easy on them and not overstuff your content.
Fill in Meta Data
Before uploading your new blog post, your need to create an SEO title and a meta description that will appear on SERPs. Both should include your focus keyword and reflect the main points of your blog post to attract readers faster. Let's see an example:
Before posting your new content, have a look at how your competitors have done it to see what worked for them. Plus, check the word count of your meta description to ensure that the sentences don't get cut, as this may change the message you want to deliver.
Minimize Image Size
Compressing the images of your blog post will reduce loading time for your web page and ultimately boost user experience. This belongs to the image SEO optimization field and can benefit your blog post production.
If you don't have a design team to help you out with this, you can use a free tool like TinyPNG to help you out.
Write Alternative Text
Last but not least, to make your content accessible and help search engines index your context, you need to write short but descriptive alt text for your images. The alternative text will also show up if the image fails to load to ensure a smoother user experience.
Want to learn more about SEO? Dive into this comprehensive guide and see your content rise high!
How To Build A Blog From Scratch
If it's your first attempt at blogging, here are some steps to follow to set up your own blog:
1. Choose a Distinctive Name
Firstly, you need a unique blog name that will stick to your audience. Ensure that it's free of spelling mistakes and that it's not already taken as this can confuse your readers or even cause legal issues.
Your blog name should reflect your brand values and mission so that readers can recognize you straight away. Many B2B businesses like ours – yes, right now you're at the Moosend blog – name their blog under their company name so that audience can link both faster. So sit down with your team, brainstorm and find a creative name that suits you!
2. Pick a Domain
Your domain name is part of your web address, and you should create one to enable users to find you easily online. Your domain name will look like www.blogname.com. If you already have a website for your business you can create blog.businessname.com or www.businessname/blog.
There are certain domain registrants to choose from to host your blog, for example:
Moreover, content management systems like WordPress allow you to buy a domain name. You can get one for free, but it will be harder to register it under your brand, so it's best to go with a paid yet cheap alternative.
3. Pick a CMS platform
Next is choosing a content management system (CMS) to build your blog. This means that you won't have to code everything from zero, but in most cases, you'll need to make a few amendments to tailor it to your needs.
Here are some top platforms to choose from:
So how can you choose the best platform for you? Apart from pricing, check for security and customizability capabilities, and ensure that they can host the plugins you wish to have.
4. Tailor the Blog to Your Brand
And now it's time to get creative and give life to your blog. If you already have a business website, follow your brand guidelines to create a consistent experience for your customers and prospects.
Here's what you see when you land on our blog: a prevalent tutorial tailored to our niche market followed by marketing blog posts of all kinds. On the right, the reader can choose resources based on their expertise, and there are also two lists of top resources and tutorials that we want readers to find easily.
Overall, create an outline that not only leads to a seamless user experience but also serves your conversion efforts, enhanced by clever calls-to-action.
How To Promote Your Blog Posts
Imagine that your blog is ready, and so are your first tutorials. Since search engine optimization magic needs some time to bring results, how can you place your content in front of your audience? Here are some top tactics to implement:
Email Marketing
Email marketing is one of the most effective digital marketing strategies, with an ROI of $42 for every $1 invested. Apart from allowing you to reach a big audience simultaneously, it also enables you to deliver targeted messages to them based on their demographics and preferences through email segmentation.
You can set up beautiful informational newsletters to educate your audience and nurture them over time. Here's an excellent email example by Indeed with career tips for job seekers. At the end of the email, they also asked for feedback from readers for future reference:
Subject line – NEW: 8 Resume Do's and Don'ts
So how can you build those lovely campaigns without breaking the bank? All you need is an email marketing service like Moosend or Mailchimp to manage everything in one place. For example, with Moosend's editor and ready-made templates, you can craft outstanding campaigns in simple steps.
Its unique features will let you build email lists, segment your audience, and monitor top metrics to see how your campaigns perform.
Ready to start your email marketing game? Sign up for a Moosend account and craft campaigns that convert in no time!
Social Media
As you can understand, you can't leave social media out of your promotional game. Nowadays, it's hard to find a person who is not on social media and doesn't get impacted by it. Apart from promoting your content straight to your followers, you can also benefit from social shares and reactions to get your content in front of a new audience.
LinkedIn, Twitter, and Facebook are great platforms for content sharing, with LinkedIn winning the race, especially for B2B. When posting blog posts on social media, remember that the featured image plays a significant role in attracting new readers, followed by enticing copy lines that get you straight to the topic.
Here's an example by Calm, a wellness app, on LinkedIn:
Link Building
If you decide to get your blog posting to the next level, consider making serious link-building efforts. First off, start by linking your existing posts that rank to your new content to boost it faster. However, keep in mind that you need to invest in backlinks to pivot your blogging.
One of the safest ways to get backlinks is through guest posts. Search for similar blogs with high authority and offer to write a blog post for them. This way, you'll generate new traffic and boost your site's authority.
You can also build an outreach plan for businesses you'd like to partner with and politely ask them to add one of your latest, descriptive blog posts to their site. If you've done your job right and the piece you've written is of great value, they'll probably go for it and start a partnership with you.
Ready To Write A Blog Post That Sticks?
Long story short, writing blog posts is not rocket science. All you need is to craft an excellent plan and create engaging content that will grab your reader's attention. So if you're new to content writing, follow the steps above, and you'll thrive sooner than you'd expect.
If things get tricky, remember that when your readers start to engage, share, and ultimately love your content, you'll reap multiple benefits.
And you know what? We can help you show your blog posts to your audience. Sign up for a Moosend account today and create fantastic blog post updates!
Ready to write your first blog post? Here are a few blog post templates to start this journey!