The Ultimate Guide to Affiliate Marketing
The Ultimate Guide to Affiliate Marketing
Published By
John Desyllas
September 13, 2023
Most people out there believe that passive income is an elusive dream. What if I told you that you can make this dream come true with affiliate marketing?
Making money even while you sleep doesn't sound that bad in my book.
You probably believe that this cannot possibly be true. That there's a catch somewhere along the lines!
Let me assure you. There's no catch. Affiliate marketing is one of the most powerful ways to generate an income online.
This is why I've created this guide to explain everything about affiliate marketing and put you on the fast track to becoming a full-fledged affiliate marketer.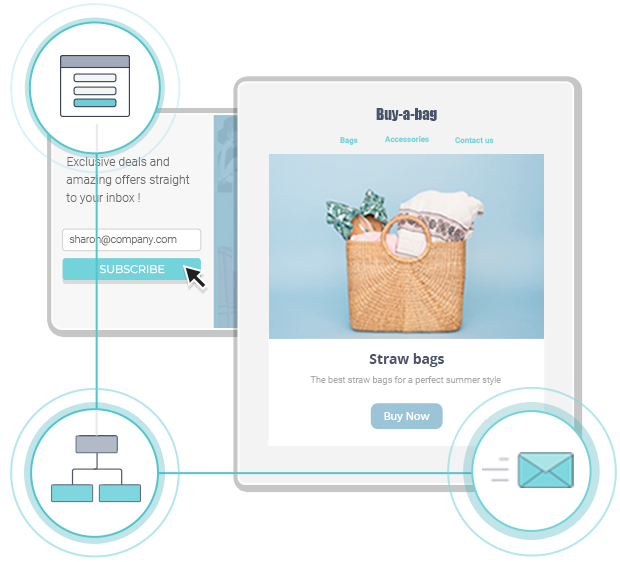 Try Moosend Today
The easiest and most affordable email marketing and newsletter software!
What is Affiliate Marketing?
Affiliate marketing is a sales model in which a company pays a commission to an individual or company in order to promote its products.
In simple terms, you become a representative of the company. You help the company make a sale and the company rewards you for it.
The whole concept is based on revenue sharing.
A company that has a product offers incentives to promoters in order to make the product known and refer it to others. If the affiliates succeed in their marketing efforts, the company rewards them with a share of the profits.
Everybody wins!
There is a reason why affiliate marketing is a lucrative revenue stream, though!
It is because affiliates can sign up for various affiliate marketing programs and earn commissions from all of them. In essence, they have the freedom to promote products from many different companies in contrast to a typical salesperson.
So, the sky's the limit to your earning potential! The more you sell, the more you are gonna earn.
How does affiliate marketing work?
It's simple really to understand the "mechanics" of affiliate marketing.
Initially, the product seller or merchant creates an affiliate program and specifies the commission type and rate of that program.
Then, the merchant provides a unique link to each affiliate in order to be able to track who made the sale happen.
If someone clicks that link on the affiliate's blog, website, or social media, a cookie is stored on their device.
The purpose of this "affiliate cookie" is twofold.
Allow the merchant to link the sale to the right person-affiliate
Enable the affiliate to be paid even if the buyer delays the purchase of the product, by having an expiration date
Let me give you an example.
You've watched a video of Pewdiepie and clicked on his affiliate link about NordVPN. You checked the product out but you didn't buy it. A cookie is stored on your computer.
A few days later you visit NordVPN again and actually buy the product.
Pewdiepie will still get his commission because of the 30 days cookie duration policy of NordVPN.
Why become an affiliate marketer?
Now that you know what affiliate marketing is and how it works, it's time to explore the advantages it has.
It is a business model that offers significant benefits, especially for the affiliates (i.e. you). The most important are listed below:
Convenience & flexibility
The first thing you need to consider is the ease of affiliate marketing.
Your part of the job is to educate the customers and sell the product.
You don't need to stress over making the product, keeping stock, or even providing customer support.
All thanks to the affiliate marketing structure, after you link the seller with the customer your job ends there.
What's more, you are free from company restrictions or regulations, since you're practically a freelancer.
This allows you to:
set your own goals
determine the hours you work
diversify your portfolio according to your tastes
For example, by focusing on affiliate products that interest you, you're going to be more authentic and build trust with your audience.
Low risk
Most affiliate marketing programs are free to join, so you don't need to worry about pouring your savings into this venture.
Practically, this means that you can start earning money by promoting an established affiliate product with zero upfront investment.
Moreover, by choosing appropriate marketing methods (e.g. blogging, SEO) you can keep costs to a minimum.
So, your most important investment is going to be your time!
Passive income
Affiliate marketing offers passive income potential depending on how you market your affiliate programs.
A staggering 76% of affiliates feel that the simplicity of generating affiliate marketing revenue is the greatest benefit of this scheme.
In a "regular" job you would need to be at work to make money. But this doesn't apply to affiliate marketing.
By investing a set amount of time in an affiliate campaign, you will see a continuous return since customers will be buying the product long after.
What's more, you can strategically choose to join high-paying affiliate programs.
This will allow you to have a steady stream of income, providing that you put in the hours to bring traffic to the platform you're marketing from.
Work from home
Another benefit of affiliate marketing is the ability to work from home.
If you find yourself bored with going to the office every day, this is the ideal solution.
The only thing you need is a stable Internet connection.
Why stress yourself with supervisors, when you can launch your campaigns from the comfort of your home and receive revenue for it?
Performance-based rewards
This is another big difference between a "regular" job and being an affiliate marketer.
With affiliate marketing, your earnings are not flat. They depend purely on your performance.
By improving your reviewing skillset, writing engaging content, and most importantly building trust with your audience, you will gradually see your checks getting bigger!
So the more you "mature" into affiliate marketing, the more you are going to earn.
And in all honesty, who doesn't like getting paid the amount of money he deserves for his hard work and dedication?
SEO benefits
Last but not least, in the era of digital marketing, you have a powerful companion that you would be wise to utilize.
Search engines, that is.
By doing the following 3 things, you can bring a whole lot of organic traffic to your blog or site without paying a single dollar!
Keyword research
Link building
On-page SEO
Since people naturally look for information online, ranking high in Google will definitely boost your affiliate sales.
Pro tip: To maintain this traffic and establish a relationship with your audience, you need to tap into email marketing and build an email list of subscribers.
How to become an affiliate marketer?
Now that we've explored the theoretical stuff, it's time for a step-by-step guide on how to actually become a successful affiliate marketer.
1. Select a platform
There are various platforms to select from in order to begin your affiliate marketing journey.
The first one is a blog. Blogs are generally easy to create as well as cheap.
The best part is that due to their popularity, there are numerous tutorials and how-tos online that will perfectly depict how you should get started.
They are suited for people who want to write product reviews, comparisons, etc in a more professional way if you ask me.
The typical cost of running a blog is a few dollars, depending on the hosting provider.
Once you start your blog, don't forget to optimize your content in order to rank higher.
Another platform is Youtube.
The ultimate advantage of a Youtube channel is that you create and upload content for free.
Thus, it is ideal for the majority of people.
Include your affiliate links in the description and as always optimize your videos for SEO.
Here is an example of an affiliate review video.
Kai W manages to create energetic and authentic reviews of Canon products while being on the streets of London. He sure knows how to captivate his audience!
The last platform that I'll mention is Instagram.
Instagram's highly-active community will allow you to grow fast and promote your links to more and more people.
Usually, an affiliate profile looks like this:
Now something that you need to be careful with.
Whichever platform you may choose to utilize, be sure to disclose the fact that the links you're providing are affiliate links.
This is uber-important since the Federal Trade Commission (FTC) dictates that endorsements resulting in affiliate income must be transparent and not misleading.
Therefore:
If you use a blog, include this information at the bottom of your page or create a standalone page
On Youtube, disclose it in the description.
On Instagram, it's pretty obvious sometimes as we saw in the example above. However, you can include #ad or #sponsored in your descriptions to be extra clear.
2. Decide on your niche
The next important step is to find your niche. And let's face it, it's not as easy as it sounds.
Why? Because of the competition.
According to statistics, the number of bloggers in the United States is bound to reach 31.7 million users in 2020.
The most popular advice for success is niching down.
By narrowing it down to a topic focusing on a specific category, you can attract a more focused audience.
This could be particularly helpful in ranking higher in search engines.
For example, choosing the topic of "marketing" is enormously broad. It would be a better idea to target "social media marketing" which is more specific.
This advice is solid and it can definitely lead you to successful affiliate marketing.
I would suggest however to keep one more thing in mind, especially if you're going to be the one creating the content.
Choose something that you're passionate about!
The combination of both your passion and expertise on the topic will surely get people excited.
In this way, you'll be authentically promoting products that your audience will be intrigued to buy.
Not to mention that doing something you have a passion for will allow you to "endure" in case of difficulties.
In case you choose to outsource your content, employ the expertise of seasoned professionals in the niche. This will ensure that the content is of high quality.
3. Find and join an affiliate program
There are various programs to choose from.
A simple categorization into types would be:
Low-paying programs with mass appeal: usually have to do with products of relatively low value, such as a console game. An example of such a program is Amazon's affiliate program.
High-paying programs with a limited pool of potential customers: programs with more competition in most cases relating to niche products. A program like this is Moosend's Affiliate Program.
Programs with high payouts and mass appeal: programs for more advanced affiliate marketers, since they mostly attract seasoned marketers with big budgets. A good example is the American Express affiliate program.
But where can I find all these programs? The answer is simple. With a Google search!
Or even better. By joining an affiliate network or platform.
Think of affiliate networks as mediators between merchants and affiliate marketers, aiming to help them both earn more money.
Here is a list of the most popular ones:
ShareASale
CJ Affiliate (formerly Commission Junction)
Clickbank
Awin
FlexOffers
Using an affiliate network will help you select which products to promote since they provide insightful data on how well a product sells.
And believe me! Making data-driven decisions instead of "gut-oriented" ones will positively impact your affiliate strategy.
You could also try and approach companies whose products you wish to promote, even if they don't seem to have an affiliate program.
You may be surprised with the answer you're gonna get! They might be more than happy to make a partnership with you.
As for the program selection, it will mostly depend on your niche and expertise level.
A general rule of thumb is that if you're targeting consumers, you should start with low-paying high-volume programs.
And if you're targeting a business audience, then high-paying programs relating to software or web-hosting solutions for example, are your ideal ones.
4. Create quality content
The next step in the process is to create high-quality content that will "house" your affiliate links in a natural rather than enforced way.
There are various types of content to create, with the most popular being blogs and videos.
If you're new to content marketing, here is an essential content marketing guide to get you started.
How much content do you need? 5 quality pieces should do the job for starters.
Now the best way to approach content creation is to make sure that your content resolves the visitor's pain points.
You'll need to place your affiliate links where they're likely to receive maximum exposure.
A good strategy would be to promote the affiliate products early in your content, where your audience's attention is peaking.
This helps in increasing the odds of your affiliate links getting clicked.
Let's make an example that illustrates the point.
If you're writing on a blog, you should promote the affiliate product within the first quarter of the post. As for videos, doing it within the first minute should be enough.
A final word of advice: If you're going for product reviews and your budget allows it, actually buy the product too.
People will appreciate the authenticity and in-depthness of your reviews!
Pro tip: It may be wise to utilize an affiliate tracking plugin, which allows you to organize, track, and shorten your links.
This will save you from a lot of hassle down the line. A good example of such a tool is PrettyLinks.
5. Generate traffic and build your audience
You've created your content all right. Now it's time to get people to see it and click your links.
There are numerous strategies to attract traffic.
Search Engine Optimization
We've mentioned SEO in the previous section so you must remember that it's critical in acquiring organic traffic.
How? By targeting specific keywords that people are searching for and creating content around those topics will help you get consistent traffic.
Always invest time in link building, in the form of blog posting, for example, to increase your search engine rankings.
The next strategy helps grow and maintain all this traffic.
Build an email list
Email is considered as being one of the best marketing channels to this day.
This is because it allows you to reach your audience as well as keep them coming back for more if used smartly.
To build your list you have to persuade your audience to provide their email address.
How? By giving them something valuable.
This can be achieved with the use of various forms such as pop-ups that are triggered when you scroll down the page or try to exit it.
Here is an example of a form triggered by the user's exit intent.
By providing your email address, Adam Enfroy gives you a free course, a WordPress blog launch checklist, and other useful stuff.
It is essential to keep your audience engaged. So you should send them frequent updates, once a week ideally.
Quality content along with an interesting newsletter is key to a successful online marketing strategy.
Fortunately, there are tools that allow you to manage your list, automate your emails to your subscribers as well as create cool forms.
One of them is Moosend's email marketing and marketing automation service.
But that's not all to how to generate traffic!
Paid traffic
Once your affiliate marketing business gets going, you can start using Pay-per-Click (PPC) ads.
Paid advertising has the benefit that once you start paying, traffic follows.
Of course, in this model you only have to pay if somebody clicks on your ad. This does not guarantee, though, that your affiliate link will get clicked.
It is also a great strategy if you're into high-paying affiliate programs.
However, be advised that this is not a good idea if you're completely new or have no budget to run it.
If you have a way of making your money back, go for it!
Things to consider
Promotion is one thing. However, there are things to consider if you want to stand the best chance of getting your affiliate links clicked.
For starters, link positioning is critical. You should opt to put your links early on because people rarely scroll to the bottom of the page.
But if you clutter your introduction with linked words, then your content will look unfriendly and spammy.
So you need to keep a fine balance.
Finally, there is an art behind "touching-up" your links to be more eye-catching.
Masking them behind a vivid call-to-action, in the form of a button let's say, will attract the visitors' attention and make your content easier to skim through.
This is an example from Wirecutter in which you can see an affiliate link turned into an eye-friendly button.
6. Convert clicks into sales
For the affiliate marketer to get paid, two conversions need to happen.
This first one is the click on the product's page. Here the affiliate marketer has absolute control over it.
The other one is the actual purchase of the product by the visitor. Here unfortunately only the merchant has control over it so the conversion rates can't be manipulated by you.
This is the reason why you need to find merchants with affiliate programs that evidently convert well.
How to do this? By looking at public income reports.
Bloggers usually share these data that reveal how much they earn from their affiliate deals.
If information about affiliate programs is scarce, you can also inquire and learn specifics, in order to decide if they're worth promoting.
Finally, you have your "gut" feeling. If a product or program feels "sketchy", or you would never refer it to a friend or family member, then you're better off not promoting it.
How to choose the best affiliate program?
Whether affiliate marketing is an alternative revenue stream or your main source of income, it's crucial to select quality affiliate programs.
Evidently, 76% of new affiliate marketers fail to make money from affiliate marketing simply because they choose the wrong products to promote.
Worry not, though. In the following lines, I will present some key factors that help you identify the best affiliate programs for you (and your audience of course!)
Commission amount
This is probably the most important factor in every beginner affiliate marketer's mind.
And why shouldn't it? The more a program pays, the better for you.
But keep in mind that selling a product with a high price is much more difficult than selling a cheap one.
So don't obsess over it!
Commission type
There are 2 types of commissions, flat and recurring ones.
In the flat commission model, the company pays you one time for the sale. This model is more common for physical products. Rates can vary from 10% up to 100% of the product's value.
In recurring commissions, things differ a little. Every time a customer uses the product or renews his subscription, you earn a commission. So broadly speaking, you get recurring payments. This type of commission is usually found in SaaS companies.
My suggestion would be to prefer a healthy combination of both types in order to achieve a kind of sustainable income.
Cookie lifetime
How long does the cookie stored in the visitor's device last? 1-day, 1-week, 1 year?
You definitely need to know because it does play a role in maximizing your affiliate efforts.
Amazon Associates program, for example, offers a 24-hour cookie window. If the customer buys from your link within that time frame, you get your commission.
Niche relevancy
Is the product or service relevant to your audience? Does it solve any of their problems? Or you're just selling it due to its high-commissions?
I hope it's plain as day that the most important part of your blog or channel is the audience.
Without them, there can be no sales, hence no affiliate commissions.
Payment specifics
Do you need to provide a bank account to receive the money? Can you get it via PayPal or a check?
"When you make the decision of how to receive your well-earned affiliate money, you should also make sure that your bank account accepts the currency used by the affiliate program. Most of the time, you'll have programs paying in USD but there are also exceptions." Max Benz, Founder at BankingGeek
If it's a recurring model, when do you get paid? Every month, every quarter? All these matter.
Finally, it's good to know if the program you aim for has a minimum payout.
For example, if a product has a minimum payout of $1000 and the typical commission is $10, it might be too difficult to achieve without a solid audience.
Assets
Does the program offer any resources, such as banners, coupons, etc to help you achieve conversions? Or they just give you a text link to promote?
Affiliates tend to value such resources since they earn most of their commissions through assets.
Refunds
Suppose a customer buys a product from your link and some time after he requests a refund. What happens with your commission? Are you "insured"?
This is also connected to choosing trustworthy products to minimize the chance of such scenarios.
Promotion and Conversion rates
What's the strategy on the vendor's side in order to encourage the sale? Do they capture the visitors' attention with an engaging video or they just use a mundane landing page?
If there's no real effort to "secure" the sale, then the product will have poor conversion rates.
And believe it or not, products that convert well are better even if their commission amount is low.
Competition
Last but not least, the competition you face in terms of how many people are promoting the product.
If you're new and the program you like seems saturated, then maybe you should choose another one.
Established brands are definitely a go-to especially if they have high sales quantity, but also consider newer programs looking for affiliate partners to enlist.
Best Affiliate programs per industry
There is a plethora of competing products or services in every industry, so it is kinda tiresome to find the affiliate program that really stands out.
Thankfully, I've hand-picked the best affiliate programs out there to help you out!
Let's take a look.
| | | | | |
| --- | --- | --- | --- | --- |
| | Affiliate Program | Commission Rate | Commission Type | Sign Up |
| Email Marketing | Moosend | up to 40% | Recurring | Click here |
| E-commerce | BigCommerce | 200% | Flat | Click here |
| Web hosting | Bluehost | $65-130 | Flat | Click here |
| Social media marketing | SocialPilot | 30% | Recurring | Click here |
| Online courses | Teachable | 30% | Recurring | Click here |
| Web page builder | Weebly | 30% | Recurring | Click here |
| VPN | NordVPN | 40% | Flat | Click here |
Best Affiliate Networks
As I said before, affiliate networks are very useful when it comes to making data-driven decisions about which program to promote and not picking one "blindly".
Therefore, finding the network that best suits your needs is of the utmost importance.
Below you can see a concise table that sums up some of the most popular and established affiliate networks to date.
| | | | | |
| --- | --- | --- | --- | --- |
| Network | Programs | Niches | Fees | Registration |
| ShareASale | 6916 | fashion, home and garden, food and drink, fitness, software | No fee | Click here |
| Clickbank | 21562 | digital products, self-help, health and fitness, games | No fee | Click here |
| CJ Affiliate | 3000+ | online retail, digital products, software | No fee | Click here |
| Awin | 14600 | retail, finance, telecommunication, travel, home, beauty | $5 | Click here |
| Rakuten Affiliate Network | Around 1000 | physical products, retail | No fee | Click here |
| FlexOffers | 12000+ | electronics, automotive, entertainment, lifestyle, business | No fee | Click here |
Conclusion
So now you know what it takes to become a successful affiliate marketer.
As you can see, the possibility of passive income is real, but you shouldn't rush and quit your 9-5 job.
Instead of waiting for the miracle to happen, invest time in building your blog or channel, make smart choices, and have patience.
Soon your affiliate sales will start increasing and you'll be generating a decent amount of money.
But most importantly, you'll be reaping the rewards of YOUR efforts!