16 Best Stock Photo Sites in 2024 [Free & Paid]
16 Best Stock Photo Sites in 2024 [Free & Paid]
Published By
Alexandra Marinaki
December 6, 2023
Want to find the best stock photo sites in town to create visual content your customers will never forget? Here are some top options for all budgets and needs!
You've probably heard that a picture is worth a thousand words. If you aspire to attract new customers or followers through your content, you should enrich your eCommerce design with creative elements. The same applies to other customer-facing means of communication, such as email newsletters or social media posts.
However, getting access to high-quality images is not always a piece of cake. Stock photography aims to bridge that gap and help your offer beautiful digital experiences to your viewers. Stock photo sites provide images, illustrations, and more through various licensing models, which you can either purchase or download for free.
Below, we've listed some of the best stock photography sites, with free and paid recommendations. And at the end of this guide, you can learn about the main differences between free and premium websites to decide which one is the right for your business.
And for the record, did you know that with Moosend, you can create email marketing campaigns with visuals, GIFs, and videos in simple steps?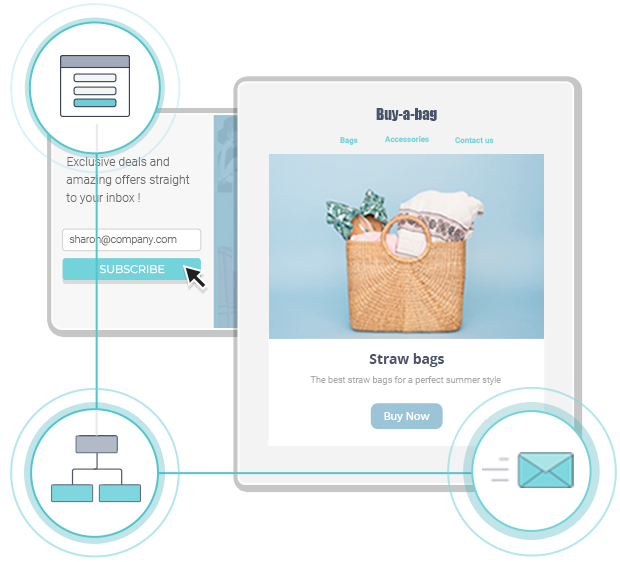 Try Moosend Today

The easiest and most affordable email marketing and newsletter software!
Best Free Stock Photo Sites
Let's kick off our adventure with free stock photography websites. The majority of them fall under the Creative Commons Zero – CC0 license model, meaning that users can make the most of their images without restrictions. Bloggers, marketers, and designers can utilize them for commercial projects, but it's vital to check the license of each website first to learn all legal aspects.
1. Unsplash
Key features: High-resolution images & a wide range of themes.
Unsplash is one of the most popular sites with free stock images, owned by Getty Images, which we'll mention later on. You can download pictures and use them for personal or commercial purposes. No attribution is required, even though they strongly encourage you to do so! However, you are not permitted to use these photos for a competitive service.
Overall, it hosts thousands of photographers worldwide and has authentic and contemporary images for every taste! Plus, you can integrate it with your existing marketing platforms such as Moosend and decorate your customer-facing content!
Ready to craft stunning newsletters at the flick of a switch? Sign up for a free Moosend account today and get started!
2. Pexels
Key features: Videos & mobile responsiveness.
Another website with public domain images and eye-pleasing output is Pexels. You can find a dedicated section with the most popular searches and free videos for multiple purposes.
This platform is super easy to use and offers great topic categorization, making browsing a blast for the user. But keep in mind that some photos are of limited use. You can read the Pexels license for more details.
Designers can also find extensive information about each image, such as resolution and file size, to tailor them to their needs. Mobile app versions for iOS and Android are available, too!
3. Gratisography
Key features: Uniquely styled images & modification capabilities.
Created by graphic designer and photographer Ryan McGuire, Gratisography is the best site to find photos with a unique style. Even though the photo collection is quite limited, the quality will reward you!
The photos fall under the Creative Commons Zero – CC0 license model. However, they clarify that their visual content is not available for illegal purposes.
4. Picjumbo
Key features: Design resources & a wide variety of images.
Picjumbo has everything a stock photo site needs to stand out. You can source beautiful images and design assets such as wallpapers for your phone or even backgrounds for your YouTube channel. They also share a bunch of design tips in a dedicated section on their website.
Moreover, Picjumbo offers a premium plan for those who want to power up their templates, emails, landing pages, or other customer-facing content with exclusive imagery.
5. Life of Pix
Key features: Free videos & "Photographer of the week."
Want to endorse a stock photo website that puts its creators at the center of attention? Then, Life of Pix, built by the digital agency LEEROY, is an excellent choice for you.
Their website states that all images are for personal or commercial use and free of copyrights. Massive distribution is not allowed – you'll need written consent to do so.
6. Burst
Key features: High-resolution images & "Business Ideas."
Burst is another best stock photo site powered by Shopify with royalty-free stock photos, meaning that you can reuse them without a new license. It's an excellent platform for entrepreneurs who want to set up a beautiful eCommerce site from scratch, with collections for all tastes.
They have a unique section called "Business Ideas" with eCommerce tips and photo kits for different product categories, making business owners' lives easier!
7. Pixabay
Key features: Illustrations, videos, and music.
One of the most popular sites with royalty-free images is Pixabay, which has over 2.3 million results! Plus, it's the best place for creatives of all kinds, as apart from photos, you can also find videos, music, and illustrations.
8. StockSnap.io
Key features: High-resolution photos & excellent user experience.
StockSnap.io is another free stock photo site with high-quality photos, falling under the CC0 free license and with no attribution required. This site is easy to navigate and has a tag-based category system, offering images for every occasion!
9. Reshot
Key features: Authentic images & best for freelancers and startups.
Another viable option for you is Reshot, which also offers original royalty-free photos for every need. While scrolling their site, it's easy to witness their unique aesthetics, making it an excellent resource for bloggers and creators who want to make a difference.
Best Paid Stock Image Sites
Now, let's move to some of the top paid websites that offer a significant number of high-resolution images that suit every single brand:
10. Shutterstock
Key Features: Curated collections & Shutterstock editor.
Shutterstock is one of the largest image providers, with tons of photos, templates, and other creative elements updated weekly. You can include them in your blog posts, email campaigns, or website to make them more attractive for your audience. Also, Shutterstock provides an intuitive editor, which is a handy solution for people without design experience or access to other tools.
The images of this site are royalty-free and the available licensing options are straightforward for its users. However, if you're new to stock photography, check the different licenses by Shutterstock to make sure you're on the same page.
Pricing
You can either subscribe to Shutterstock and pay a certain fee based on the images you get per month (starting at $29 for ten images) or buy on-demand packs (starting at $49 for five photos). The cost also varies based on how many people use the same account and which licensing type they request.
Overall, it's a rather expensive tool, especially for users who need a small number of images. However, if you need a more permanent solution, it's worth it!
11. Getty Images
Key features: Custom content & classic design.
Getty Images is one of the leaders in stock photography, offering unique images, videos, and editorial content. They also provide excellent services for creative professionals that enable easier collaboration or rights clearance and exceptional resources called "Creative Insights."
To put it simply, it's one of the most prestigious sites out there with a broad range of images and exclusive content, which will take your breath away!
Pricing
Even though it's an expensive solution, it has flexible pricing options. The cost starts at $175 for a small image and up to $499 for a large one, but you can save lots of money when you buy them in packs of five or ten. There are also solutions for enterprises – you can request a demo to find more.
12. iStock
Key features: Inclusive storytelling & Boards.
iStock (formerly iStockphoto) is another popular premium site with amazing photos to enrich your content. Powered by Getty Images, this stock photo website offers two broad collections – Essentials and Signature. The latter offers exclusive premium imagery.
You can also create Boards to save your favorite visuals and videos for future reference. What stands out is its inclusive storytelling section that can help your brand embrace diversity through your design.
Pricing
When it comes to subscription options, they offer the Basic Plan, which starts at $29 per month, and the Premium one starting at $70. Apart from the different subscription plans, you can also buy credit packs and access all kinds of collections. Feel free to visit their website for more info.
13. Adobe Stock
Key features: All-in-one design platform & free images.
If you're looking for a stock photo site that can address additional design needs, then Adobe Stock is an excellent choice. This site is integrated with Adobe's design kit that comes in handy for designers and creators.
The company has recently acquired Fotolia, another photography site with amazing images and illustrations. Plus, it also offers a free collection of imagery and videos!
Pricing
There are three types of subscriptions to choose from based on the assets you'd like per month: the initial cost is $29.99 for ten purchases and can reach $199.99 for 750 downloads – these prices are for an annual commitment. You can also buy credit packs.
14. Dreamstime
Key Features: Easy navigation & free collection of images.
Dreamstime markets itself as the "world's largest photography community," hosting 164 million stock photos. So whatever you need is there for you! Their library includes videos, audio, and editorial content. You can also search for vector graphics and illustrations, like logo templates and web elements.
Pricing
Dreamstime provides you with both free and paid plans. You can either buy credit packages or subscription plans, starting at $25 per month for five downloads. There are also custom packages for large corporations.
15. BigStock
Best Features: Easy navigation & high-quality images.
And finally, we have BigStock, another excellent option for those looking for high-resolution images. This site offers a fantastic user experience with an easy-to-use menu and precise topic categorization. You can also search for videos and get a free trial to see if this tool works for you!
Pricing
BigStock offers a variety of daily and monthly subscription packages to satisfy all needs. For example, you can buy 150 images per month for $79.
16. Depositphotos
Best Features: AI-powered search, curated collections, budget-friendly plans
Depositphotos is one of the world's first stock content platforms. Its library contains a vast selection of images, design templates, music, and videos. Recently, it reached 200 million files. In addition, the Depositphotos library grows by 5 million files every month.
Working with Depositphotos, you can significantly reduce the time you spend searching for content, as the platform offers AI-powered search, content categories that are easy to navigate, as well as advanced search filters (search by color, orientation, view angle and more). There is also a free file section where trending images and videos are added daily.
Pricing
You can download files with a monthly or yearly Subscription, or choose a yearly On Demand plan for a certain amount of files. Prices on Depositphotos plans start from $9.99 (Flexible Plan on images for one month). You can get images for as low as $0.22 per item.
17. Envato
Key Features: Smart filtering capabilities and unlimited downloads of a broad range of creative assets
Envato Elements is the largest all-in-one creative subscription, offering access to millions of assets, from stock photos and videos to fonts, music, templates, and motion graphics. An Elements subscription gives you and your team unlimited downloads of over 11 million assets for one low cost.
Find inspiration, save time, and download unique and professionally-designed assets for your project using smart filters. You can filter stock photos based on the color profiles in the picture, the number of people in the image, picture orientation, the type of background, and so on. You can filter stock video based on resolution, frame rate, footage length, and other parameters.
Visit Elements and start creating today with a straightforward lifetime commercial license.
Free Vs. Paid Best Stock Photo Sites: What To Choose
Even though the free stock photography sites in this list have amazing royalty-free images, paid websites have a few advantages. First of all, the quality and quantity of illustrations are outstanding. Also, in paid sites, there is more transparency regarding legal guarantees and usage permissions. So there is no need to worry much about copyrights.
But sometimes, especially for small businesses or bloggers, paying a subscription is not affordable. In this case, our list of best free stock photo sites remains an excellent resource for you.
Nevertheless, read the licenses and permissions carefully and figure out the legal status of your favorite photos to ensure the absence of copyright violations. Plus, avoid using pictures that are more likely to have copyrights, such as trademarks, private properties, etc., just to be safe.
Bring Your Brand To Life!
You can't build a great brand without great images. And the good news is that you don't need to hire photographers or designers to upgrade your email or social media marketing game. Find the best stock photo site for your business based on your budget, goals, and aesthetics, and share unique content with your customers!
Last but not least, check if you can connect this website with your existing marketing stack to streamline the creative process through an API or a native integration!
For instance, as mentioned earlier, Moosend's integration with Unsplash lets you create beautiful campaigns easily and entice your customers forever. Sign up for a free account and get started!