Top 9 Flodesk Alternatives In 2024 [Compared]
Top 9 Flodesk Alternatives In 2024 [Compared]
Published By
Marilia Dimitriou
December 6, 2023
If you are looking for Flodesk alternatives to get your strategy back on track, you've come to the right place.
Today, we'll explore Flodesk's best competitors to help you find a tool to cover your email marketing and marketing automation needs.
From intuitive email builders and templates to advanced reporting and responsive customer support, here are the best email marketing tools to consider.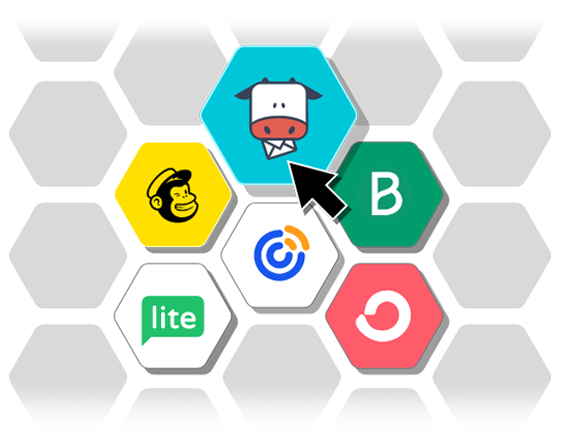 Looking for an alternative?

Save $$$ of your marketing budget by switching to Moosend today!
How We Selected The Following Tools
All of the tools in this list have been tested by our team to provide an unbiased description of their features and capabilities.
We spent hours setting up new accounts and trying each software to provide an accurate experience and show users exactly what they will come across when they sign up. Find more information about our software selection methodology on how we choose tools to feature on the Moosend Blog.
Best Flodesk Competitors: Comparison
Flodesk is a simple email marketing software great for beginners and eCommerce store owners who want to increase their revenue.
However, before we move on to the best alternatives, let's address some of the most common problems that users have observed while using the software:
No robust email tracking
Unsatisfactory customer service
Limited features compared to other ESPs
Non-functional integrations
Not as customizable as expected
With this user feedback in mind, we collected various email marketing solutions you can choose from that promise to fill the gaps left by Flodesk.
Now let's take a more thorough look at them:
1. Moosend – Best All-In-One Alternative
Pricing: Paid plans start at $9/month, 30-day free trial (Sign up here)
Best for: eCommerce, SaaS, Small businesses, Startups, Entrepreneurs
Unique feature: Product recommendation feature
Moosend is an eCommerce-friendly email marketing and marketing automation tool that business owners can use to power up their marketing and sales.
This Flodesk alternative has an intuitive drag-and-drop email builder and fully-customizable newsletter templates to create the perfect promotional email design. Along with email, you also have a landing page and form builder to expand your email list.
Regarding eCommerce AI, one of Moosend's best features, the email service provider offers you contact tracking and segmentation to engage your audience more effectively and deliver experiences tailored to their needs. Moreover, Moosend's powerful workflows match every growing eCommerce business. You can use the cart abandonment email automation feature to recover lost sales or set up upsell and cross-sell campaigns to boost your average order value.
You can also create shoppable email campaigns through the product recommendations feature in the email builder. Let the tool adjust your email content to give your shoppers what they want and personalize their experience for greater engagement and conversions.
Lastly, you can benefit from Moosend's SMTP server to deliver transactional emails into your customer's inbox without paying any additional fees. And with an email deliverability score of 98%, your messages will always reach your audience.
Moosend Best Email Marketing Platform Features
Advanced drag-and-drop editor
Responsive email newsletter templates
Transactional email campaigns (SMTP server)
Landing page and newsletter signup forms
Integrations with popular apps like Zapier, WordPress, and Woocommerce
Pricing
Moosend's contact-based pricing starts from $9/month for 500 contacts with the Pro plan. You can find all the features, including the SMTP server.
Like Flodesk, Moosend lets you send unlimited email campaigns and create workflows, popups, and landing pages. Nevertheless, the more advanced functionality and eCommerce-oriented features will let you power up your marketing much more efficiently.
To give this Flodesk alternative a go, register for the 30-day trial and check out the features yourself.
2. ActiveCampaign – Best For Complex Automated Workflows
Pricing: Paid plans start at $29/month, 14-day trial
Best for: SMBs, Publishers, Agencies, eCommerce
Unique Feature: Advanced automation
If you want a competitor with advanced functionality and powerful automated workflows, then ActiveCampaign may be what you need. This tool will give you access to an email marketing and workflow builder to create intriguing messages for your audience and then deliver them at the right time.
Along with the personalization and segmentation features, you can also craft powerful automated sequences with promotional offers, restore your lost revenue from cart abandonment, and give your new customers a welcome series they will remember.
Transactional emails are also available. However, compared to other platforms that include them in their plans, like Moosend, ActiveCampaign offers them separately through Postmark. The starting price is $15/month for 10K transactional messages. There's an extra charge if you exceed this limit, so pick your plan carefully.
Lastly, to further grow your eCommerce business, ActiveCampaign will equip you with a CRM tool and let you connect your customers across all channels for a more seamless experience. The available integrations with popular eCommerce platforms, such as Shopify, BigCommerce, Woocommerce, etc., will allow you to streamline your operations and build an efficient stack for your store.
ActiveCampaign Best Software Features
Large number of pre-made email templates
Powerful automated workflows
CRM feature to power up sales
Advanced campaign reporting
Landing pages and forms
Integrations with eCommerce platforms
Pricing
ActiveCampaign's pricing is $29/month for the Lite plan and 1,000 subscribers. You need to get the Plus starting at $49 or the Professional at $149/month for more functionality and tools.
This tool has a 14-day trial you can try. After that, you will be prompted to get a paid plan to keep using the features. If ActiveCampaign seems like an expensive alternative to you, you can always check some of its best competitors to find an affordable and equally powerful tool.
3. Brevo (Formerly Sendinblue) – Best For Emal & SMS Marketing
Pricing: Paid plans start at $25/month, free plan
Best for: SaaS, Agencies, Startups, Enterprises
Unique Feature: SMS marketing feature
Brevo is a free Flodesk alternative with email and SMS marketing capabilities to power up your multi-channel marketing strategy. The marketing platform has a user-friendly builder to design email marketing campaigns for your audience. You can start from scratch or choose one of the available templates to save time. The builder is based on blocks, so you can drag and drop the elements you like to add.
Moreover, another interesting feature is the 1-click product transfer. Shopify and Shopware users can select a specific product from their eCommerce store and then drop it into their email campaign. Thus, you will manage to craft promotional messages faster and avoid the tedious process of setting everything manually.
Additionally, automation is part of the deal, offering you a visual workflow builder to set up customer sequences. You can build unique series or use the pre-made workflows to save valuable time.
Lastly, as mentioned above, Brevo has an SMS marketing feature to create special deals, share news, and more with your customers. You can also use the personalization feature to make your texts more personal and effective.
Brevo (Formerly Sendinblue) Best Email Service Features
Drag-and-drop email builder
Personalized SMS messages
Customizable email templates
SMS & WhatsApp Campaigns
Transactional emails through Postmark
Customer support through email and phone
Pricing
Brevo has two paid plans for growing businesses and eCommerce stores, starting at $25/month with the Starter plan and $65 with the Business. An Enterprise plan is also available. To find out more, you need to contact sales. A free plan is also available but with certain limitations, allowing you to send only 300 emails daily.
4. Constant Contact – Best For Managing Your Contacts
Pricing: Paid plans start at $10/month, 60-day free trial
Best for: eCommerce, Startups, Marketers, Non-profits
Unique Feature: CRM feature
Next on our list is Constant Contact, an email marketing solution popular for its event marketing tools. Event planners can benefit from the available features to increase their registrations and engagement through landing pages, email invitations, and social media.
Apart from that, eCommerce businesses can also craft and automate email marketing campaigns through the email and automated workflow builders. Like the tools above, you also have at your disposal a variety of premade email templates and recipes to save time and effort.
Regarding lead generation and sales, this competitor has a CRM system to keep your data organized. Along with lead scoring, you can discover your most engaged leads and target them with the right offers. The opportunity manager will also allow you to segment, nurture and convert your buyers faster.
Moreover, you can integrate Constant Contact with many other apps, including Stripe, Shopify, WooCommerce, BigCommerce, Magento, and more, to make your eCommerce store thrive and streamline your efforts. Lastly, if you want to keep track of everything on the go, this alternative has a mobile app you can use to manage your subscribers, edit campaigns, and more.
Constant Contact Best Software Features
Email template designer
Drip campaigns
Email list management
Opportunity manager
A/B Testing to boost open rates
SMS marketing tools
Pricing
Constant Contact's Core plan starts at $10/month and gives you access to the key features. However, to take advantage of the automated email marketing tools, you need to upgrade to the Plus plan starting at $45/month.
A 60-day trial is also available to try out the platform before committing to a paid subscription.
Read Full Constant Contact Review
5. Klaviyo – Best For Multichannel Marketing
Pricing: Paid plans start at $20/month, free plan
Best for: eCommerce stores, SMBs, Enterprises
Unique feature: SMS and email integration
Among the best Flodesk alternatives, you'll come across Klaviyo, an email marketing and marketing automation platform with an array of eCommerce-oriented features to power up your eCommerce business.
Firstly, the service offers email and SMS marketing features to help you increase your engagement, nurture your leads, and turn them into customers of your brand. Regarding eCommerce email marketing, you have various customizable templates and pre-built workflows to make email creation and automation easier.
Moreover, the personalization and segmentation features will let you send targeted messages to each customer based on their activity, including recently viewed products, items purchased, abandoned products, etc. This way, you will show them dynamic content tailored to their needs rather than generic offers.
Regarding the SMS feature, Klaviyo will let you integrate the two channels for better customer engagement. You can send text messages about new products, welcome offers, back-in-stock items, and price drops to lead your audience to your website. Lastly, you can keep track of everything through the SMS reports and built-in benchmarks. Then, use the A/B Testing feature to optimize your campaigns.
Klaviyo Best Software Features
Email & SMS integration
Drag-and-drop automation builder
Personalized benchmarks
300+ pre-built integrations
Customer profiles across channels
Pricing
Klaviyo has two paid plans, the Email, starting at $20/month, and the Email & SMS at $45/month, which comes with 1,250 SMS/MMS credits.
The free plan is limited, allowing you to have only 250 subscribers, send 500 emails per month, and have 150 free SMS/MMS credits. Here, customer support is available for the first 60 days only
6. Mailchimp – Best For A/B Testing
Pricing: Paid plans start at $20/month, limited free plan
Best for: SMBs, Agencies, eCommerce
Unique Feature: Advanced A/B Testing
Mailchimp is a popular alternative to Flodesk, offering two different email builders to create your email marketing campaigns, a powerful workflow editor, landing page builders, and signup forms.
Ecommerce store owners can also use the customer journey builder to create different paths and outcomes for their audience based on their actions and online activity. This way, you will manage to engage and convert them with the right content every step of the way.
If you want to optimize your messages, Mailchimp has the right tools for the job. You can use the Content Optimizer feature to make your email copy more engaging and personalized through valuable suggestions. Also, you can leverage the advanced A/B Testing features to find the best variation for your audience.
If you want to take it a step further, this alternative has a Multivariate testing option available in the higher plans. You can test up to 8 campaign variations at once and discover the perfect content match for your customers. Lastly, Mailchimp has numerous integrations with CRM, eCommerce platforms, and more to help you streamline your process.
Mailchimp Best Email Marketing Software Features
User-friendly email campaign editors
Automated customer journey creator
A/B Testing features
Push notifications
Behavioral targeting
Pricing
Mailchimp has a new pricing for the Standard plan, which is now $20/month for 500 contacts and 6,000 email sends. For the premium, you have to pay $350/month for 150K sends but 500 subscribers. There's also a free plan which has recently become even more limited, allowing you to send only 1,000 monthly emails.
While Mailchimp offers ease of use and advanced capabilities, it can get rather expensive, especially after the recent pricing change. If you want something more affordable, check out Mailchimp's best alternatives.
7. Drip – Best For Segmentation
Pricing: Paid plans start at $39/month, 14-day trial
Best for: eCommerce stores, Enterprises
Unique Feature: In-app insights
Another great Flodesk alternative that you can consider is Drip, an email marketing service with an eCommerce CRM tool and marketing automation features to target your audience the right way.
The user-friendly email builder allows you to craft an email marketing campaign easily. However, unlike other marketing solutions on our list, Drip has a very limited number of email templates you can customize.
Regarding the automated workflows, the builder offers ease of use. You can choose from several triggers and actions to create multiple sequences for your audience, including welcome, re-engagement, and cart abandonment series. Moreover, you can also target your customers based on their online activity and purchase history.
Lastly, while this platform is great for eCommerce stores, offering you all the right tools to power up your strategy, Drip lacks in the email testing department as it has neither a spam nor a design testing feature to ensure your messages reach the inbox.
Drip Best ESP Features
Automated workflow editor
In-app insights
Pre-built workflows
Segmentation and personalization
Email support
Pricing
Drip has only one paid plan, starting at $39/month for 2,500 contacts. You will need to book a demo with the company if you have a large email list.
A 14-day free trial is also available to try out the platform.
8. MailerLite – Best For Email Testing
Pricing: Paid plans start at $10/month, free plan
Best for: eCommerce, Small businesses, Freelancers, Bloggers
Unique feature: Email verification tool
If you want a simple tool to get the job done, then you can try MailerLite. This Flodesk competitor is very easy to use, offering an intuitive email builder to craft your email marketing campaigns. You can create something from scratch or use one of the newsletter templates found in the library.
Furthermore, landing pages and forms can help you build your email list or expand your existing ones. However, you will need the Advanced plan for the custom HTML builder and promotion pop-ups.
Regarding automation, there are various tools you can use to target your audience. The workflow builder gives you many triggers and actions to set up the sequences you need. However, you will also need to upgrade your plan to use multiple triggers.
Lastly, MailerLite has great email deliverability and even offers you an email list cleaning feature to keep your list free of addresses that may cause you problems in the future.
MailerLite Best Email Service Features
Drag-and-drop editor
Pre-made newsletter templates
Email verification feature
Autoresponders
Landing pages and pop-ups
Pricing
MailerLite's starting price is $10/month for 1,000 contacts. You need to upgrade to the Advanced plan for more functionality and tools, starting at $21/month.
A free plan is available for 1K subscribers and 12K monthly emails.
9. GetResponse – Best For Sales Funnel Creation
Pricing: Paid plans start at $17/month, limited free plan
Best for: eCommerce, Small Businesses, Marketers
Unique Feature: Sales funnel tool
GetResponse is another email marketing platform with rich features to empower your business. From email creation to reporting and analytics, this competitor will give you everything you need to cover your marketing needs.
As with the rest of the tools on this list, this alternative offers a simple email builder to create your next big campaign. Moreover, you can find a selection of responsive newsletter templates you can customize to save valuable time.
Landing pages and forms are also part of the deal, along with basic segmentation. If you want more functionality, you need to get the Marketing Automation plan, where you'll find event-based automation, advanced segmentation, contact scoring, and sales funnel software.
And speaking of that, GetResponse has a dedicated sales funnel tool (formerly known as Autofunnel). Based on your goals, you can easily craft simple opt-in funnels, lead magnet funnels, or sales funnels. Lastly, it offers over 30 conversion-optimized scenarios to help your business grow.
GetResponse Best Software Features
User-friendly email editor
Responsive email templates
Sales funnels
Landing page builder
24/7 customer support
Pricing
GetResponse's pricing starts with the Email Marketing plan at $17/month and the Marketing Automation plan at $58/month for more features. The platform also has an eCommerce Marketing option, which you can get for $114/month.
A free plan is also available for 2,500 newsletters and 500 contacts.
Best Flodesk Alternatives In The Market
In this post, we saw some of the top competitors you can check out to help you optimize your eCommerce email marketing strategy.
Before you choose your next ally, we suggest you try the available free plans and trials to ensure it's the right fit for your eCommerce business.
Moosend's eCommerce AI and all-in-one marketing suite can be a great addition to your marketing stack. So why not try it by signing up for a free account today?
The choice is yours!