11 Free Business Email Newsletter Templates [2023]
11 Free Business Email Newsletter Templates [2023]
Published By
Marilia Dimitriou
September 13, 2023
Need to make a lasting first impression? Then these business email newsletter templates are here to save the day!
As you know, creating eye-pleasing email campaigns will not only show your subscribers how much you value them but also get them to act! Nevertheless, designing everything from scratch requires time and effort that you sometimes might not have!
To help you out, we're going to see 11 professional templates to engage with your leads and turn them into paying customers of your brand. Here's what you'll find in our design chest:
Informational newsletter templates.
Monthly updates design examples.
New feature promotions email designs.
Without further ado, let's see them!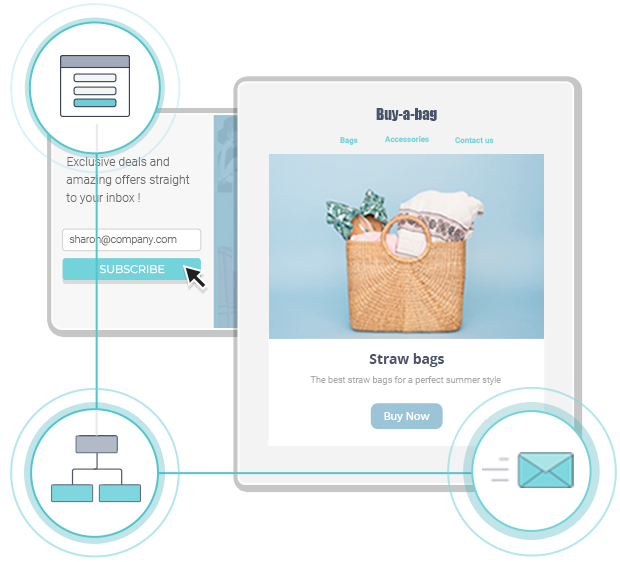 Try Moosend Today
The easiest and most affordable email marketing and newsletter software!
Moosend's Email Templates For Businesses
You know the drill! To take advantage of Moosend's free email newsletter templates, you need to sign up for an account first! Then, follow these simple steps:
Log in to your new account.
Select the "Campaigns" tab from the left side menu.
Choose "Create new campaign" and head to the email builder.
Click on the Template Library and choose the design you like.
Now you are ready to start creating some converting email marketing campaigns with the help of our beautiful designs! Let's see them!
1. Digital Impression Email Template

After your new subscribers verify their email addresses, you have to deliver a series of eye-catching and informative emails to show them what's in store for them. To save you time, you can easily use this layout to magnetize your audience!
Why you need it:
You can customize the above email newsletter design to make a great digital impression. The structure is perfect for introducing your company and leading your potential clients back to your SaaS, startup, or small business website! What's more, the use of white space will make your email more readable and engaging.
If you're having trouble starting your onboarding series, don't hesitate to check our welcome email templates and examples to get inspired!
2. Weekly News Business Email Newsletter Template
To increase your B2B audience engagement, you have to deliver regular updates in a beautiful and structured way.
Why you need it:
The above layout is ideal for giving your email list exactly what it needs to move a step further down your marketing funnel. You can keep the content blocks or add more based on your goals. Also, the color scheme of this design is both serious and eye-pleasing to capture your B2B audience and show them how professional you are.
3. New Feature Teaser HTML Email Template
A teaser email will let you intrigue your new users and show them that your business is constantly growing to meet their needs. Don't know how to create one? This template is here to guide you through!
Why you need it:
The New Feature Teaser design will help you create a short yet informative email campaign to share the big news. You can customize it to build a unique teaser message using an appealing color scheme and a focused call-to-action button.
Also, don't forget to include a countdown timer to excite your audience and show them the date of your new product or feature release.
Don't miss the chance to take advantage of Moosend's advanced elements and user-friendly drag-and-drop builder to create professionally-looking campaigns!
4. Visual Business Newsletter Design Example
Promoting your events, company culture, and ideals is perfect for showing your audience that you aren't just another impersonal brand. So if you post about all these on your social media profiles, you can easily turn them into an eye-pleasing campaign to cross-promote between channels.
Why you need it:
With this visual template, you can showcase your company's social media posts in a jiffy. This way, you can integrate social media marketing and email marketing, show your audience what it means to be part of your company, and lead them towards conversion. Of course, you can use this layout to showcase your new blog content or even give a presentation of your features or services.
5. Essential Email Business Email Newsletter Template
When you choose your designs, always take into account what your audience wants to see. If your subscribers have a more serious vibe, choose designs that will resonate with them to avoid overwhelming them.
Why you need it:
Overall, the layout has minimalist elements and toned-down colors. This makes it a more austere template, which you can use for various purposes like sharing news, promoting new features, and so on. To increase your subscribers' engagement with your company and integrate your strategies, make sure to add your social media profiles, especially LinkedIn, Twitter, and Facebook.
6. Monthly News Responsive Email Template
Just because you roll out an email campaign once a month doesn't mean you have to make it boring!
Why you need it:
Give your monthly updates the look they deserve to engage your recipients. This responsive newsletter will allow you to present your copy and CTAs in a simple and structured way. Also, the use of color is great to excite your audience and make your corporate emails more fun to interact with.
Power up your email marketing strategy with an advanced template builder and responsive email newsletter designs! Do it today by signing up for a Moosend account!
7. Typical Business Email Newsletter Template
Simplicity is a precious ally for B2B email marketing since your audience is more occupied with your content than the design. Of course, that doesn't mean that you should deliver something less than perfect.
Why you need it:
If you favor copy more but still want to make a great impression, you can pick the Typical Corporate email newsletter template. The structure will allow you to add important information even in your header to give your audience an idea of what follows. Also, you can use different graphic design elements to give this example a unique touch and add your favorite colors to match your brand.
8. Traditional Company Newsletter Design
If you need a more toned-down design, you can grab the above template to share updates, promote new features, and so on!
Why you need it:
This email template is a great example of a more traditional newsletter, which will work and look good on multiple devices and clients. Email marketers can easily customize it to suit their needs regardless of their industry by adding their favorite color palettes, images, or advanced elements like video links to how-tos, tutorials, etc.
9. New Site Launch Responsive Template
If you're changing your SaaS or online store website, make sure to share the big news with your subscribers! Some of them might not be aware of the new changes, so make sure to show them with a professional campaign!
Why you need it:
You can take advantage of the premade sections to provide your email list with detailed information about your new features. What's more, if you want to boost your content marketing strategy, you can benefit from the "From Our Blog" content block to give organic traffic a boost.
Emails created with this template will look great on mobile devices and multiple email clients like Gmail, Outlook, and Yahoo since it is highly adaptable and responsive! Can't wait! Give this template a go and see how easy it is to create something wonderful!
10. Feature Promotion Email Newsletter Template
Promoting your new features is a must to show your existing and potential customers how much your business is expanding. An informative email is all you need to let them know what's new and get them to try it out!
Why you need it:
Email marketing campaigns are the most cost-effective way to promote new products and features to your audience. Grab this opportunity to save time, money, and effort with an eye-catching business email newsletter template. You can customize it on the spot, add your personal touch, company colors, and actionable CTAs to increase your engagement rates and conversions!
11. Vibrant Feature/Product Campaign Template
Whether you want to promote a new product or integration, you can grab the above layout and make it work while staying in fashion!
Why you need it:
You can never be short on promotional templates! With this design, you can spread the word about your new additions in a beautiful and focused manner. Take advantage of bright colors to make your email pop, add your copy to inform your recipients, and, finally, lead them to your new landing pages with your CTA buttons!
Business Email Design Tips
Business emails are a bit different from eCommerce campaigns. To nail them, you have to consider your recipients and what they want to see.
Below, you'll find some simple B2B email marketing tips to capture, nurture, and convert your leads:
Personalized content: Use highly relevant content to get your subscribers and potential clients to interact with you. By default, B2B audiences need more personalized messages to convert.
Concise copy: Create compelling copy that shows the value of your business and how it will help your customers improve theirs.
Focused CTAs: Your CTA buttons need to be as clear as possible to make them click.
Professional visuals: Use high-quality images and design elements to make your campaigns look professional. If you and your team are handy with design marketing tools like Adobe's Photoshop, you can create your own creatives, convert your PSD into PNGs/JPEGs and use them throughout!
Contact details: Give your audience a way to communicate with you in case they have questions.
Email signature: Send emails from a personal account and add your email signature to make them more credible.
Also, don't forget to add a compelling subject line to make sure that your audience will open your campaign! And if you need more inspiration, make sure to check our amazing email newsletter examples!
Make A Lasting Impression
Apart from SaaS businesses, the above templates are also perfect for Nonprofits, bloggers, even real estate agencies due to their simplicity and versatility!
Remember, just because a template is under a specific category, it doesn't mean that you can't turn it into something completely different.
Now that you have the business email newsletter templates and the tips, make sure to sign up for a Moosend account and start customizing them ASAP!
It's time to create some amazing newsletters for your audience! Go!