15 Email Marketing Benefits For Businesses [2023]
15 Email Marketing Benefits For Businesses [2023]
Published By
Alexandra Marinaki
September 11, 2023
All you need is email marketing! How can this powerful tool skyrocket your business growth? Learn some of the top email marketing benefits and start reaping them asap!
Are you an eCommerce business owner thinking about introducing email marketing campaigns into your strategy? Or someone who explores digital marketing tools for the first time? Here, you'll find all the reasons why email marketing should be on your priority list.
In this guide, you'll find:
Recent stats on email marketing
Top benefits and opportunities
Tips on how to get started with email marketing
Are you looking for an email marketing platform to send your first campaigns to your beloved customers? Moosend has everything you need to streamline your marketing efforts in a flash!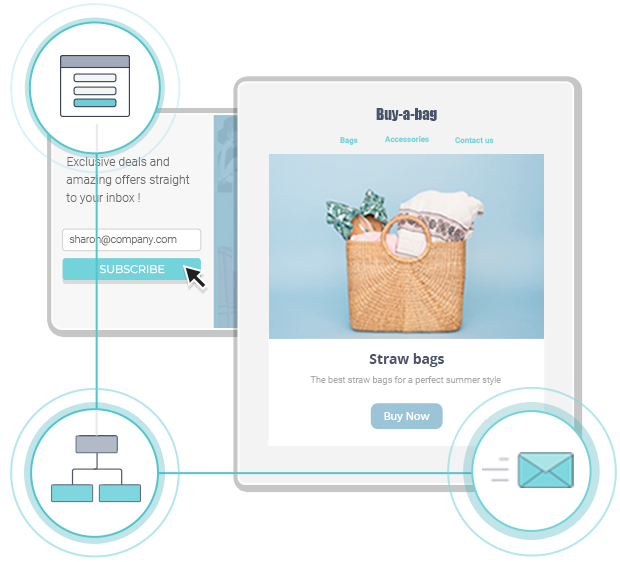 Try Moosend Today
The easiest and most affordable email marketing and newsletter software!
Top Email Marketing Stats That Will Amaze You
Firstly, for those who are intrigued by numbers, we've gathered some recent email marketing statistics that sum up the effectiveness of email marketing:
The return on investment (ROI) for email marketing is $42 for every dollar spent.
There were four billion global email users in 2020, and by 2025, this number will grow up to 4.6 billion.
47% of marketers said that email is their most successful marketing channel, followed by social media marketing (39%), SEO (33%), and content marketing (33%).
49% of buyers mentioned that they'd like to receive weekly promotional emails from brands they like.
The average open rate for newsletters across industries is 21.33%.
63% of consumers stated that they open an email to seek discounts.
Approximately 51% of businesses use automation to improve their marketing processes.
As you can assume based on the above, email marketing has a lot of advantages. In the next section, we'll take an in-depth look into all you need to know.
15 Email Marketing Benefits That Make A Difference
Hold your breath, and let's dive into our email marketing benefits:
1. Building Personalized Content
Not every buyer has similar needs and wishes. Once you've identified your target audience and buyer personas, it's time to send them personalized messages to delight them to the max.
Personalized marketing is a big hit these days, for a good reason. By using the correct data, you can send targeted messages to your buyers at the right time. This way, you increase the chances of converting them, primarily by delivering something relevant to their preferences and needs. Here's a personalized email example by Forever 21:
Subject line: We saved these and got you 20% off
Personalized emails can take different shapes and forms. It can be a recipient's name on the subject line or a birthday email with a discount on one of their favorite items. It's up to you to decide how to approach this.
Overall, email personalization is powered by customer segmentation and marketing automation practices. Dividing your customers into different segments based on traits like demographics or geographic location can be super helpful. Plus, an email list management service will be game-changing for you if you decide to use this practice.
2. Creating Brand Awareness
How can consumers learn more about your brand story? Your website and advertisements can help, but consistent email communications can upgrade brand awareness.
Think about how much time we spend on our mobile devices and mailboxes per day. It's a "digital place" we visit on a regular basis, so you can't leave this opportunity unseized. Plus, as mentioned in the stats section above, almost half of buyers stated that they'd love to receive weekly promotional emails from their favorite brands.
Well, you can become that brand, too! Craft email newsletters with intriguing subject lines and create interactive email content for your subscribers. From promotional to informational campaigns, try to show them what you're made of to ultimately steal their heart.
The more your customers connect with your brand assets like your logo or slogan, the more they'll think about you subconsciously. And this can lead to a leap in your conversion rates as you move forward.
3. Increasing Sales and ROI
As you saw in the stats earlier, the main email marketing benefit is boosting your ROI. So if you want to increase your sales, you can create marketing campaigns with discounts, offers, and deals. It's a winning method and can massively benefit you in the long run!
There is also a specific email type, the so-called abandoned cart email, that can prove handy to you. These emails let you ping email subscribers that have recently added items to their shopping cart reminding them to complete their purchase. Let's explore a similar campaign by Food52:
Subject line: Oooh, good choice! We set it aside for you.
And the best part? According to a Moosend report, abandoned cart emails receive 45% open rates, and 21% of them are clicked on. Most importantly, half of them lead to a purchase.
So if you want to pivot your sales, introduce personalized offers to draw your subscribers' attention at the right time. Why not send a cute birthday email to cherish them on their special day? Or pre-Christmas coupon codes to loyal customers during holidays? All similar initiatives count.
4. Nurturing Customer Relationships
Good emails are not just for direct sales. Sometimes, all you want is to warm your customers up by serving them relevant inspiring content. This way, they'll start showing more trust in your brand which will gradually turn into customer loyalty.
There are many ways to approach this. For example, personalized emails already serve that goal, making buyers feel that you consider their needs. You can also share anniversary emails with them with milestones of your brand or a simple gratitude note.
It's not only the email type that will indicate if it's nurturing or not. The copy also plays a massive role in this. Write in an empathetic tone and spread joyful vibes throughout your communications.
5. Boosting Word-of-Mouth Marketing
Word-of-mouth marketing has proven its power over the years, both for large and small businesses. Emails can make this form of marketing a piece of cake, as subscribers can easily forward your email to their loved ones or prompt them to subscribe to your newsletter if they find it valuable.
But there are also ways to make this procedure faster. Run a referral marketing campaign with a dedicated "Refer a friend" CTA button, and you won't regret it. Give customers a monetary incentive or gift for successful referrals to make it more intriguing. Love Wellness built a great one:
Subject Line: HOW TO: access your points
Moreover, if you want to add this initiative to other emails, you can place it on the email footer as a link, next to the essential elements, like the "Unsubscribe" or "Manage Preferences" buttons.
6. Automating Messages to Save Time
Email automation can not only save you lots of time and trouble but also turn into a real booster for your business growth. By automating campaigns, such as transactional or welcome emails, you manage to reach out to subscribers at excellent timing. This way, you increase the chances of converting them.
For example, you can set up welcome email sequences for new customers or other types of triggered messages after specific actions, like a purchase, to inform your readers that their action is completed and win their trust. Or you can schedule the so-called drip campaigns and choose the exact times and dates to send those emails.
So if you're eager to take email marketing seriously, you need a marketing automation platform like Moosend to put those emails in motion. Not sure which emails to prioritize? Here are some ready-made automation templates from Moosend to get you inspired.
7. Collecting Customer Feedback
No one can improve your brand more than your customers. They know what they love about your products/services and what they'd like you to change. In addition, it's essential to stay in touch with them to discover their needs and grasp what else you can offer them.
Email is an excellent channel for feedback collection. You can craft customer surveys and send them to your subscribers to gather information hard to source through other venues, e.g., customer support. This is an example by MeUndies:
If you want to run an extensive survey, it's wise to offer an incentive in exchange, for example, an Amazon coupon for lucky participants. Plus, ensure checking the data in-depth and collecting demographics to revisit your personas if needed.
8. Owning your Contact List
If you're using social media to promote your products/services, you know well that it's hard to take charge of your followers and contacts there. Each platform has its own rules, and you must adhere to them.
But with email, things are different. Once you start collecting addresses and building your audience, you have ownership of these valuable contacts. So even if you decide to change your email service provider, you can take this list with you.
And, of course, when you're managing your customer communications directly, you take full charge of the content you're creating for your customers, and no algorithms keep you apart.
9. Saving Money
If your business is on a tight budget, but you still want to run promotional campaigns to boost your sales, this form of marketing is just for you. Email marketing is a cost-effective solution, especially if your email list is relatively small.
Luckily, many email marketing services out there offer features for free. As your business grows, you can move to paid plans with advanced capabilities to scale up.
Plus, most email marketing platforms like Moosend offer ready-made templates or editors that are easy to use, so there's no need to spend on design or coding resources.
10. Promoting New Products
Have you just launched a new product or service and want to ensure that existing and potential customers learn everything about it? Not every business has the resources to get them in front of the right audience through paid ads on Google or social media like Facebook and LinkedIn.
But guess what? Email marketing can check that box more than adequately. You can create dedicated campaigns and target the audience that is likely to convert. MINNA has followed this path. Have a look:
Subject line: Cherry Cacao is here!
Want to make sure that your email will receive a high open rate? Write a clear and attractive subject line to make the reader understand what the message is about at first glance.
11. Generating Site Traffic
Let's move to another major email marketing benefit. When you use this form of marketing, you inevitably redirect your users to your website through your shared links. So when inviting your customers and prospects to explore your website and products, you ultimately increase your website traffic.
The rule is that the more your customers interact with your website, the higher the chances to convert them. So make sure to connect your email channel and website wisely to reap those benefits. You can also lead them to other essential pages such as customer reviews to benefit from social proof.
Remember, it all starts with call-to-action buttons and how effectively you craft them. Finally, add links to your social media to the email footer to enhance your social channels, as well. Omnichannel marketing to the rescue!
12. Learning about your Audience
One of the most significant benefits of email marketing is the ability to find out more about your customers' behavior through analytics. There are specific email metrics to consider for your success, including:
Open rate: How many people opened your email.
Click-through rate (CTR): How many readers clicked on your email.
Conversion rate: The number of subscribers that completed the desired action.
Bounce rate: The number of email addresses that did not receive your campaign.
Most email marketing software provides you with analytics and reporting tools to track the above, even in real-time. These metrics help you spot what works, what needs to be improved, or which of your products/services are popular, based on conversions.
To give you an idea, here's Moosend's reporting and analytics feature:
13. Testing Campaign Success
Want to ensure that your next campaign will be successful? With email marketing, there's a way to test this. How? With the mighty A/B testing method that most email marketing services out there enable you to perform.
Through A/B testing -also known as split testing- you can test two different versions of your email and see which one attracts your subscribers the most. For example, you may have two different subject lines and want to see which works best for your audience.
Overall, this method can benefit your outreach and help you discover your audience's preferences in a particular context to satisfy them with flying colors.
14. Enhancing Content Marketing
Do you have a blog or other content marketing resources? Then you should promote them through your email channel by all means.
From thought leadership content to product descriptions and infographics, these resources come with many benefits if you know how to distribute them effectively via email, too. Here is an email example by Zoom:
Subject line: Staying home? Stay connected this season
First off, this tactic can bring new people to your website and boost your traffic and lead generation attempts. Moreover, it educates your customers and prospects about your niche market and products/services and adds more value to your interactions.
15. Build Brand Authority
Final email marketing benefit of the day – content can also enhance your brand authority. When building top-of-mind resources, your customers label you as a leader in your market and show more trust in you.
So dare to share thought leadership content through your email, even from other big brands if you see fit, as long as you are not competitors.
Finally, try to create resources that reflect your values and company mission to enable buyers and prospects to shape an image of your brand and feel connected to it.
Email Marketing Tips For Beginners
Are you a newbie in this field, enticed by all these email marketing benefits but don't know where to start? We'll give you a helping hand:
1. Pick an Email Automation Tool
If you're visiting the email marketing world for the first time, you'll be wondering how to create outstanding campaigns, as the examples shared above. Or how to set up automated campaigns and build email lists.
To bridge that gap, you need an email automation platform to do it all. To select the right software for your business, check the main features and pricing. Inspect the design, deliverability, reporting, automation capabilities, and integration possibilities with your existing marketing stack, e.g., your CRM solution.
Ready to find the best marketing platform for your business? Here's an email marketing software guide to find out more.
2. Get your Subscribers' Opt-in
To start sending emails to your customers and prospects, you first need their permission to do so. Through email opt-in, you request their emails and consent to communicate with them via email to avoid getting flagged as spam or hurting your sender score.
There are many methods to get the subscribers' opt-in. For example, you can place subscription forms on your webpage in the shape of popups or floating bars and boxes to collect their info. You can even build a full-page form covering the entire screen to draw the visitors' attention.
This is an example by Happy Socks. To ensure that visitors will convert, they offer an incentive to "seal the deal":
3. Create Automated Campaigns
We've already shared how beneficial automated campaigns can be for your business. So when you decide which platform to use, set up your first automated emails to hit the road. Here are some suggestions to get started:
Cart abandonment
Re-engagement
Check Moosend's automated workflows -including triggers, conditions, and actions- to get a good grasp of this system before setting up your own.
4. Track, Improve, and Repeat
And finally, once the first results start flowing your way, it's time for analysis. Make great use of your tracking and reporting features to identify which patterns work and what you can improve down the road.
Remember, the more specific your marketing goal when crafting a campaign is, the easier it will be to measure its success. The SMART goal framework -Specific, Measurable, Attainable, Relevant, and Time-based- is excellent to start with.
It's important to be patient and leave plenty of room for growth. Sooner or later, you'll find your magic email voice, and this will reflect on your metrics.
Email Marketing Benefits For Everyone!
It's official! If you want your marketing strategy to succeed, you should put emails in the game. Who could deny all those benefits after all?
So build unique branded campaigns, promote your new products, and share discounts and offers. Your ROI will start rising, and so will brand awareness and authority.
Ready for it? Sign up for a Moosend account and start exploring our unique features for free! There's a whole new world lying in front of you.