How To Do Email Marketing For Small Businesses [2024]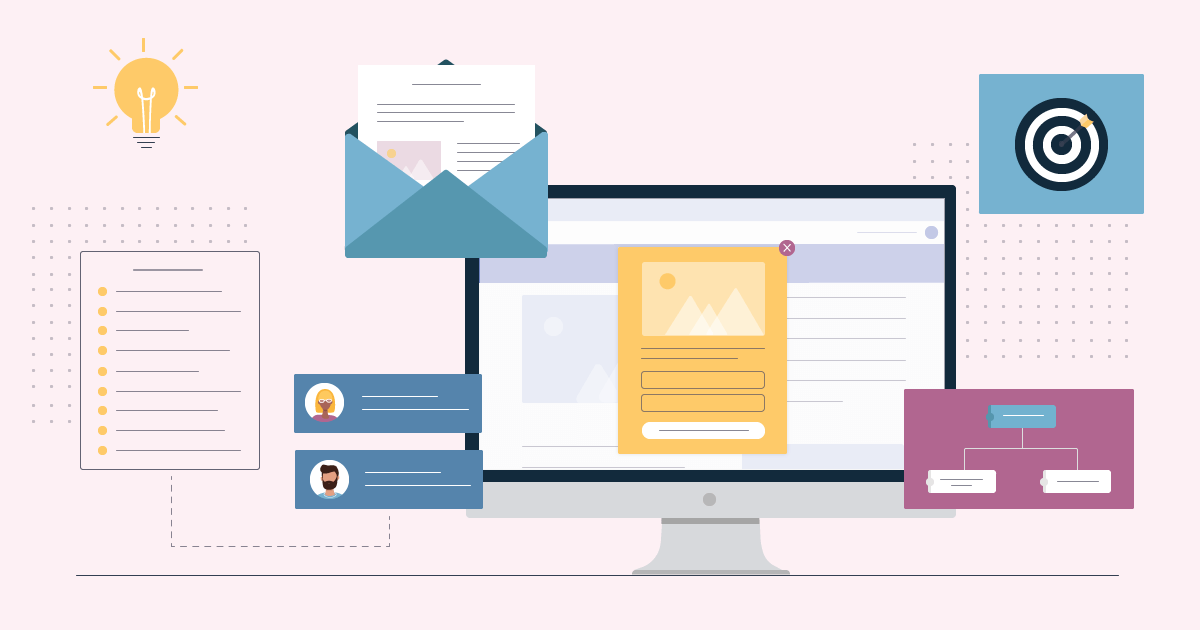 How To Do Email Marketing For Small Businesses [2024]
Published By
Alexandra Marinaki
December 6, 2023
As a small business owner or leader, you've probably figured out that email communications can help build long-lasting and beneficial relationships with customers.
According to recent email marketing stats, 49% of consumers said that they'd like to receive weekly promotional emails from brands they adore.
So if you've just launched an eCommerce store or any other type of small business, it's an opportunity worth seizing. Discover how to leverage email marketing campaigns and give your brand the word-of-mouth it deserves.
In this guide, you'll learn:
The benefits of email marketing for your business
How to build an email marketing strategy into your small business from scratch
The tools you need to make everything happen
Let's go!
What Is Email Marketing?
If you've landed here to learn this process from zero, here is a quick email marketing definition for beginners:
Email marketing is a business strategy that uses the power of email channels and messaging to nurture and convert existing and potential buyers. The top email types sent are promotional, newsletters, and transactional campaigns.
So as a marketer or business leader, you can share your latest company updates with your target audience and special offers to keep them satisfied. Plus, automated triggered emails will help verify customer actions, such as signups or purchases.
Benefits Of Email Marketing For Small Businesses
As you can understand, this digital marketing practice comes with many assets. Let's have a look at the most prominent:
Sales & ROI
Email campaigns have been linked with high email marketing ROI. By crafting newsletters with offers and product updates, you increase the likelihood of converting your subscribers. This practice is even more effective when you personalize these campaigns.
For example, you can send recommendations to users based on previous purchases. Or you can experiment with cross-selling and upselling; show buyers a different series of products/services you want to boost that can prove valuable to them, and who knows, they may become fond of them soon.
Brand Awareness
If you wish to elevate your branding efforts, apart from social media that can be game-changing by all means, you can resort to marketing campaigns, as well. Dare to share your mission and vision with customers and prospects and show them what you're made of.
Plus, feel free to inform them about your latest news and updates and sprinkle your brand assets throughout the email newsletters so that they stick to readers' minds. Need an example? Here's an excellent one by Dims:
Subject Line: See how they styled it: Eave Desk.
Customer Relationships
Through email newsletters, you can find ways to connect with consumers on a deeper level. To gain their trust and achieve customer retention, communicate with them regularly using relevant and meaningful content.
Take into account that business values matter a lot in your brand positioning. As long as you treat consumers with empathy and respect, they'll be more likely to stay with you for good. Build a brand voice your old and new customers can identify with and share your mindset via your email communications.
Authority & Credibility
If you want to position yourself in your market, you can also craft newsletters that check the boxes of the so-called "though-leadership." How? By creating or assembling content that will show them you are up-to-date with the latest trends in your field.
Having a content marketing strategy in place is going to work miracles in this process. You can share blog posts, reports, or infographics with your customers through email to make them feel safe with you no matter what your service/product is.
Email Marketing For Small Business Growth: The Must Dos
If you're at the point of sending your very first business emails to your customers, let's see the primary steps to follow:
Define Your Email Marketing Goal
First off, before creating those emails, it's best to ask yourself: What do I want to achieve through email marketing? What should I share with my audience to draw their attention and benefit both sides? The answer to those questions will help you build your campaigns more thoughtfully, with customer needs in mind.
After this process, decide what email types will prove more valuable based on your business needs. For example, if you want to increase brand awareness, create an email with business updates and why your buyers should engage with you in the long run. Or, if you wish to increase your sales during a particular season, build a promotional email with a temporary discount/coupon for top buyers.
Grow Your Email List
But how can you collect emails from customers and prospects? Firstly, let's clarify that to send emails to consumers, you should get their opt-in first, which is briefly the permission to mail them. Here are two easy ways to build your email lists:
Signup Form
Invite your customers to subscribe to your newsletter through a dedicated section on your website. Make sure that the subscription form is easy to find and complete. You can also make it appear in the form of a pop-up a few seconds after the user lands on your website, but make sure it doesn't disrupt the whole experience. Look at this example by Kate Spade New York:
If you want to make it more intriguing for customers to join, give an incentive such as a discount or free shipping on their first order.
Lead Magnet
Another smart way to gather email addresses is by crafting lead magnets. Give something to customers for free in exchange for their email addresses. This can be a blog post, a webinar, or even a report. It's up to you to decide that will attract your target customers based on your niche market.
So put the lead magnets at a prominent place on your website and share them with your social media followers to gain more traction.
Craft Emails That Convert
What makes for a successful email? Is it the copy, the design, or the incentive it gives to customers? Well, it's all of these, and even more, combined cleverly and uniquely. Let's break it down to the essential elements:
A catchy subject line that reflects the topic of the email
A branded and well-crafted design that stands out
Well-thought and convincing copy that embraces your brand tone
A call-to-action button that stands out, written in active language
You can get as creative as you wish and experiment with different design elements and copy lines. When you start noticing some trends, capitalize on them to thrive.
Keep An Eye On Results
So once you've sent those campaigns, it's time to see how they performed and if you've met your KPIs. It's not easy to do this with every email type, as some goals are vaguer than others. However, even if it's tough to measure brand awareness, it's possible to see how many people opened an email campaign and how they interacted with it to discover their behavior and preferences.
Later on, we'll share how to utilize marketing tools like Moosend to track your email marketing efforts and which metrics to monitor. Stay tuned!
How To Do Email Marketing As A Small Business
The tactics mentioned above will be essential if you want to reach out to a small number of subscribers through your email service provider, such as Gmail. However, if you want to take email marketing more seriously, this won't be enough. We've gathered some top practices for those who want to make a difference through this marketing channel.
1. Get An Email Marketing Solution
Creating email campaigns that will stand out in your subscriber's inbox is not always a piece of cake. There's a lot to consider: design, coding, and email deliverability are just part of this list. So if you don't want to see your emails ending up in spam and hurting your authority, it's essential to find an all-in-one email marketing tool with excellent deliverability records to accompany you through this journey.
Most of these email newsletter software offer premade email templates or intuitive builders to craft lovely emails in simple steps. They also have list-building features and offer integrations with other CRM or marketing stacks for maximum productivity. Not to mention how impactful their automation tools can become for your daily operations.
2. Set Up Automated Campaigns
Continuing with marketing automation, by nurturing your audience at certain critical moments during the customer journey, you'll build strong relationships with them. Decide which points are more crucial for your business and set up automated workflows accordingly.
For example, welcome emails usually receive high open rates, and they offer an excellent opportunity to make a great first impression on customers and subscribers and win them over. Abandoned cart emails and re-engagement campaigns can also lead to valuable conversions.
3. Know Your Subscribers
As a marketer, you know how crucial learning your target audience is to create relevant experiences for them. Analyzing your buyer personas will help you craft campaigns that will speak in a way that resonates with them.
For example, if you target millennials, you'll use different language and references, even visuals, compared with baby boomers. On the other hand, if you fail in this process, you may cause unsubscribes and a high spam rate. And worst of all, your loyal customers may lose faith in your brand.
4. Try Customer Segmentation
Once you've spotted your top buyer personas, you'll probably realize that not every customer will identify with the same email content. To create personalized email experiences, you can try list segmentation. Considering how powerful personalized marketing is nowadays, this method is an absolute must for many businesses.
For example, you can divide your customer into different lists based on criteria such as demographics or geographic data. For instance, if your buyers live in other countries, you can schedule various offers for them with higher chances to convert based on location.
5. Monitor Your Analytics
In the previous section, we mentioned the significance of tracking how your emails perform. This way, you'll learn how effective they are and what you should improve to increase conversions down the read. Here are some primary email metrics to monitor:
Open rate: How many subscribers open your emails
Click-through rate: The number of subscribers that click on the email
Spam rate: How many emails end up in the spam/junk folder
Unsubscribe rate: The number of readers that unsubscribe from your lists
Bounce rate: How many emails didn't end up in the recipients' mailboxes
Once those metrics are more precise, your campaigns will ultimately improve, resulting in a higher email ROI.
6. Conduct A/B testing
Sometimes, you have various ideas about your email copy and each of them seems effective. If you're unsure of certain parts of your emails and whether they will attract buyers and fulfill your goals, you can conduct A/B testing.
You'll test different versions of an email component through this method, such as your subject line, and see which one performs the best. The one that prevails will be sent to your email readers. Helpful, isn't it?
7. Experiment with Email Content
Do you know what type of content or design style can delight your customers? Once you define the brand details you want to sprinkle throughout the email, it's time to play around with the rest of the visuals and copy lines to see what gets the most clicks.
For instance, insert a vivid GIF that showcases a product to prompt readers to give it a try. Or share some top thought leadership articles to show your authority. You can also include social media buttons, directing to LinkedIn, Instagram, or other platforms you use, to keep nurturing them through additional channels.
8. Ensure Responsiveness Across Devices
Last but not least, ensure that you offer a seamless user experience to all customers no matter what device they use. The goal should be to convert those who navigate through their mobile devices or tablets, too. Otherwise, you might lose valuable customers because of confusing experiences.
And now that we've presented you with all these fantastic techniques, we'll share some of the best platforms that will enable you to streamline your email marketing efforts.
5 Best Email Marketing Services For Small Businesses
Here, we focus on five email marketing platforms offering free plans to get started.
Once you make yourself comfortable with this marketing method, you can upgrade according to your requirements.
Moosend
Pricing: Paid plans start at $9/month, 30-day free trial
Best for: eCommerce, SaaS, bloggers, agencies, publishers
Moosend is an excellent choice for small businesses. By using its sophisticated drag-and-drop editor and premade templates, you can design beautiful emails that will impress your customers. Landing pages and signup forms are also a part of the package.
Its functionality for automated emails is seamless; you can create your workflows or pick one of the ready-made automation recipes. You can also build highly segmented email lists to deliver relevant, personalized experiences that matter.
The analytics and reporting capabilities are top-notch, letting you analyze the performance of your campaigns without any doubt. And the best part – Moosend has a sender reputation of 98%, meaning your campaigns are not likely to end in someone's spam folder.
Overall, it's one of the most affordable marketing solutions – try Moosend for free and upgrade as your subscriber database grows to access more enhanced tools, like custom reporting.
Mailchimp
Pricing: Paid plans start at $20/month, limited free plan
Best for: Publishers, eCommerce
Another option for you, prevalent in the email tech scene, is Mailchimp. Apart from design features, like a landing page builder, it has complex email automation capabilities so that you can create emails such as drip campaigns or welcome series for your new subscribers. Plus, it offers advanced segmentation and behavioral targeting options.
Mailchimp offers various integrations with popular platforms to ensure a unified marketing experience, combined with a CRM solution. It has thorough analytics and reporting tools to monitor the performance of your campaigns and a smart recommendations tool for more advanced personalization.
As for the pricing, if you have up to 500 contacts you can start for free but with limited tools. If you want more features, you can continue with the Standard plan at $20 and move with a custom plan if you wish.
GetResponse
Pricing: Paid plans start at $15/month, free plan
Best for: Publishers, eCommerce
Let's move to GetResponse. You can get a free plan with basic features if you have up to 500 contacts on your list. With a paid plan, you get access to marketing automation, eCommerce features, and web push notifications, among others.
When acquiring a custom plan, you can also use SMS marketing capabilities and dedicated customer support. Moreover, with GetResponse, you get access to spam testing to ensure a low spam rate. Overall, it's a user-friendly platform so if you have a small list, it's an excellent option for you.
Hubspot
Pricing: Paid plans starting at $50, free plan
Best for: Any industry type
If you need more than an email marketing platform, then Hubspot is the go-to solution for you. Hubspot can provide CRM and lead tracking tools to monitor a customer's interactions with your platform. It also gives you a chatbot setup to stay in regular contact with your audience.
Hubspot lets you craft beautiful newsletters with customizable premade templates and advanced marketing automation options. Even though you can kick off for free, this platform can get pricey if you want to acquire more sophisticated features.
Brevo (Formerly Sendinblue)
Pricing: Paid plans start at $25/month, free plan
Best for: Publishers, agencies, eCommerce
Finally, we present you with Brevo. Apart from the essential email features, this platform offers SMS marketing opportunities for greater outreach. Plus, you can create HTML templates to promote your brand and business through its drag-and-drop builder.
Overall, this service has everything you need, from transactional emails to landing pages to increase your leads and website visitors. You can select the free plan from unlimited emails but up to 300 a day. If you want to upgrade, then the starting point is $25 monthly.
This list is not extensive; tune into this comprehensive guide to learn more about other top email marketing services such as Constant Contact, AWeber, and MailerLite.
Email Marketing For Small Businesses Achieved!
We understand that building an email marketing plan can be challenging for a small business, especially if you're tackling it for the first time. But when you find the appropriate tool, you'll be surprised by the opportunities this tactic can offer you, both in terms of ROI and business growth. So join us and make email marketing your superhero!
And by the way, our team here at Moosend is here to get you started the best way possible. Sign up for an account today and try our unique features.